This post has been brought to you by Destination Lugana. All opinions expressed are my own. The following message is intended for those 21+. Please enjoy responsibly.
In collaboration with the Destination Lugana Project, we're featuring a 2021 Trebbiano, courtesy of the Santa Sofia winery.
Santa Sofia is among the twenty-eight wineries and producers that will be taking part in Destination Lugana.  This event is a full week of delicious celebration in New York City.  From November 7th through the 13th, Destination Lugana will be hosted across thirteen restaurants and two Private Clubs in Manhattan.  Each location will feature a specially crafted menu intended to complement the wines of Lugana, by bringing out the very best of the sampled vintages through a collage of flavors and cuisines.  All of this is being made possible by the Consorzio Tutela Lugana D.O.C. For more info on Destination Lugana, visit their website.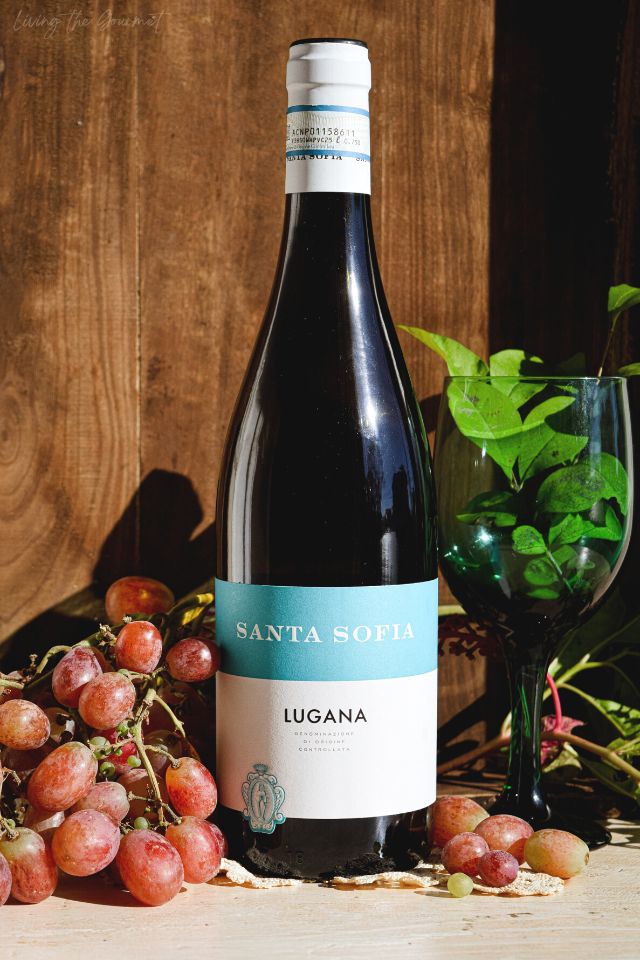 The Where – Lugana, Italy
An idyllic landscape checkered by fishing villages and castled towns, the Lugana DOC (Denominazione di Origine Controllata), is located just west of Verona at the southern end of Lake Garda, forming part of the larger Veneto wine region in the far Northeastern corner Italy. Though known globally for its fruit-forward white wines, Lugana also produces critically acclaimed light reds, such as Sangiovese, Barbera, and Marzemino.
Lugana's vineyards straddle the regional border between Lombardy in the west and Veneto in the east, while hugging the southern shores of Lake Garda.  The majority of the area's planted vineyards range between the village of Peschiera down to Desenzano, covering parts of Lonato, Sirmione, and Pozzolengo.  The entirety of this area covers just under 1500 acres.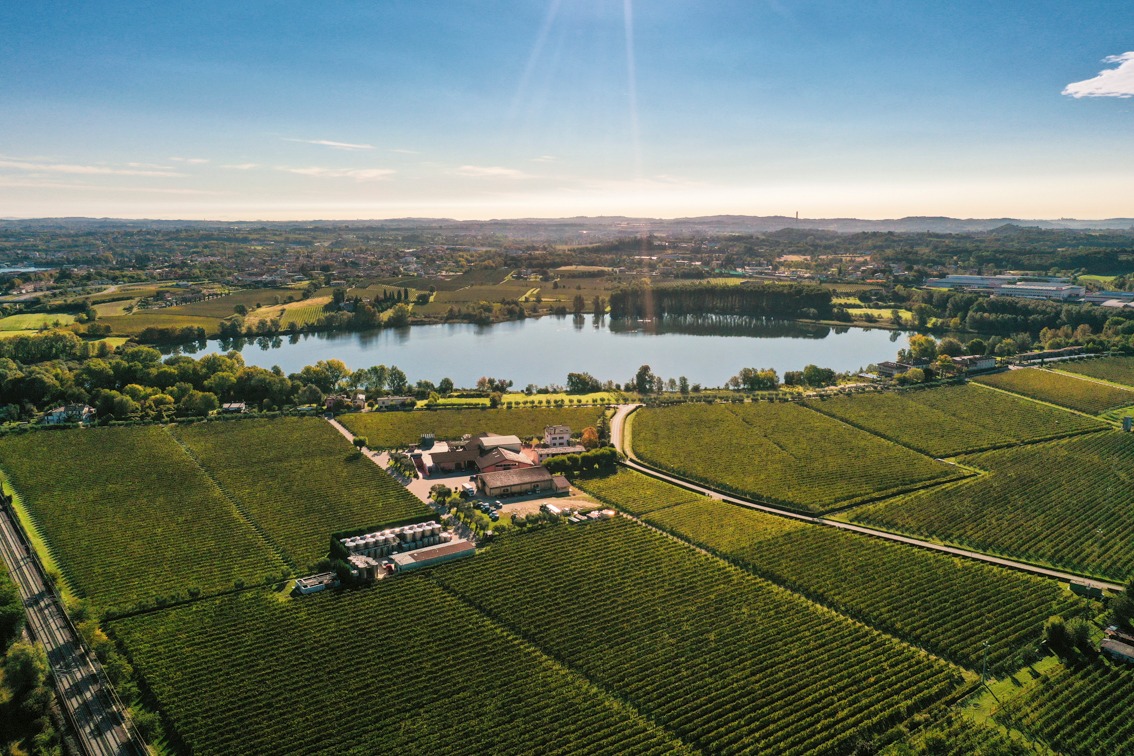 From these vineyards, the Verdicchio grape (aka Trebbiano di Lugana) accounts for the region's acclaimed white wines – comprising some 98% of the region's total production.  This grape thrives in the area's mineral rich calcareous clay soils.  It is this particular soil composition that gives the grapes their 'fresh' and 'zesty' flavor profile, with floral and spice notes, carried on a delicate acidity. 
For those unfamiliar, these grapes are hailed as being 'fresh' and 'zesty' tasting, and hold onto their acidity amazingly well. This gives the wines they produce the fairly unique quality of being not only able to serve as high quality 'quick wine' – wines that can be consumed without aging – but they can 'also' be cellared for several years to allow maturation.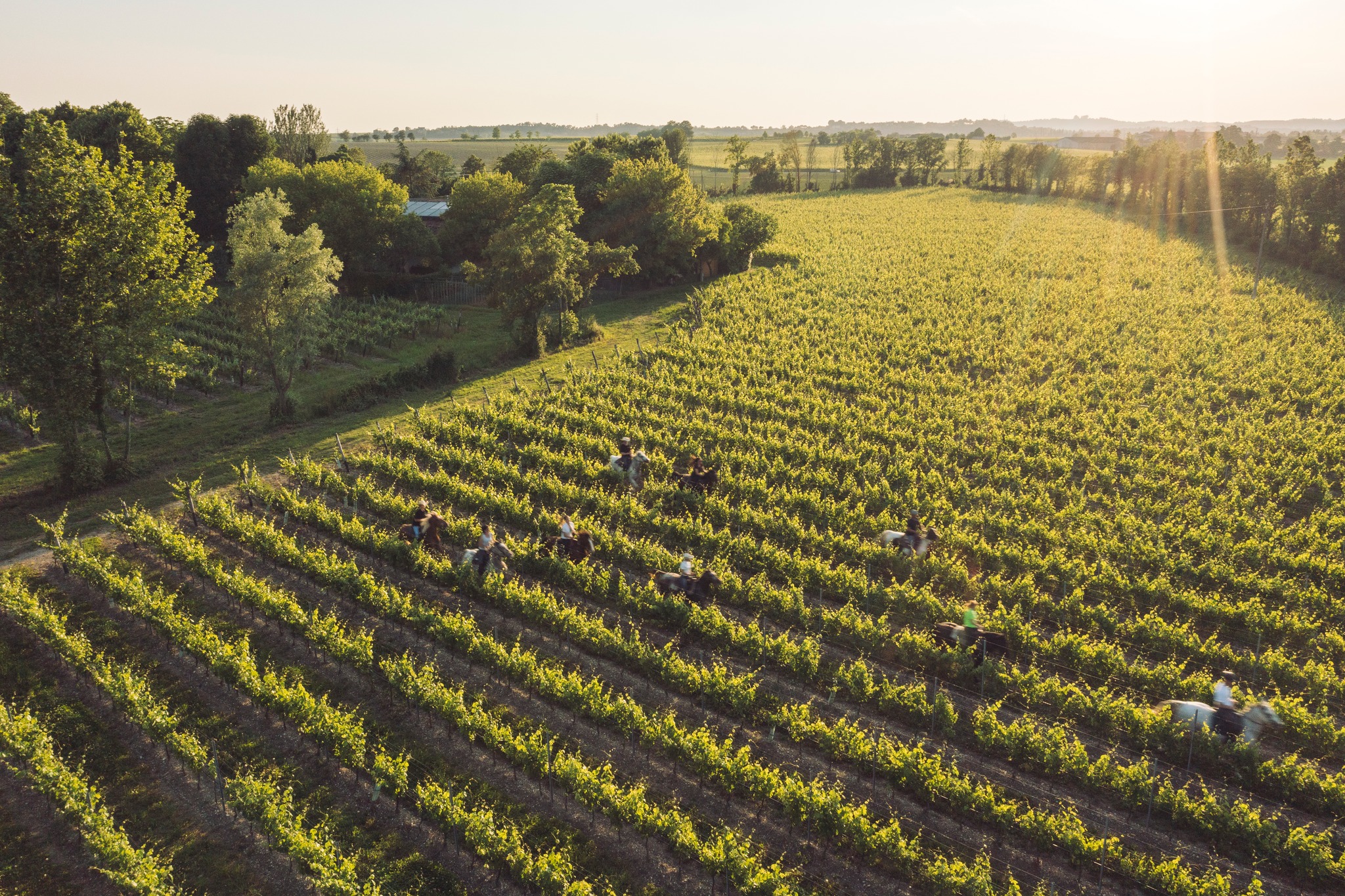 The Bottle – A Showcase
Today we'll sampling a 2021 Lugana, courtesy of the Santa Sofia winery, produced from Trebbiano grapes.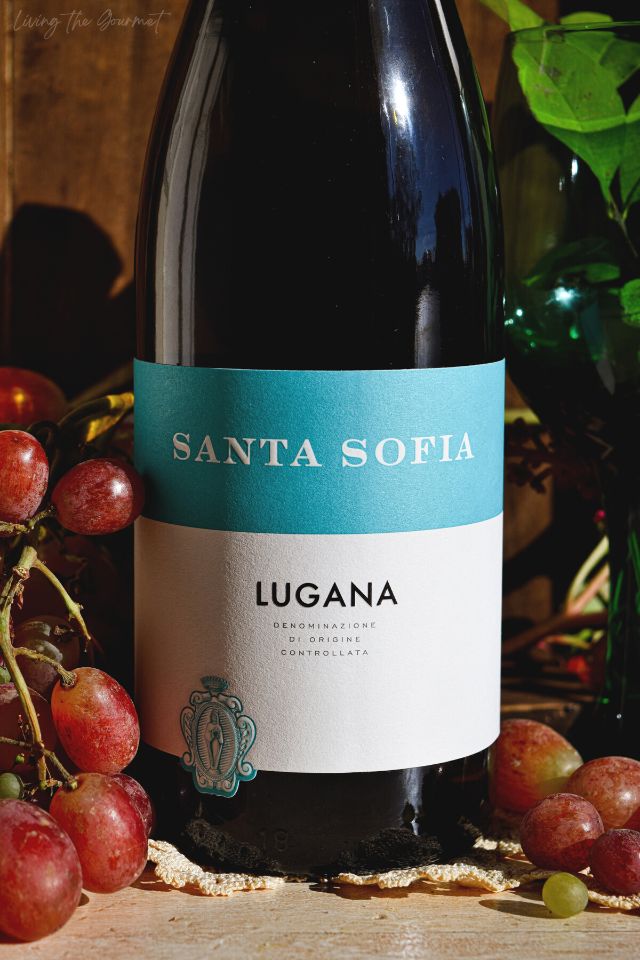 Aromatics and Tasting – The Review
The Lugana 2021 opens with an instantly citrusy bouquet, framed in notes of licorice, melon, and crisp sliced green apple. On the palate the wine is quite refreshing, light bodied, and possesses a fair amount of crisp acidity. Carried on a pleasant minerality, the green apple from the bouquet carries over quite nicely, alongside hints of grapefruit. The finish is zesty, leaving the palate feeling clean and renewed.
All of this combines to create a very pleasant experience wine from start to finish, that left me craving another sip.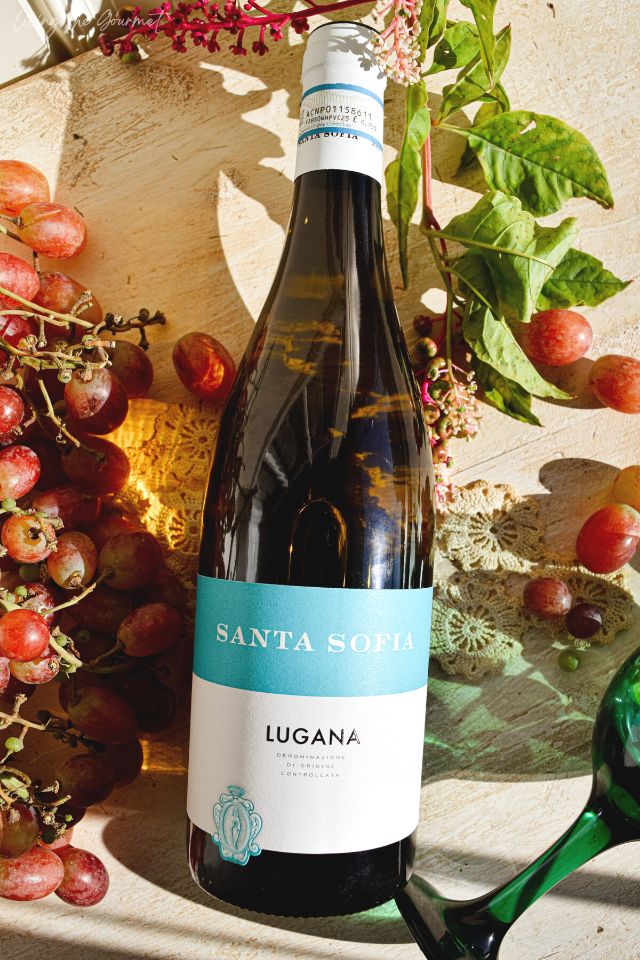 What to Eat – The Pairing
1) Antipasto. This is probably the most common pairing. Quality white wines served alongside varied antipasto boards is a hallmark of Lugana, particularly in the Verona area. You might consider things like a marinated cheese board paired with stuffed olives, toasted nuts, and light seafood marinated in olive oil, fresh lemon juice, and dried herbs. You might also consider a more 'substantial' antipasto board, with individual pizzas prepared with basil, fresh mozzarella, and a fresh red sauce, alongside spicy marinated peppers, olives, and assorted cheese and charcuterie. In other words, think Mediterranean-themed starters.
2) Seafood. Once again, in Lugana it's common to see white wines paired with locally sourced trout caught fresh from Lake Garda. However, you want to stay away from overly 'fatty,' 'substantial,' or 'oily' bodied fishes, such as salmon or shark, or from heavily prepared seafood such as lobster bathed in butter or cream-sauced clams, as today's wine is still very much on the lighter end of the spectrum, and as such it would easily risk being overpowered. Instead, think white bodied, flakier, lighter bodied fish, preferably prepared with either an herbed butter sauce, oil and herbs, or a light marinade.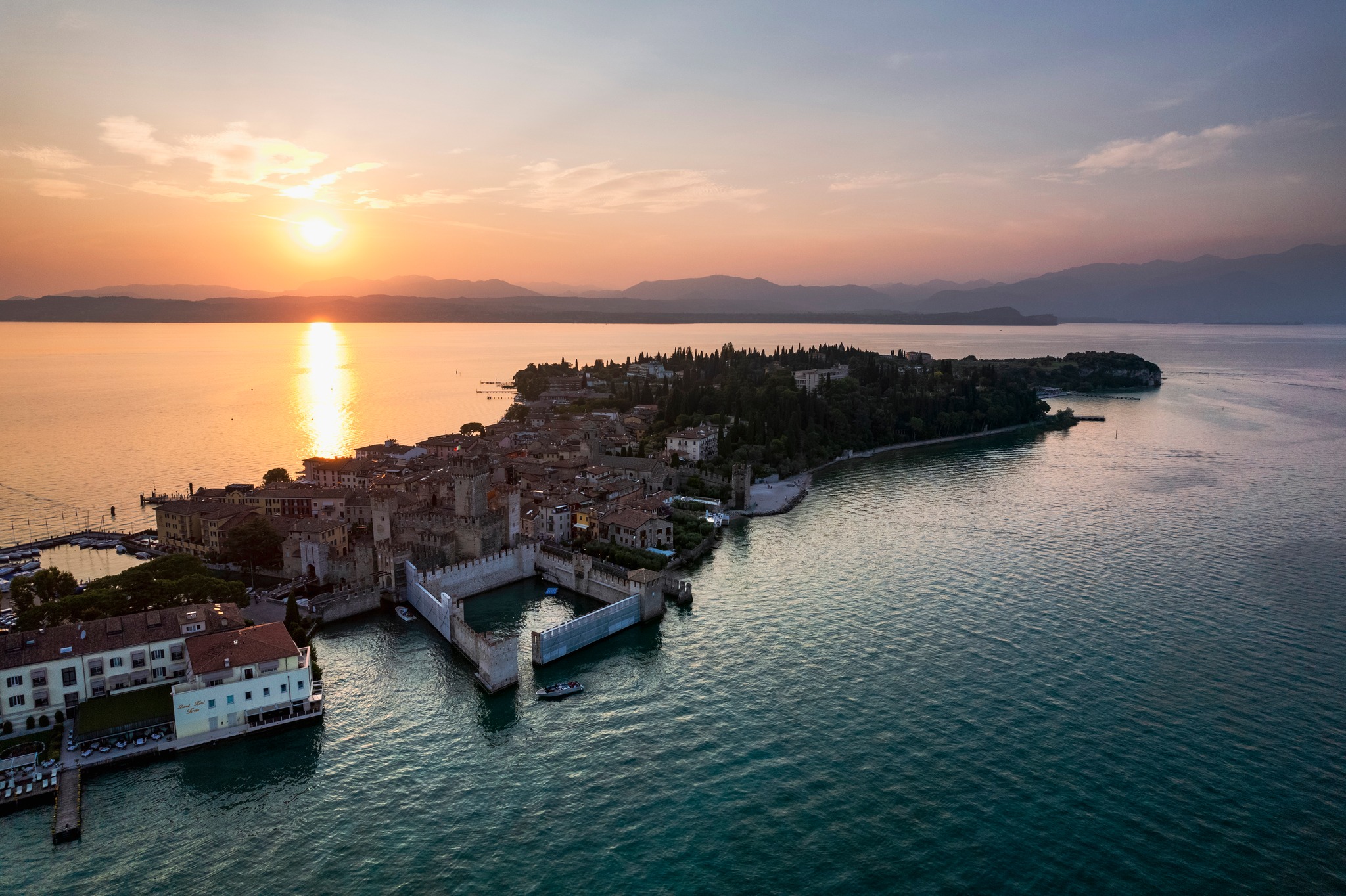 As an Amazon Associate I earn a small commission from any purchases made through the affiliate links within this post. For more information on this please see our disclosure policy. Thank you!
0