Deliciously moist and flaky, with a comforting honey-milk flavor, and just a hint of herbs, these are sure to be your favorite batch of biscuits ever.
While these can certainly serve as dinner biscuits, they are also perfect for things like hardy biscuit sandwiches.  As an example, click through to my Chicken-Fried Pork Rib Sandwich, which combines a buttery biscuit, with grilled peppers and onions, and a chicken-fried pork rib.
On the other hand, these also make for delightful breakfast biscuits.  As a savory example, consider my Breakfast Egg Biscuit Sandwich.  This is a traditional bacon, egg, and cheese on a hardy biscuit, as the ultimate comfort breakfast.
Now, without further delay, let's get to it. I'll be covering everything you need to prepare today's biscuits, along with some tips for making the best biscuits possible.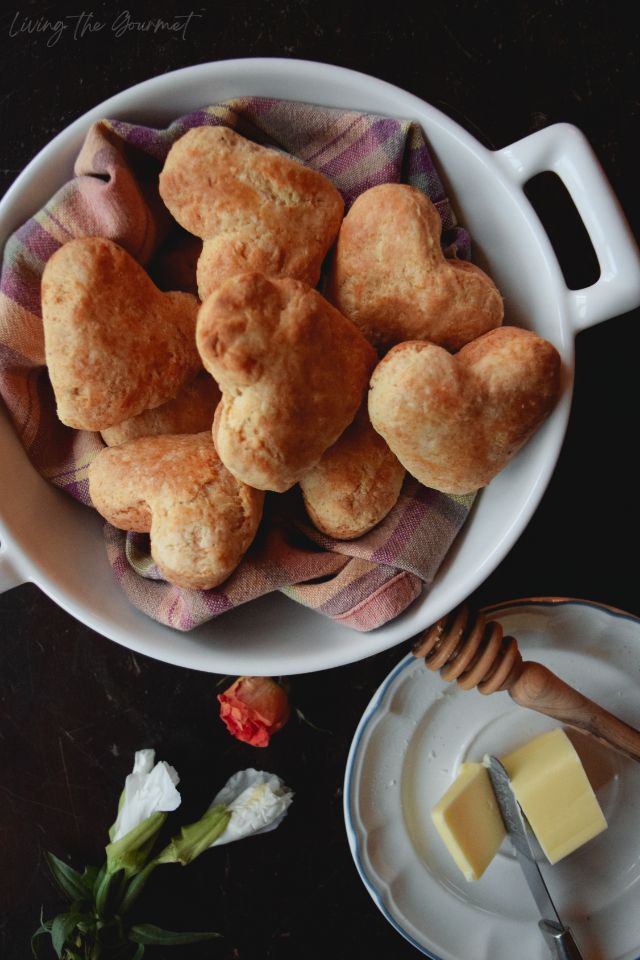 Ingredient Checklist and Notes
Flour. All-purpose flour is what you want to use.  Bread flour will result in tough, chewy biscuits.  Baking Flour will result in crumbly biscuits that don't maintain their shape during baking.  Neither is what you want.
Butter.  Unsalted butter is what you're looking for.  Be sure the butter is chilled.  I'll explain why below.
Whole Milk.  Fat is flavor and moisture when talking about biscuits.  As such, you want to use whole fat milk.
Baking Powder.  This is a two-phase leavening agent.  Without baking powder, you're baking flatbreads.
Honey.  Standard clover honey is all you need.  Fussing with 'gourmet honey' simply isn't necessary here.
Salt.  A pinch of standard table salt, not a whole lot to say here.
Black Pepper.  Ground or cracked black pepper is what you're looking for.
Dried Oregano.  For a bit of herbal contrast, which I find plays beautifully with the honey.
Biscuit Making Tips
Use Cold Butter.  This is a tip you'll see everywhere when talking about biscuits, and there's a reason for that.  It works.  For moist and flaky biscuits, use cold butter.  Think "Fresh from the fridge" cold.  Some even go so far as to suggest iced butter, but I find frozen butter to be a pain to work with.  The reason we use chilled butter is when added into the flour mixture, you end up with 'butter crumbs.'  Ideally, these 'butter crumbs' get evenly distributed throughout the biscuits, and then during baking the butter melts – and this creates pockets of air distributed throughout the biscuits.  This in turn results in flaky biscuits that hold onto their moisture far better than they otherwise would.
Skip the Rolling Pins and Cutters.  As I say in virtually every bread, biscuit, or flatbread post I've done here on Living the Gourmet, you want to handle your dough as little as possible.  However, this also means skipping the biscuit cutters and rolling pins.  Instead, form them entirely by hand.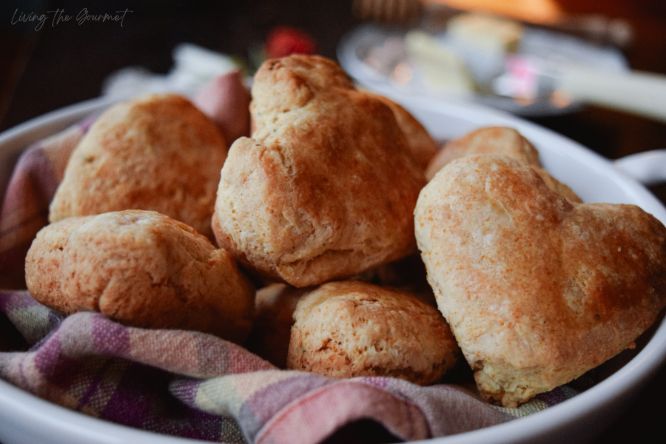 Limit Yourself to 'One' Reroll.  This goes hand in hand with the above.  Rolling and rerolling dough as you are making biscuits produces gluten.  Gluten is what gives bread its 'chew' and 'pull.'  While chew and pull might be great for loaves and rolls, it is the opposite of what you want in biscuits.
Grate the Butter.  I admit, I don't always do this myself, as it is a very tedious process.  However, if you want to ensure the flakiest biscuits possible, grate  your ice-cold butter on a cheese grater, to ensure the maximum number of air pockets possible.
Baking Powder Can Go Bad.  Contrary to popular belief, baking powder can in fact go bad.  If you've had your baking powder on hand 'forever,' consider replacing it.  How do you tell?  Mix a teaspoon of your baking powder with hot water.  If it bubbles vigorously, the baking powder is still good.  If not, it's time to replace it.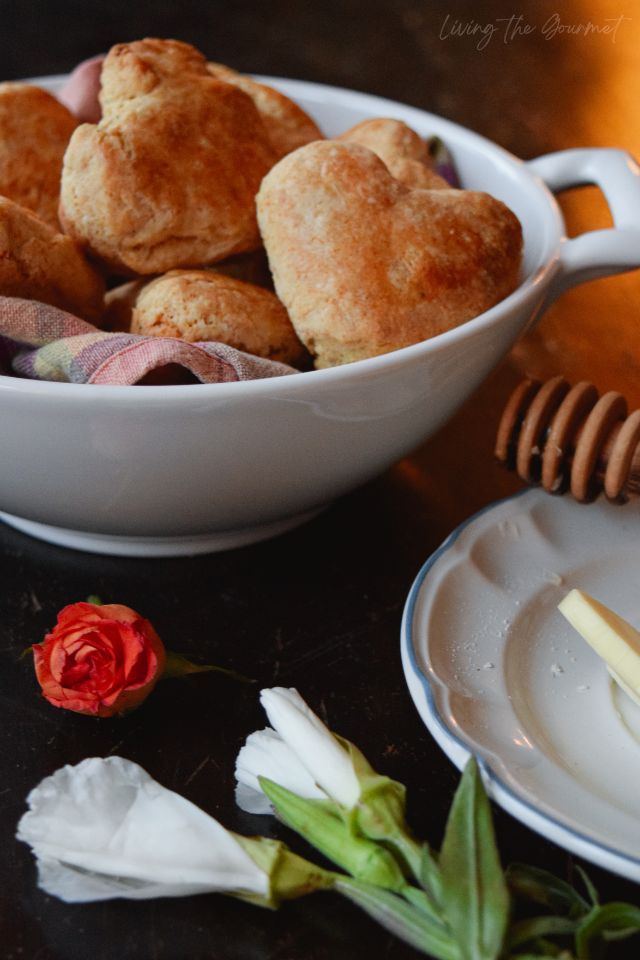 Print
Milk and Honey Biscuits
Author:
Prep Time:

10 minutes

Cook Time:

10 minutes

Total Time:

20 minutes

Yield:

1

dozen

1

x
Category:

Bread
3

cups

AP flour

1 tablespoon

baking powder
Pinch of salt and pepper

1 teaspoon

dried oregano

1

cup

whole milk

1/4

cup

honey

3/4

cup

unsalted butter, chilled and cubed
Instructions
Preheat oven to 400 degrees. Butter a cast iron skillet or biscuit pan and set aside.
In a large bowl, sift together flour and baking powder. Whisk in salt, pepper and dried oregano.
Add the chilled butter to the flour mixture and with the pastry blender, work the butter until a crumbly mixture forms.
Whisk milk and honey together and add to the flour mixture.
Combine until a sticky dough forms.
Turn the dough over onto a well-floured surface. Knead gently then roll it out into a 1/4 inch thick circle.
Cut out your biscuits out and place on the prepared pan.
Bake for about 10-12 minutes or until the biscuits have puffed and are golden.
Recipe Card powered by
As an Amazon Associate I earn a small commission from any purchases made through the affiliate links within this post. For more information on this please see our disclosure policy. Thank you!
4