Today we're preparing a batch of Gochugaru Rubbed Spare Ribs. These ribs cook up deliciously moist, and decadently flavorful. We're using a wet 'and' dry rub, featuring Korean red chili flakes, minced garlic, and honey.
We'll be cooking the ribs low and slow, starting them off with a dry rub. The dry rub is a super simple yet delicious mix of sugar, salt, minced garlic, and Korean red chili flakes. Midway through, we'll take the ribs out of the oven, and brush them with a wet rub consisting of honey, soy sauce, and more Korean red chili flakes. After that, it's back in the oven for more low and slow cooking.
The end result is pleasantly complex flavor profile that's simultaneously sweet, spicy, and savory.
Below, I'll provide you with an ingredient checklist, to make sure you've got everything you need.  After that, I'll also be giving you some tips on how to cook up the most moist and flavorful ribs possible.  Finally, I'll also be talking about a few ideal pairings for this particular batch of ribs.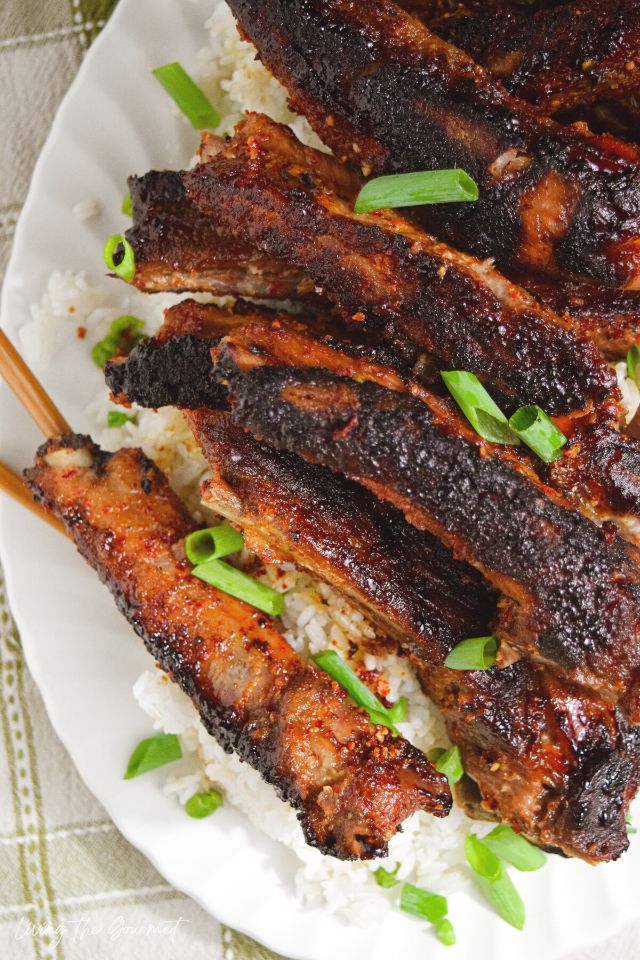 Ingredient Checklist
Gochugaru.  This is Korean red chili powder (or flakes), but with a very complex flavor profile.  It's spicy, slightly sweet, and slightly smoky (or savory) all at once.  These red chili flakes are, to me, the key ingredient for the ribs.
Honey.  Basic clover honey is all you really need for this recipe.  However, if you feel getting a bit fancier with the gourmet honey of your choice, have at it.
Soy Sauce.  For umami and added moisture.  Your preferred soy sauce is really all you're looking for here, no need to get fancy.  Yes, both regular and low sodium work fine for this recipe.
Dried Garlic Flakes.  I'm using dried garlic since I want the rub to form a 'paste' on the ribs, and that's a lot easier to achieve with dried garlic as opposed to fresh.  However, if you prefer, you can mince up fresh garlic and use that instead.
Sugar.  Plain sugar is all you need here.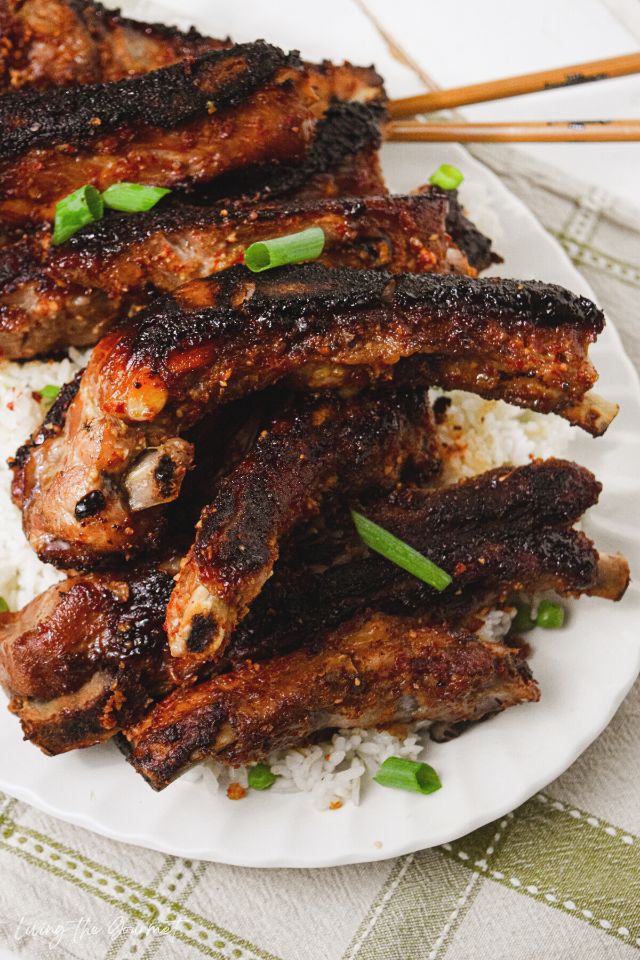 Prep Tips – The Road to Moist and Flavorful Ribs
Low and Slower, then Lower and Slower.  We start the ribs out at 325 degrees Fahrenheit, and cook them for an hour covered in aluminum foil.  We then lower the temperature down to 300 Fahrenheit midway through the cooking process, brush the ribs with the wet rub, and then cook them for another hour.  After that, we remove the foil, and cook them for another twenty minutes.  Low and slower, and then lower and slower.  This process results in ribs that all but literally fall off the bone.
Dry Rub or Wet Rub?  Answer: Dry 'and' Wet.  Ribs should 'start dry and end wet,' meaning you should start out by rubbing down the ribs with a dry rub, and then cook them for a period of time.  About midway through the cooking process – whether in the oven or on the grill – you then want to apply a wet rub or sauce, turn the heat down, and continue cooking them.  This has the effect of not only layering the flavor, but of also adding in moisture.
Why are we covering them?  This simply keeps the ribs from drying out during the cooking process.  Some chefs will start their ribs out bare and then cover them midway through the cooking process, while others do the opposite.  Both methods achieve delicious ribs.  Personally, however, in my opinion, since ribs are at their 'moistest' when raw, you will likely lose more moisture during the early part of cooking, and thus this is when ribs should be covered, since this is when they will lose the most moisture.  However, both methods are used by top chefs worthy of respect and emulation.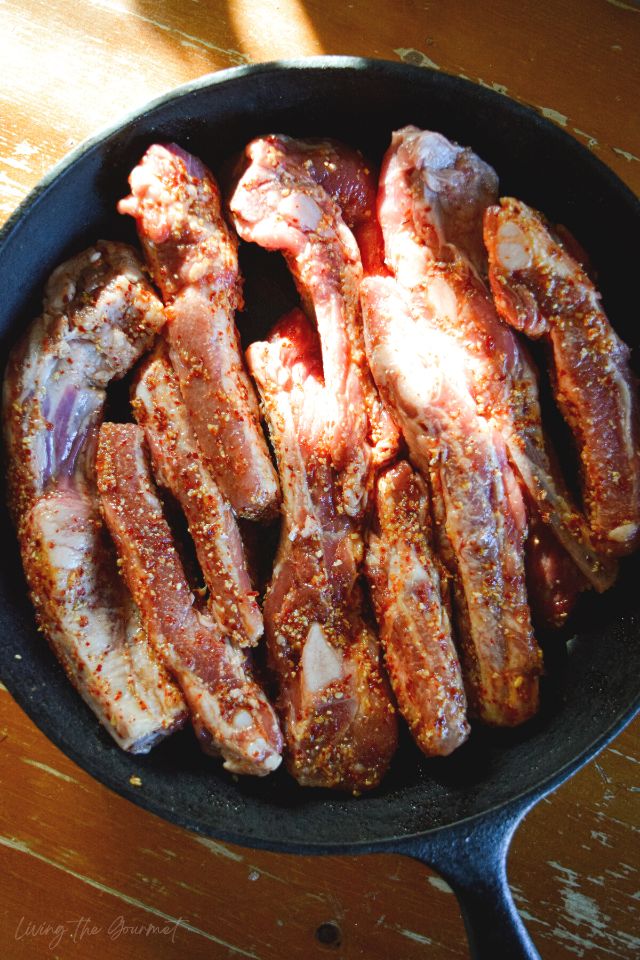 What to Pair with Today's Ribs
Onion Rings. I love the combo of moist ribs and fried onion rings.  I prepare my onion rings with just a hint of spice, and a thick, dense batter that crisps up beautifully during frying.
Coleslaw. Asian-style coleslaw, that's sweet, spicy, and perfect for things like today's ribs, or grilled steaks, barbecued shrimp, or even as a side to stir-fried tofu.
Ginger Rice Salad:  Combing pickled ginger, roasted garlic, and honey, today's salad is crisp and refreshing, making it a perfect addition to any warm weather meal.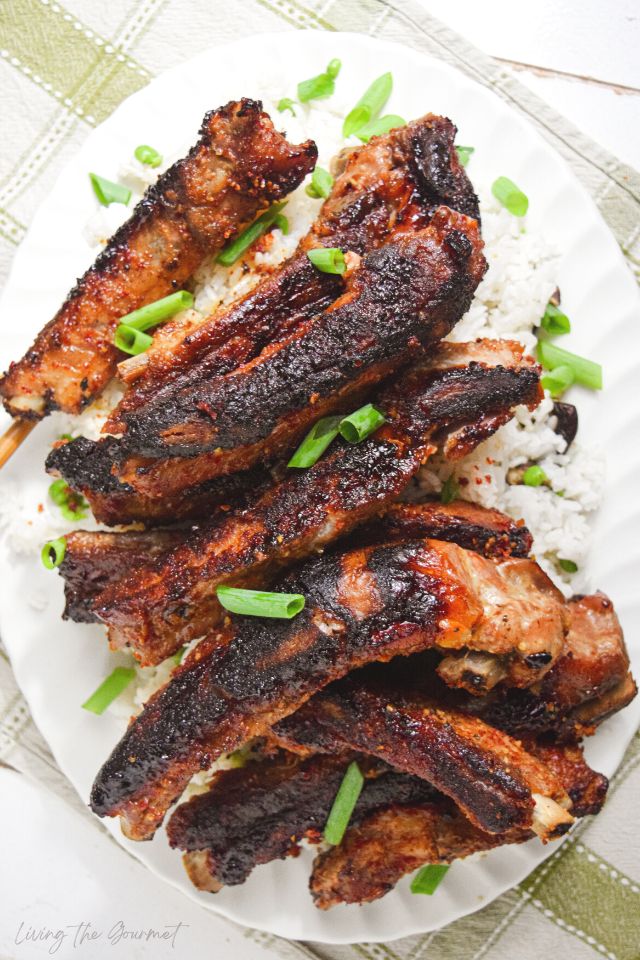 Print
Gochugaru Rubbed Spare Ribs
Author:
Prep Time:

15 minutes

Cook Time:

1 hour 20 minutes

Total Time:

1 hour 35 minutes

Yield:

4

–

6

servings

1

x
About

2 1/2

lbs

. of pork spare ribs
For the Dry Rub:
3

tsps. sugar

3

tsps. salt

3

tsps. dried minced garlic

2

tsps. gochugaru flakes
For the Wet Rub:
3

tbs. honey

1

tbs. soy sauce

2 tsp

. dried minced garlic flakes

2

tsps. gochugaru flakes
Instructions
Combine all of the ingredients for the dry rub in a small bowl. (If you would like more rub or are cooking more ribs, increase the amount of the rub).  Set aside.
Combine the wet rub ingredients in a small bowl and mix. Set aside.
Trim the ribs by removing the large pieces of fat and the 'skirt'. (These pieces can be frozen for later use in soups and sauces).
Using kitchen shears cut the ribs along the bone line to separate. Place the ribs in a zip-lock bag, add the dry rub, and shake to coat.
Refrigerator the ribs for at least one hour or up to over-night.
Preheat the oven to 325 degrees F.
Place the ribs in a large cast iron frying pan and cover with tin foil.  Poke a few holes in the foil with the tip of a knife.
Place the pan on the bottom rack for 1 hour.
After one hour drain any liquid at the bottom of the pan.
Lower the oven temperature to 300 degrees F.
Brush the ribs with the prepared wet rub and place the tin foil back on the pan and place in the oven for one hour.
After one hour, remove the tin-foil and cook for 15 – 20 minutes longer uncovered.
Serve over rice or alongside your favorite vegetable.  Enjoy!
Keywords: spare ribs, gochugaru, spicy, pork
Recipe Card powered by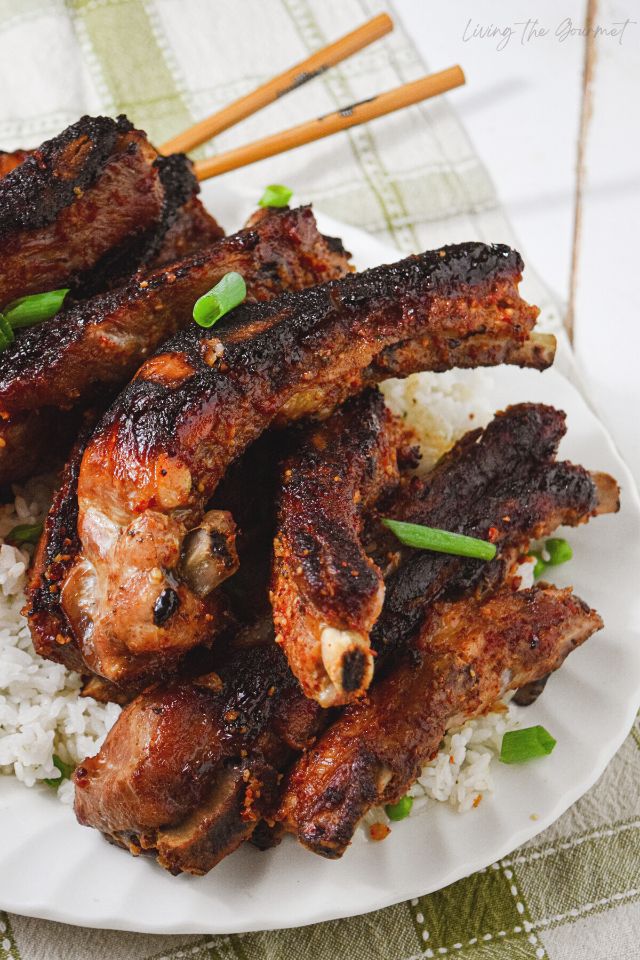 As an Amazon Associate I earn a small commission from any purchases made through the affiliate links within this post. For more information on this please see our disclosure policy. Thank you!
0