This post has been brought to you by Teuwen Communications. All opinions expressed are my own. The following message is intended for those 21+. Please enjoy responsibly.
Today we're reviewing a trio of bottles from Alsace, France. I'll be talking a little about what makes the region tick in terms of viticulture and winemaking. After that, we'll be reviewing the wines themselves, and covering what I consider to be a selection of ideal pairings to really heighten your experience of these particular wines.
Now, without further delay, let's get tasting.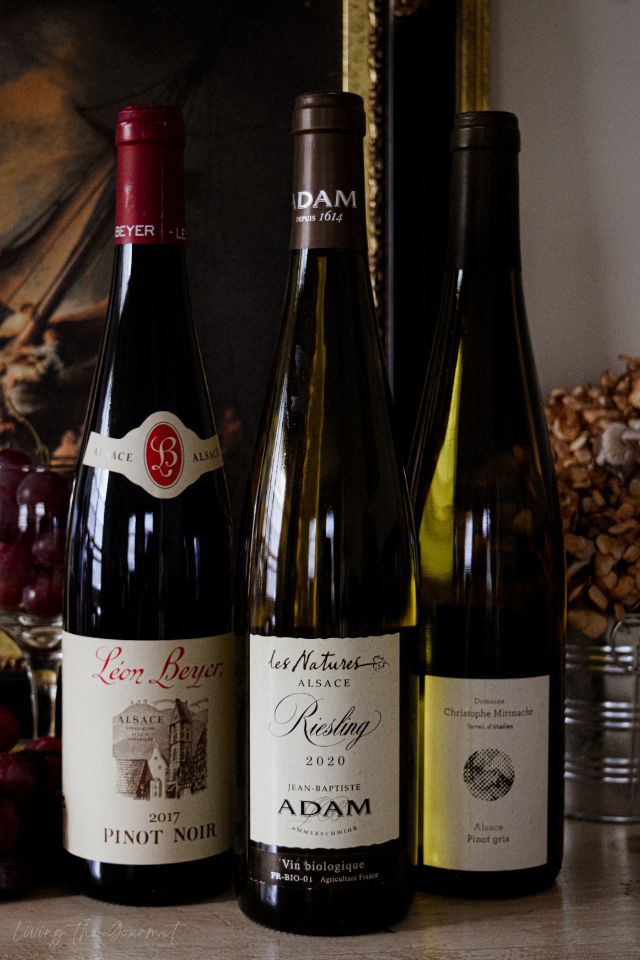 The Where – Alsace, France
Located in the far northeastern corner of France, Alsace differentiates itself from other French wine regions courtesy in large part to its tumultuous history. Going back centuries, the area has been a flashpoint for conflicts waged between France and various Germanic baronies, empires, and states. As such, the area has 'changed sovereignties' several times. This changing sovereignty is evidenced in the wine the region produces, showing strong Franco-Germanic influence.
The wines produced here are done so under three different appellations. These are Alsace, Alsace Grand Cru, and Cremant d'Alsace, corresponding to still white wines (Alsace and Alsace Grand Cru), and sparkling wines (Cremant d'Alsace). While there are some exceptions, including some notable exceptions, virtually all wine produced in Alsace falls into one of these three appellations.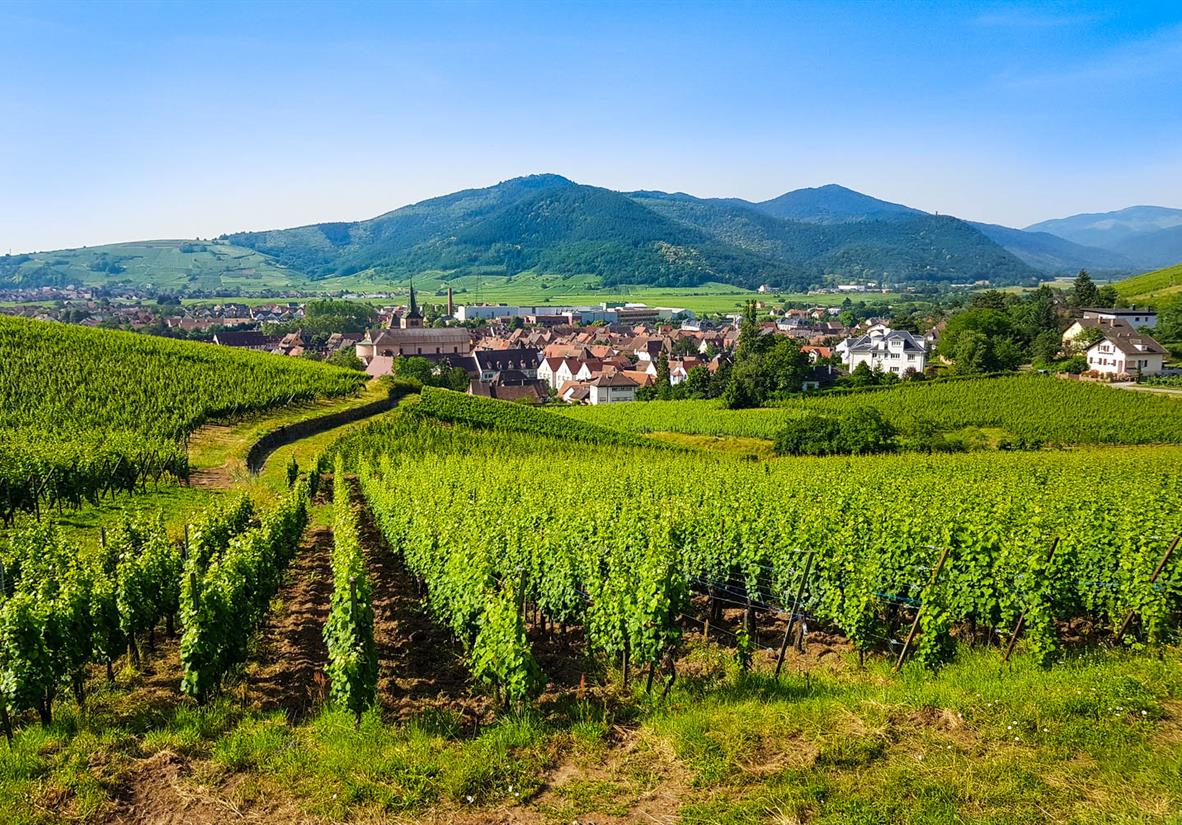 Alsace is a long and thin region, measuring some one-hundred and fifteen miles from North to South, and just twenty-five miles across. Set between the Vosges Mountains and the German border, the Voesges Mountains and Rhine River are the area's defining features, such that all of the area's key vineyards are located along the East and Southeast hillsides of the Vosges.
The Vosges Mountains protect the vineyards from westerly winds, and cast a rain shadow over the vineyards. This protects the vines from overabundant rainfall that would otherwise saturate and eventually drown the vines. In terms of soil, the area features sandstone and volcanic rock, in addition to granite, and clay-rich limestone and marlstone.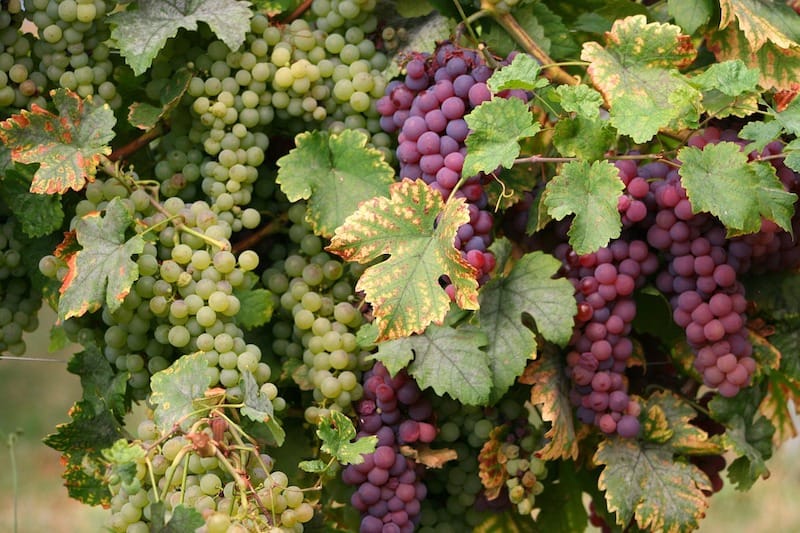 The Bottles – A Showcase
First up, we'll be taking a look at a 2017 Pinot Noir, courtesy of Leon Beyer: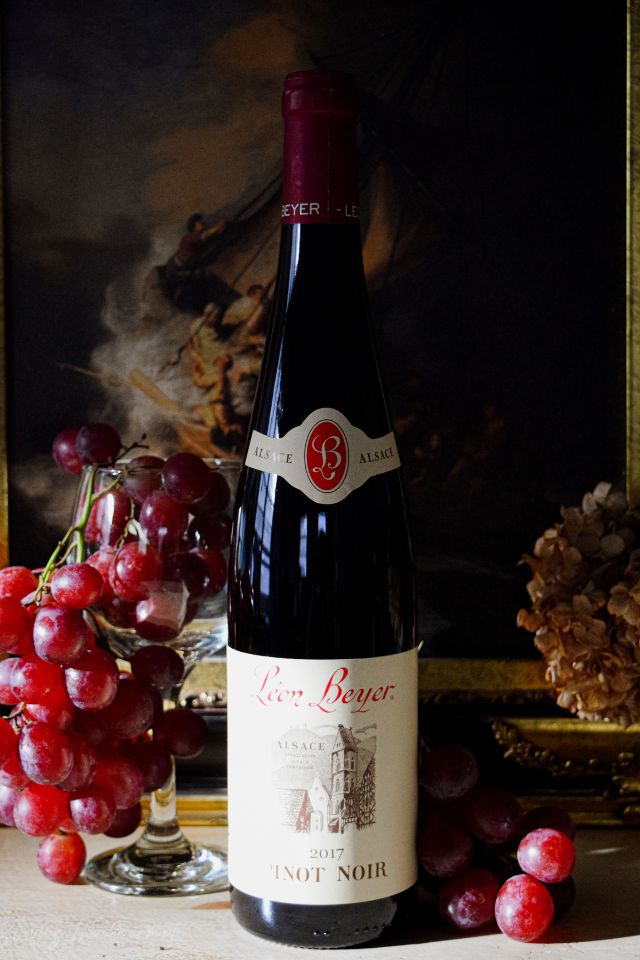 Next, we'll be sampling a 2020 Riesling, brought to us by the Jean-Baptiste Adam winery: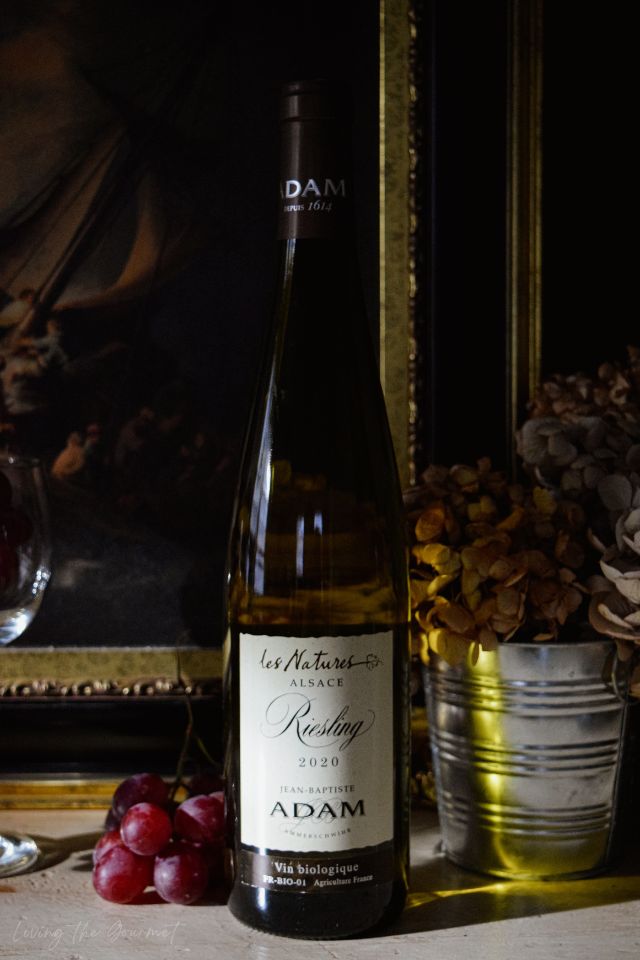 Finally, we'll be reviewing a 2018 Pinot Gris, which comes to us via Domaine Christophe Mittnacht: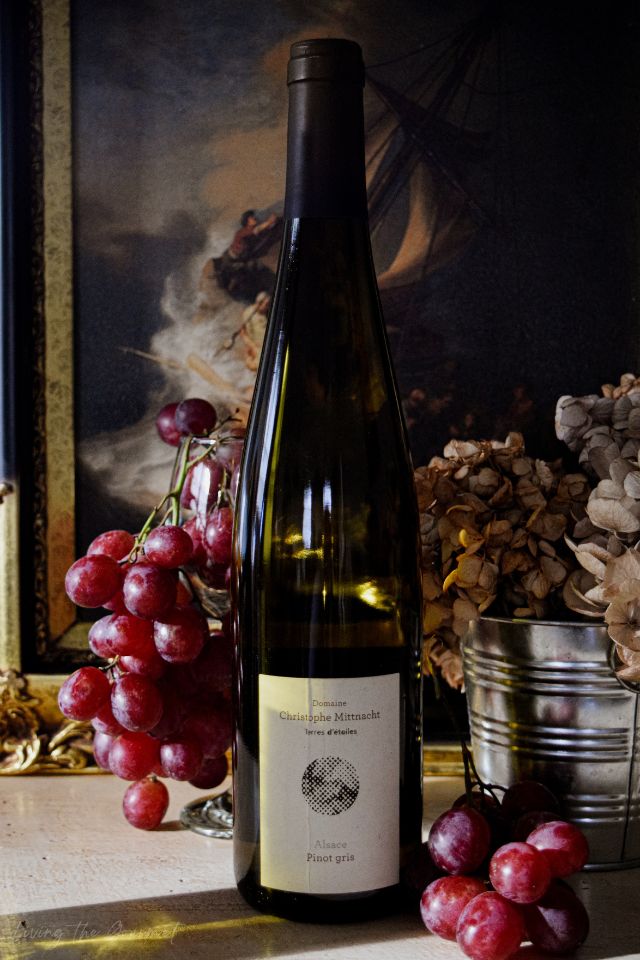 Aromatics and Tasting – The Review
The Pinot Noir opens with fresh ripe red cherries and raspberries off the top of the glass. These initial fruity aromatics mature with notes of black pepper and licorice towards the middle of the glass, ending off on herbal essences. A very rich and pleasant aromatic profile. On the palate, the wine features a lush acidity, and smooth-yet-present tannins, while the red fruit and pepper from the aromatics carry over to the palate.
The Riesling greets with a pleasantly simple bouquet of pineapple and juicy citrus, with just a hint of wild flower. Damp rocks or gravel manifest on second whiff. The body is delicate but balanced, with the citrus from the aromatics carrying over quite nicely. A very pleasant Riesling from start to finish.
The Pinot Gris introduces itself with what I'll describe as 'honey and minerals,' with hints of sliced ripe pear. A touch of citrus and lemon zest, along with 'barely there' peach or apricot make for an interesting and enjoyable bouquet. On the palate, the citrus and apricot of the bouquet carry over, with the addition of what I'll describe as grapefruit, carried on a sharp acidity, and a finish that was surprisingly earthy. Very pleasant, and unexpectedly complex.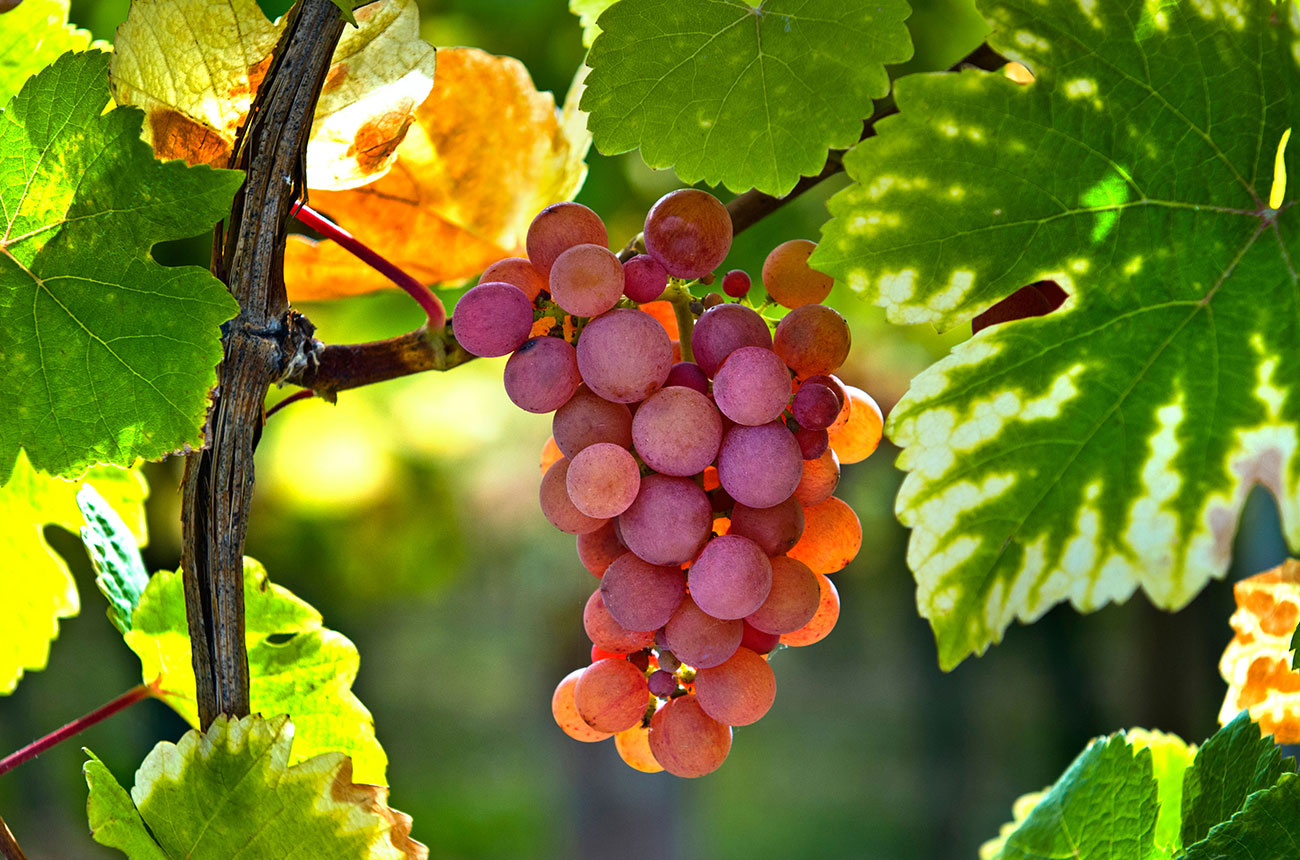 What to Eat – The Pairings
With the Pinot Noir think poultry, game, lamb, and mushrooms. For a poultry pairing, consider a whole roasted chicken rubbed with paprika, cumin, garlic, curry, and black pepper. In terms of lamb, consider a whole roasted leg, rubbed with garlic, oregano, and olive oil mixture, and then cooked until crisp. In terms of mushrooms, think portobellos grilled in a balsamic marinade, and then finished with toasted breadcrumbs, and tossed with a salad of warmed romaine, pine nuts, and garlic.
With the Riesling think cured meats and starter boards. You might also consider a charcuterie board with fresh and dried fruit, homemade crostini, and assorted cured meats, such as the one I prepared here.
With the Pinot Gris think pork, rich fatty fish such as salmon, and spicy food. Consider a salmon filet marinated in teriyaki, soy, fresh roasted garlic, olive oil, and fresh lemon juice.
As an Amazon Associate I earn a small commission from any purchases made through the affiliate links within this post. For more information on this please see our disclosure policy. Thank you!
0