Today's cookies bake up soft and moist, and feature a delicious combination of cherries, chocolate chips, and nuts. This combination provides a delicious contrast of textures, going from soft to crunchy, along with layers of flavors, from sweet to fruit to chocolatey to nutty.
These cookies will keep you and your loved ones coming back for more.
Being only quasi-homemade (we're getting a little help from a box mix) today's cookies really couldn't be simpler to put together. Simply mix, form the cookies, set them on a baking sheet, and then pop them in the oven.
Today's cookies are also super versatile, meaning you can tweak them to your liking, as well as substitute most of the ingredients.  As an example, see my Lavender Chocolate Chip Cookies or my personal favorite Levain Bakery Chocolate Chip Cookies.
Now, without further delay, let's make some cookies.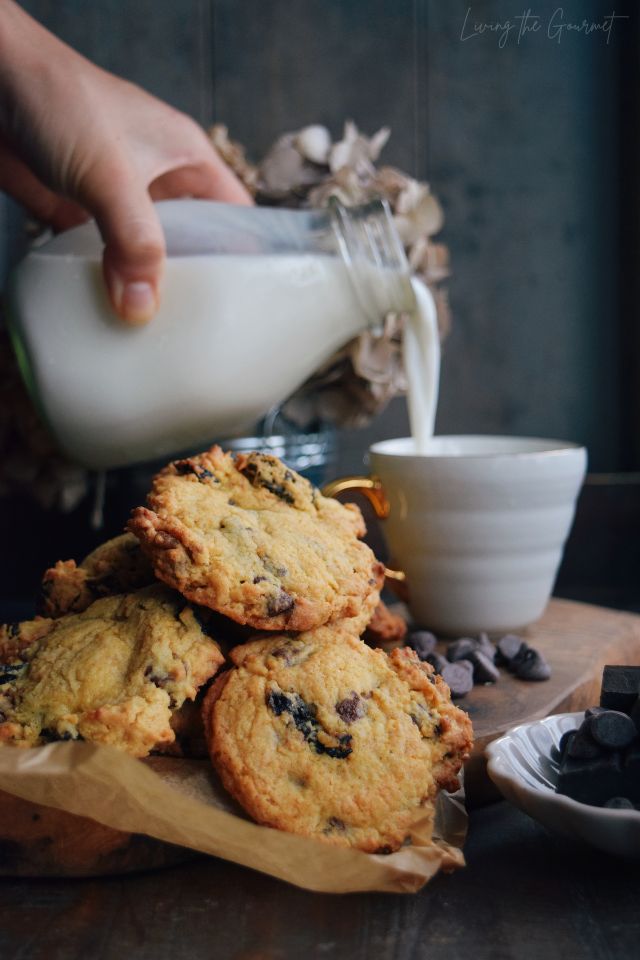 Equipment Notes
Parchment Paper.  This is simply my preferred way of keeping the cookies from sticking.  However, a well buttered cookie sheet or nonstick baking pan will work fine as well.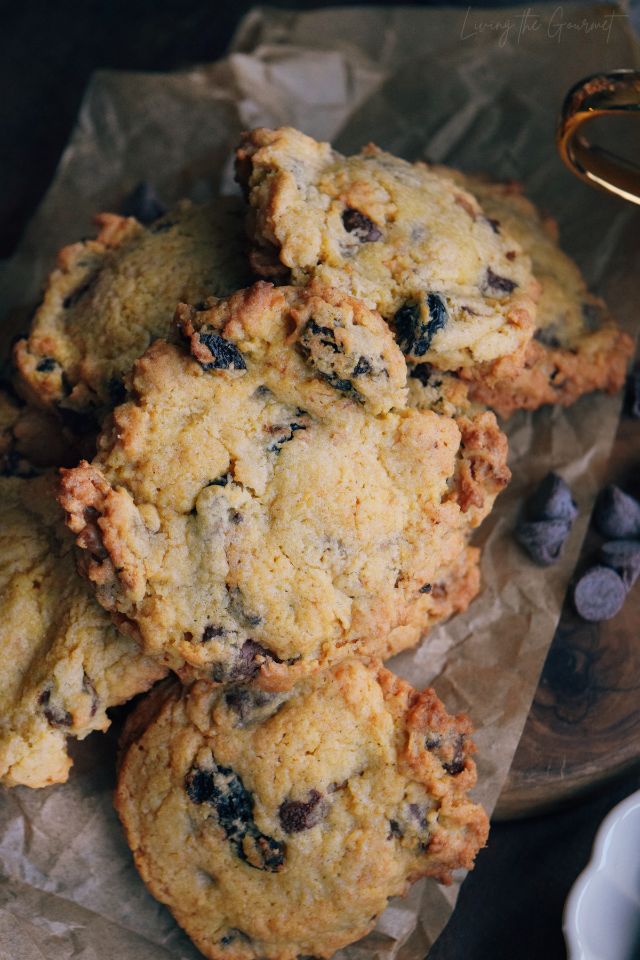 Ingredient Checklist and Notes
The Box Mix.  I'm using a plain yellow cake box mix.  Feel free to use the cake mix of your choice.  More on that below.
Butter.  Plain unsalted butter.  Be sure to let it soften before use.
Flour. All-purpose flour is probably best for today's cookies.  Bread flour would result in a 'hard' and 'dense' cookie, while baking flour is simply unnecessary given that we're using a box mix.
Vanilla.  Vanilla extract, beans, or paste will all work fine.  Remember that paste, beans, and extract all substitute at a one-to-one ratio.
Eggs. Not a whole lot to say here, other than these help bind it all together and add fat for moisture and flavor.
Brown Sugar.  I'm using dark brown sugar because it has more of that 'molasses flavor' that we're looking for.  Substitutes below.
Dried Cherries.  Give these a few decent chops before adding them into the mix.  The reason is to check for pits or pit fragments.
Chocolate Chips.  Basic chocolate chips, I prefer dark chocolate for today's cookies, but milk chocolate will work just fine.
Walnuts.  These add a nice bit of complexity to the cookies, in my opinion, both in terms of taste and texture.  See below for substitutions.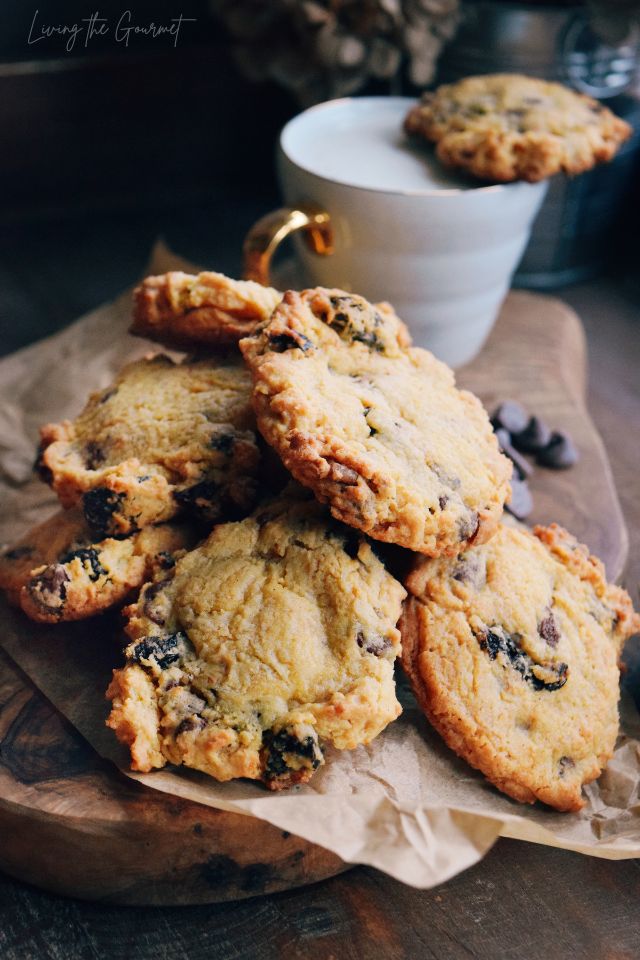 Substitutes
The Box Mix.  As mentioned above, any box mix will work just fine for today's recipe.  Yes, moist and super moist would work as well.
The Flour.  Almond flour or brown rice flour can stand in for wheat flour.  Brown rice flour, in particular, doesn't have a strong flavor, and has a powdery texture similar to wheat flour, making it a good choice for most baked goods.
Walnuts.  Pecans are my go-to substitute for walnuts, and vice versa.  Pecans substitute at a one-to-one ratio.  They feature a crisp and buttery texture, whereas walnuts are a bit 'woodier' in terms of flavor, which I find stands out more in today's cookies.  Peanuts or almonds would also work just fine in place of walnuts.
Dried Cherries.  Your dried fruit of choice will substitute just fine in place of the dried cherries.  However, dried cranberries or chopped apricots would be my recommendation.
Brown Sugar Substitutes.  There are a couple of 'okay' substitutes.  The best substitute is molasses.  Simply mix a teaspoon of molasses with a quarter of a cup of white sugar, and use that in place of the brown sugar.  The next best substitute is maple syrup.  Mix a teaspoon of maple syrup mixed with a quarter of a cup of white sugar.  In both cases, stir until combined, and then use that in place of the brown sugar.  Coconut sugar is also a decent substitute for brown sugar.  Use that at a one to one ratio.
Variations
Dried Fruit.  Raisins or chopped apricots would work fine in today's cookies – or a mix of both!  Experiment with the dried fruit of your choice, and let me know in the comments below how it worked out.
White Chocolate.  White chocolate chips would pair just fine in today's cookies if you prefer – or in addition to the chocolate chips.  The more the merrier.
Chocolate Dipped.  If you're feeling adventurous, you can melt some chocolate in a Dutch oven, dip the cookies half way after cooking, and then let them chill on a wire rack.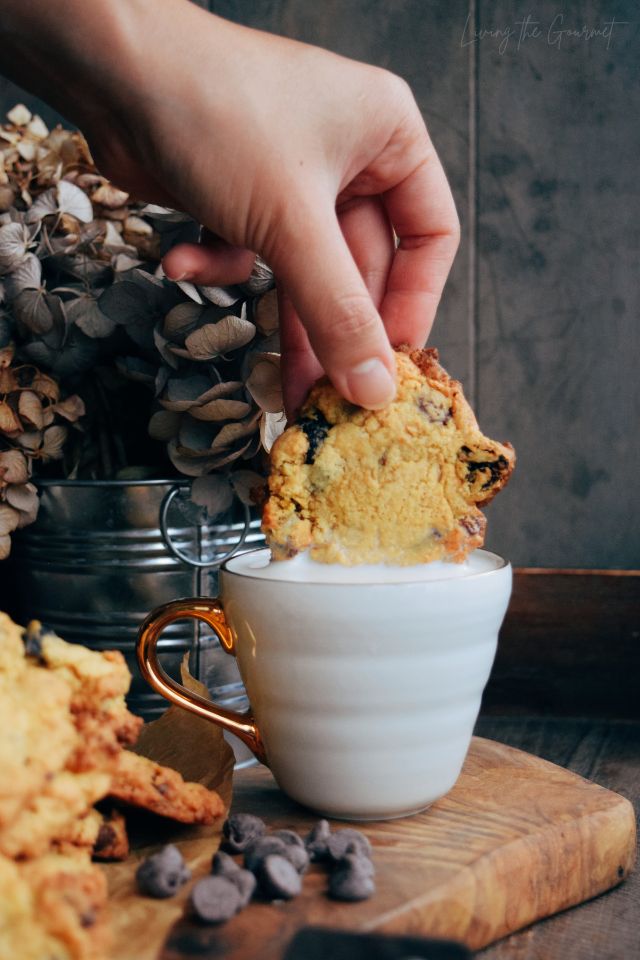 Print
Cake Mix Cookies
Author:
Prep Time:

10 minutes

Cook Time:

13 minutes

Total Time:

23 minutes

Yield:

2

dozen

1

x
Category:

Dessert

Method:

Bake

Cuisine:

American
1

yellow cake box mix

1/2

cup

flour

1/4

cup

brown sugar

1/2 tsp

. cinnamon

1/2

cup

dried cherries – chopped

1/2

cup

walnuts – chopped

1

cup

chocolate chips

2 tsp

. vanilla

2

tbs. water

2

eggs

1/2

cup

unsalted butter – softened
Parchment paper – to line the pan
Instructions
Preheat Oven 350 degrees F.
In a large bowl; combine the cake mix, flour, brown sugar, eggs, vanilla, cinnamon, softened butter and water.
Mix until combined; add the dried cherries, walnuts and chocolate chips and stir to combine.
Prepare a cookie sheet with parchment paper.
Using a teaspoon, drop a spoonful of the batter in rows.  Leaving room between each cookie.
Bake for 10 minutes, then take the cookie sheet out and press each cookie down gently with a spatula or the back of a cup.
Place the cookies back in the oven and bake for another 3 minutes.  Let cool on a cooling rack before serving.
Keywords: cookies, cake mix, semi homemade, chocolate chips, dessert
Recipe Card powered by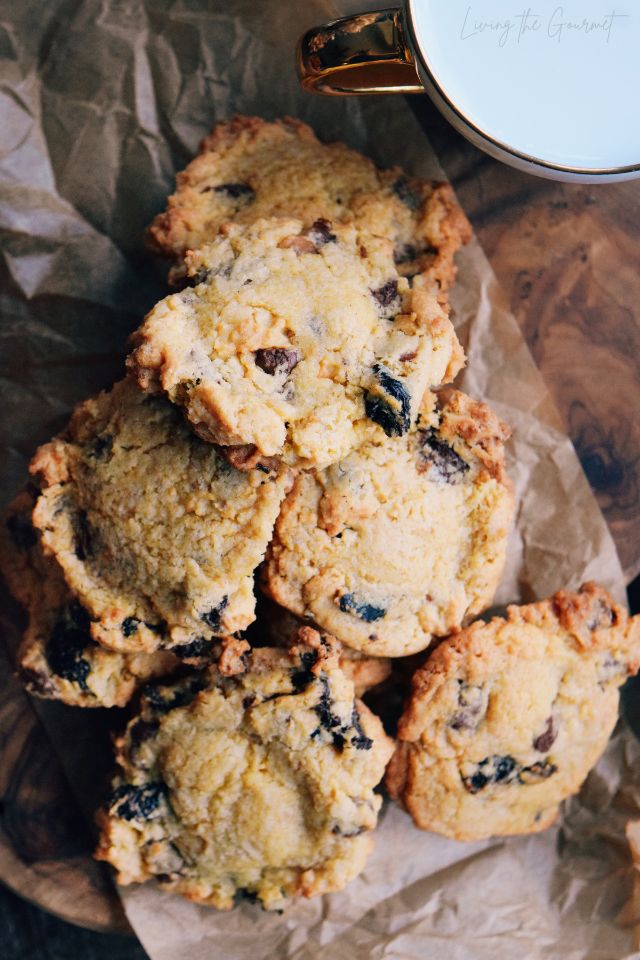 As an Amazon Associate I earn a small commission from any purchases made through the affiliate links within this post. For more information on this please see our disclosure policy. Thank you!
0