This chicken features a crisp exterior that's bursting with layers of sweet and spicy flavor, and a decadently moist and juicy interior. We're using a super simple ketchup and mustard-based coating, while the addition of Korean red chili pepper brings a nice bit of complexity, spice, and depth.
This is one recipe the entire family can enjoy.  It's easy to love and accessible for palates of all ages, while providing enough flare and depth for the more discerning among us.  As a nice bonus, it pairs with all of the usual favorites, such as my Asian Summer Coleslaw, which features a ginger, gochugaru, and sesame dressing, or – if you're feeling creative – my Fried Paneer Salad.
As a nice bonus, this recipe can be prepared baked in oven, pan fried, deep fried, or fried in the air fryer, making it very versatile.  More on that below.  We'll also be covering notes and substitutions for almost all of the ingredients.
Now, without further delay, let's make some chicken.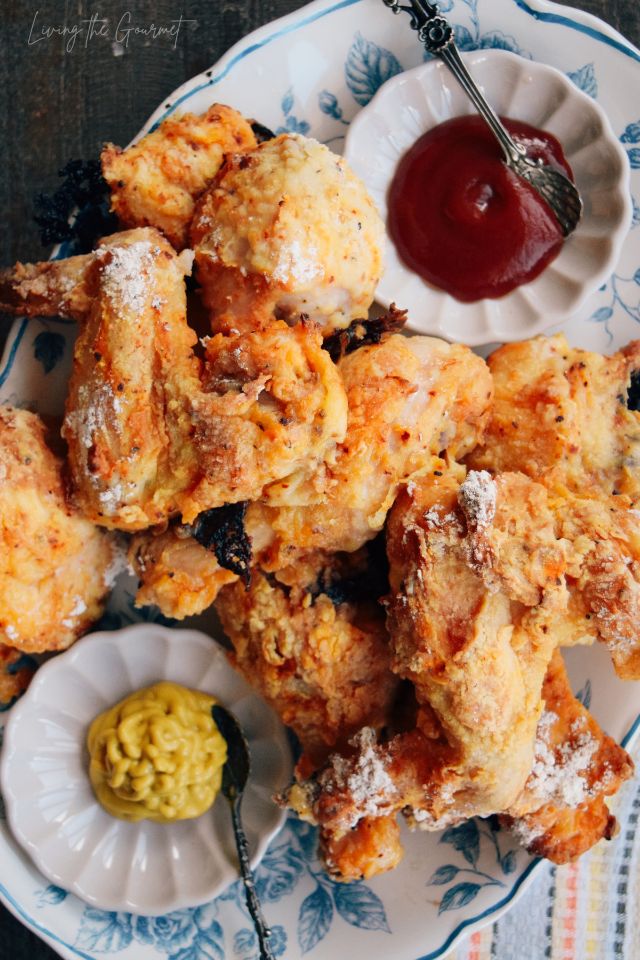 Ingredient Checklist and Notes
Salt.  Not a lot to say here.  Plain table salt is all you need.
Flour. All-purpose flour is probably best for today's chicken.  Baking flour will definitely be too fine and gentle, and fail to make a proper crust.
Black Pepper. Pre-ground or cracked pepper is really all you need for today's recipe, no need to fuss with grinding.
Garlic Powder.  Adds a nice garlicy flavor to the crust.  Substitutes below if you don't have this on hand.
Eggs. Not a whole lot to say here, other than these help bind the crust together, while adding moisture and flavor.
Milk.  Whole fat milk is what you want to go with.  We want the added fat for the crust.  Substitutes below.
Mustard.  Plain yellow mustard is what I'm using for today's recipe.  I would steer clear of whole grain mustard.  Dijon would probably work fine.  Deli mustard might be a bit overpowering.
Ketchup.  Plain, standard ketchup.  Not a whole lot to say here.
Sugar.  Simple granulated sugar is what you're looking for.
Gochugaru.  Korean red chili pepper, which has a lovely 'bright' flavor, pleasant spiciness, and just a hint of sweetness.  Seriously, this has become one of my favorite seasonings.  Substitutions below.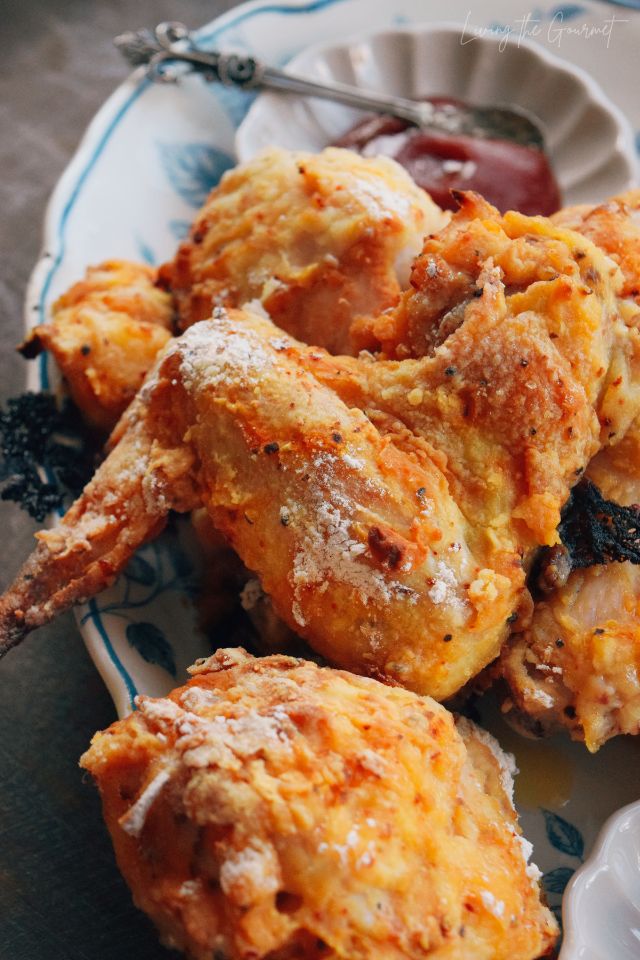 Substitutions
Milk – Lactose Free Substitutes.  Any plain, full-fat milk substitute will work.  No sweeteners, no flavors, no reduced fat.  I would stick with plain soy or almond milk, as these are the most flavor neutral milk-substitutes.  Use them in the same quantity as whole milk.
Gochugaru.  There are several suitable substitutes for Gochugaru.  However, given gochugaru's unique mix of chili flavor, heat, and sweetness, there is no 'precise' or 'perfect substitute. All of the listed substitutes get used at a one-to-one ratio.
Red Pepper Flakes.  If all you really care about is the heat, this is perhaps the simplest substitute on this list.
Sweet or Mild Paprika.  This is my preferred substitute when I don't have gochugaru on hand.  However, some may find this a bit too 'earthy,' a quality that really isn't present in gochugaru, so you will end up with a slightly different flavor profile.
Chipotle Powder.  Probably the closest in terms of 'chili for chili' flavor to gochugaru, but slightly milder in terms of heat, and without any real sweetness, but with an extra emphasis on 'chili flavor.'
Cayenne. The hottest of these substitutes by a longshot.
Gochujang.  This is perhaps the best substitute here, since one of the lead ingredients in Gochujang is actually gochugaru.
Note:  All of the above get used in the same volume as the gochugaru.
Protip: For the very best results mix any or all of the above in roughly equal amounts (mix and match to find your preferred mixture).  This only applies to the dry ingredients – 'not' the gochujang.
Garlic Powder.  An equal amount of freshly minced garlic with just a pinch of salt.
The Mustard.  Experiment with the mustard of your choice, and let me know how it turned out!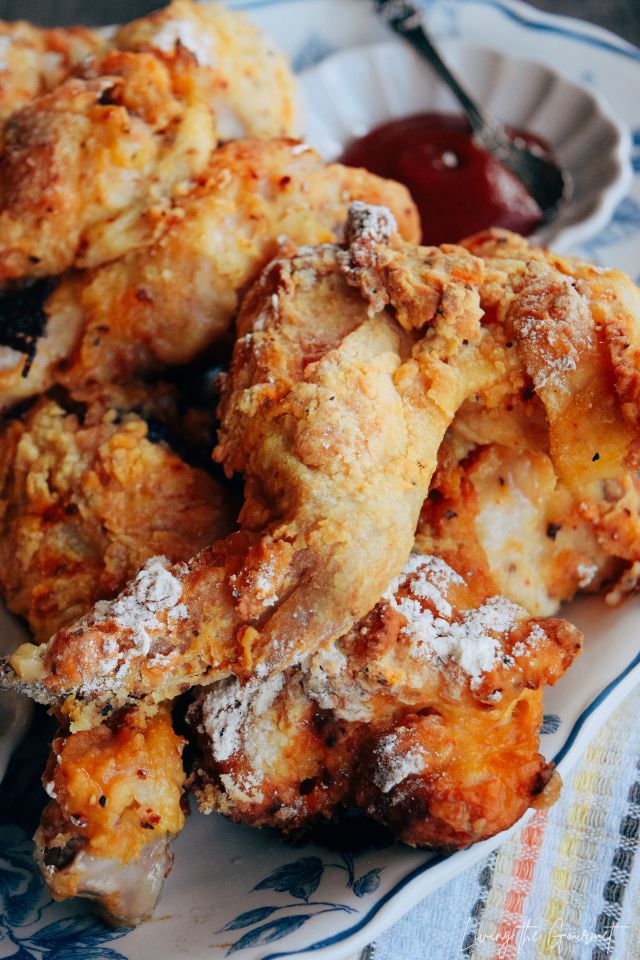 Alternative Cooking Methods
Air Frying.  Today's recipe works in an air fryer.  Fairly straight forward, if you've got an air fryer you probably already know how to do this, but here's my personal rundown.  Preheat your air fryer to 360 degrees Fahrenheit.  Cook for 15-20 minutes.  Open the basket, flip the chicken, and cook for another 5-10 minutes.  You are looking for an internal temperature on the chicken of 165 degrees Fahrenheit.  
Pan Frying.  Super simple.  Start off by heating a medium sized frying pan (I use cast iron, but stainless steel works fine too) with about an inch of vegetable oil (inch meaning an inch deep).  You want the oil hot, but 'not' smoking, otherwise it will give the chicken a rancid taste.  Then gently place the chicken into the hot oil.  Only fry a few pieces at a time so as not to overcrowd the pan.  Cook the chicken about 3-5 minutes per side.  Dark meat takes slightly longer to cook.  You are looking for the chicken to be golden colored.  Once fried, transfer to a paper-towel lined tray to absorb any excess oil, and you're done.
Deep Frying.  Yes, today's recipe works just fine in a deep fryer.  Keeping it real, if you've invested money and counterspace into a deep fryer, you probably don't need me to tell you have to fry chicken in it.  Just fry today's breaded chicken the same way you would any other batch of lightly breaded chicken.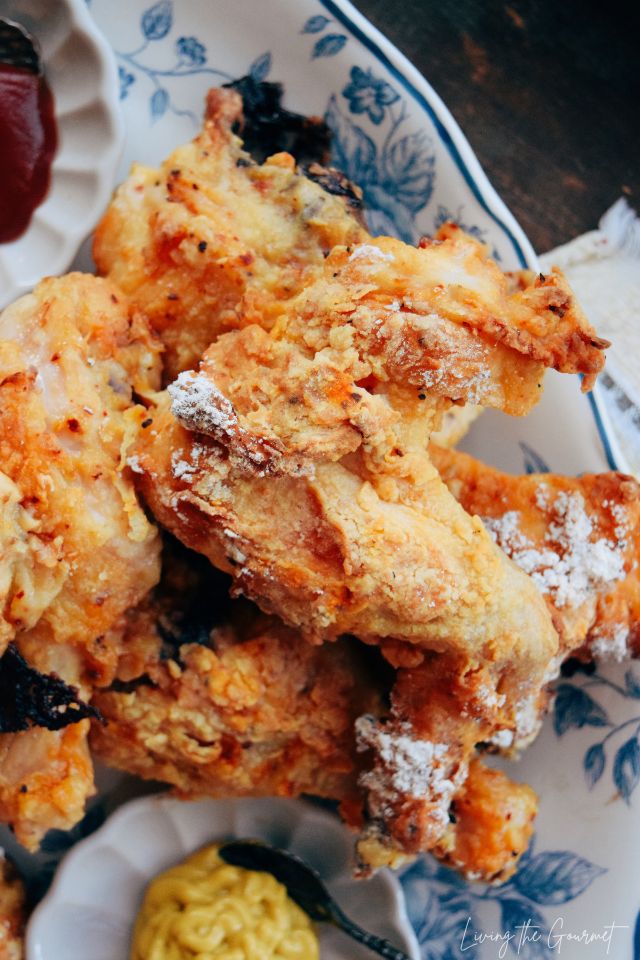 Print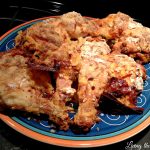 Oven Fried Chicken
---
Total Time:

1 hour 5 minutes

Yield:

8

servings

1

x
1

chicken - cut into pieces
Vegetable oil - for drizzling
For the Coating:
3

cups

of flour

2

tsps. - gochugaru - Korean red chili pepper flakes

2

tsps. - salt

2

tsps. - sugar

2

tsps. - garlic powder

2

tsps. - black pepper
For the Egg Wash:
3

eggs

1

cup

milk

4

tbs. mustard - I used yellow - you may use the mustard of your choice

4

tbs. ketchup
---
Instructions
Clean and cut the chicken.
In a large bowl combine the eggs, milk, ketchup and mustard and mix until well combined.
Add the chicken pieces to the egg-wash mixture. Refrigerate in the egg-wash for about one hour.
Prepare the flour mixture and lift the chicken pieces from the egg-wash mixture and dredge in the flour mixture.
Prepare baking pans with parchment paper and place the dredged chicken on the baking pan.
Drizzle each piece of chicken with the vegetable oil.
Preheat Oven to 350 degrees F.
Bake the chicken for 55 – 60 minutes or until a nice golden color is achieved and the juices run clear.
Prep Time:

10 minutes

Cook Time:

55 minutes

Category:

Main Dish
Keywords: chicken, oven fried, ketchup, mustard
Recipe Card powered by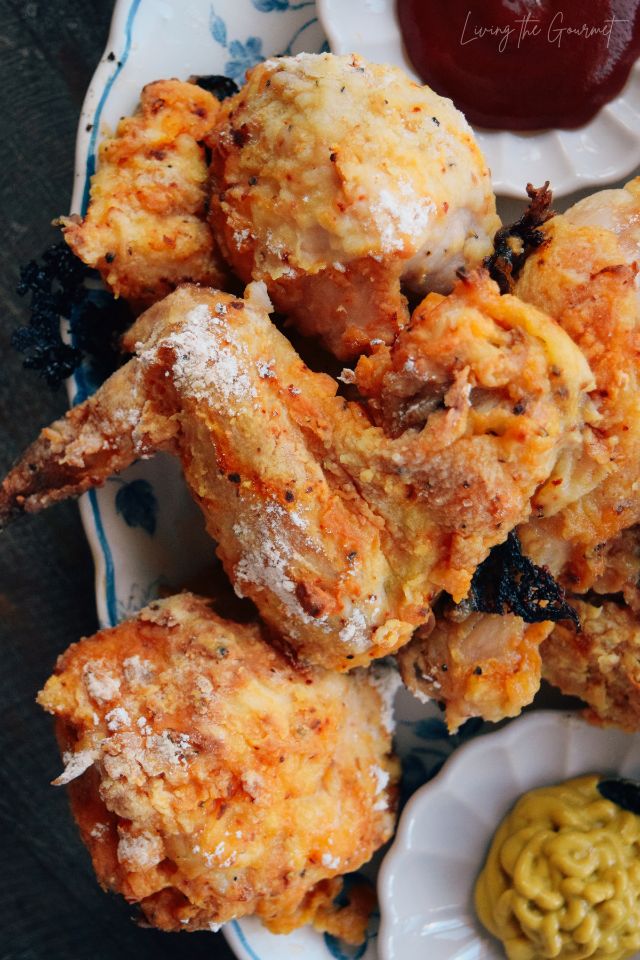 As an Amazon Associate I earn a small commission from any purchases made through the affiliate links within this post. For more information on this please see our disclosure policy. Thank you!
This post has been updated August 2022. The original recipe was published April 9, 2014.
1