Today we're preparing an Asian-style coleslaw, that's sweet, spicy, and perfect for your next barbecue, pairing deliciously with grilled steaks or barbecued shrimp, or even as a side to stir-fried tofu.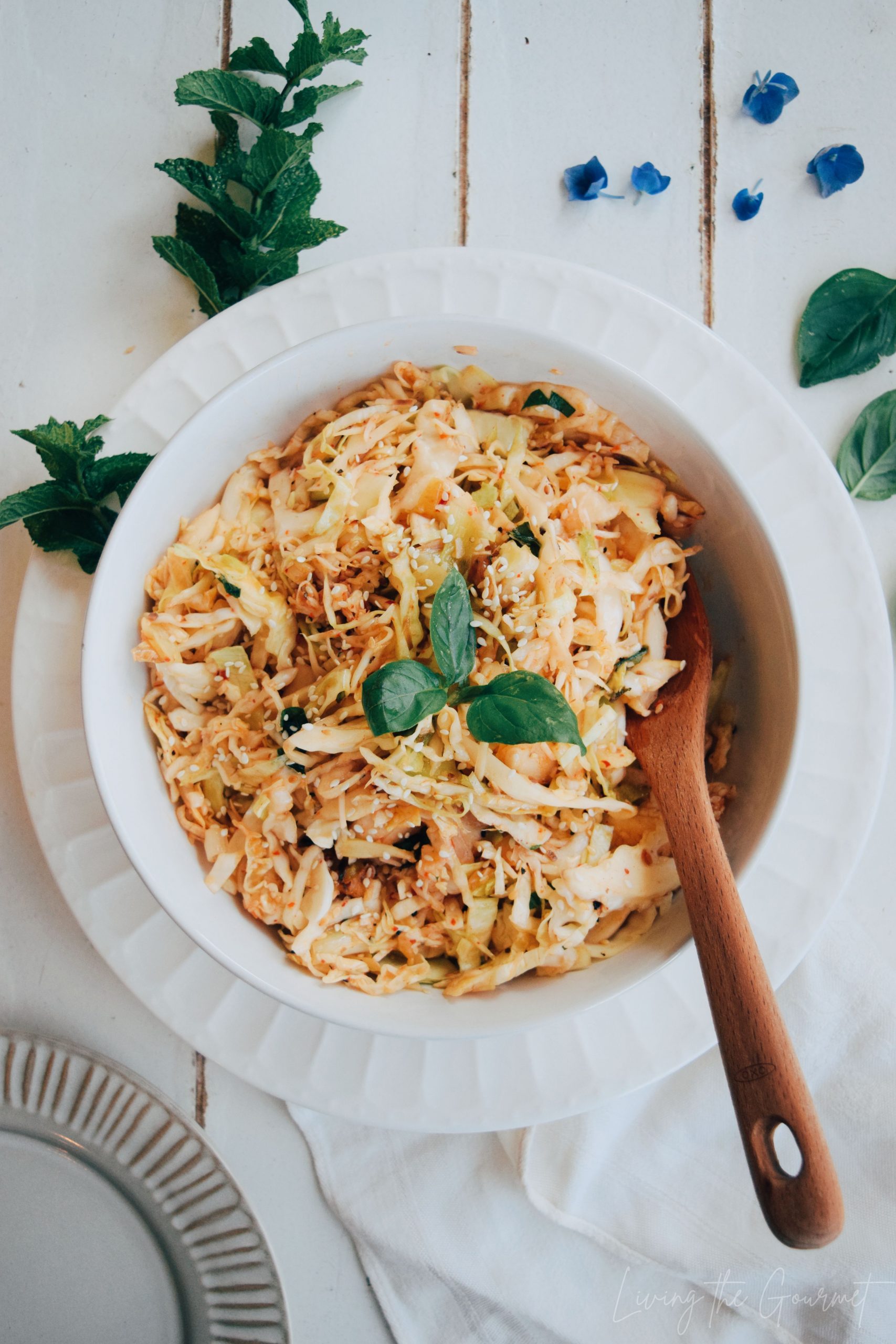 Why You'll Love Today's Salad
1) Super Simple. The most complicated part of the today's salad is grilling a few scallions. Beyond that, it really couldn't be easier. Simply chop together the listed ingredients, mix the dressing and you're good to go.
2) Beef, Tofu, or Dumplings. Today's cabbage pairs great alongside things like fried dumplings with a spicy dipping sauce, or grilled or stir-fried beef, or with grilled or fried tofu.
3) Make Ahead. While I would suggest serving today's salad right away, letting it sit in the fridge overnight will really let the cabbage marinate, heightening the flavor.
Ingredient Notes, Tips, and Substitutions
1) Green Cabbage or Napa Cabbage? We'll start with the most obvious differences – appearance. Green cabbage is round, pale green, and has a rubber-like texture when raw. By contrast, Napa cabbage is oblong, and has frilly yellow-green leaves. In terms of taste, Napa Cabbage tends to be ever so slightly sweeter than its green cousin, but 'much' more tender. In fact, Napa Cabbage is by far the most tender variety of cabbage. While Napa Cabbage has some 'very' devoted fans, the reality is that these two items are 'almost' wholly interchangeable. They're both great in stir fries, soups, or raw in salads – as we're doing here today. However, one area where Napa Cabbage shines above its pale green cousin is as a filling for dumplings, where it's much more tender texture really shines through, although Green Cabbage has been known to make its way into a fair few dumpling recipes, especially those in Northern and Eastern Europe.
Substitution: Either cabbage variety will work just fine for today's recipe.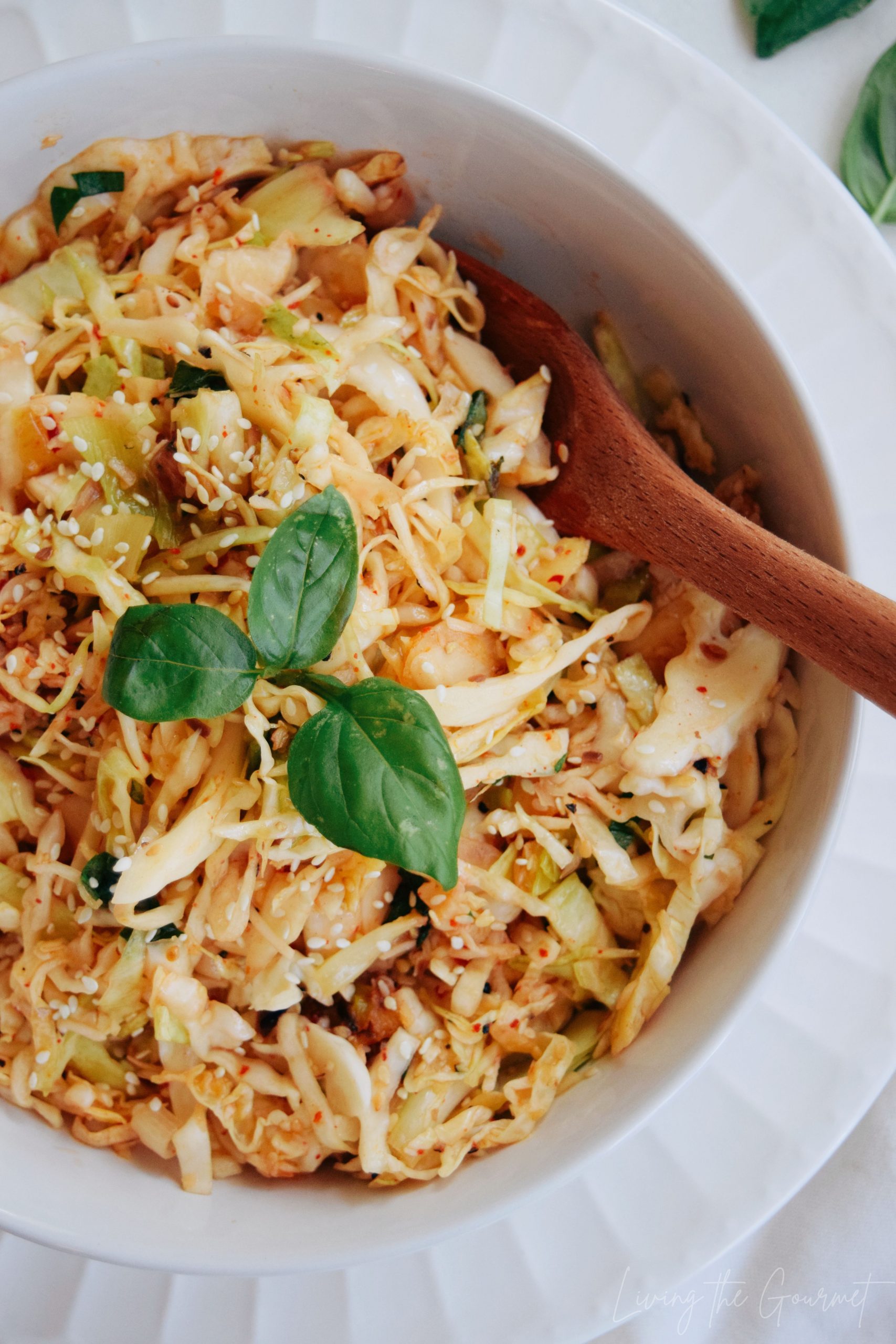 2) Fresh Mint. I love cooking with mint for a couple of reasons. First off, mint is easy to grow (seriously, my mint has survived more Long Island droughts and flooding than I can count, and still comes back like clockwork), and it's even easier to incorporate into your cooking, while still leaving plenty of room for 'getting fancy.' From complex reductions for use on roasted lambs, to simply stirring a few chopped leaves into yogurt or ice cream, mint is a joy for home cooks and expert chefs alike. With that said, we don't want to go 'too heavy' on the mint in today's salad, otherwise it will be the only thing you taste.
Substitution: Dried mint. Dried mint has a lot of the same qualities that its fresh counterpart has – albeit with the usual 'earthy' or 'dark herbal' notes that pervade almost all dry herbs. For today's recipe, about one teaspoon will suffice, just make sure its thoroughly stirred into the dressing.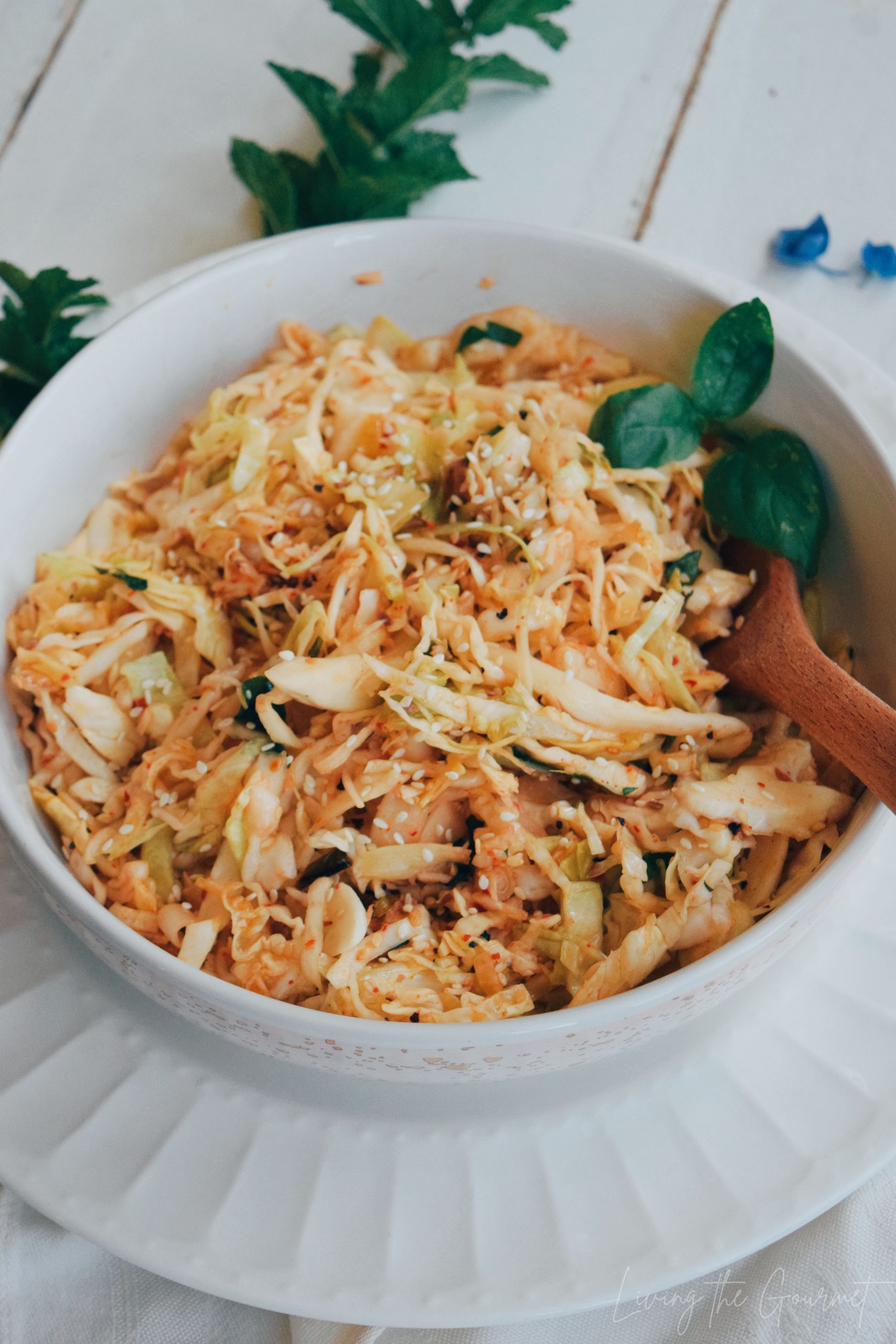 3) Sesame Oil – What is it? A staple ingredient in cuisines from East Asia to India, to the Mediterranean and North Africa, sesame oil is used for a range of applications – although it is most recognizable in stir fry recipes. Sesame Oil, however, is probably best described simply as an 'edible vegetable oil derived from sesame seeds,' since it serves the same cooking applications as corn oil or olive oil, as opposed to something like chili oil – which is more of a flavoring oil than a cooking oil. That said, unlike corn oil or vegetable oil, sesame oil is 'not' flavor neutral. Being quite fatty, sesame oil is much more richly textured than most other cooking oils, and also has – unsurprisingly – a very distinct 'nutty' flavor to it, which carries over to the recipes in which it is used.
4) Fresh Basil vs Dried – and possible substitutions. As with most herbs, fresh basil and its dried counterpart are 'usually' but not always safe substitutions for one another. I'm using fresh basil today to achieve a 'bright licorice' or 'anise-like' flavor – but both of these flavors are entirely absent in dried basil, where a slightly 'mintier' flavor dominates. Furthermore, fresh basil has powerful aromatics that are reminiscent of a bright summer garden in full bloom, whereas dried basil boasts an earthier, vaguely 'darker' herbal aromatic profile.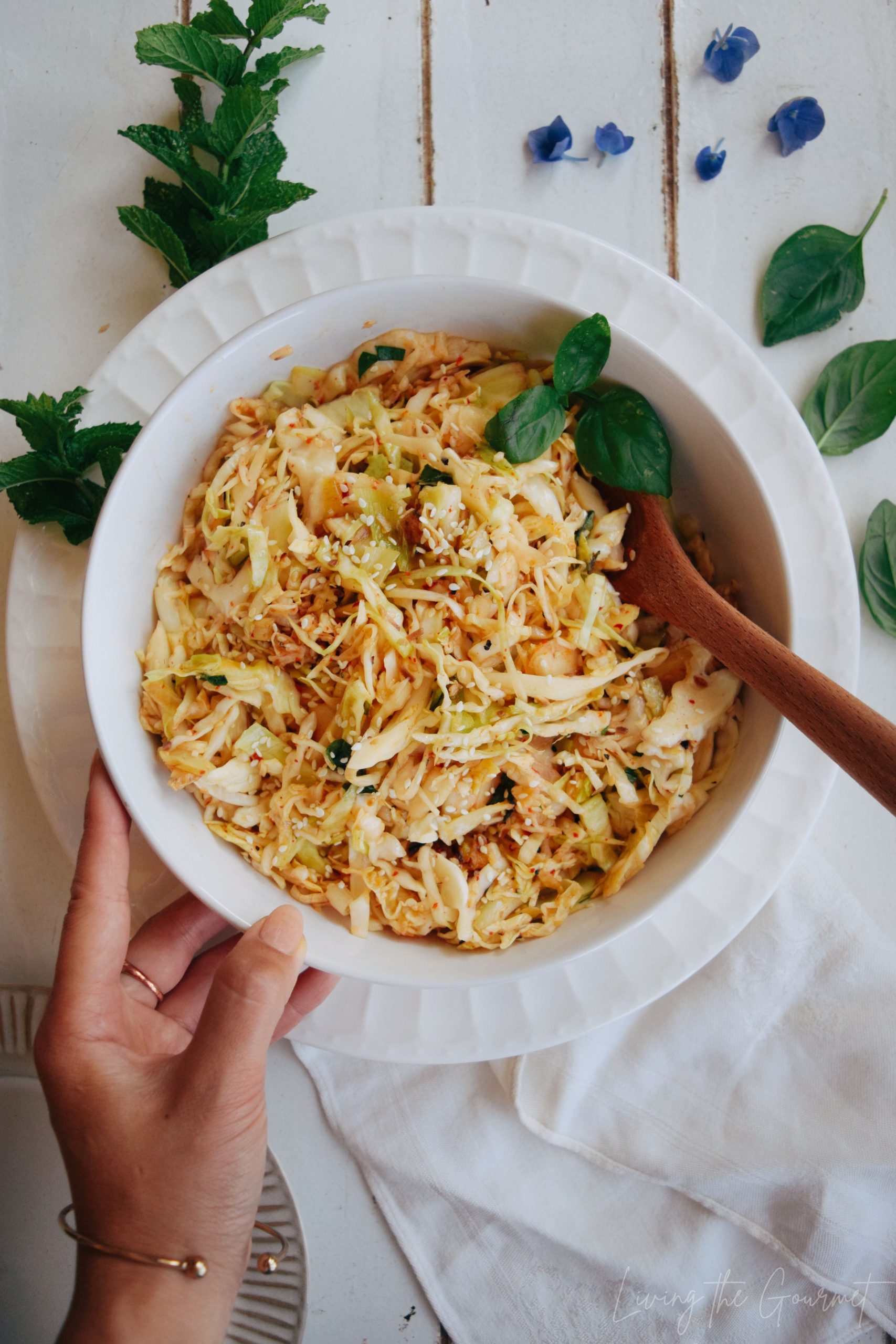 More Salad Favorites from Living the Gourmet
1) Layered Eggplant Salad. Breaded eggplant, combined with fresh basil, fresh tomatoes, and grated romaine, combine to create a delicious take on baked eggplant that's sure to be a hit with your friends and family.
2) Mediterranean Orange Salad. A super simple orange salad, which combines sliced oranges tossed with cilantro, grilled jalapenos and honey, capers and scallions, creating a medley of savory umami notes set against a sweet and spicy backdrop.
3) Moroccan Tomato Salad. A surprise hit with my family, this Moroccan tomato salad is so simple, and yet so delicious, that it instantly won a place in my heart.
4) Crisp Cucumber Salad. Crisp, refreshing, and taking just minutes to prepare while featuring a medley of Mediterranean flavors, this salad is perfect for adding a touch of 'simple elegance' to any meal.
Print
Asian Summer Salad
Author:
Prep Time:

15 minutes

Total Time:

15 minutes

Yield:

4

-

6

servings

1

x
Category:

Salad

Cuisine:

Asia
1

small head of cabbage – sliced very thin

Handful of fresh basil leaves – julienned

Handful of fresh mint leaves – julienned

1

bunch of scallions – grilled and chopped

2

tbs. of sesame seeds – toasted

2

tbs. of shredded coconut – toasted

3

tbs. able cider vinegar

1

tbs. sesame oil

1 tsp

. black pepper

1

inch piece of fresh ginger – grated

1 tsp

. salt

1 tsp

. Gochugaru (Korean red pepper flakes)

2 tsp

. sugar
Instructions
Heat a small cast iron frying pan dry, and place the scallions in the pan to get a nice char.  Set the scallions aside and then slice.

Again, heat a small cast iron frying pan and place the sesame seeds and shredded coconut in the dry pan and let the sesame seeds and coconut get slightly golden.  Set aside until ready to put into the slaw.

Slice the cabbage very thin and place in a large bowl, add the julienned basil and mint and toss.

Add the sliced grilled scallions and toss. 

Add the toasted coconut and sesame seeds and toss.

In a small bowl mix together the vinegar, sesame oil, black pepper, gogucharu, grated ginger, sugar and salt and stir. 

Add to the salad and toss.

If you would like more dressing make a second batch and add to the slaw and toss.
Keywords: coleslaw, salad, slaw
Recipe Card powered by
0