Today we're preparing one of my family's favorite desserts – cheesecake. This cheesecake is decadently textured and blissfully sweet, featuring a sweetened cheese and cream filling in a graham cracker crust, with a strawberry preserve and fresh blueberry topping. As a nice bonus, this is – believe it or not – one of the simpler desserts that you can make at home.
What I love most about preparing homemade cheesecake, however, is just how versatile it is. The topping can be anything from fresh fruit to caramel to chocolate or fudge. This makes it ideal all year round, and perfect for any occasion. And then of course there's room to really get creative. Imagine a cheesecake in a chocolate shell topped with whipped cream, and then a generous drizzle of caramel sauce.
Really, there's no limit to what you can do with cheesecake. For example, I've made ricotta cheesecakes, I've made chocolate swirl pumpkin cheesecakes, and even mini ice cream cheesecakes. There is just no limit to what you can do with this recipe.
Today's cheesecake involves no exotic ingredients or complicated prep processes. Instead, we're simply whipping cream cheese, combining that with whipped cream, molding that into a graham crust in a springform pan, and then chilling it in the fridge until solid. It really is just that simple.
Now, without further delay, let's make some cheesecake.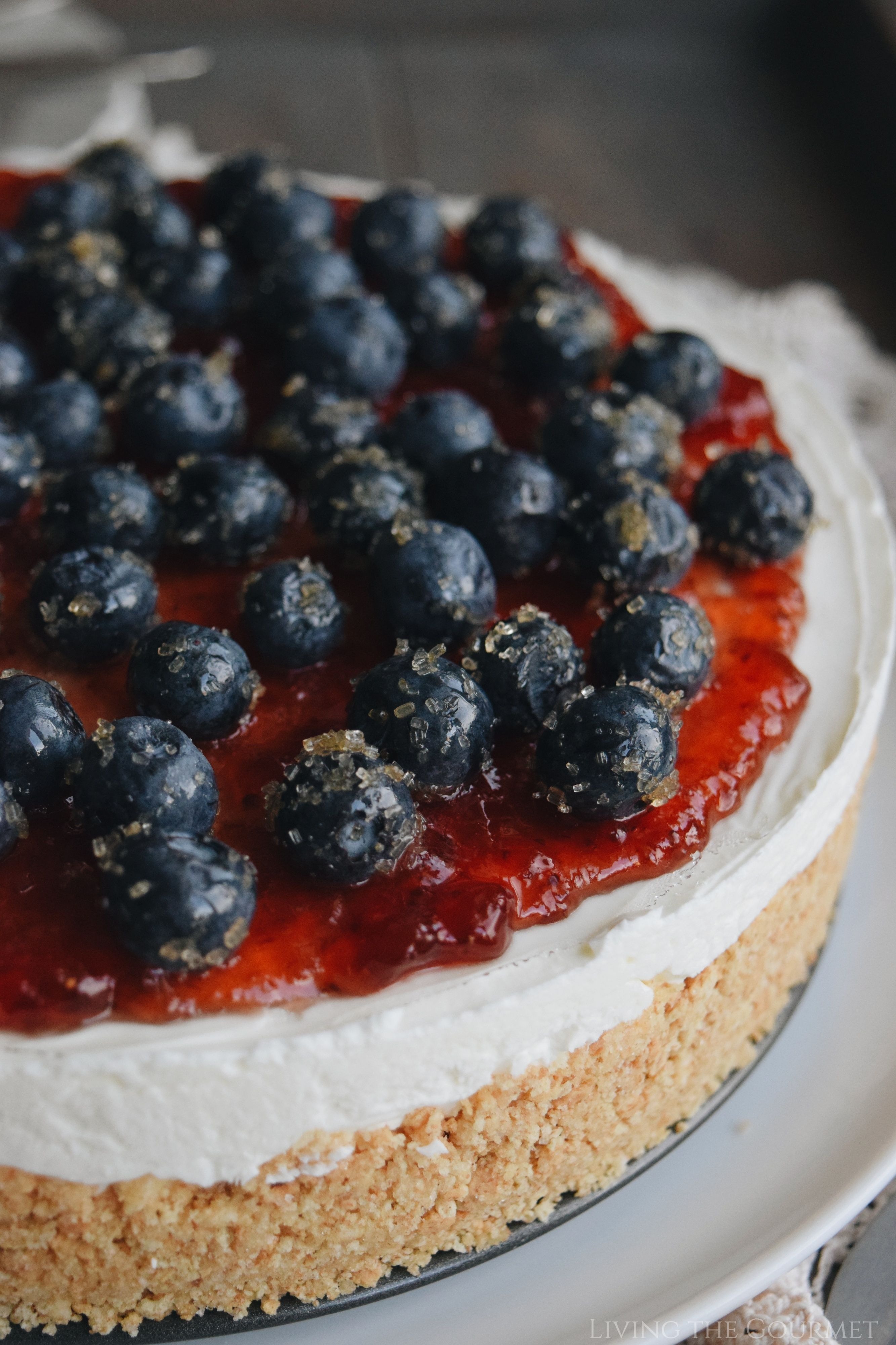 Ingredient Checklist and Notes
Sugar. Plain sugar, not a lot to say here. The sugar is going into the pie crust, and into the cheesecake filling.
Powdered Sugar. We're adding powdered sugar to the cheesecake filling, as this not only provides sweetness but helps stabilize the texture.
Raw Sugar. We're using raw sugar to coat the blueberries. Raw sugar has a somewhat different flavor than standard, and I find it melds deliciously with blueberries. Substitutes for raw sugar below. Note: Yes, that's three different kinds of sugar.
Cream Cheese. Not a lot to say here. This is what puts the 'cheese' in cheesecake.
Heavy Cream. For the whipped cream. This is a key ingredient to help whip up the cream cheese to get that 'cheesecake texture.' Sorry, but there's really not a workable substitute for this one aside from whipping cream.
Fresh Blueberries. One of my go to toppings for cheesecakes, but really any berries will work. Suggestions below.
Strawberry Jam. This is my personal favorite topping for today's cheesecake, but feel free to use your own jam or topping of choice. Substitutes and variations below.
Graham Crackers. We're using plain vanilla graham crackers. Substitutes below.
Butter. This is for forming the graham cracker crust. Plain, unsalted butter is what we're looking for here. There are several possible substitutes, which I'll touch on below.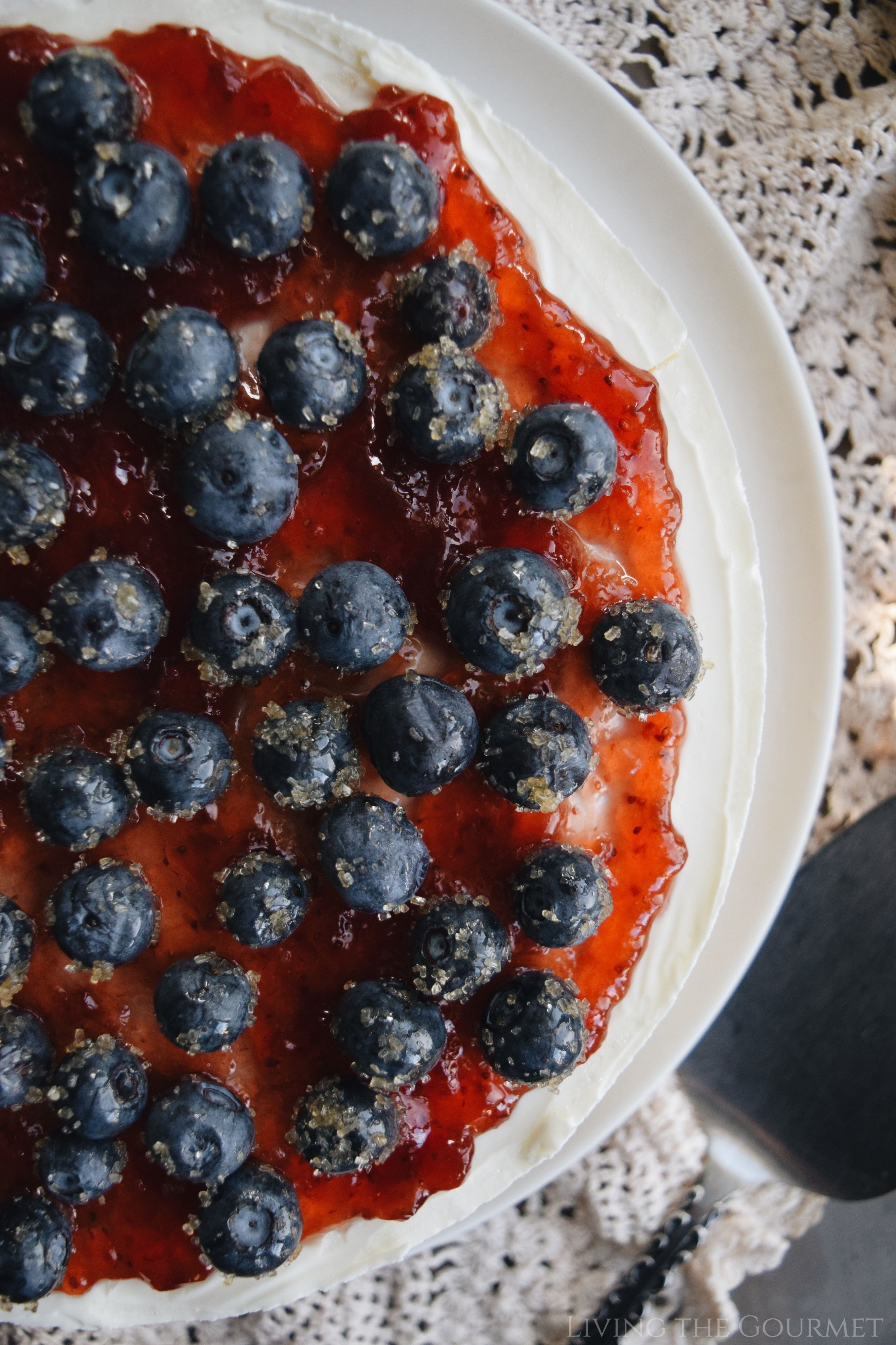 Substitutions
Butter. For crusts, there are several substitutes:
Shortening. First up is shortening, and this is probably the best. This substitutes at a one-to-one ratio.
Lard. This is a tricky one, as flavor, texture, and moisture varies wildly from brand to brand depending on how the lard was sourced. Again, this substitutes at a one-to-one ratio. Note: I would suggest adding in a few pinches of sugar, otherwise you'll end up with a slightly savory crust.
Coconut Oil. Next up is coconut oil, though I would strongly suggest using this in its 'solid' form, perhaps even chilling it in the fridge if necessary. In its solid form, coconut oil substitutes at a roughly one-to-one ratio.
Fresh Blueberries. Any berries, really. Raspberries, sliced strawberries, cranberries, blackberries or cherries. These would all work just fine. Or even mix the berries altogether, there is no 'right way' to do this.
Graham Crackers. Remember that Graham Crackers are just cookies, and so anything with roughly the texture of graham crackers will work. Yes, you could make a crust out of chocolate chip cookies, Oreo wafers, or gingersnaps. Conversely, ice cream cones, pretzels (the salt contrasts deliciously with the sweetness of the cheesecake) or even macaroons would all make delicious crusts. The process remains entirely the same, as do the measurements.
Raw Sugar. If you don't have raw sugar on hand, feel free to use regular white sugar in its place.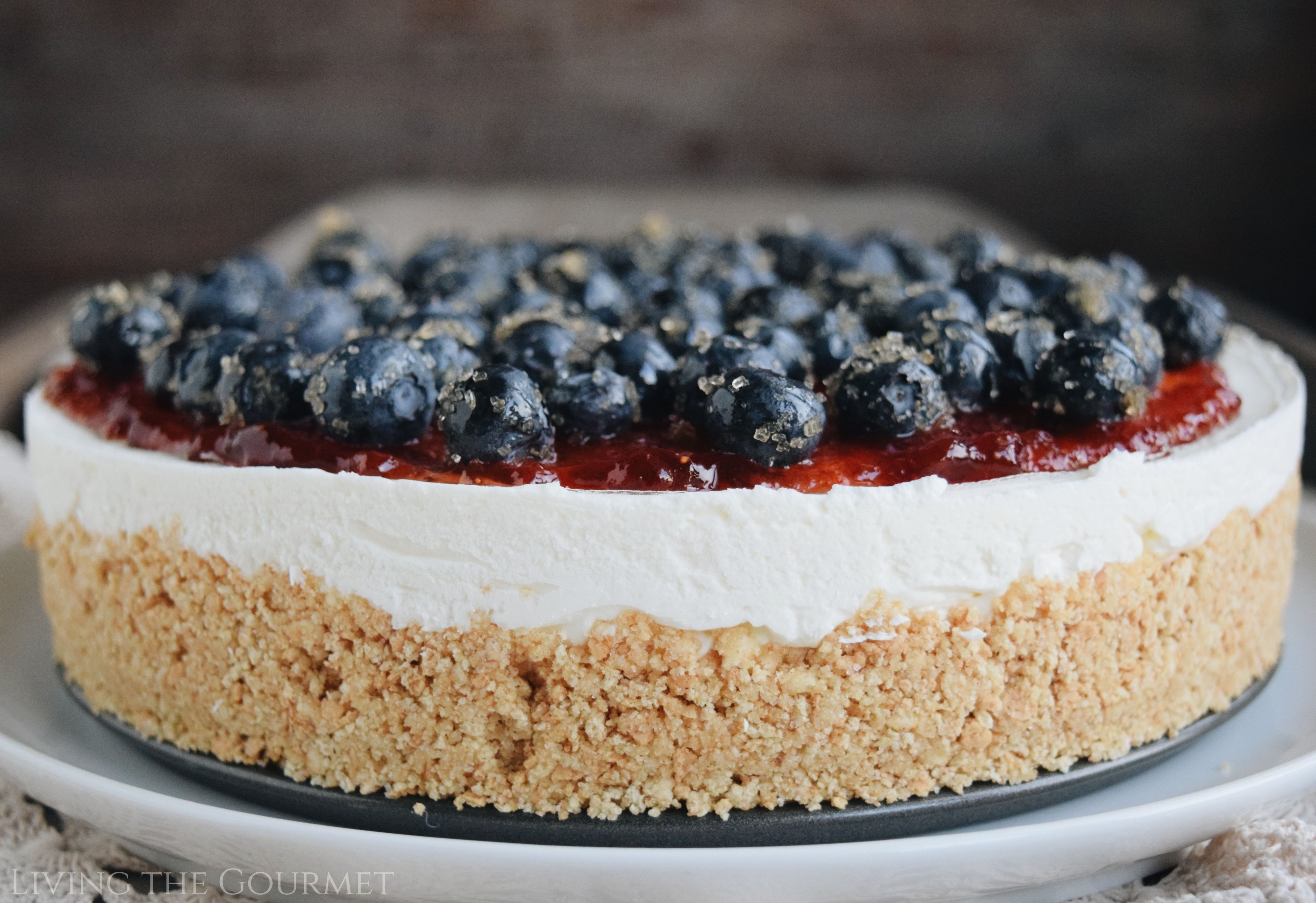 Topping Variations
Caramel Sauce. Cheesecake and caramel is a simply delicious combination. Grab my recipe for homemade caramel, and then drizzle it over the top of the cake until the cake is covered evenly.
Rum Sauce. One of my personal favorites is my rum sauce. Simply drizzle this over the cheesecake, making sure to cover the top of the cake evenly, with some dripping down the sides.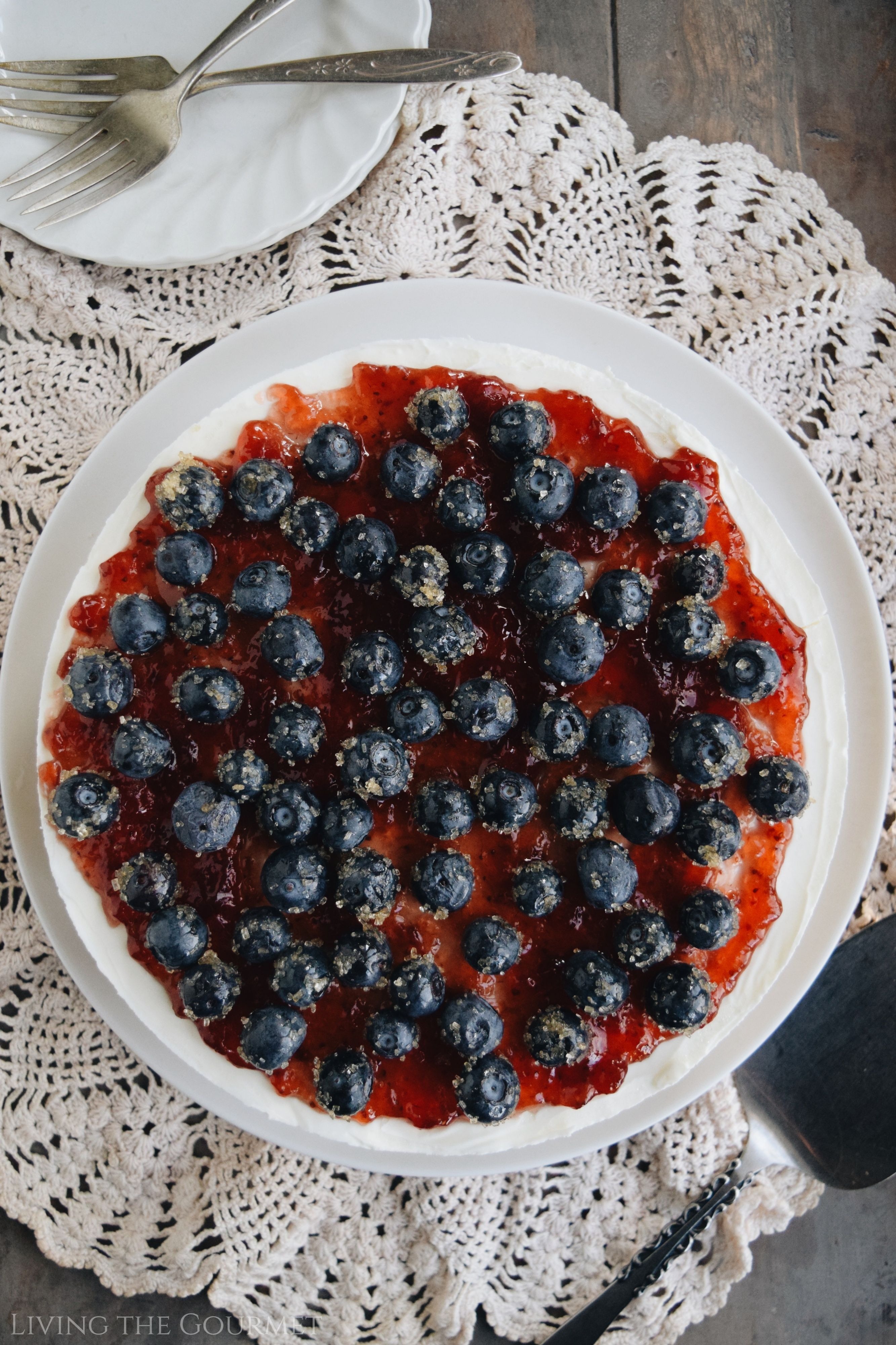 Equipment You'll Need
Springform Pan. This is to make sure the cheesecake keeps its form while hardening in the fridge. It simply makes the process much, much simpler and less messy.
Cling Film. Simple cling wrap. We're using to cover the cake while letting it solidify in the fridge.
Print
No-Bake Whipped Cream Cheesecake
Author:
Prep Time:

15 minutes

Total Time:

15 minutes

Yield:

1

cheesecake

1

x
For the Crust:
9

graham crackers

6

tbs. butter – softened

1/4

cup

of sugar
For the Filling:
2

packages (8oz. each) of cream cheese – softened

1/2

cup

sugar

8

oz

. of heavy cream

2

tbs. powdered sugar

1

pint

of fresh blueberries

3

–

4

tbs. of raw sugar

1/2

cup

strawberry jam

9

-inch springform pan
Cling film
Instructions
Combine the graham crackers, ¼ cup of sugar and 6 tbs. of butter in a food processor and process until crumbly and workable.
Press these crumbs into the spring form pan.
Whip the 8 oz. of heavy cream with the 2 tbs. of powdered sugar until light and fluffy whipped cream is achieved.
Beat cream cheese and sugar together until smooth and creamy.
Whisk the whipped cream into the smooth and creamy cream cheese mixture.
Spoon this mixture into the pan prepared with the graham cracker crust.
Gently press the cling film to the surface of the cake.
Place in the freezer.
Mix the blueberries with the raw sugar.
Take out of the freezer and place in the refrigerator about an hour before you would like to serve the cake, remove the cling film and spread the strawberry jam over the top and place the prepared blueberries on top.
You may place any leftover cake back in the freezer or in the refrigerator, whichever you prefer.
Notes
*Prep Time does NOT include Inactive Prep Time
Nutrition
Serving Size:

8 pieces of cake
Recipe Card powered by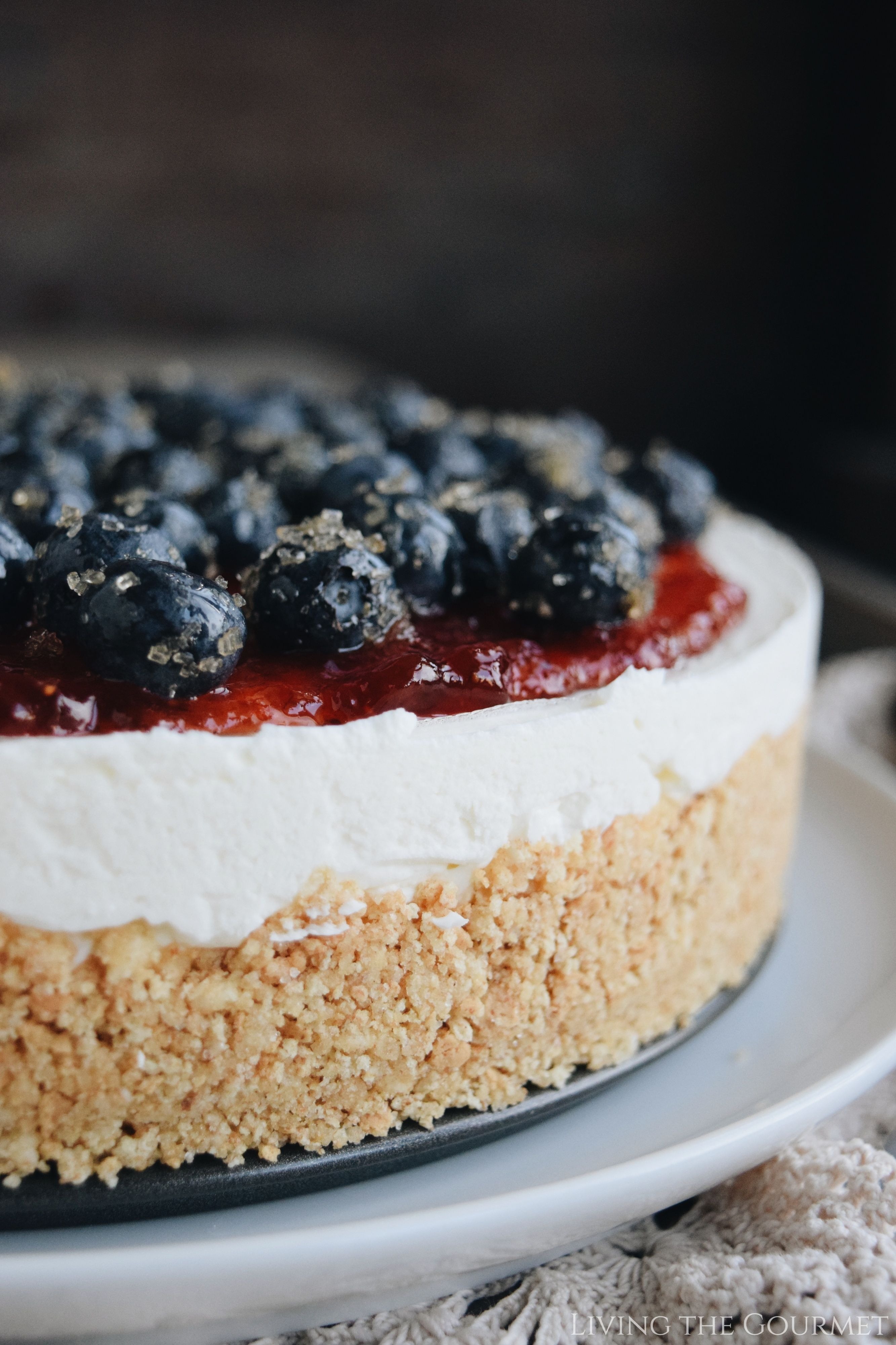 As an Amazon Associate I earn a small commission from any purchases made through the affiliate links within this post. For more information on this please see our disclosure policy. Thank you!
This post has been updated August 2022. The original recipe was published June 14, 2019.
8