This shop has been compensated by Collective Bias, Inc. and its advertiser. All opinions are mine alone. #SunsOutSpoonsOut #CollectiveBias
These cool, luscious cheesecakes are a melt-in-your-mouth indulgence that is blended with Blue Bunny Vanilla Bean Ice Cream for an ultra creamy quality that is set over your choice of a vanilla or chocolate waffle cone crust.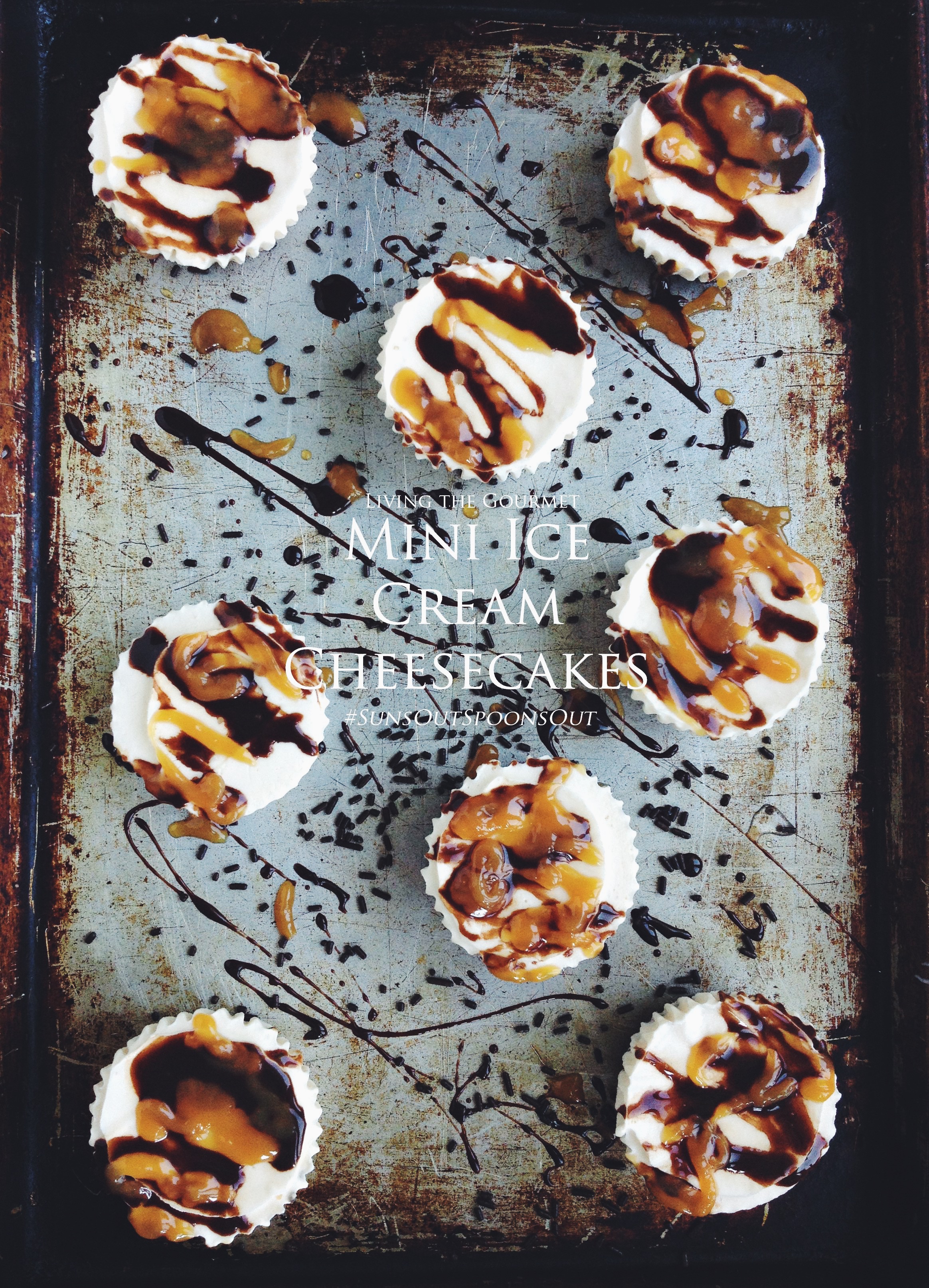 For some, school has already begun, and naturally we feel like summer is over.
Well friends, summer is still here, and it is in full swing. In fact, August is proving to be the warmest month of the season thus far.
So whether you are coming home from work, school or you just need to take a moment for yourself, these mini ice cream cheesecakes are sure to satisfy.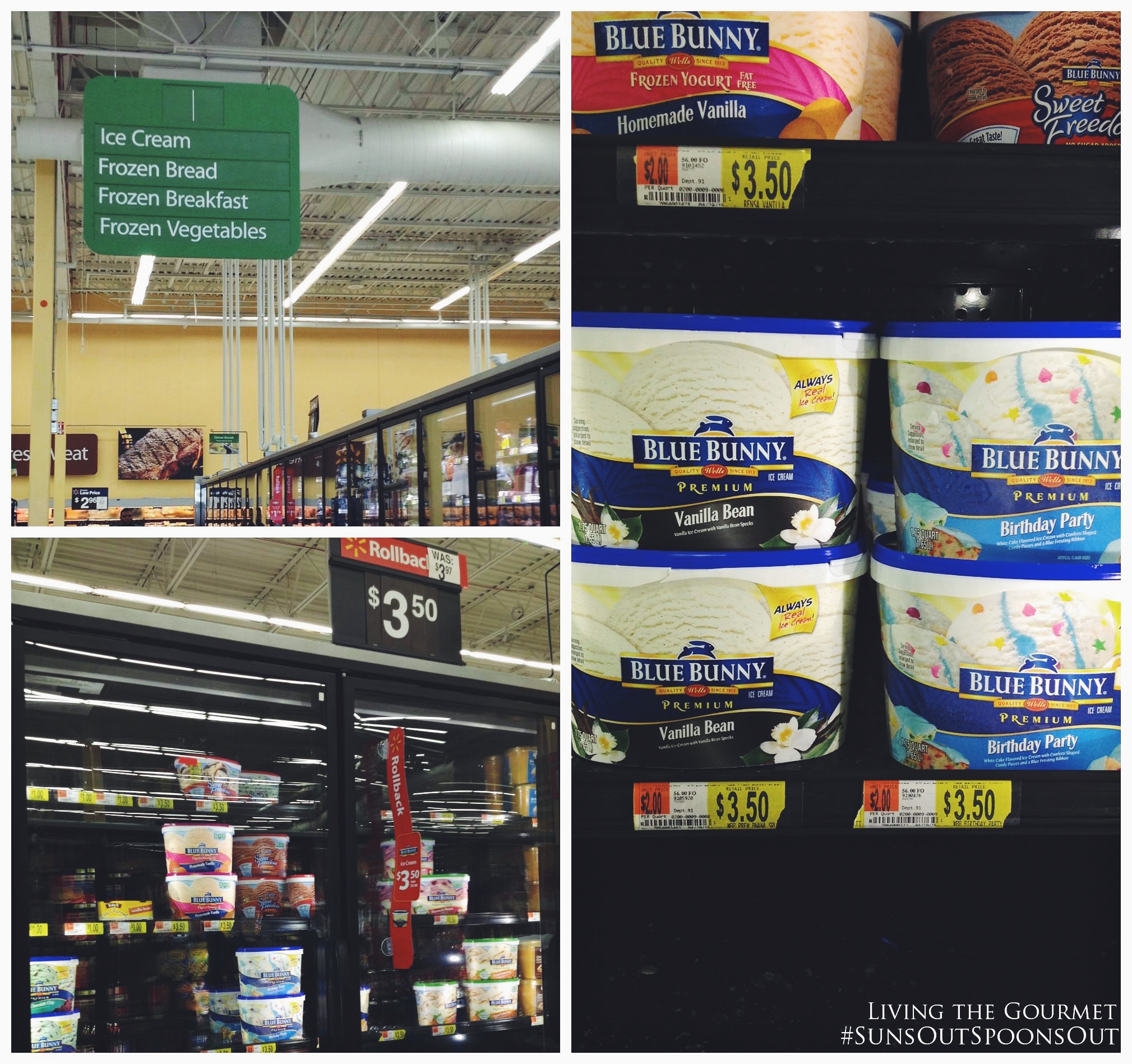 The other day I had a craving for something cold and sweet, but I wanted to try something different with ice cream.
While out at Walmart, I saw Blue Bunny Ice Cream was on sale and without batting an eye, I had two containers of Vanilla Bean in my wagon.
By the time I got home and finished unloading, the temperatures had reached its peak, but due to high humidity levels it felt 10 degrees hotter than it actually was. Suffice to say, the ice cream was a little too soft to enjoy in a cone or a bowl, and I wasn't in the mood for sipping ice cream.
The timing was actually perfect for two reasons. First, the ice cream was soft enough to blend into the package of cream cheese I had sitting in the fridge and had been meaning to use up. Secondly, I was eager to use my brand new blender/food processor.
A few scoops of Blue Bunny, cream cheese and a splash of vanilla later, I had my filling for the ice cream cheesecakes. I quickly chopped up vanilla waffle cones and chocolate waffle cones with almonds for my crust. In a lined cupcake tin, I assembled the mini cheesecakes and popped them into the freezer.
We couldn't wait for them to firm up, so we may have sneaked a cheesecake or two and enjoyed it soft-serve style.
They were unbelievably creamy and delightful. I felt like I had gone out to an ice cream shop for these little gems. That night, I quickly whipped up another batch and let them sit overnight. In the morning they were photographed and now this afternoon, they are yours to enjoy.
So head on over to Walmart and pick up your favorite flavor of Blue Bunny Ice Cream. Summer isn't over yet! The sun is out and it's time to get your spoons out. For more delicious summer inspiration, check out these Blue Bunny treats.
Living the Gourmet
Mini Ice Cream Cheesecakes
10 minPrep Time
10 minTotal Time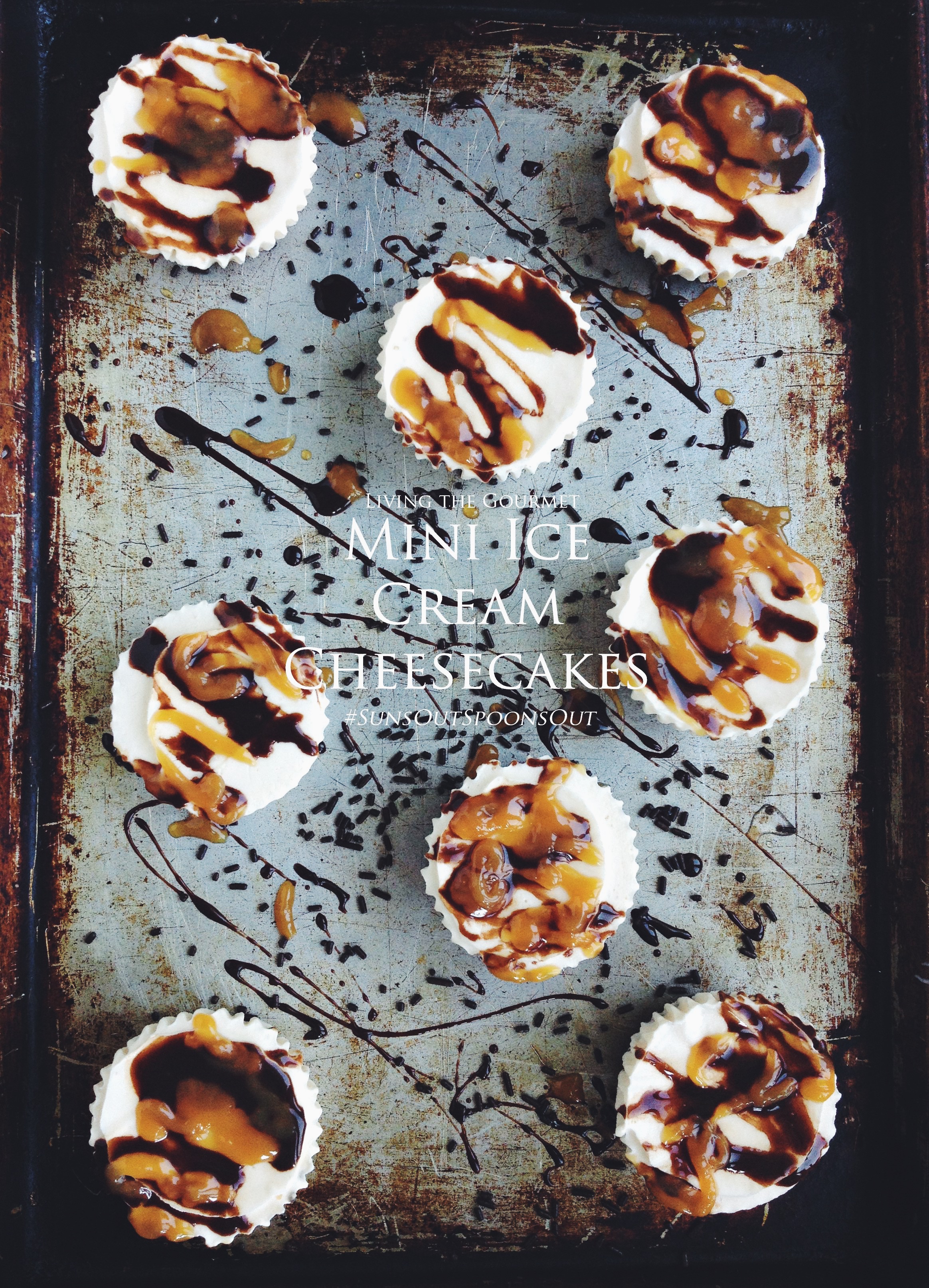 Ingredients
Waffle Cone Crust:

1 cup vanilla waffle cones (about 3 cones)
1 cup chocolate waffle cones (about 3 cones)
1/2 cup whole almonds, divided
4 tablespoons butter, softened
1 tablespoons honey

Ice Cream Cheesecake:

1 16 oz. package low fat cream cheese
3 cups Blue Bunny Vanilla Bean Ice Cream, softened
1 teaspoon vanilla extract
Chocolate syrup, for drizzling
Caramel sauce, for drizzling
Instructions
Line a cupcake tin and set aside.
In the bowl of your food processor, chop 1 cup vanilla waffle cones and 1/4 cup almonds. Transfer to a small dish and set aside. Then chop 1 cup chocolate waffle cones and the remaining 1/4 cup almonds. Transfer to a small dish and set aside.
In a small saucepan over medium heat, melt butter down with honey. Divide between the vanilla waffle mix and the chocolate waffle mix. Combine the butter with the mixture and divide between the cupcake tins. You should get six vanilla and six chocolate. Place the tin in the freezer while you prepare the filling.

Ice Cream Cheesecake:

In the same bowl of your food processor, blend cream cheese, ice cream and vanilla. Divide the batter between each cupcake.
Cover with clingfilm and freeze for about 4 hours or overnight. Before serving, drizzle chocolate and caramel if desired.
7.8.1.2
164
https://livingthegourmet.com/2015/08/mini-ice-cream-cheesecakes.html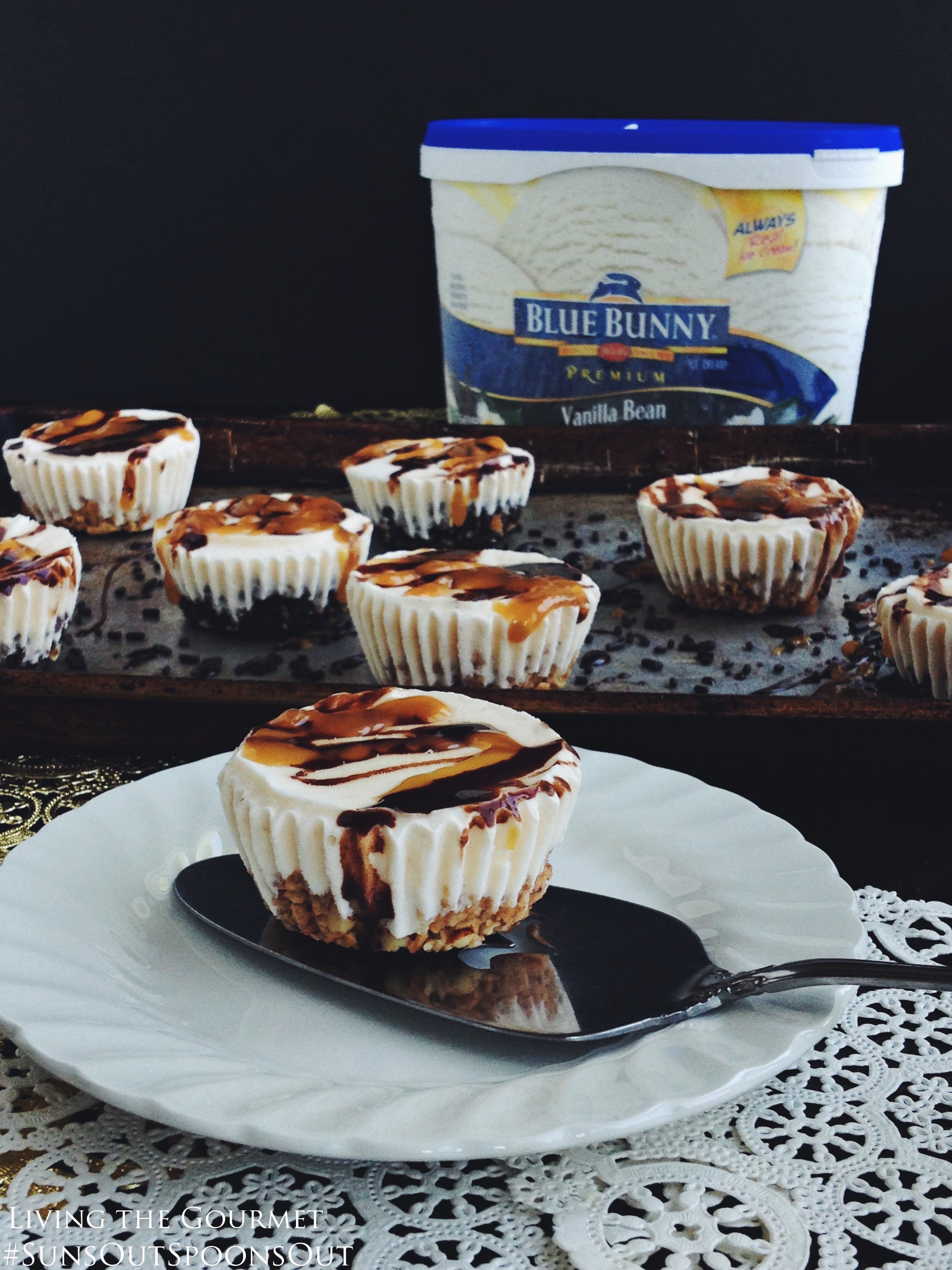 Enjoy with Love,
Catherine
xo
1