Today we're preparing pignoli and feta zucchini boats, with fresh lemon, Italian parsley, and plenty of garlic. These are great for a light lunch under the sun, or as side to hardier grilled fare, such as steaks or pork chops.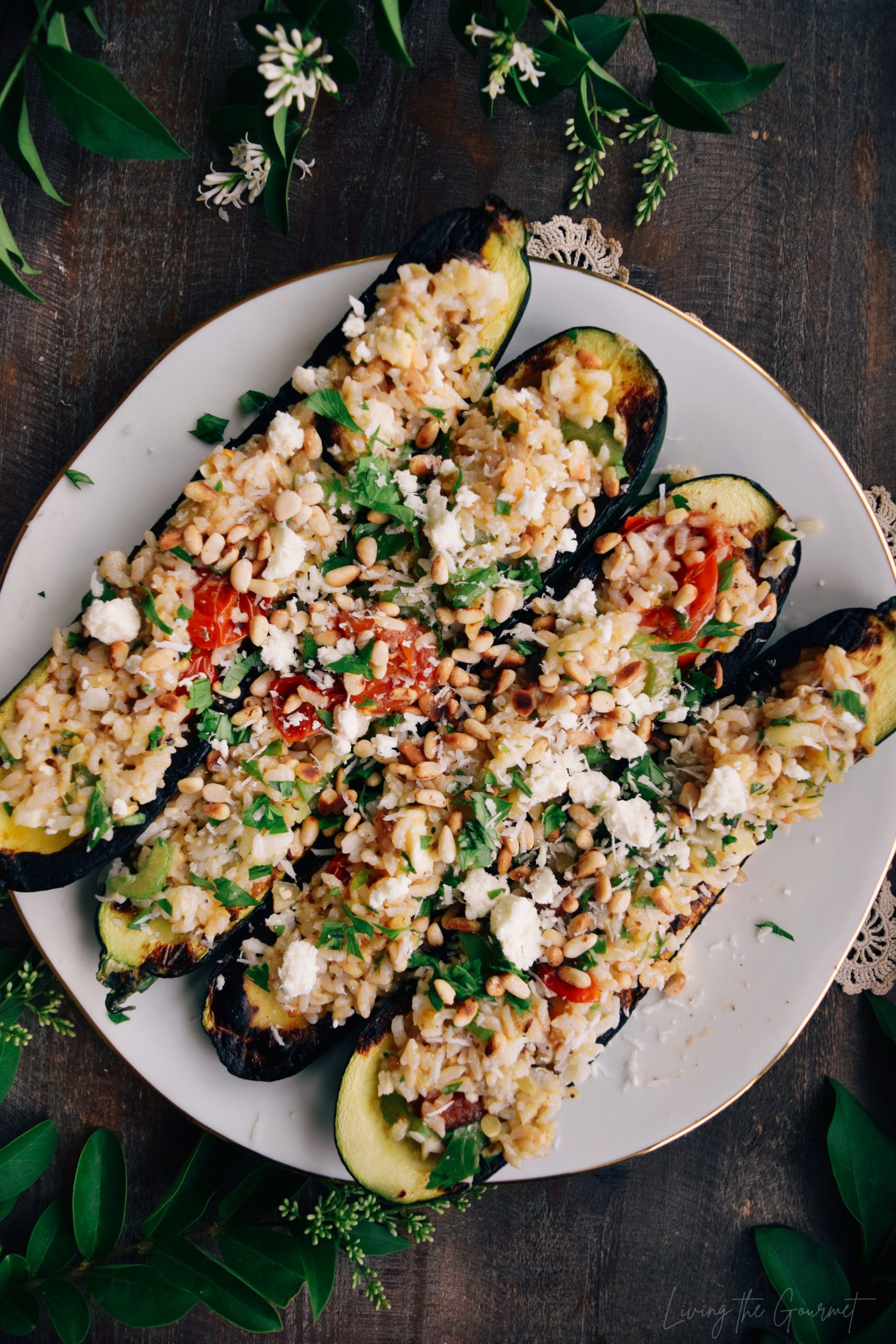 Why you'll love today's Zucchini Boats
1) Super Seasonal. The light and festive combination of pignoli nuts, fresh lemon, and feta, carried in lightly grilled zucchini, simply screams "Summer Cuisine." They're perfect alongside things like grilled steaks or pork chops, or as a light lunch by itself, especially out in the sun.
2) Light and Refreshing. While satisfying and delicious, these zucchini boats remain light and refreshing, both in terms of texture and flavor.
3) Heat up beautifully. Wrapped in tin foil, these heat up beautifully, meaning their perfect for making ahead.
4) Or serve them cold! Conversely, all of the flavors in today's zucchini boats work perfectly served cold.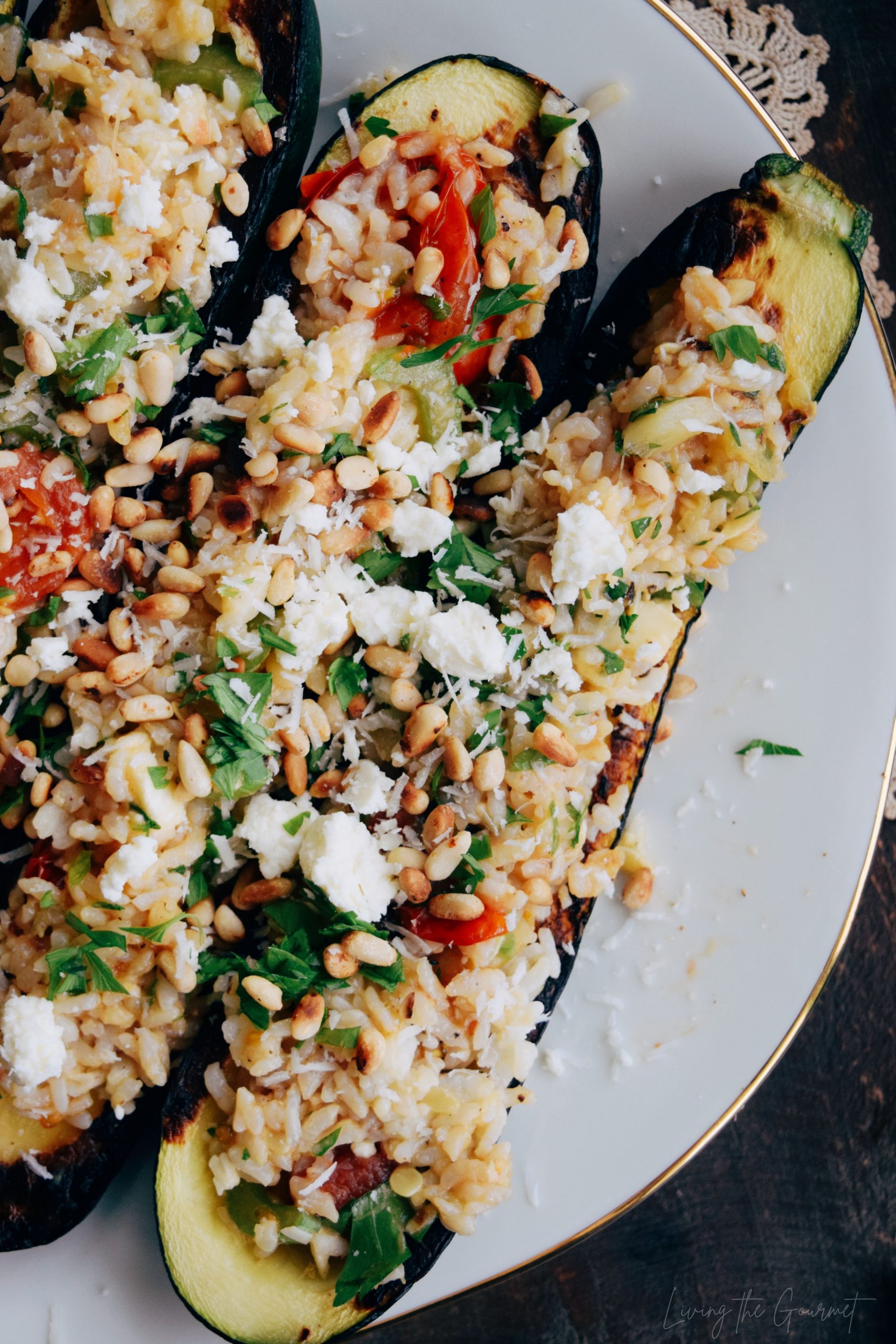 Ingredient Notes, Tips, and Substitutions
1) Pignoli Nuts aka Pine Nuts: Pignoli, Pignolias, or piñón, are simply pine nuts. They are valued for their small size, tender or even 'buttery' texture when cooked, and the large amount of oil that they contain – relative to their small size, which seeps out into the food they are being cooked in, thereby spreading their flavor more intensely and evenly than other nuts.
Substitution: Since it's hardly an exaggeration to say these little gems are 'worth their weight in gold' given their sky-high price (about $30 per pound on Amazon as of this post), you'll likely want a good replacement lined up, especially in a recipe like today's that otherwise isn't very expensive to prepare. The best replacement for pignoli nuts in today's recipe are almonds. Almonds will achieve much of the same flavor and texture, but will bring less oil to the recipe, and just a tad less 'buttery-ness.' Chopped walnuts are a good replacement in 'most' recipes that call for pingoli nuts.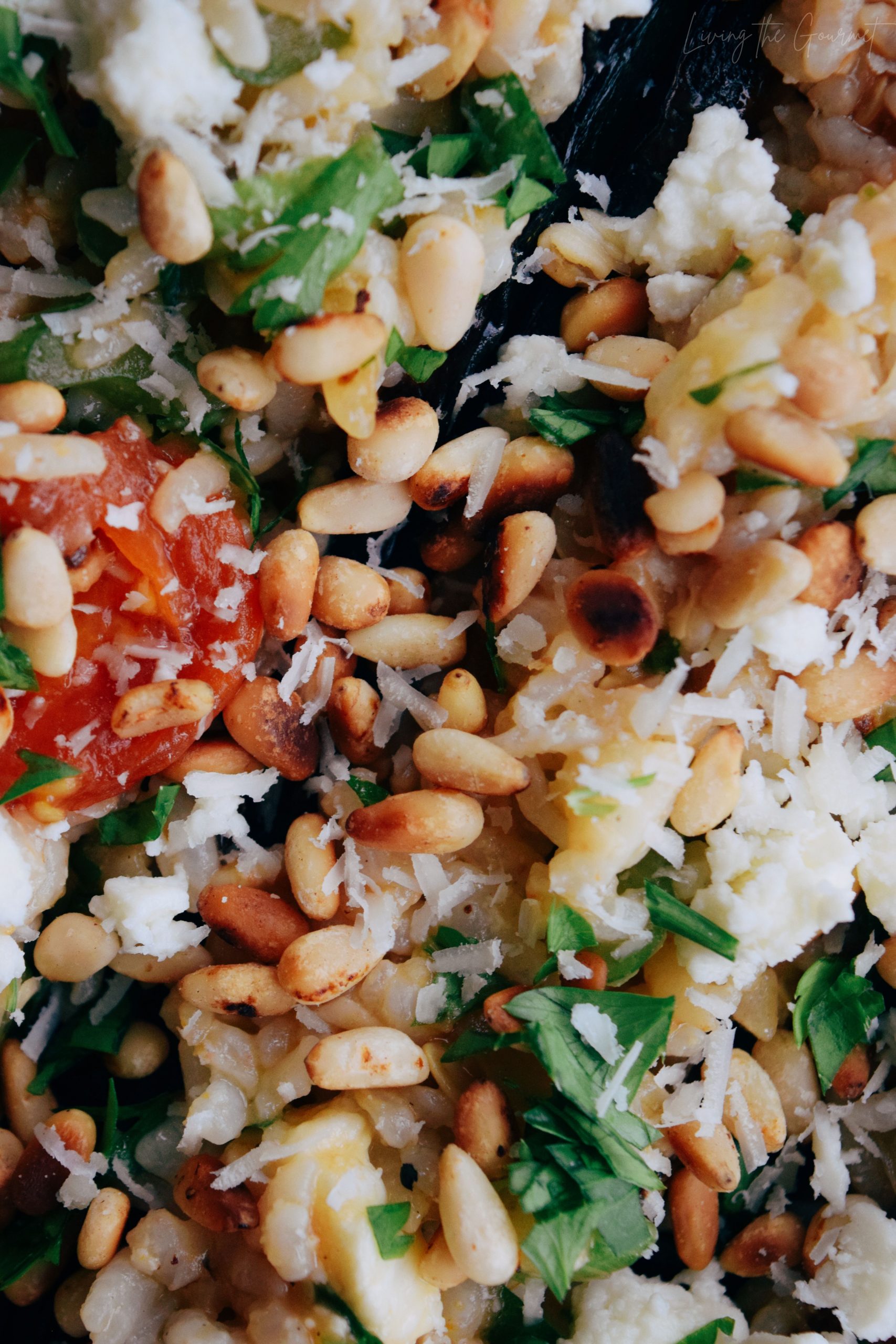 2) ) Zucchini vs Cucumbers – A Tale of Unsubtle Differences. Given their largely similar appearance, new home-cooks might be tempted to believe that zucchinis and cucumbers are similar or even interchangeable. However, the differences between these two items could hardly be 'less' subtle. On the exterior, zucchinis are dry to the touch with a rough skin, whereas cucumbers tend to be 'cold' and smooth, or sometimes waxy. On tasting, raw zucchini tends to be rather unpalatable due to its dry and bitter taste with an interior whose texture is often described as 'dry and spongey,' whereas the moist and crisp interior of a cucumber makes it a perfect 'stick' veggie for eating raw or dipping. However, the aforementioned taste and texture of a zucchini makes it ideal for cooking, particularly frying and baking – think zucchini frites, fried zucchini sticks, and stir-fried zucchini strips.
3) Balsamic Glaze – What is it? Do I need it? Essentially, a balsamic glaze is a syrup-like 'reduction' of Balsamic Vinegar. At its most basic, a balsamic glaze is simply balsamic vinegar that's been reduced to a syrup over heat, which has the effect of not only thickening the balsamic vinegar, but also of cutting down its acidity dramatically, allowing you to add 'balsamic flavor' to your recipes but without having to account for the vinegar's acidity. Sugar is often added to further thicken the reduction, and to cut out the acidity entirely, leaving just the 'balsamic flavor' but with the addition of 'syrupy sweetness.' Various herbs are also sometimes added in, but are typically strained out of the reduction. Personally, I'm using a store-bought glaze, but making your own at home couldn't be easier – see below for direction on how to make your own.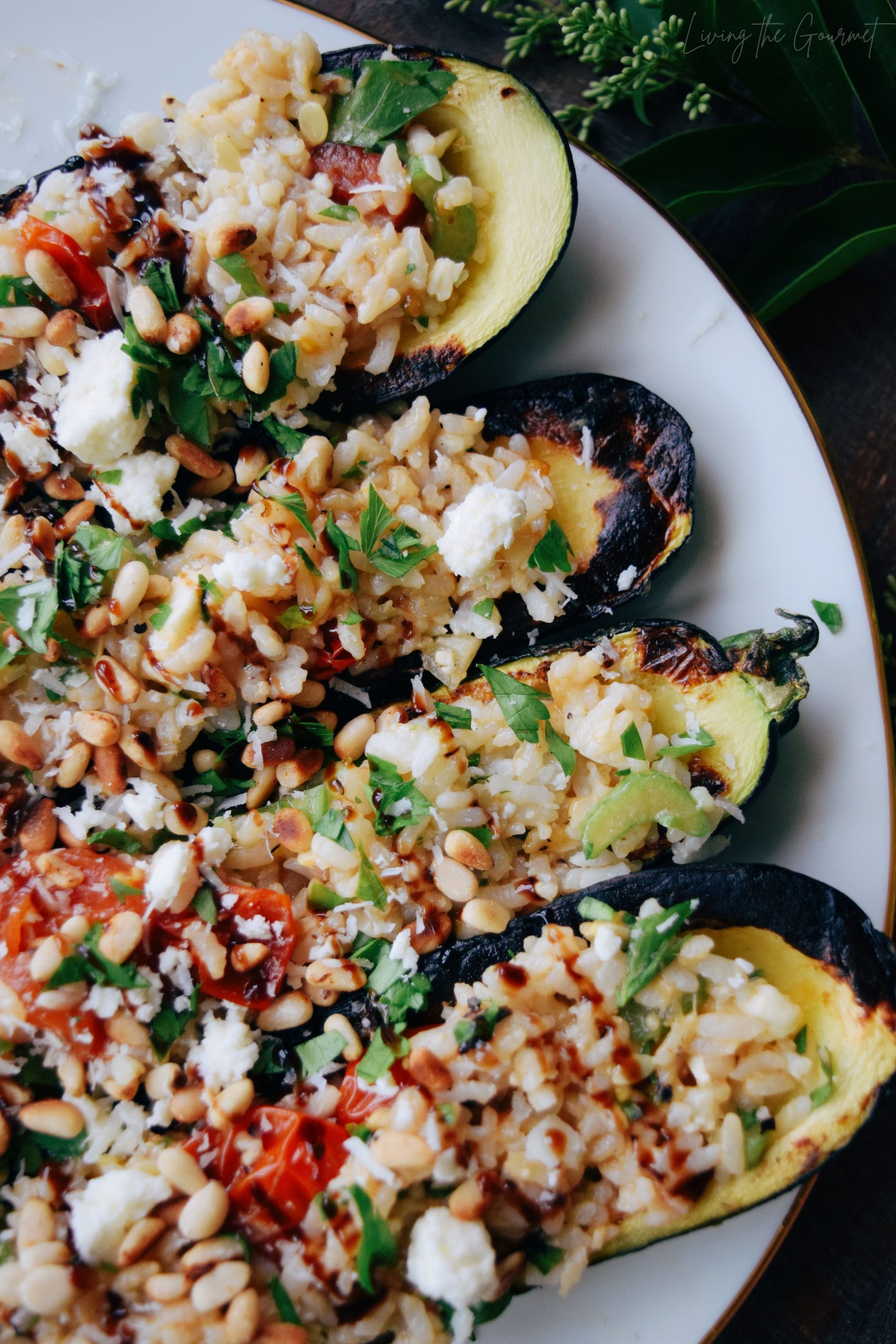 Making a Balsamic Glaze At Home
This is one of the easiest things to do, and what you get in return is absolutely delicious, and has a plethora of uses – from topping steaks, eggs, and pasta, to being absolutely to die for on ice cream. Truthfully, the possibilities for what you can do with a balsamic glaze are limited solely by your imagination.
To start, you'll need a small saucepan (preferably cast iron). Simply pour your desired amount of balsamic vinegar into the pan, and let it heat over a medium flame. Bring the vinegar to a simmer (don't let it boil) and let it continue simmering until enough of the liquid has escaped as steam such that you have a thick, syrup-like liquid left in the pan. The liquid should have a consistency that's slightly 'thinner' than a honey, but viscous enough to thoroughly coat a spoon.
To make the glaze thicker, add in sugar prior to simmering. Use a ratio of about one-part sugar to three-parts balsamic vinegar. For example, if using one cup of balsamic vinegar you'll want to use a quarter of a cup of sugar. Either white sugar or brown sugar will work fine.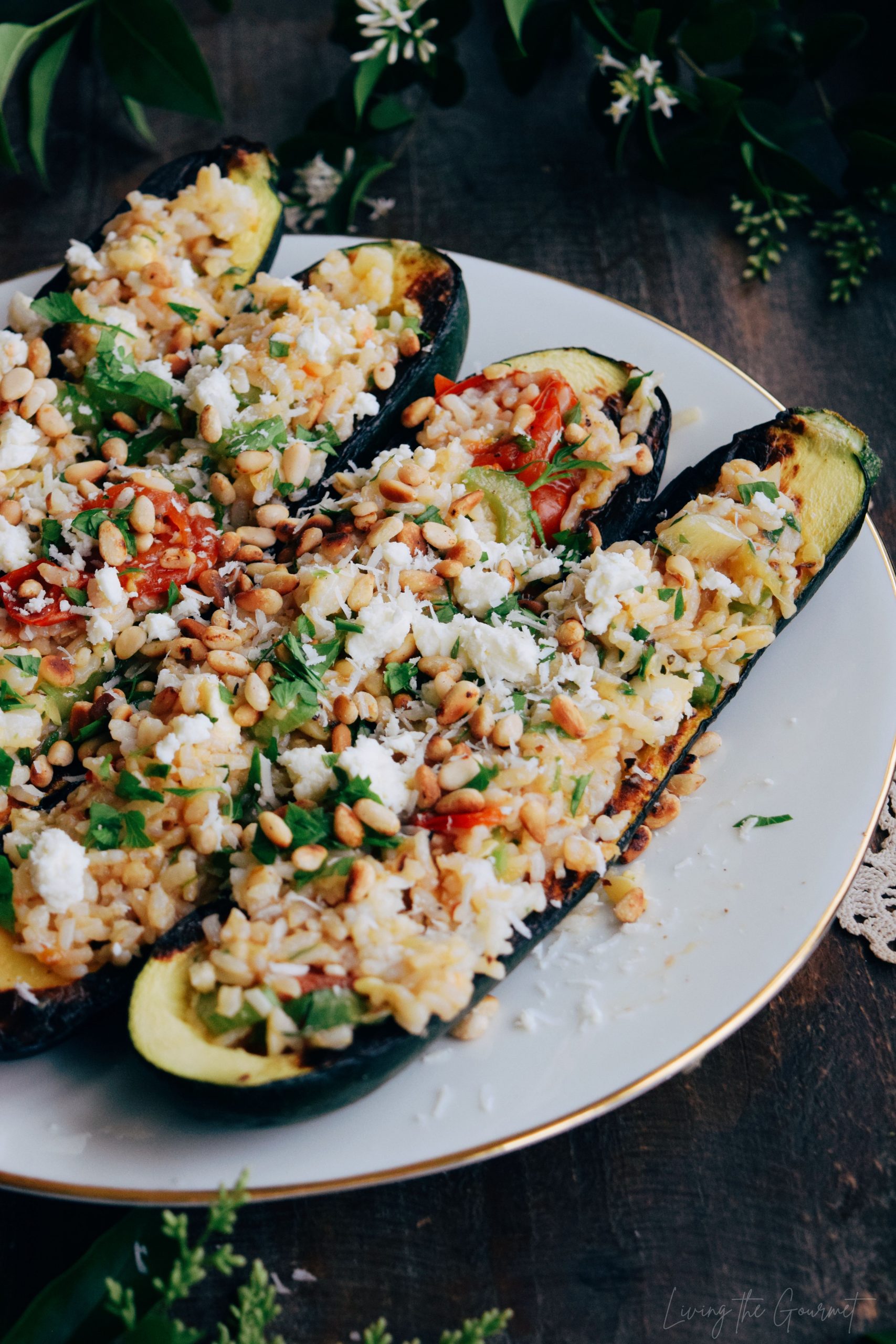 More Summer Favorites from Living the Gourmet
1) Moroccan Tomato Salad. A surprise hit with my family, this Moroccan tomato salad is so simple, and yet so delicious, that it instantly won a place in my heart.
2) Layered Eggplant Salad. Breaded eggplant, combined with fresh basil, fresh tomatoes, and grated romaine, combine to create a delicious take on baked eggplant that's sure to be a hit with your friends and family.
3) Mediterranean Orange Salad. A super simple orange salad, which combines sliced oranges tossed with cilantro, grilled jalapenos and honey, capers and scallions, creating a medley of savory umami notes set against a sweet and spicy backdrop.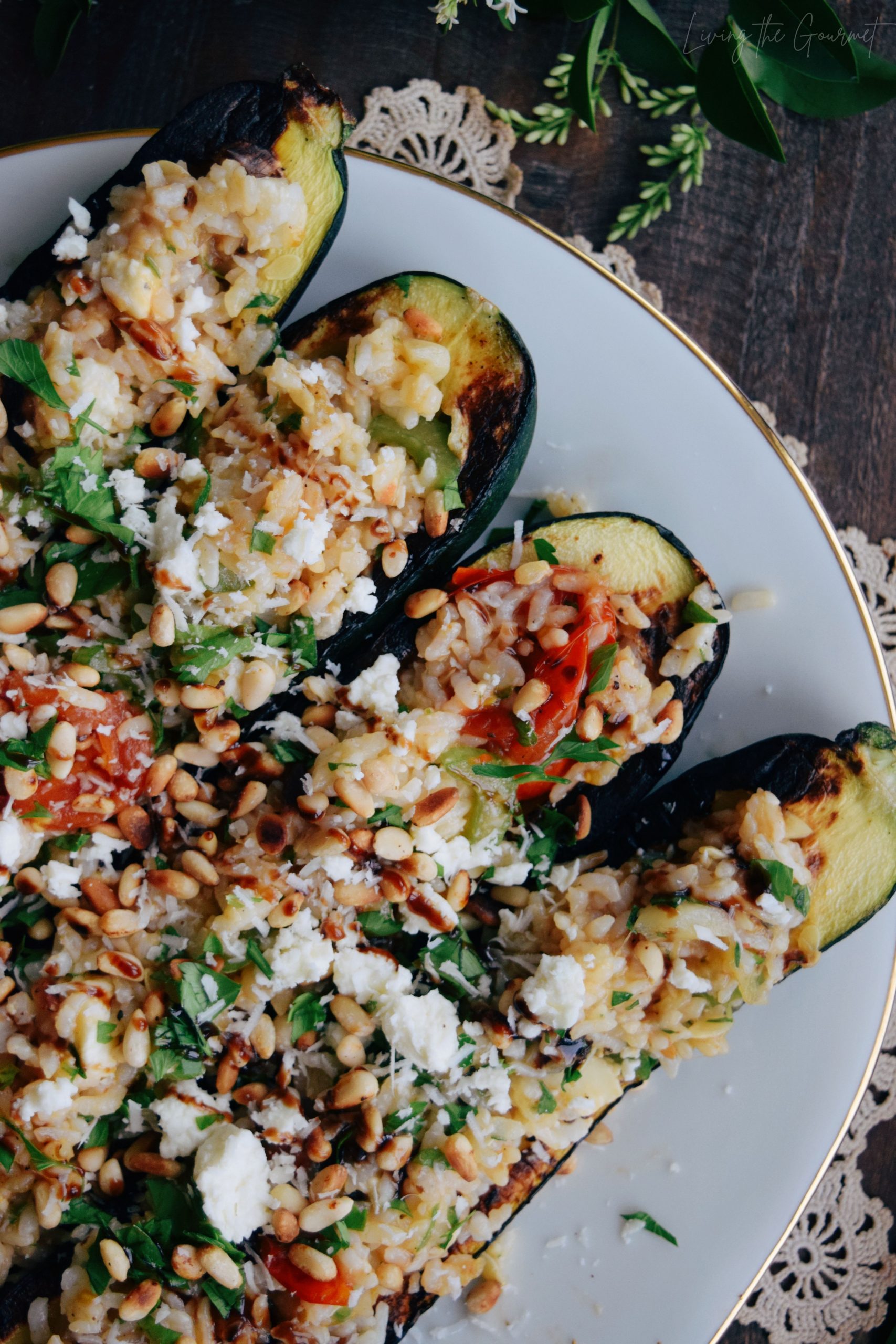 Print
Zucchini Boats with Pignoli & Feta
---
Author:

Total Time:

35 minutes

Yield:

4

1

x
2

-

5

- 6-inch size zucchinis - halved lengthwise

2

tbs. fresh Romano or Parmesan cheese - grated

2

cups

of cooked rice

1

cup

- grape tomatoes

1

stalk celery - sliced thin

5

cloves of garlic - grilled

1/4

cup

of fresh Italian parsley - stems removed - chopped

1/4

cup

of feta - crumbled

1/4

cup

of pignoli nuts - toasted
Juice of

1

lemon

2

tbs. olive oil
Fresh ground black pepper

1 tsp

. salt - divided

1/2 tsp

. sugar for the tomatoes
Balsamic glaze or honey - for drizzling
---
Instructions
Place the garlic cloves in their skin to the heated griddle and let the skin get slightly charred.
Heat a griddle and place the halved zucchini on the griddle to achieve a nice char and the zucchini meat becomes slightly tender to scoop out.
Place the rice in a large bowl.
Mix together the fresh lemon juice and the olive oil and add to the rice.
Add ½ tsp. salt to the rice.
Add the sliced celery to the rice.
Pop the garlic out of the skin and give a quick chop and add to the rice.
Add the grated Romano cheese or Parmesan cheese to the rice and toss.
Place the grape tomatoes in a small cast iron frying pan and sprinkle with ½ tsp. sugar and ½ tsp. salt.
Let the tomatoes get a nice char. Then carefully mash slightly before adding to the rice. Be sure to scrape the pan and add to the rice.
Add the chopped parsley to the rice.
Carefully, using a teaspoon, scoop the meat from the charred zucchini and add to the rice and toss.
Add about half of the crumbled feta and lot of fresh ground black pepper to the rice and toss.
Reserving the rest of the feta to top the boats with.
Heat a small cast iron frying pan and place the pignoli nuts in the pan and let a slight char appear on the pignoli nuts. Quickly, remove the pan from the heat when this is achieved.
Fill the scooped-out zucchini boats with the rice mixture.
Top the zucchini boats with the charred pignoli nuts, chopped parsley, extra feta cheese, grated Parmesan or Romano and a drizzle of balsamic glaze or honey.
Prep Time:

10 minutes

Cook Time:

25 minutes

Category:

Vegetarian

Cuisine:

Mediterranean
Nutrition
Serving Size:
Calories:

301

Sugar:

4.6 g

Sodium:

729 mg

Fat:

15.1 g

Saturated Fat:

3.4 g

Carbohydrates:

37.4 g

Protein:

6.4 g

Cholesterol:

10.1 mg
Keywords: vegetarian, squash, zucchini
Recipe Card powered by
0