This post has been sponsored by JSL Food Inc. All opinions expressed are my own. #TwinDragon #ChefYaki
These sweet and spicy Korean Beef (Bulgogi) Eggrolls feature beef marinated in fresh ginger, lots of garlic, fresh chili paste, brown sugar, and soy sauce. This creates a delicious combination of sweet and spicy set against a savory umami background. Wrapped in crisped fried eggroll wrappers, these are perfect for your next gameday spread.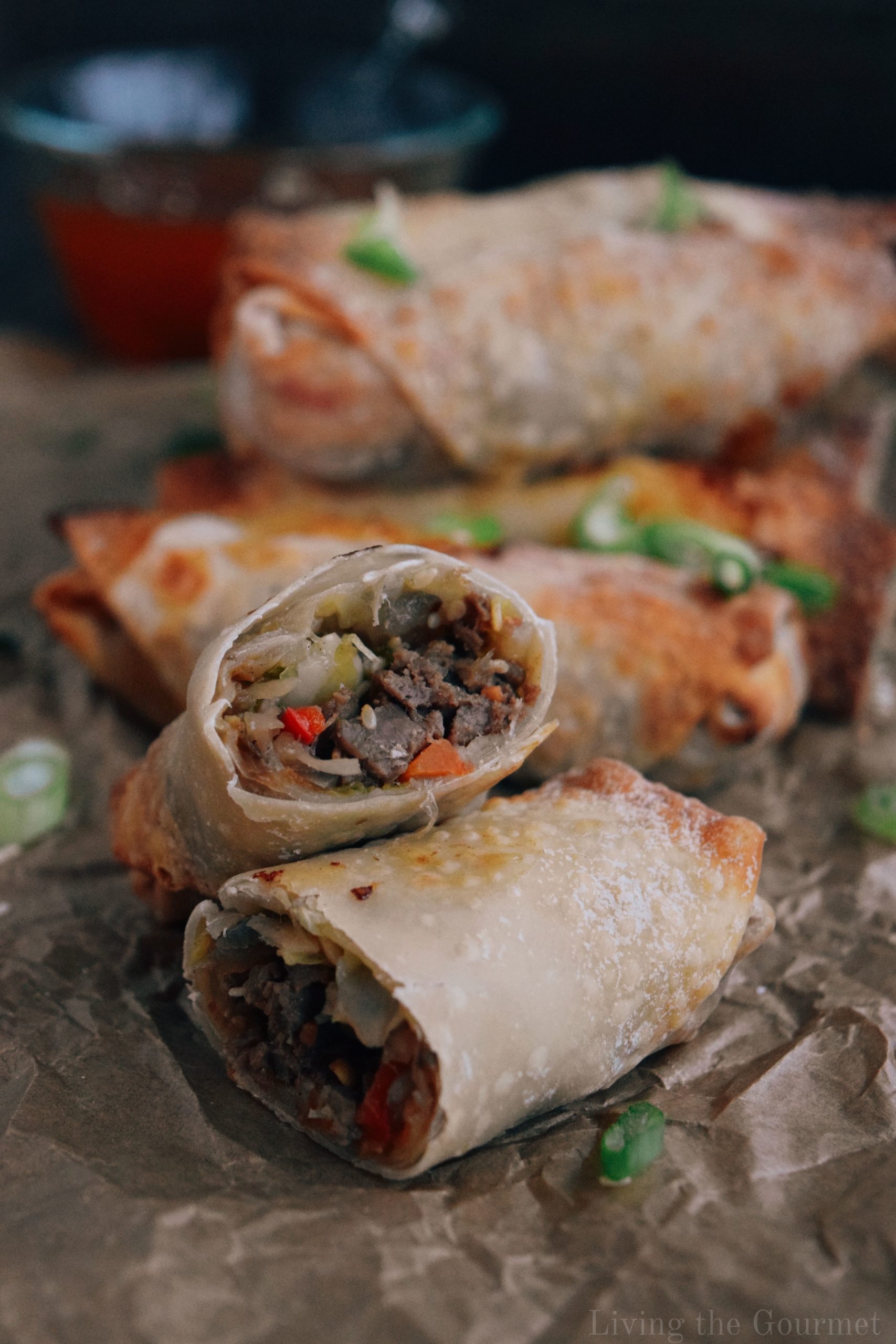 Reasons to make your own Eggrolls
1) Perfect Gameday Food. Easy to love, and easy to pair alongside gameday favorites like nachos, tacos, and barbecue, homemade Korean Beef Eggrolls are a perfect addition to your next gameday spread.
2) They are great left over! These heat up excellently in the oven, without becoming dry or soggy. Instead, the keep their crisp exterior and moist inside beautifully through reheating in the oven. As such, you can make these in batches and have them for the next several days.
3) More than Fast Food. Takeout eggrolls are delicious. They are. Yet they are undeniably 'fast food.' Preparing eggrolls at home, however, elevates them to 'something more.' The combination of fresh, wholesome ingredients, with the added flare of fillings like today's Korean Beef, makes them so much more than 'quick' takeout bites.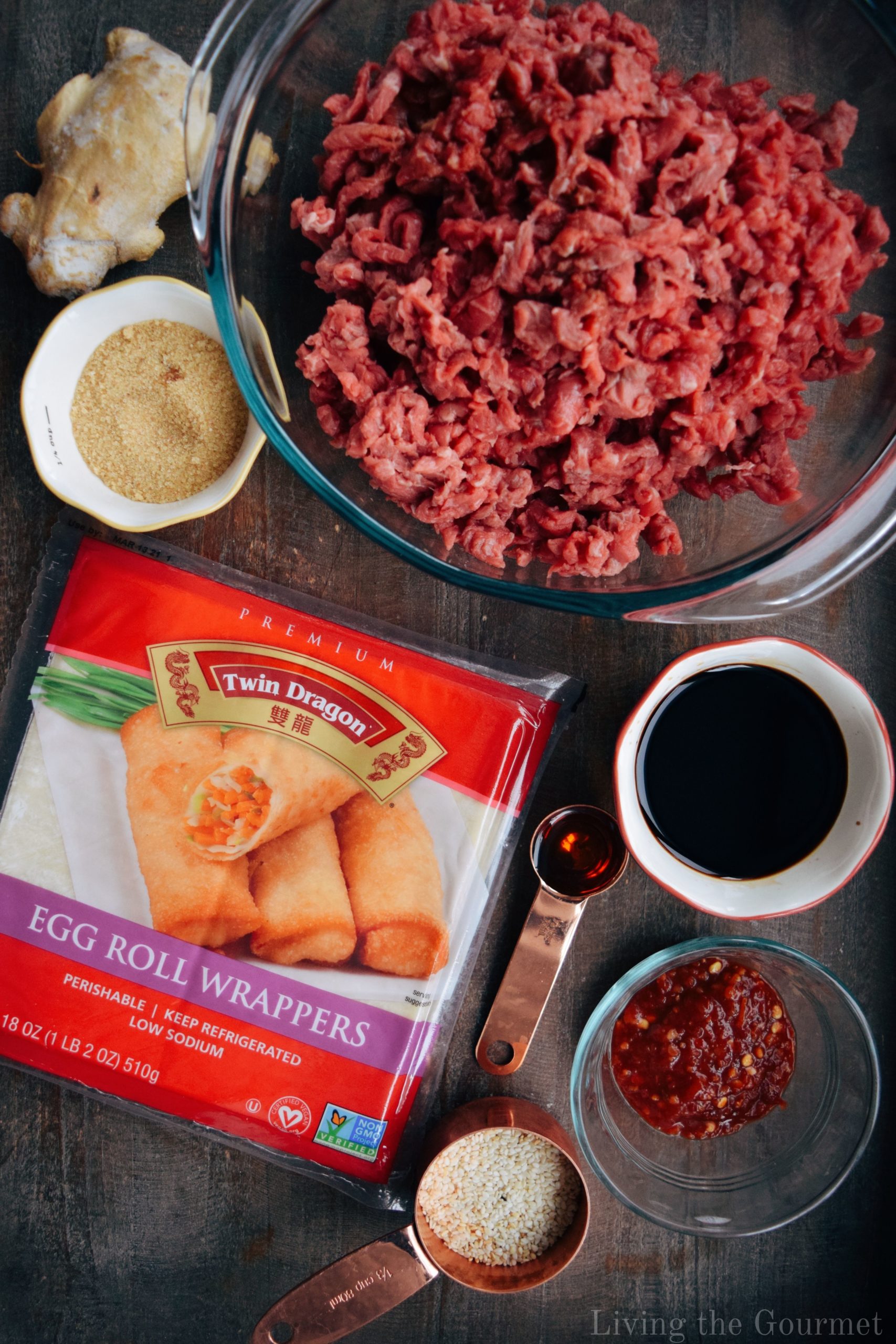 Ingredient Notes and Tips
1) Chili Paste – A Shameless Love Letter. This is an ingredient that is so versatile I truly don't know how a kitchen functions without it. Chili paste works wonders as a base for everything from marinades to homemade hot sauces, or for adding some spice to red sauces or salsas, or even serving as a condiment on its own for meat, eggs, and fish, where it brings pungency, spice, and bright 'chili flavor.' That said, I don't personally use a fancy or 'hard to find' chili paste – and honestly, you shouldn't either. On the contrary, I use an Indonesian Sambal chili paste that sells for a couple of dollars per jar. It's a super basic mix of chilis, salt, and vinegar. It's hot, not overly thick, and allows the pungency and spice of the chilis to really shine through.
Should you make your own? No, no not really. I know there are a lot of recipes online for how to make chili paste, and honestly it's just not worth the trouble. Yes, it's (relatively) easy and (very) inexpensive, but at the end of the day, store bought chili paste 'does' taste just as good as similarly structured at home recipes – and is already really inexpensive on its own. Sure, if you want to 'fancy up' a particular chili paste recipe, go for it, but for super-basic chili pastes for use in things like today's recipe, store bought works just fine.
Substitution: An equal amount of 'plain' Sriracha works 'almost' as well – but Sriracha brings a lot of extra flavors with it (due to being a lot more than just chilis, salt, and vinegar), and surprisingly Sriracha is quite a bit 'cooler.' Regular chili paste brings a good bit more kick, and good bit more 'pure' chili flavor. Thus, while not 'ideal,' Sriracha is an 'okay' substitute.
2) Fresh vs Powdered Ginger – Which is Best for Today's Recipe? Ginger is described as everything from 'punchy' and 'spicy' to 'peppery' and 'citrusy,' or as 'garlic with a hint of citrus,' and even 'soapy.' If ginger is hard to describe, it's purely because of how unique the root is, despite it appearing as a staple ingredient in cuisines across the globe. Powdered ginger can be substituted for fresh, but fresh often 'cannot' be substituted for powdered – as in cakes or cookies. Today, however, if you don't have fresh ginger on hand, powdered will work just fine.
Substitution: As a general rule, 1 tablespoon of fresh ginger equates to about one-quarter teaspoon of powdered ginger. Thus, use around one quarter of teaspoon of powdered ginger in place of today's fresh ginger. Adjust this according to your palate.
However: Ginger begins mellowing almost immediately after it has been sliced. This mellowing process slows 'somewhat' if the root is left intact and refrigerated, and is preserved even further if the ginger is dried. That said, the more you 'work' ginger, the more it loses its characteristic 'punch' and 'spice.' Thus, you might imagine how much of that 'spice' has been lost in its powdered form. Powdered ginger lacks almost all of the 'bite' of its fresh counterpart, while preserving the unique 'flavor.' Thus, you can imagine that a fair bit of the 'zing' in today's recipe is comes from the use of fresh ginger – 'zing' that will be lost almost entirely if substituting powdered for fresh. Zing, soap, garlic, punch, and pepper…yes, I just used all of those words to describe a single ingredient.
3) Sesame Oil – What is it? A staple ingredient in cuisines from East Asia to India, to the Mediterranean and North Africa, sesame oil is used for a range of applications – although it is most recognizable in stir fry recipes. Sesame Oil, however, is probably best described simply as an 'edible vegetable oil derived from sesame seeds,' since it serves the same cooking applications as corn oil or olive oil, as opposed to something like chili oil – which is more of a flavoring oil. That said, unlike corn oil or vegetable oil, sesame oil is 'not' flavor neutral. Being quite fatty, sesame oil is much more richly textured than most other cooking oils, and also has – unsurprisingly – a very distinct 'nutty' flavor to it, which carries over to the recipes in which it is used.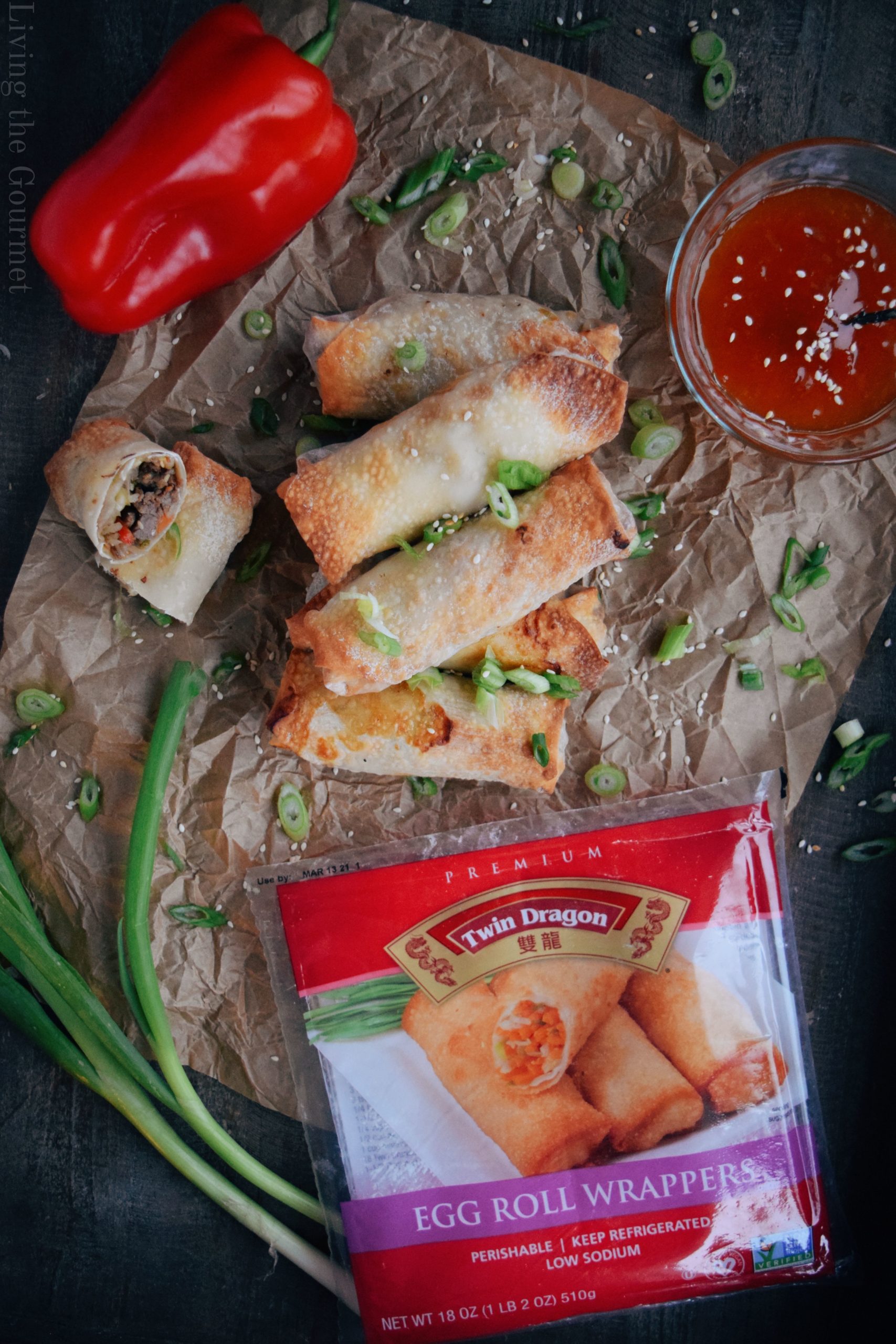 4) Twin Dragon Wrappers. These are my go-to wrappers for wontons and eggrolls, and I'm not alone in this. For over sixty years, Twin Dragon has been 'the' brand in wrappers for eggrolls, wontons, and gyoza, making preparation of these foods much easier, while ensuring a delicious, quality wrapping. Readily available at my local Wal-Mart, these are an essential pickup for whenever I'm making wontons or eggrolls.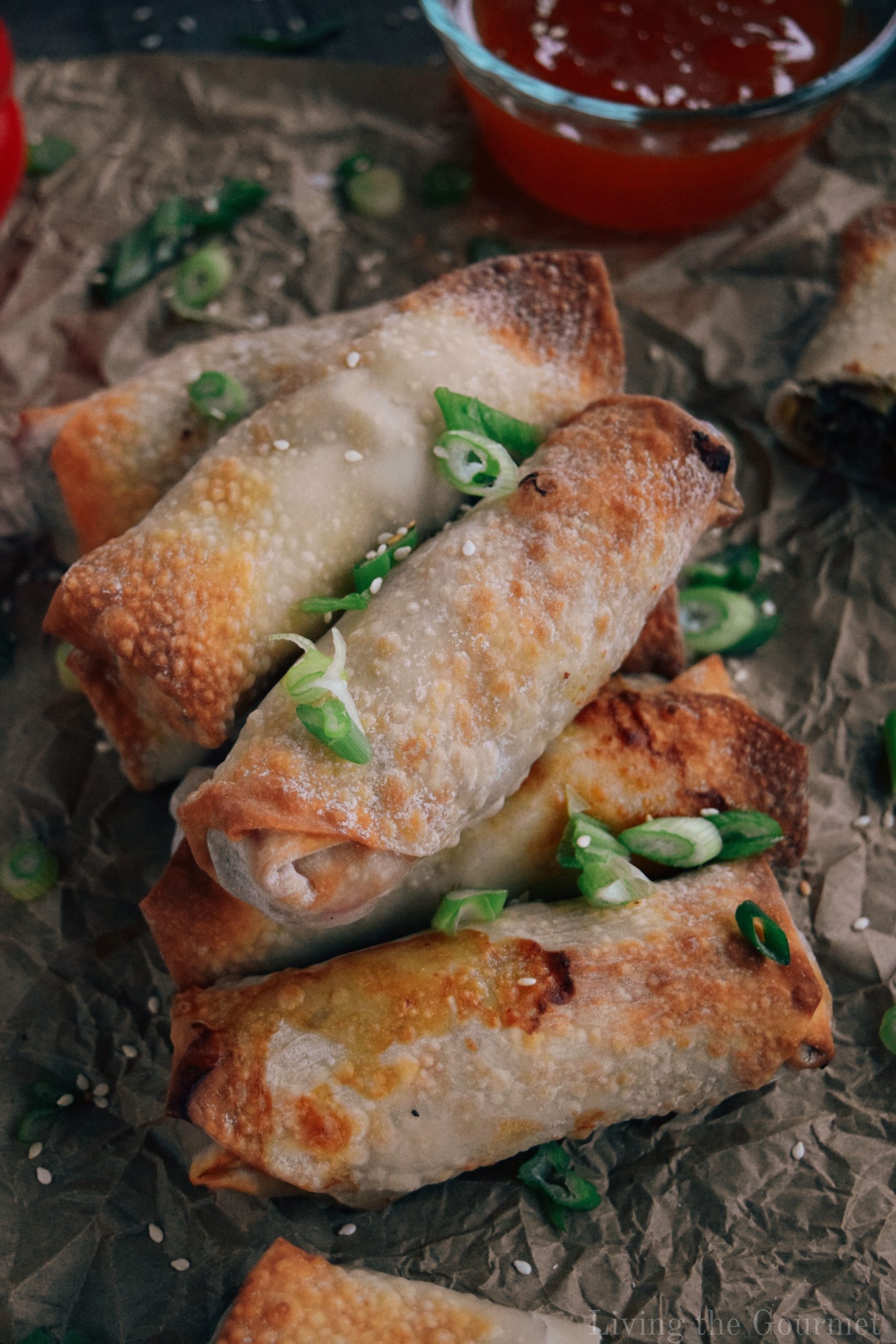 Pairing Today's Eggrolls
1) Homemade General Tso's. Crispy fried chicken chunks bathed in a dense sweet and spicy dipping sauce, this one of my all-time favorite recipes, and I'm positive it'll be one of yours too. As a nice bonus, not only is deceptively simple to prepare, but the entire family will love it.
2) Pickled Sweet Potato Salad. My absolute favorite way to eat sweet potatoes, this salad is sweet, crunchy, just tad acidic, and refreshing. As a plus, letting it sit a night or two in the fridge only enhances the flavors, meaning its perfect for making ahead.
3) Crispy Tofu Steaks. Moist tofu blocks crisped to perfection, creates a decadently crunchy exterior with a blissfully airy interior, resulting in a delicious contrast of texture. Paired with a spicy dipping sauce, this is one of my must-have recipes.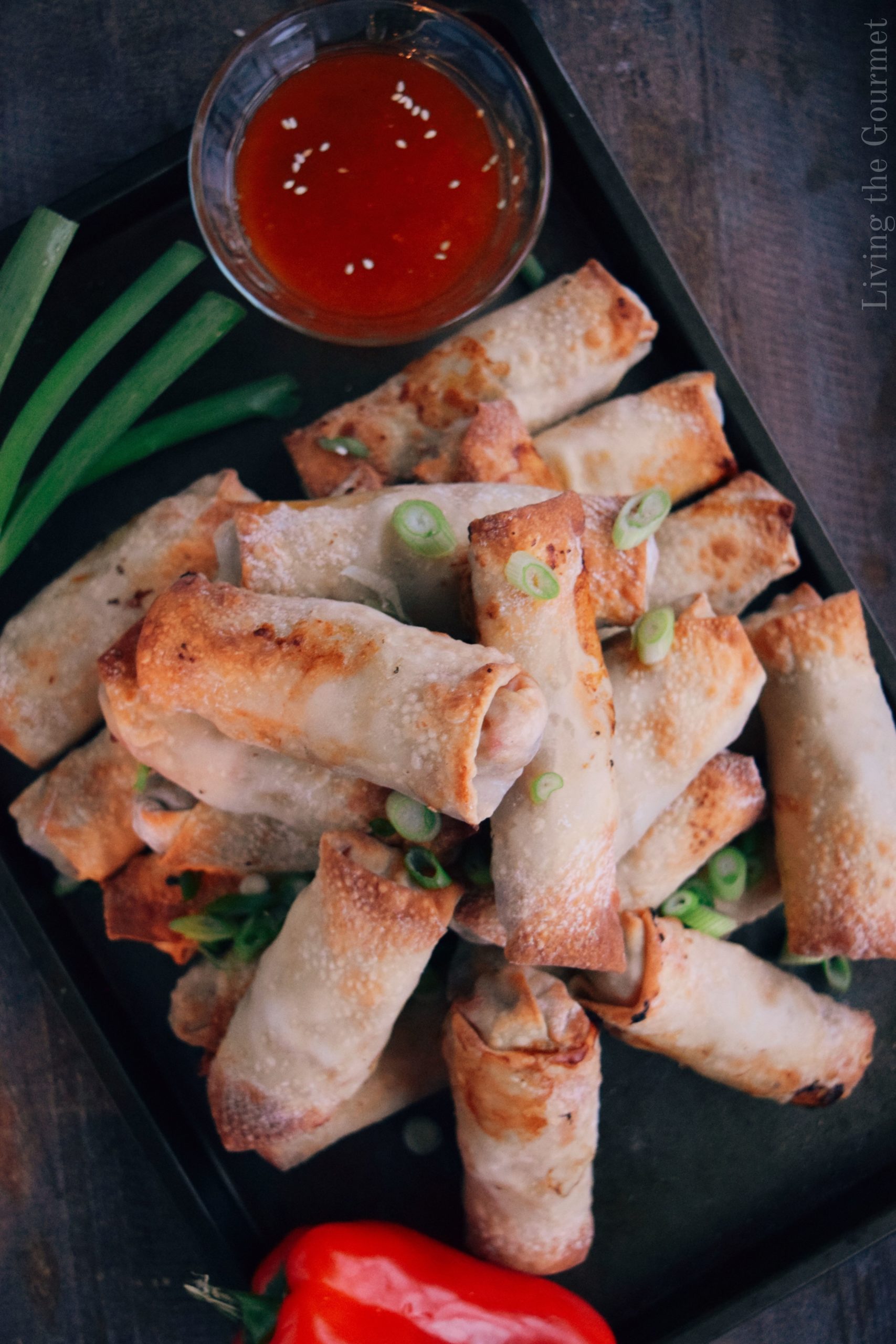 Print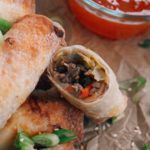 Bulgogi Eggrolls
---
Author:

Total Time:

40 minutes

Yield:

2

dozen eggrolls

1

x
2 1/4

lbs. beef, sliced into 1/4-inch strips

6

cloves garlic, minced

1

medium yellow onion

8

scallions, chopped

1

small head green cabbage, shredded

3

carrots, shredded

1

red bell pepper, sliced thin

2 tablespoon

fresh ginger, grated

3 tablespoons

fresh chili sauce

1/2

cup

soy sauce

2 tablespoons

brown sugar

3 tablespoons

sesame oil

1 tablespoons

toasted sesame seeds

24

Twin Dragon Eggroll Wrappers
---
Instructions
In a large bowl, combine beef, ginger, chili sauce, soy sauce, brown sugar, sesame oil, and sesame seeds. Cover and let marinade for 2 hours in the refrigerator or up to overnight.
In a separate bowl, combine garlic, onion, scallions, shredded cabbage, carrots, and pepper. In a large pan over high heat, sauce the vegetables just until softened, about 2-3 minutes.
In the same fry pan over high heat, sauté the marinated beef for 3-5 minutes. Transfer to a separate bowl. Set aside and let cool slightly before preparing the eggrolls.
Assembly:
Place the square egg roll wrapper in a diamond configuration (so that a corner is facing toward you). Brush the edges with water.
Lay out 2 tablespoons of the shredded cabbage salad onto the lower edge of each egg roll wrapper, then spoon out about 2 tablespoons of the beef filling on top.
Roll the corner closest to you over the filling once, gently tucking it under filling. Gently press down on each side of the filling to flatten the wrapper.
Next, fold over both the left and right sides of the wrapper towards the middle, and continue rolling into a cigar shape until completely sealed. Set the eggrolls, sealed side down, on a baking sheet.
Cooking:
If you are air frying, brush each eggroll with cooking oil and fry for 10 minutes at 350 degrees F.
If pan frying, heat a large pan with enough oil to submerge the eggrolls, about 1½-2 inches. Bring the oil to 325 degrees F. and fry for about 5 minutes, until golden brown.
If baking, brush the eggrolls with cooking oil and place on a lined non-stick baking sheet. Bake at 400 degrees F. for 10-15 minutes until golden.
Notes
Prep Time does NOT include Inactive Prep Time
Prep Time:

20 minutes

Cook Time:

20 minutes
Recipe Card powered by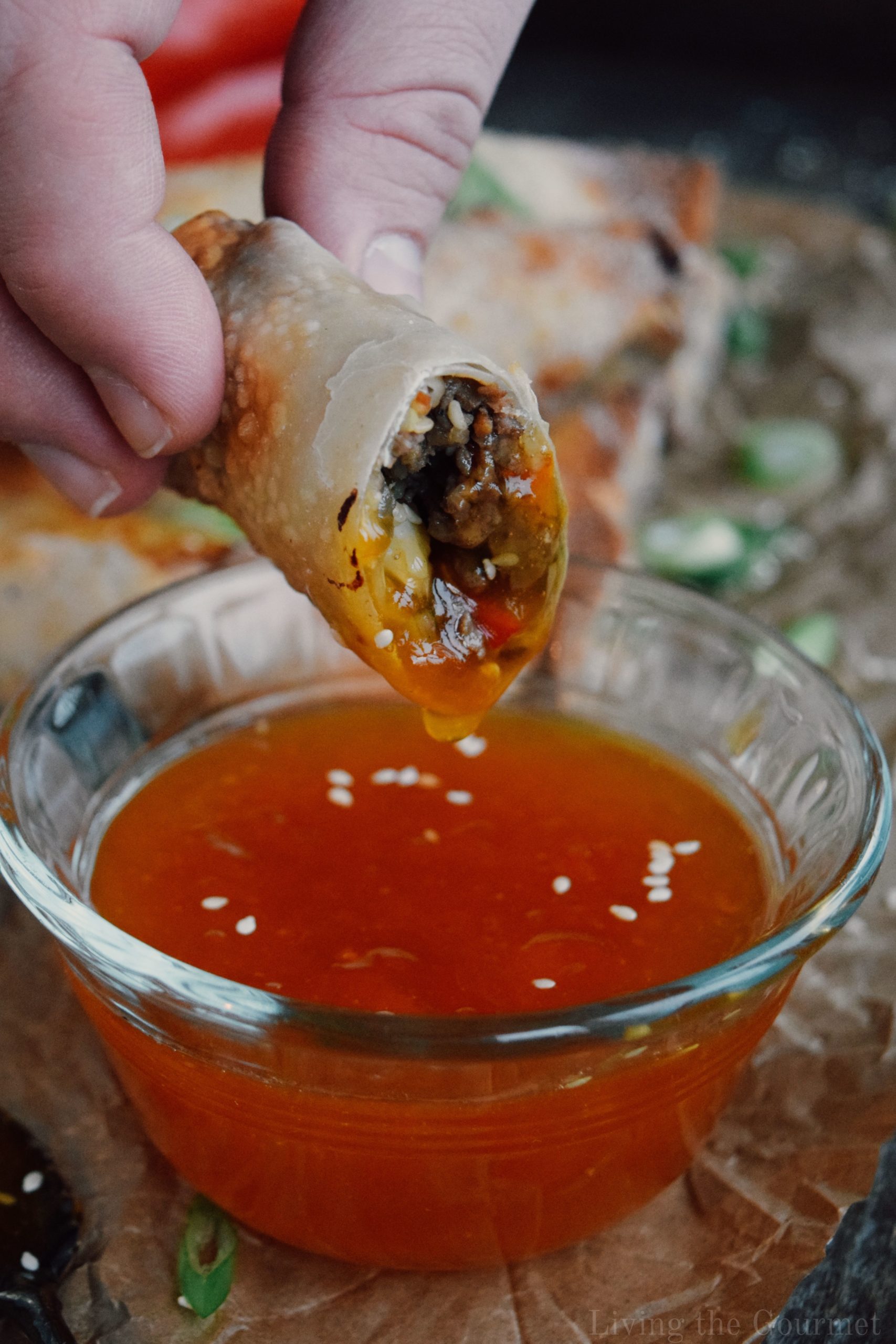 4