This post has been sponsored by Slofoodgroup. All opinions expressed are my own.
A Dutch Baby may look like a large skillet pancake but its flavors evoke that of French Toast with its buttery crisp exterior. Served with dollops of fresh strawberry cream, warm cinnamon and vanilla, and maple syrup this is the ultimate treat for breakfast, brunch, and dare we say, even dessert.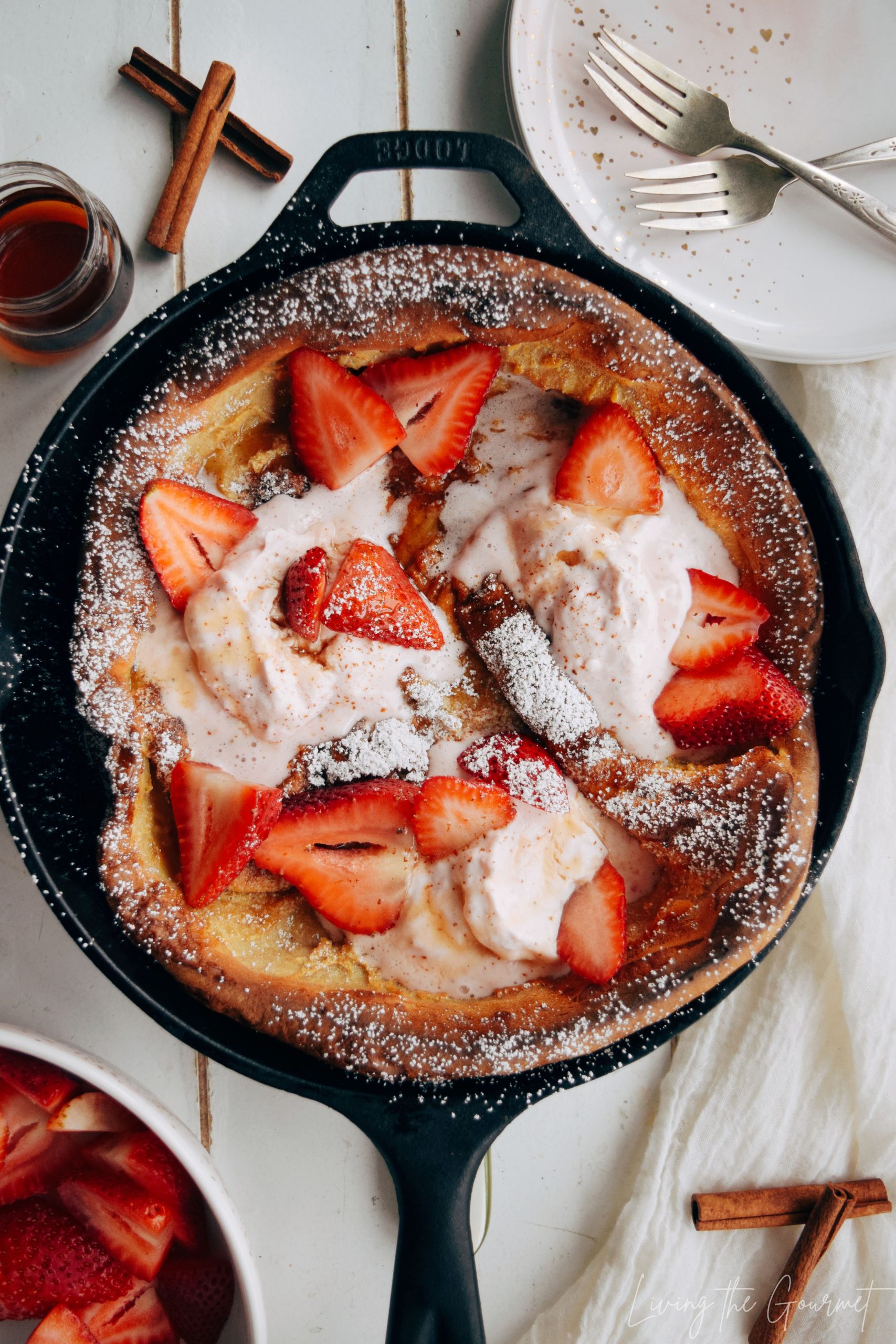 Today we're preparing a confection that I've only recently become familiar with, but that I instantly fell in love with – a from scratch Dutch Baby. We'll be pairing today's Dutch Baby with strawberry-vanilla whipped cream, and finishing it with a dusting of cinnamon. We'll be doing all of this with a little help from my new friends over at Slofoodgroup, whose gourmet spices and flavors really helped kicked today's recipe up to new heights. Slofoodgroup is a gourmet spice house that puts to practice the basic principle of "best in, best out."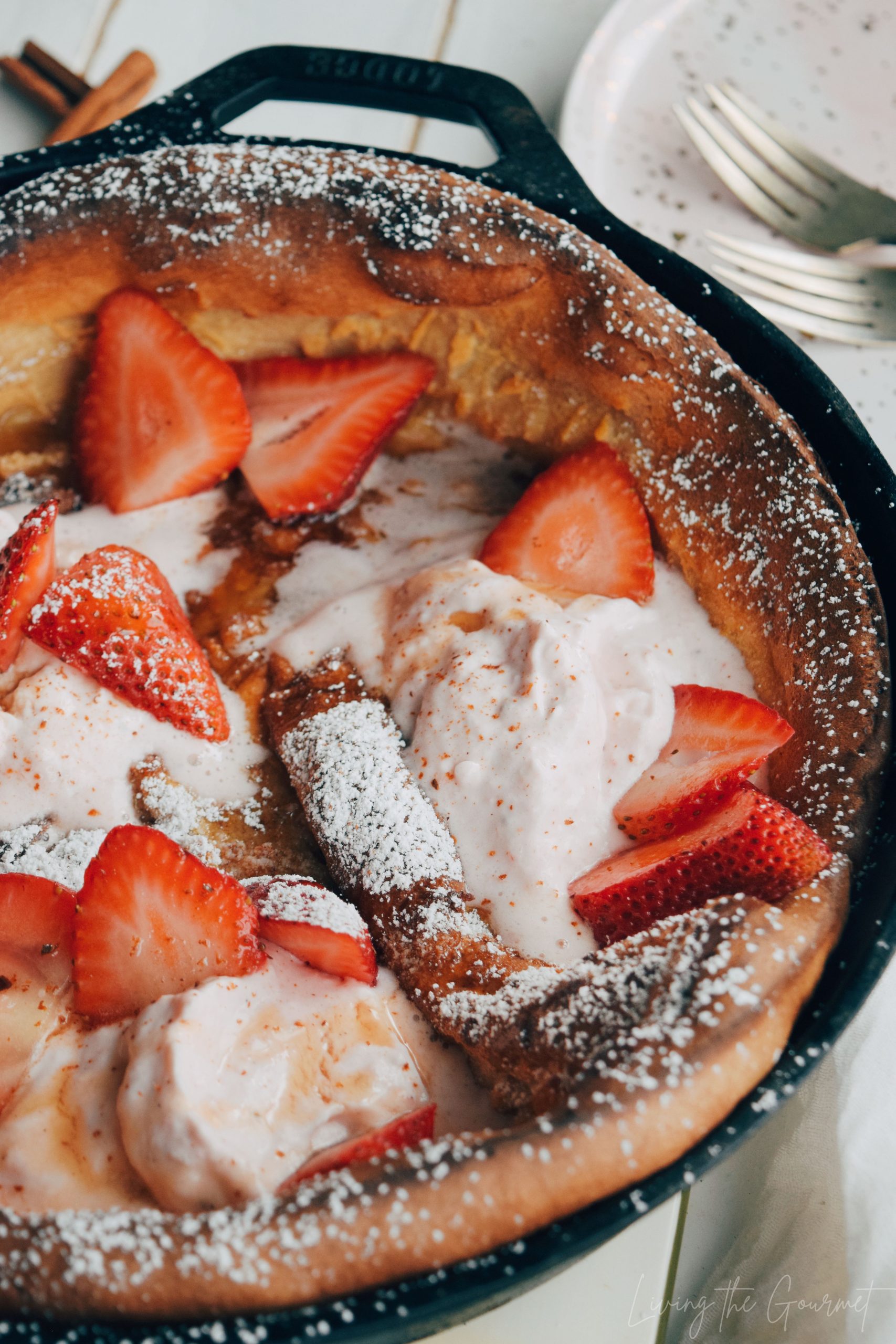 Dutch Baby – What's in a Name?
1) A Matter of Origin. The Dutch Baby is also called a "German Pancake," a "Bismarck," a "Hootenanny," and finally a "Dutch Puff." With the exception of "hootenanny," you probably noticed the "Germanic" slant in the naming scheme, and as such you would be forgiven for thinking this particular confection found its origins either in the Netherlands or Germany. Nope. The Dutch Baby is wholly an American invention from the early 1900s, whose origins are fairly well documented. They were first served in Manca's Café in Seattle, with owner Victor Manca holding a trademark on this confection until 1942. While the Dutch Baby has more in common with a popover than a pancake, it's thought that the Dutch Baby takes some inspiration from thick German Style pancakes (which are, in fact, quite German). Albeit, German pancakes are what Americans call 'griddlecakes,' these being thicker, fluffier versions of their French counterparts.
2) But what 'is' a Dutch Baby? An oven baked pancake or popover, that's similar in style to a Yorkshire Pudding. Thick, fluffy and generally 'bowl shaped,' the Dutch Baby is often served filled, with common fillings including fruit and cream, eggs and breakfast meats, pudding, or even savory dinner fillings.
3) When to Serve a Dutch Baby. In truth, the Dutch Baby can be served not only breakfast, but also lunch and dinner. When served at dinner, they often feature thick stews or 'dinner puddings,' and are generally single-serve as the main course. However, to my mind, I find that the Dutch Baby serves best as a breakfast or luncheon item. If served for breakfast, a nice mix of fruit, cream, and a drizzle of syrup make this an ideal side to eggs and bacon.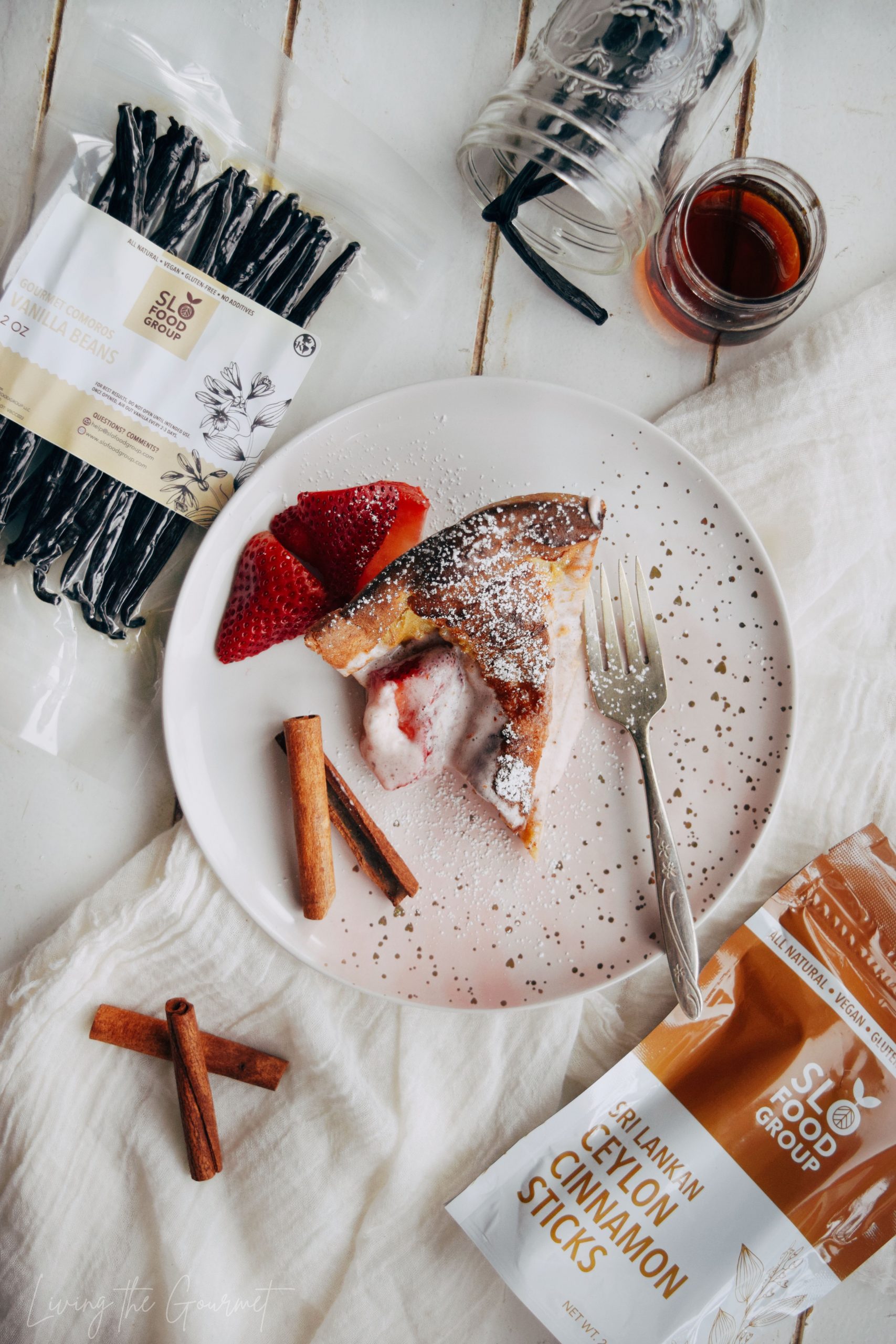 Ingredient Notes, Tips, and Substitutions
1) Strawberries: How to Select and Store. First off, look at the caps. They should have bright green, intact caps. No browning, no debris. The berries themselves should be blemish free, and 'fire truck red,' with a nice shine. The shine is important, as it is indicative of moisture retention, since the berries rapidly bleed moisture after they've been picked. Upon getting them home leave them the fridge, and leave them dry until you're ready to eat them. Do 'not' wash, cut, or destem them until you are ready to eat them.
2) The Vanilla – Slofoodgroup's Comoros Vanilla Beans. Much like a pancake, the 'cake' of a Dutch Baby is 'very' flavor neutral, that means whatever you add to it so going to 'really' come through. For that reason, I favor using whole vanilla beans over paste or extract – although either would work just fine. I say this because the 'vanilla flavor' of fresh vanilla beans is often much more 'intense' and 'fresher tasting' than the flavor of either paste or extract, and that intensity and freshness really comes through in this recipe. Working with fresh vanilla beans is not hard at all, so don't be intimidated. To start, they consist of a dark brown-to-black waxy pod, and this pod is filled with tiny black 'specks,' which is where the 'vanilla flavor' is located. Simply slice open the pod, scoop out the 'specks,' and add them to your recipe in precisely the same way you would vanilla extract or vanilla paste. It really is just that simple. As a nice bonus, many bakers and enthusiasts consider these 'specks' to be quite eye-appealing, being prized for how they become peppered through the recipe they are used in.
Today, we're using Slofoodgroup's Comoros Vanilla Beans. Comoros is a region that features some of the finest vanilla growing topography on the planet. These premier growing conditions come courtesy of lush volcanic soil, and a climate that's tailormade for the growing of vanilla. Comoros vanilla beans are said to possess flavor qualities reminiscent of 'creamy vanilla mixed with chocolate, browned butter, and marshmallow.' It's worth noting that Comoran vanilla is 'so' prominent, that much of it is sold before it's even been harvested. To bring you this vanilla, Slofoodsgroup sources their vanilla from a single family-owned estate, which has been growing vanilla for some three generations. These are Grade-A vanilla beans with a moisture content of 28-35 percent, are gluten-free, vegan, and non-GMO.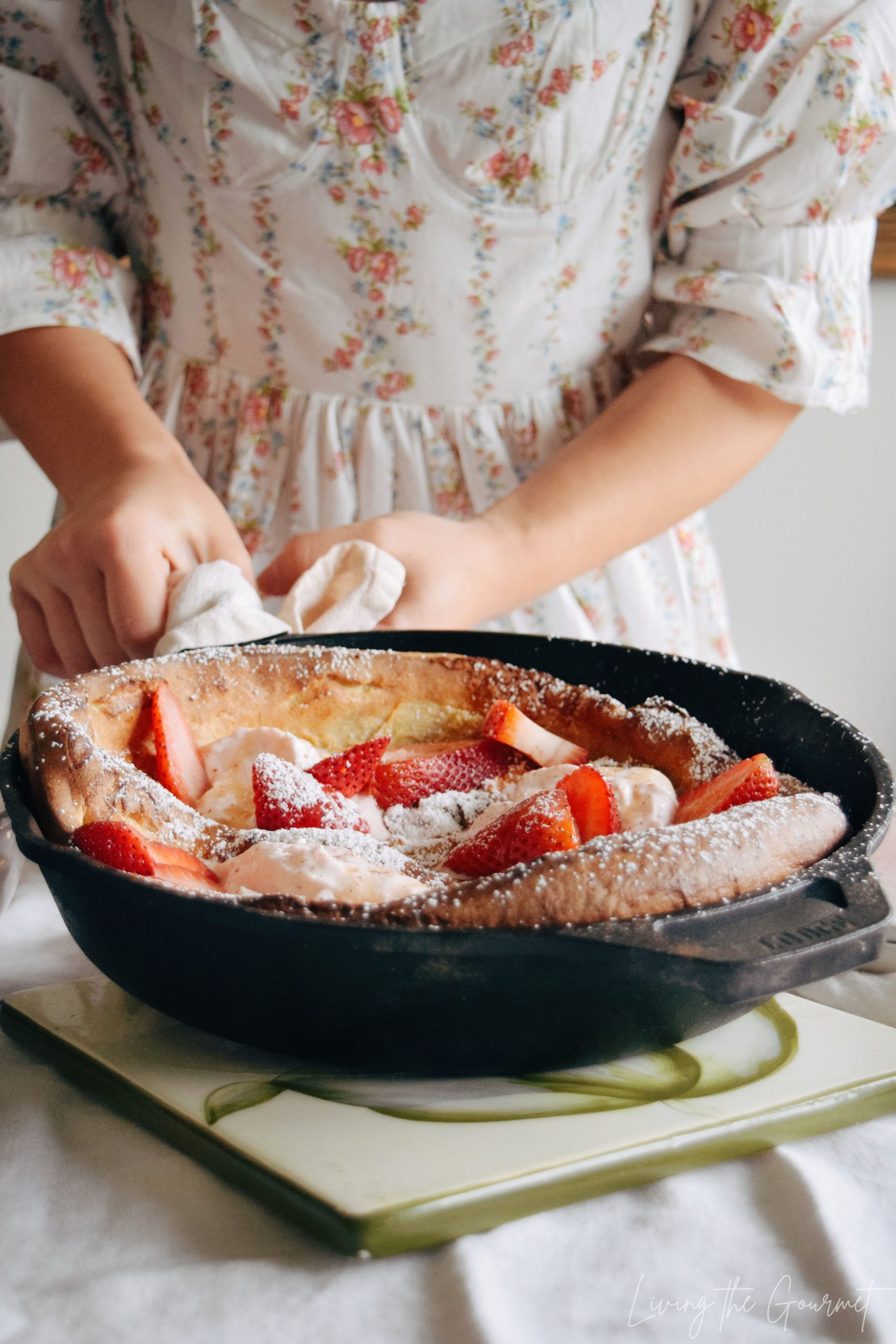 Measurement Clarification: Bear in mind that the content of 1 whole vanilla bean is equiviliant to 1 tablespoon of vanilla extract, or 1 tablespoon of vanilla paste. In other words, 1 whole bean equals 1 tablespoon of any other type of vanilla.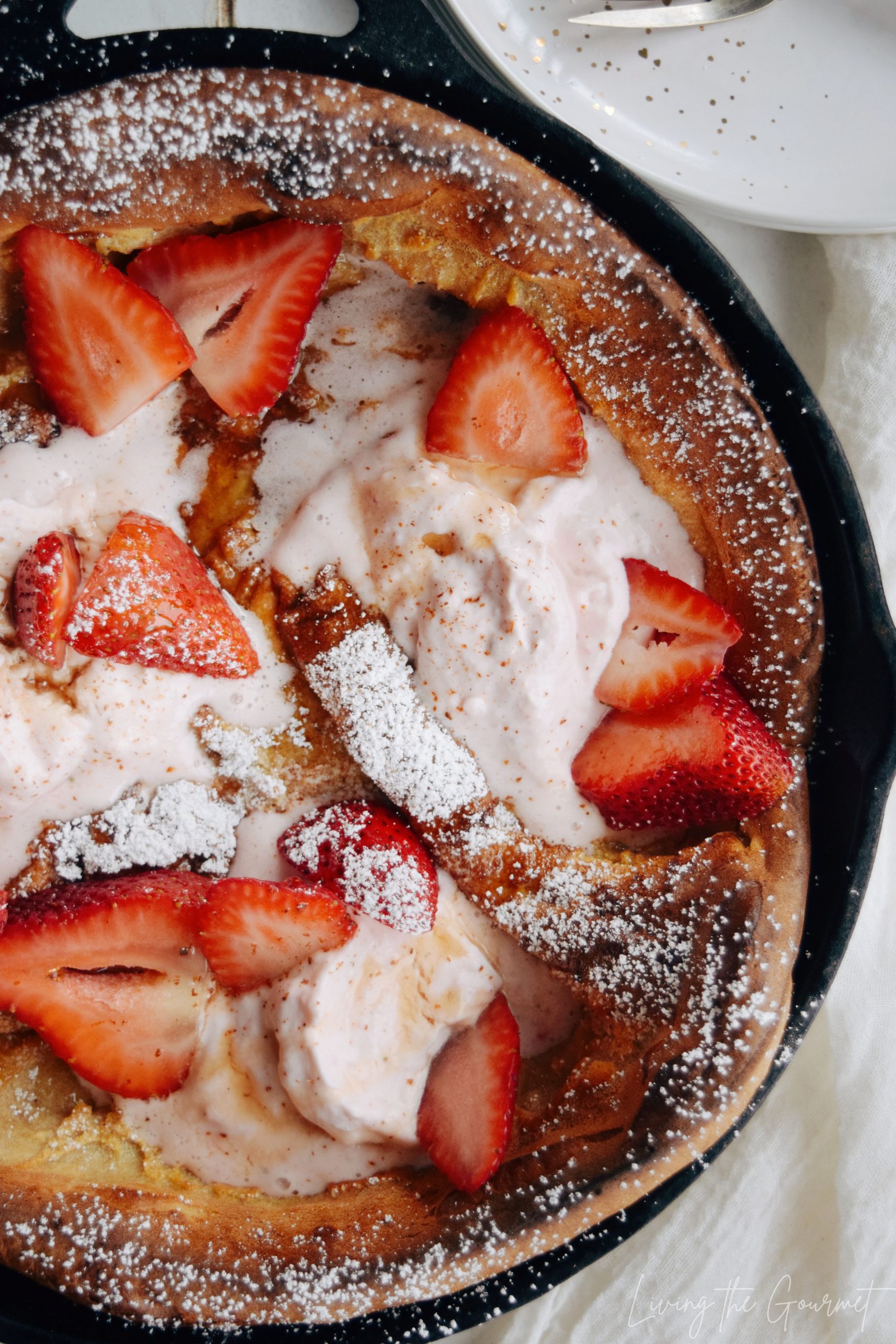 3) Brown Sugar – Tasty, but what is it? There are two types of brown sugar, refined and unrefined. Refined brown sugar is simply white sugar to which molasses has been added. Unrefined brown sugar, as the name implies, undergoes 'less' processing to allow the sugar to retain more of its original, naturally occurring molasses. In other words, the difference between white and brown sugar is the presence of molasses, which gives brown sugar its signature 'sticky' texture and caramel-like flavor. Contrary to popular misconception, brown sugar (both kinds) and processed white sugar are almost identical nutritionally. This is the case since virtually all commercially available sugar originates from sugarcane, the juice of which contains meteoric levels of sugar. For reference, a mere 100 grams of freshly pressed sugarcane juice contains 73 grams of sugar. This juice is then refined and processed to produce molasses, which is then further refined to produce brown sugar, which in turn is then further refined to create white sugar.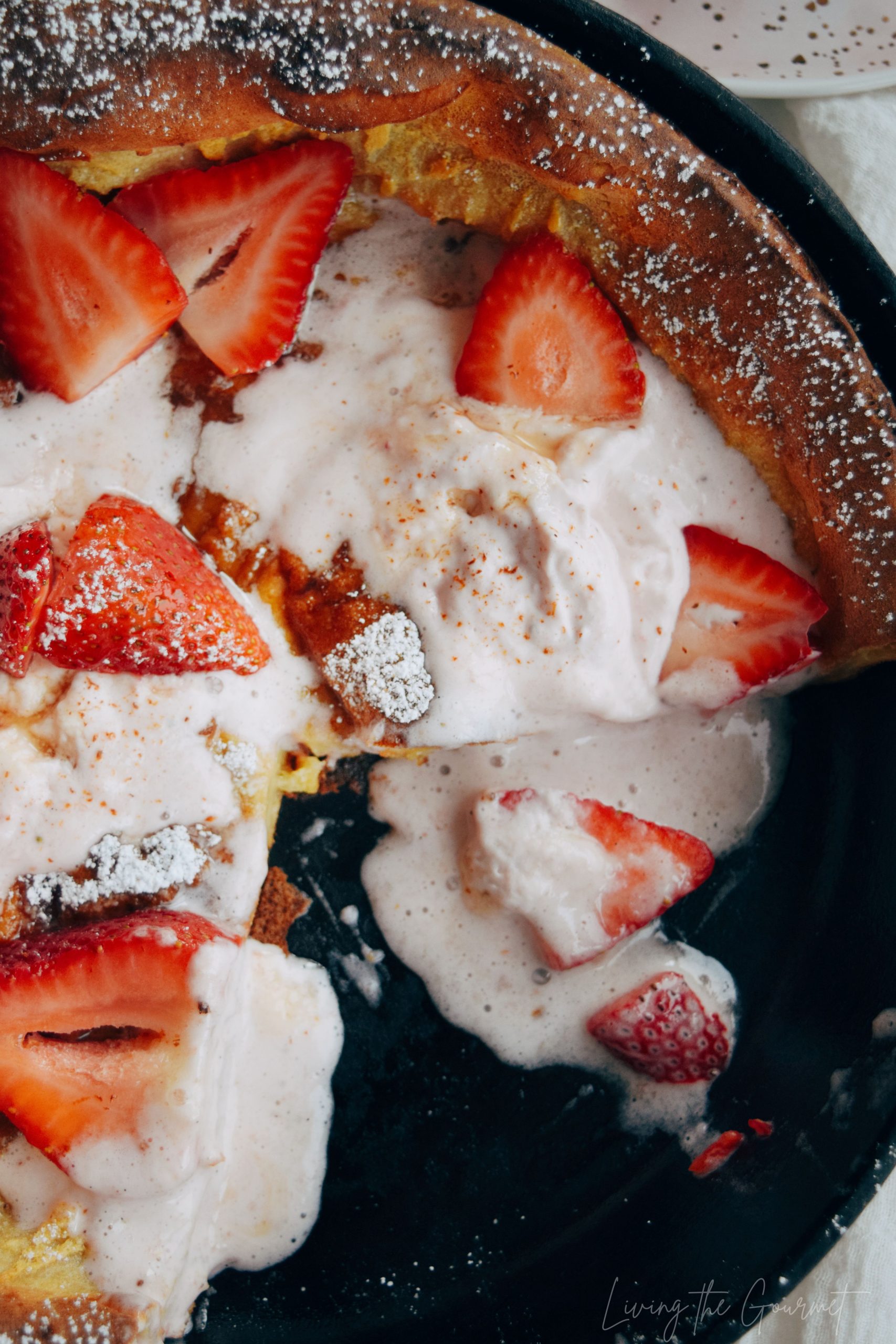 4) The Cinnamon. For trade and marketing purposes all cinnamon can legally be labeled 'cinnamon.' However, what has often been called "The Great Cinnamon Debate" marches on. Gourmets (myself included) like to differentiate between 'true cinnamon' and 'everything else.' 'True Cinnamon' is derived from the inner bark of the Cinnamomum verum tree, and is called "Ceylon cinnamon." 'Other' cinnamons are derived from the 'Cinnamomum cassia tree,' and are called "Cassia cinnamon." Both cinnamons have their devotees 'and' their detractors, as these two types of cinnamon have noticeably different flavor profiles. So, what's the difference? Almost everything, but also 'less' than you might think. Cassia cinnamon has a 'harsher' or 'spicier' flavor that's sometimes described as 'peppery' or 'bitter.' This makes cassia cinnamon ideal for things like meat rubs and sauces. Meanwhile, Ceylon Cinnamon has a noticeably 'sweeter' flavor, and is much milder due to the lack of any bitterness or peppery notes. This makes Ceylon ideal for baked goods, or really anything 'sweet.' Where does this difference in flavor come from, though? It all comes down to 'oil.' Cassia Cinnamon's internal oils are composed of around 95% cinnamaldehyde, while Ceylon is only around 60%. The higher concentration of this oil in Cassia Cinnamon is the source of its spiciness or 'bitterness,' and that's really about it. They're a wholly different species of tree, but internal oils are what makes the difference.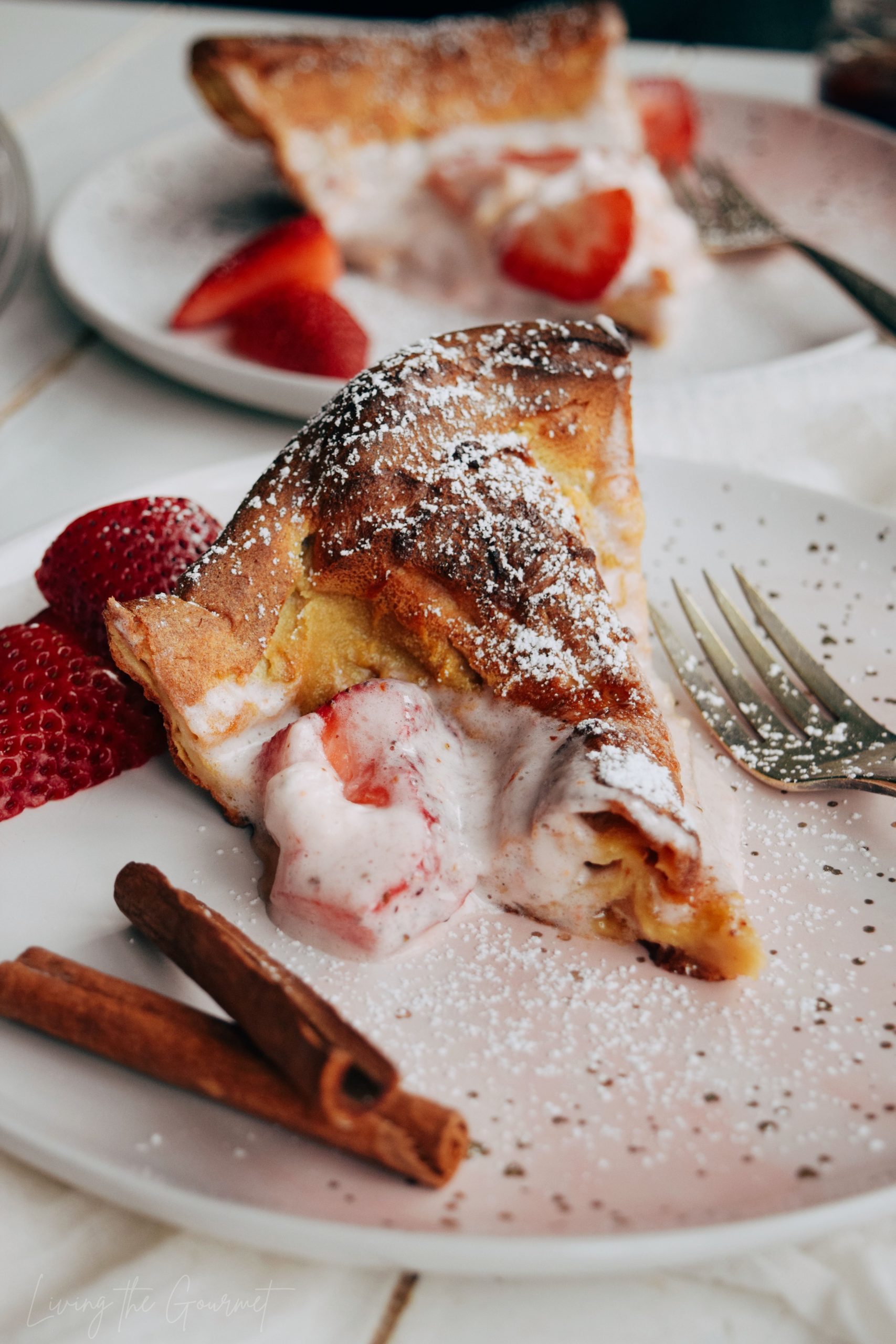 For today's Dutch Baby, even if you're fan of cassia cinnamon, I strongly recommend going with a good quality Ceylon Cinnamon, since we don't want the intensity or spice of a Cassia. Slofoodgroup's Sri Lankan Cinnamon Sticks fit that bill perfectly. The key here is that purchasing via Slofoodgroup assures that you're getting the highest quality cinnamon possible, and that the cinnamon has been farmed organically, sustainably, is certified EarthKosher, and is Non-GMO. Slofoodgroup's cinnamon sticks are air-dried, and then left to tan naturally in the sun. This assures a quality, natural, organic production from start to finish. Please, if you're like me and love your cinnamon, give Slofood Group's cinnamon a try.
Print
Strawberry Cream Dutch Baby
Author:
Prep Time:

10 minutes

Cook Time:

25 minutes

Total Time:

35 minutes

Yield:

4

-

6

servings

1

x
Category:

Breakfast

Cuisine:

American
For the Strawberry Cream:
For the Dutch Baby:
3

large eggs

1/2

cup

AP flour

1/2

cup

whole milk

3 tablespoons

dark brown sugar

1/4 teaspoon

SloFoodGroup Vanilla Beans

4 tablespoons

unsalted butter
Additional Toppings:
Fresh strawberries, sliced
Confectioner's sugar
Instructions
For the Strawberry Cream:
In a bullet blender, blitz strawberries and sugar into a thickened syrup-like consistency.
In a small (preferably chilled) metal bowl, whisk cream and vanilla beans until you get soft ribbons.  Add the blended strawberries and continue whisking until stiff peaks form.  Set aside in the refrigerator until ready to use.
For the Dutch Baby:
Preheat oven to 425 degrees F.
In a large bowl whisk together everything but the butter into a smooth batter.
Once the oven has preheated, place butter in a 10-inch cast iron skillet and place in the oven to melt the butter, about 5 minutes.  Be careful not to burn the butter!
Carefully pour the batter into the heated pan with melted butter.  Return to the oven and bake for 20 minutes.  Reduce the oven temperature to 300 degrees F. and bake for an additional 5 minutes.  Transfer to a hot place and let cool for about 5 minutes.
Top with strawberry cream, fresh sliced strawberries, and dust with confectioner's sugar and grated cinnamon if desired.
Serve immediately and enjoy!
Nutrition
Serving Size:
Calories:

480

Sugar:

52.7 g

Sodium:

73.3 mg

Fat:

20.8 g

Carbohydrates:

67.2 g

Protein:

8.3 g

Cholesterol:

187.6 mg
Keywords: breakfast, brunch, dessert, pancakes, dutch baby, strawberries
Recipe Card powered by
2