Today we're preparing a Seaweed and Ginger Soup, which combines the bright notes of fresh ginger and sweet onion, with savory chicken broth and a hint of spice from red pepper. All of that combines beautifully with the 'saltwater brine' of nori seaweed. We'll be serving the soup over chicken and white rice, but today's soup would also serve beautifully over noodles.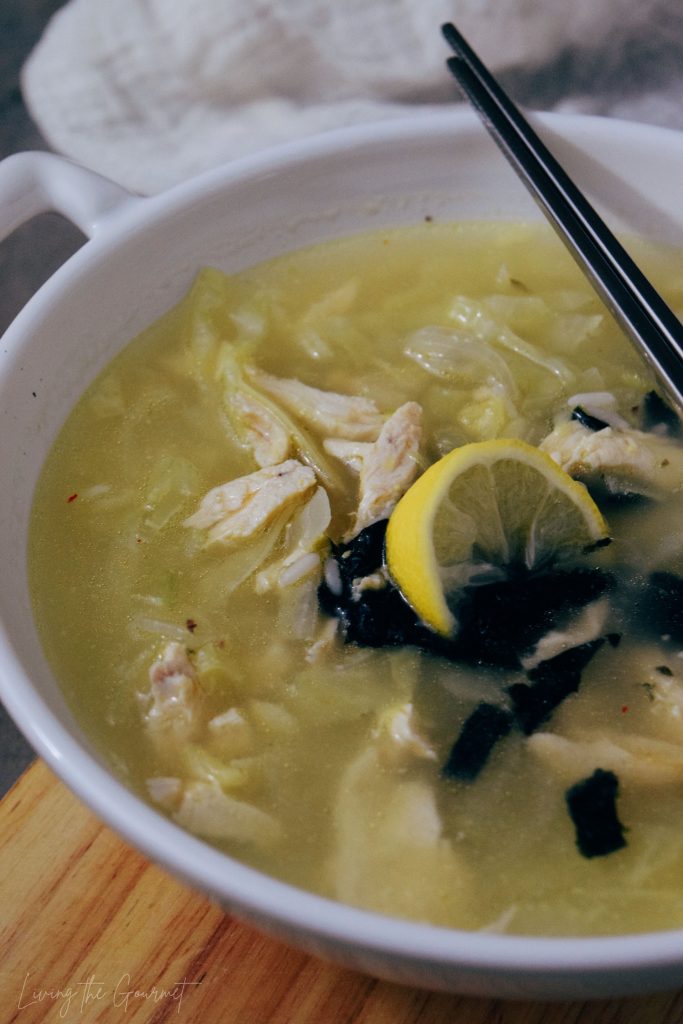 Why You'll Love This Soup
1) Seaweed Soup with a Twist. I've been cooking with seaweed on and off for most of my life, and so it's safe to say that I love a good seaweed soup as much as the gourmand. Today's seaweed soup, however, departs from the 'broth and seaweed' formula, with addition of vegetables and chicken, while heightening the flavor profile with things like fresh ginger and sweet onion.
2) Super Simple. Today's soup is simply a matter of combining the ingredients in a pot at the proper intervals and then letting it simmer for the prescribed amount of time. Couldn't be easier.
3) The Soup Keeps. Today's soup keeps nicely in the fridge for several days, and heats up beautifully at a low simmer.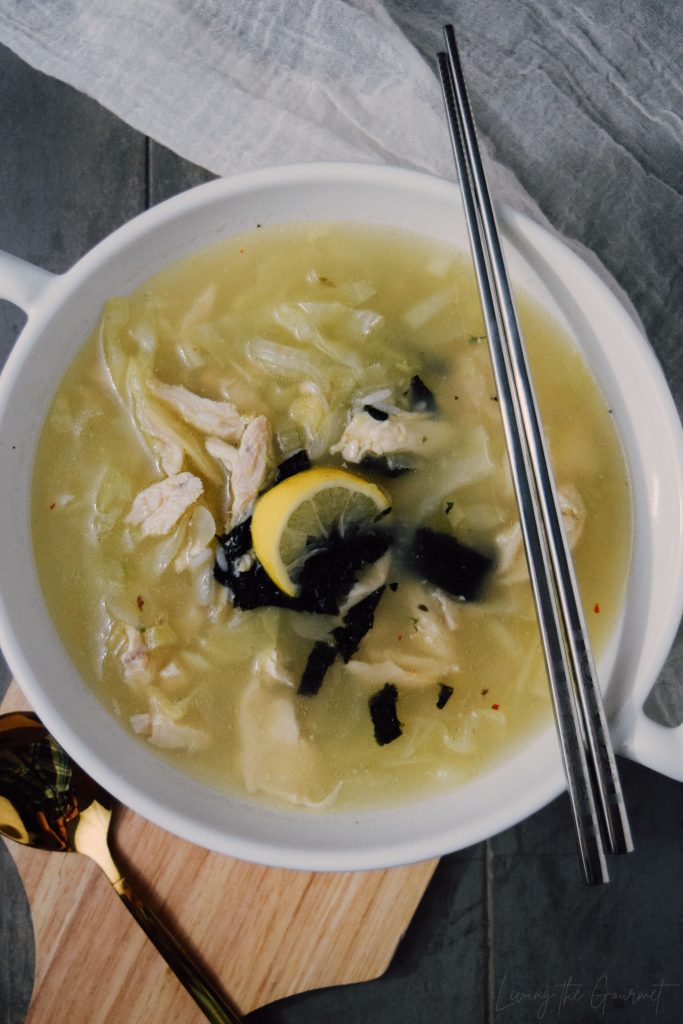 Ingredient Notes and Tips
1) The Seaweed: Nori or Nothing? No, not really. Wakame seaweed would also work just fine (or even better), since that's the seaweed most commonly used in miso soup and salads. I'm using nori as the seaweed in today's soup simply because it's what I had on hand. What we're looking for in the seaweed is that 'briny' or 'saltwater' taste – and nori's definitely got that. In other words, the seaweed is a flavoring agent more than anything else.
Soaking the Seaweed first? Not necessary. The seaweed will 'soak' and therefore rehydrate while it cooks in the soup.
2) Fresh vs Powdered Ginger – Which is Best for Today's Soup? Fresh is preferable, since the 'bright' and 'punchy' notes that typify fresh ginger are entirely absent in powdered. That said, fresh ginger is described as everything from 'punchy' and 'spicy' to 'peppery' and 'citrusy,' or as 'garlic with a hint of citrus,' and even 'soapy.' [LINK: https://www.mccormickscienceinstitute.com/resources/culinary-spices/herbs-spices/ginger ] . If ginger is hard to describe, it's purely because of how unique the root is, despite it appearing as a staple ingredient in cuisines across the globe. Powdered ginger can often be substituted for fresh, but fresh often 'cannot' substitute for powdered – as in cakes or cookies.
Substitution: Use around one quarter of teaspoon of powdered ginger in place of today's fresh ginger. Adjust this according to your palate.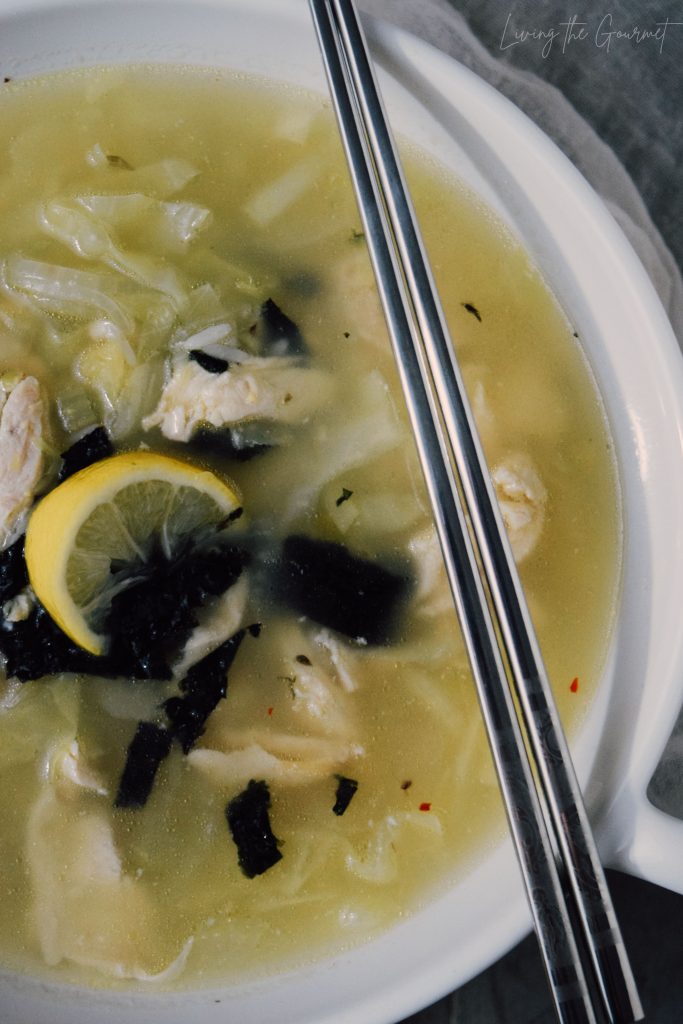 3) The Chicken Broth…or bouillon? Stock, broth, and bouillon are words that are often used interchangeably, but that once denoted 'very' different things. Even Bon Appetit itself fell victim to this in their article comparing "Boxed Stock" with a name brand 'bouillon.' The opening line pines that "In our dream kitchen, we'd have unlimited supplies of homemade chicken stock in our freezers," followed by hundreds of words comparing said 'dreams of infinite stock' to a brand of…bouillon. Oof. That said, I can forgive Bon Appetit for making this mistake as the difference between bouillon, broth, and stock has almost completely disappeared over the last couple of decades – at least on the consumer side. Originally, 'bouillon' was a thin broth made by simmering 'meat.' Stock was notably thicker than bouillon, being made by simmering bones, the cartilage, marrow, and grizzle of which would seep into the simmering liquid, thickening it. Broth, by contrast, differentiated itself by being made from vegetables. Due to demands in recent decades for 'vegetarian' versions of people's favorite stock and bouillon…well, that led to companies simply making broth, adding in thickening agents, and then labeling said broth as bouillon or stock. So, there you have it. Broth, stock, and bouillon are now entirely interchangeable because of consumer demand for…a labeling change.
More Delicious Soups from Living the Gourmet
1) Chicken Soup. My take on 'classic' chicken soup. To me, chicken soup should be simple yet satisfying (and delicious!), starting off with richly herbed oven roasted chicken, prepared with a vegetable stock and schmalz broth. And that's exactly what this recipe calls for, to which we'll be adding mixed vegetables, plenty of garlic, herbs, and red pepper. While I serve this soup over orzo, you can substitute in your favorite soup noodle.
2) Roasted Gazpacho. A 'very' kicked up Gazpacho, with grilled peppers, sliced jalapenos, and plenty of herbs and garlic. The end result is a gazpacho that's earthy and smoky, courtesy of the charred peppers, and just a tad spicy, but also cooling and refreshing, courtesy of the mixed herbs.
3) Spicy Sweet Potato and Chicken Soup. One of my favorite uses for sweet potatoes. This soup is pleasantly spicy, featuring jalapenos and red pepper, with earthy tones like carrots and onions, and herbal notes such as oregano and garlic. All of this comes together beautifully to create a seasonal collage of flavors perfect for grey winter days or chilled nights.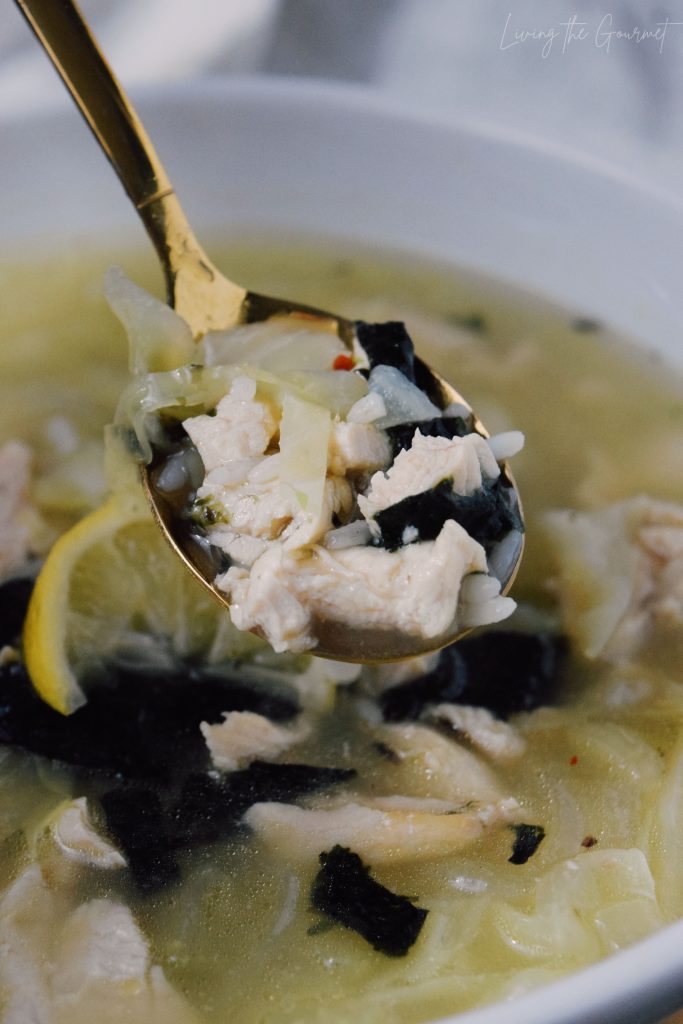 Print
Seaweed and Ginger Soup
---
Author:

Total Time:

30 minutes

Yield:

6

servings

1

x
1/4

head of small sized cabbage - sliced very thin

10

-

12

cloves of garlic - crushed

1

sweet onion - sliced thin

1

boneless chicken breast - sliced thin into strips

2

inch piece of fresh ginger - chopped fine

2

stalks of celery - sliced very thin

6 cups

of chicken broth

1/4 tsp

. red pepper flakes

1/4 tsp

. fresh ground black pepper

2

tbs. olive oil

1 cup

of uncooked white rice

1

lemon - sliced thin and halved

1

-

2

sheets of Nori seaweed - sliced into strips
---
Instructions
Cook the rice as directed and set aside.




Heat a large saucepan with the 2 tbs. of olive oil.




Add the garlic, sliced cabbage, sliced onion, celery and sliced chicken.




Sauté until the onion is translucent, the garlic is fragrant and the chicken is white and cooked.  Add the ginger and toss.




Add chicken broth and the red pepper flakes and fresh ground black pepper.  Cook on a gentle heat for a 10 - 12 minutes and turn off the heat.




Place a spoonful or two of rice at the bottom of a soup bowl, top with strips of the seaweed and top with the soup.  Garnish with a lemon slice and serve.
Prep Time:

10 minutes

Cook Time:

20 minutes

Category:

Main Dish

Cuisine:

Asian
Keywords: soup, seaweed, ginger, asian cuisine
Recipe Card powered by
1