This post has been sponsored by Sam's Fresh Salsa. All opinions expressed are my own. You can purchase Sam's Fresh Salsa at your local Shoprite.
Today we're preparing a 'very' kicked up Gazpacho, with grilled peppers, sliced jalapenos, and plenty of herbs and garlic, and we'll be doing this with a little help from the makers of my new favorite salsa – Sam's Salsa.
The gazpacho we're preparing today is earthy and smoky, courtesy of the charred peppers, and just a tad spicy, but also cooling and refreshing, courtesy of the mixed herbs. Now, without further delay, let's get grilling.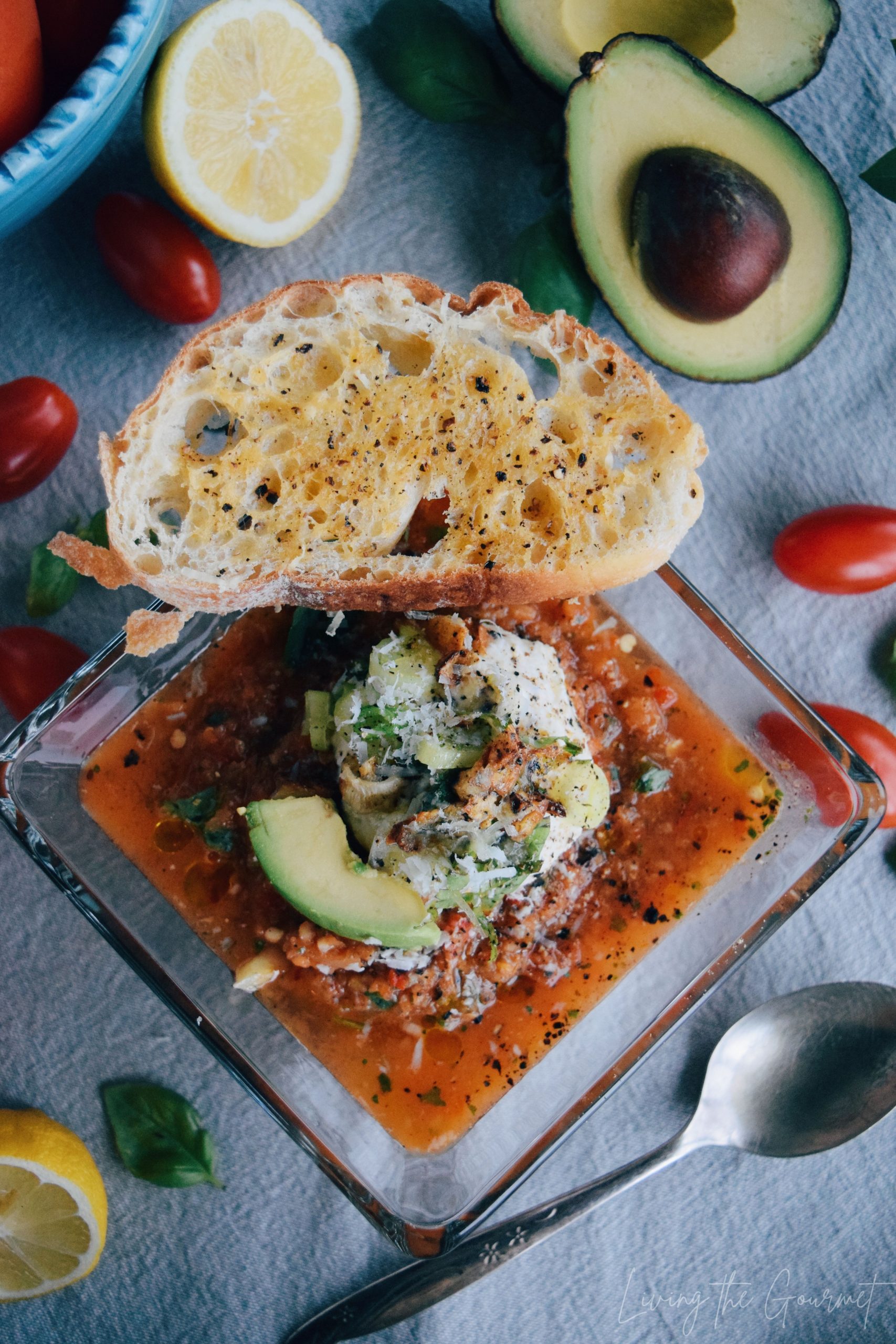 Why You'll Love Today's Gazpacho
1) Perfect For Cool Summer Nights. It goes without saying that soup isn't the friendliest of foods for the warmer weather. Gazpacho turns that on its head by being served cold.
2) Super Easy. While today's recipe is a bit more involved than the standard gazpacho, today's recipe remains accessible for home chefs of all skill levels. If you can grill and peel a pepper, you can make today's recipe.
3) It Keeps. Today's recipe keeps perfectly for several days in the fridge, during which the flavors actually meld together quite nicely.
4) Leftover. Related to the above point, serving leftover gazpacho simply involves taking it out of the fridge and putting in it a bowl, since you're not going to be heating up soup that's meant to be eaten cold.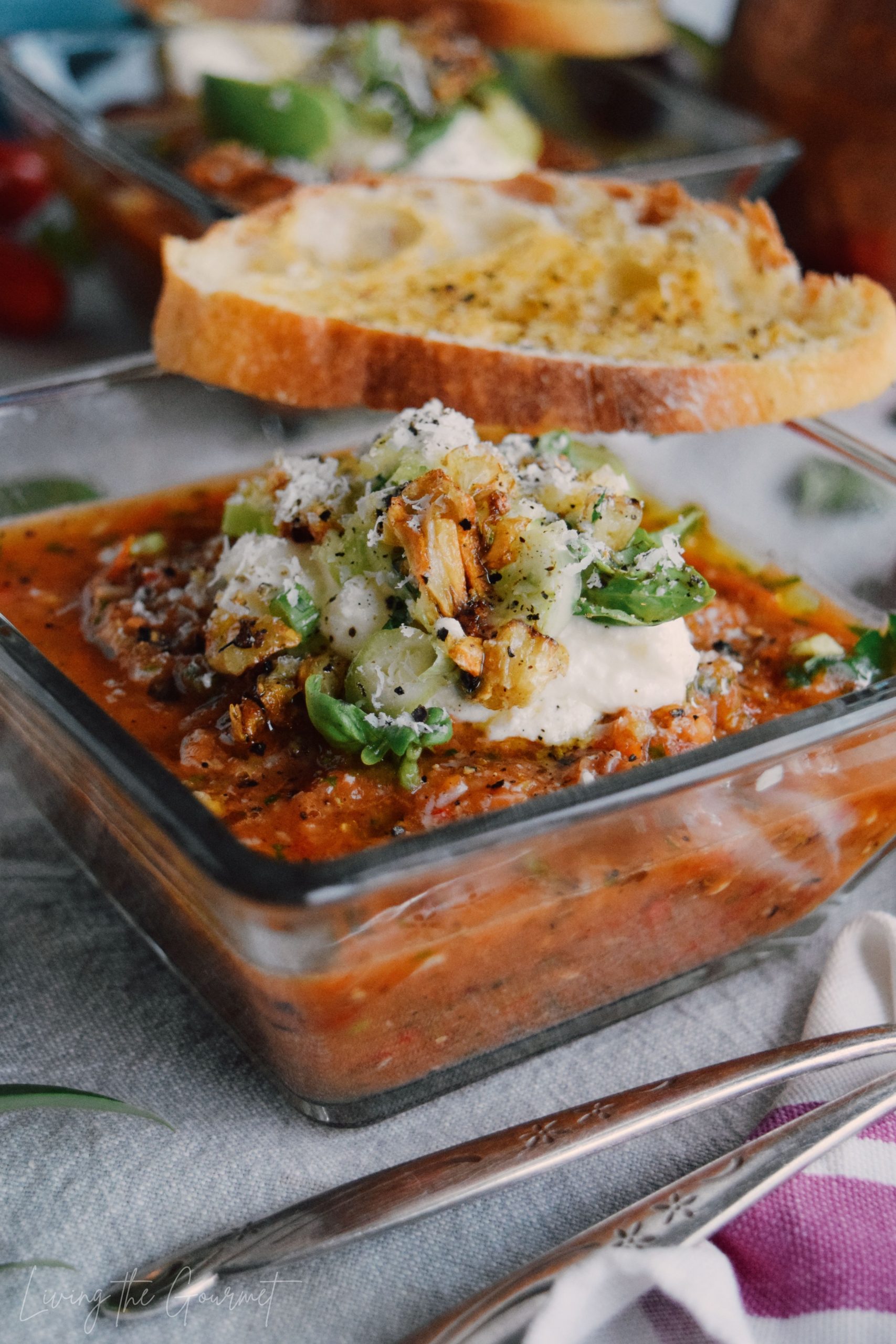 Ingredient Notes, Tips, and Substitutions
1) Sage – Mint's Slightly Stuck-Up Cousin. Sage is an evergreen shrub that is very closely related to mint. However, in almost direct contrast to the cool, sweet, and refreshing flavor profile of mint, sage is pungent, earthy, and warming. Whereas mint is somewhat one-dimensional and easily overpowering, oftentimes insisting on being the star of the show in whatever recipe it appears in, sage is complex and complementary as opposed to demanding attention. Sage enhances flavor, mint 'is' a flavor. In terms of fresh versus dried sage, like most herbs sage retains much of its flavor through the drying process but loses its 'brightness.' This, as with almost all herbs, tends to concentrate its flavors to the point of exaggeration. Again, as with most herbs, fresh sage is generally preferable to its dried counterpart wherever possible.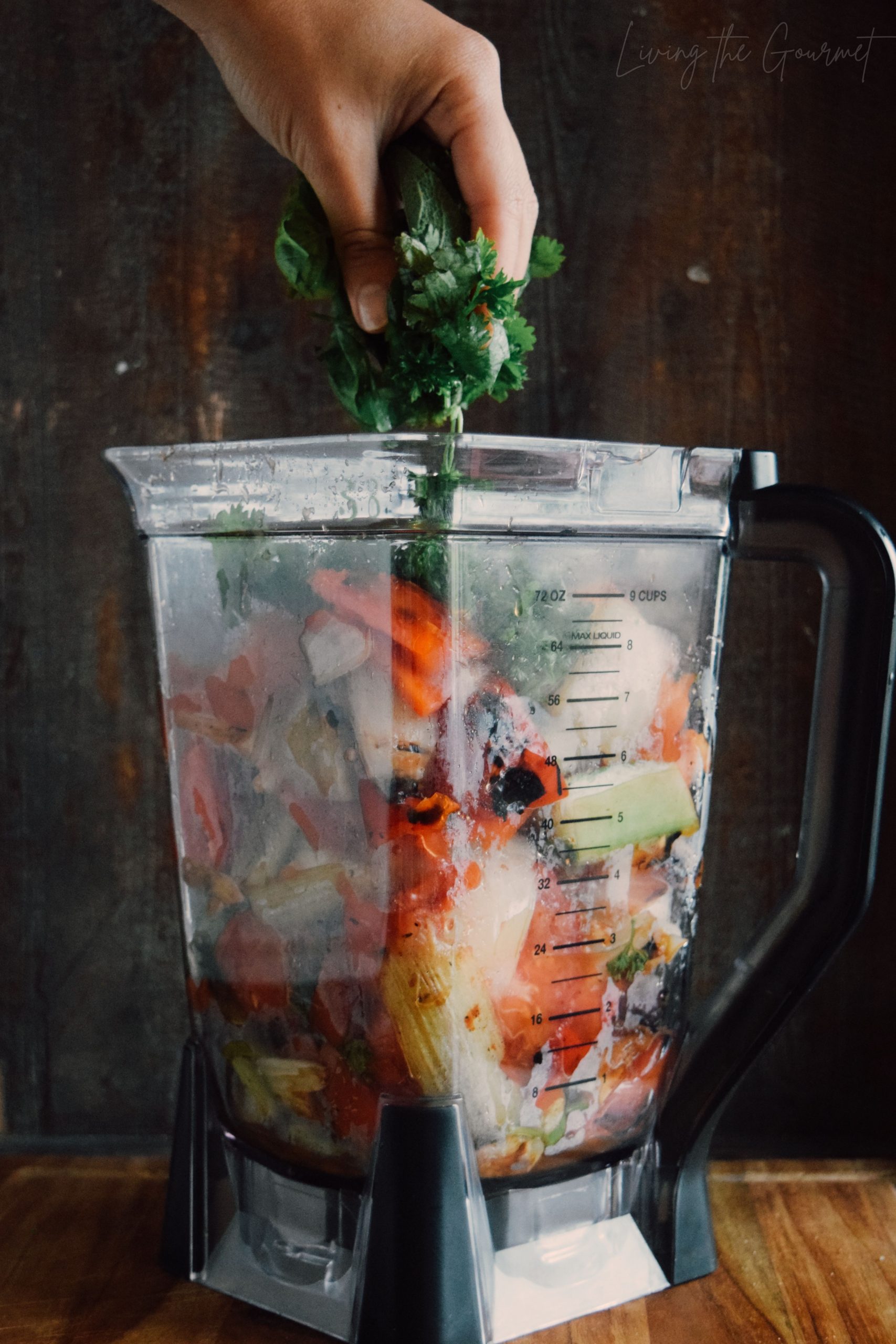 2) Sam's Fresh Salsa – Why You Should Try It. I'm of the opinion that fresh, natural 'everything' is the best way to go in the kitchen, and that's why I love Sam's Salsa. Sam's Salsa is produced with no artificial ingredients, no preservatives, and no additives, and they're Clean Label certified. The first thing my son said when he tried this salsa is "I love how fresh and clean tasting it is," and honestly I think that's the best way to describe it. Yes, you have all of the expected salsa flavors, from jalapenos to tomatillos, but above all you've just got a really fresh and clean tasting salsa – and that's what salsa should be. So. with all of that said, try Sam's Salsa, you won't be disappointed. Sam's Salsa comes in several varieties, include Red, Green, and Watermelon Jicama.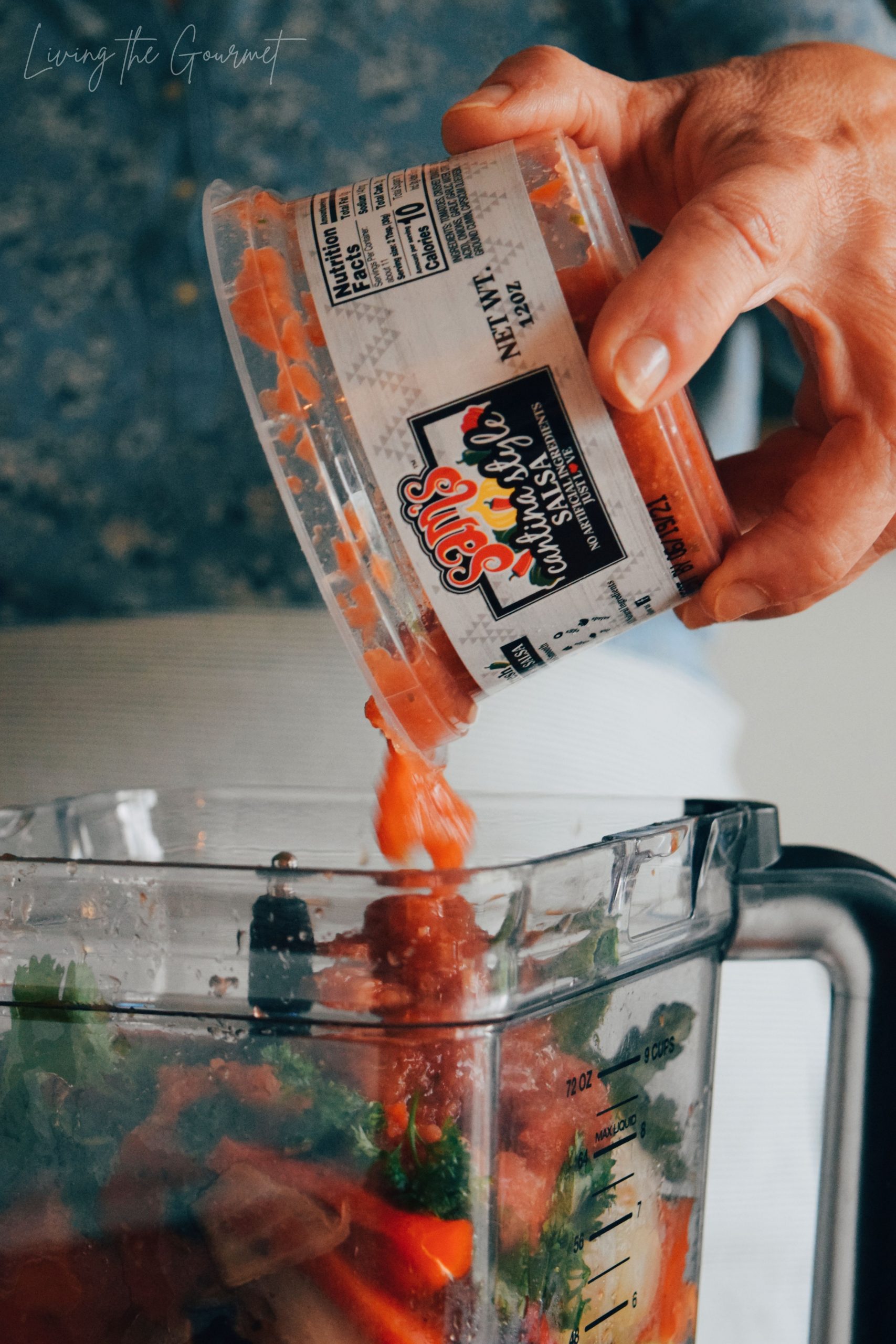 3) Fresh Oregano vs Dried. In an unusual twist, dried oregano is generally preferred in the kitchen over its fresh counterpart – although there are exceptions. The one word you'll likely always come across when reading about fresh oregano is 'pungent,' and occasionally 'intrusive.' Fresh oregano has a tendency to steal the limelight. For this reason, it's at home in recipes with 'powerful' ingredients, or where other fresh ingredients are present. Things like Greek salads, whole roasted fish, grilled lamb, heavy sauces, or in herbal mixes for use in stuffing scored pork shoulders. In other words, recipes that aren't 'gentle' or light. For virtually all other uses, dried oregano is preferable, since the drying process mellows it dramatically – which is almost the polar opposite of what happens with other dried herbs, where the drying process has a tendency to 'concentrate' rather than mellow the herbs' most prominent qualities. For that reason, we're using dried oregano in today's gazpacho.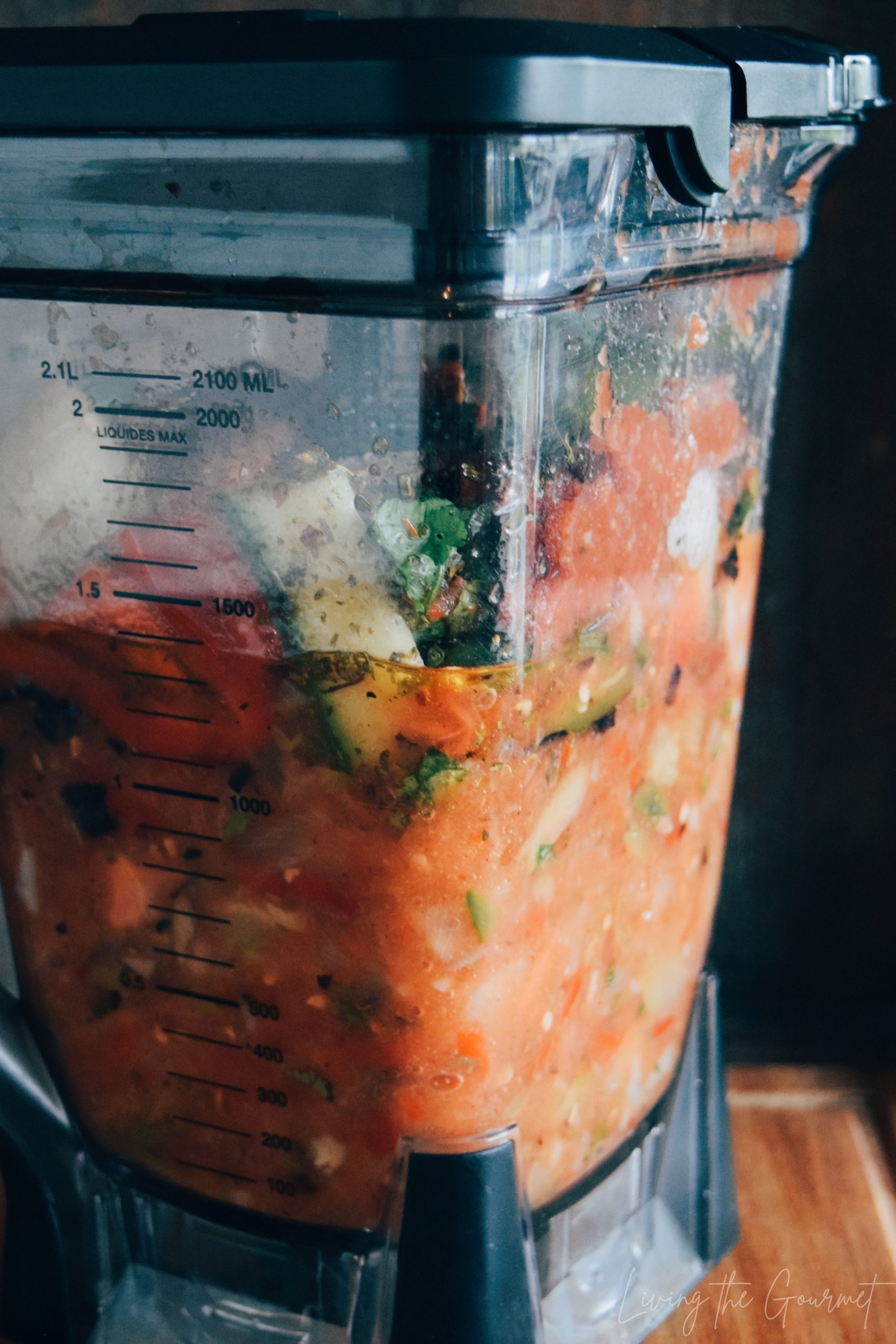 4) Fresh Basil vs Dried. As with most herbs, fresh basil and its dried counterpart are 'usually' but not always safe substitutions for one another. I'm using fresh basil today to achieve a 'bright licorice' or 'anise-like' flavor – but both of these flavors are entirely absent in dried basil, where a slightly 'mintier' flavor dominates. Furthermore, fresh basil has powerful aromatics that are reminiscent of a bright summer garden in full bloom, whereas dried basil boasts an earthier, vaguely 'darker' herbal aromatic profile.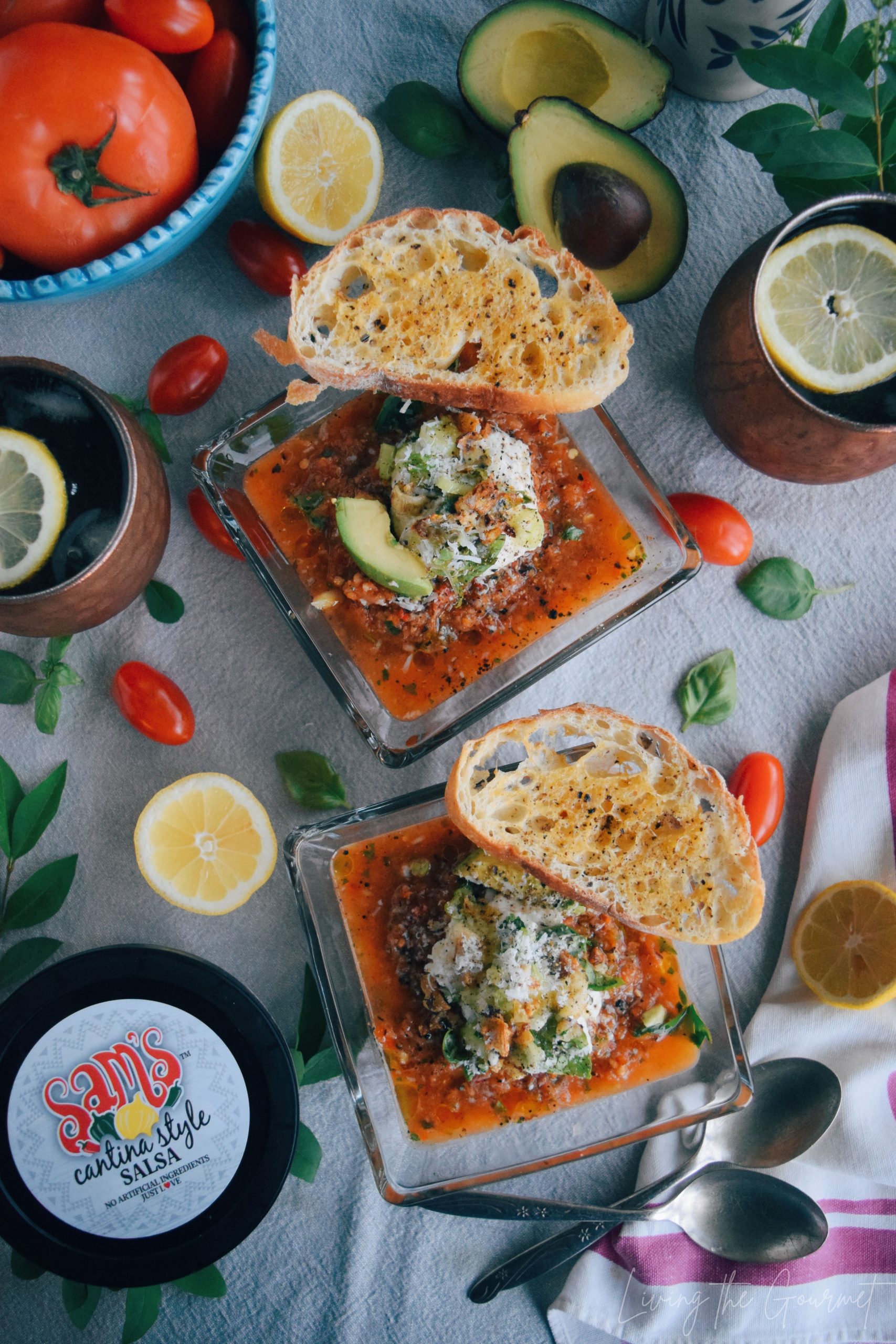 Prep Notes
1) Grilling the Peppers. My favorite way to do this is simply by placing them over a burner. This is quick and easy, and allows me to focus on something else while the peppers char, only requiring that I turn them once or twice. However, you can also do this on a griddle or in a dry cast iron pan.
2) Peeling the charred vegetables. Let them cool, seriously. Let them cool. There is no reason to try and peel freshly grilled peppers or garlic. I say this only because I've witnessed my son redden his fingers trying to peel freshly roasted whole garlic.
3) Removing 'some' of the char. The char from the peppers has a nice…char flavor, imagine that. However, too much of the stuff becomes unpleasant to eat, both in terms of the flavor and texture.
4) Ricotta, Sour Cream, or Plain. Feel free to use sour cream in place of the ricotta. However, you could also enjoy today's gazpacho 'plain' without either ingredient, and that works perfectly as well.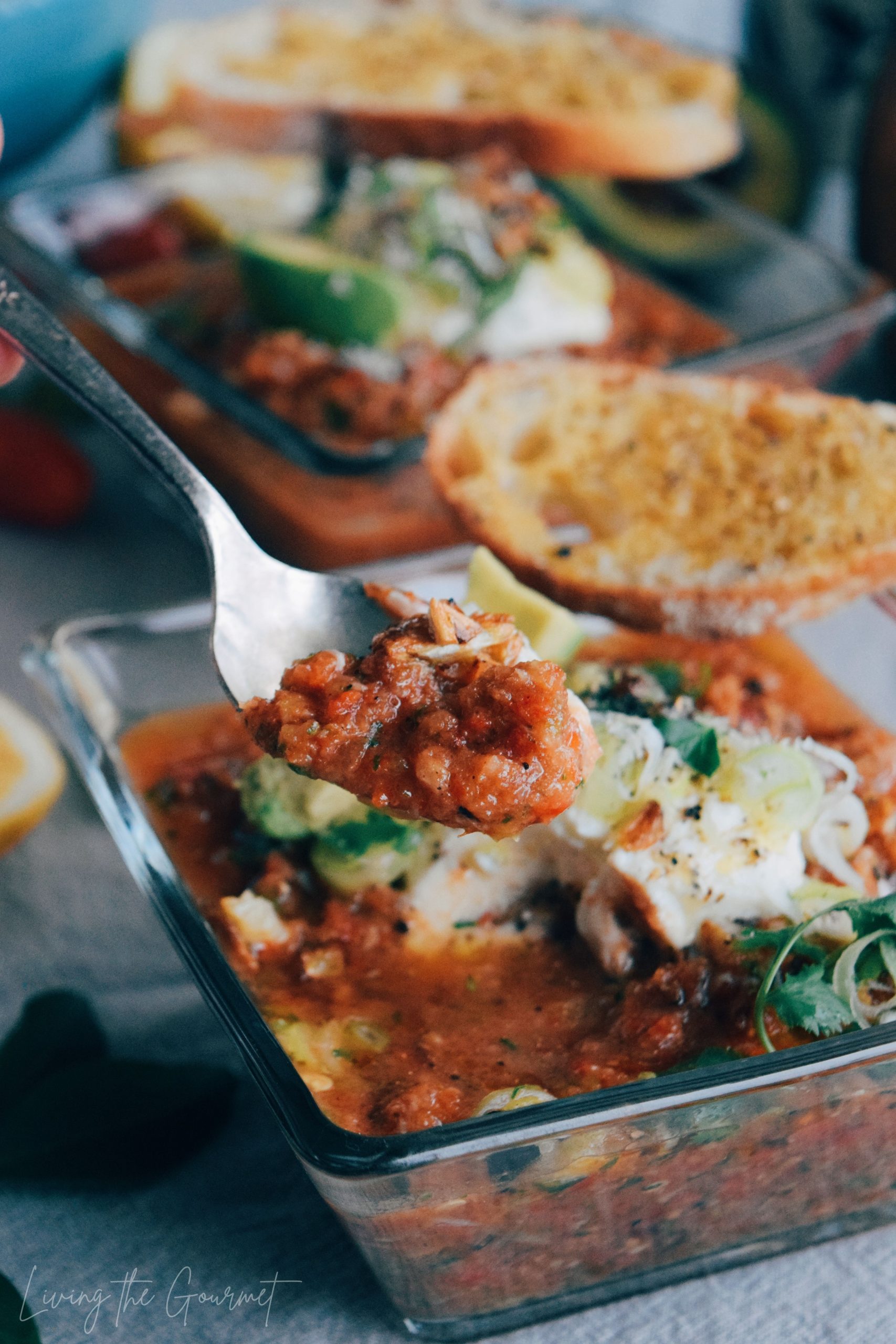 Print
Roasted Salsa Gazpacho
---
Author:

Total Time:

30 minutes

Yield:

4

-6

1

x
4

large vine ripe tomatoes

2

red bell peppers

2

heads of garlic

1

large Vidalia onion

3

-

4

stalks of celery

6

-

8

scallions - 4 or so for grilling and the rest left for garnish

1

bunch of fresh Cilantro

1

bunch of fresh Italian parsley

2

fresh sage leaves

6

-

10

fresh basil leaves

2 1/2 tsp

. salt

1 1/2 tsp

. black pepper

1/4 tsp

. red pepper flakes

2

tsps. dried oregano

2

tbs. fresh lemon juice

1/2 cup

olive oil

1/4

English cucumber - peeled

2 cups

of Ricotta cheese - whipped

Fresh parmesan cheese for grating
---
Instructions
Char the peppers and then remove to let cool.

Place the onion in a small cast iron frying pan ant let it get a nice char on all sides and the onion softens.

Heat a large cast iron pan and place the tomatoes whole in the pan along with about 6 of the scallions and 6- 7 cloves of garlic.

Let the tomatoes get softened and the garlic and scallions become fragrant.  When this is achieved remove them and let cool.

Scrap some of the char and remove the seeds from the bell peppers.

Remove the seeds from the grilled jalapeno pepper if desired.

Place the tomatoes, peppers, onion and the quarter of the English cucumber in a blender. 

Place the ½ cup of olive oil, lemon juice, Sam's Cantina Salsa and the seasonings in the blender and blend to desired consistency. 

Note:  You may have to blend in two sessions, since this may be too much for the blender to hold.

Taste for seasoning.

Refrigerate until ready to use.
Grill 6 – 8 cloves of garlic in a drizzle of olive oil.  Let the garlic get a little golden. Set aside.

Chop the remaining scallions for garnish. 

Chop a bit of cilantro and fresh parsley for garnish as well.

In a small bowl, whip the Ricotta cheese until smooth and airy.

Spoon the gazpacho into a small bowl.

Top with a spoon of the whipped ricotta follow by the chopped scallions and herbs followed by a grating of fresh Romano or Parmesan cheese and a drizzle of olive oil and fresh ground black pepper.
Prep Time:

15 minutes

Cook Time:

15 minutes
Keywords: gazpacho, soup, cold soup, vegetarian, salsa
Recipe Card powered by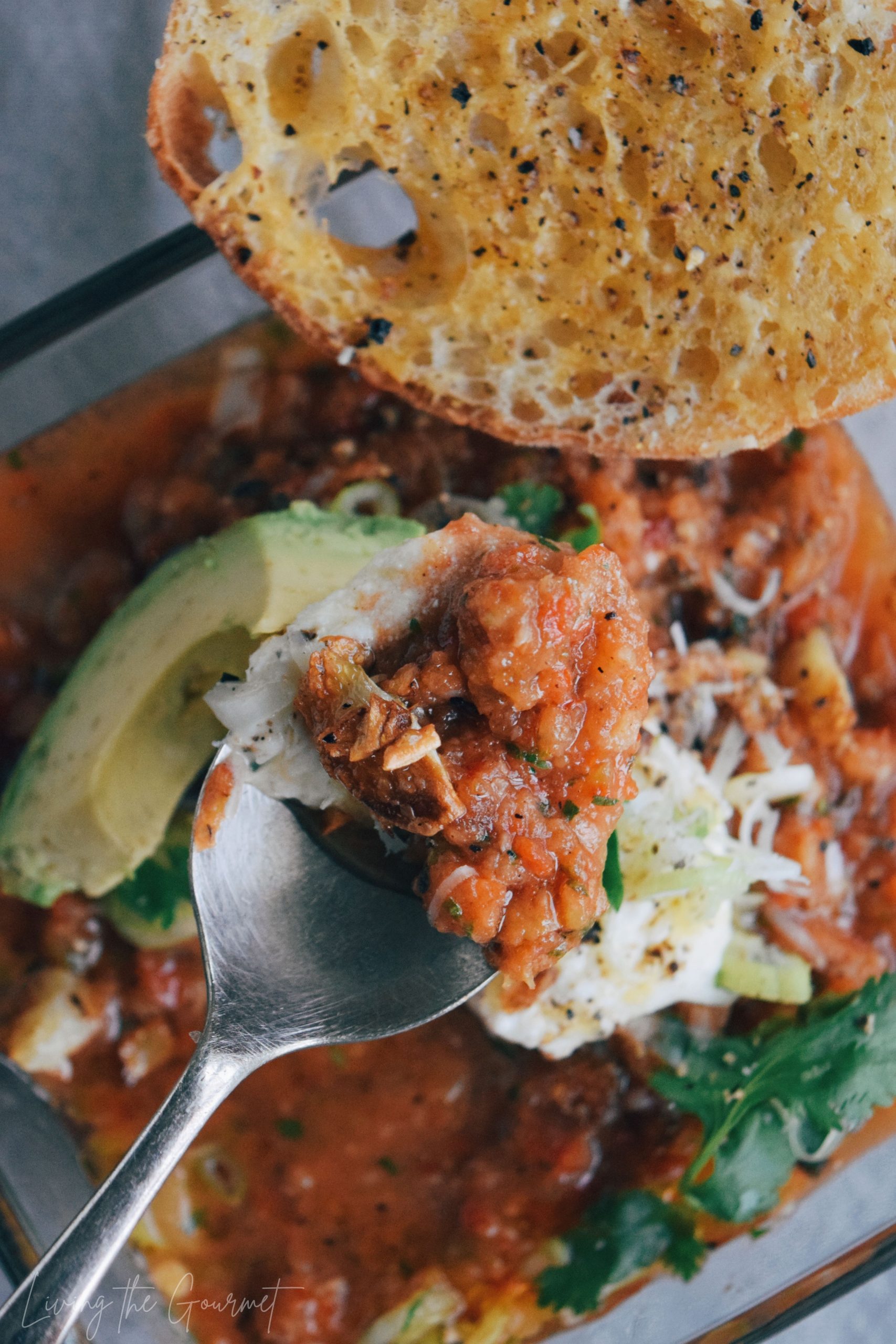 0