Today we're preparing a batch of roasted mini peppers stuffed with cream cheese mixed with parsley, Parmesan cheese, olive oil, garlic, and black pepper. Then, to give them a nice outer crust, we'll be topping them with toasted breadcrumbs and plenty of grating cheese.
Perfect as the centerpiece of a summer spread, these are easy to make and even easier to love.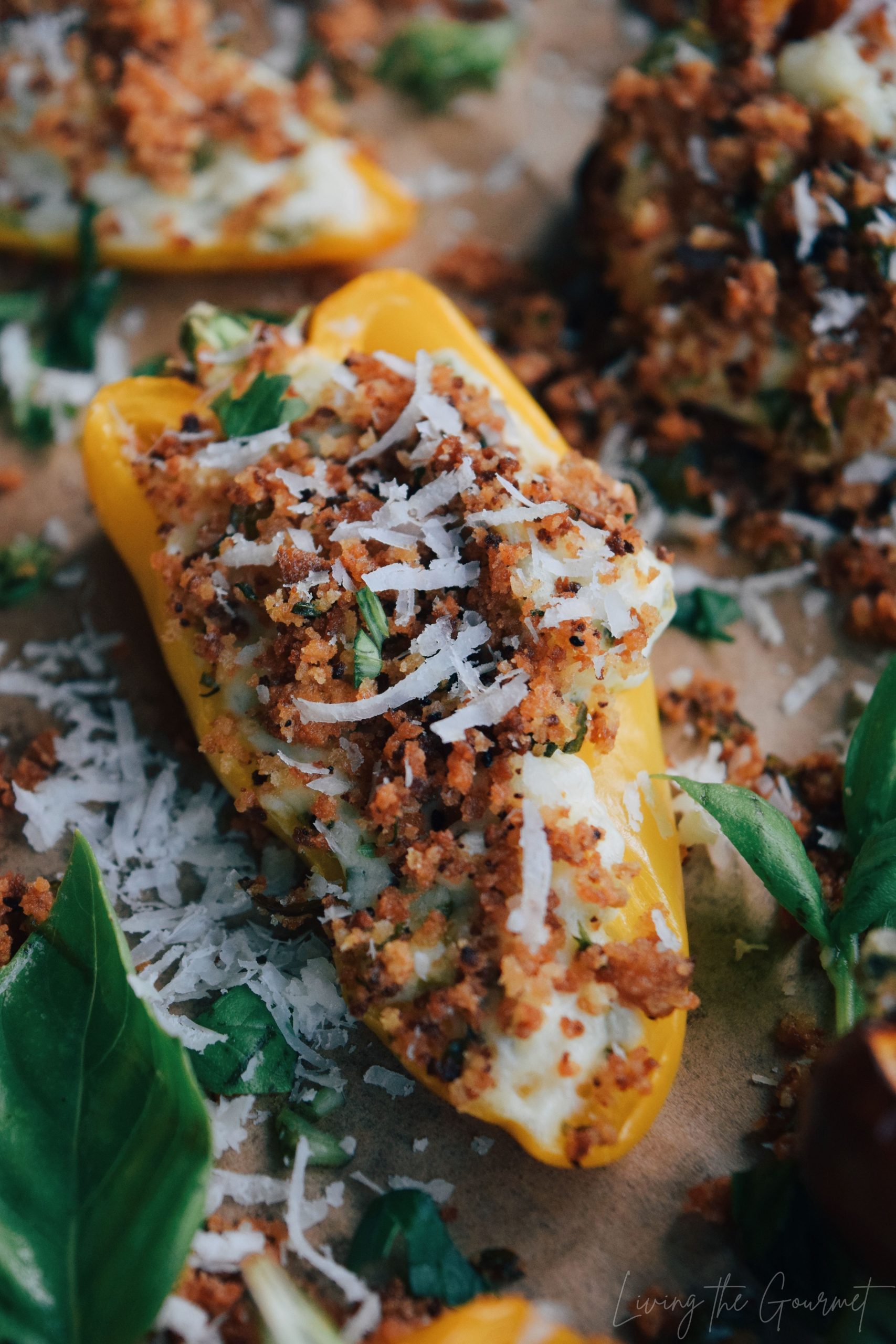 Why you'll love today's stuffed peppers
1) Simply Fun. A tray of these instantly turns an appetizer spread into a party. Bite sized and bursting with flavor, these are a real crowd pleaser.
2) Easy to Make. Slice some peppers, mix together the filling, then spoon the filling into the peppers, top with the breadcrumbs, and bake them in the oven. That's it.
3) Hot or Cold. While I personally prefer these straight from the oven, they are perfectly palatable cold.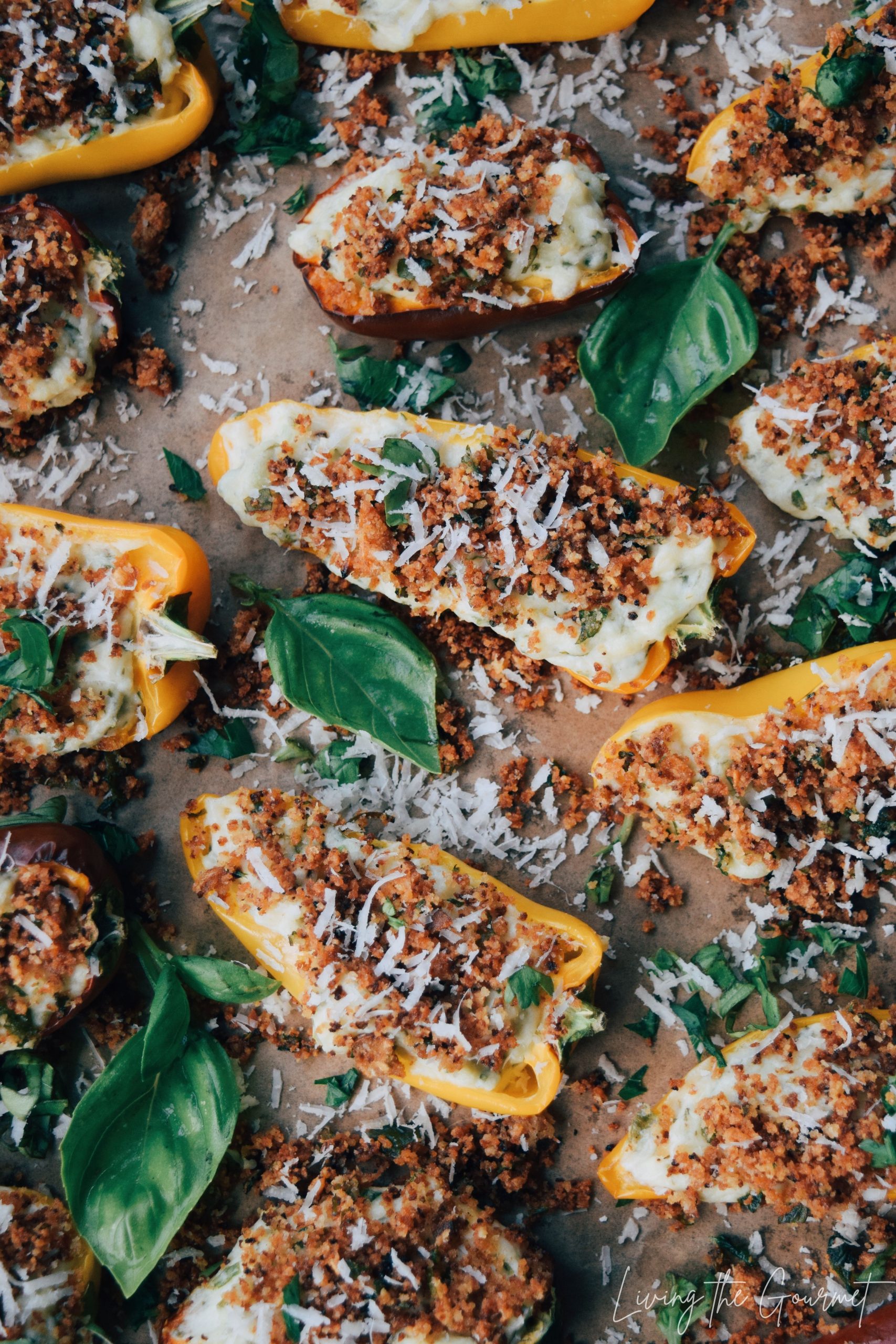 Ingredient Notes, Tips, and Substitutions
1) Italian Parsley is a Must for This Recipe. Here's why. The main types of parsley are 'Curly Parsley' or Petroselinum crispum, and 'Italian Flat Leaf Parsley' or Petroselinum crispum neapolitanum. Why did I give you the Latin names? I'm actually not sure now that I've gone through the trouble of typing them out. Moving right along. That said, whenever you see parsley mentioned in a recipe, it is almost always notated as 'flat leaf parsley,' unless it's being used as a decoration…in which case you'll be using curly leaf parsley. Why is this? Because curly parsley tastes like…nothing, or – at most – like grass, and has almost no aroma. However, what elevates curly parsley into the realm of the culinary, thereby saving it from merely being a weed, is that "Oh my goodness is it pretty." By contrast, Italian Flat Leaf parsley is about as 'pretty' as cilantro…which is to say it's just green leaves on thin steams. However, the reason flat leaf parsley is 'almost' always the preferred parsley for cooking is that it has a bold, fresh flavor, a neutral texture (whereas curly parsley is quite crunchy), and pleasant aromatics.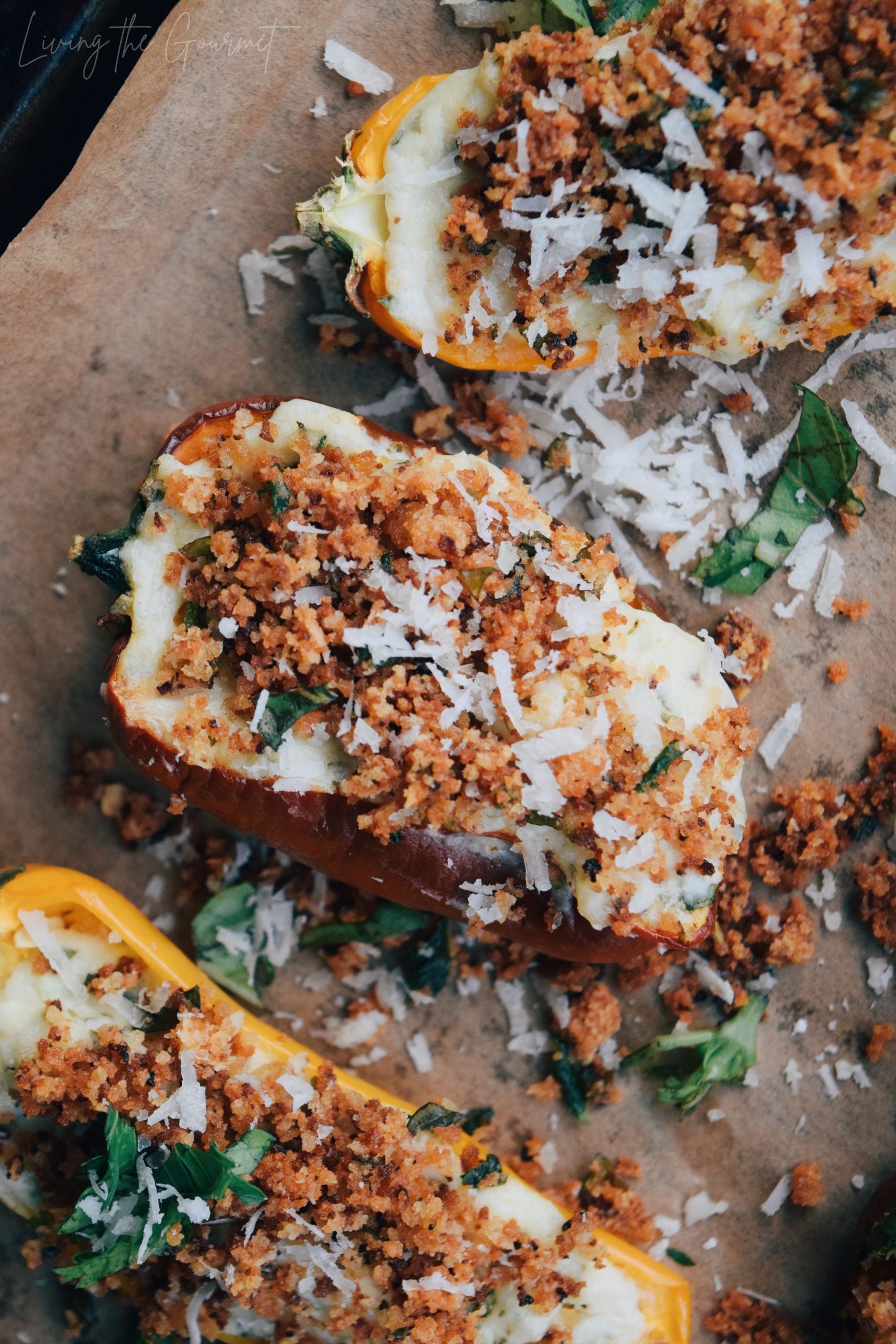 2) The Peppers. Purely a matter of preference. If you want to use spicy peppers, be my guest. I'm using mini bell peppers, but any pepper with hefty 'flesh' that will withstand baking is a candidate for this recipe.
3) Fresh Basil vs Dried. This is one recipe where fresh or dried basil both work just fine. That said, I'm using fresh basil today to achieve a 'bright' flavor, and to enhance the overall 'freshness' of the dish. However, since we're baking these in the oven, you can almost certainly get away with using dried. That said, be aware that the 'bright licorice' or 'anise-like' flavor found in fresh basil is almost entirely absent in its dried counterpart, where an earthier and somewhat 'mintier' flavor dominates.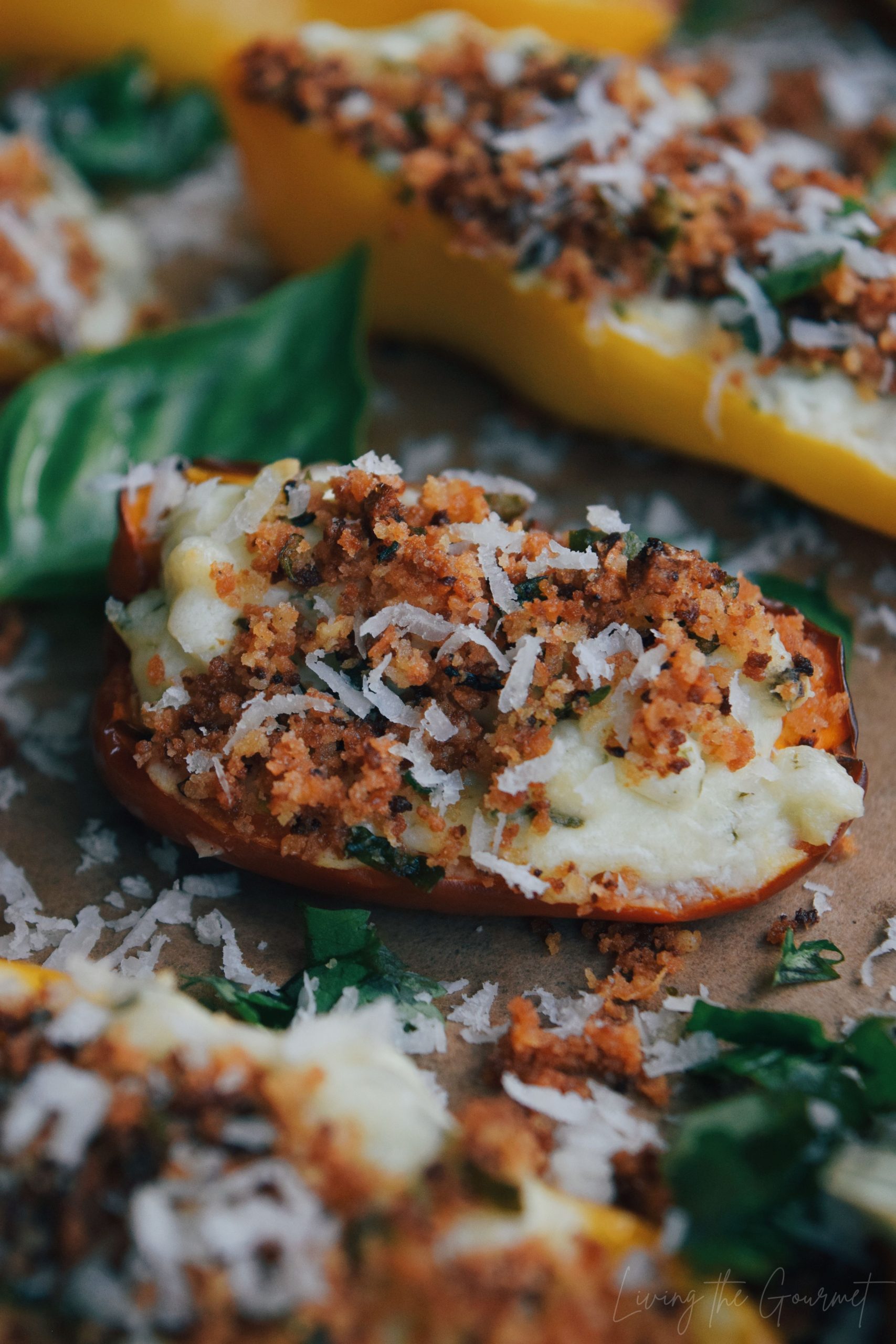 More Great Sides from Living the Gourmet
1) Salsa Board. Salsa paired with roasted peppers, olives, cheese, and homemade fajitas. A delightful warm weather spread from start to finish.
2) Butterbean and Garlic Spread. Creamy and satisfying, this butterbean spread is a perfect on crostini, flatbreads, tortilla chips, or simply crackers.
3) Cilantro Chimichurri. Earthy yet crisp and bright, this cilantro and basil chimichurri pairs deliciously with everything from crostini and flatbreads to grilled fruit and grilled steak. Seriously, give this a try.
Stuffed Mini Peppers Appetizer
Author:
Prep Time:

5 minutes

Cook Time:

20 minutes

Total Time:

25 minutes

Yield:

2

dozen stuffed peppers

1

x
12 – 15 mini peppers, halved
For the Filling:
4

–

5

cloves of garlic

1/4 cup

fresh Parmesan or Romano cheese, grated

8 oz

. block of cream cheese

1 tsp

. fresh ground black pepper

1

tbs. olive oil

2

tbs. fresh Italian parsley
For the Topping:
2

cloves of garlic, chopped

2

–

3

tbs. fresh Italian parsley

5

–

6

leaves of fresh Basil

2

–

3

tbs. olive oil

2

tbs. fresh Parmesan or Romano cheese

1/4 cup

plain bread crumbs
Instructions
For the Filling:
Combine all of the ingredients for the filling in a food processor and process until smooth.

Fill each half of the peppers with the cream cheese mixture.
For the Topping:
Heat a small cast iron frying pan with the olive oil. 

Add the garlic, basil and bread crumbs and cook until the bread crumbs get a nice golden.

Add the grated cheese and toss.

Top each half of the stuffed peppers with the toasted bread crumbs.

Preheat Oven 350 F.  Bake for 12-15 minutes.
Keywords: appetizer, stuffed peppers, mini peppers
Recipe Card powered by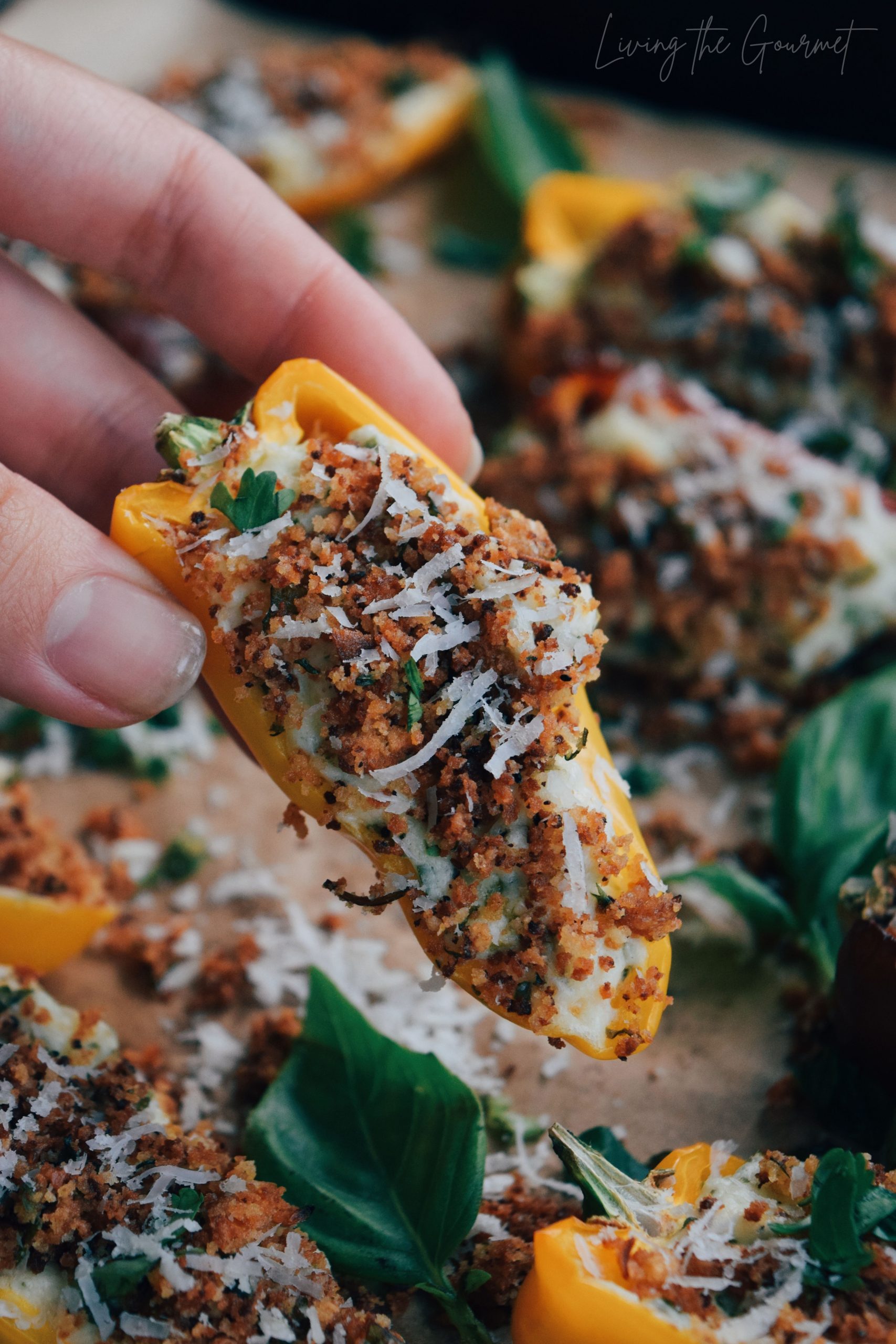 0