My first experience with Dalgona coffee was wholly 'organic.' I'm almost embarrassed to admit that I was entirely unaware of this latest coffee craze until my daughter rummaged through our pantry to dig up a few packets of instant coffee, and then started whisking. And whisking. And whisking some more.
Once the whisking was done, she then gleefully poured what appeared to be a vaguely coffee colored mousse over chilled milk in one of our pink-hued rollerball glasses, and presented me with "Korean Coffee." Unsure of precisely what I was looking at, and being a bit skeptical of whipped instant coffee, I politely suggested "You first."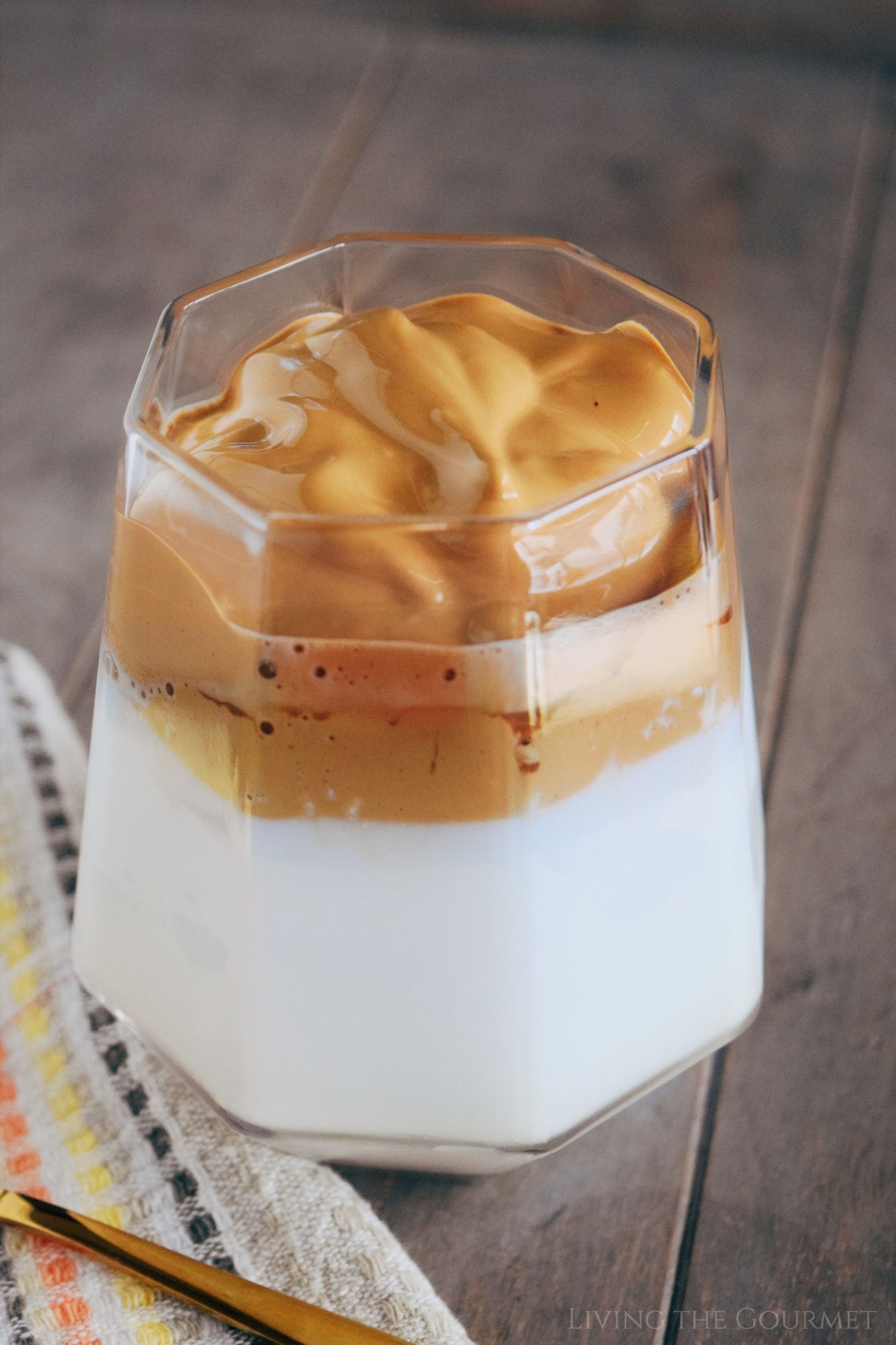 Naturally, and perhaps expectedly, my son dived right in. After his first…bite? It was the happiest I've seen him in a long time. "So, how does it compare to your Turkish coffee?" my daughter teased him.
He hesitated for a long moment, very obviously caught between his heritage-based affinity to Hellenic/Turkish-style coffee and his current coffee-based euphoria. However, his answer was far more honest than he had intended. "Greek Coffee is a cultural experience for me, but this…honestly this is just making me happy. This is a lot of fun."
And that was my first experience with Dalgona Coffee, and as you might imagine it was a very pleasant one.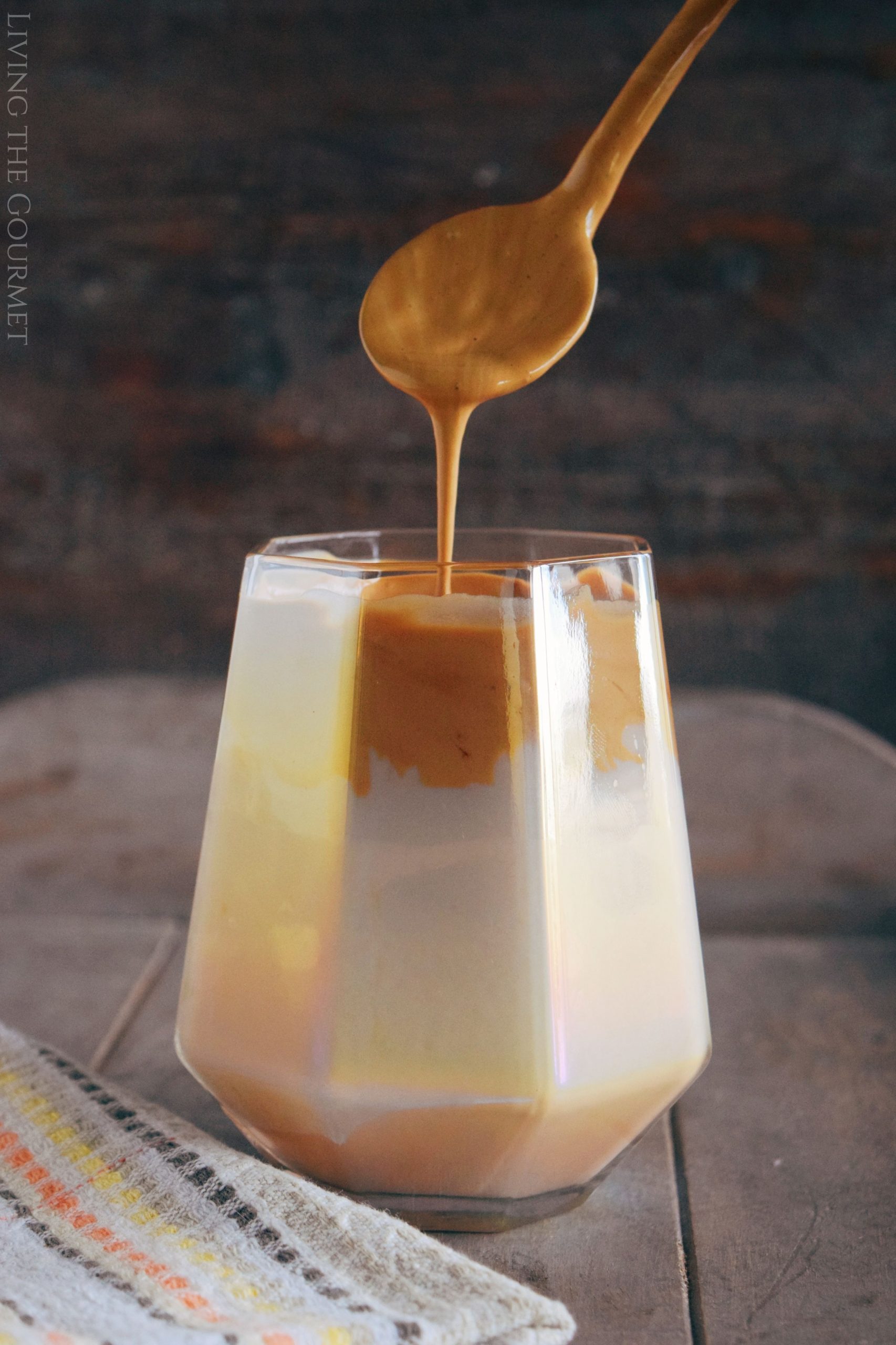 Dalgona Coffee – What is it?
The origin of Dalgona Coffee is a bit fuzzy, but how it got its name is an absolute viral sensation. The Korean actor Jung Il Woo, upon tasting this particular type of coffee in Macao, compared its flavor to 'Dalgona,' a popular Korean candy similar in flavor and texture to honeycomb – think honey toffee but spongier. Naturally, this A-List attention instantly made the coffee a national phenomenon in South Korea, and just like that 'Dalgona' went from being a candy to a coffee.
Fast forward through a wildly viral Tik-Tok clip, accompanied by several similarly viral Youtube videos, followed by a tidal wave of attention from the foodiesphere, and 'Dalgona Coffee' grew from being a regional phenomenon to a global one. This sweet, foamy, frothy coffee is positively everywhere right now.
But 'what' is it 'really?' Whipped coffee syrup over milk.
I'm not getting away with an answer that simple, am I?
Alright, let's do a deep dive – but you better buckle up because there's going to be some minor culinary chemistry involved here. There's just no escaping it.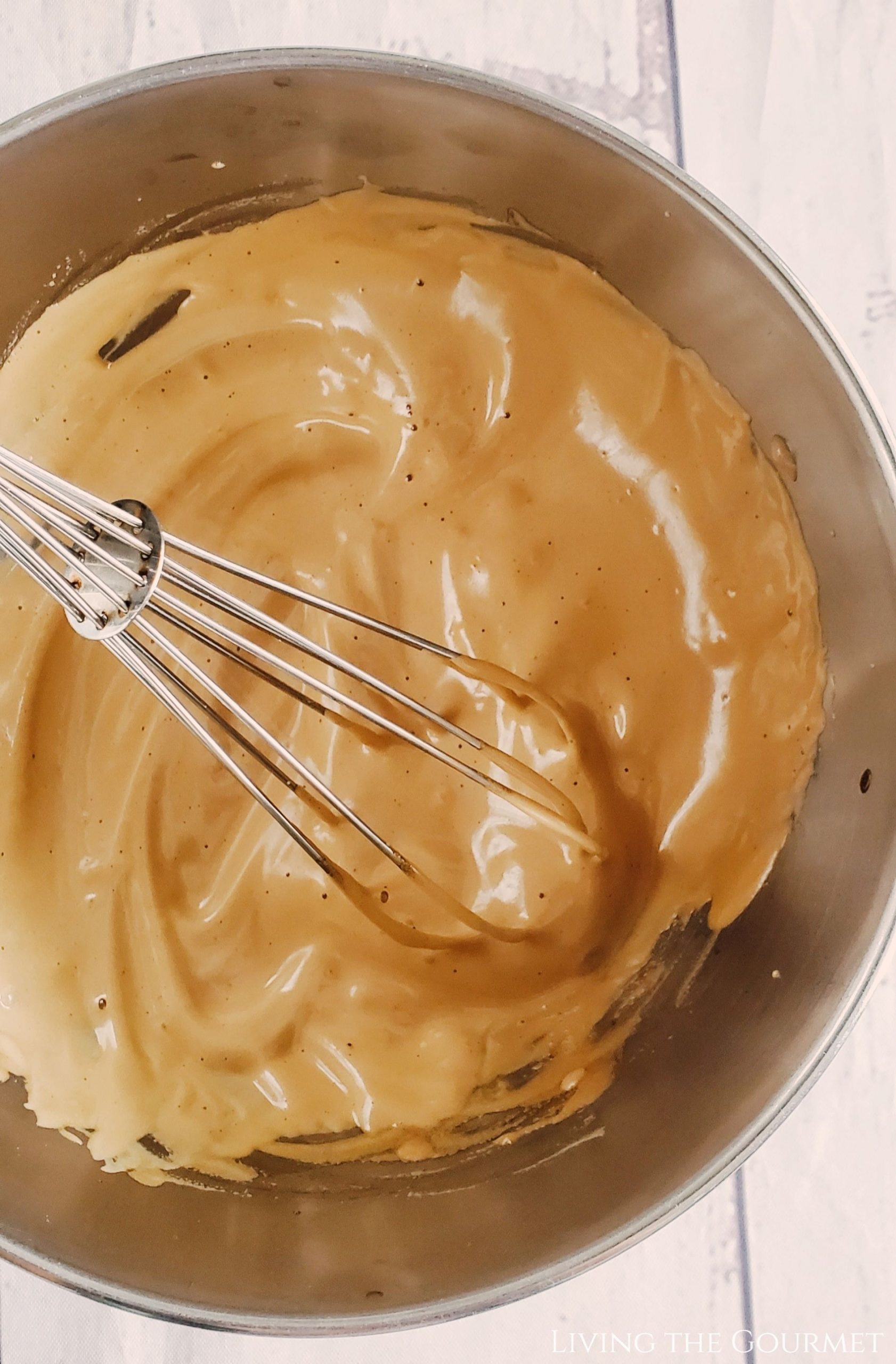 Dalgona Coffee – How It Works
To begin, we need to start with what really captures people's attention about this coffee, and that is undeniably the 'foam.' This sweet coffee foam is blissfully light, delicately moist, bitingly sweet, and shockingly persistent and lasting. Unlike espresso foam, which evaporates in minutes, dalgona foam will simply sit there seemingly until the end of days, and it's persistent – meaning it resists being 'stirred away.'
This foam is simply instant coffee, sugar, hot water, and 'air' – lots and lots of 'air.'
But 'why?' What makes Dalgona coffee foam 'work?' To answer that, you need to first think about the starting point of the coffee, which begins with a one-to-one mixture of sugar and hot water – meaning the starting point is a small dose of 'syrup.' However, in that heated syrup we have coffee – which acts as a frothing agent.
When you roast or heat coffee you create a host of compounds called 'melanoidins,' which you can think of as 'coffee oils.' These oils are what create the 'crema' that makes espresso look so lovely, and are what give Turkish coffee its enviable natural 'froth.' As such, these oils are a type of natural 'surfactant,' or 'surface acting agent.' In culinary terms, a 'surface acting agent' is something that, among other functions, interacts with or 'sticks' to bubbles, thereby making the bubbles sturdy and lasting.
Now, if you've ever made or had an espresso, you can probably surmise that coffee oils are not the strongest of surfactants. In fact, espresso crema more or less evaporates immediately…but the froth of Turkish coffee does 'not,' and the difference between the two is actually what gives Dalgona coffee it's magic.
Espresso crema evaporates quickly because it's only interacting with water, as espresso is simply heated water pressed through compacted coffee at high pressures. In the case of Turkish coffee, you typically have coffee that's been roasted in a relatively small amount water – but with a comparatively large amount of sugar which dissolves directly into the water, thickening the coffee. For this reason, the 'froth' of Turkish coffee can persist for literally hours.
Now, in the case of the delgona coffee, we have a one-to-one water-sugar mixture (the starting point of a syrup), and thus we're extracting the coffee oils into a very 'viscous' liquid. This creates a sturdier base for surfactants to interact with, and therefore a sturdier and more long-lasting froth.
This brings us to the final ingredient in dalgona coffee – air, lots of air. How so? 'Foam' is really just conjoined 'bubbles,' and the smaller bubbles are the sturdier or more 'stable' they are. By whipping dalgona coffee so intensely, you are introducing more and more air into the mixture, thereby making the bubbles smaller and smaller – and therefore sturdier.
To summarize, why does Dalgona coffee 'work?' The answer is because you are introducing a 'foaming agent' (concentrated instant coffee) into a viscous liquid (syrup), and then rapidly introducing a lot of air into that mixture.
And that's dalgona coffee in about as much depth as is possible.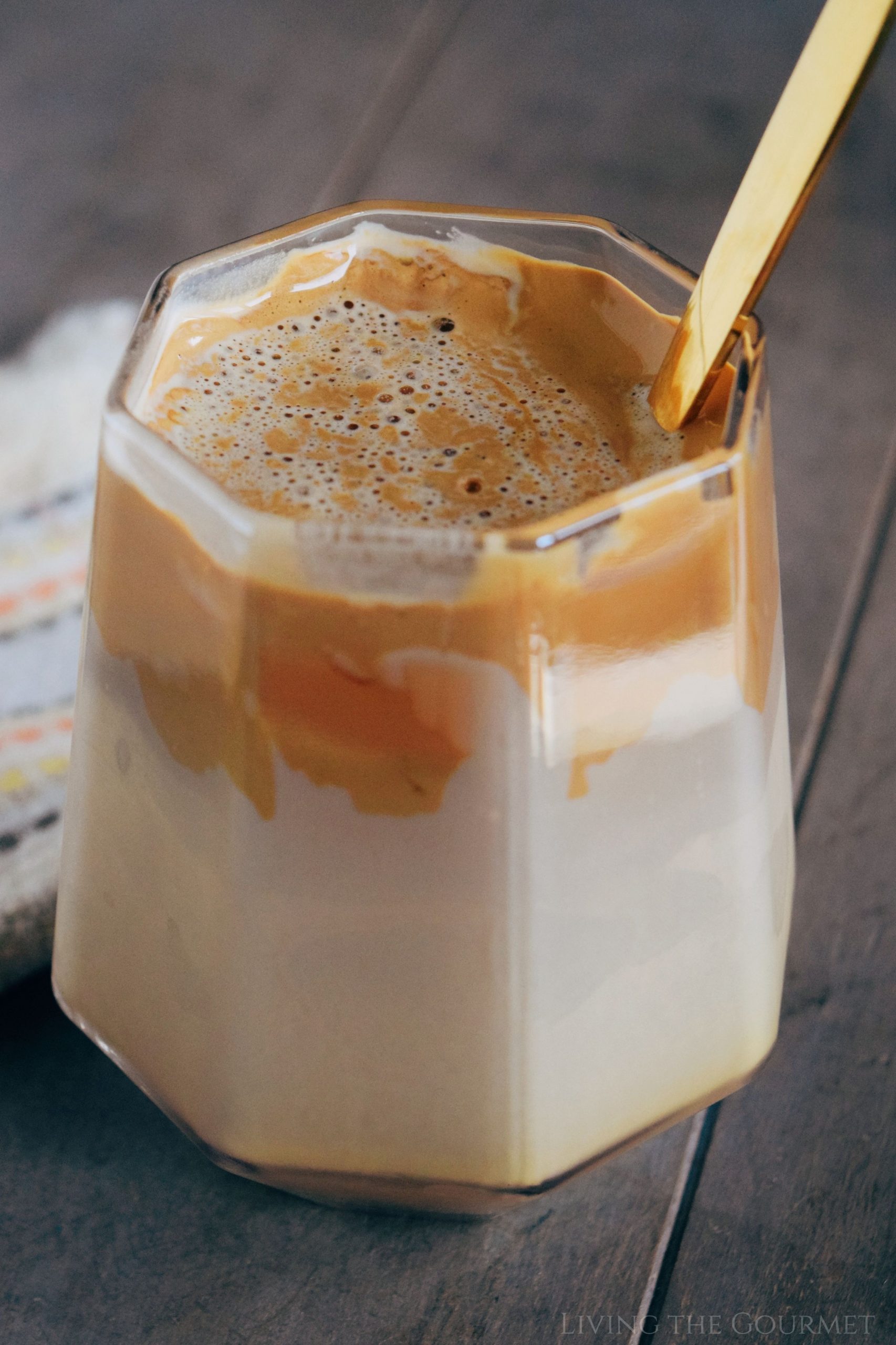 Frequently Asked Dalgona Coffee Questions
1) Do I need to mix it by hand? Certainly not. A stand mixer with a whisk attachment will work just fine, as will a hand-mixer.
2) Can I use real coffee? Non-Instant Coffee? No. Instant coffee is the 'go-to' coffee for this recipe for a couple of reasons. First and foremost, instant coffee dissolves, whereas 'real' coffee would remain as 'granules' or 'grinds' in the resulting froth. Secondly, instant coffee is essentially 'coffee concentrate,' and thus you have a larger amount of 'coffee' in a smaller amount of 'mass,' which is part of what makes this recipe work.
3) Brewed Coffee? You might be wondering what would happen if you tried to use something like a shot of espresso to make this coffee, and no that doesn't work either. Brewed coffee is simply too dilute for this work. Yes, if you added quite a bit of sugar to an espresso and began whipping, you would eventually get a 'froth,' but it wouldn't be a very stable froth, and the 'coffee flavor' would be far too stretched.
4) Only Over Milk? Experiment to your heart's content, I say. However, the milk, or milk substitute if you prefer, is there more or less to provide a counter to the bitterness of the instant coffee. It also adds a 'milkshake-like' texture at the base. Also, using a cold drink as the base for the dalgona froth prevents the froth from evaporating due to heat. Could you place this dalgona coffee froth over something else? Sure, but putting this over hot or cold coffee would simply be overkill in my opinion, which brings me to my final point…
5) It's REALLY Strong Coffee. I'm using FOUR packets of my favorite instant coffee to fulfill the virally recommended 'two tablespoons of instant coffee per serving' recipe. In other words, one Dalgona Coffee is approximately four cups of 'regular' instant coffee. That's a lot of coffee. I just want you to be cognizant of that when preparing this.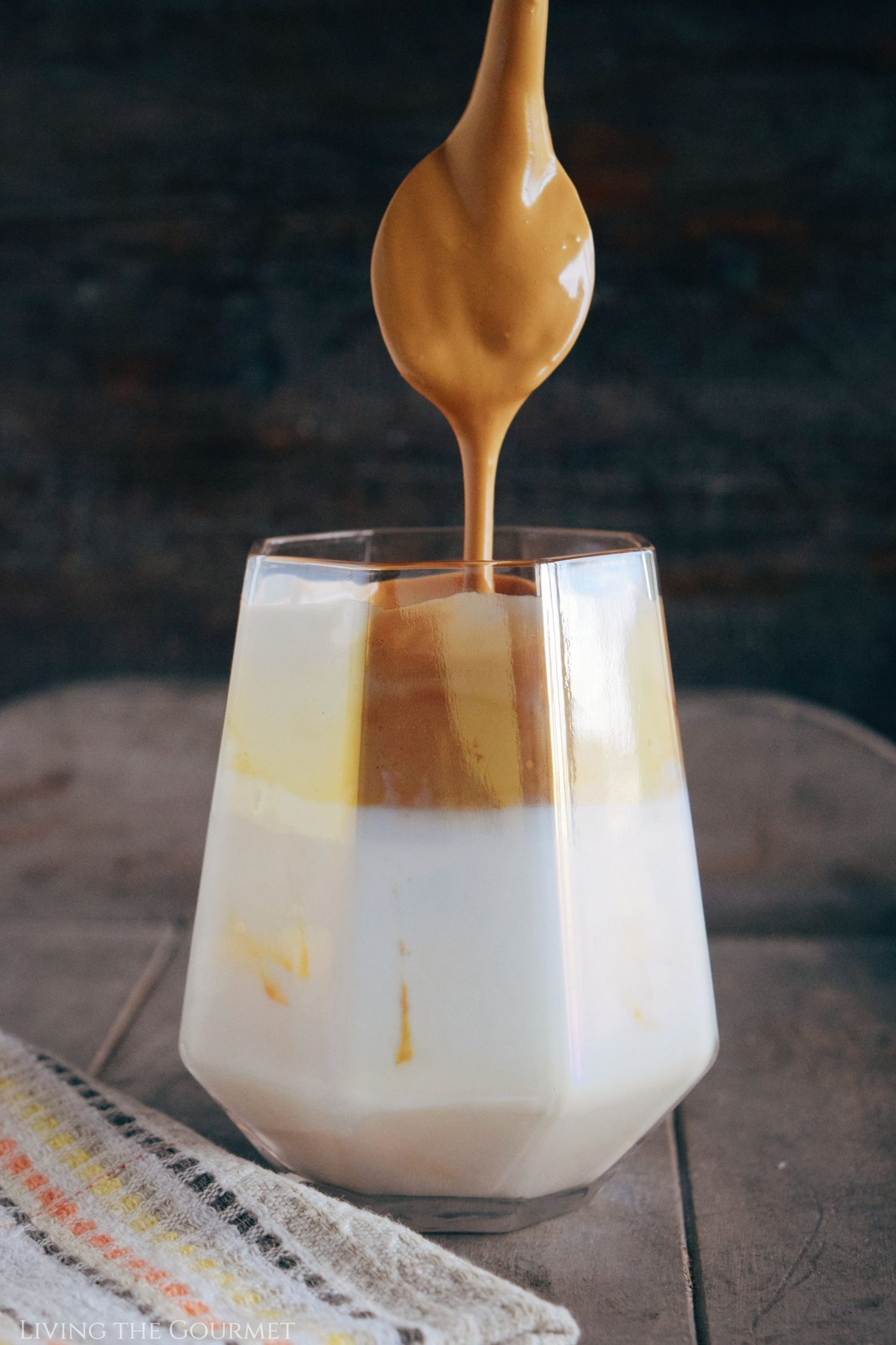 Print
Dalgona Coffee (Whipped Coffee Drink)
Author:
Prep Time:

5 minutes

Total Time:

5 minutes

Yield:

1

coffee

1

x
2 tablespoons

instant coffee

2 tablespoons

sugar

2 tablespoons

hot water

1 cup

milk
Instructions
In a small bowl, whisk together instant coffee, sugar, and hot water until thick and creamy, about 5 minutes.
Top over a glass of milk and stir to incorporate. Serve and enjoy!
Recipe Card powered by
If You Enjoyed Today's Recipe…
Be sure to follow us on Instagram to stay up to date with all things Living the Gourmet, and for more great recipes, tips and tricks.
Did you make this recipe?
If so, let me know in the comments down below, or post a picture to Instagram, or to Pinterest, and I'll give you a shoutout on Instagram, or post your pin to one of my Pinterest boards!
13