Today we're preparing a roasted chick with a fresh lemon and mayonnaise coating. The end result is a perfectly crisped and deliciously juicy chicken, that's surprisingly easy to prepare.
Ingredient Notes and Tips
1) The Mayonnaise – Why Though? Moisture and crispness. Mayo crisps up beautifully on meat, while also lending adding moisture. Simple.
2) Oregano – Dried vs Fresh. In an unusual twist, dried oregano is generally preferred in the kitchen over its fresh counterpart, although there are exceptions, and some cuisines (such as Greek and Southern Italian cuisine) use fresh oregano much more widely than others, but these exceptions are just that – exceptions. That said, the one word you'll likely always come across when reading about fresh oregano is 'pungent,' and occasionally 'intrusive.' Fresh oregano has a tendency to steal the limelight. For this reason, it's at home in recipes with 'powerful' ingredients, or where other fresh ingredients are present. Things like Greek salads, whole roasted fish, grilled lamb, heavy sauces, or in herbal mixes for use in stuffing scored pork shoulders. In other words, recipes that aren't 'gentle' or light. For virtually all other uses, dried oregano is preferable, since the drying process mellows it dramatically – which is almost the polar opposite of what happens with other dried herbs, where the drying process has a tendency to 'concentrate' rather than mellow the herbs' most prominent qualities.
Substitution: Dried basil or thyme at a 1-to-1 ratio
3) Capers. We use these to give the chicken a bit of 'salty brine' flavor. Capers are akin to anchovies in that regard, and for that reason capers and anchovies are often used a substitutes for one another. That said, these little 'gems of brine' are present in cuisines all across the Mediterranean, from the coast of Portugal, straight through North Africa and all the way to Turkey, and everywhere in between, including Italy, Sicily, Southern France, and of course Greece. Given that so many different cultures enjoy these things…you might be surprised to learn that on their own – if eaten fresh or dried – they are positively, wildly unpalatable to the point of being a 'catastrophe in your mouth.' They are forebodingly bitter. However, when pickled, brined, or preserved in salt, the bitterness fades away to a 'pleasant tanginess,' a flavor that's variously described as 'lemony,' 'anchovy-like,' 'salty,' and 'olive-like,' or some combination thereof. They are 'not' often described as 'bitter,' which might lead to the very understandable conclusion that their flavor doesn't actually come from the flower-bud itself, but rather from the packaging. Ouch. Thus, capers may in fact merely be the 'vessel' for 'brine flavor.'
4) Lemon Juice – Always Fresh. As in virtually all cases where recipes call for lemon juice, fresher is better. On top of that, slicing a lemon into squeezable halves or wedges is practically as easy as opening a bottle and measuring it out. Furthermore, bottled lemon juice simply isn't as flavorful, lacking the full 'zest' or 'brightness' of fresh lemon juice, since the juice begins breaking down chemically almost as soon as it leaves the lemon. Beyond that, the juice's flavor is often times further diluted with preservatives. As a result, if you want the full flavor and balance intended in today's recipe, use fresh lemon juice.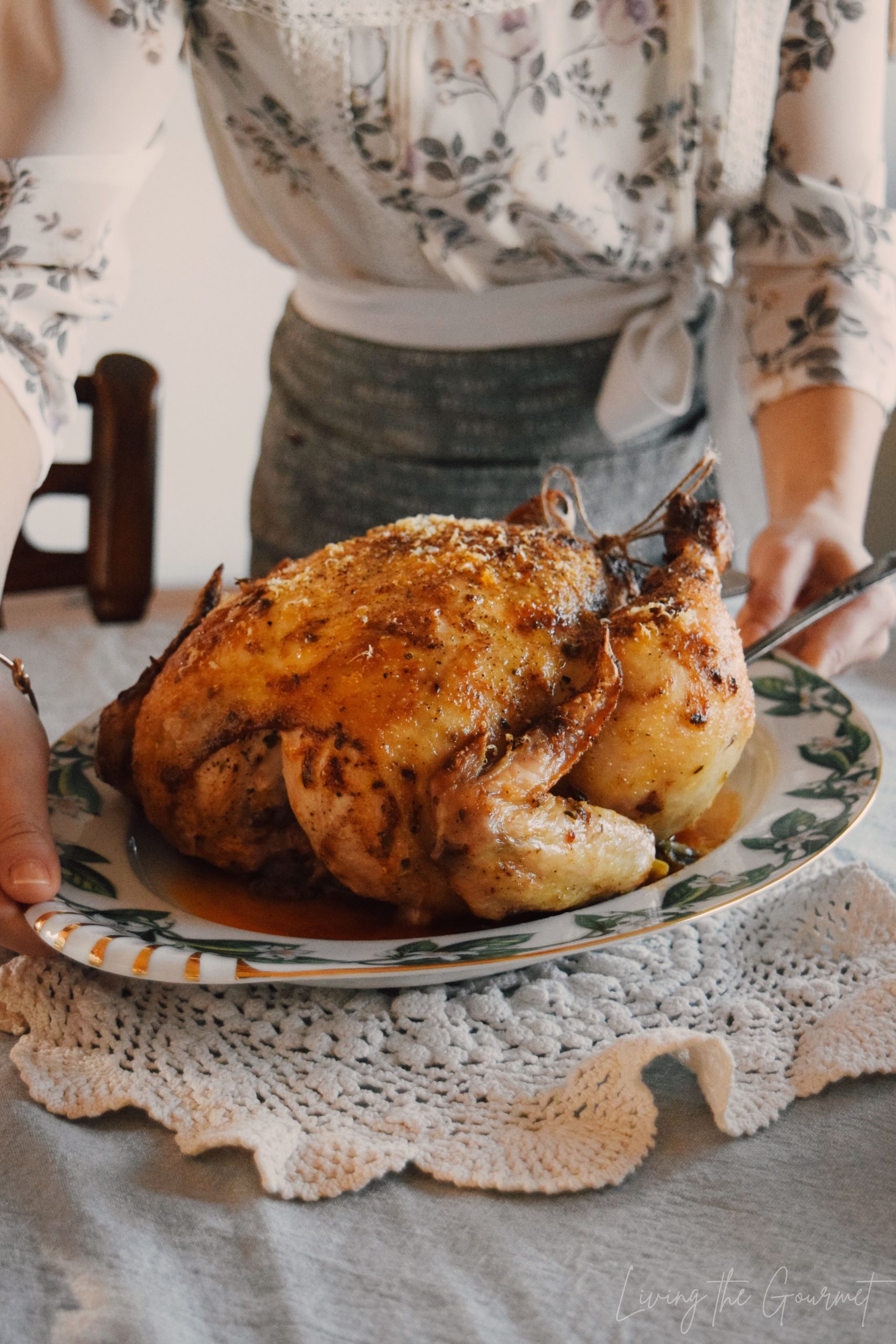 Selecting Quality Chicken – A Brief Primer
Selecting good chicken is much less of an artform than selecting good beef, and there are far fewer boxes to check than when selecting good fish. There's honestly just less to work with. However, there are some key things to look for to make sure you're getting the best of what your market has to offer.
1) The Color. Pinker is better. That is, the 'pink hue' beaming through the chicken's skin. As the chicken sits on the shelf, that pink hue will began to fade, which will result in a 'yellowing' texture, and then finally in a 'greying' coloration. Pink is good, yellow is turning, and grey is decay.
2) The Skin. Beyond coloration or hue, the skin contains other important clues as to the quality of the chicken. First and foremost, you want to make sure that the skin is free of blemishes, gashes, bruises, or discoloration. Spines and/or feather fragments, while certainly unpleasant as you'll have to pick them out of the chicken before cooking, actually have no bearing on the quality of the meat below – it simply indicates a less thorough 'cleaning.' Second, and this is true of both whole chickens and chicken pieces, make sure that the skin doesn't appear 'loose' or 'torn,' as this indicates that the chicken has been poorly handled.
3) The Bone Test. If you're selecting a whole chicken, press on the breast-bone area. You want the breastbone to feel soft or pliable, which is indicative of fresher chicken.
4) Unfrozen. Chicken that's fresh should feel 'malleable' in the hand, as opposed to stiff or ridged.
5) Frozen. Frozen chicken should be absolutely rock solid, and free of any indication of frost or freezer burn.
And that's really it for selecting quality chicken.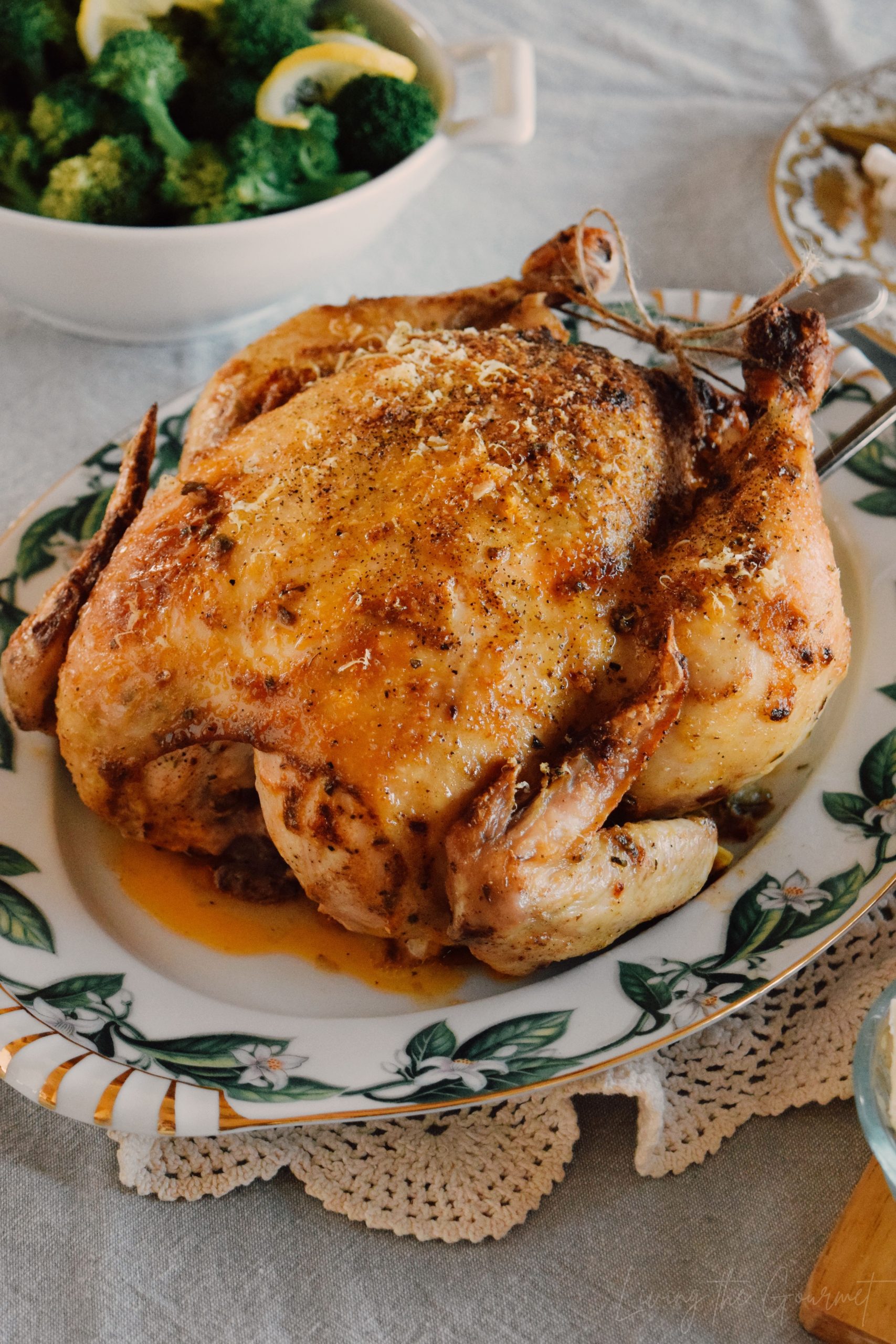 Today's Chicken Pairs Great With…
1) A Cold Drink. While oven roasted chicken and tall beer are a match made in heaven, if you want to flavor things up a bit and play 'bartender' to yourself or your guests, our friends over at DrinkWorks have got you covered. Think of it as the "Keurig of Home Bars," simply pop a pod into the machine, and out comes a delicious, chilled 'adult beverage' (no ice required) that tastes like it was mixed by a master mixologist. With dozens upon dozens of drink pod flavors to choose from, including Margarita, Cosmopolitan, Mojito, Moscow Mule, Whiskey Sour, White Russian, and Old Fashioned, among many others, there's something for everyone.
2) Onion Rings. I prepare my onion rings with just a hint of spice, and a thick, dense batter that crisps up beautifully during frying. You can grab my recipe here.
3) Pickled Sweet Potato Salad. My absolute favorite way to eat sweet potatoes, this salad is sweet, crunchy, just tad acidic, and refreshing. As a plus, letting it sit a night or two in the fridge only enhances the flavors, meaning its perfect for making ahead.
4) Spicy Jalapeno and Orange Salad. A simple fruit salad prepared with oranges, mint, jalapeno, fresh basil, and nutmeg. This salad packs a nice kick, while remaining crisp and refreshing, while being blissfully simple to put together. This is a summer salad that you should definitely have in your seasonal repertoire.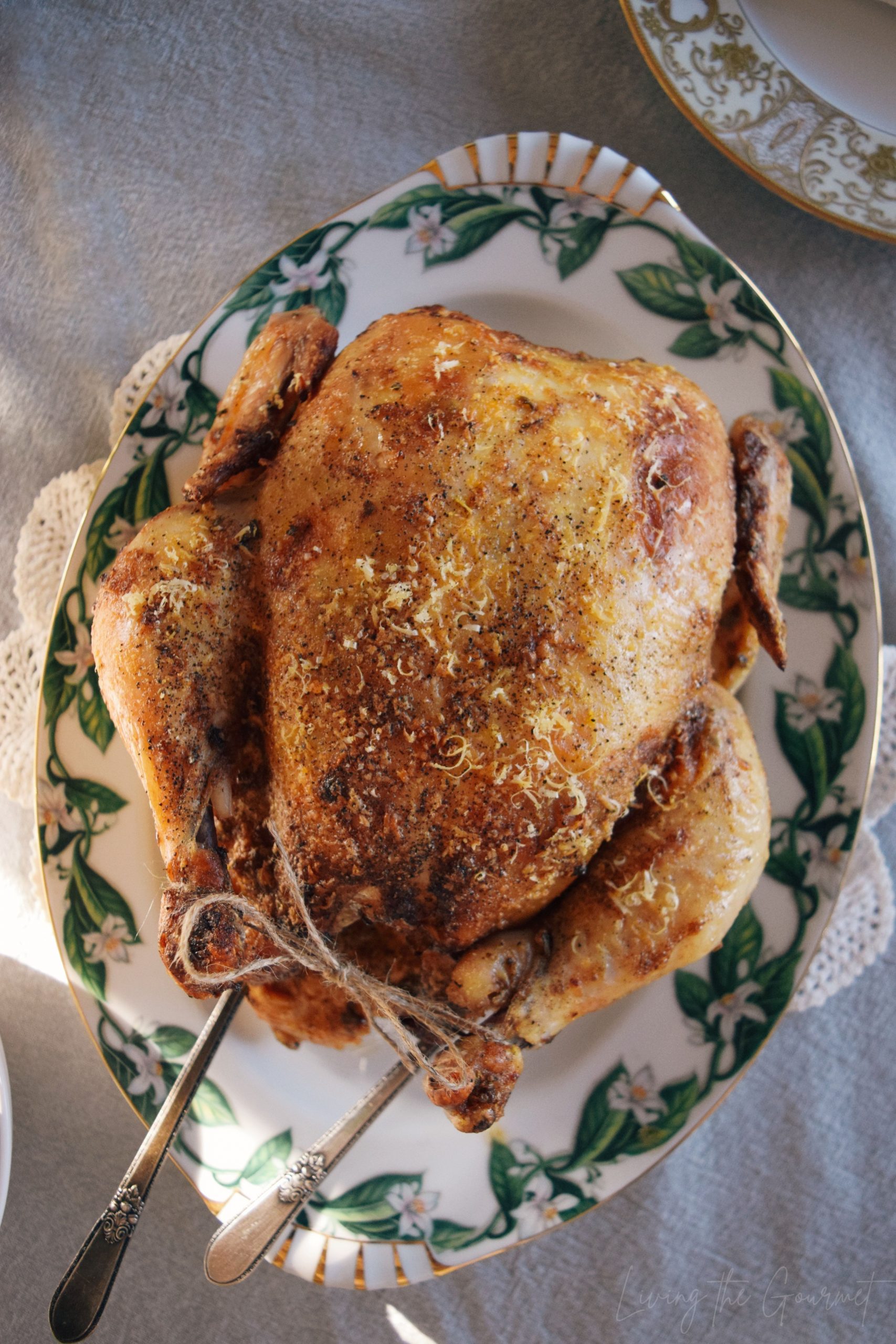 Print
Roasted Chicken with Mayo Dressing
---
Author:

Prep Time:

15 minutes

Cook Time:

1 hour 20 minutes

Total Time:

1 hour 35 minutes

Yield:

4

1

x
5

lb. roasting chicken – cleaned and pat dry with a paper towel

Fresh Romano or Parmesan cheese, for grating

3

or

4

celery sticks, as a rack to rest the chicken on
For the Mayonnaise Rub:
½ cup

of mayonnaise
Juice of

½

lemon

2

garlic cloves – crushed and chopped fine

1 tsp

. black pepper

1

tbs. capers – chopped

1 tsp

. paprika

1 tsp

. dried oregano

1 tsp

. red pepper flakes
---
Instructions
Preheat heat oven 350 degrees F:

Place the celery ribs on the bottom of a large cast iron frying pan.

Place the clean and pat dry chicken on the celery ribs. Set aside.

Combine all of the ingredients for the Mayo blend and set aside.

Rub the mayo blend all over the skin of the chicken and gently lift the skin and rub the blend gently under the skin as well.

Sprinkle fresh ground black pepper over the chicken and grate fresh Romano cheese or Parmesan cheese over the chicken. 

Bake the chicken for 20 minutes per pound plus and extra 10 – 12 minutes.

Let the chicken rest for 10 –minutes or so before carving.
Recipe Card powered by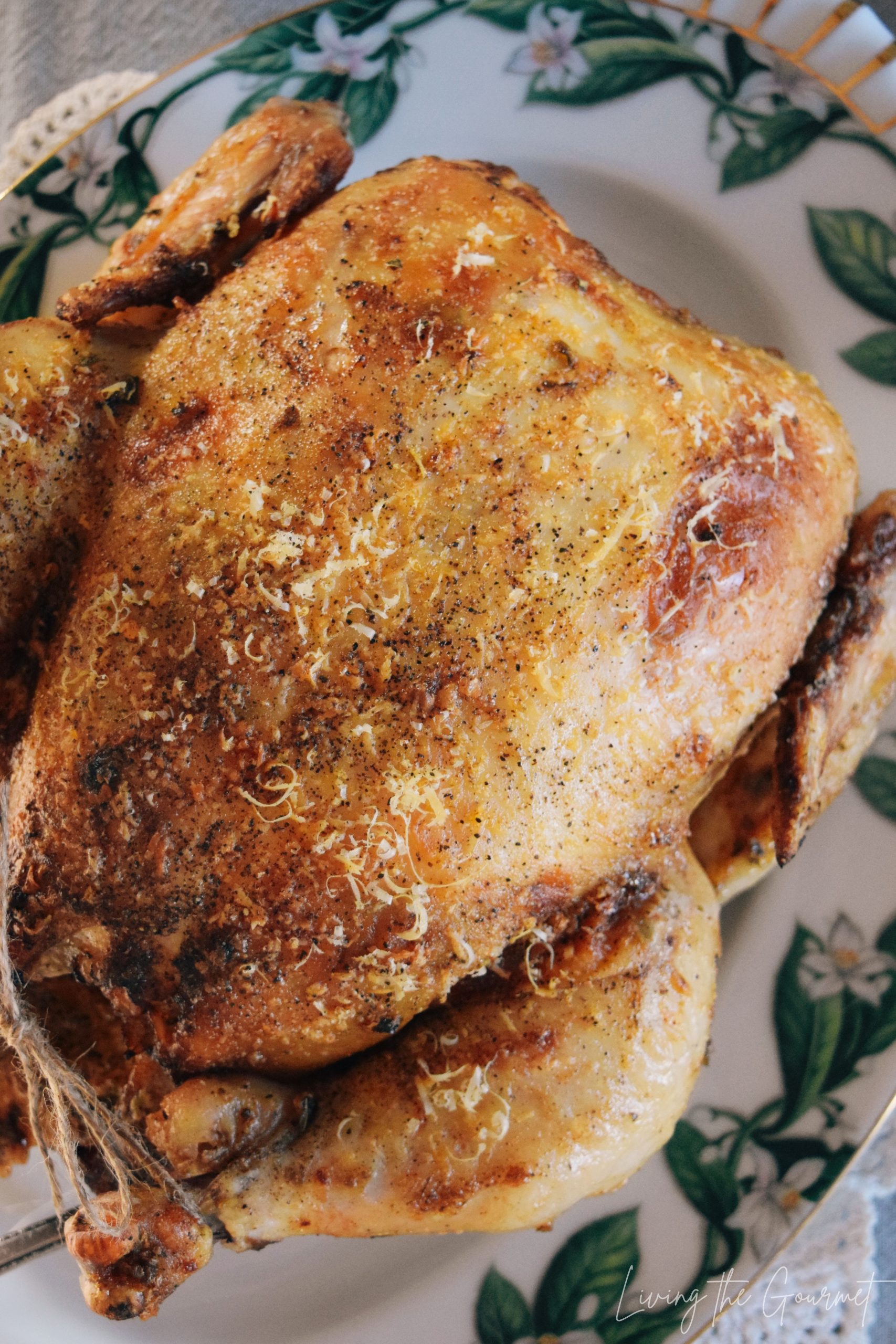 0