This post has been sponsored by Breton Gluten Free Crackers. All opinions expressed are my own.
Today we're preparing a super simple, back to basics Cream Cheese and Bacon Cracker Dip, prepared with fresh lemon juice, fresh nutmeg, scallions and crisped bacon. We then topped off the dip with some freshly diced scallions, along with a little extra bacon for good measure.
We put together today's dip with a little help from Breton Gluten Free Crackers. These crackers come in three crave-worthy flavors, Original with Flax, Herb and Garlic, Black Bean with Onion and Garlic, and White Bean with Salt and Pepper, but more on these absolutely delicious crackers in just a minute.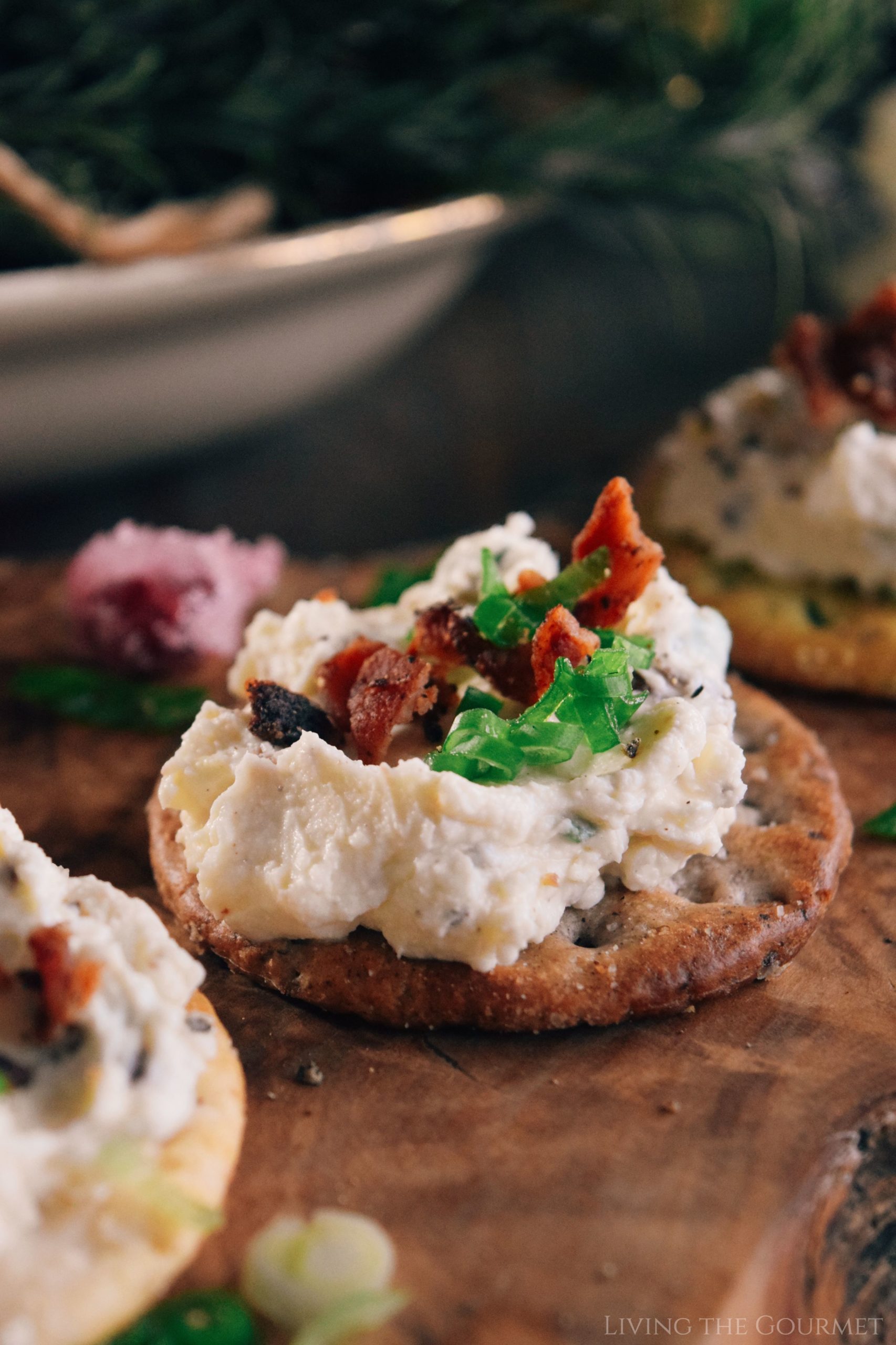 Why You'll Love Today's Cream Cheese Bacon Dip
1) Evergreen. While today's dip was formulated with holiday spreads in mind, this dip is great all year round.
2) Bacony Goodness. The cream cheese really complements the bacon in a big way. Think layers of flavor. Alongside the nutmeg, Romano cheese, and fresh lemon juice, this simple dip features are surprisingly complex flavor profile, carried on a decadently creamy texture.
3) Super Simple, Super Quick. Seriously, this dip can be put together in minutes flat once you've crisped the bacon, making it accessible for home chefs of all skill levels.
4) Back to Basics. Featuring no 'exotic' ingredients or complicated prep methods, today's dip is the very definition of 'back to basics.'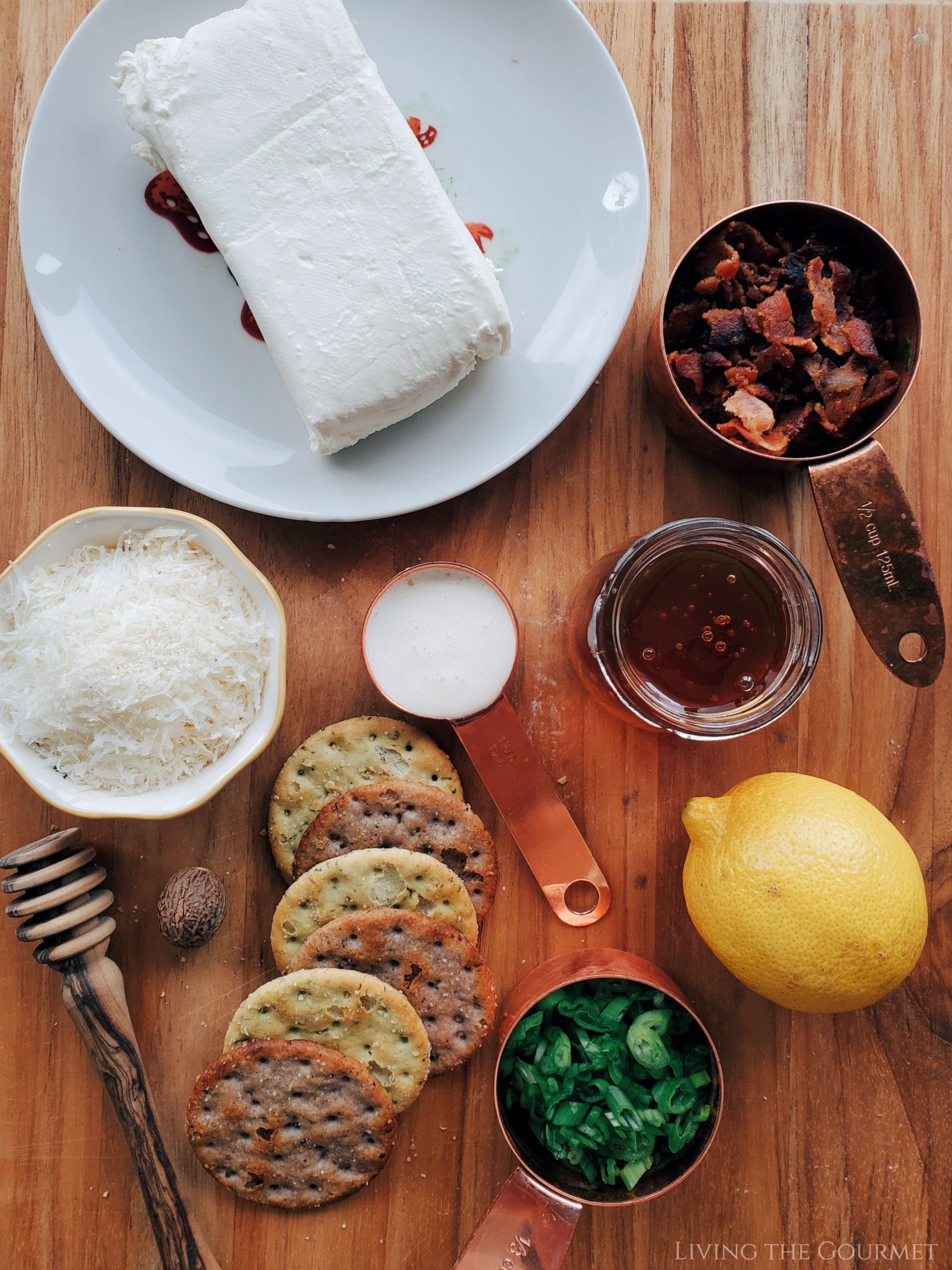 Ingredient Notes, Tips, and Substitutions
1) Scallions. First off, scallions are 'not' shallots. Yes, some American supermarkets mislabel the two items, but US supermarkets are notorious for their labeling mishaps, with one prominent example being their labeling of orange fleshed sweet potatoes as 'yams,' despite 'real' yams being more akin to yucca in taste and texture. Yes, some parts of the English-speaking world don't differentiate shallots from scallions linguistically – but linguistics often fall short of 'reality.' Instead, what matters is that they 'are' different things. Scallions are long, thin, green and white, with a flavor reminiscent of 'crisp sweet onion,' with a hint of 'vegetable moisture.' By contrast, shallots look like elongated red onions, and taste like 'sweet onions and garlic.' However, one area where they 'do' overlap is that they are both best enjoyed raw either as salads or as edible garnish.
Substitution: You have several options if you don't have scallions on hand. The first, and perhaps best alternative for today's recipe, would be diced shallots, next up would be chives, and finally you can simply dice up some red onion. All will work just fine.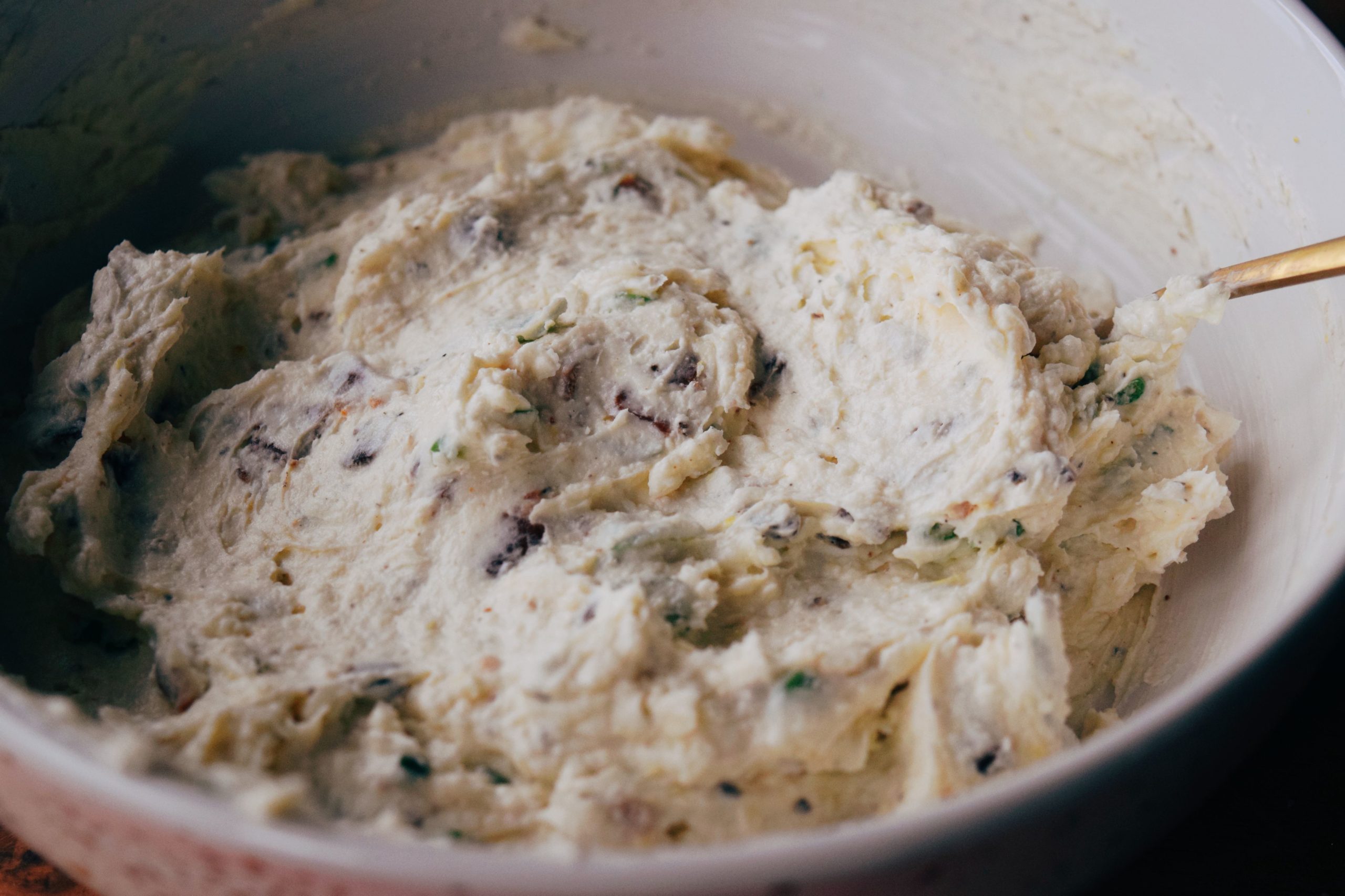 2) Lemon Juice – Fresh is a Must. Since we're using the lemon juice in a 'raw' recipe today, I'm going to say that fresh is a must – although the recipe will certainly 'survive' bottled lemon juice. However, it is worth noting that bottled lemon juice simply isn't as flavorful, lacking the full 'zest' or 'brightness' of fresh lemon juice, since the juice begins breaking down chemically almost as soon as it leaves the lemon. Beyond that, the juice's flavor is often times further diluted with preservatives. As a result, if you want the full flavor and balance intended in today's recipe, use fresh lemon juice.
3) Breton Gluten Free Crackers. Let me start by saying that I put these crackers to the 'ultimate' test. After preparing today's spread, I called my son over from his desk and had him try the dip with the crackers. He loved the dip, but more importantly he loved the crackers – and this was 'before' he knew that they were Gluten Free. In other words, these crackers sacrifice nothing when it comes to flavor, while remaining a snack that you can feel good about, being packed with fiber and protein, while being certified Gluten Free by Beyond Celiac.
Breton Original with Flax. This is the 'classic' Breton cracker that we all know and love, but made with a mix of arrowroot and lentil flour for easier digestion along with flaxseeds for added nutrition
Herb and Garlic. This cracker pairs great with cheeses, and will serve nicely as the 'bread' of any charcuterie board. These crackers are made with tapioca and green lentil flour, making them easy to digest with no gluten protein.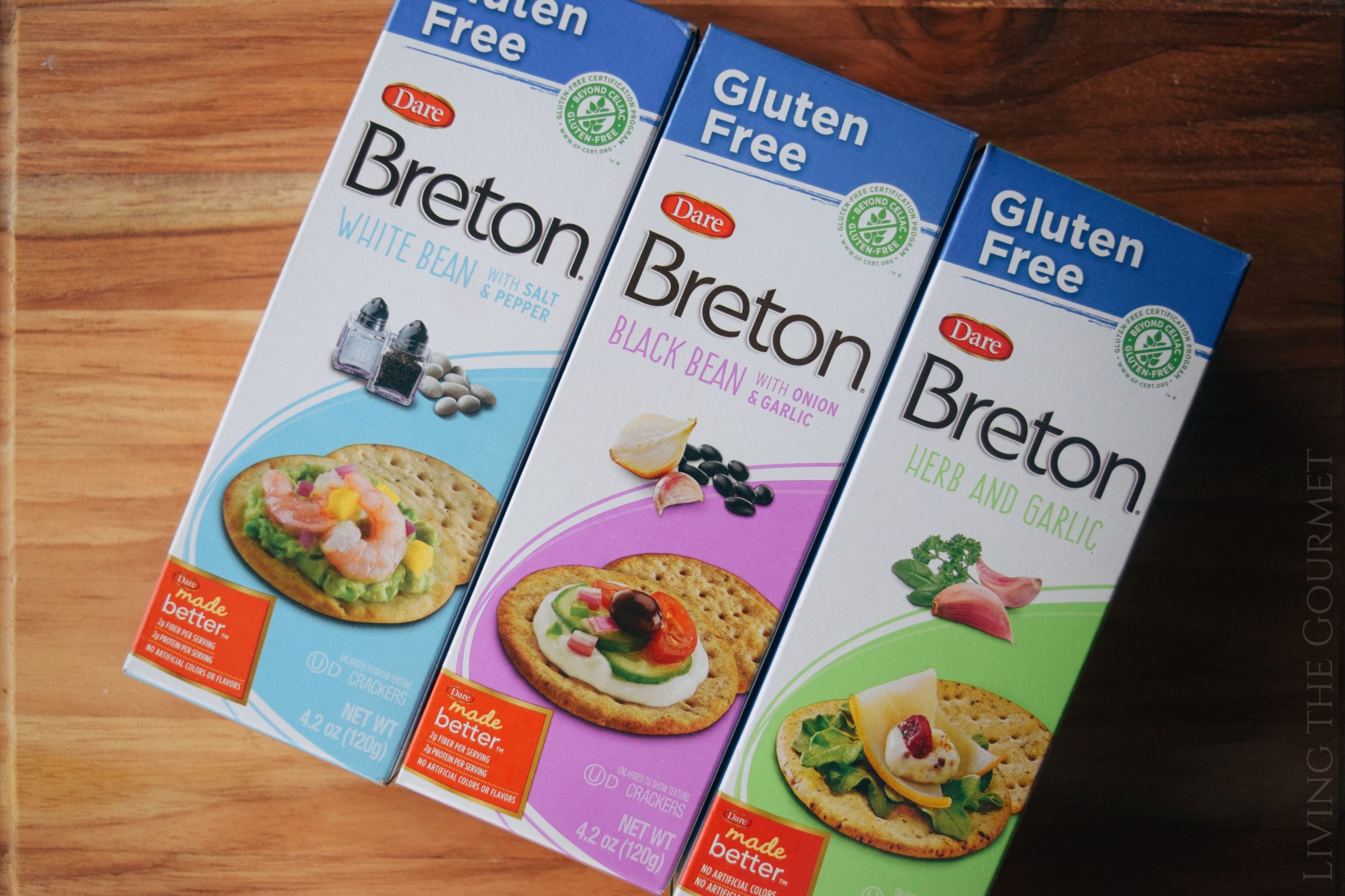 White Bean and Salt and Pepper. These crackers are made with navy beans as the top ingredient, and feature two grams of fiber and two grabs of protein preserving. I like to think of these as "Classic 2.0," since these too are a delicious 'all purpose' cracker, pairing great with cheeses, spreads like today's, or as an accompaniment to 'fancy' appetizer spreads.
Black Bean with onion and Garlic. These crackers feature black beans are their primary ingredient, and feature two grams of fiber and two grabs of protein preserving. While these 'can' serve as 'all purpose' crackers, these are most at home alongside things like bean dips and salsas – in my opinion.
These crackers are available nationwide and can be conveniently ordered right from Amazon.
Other Great Dips and Spreads
1) Cherry Tomato Salsa. A rustic mix of cherry tomatoes, grilled garlic, red pepper, and romano cheese combine to create a warming yet 'fresh' tasting salsa. Trust me when I say this is the perfect accompaniment to any charcuterie board.
2) Artichoke Hearts and Olives. Olives, artichoke hearts, sundried and tomatoes, form the base for this zesty yet earthy dip creates a dip that simply screams "Old World Mediterranean" like few others.
3) Aguachili. If you've never tried aguachili, you're missing out. Similar in appearance and taste to a Sicilian gremolata, aguachili is a spicy mix of garlic, roasted chili peppers, and lime set in a base of tomatillos and cilantro, to create a moist, smooth dip that you'll simply fall in love with.
Print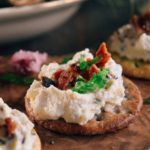 Cream Cheese Bacon Dip
---
Author:

Total Time:

10 minutes

Yield:

4

-6

1

x
8 oz

. block of cream cheese - softened

1 tsp

. of lemon juice
Zest of

1

lemon

1/2 tsp

. of fresh ground black pepper

1/4 tsp

. of grated fresh nutmeg

1/4

cup

of crisped bacon

1/4

cup

of fresh grated Romano cheese or Parmesan cheese

1/4

cup

of chopped scallions

2

tbs. heavy cream
---
Instructions
Leave the cream cheese out for about a half an hour or so to ensure it is room temperature for mixing.
Mix the cream cheese with the heavy cream, using a spatula or fork, add the lemon zest, grated cheese, lemon zest, lots of fresh ground black pepper, scallions and crisped bacon.
Mix gently until well incorporated.
Serve with scallion and crisped bacon garnish.
Refrigerate until ready to serve.
Recipe Card powered by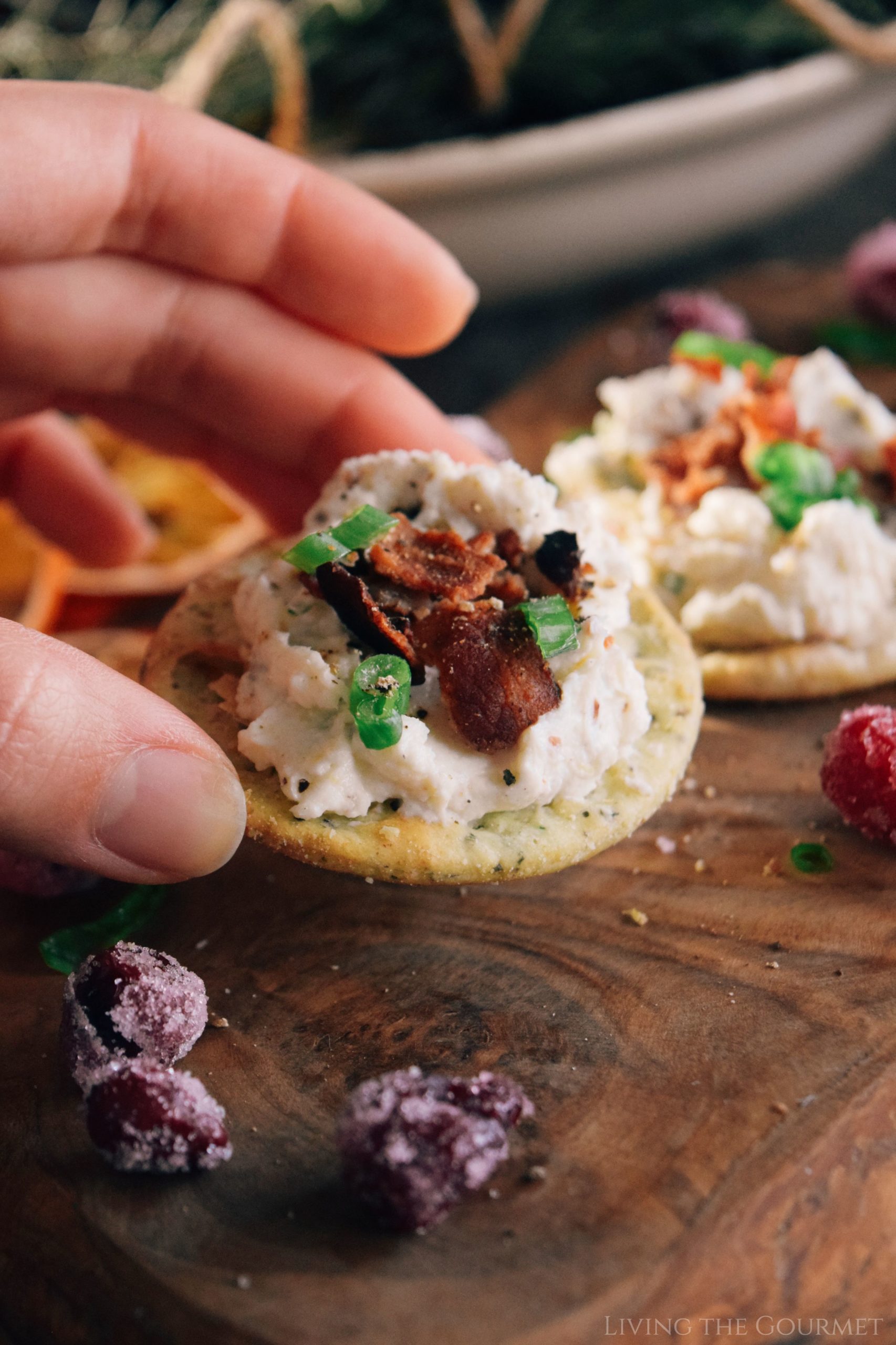 If You Enjoyed Today's Recipe…
Be sure to follow us on Instagram to stay up to date with all things Living the Gourmet, and for more great recipes, tips and tricks.
Did you make this recipe?
If so, let me know in the comments down below, or post a picture to Instagram, or to Pinterest, and I'll give you a shoutout on Instagram, or post your pin to one of my Pinterest boards!
4