Today we're preparing one of my favorite seasonal items, a treat that simply screams "Winter Warmth" and "Christmas Cheer" – Candied Cranberries.
These are super simple to prepare, super versatile, and addictively delicious. Now, without further introduction, let's dive right in.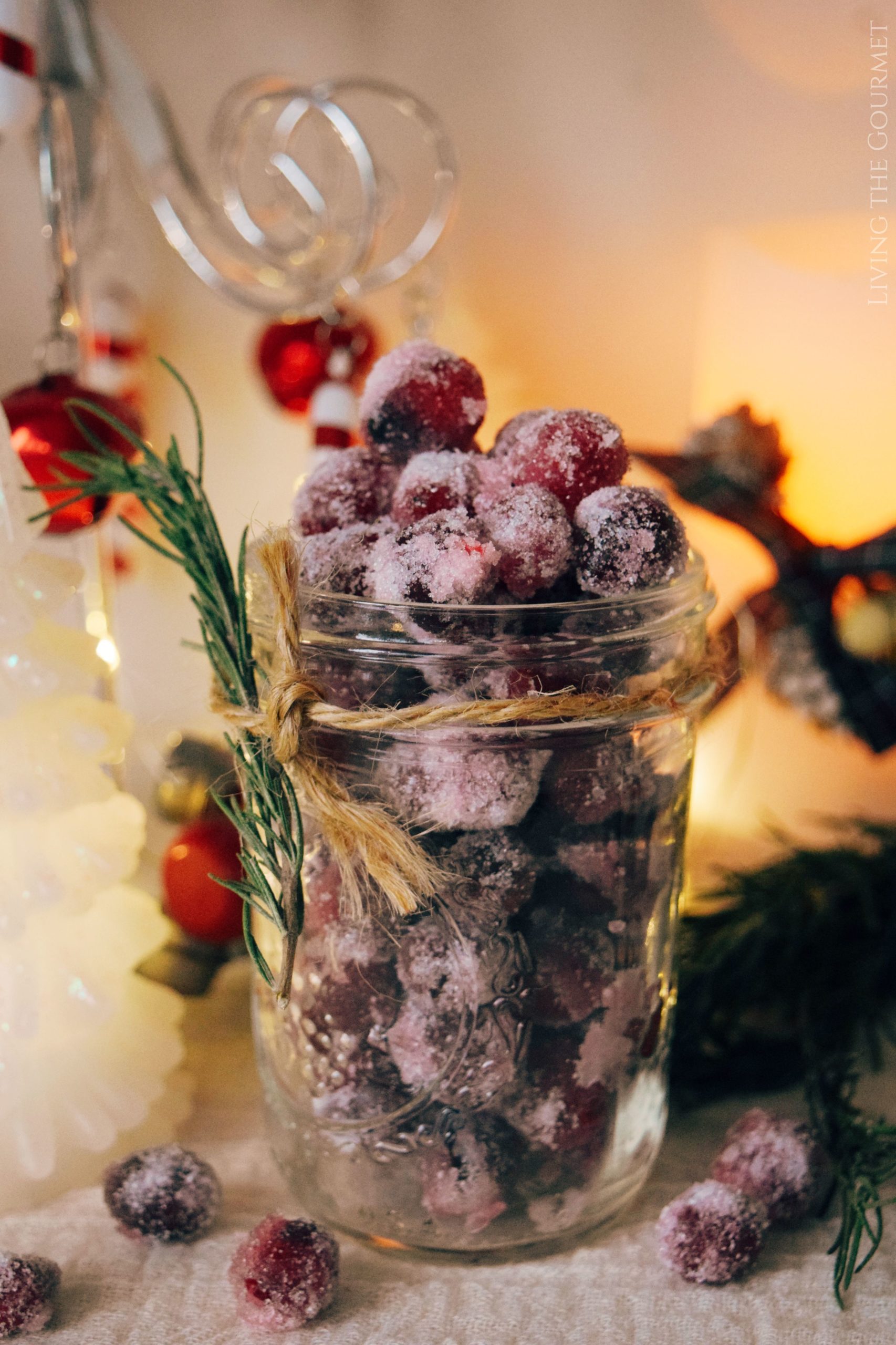 Ingredient Notes and Substitutions
1) The Orange Rind. This gives the candied cranberries a nice 'citrus essence.' How much orange rind you use for this recipe depends on personal preference. I'm using the rind of a whole orange, but you can use as little as a single peel, or even none at all.
Substitution: Orange Extract, about two teaspoons.
Boozy Alternative: Two teaspoons of Grand Marnier will also work beautifully.
2) Cinnamon – Powdered or Sticks? Either one will work fine, and this really is a matter of preference or availability.
What to do with Candied Cranberries
1) Eat them as is. Honestly, these are delicious as is, and this means they serve excellently alongside most holiday appetizer platters, or as a simple 'sweet treat' on their own with mulled wine.
2) Topping on Pie. Sprinkled over whipped cream, these can kick up any of your favorite winter pies, whether apple, cherry, pecan, or mincemeat.
3) Parfait. Layer these into your favorite parfait for a nice bit of 'crunch,' and some added tart-sweetness.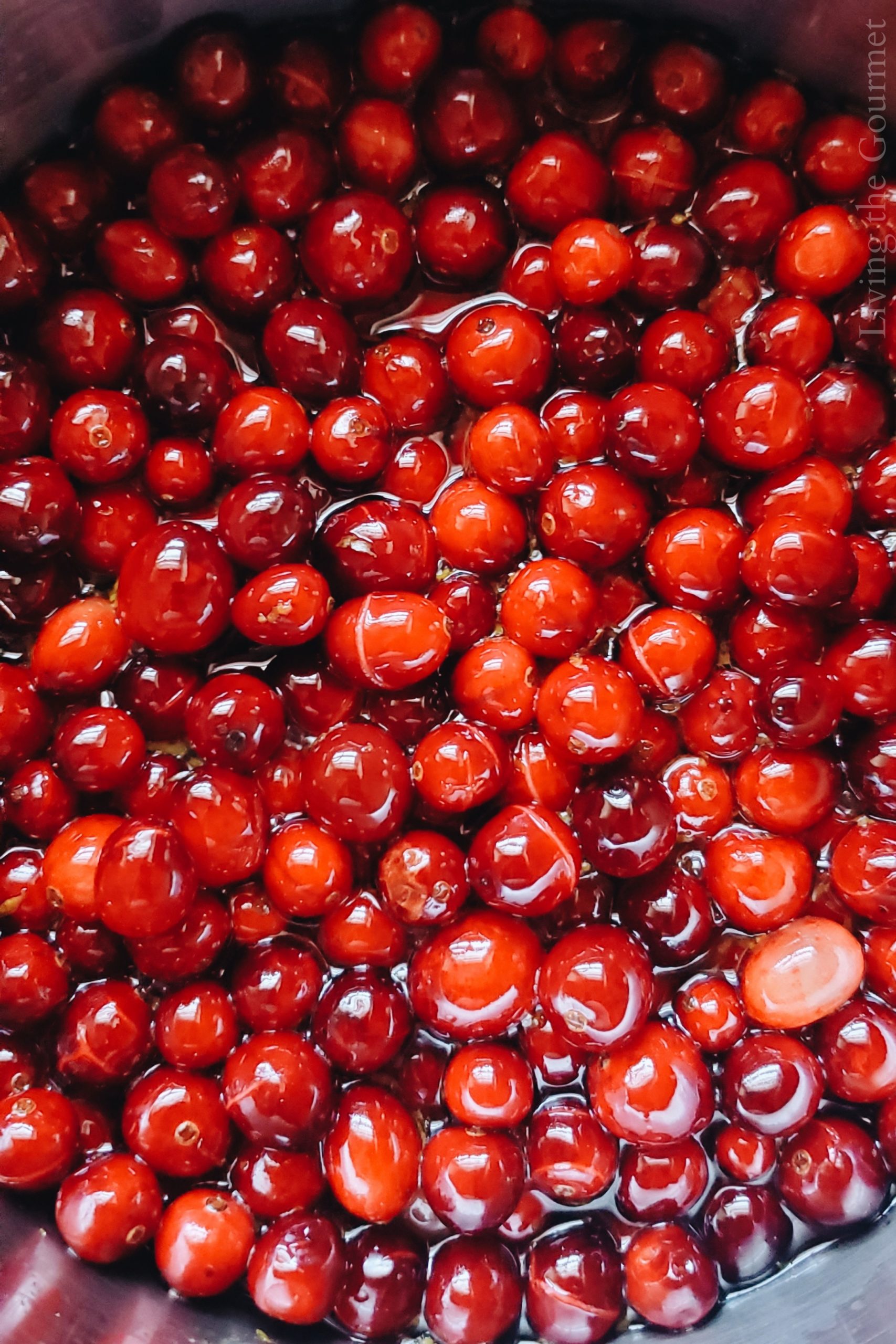 4) Edible Garnish. These can be used to garnish main courses and dessert spreads alike. Picture a holiday dessert table, with the candied cranberries sprinkled on the dessert trays, or 'wreathing' the bottom of your table decorations. The 'frosted white' on cranberry red adds a delightful and elegant touch of 'holiday flare.' Best of all, this is one piece of garnish that simply tastes delicious.
5) Cocktail Garnish. These cranberries can turn any of your favorite cocktails into a 'Holiday Cocktail.' In an Old Fashioned, you can simply plop a few of the cranberries directly into the beverage as a 'finish.' With something like a martini or a Manhattan, simply lance a few of the cranberries across a toothpick, and then lay that across the rim of the glass.
Other Great Seasonal Treats
1) Apple Cider Old Fashioned. A seasonal take on the beloved Old Fashioned, combining apple cider, cinnamon, rum , and dried orange slices.
2) Baked Apple Cider Doughnuts. Tender doughnuts infused with apple cider, and swathed in a crisp brown sugar crust.
3) Italian Eggnog White Russian. Whipped coffee, vodka, and eggnog syrup combined to create my favorite seasonal take on the classic White Russian cocktail. Rich, warming, and decadently sweet.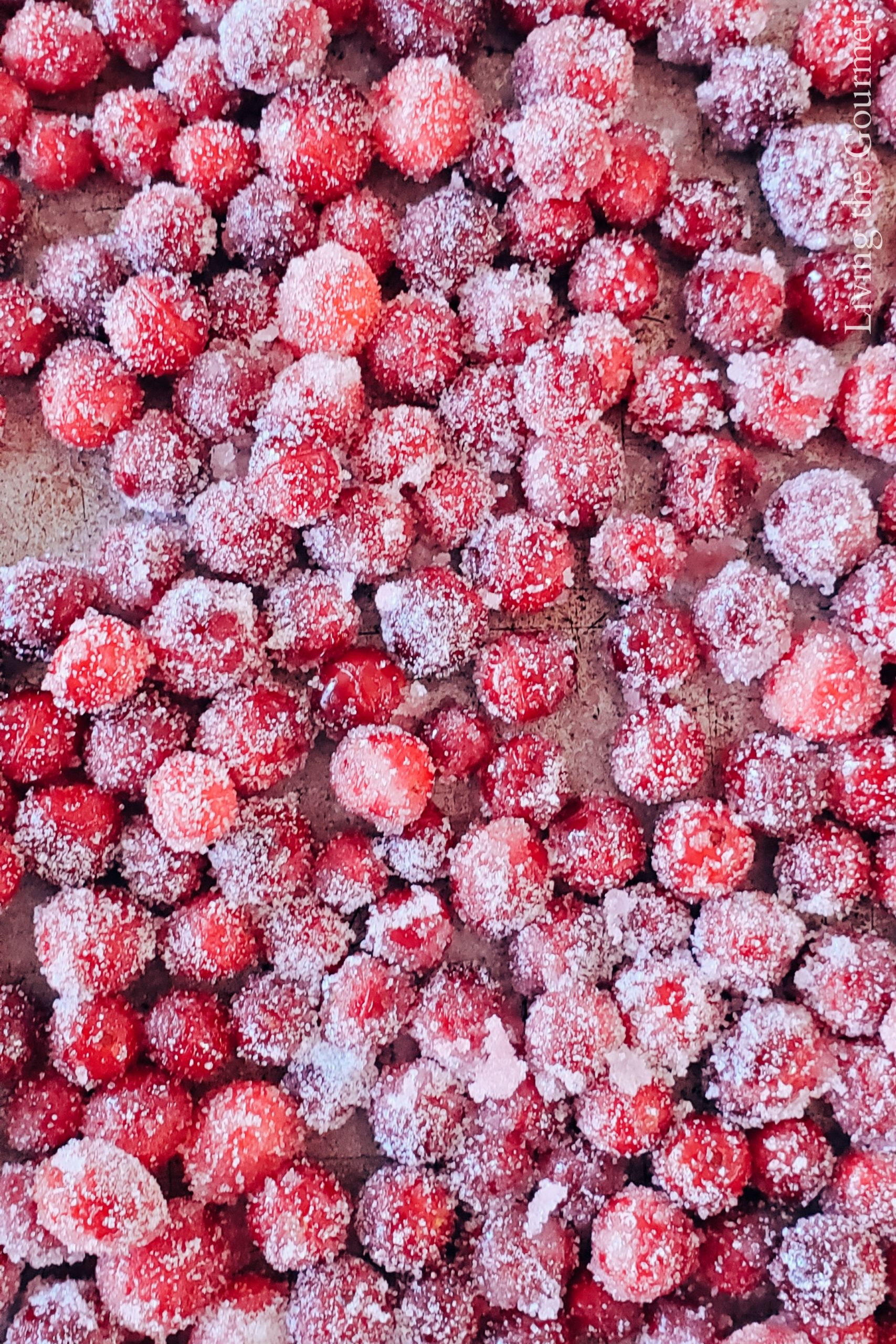 Print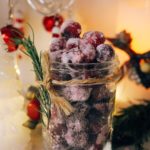 Candied Cranberries
---
Author:

Total Time:

20 minutes

Yield:

3 cups

candied cranberries

1

x
24

ounces

fresh cranberries

5

cups

water

1 1/2

cups

sugar, plus more for rolling
Orange rind

1 tablespoon

vanilla

1 tablespoon

cinnamon or

1

cinnamon stick
---
Instructions
Rinse and strain fresh cranberries, set aside.
In a large pot over medium heat, bring water, sugar, orange rind, vanilla, and cinnamon to a simmer. Remove from heat and add the fresh cranberries.
Stir and cover, leaving the cranberries to sit in the syrup overnight.
Drain the cranberries and leave in a colander to strain any access syrup, about 5 minutes.
In the meantime, line two baking sheets with parchment or wax paper. Sprinkle about ½ cup of sugar evenly over each prepared sheet.
Divide the cranberries between the two sheets and sprinkle with 1 cup of additional sugar. Carefully, roll the cranberries in the sugar until each is coated. Leave to dry and set for a several hours or up to overnight. Dried sugared cranberries can be stored in an air-tight container for up to 5 days.
Prep Time:

10 minutes

Cook Time:

10 minutes
Recipe Card powered by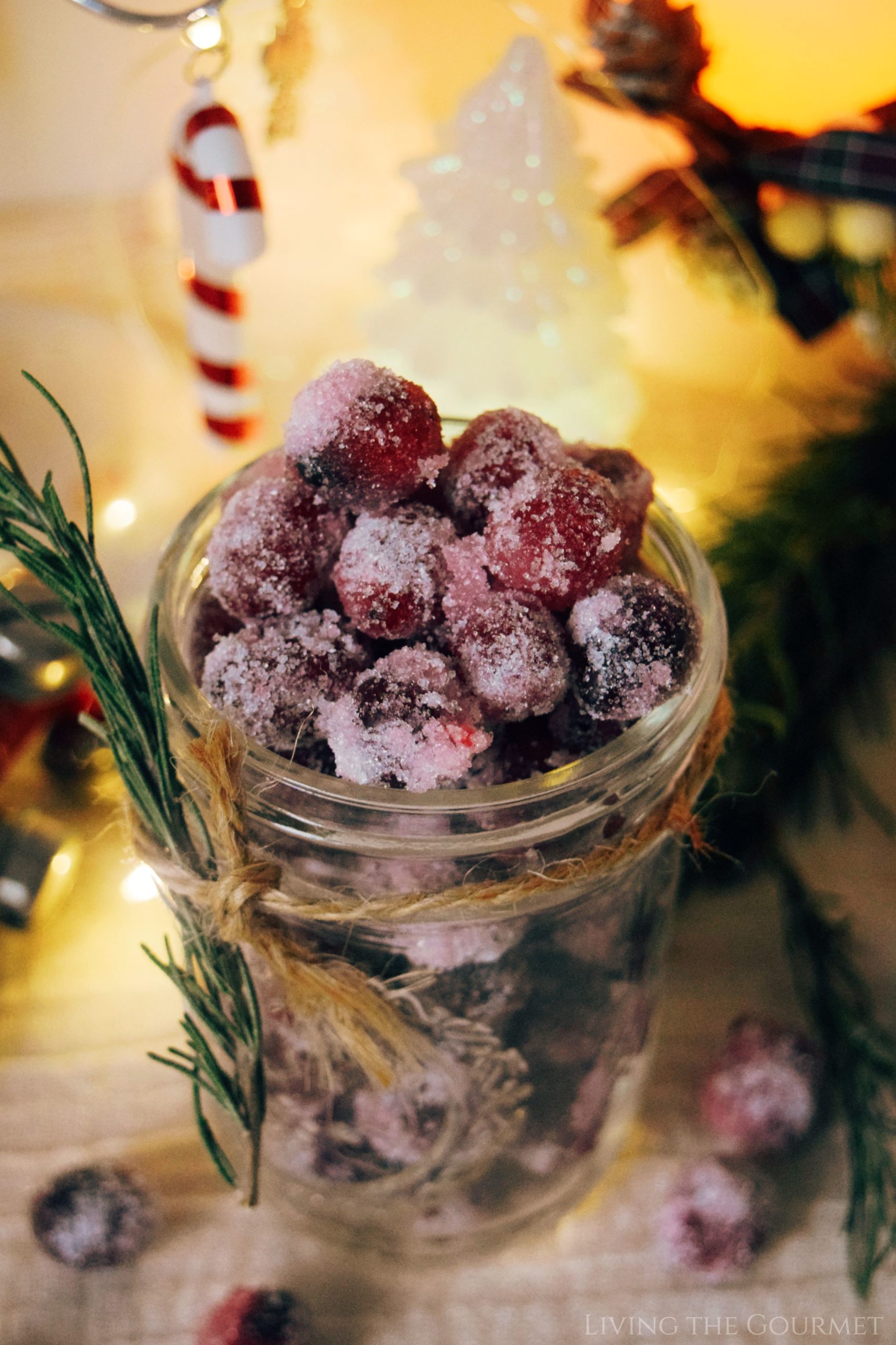 If You Enjoyed Today's Recipe…
Be sure to follow us on Instagram to stay up to date with all things Living the Gourmet, and for more great recipes, tips and tricks.
Did you make this recipe?
If so, let me know in the comments down below, or post a picture to Instagram, or to Pinterest, and I'll give you a shoutout on Instagram, or post your pin to one of my Pinterest boards!
0