This shop has been compensated by Collective Bias, Inc. and its advertiser. All opinions are mine alone. #HoneyForHolidays #CollectiveBias
With the holidays inching closer, we are sharing a few holiday favorites that double as perfect desserts and gourmet gifts.
Our Orange Blossom Honey Baklava is an elegant treat layered with buttery phyllo and spiced walnuts. For the perfect send-home for your guests, prepare a simple Honeycomb bark made with wafer cookies, natural honeycomb, nuts and dried fruit set with a honey caramel and a layer of dark chocolate.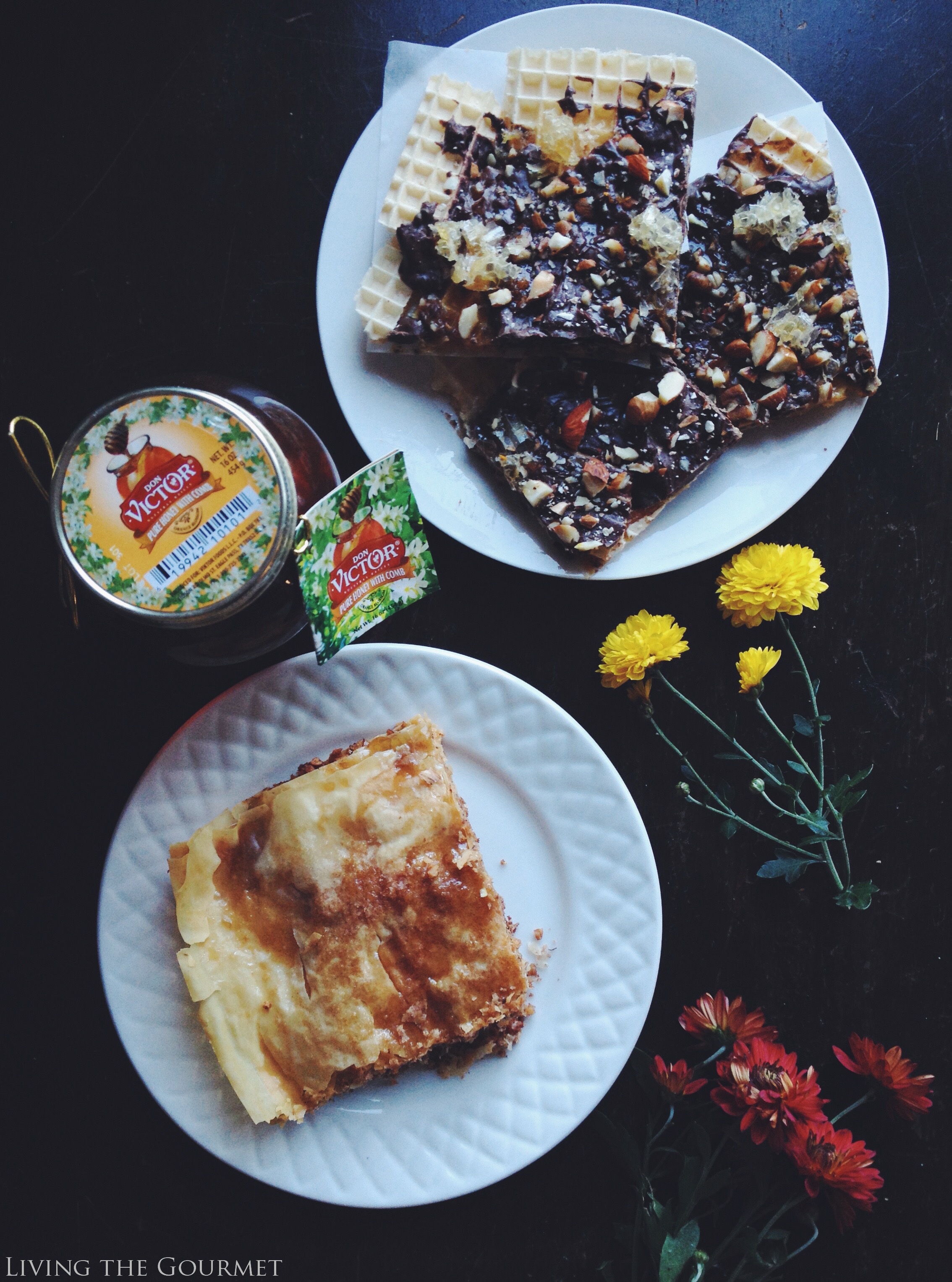 Tradition, as the saying goes, is a paradox by nature. It is a physical and spiritual bridge to the past, and yet exists solely as a function of the present. It is a source of consistency and security as we traverse the ever twisting trails of life, and yet is marked by each generation. It is guarded viciously, and yet is the ever moving target for unending waves of rebellion, against whose greybearded ways the 'vogue' and 'youthful' are measured.
During the holidays, when the ghosts that haunt our memories are particular vivid in their apparitions, tradition and the traditional can also serve as a source of inspiration. For example, very few of us would seriously consider buying a tree, standing it upright in our living rooms, and then decorating it with electrical lights were it not for the fact of 'tradition.' Instead, it's just what we do – obvious mess and fire hazard be damned.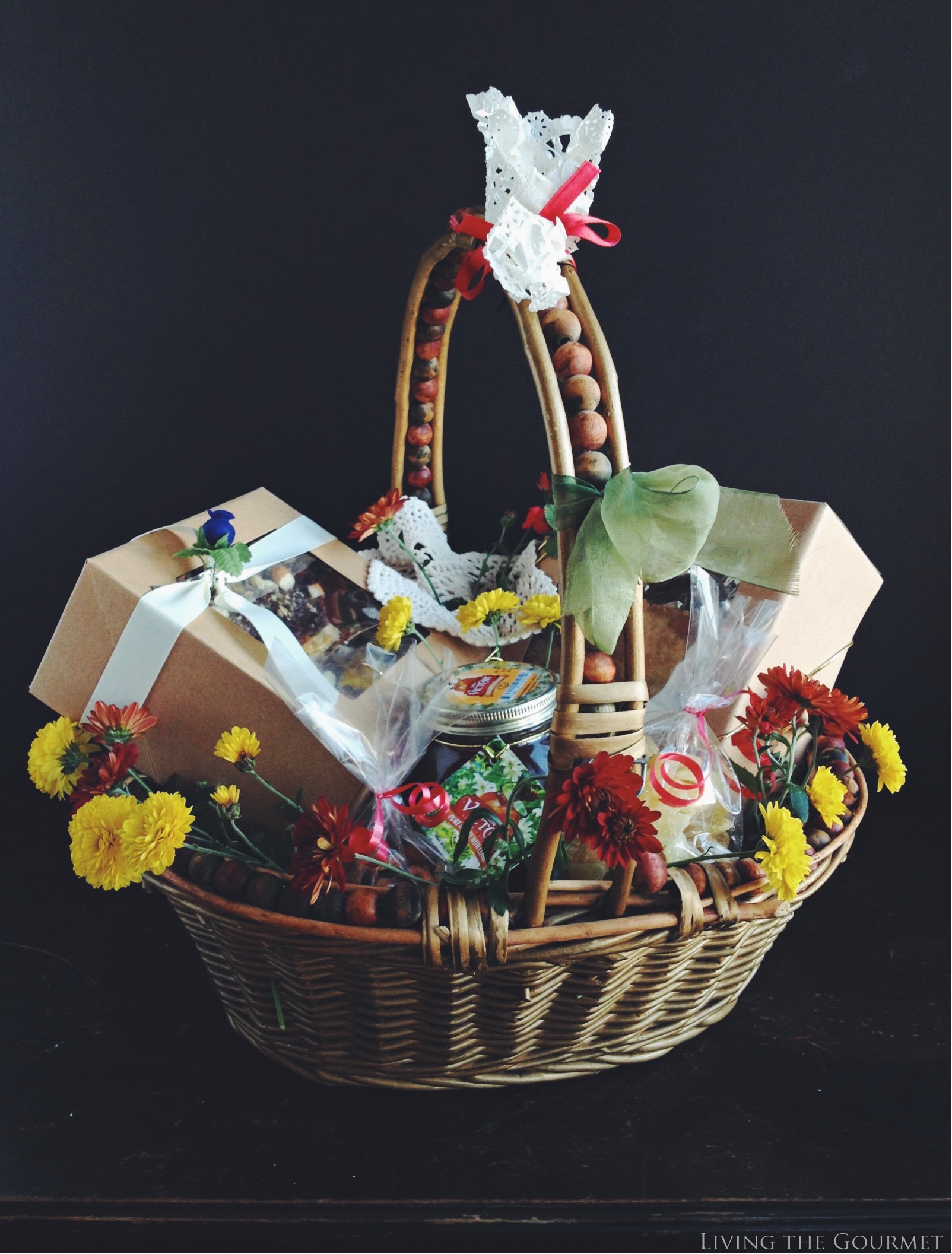 On the more practical end of things, part of my entirely Italian family's tradition around the Holidays involved the very Greek dessert baklava. While I had allowed that tradition to fall to the wayside in recent years, I decided to take it up again, in part because it's so convenient for gift giving, and surprisingly easy to make when compared to other, more time-consuming holiday pastries.
However, one of the keys to a truly good baklava is a truly good honey, and it was by happy coincidence that I picked up a pair of 16oz Don Victor Orange Blossom Honey Comb Globe Jars at Walmart last week – all natural, raw filtered honey complete with the honeycomb. The honeycomb is important here, since I would be including it as part of the recipe for my Holiday Bark, which has been a feature on my Christmas table for several years now. Like the baklava, the bark is also a perfect addition to any holiday gift basket.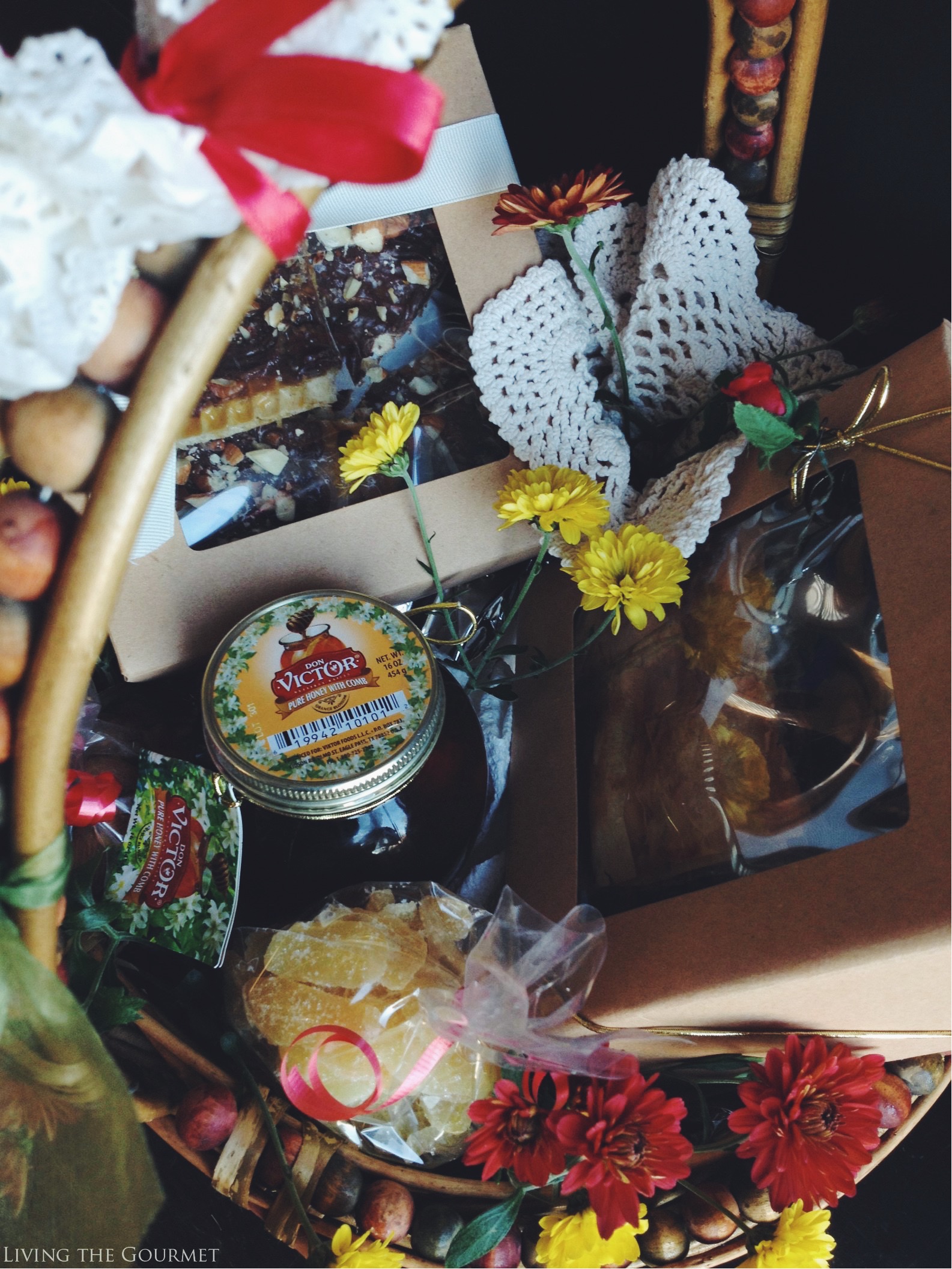 To start things off with the baklava, finely chop five cups of walnuts. Yes, I know that sounds like a lot. Then combine them with some fresh orange zest, sugar, and cinnamon. Then butter a nine by thirteen baking dish, and lay a single sheet of the phyllo dough down on the bottom, which you will then brush with butter. Cover that initial sheet with another sheet of phyllo, and butter again. Now generously dust the phyllo with the chopped walnut mixture, about a quarter of a cup. Lay a sheet of phyllo over the nuts, and then repeat this until you have either filled your baking dish, or have used up all of the nuts. Once you are done, cover the top with another sheet of phyllo and butter.
While the baklava cooks, it's time to prepare the key piece of this puzzle – the syrup, which is a mix of honey, orange peel, lemon peel, and water simmered over medium heat in a small sauce pan as shown below.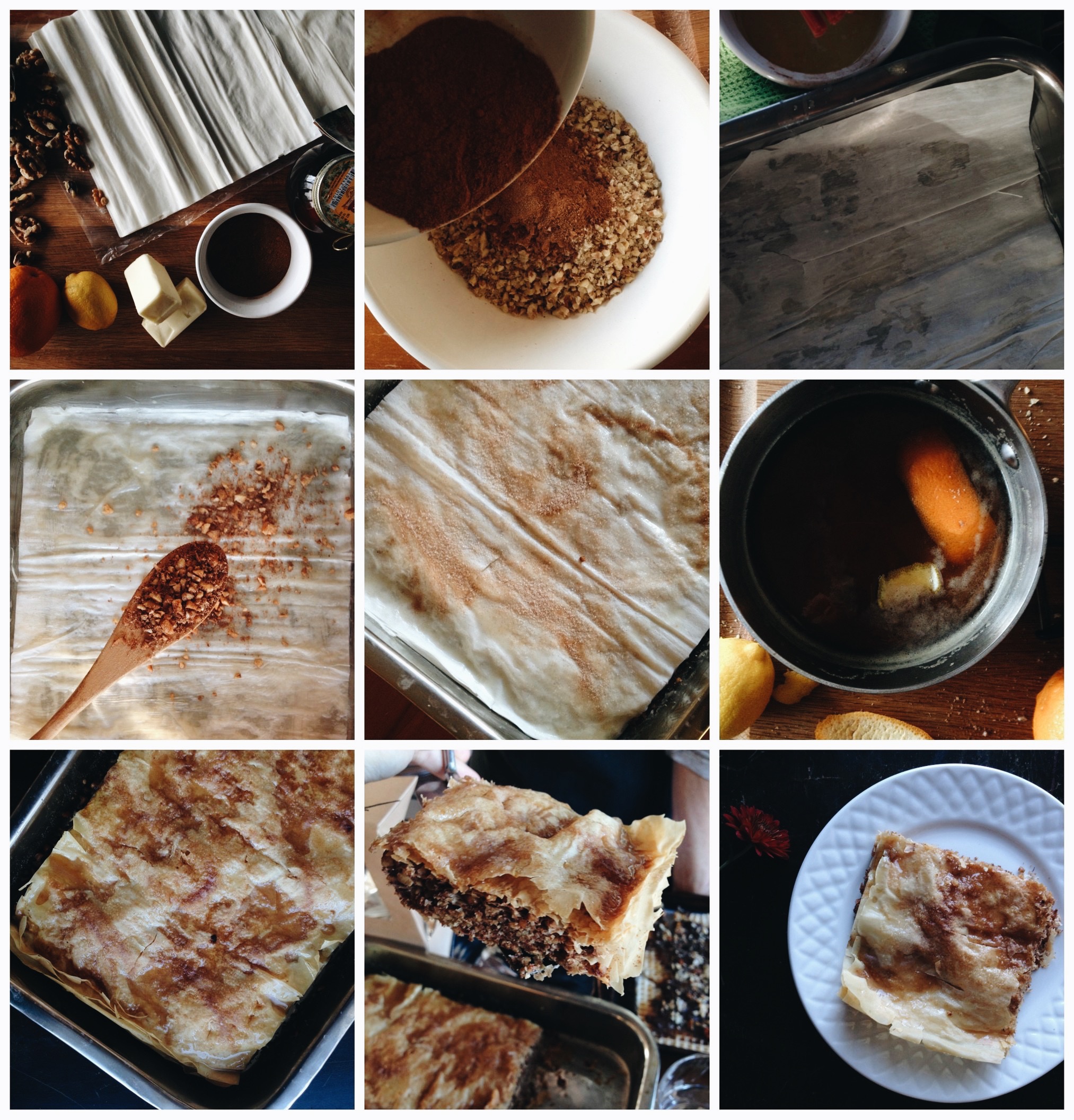 After the baklava has cooked for about thirty to forty minutes, let it cool and then drizzle with the syrup. Now that it's done, you can either serve it for the holidays, or cut it into diamonds and package it off for the perfect seasonal gift. Paired with the Holiday Bark prepared below, you couldn't possibly ask for a better holiday combination.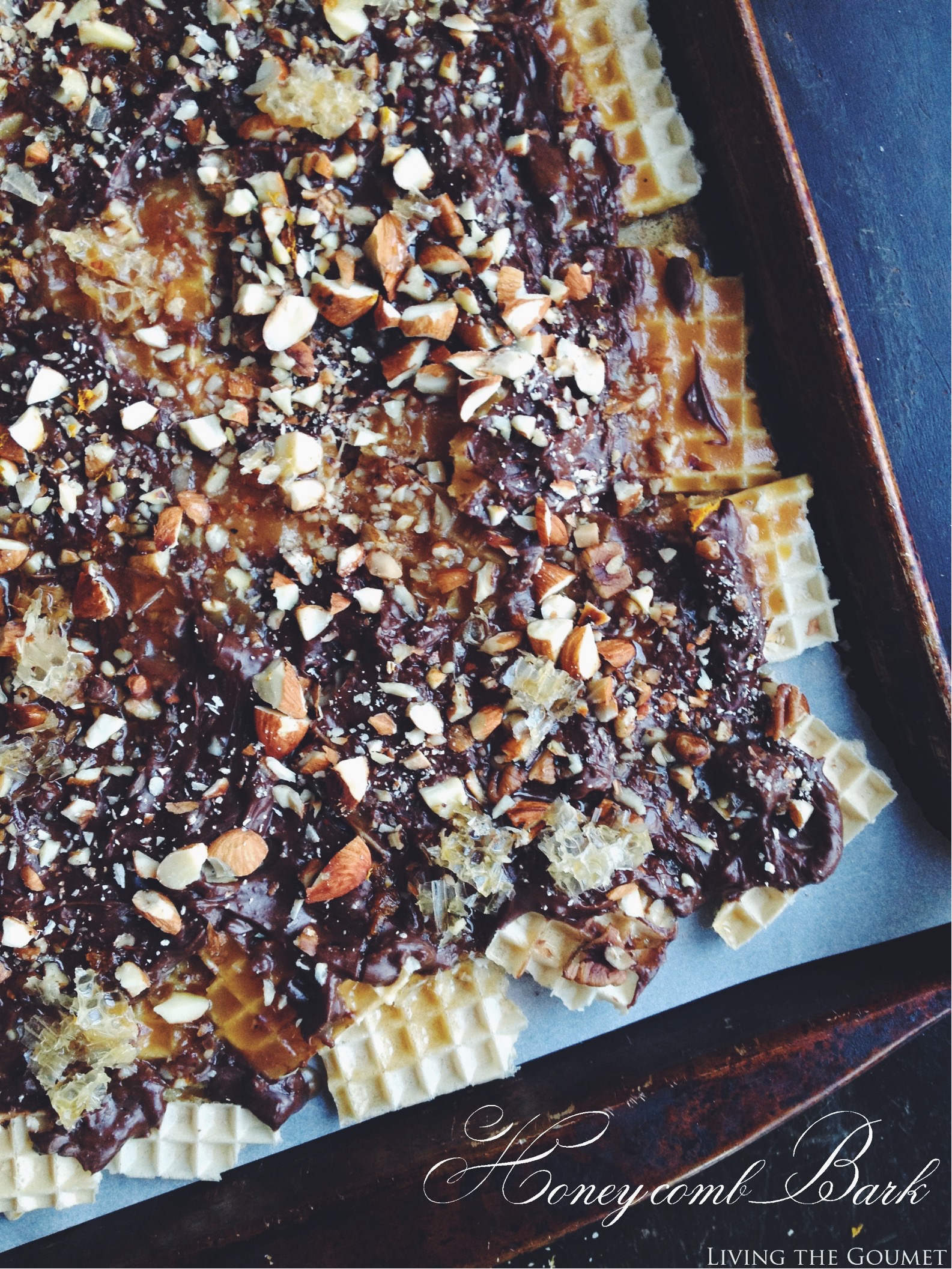 Living the Gourmet
Yields 8-10
Honeycomb Bark Orange Blossom Honey Baklava
15 minPrep Time
40 minCook Time
55 minTotal Time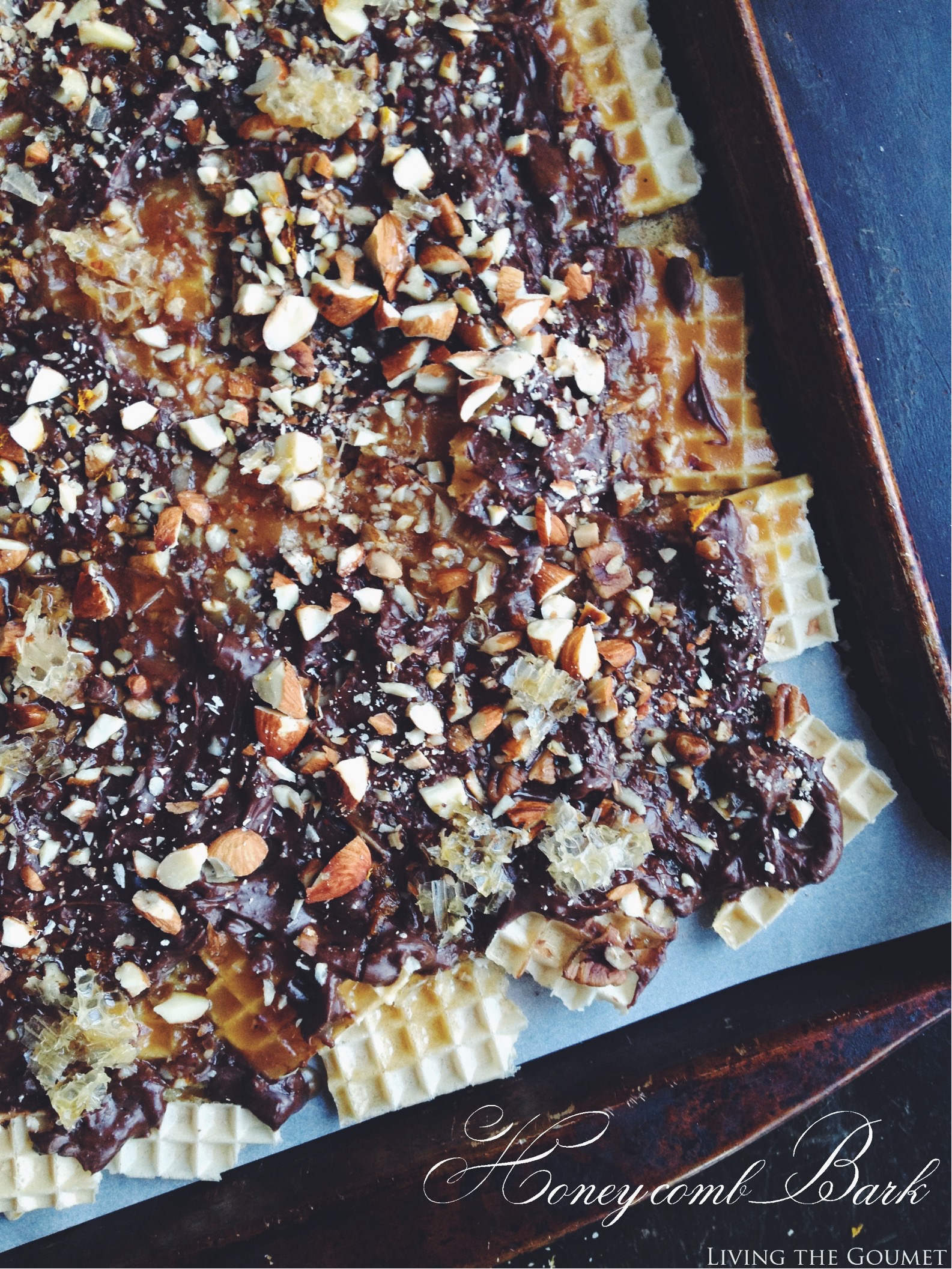 Ingredients
2 sheets waffle wafers
1/2 cup chopped almonds
1/2 cup chopped dried apricots
1/4 cup chopped candied ginger
1 1/2 cups dark chocolate, melted
1/2 cup Don Victor Honey, plus 2 tablespoons
1 whole honeycomb, chopped
1/2 cup butter
1 teaspoon baking soda
5 cups walnuts, finely chopped
2 tablespoons granulated sugar
2 teaspoons ground cinnamon
1 teaspoon fresh orange zest
1 (1 pound) package of phyllo dough
1 cup unsalted butter, melted

For the Syrup:

2 cups sugar
2 cups water
1/2 cup Don Victor Honey
1-inch piece fresh orange peel
1-inch piece fresh lemon peel
Instructions
Break up the wafer sheets and place on a parchment lined baking sheet.
In a small saucepan over medium-high heat, melt down butter. Once butter has completely melted, add 1/2 cup honey. Stir until the honey has dissolved into the butter and the sauce is golden. Once it begins to bumble, add baking soda and remove from heat. Stir constantly until the baking soda breaks down and drizzle immediately over the wafer cookies.
Next drizzle the melted chocolate and sprinkle liberally with almonds, apricots, ginger and the honeycomb. Finish the bark off with extra honey, about two tablespoons.
Let sit for several hours to set. Break into desired amount slices and serve.
Preheat oven to 325 degrees F.
In a medium bowl, toss together chopped walnuts, orange zest, sugar and cinnamon. Set aside.
Starting in a 9x13 inch baking dish, brush the bottom and sides with butter. Lay one sheet of phyllo dough down. Brush that sheet of phyllo with butter and lay a second layer of dough on top. Repeat this once more. Sprinkle about 1/4 cup of chopped nuts over the top sheet. Cover the nuts with another sheet of phyllo and brush with butter. Repeat this process until you have used up nut mixture. Once the nuts are used up, layer the top with a sheet of phyllo and brush with butter. Repeat this twice. Brushing the top of the baklava with butter.
Place in the oven and bake for 35-40 minutes, until the phyllo dough is golden and the edges are crisp.
In the meantime, prepare your syrup. In a small saucepan over medium high heat, cook down the sugar, water, and honey until it comes to a boil. Lower the heat and add the orange and lemon peel. Leave to simmer until the mixture has thickened. Once thick, remove and let cool.
When the baklava is done baking, remove from the oven and cool slightly. Pour the syrup over the baklava. Cover and leave to rest for at least an hour to absorb the syrup. Slice, serve and enjoy!
7.8.1.2
207
https://livingthegourmet.com/2015/11/orange-blossom-honey-baklava-honeycomb-bark.html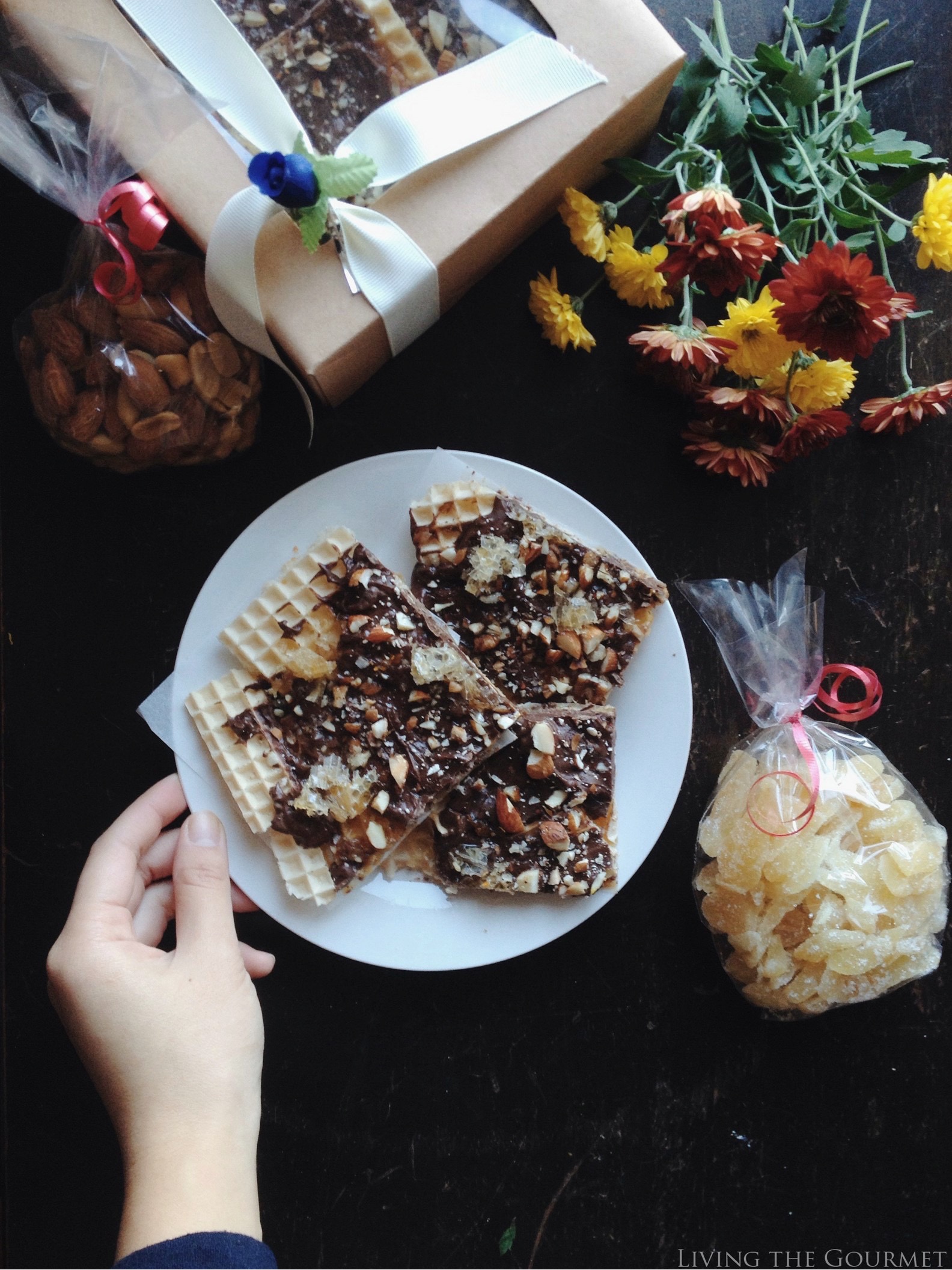 What are some of your favorite holiday desserts? Or what some of your family's favorite seasonal traditions? We would love to hear from you. Don't forget to 'like' the Don Victor Facebook Page for updates and more creative ideas for the holidays!
Enjoy with Love,
Catherine
xo
0