Today donuts are a quintessential autumn treat, combining the rich apple flavors of cider with tender baked doughnuts, swathed in a rich cinnamon sugar crust. Today's recipe is for a relatively small batch of donuts but it scales up if you prefer.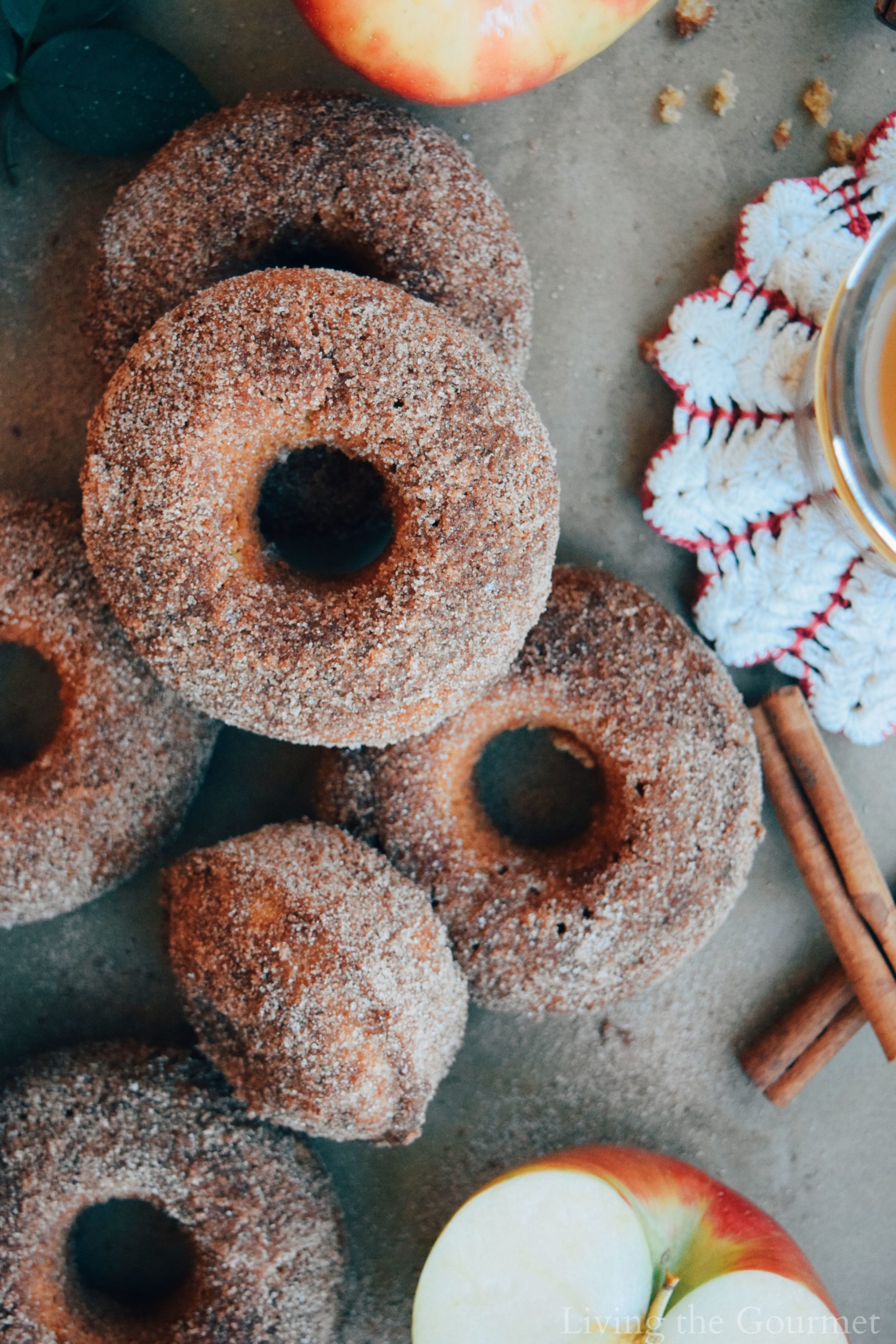 Ingredient Notes, Tips, and Substitutions
1) The Flour – All-Purpose vs Cake Flour vs Bread Flour; What's the Difference? In a word – protein. To understand this, let's begin with all-purpose flour and work our way down…and up…from there, since all-purpose flour is a midpoint between the three. All-purpose flour has been processed and ground down until only the starchy endosperm of the original wheat grain remains. This has the effect of 'standardizing' all-purpose flour to around 9-10% protein content. By contrast cake flour contains no more than 8% protein, while bread flour sits at a comparatively hefty 11-13%. This might not seem like a big difference, but consider that the less 'protein' flour contains the 'lighter' and less dense the resulting baked good is. By contrast, the more protein flour has, the more 'chew' and 'body' a baked good will have. Not only that, but flour requires protein to produce gluten, and gluten is what gives bread dough its 'stringy bits' that make the dough elastic enough to knead. Thus, for a light and airy cake, cake or pastry flour is the order of the day. For an excellently textured pizza dough, bread flour will give the best results. By contrast, you could just use all-purpose flour for either one, and get a fine result all the same.
All-Purpose for Doughnuts. Bread flour will make your doughnuts hard, while pastry flour will make them crumbly. All-purpose hits the sweet spot right in the middle.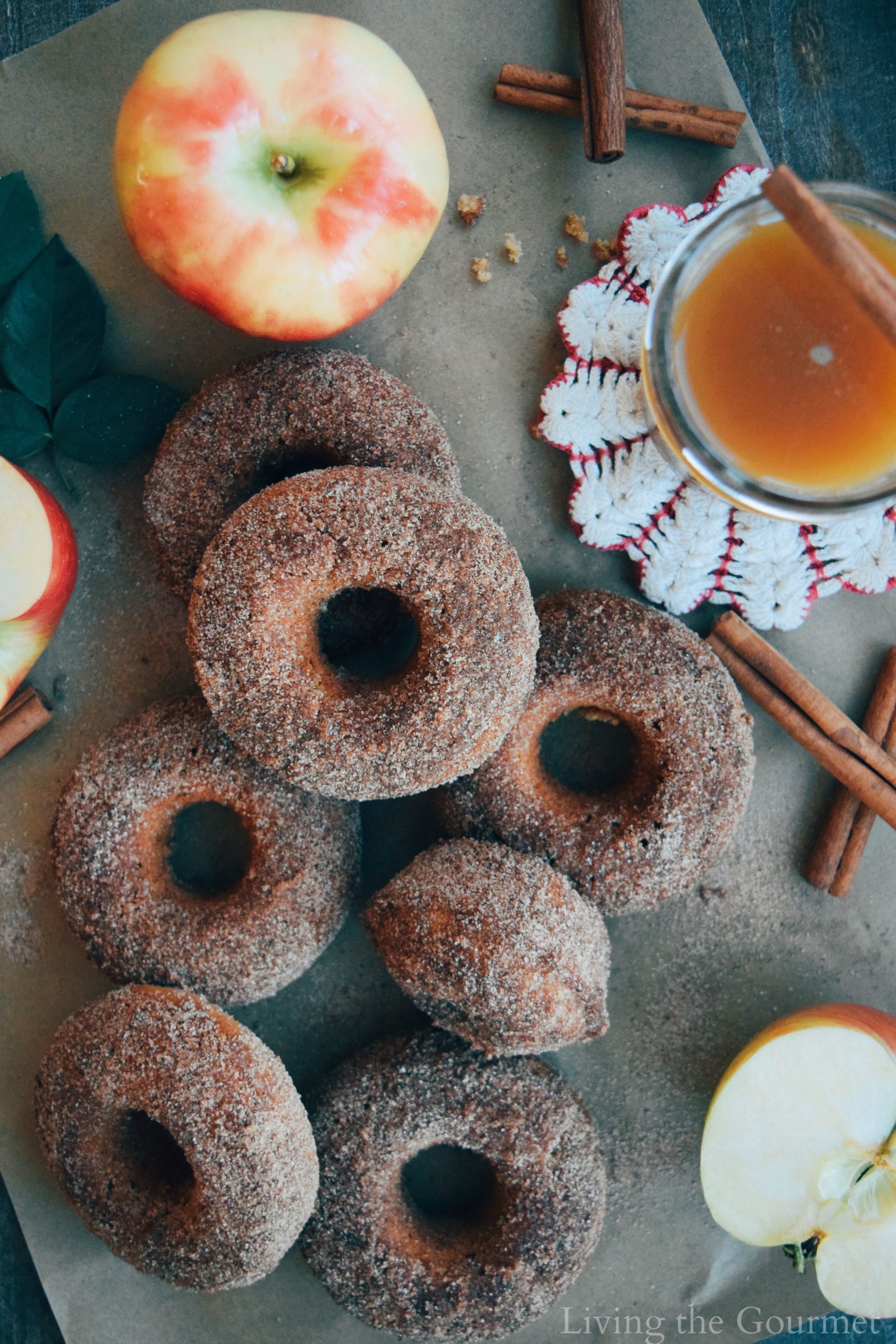 2) Apple Juice and Apple Cider – What's the difference? Filtration. That's it. However, bear in mind that there is no enforced regulation regarding what can be labeled a 'cider' as opposed to what is labeled a 'juice,' and so everything I'm about to tell you can vary (drastically) from brand to brand, and from region to region. Apple cider is 'apple juice' that is produced via apples that are washed, then sliced (or not, depending on the producer), and then crushed into a 'mash' or dense 'pulp.' Typically, the apples are neither skinned nor cored, nor are the seeds removed. That pulp is then either wrapped in cloth and the juice pressed out, or simply run through mechanical nets or meshes to extract the juice. Either way, apple cider is simply 'unfiltered apple juice.' At no point is apple cider pasteurized (some brands do pasteurize their ciders, especially if the ciders are being shipped long distances). This process has the effect of preserving the apples' flavor in their entirety, and doing so in the context of a thick, pulpy or 'sediment rich' juice. By contrast, apple juice undergoes rigorous filtration and pasteurization as a rule, resulting in a juice that tastes more of the apples' natural sugar than of the apples themselves. Sugar is also typically added to most apple juices to enhance the flavor. By contrast, most quality ciders are simply unfiltered apple juice and nothing more. This has the side-effect that apple juice has a markedly longer shelf life, whereas quality cider should be kept cold and finished within a couple of weeks.
Why Cider for the Doughnuts? Because we want the full taste and sediment-rich texture of the cider, which enhances the flavor of the doughnuts beautifully. We want as much 'apple flavor' as possible – whereas most apple juices taste mostly of 'fruit sugar.'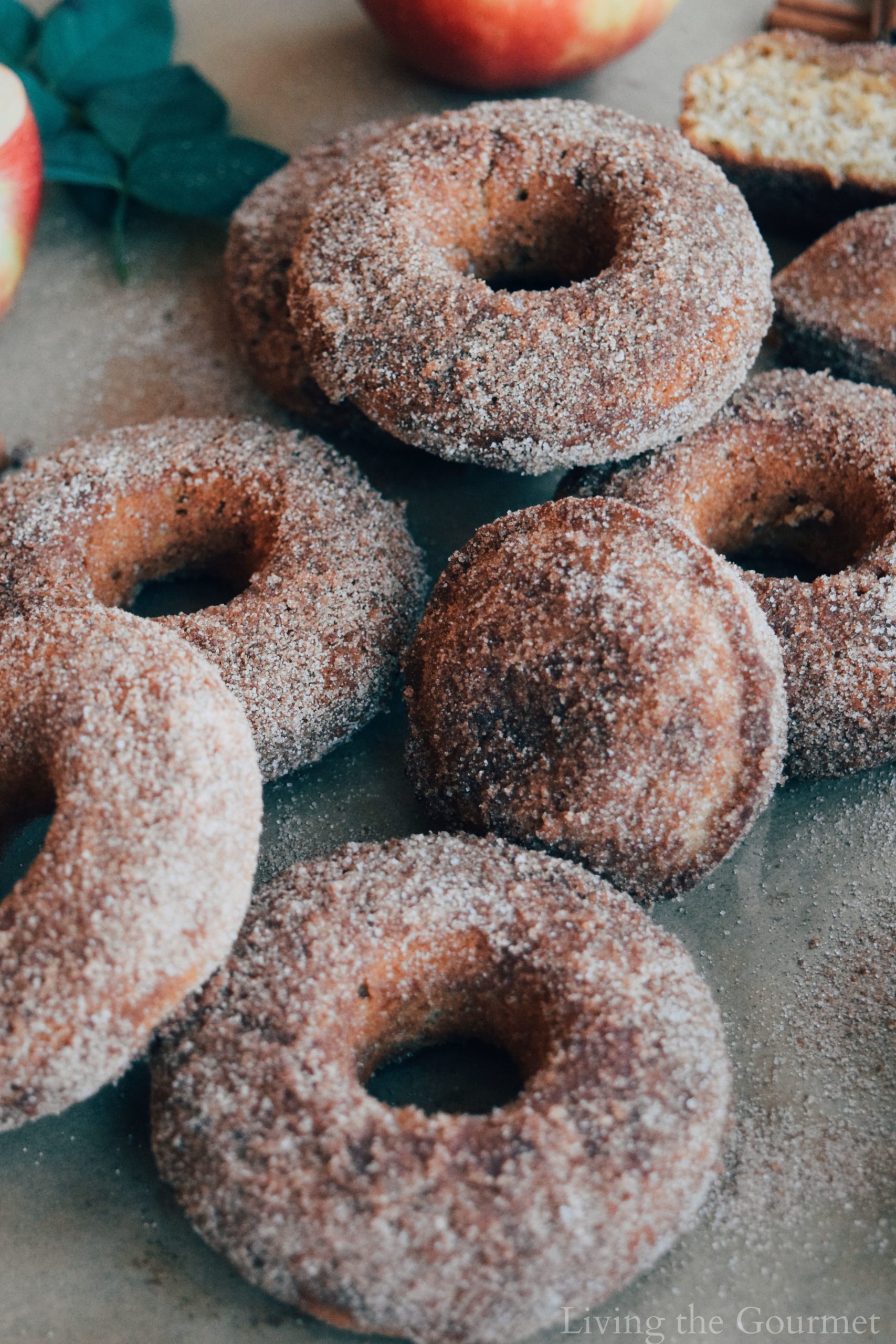 3) Pumpkin Spice. This little spice mix is simply the flavor of 'pumpkin pie,' and has been around for some two centuries as attested to in The Original Boston Cooking-School Cookbook. The star ingredients of this mix are by no means set in stone, and can vary quite widely, but generally include some combination of cinnamon, ginger, cloves, nutmeg, brown sugar, cloves, and allspice.
Make Your Own: Seriously, there's no reason to pay markup on store-bought pumpkin spice when making your own is as simple as combining a few spices, giving them a quick stir, and that's it. I make mine with cinnamon, ginger, cloves, and nutmeg.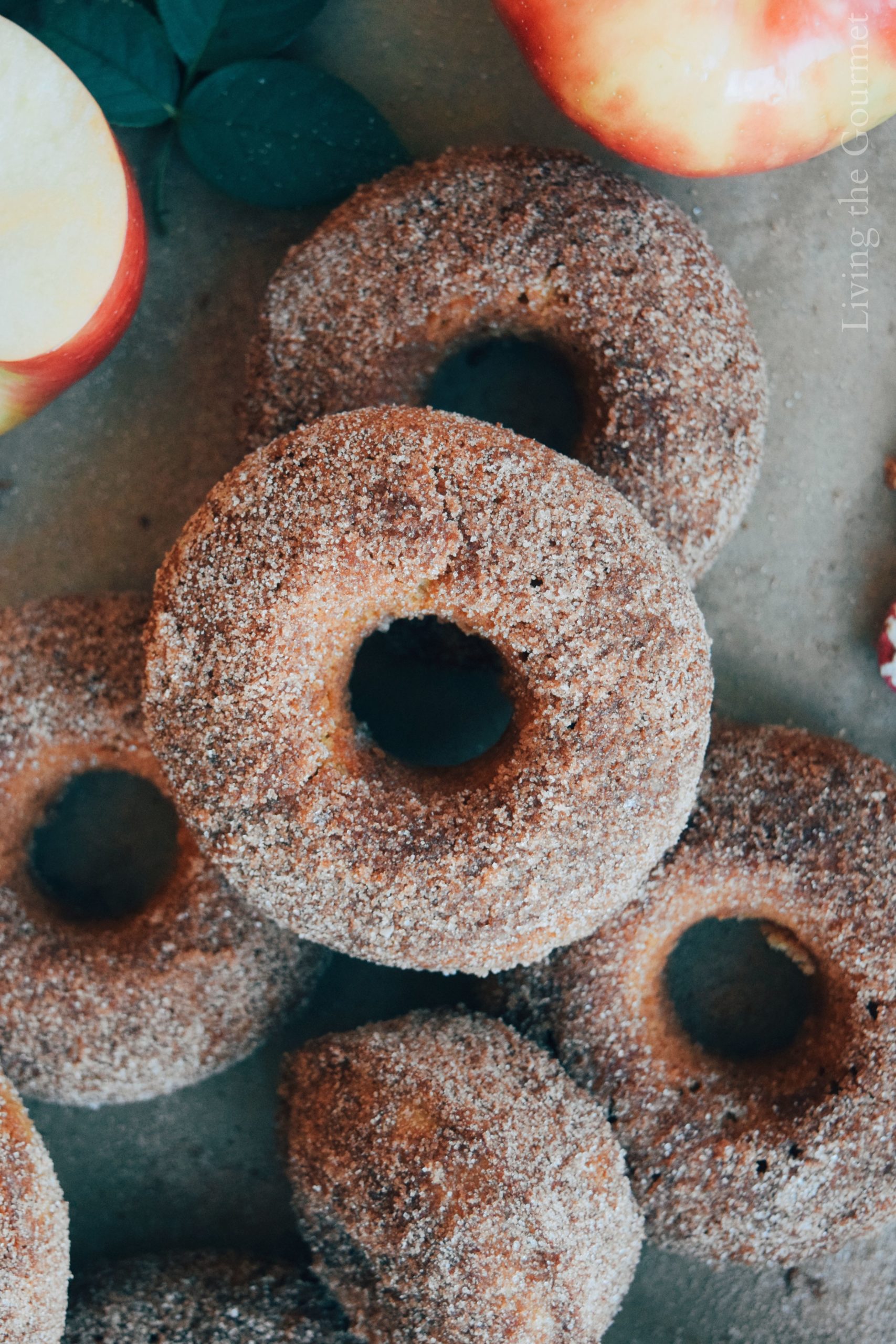 Making Doughnuts – A Few Pointers
1) Gauging the Dough. You want a dough that is neither too wet nor too dry. Both will result in rubbery doughnuts, with the wet batter 'also' likely resulting in 'burnt' doughnuts…that are rubbery. To gauge this for yourself, you can begin by beating the wet ingredients in an electric stand mixer (or simply in a bowl with a hand mixer), and then adding in the sugar, followed by about 'half' of the flour. Then continue beating as you add in the rest of flour about two tablespoons at a time. The way you know the dough is 'just right' is that the dough will easily pull away from the sides of the mixing bowl as you're mixing. If the dough is too wet, it will stick to the sides of the bowl, or even tear off into 'stringy' strands, or it will simply clump onto your mixer. Regardless, when the dough is 'just right' it should be too thick to continue mixing, at which point you transfer it to a floured surface for kneading, as described in the recipe card below.
2) Doughnut Cutter…a what now? Let's be real, how many people even know that 'doughnut cutters' exist? I think it's safe to say that unless you're a true homemade doughnut enthusiast, this is one kitchen item that you can likely do without. However, how do make doughnuts without one? There are two options…maybe three? The first and easiest is simply a concentric cookie cutters, and you can then cut out the 'hole' with a knife. The second is a nicely sized drinking glass or jar, again cut the hole with a knife. If you're feeling particularly 'skillful,' you could simply do the whole thing with a sharp pairing knife and a steady hand. Don't bother buying a doughnut cutter.
3) After They're Finished Cooking…You're Still Not Done. The doughnuts need to be topped while still fresh from the oven. This means you need your still-warm melted butter at the ready, along with the brown sugar mix. Do not let the doughnuts cool, as you want the brown sugar mix to partially 'melt' onto the doughnuts, and then harden as the doughnuts cool, forming a crust. If the doughnuts cool down before topping, the brown sugar mix simply won't stick properly to the doughnuts.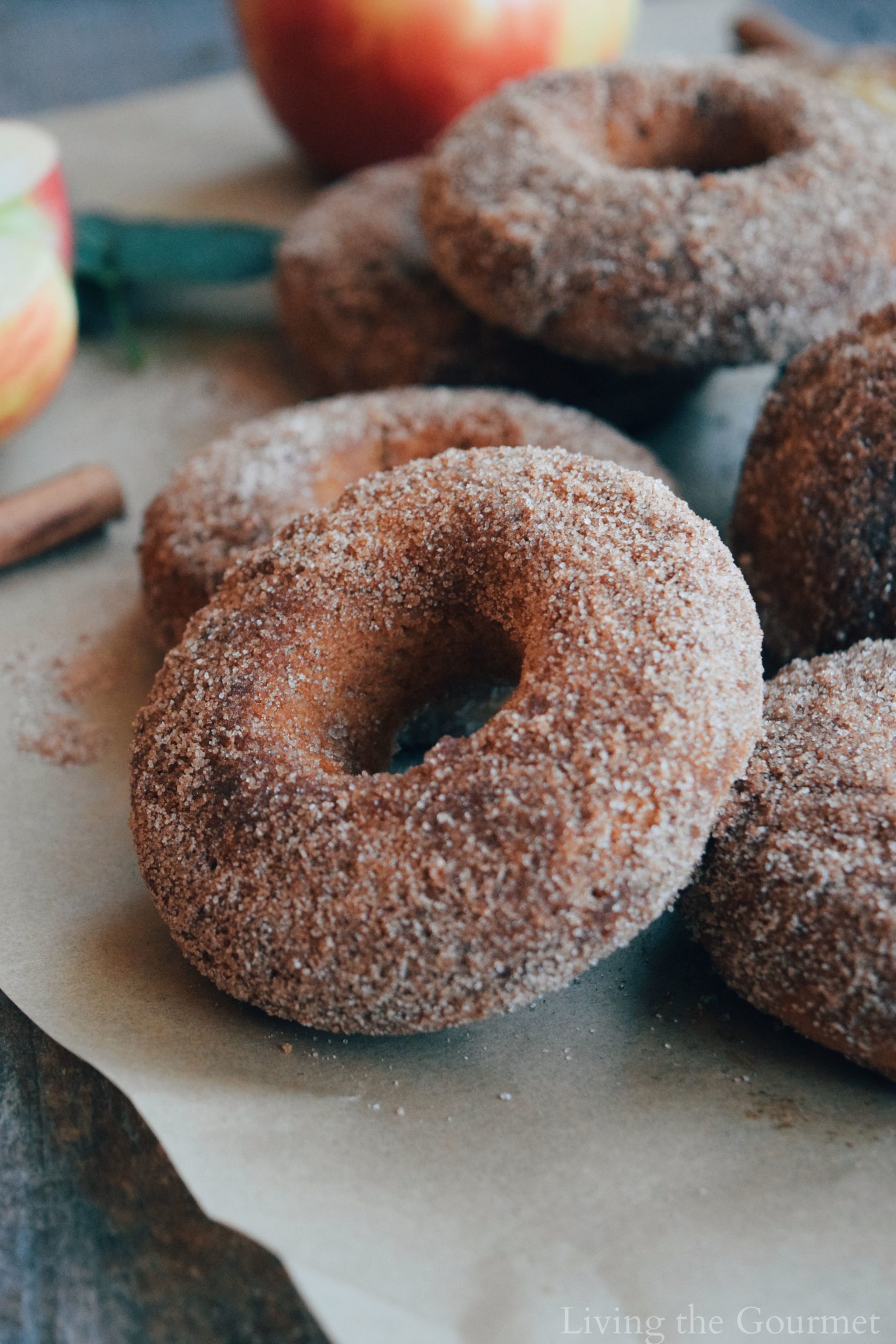 More Seasonal Baked Delights
1) Pumpkin Pie. Prepared with homemade pumpkin spice, molasses, fresh orange zesty, and vanilla, this pumpkin pie encapsulates the flavors of the season.
2) Pumpkin Spice Snickerdoodles. Soft and slightly chewy, Snickerdoodles are an irresistible treat and for good reason. Traditionally rolled in cinnamon sugar, we're playing into that sweet and warmly spiced profile with the addition of pumpkin puree and pumpkin pie spice.
3) Pumpkin Spice Pancakes. My recipe for Hardy diner-style pancakes topped with warmed maple syrup and pumpkin spice.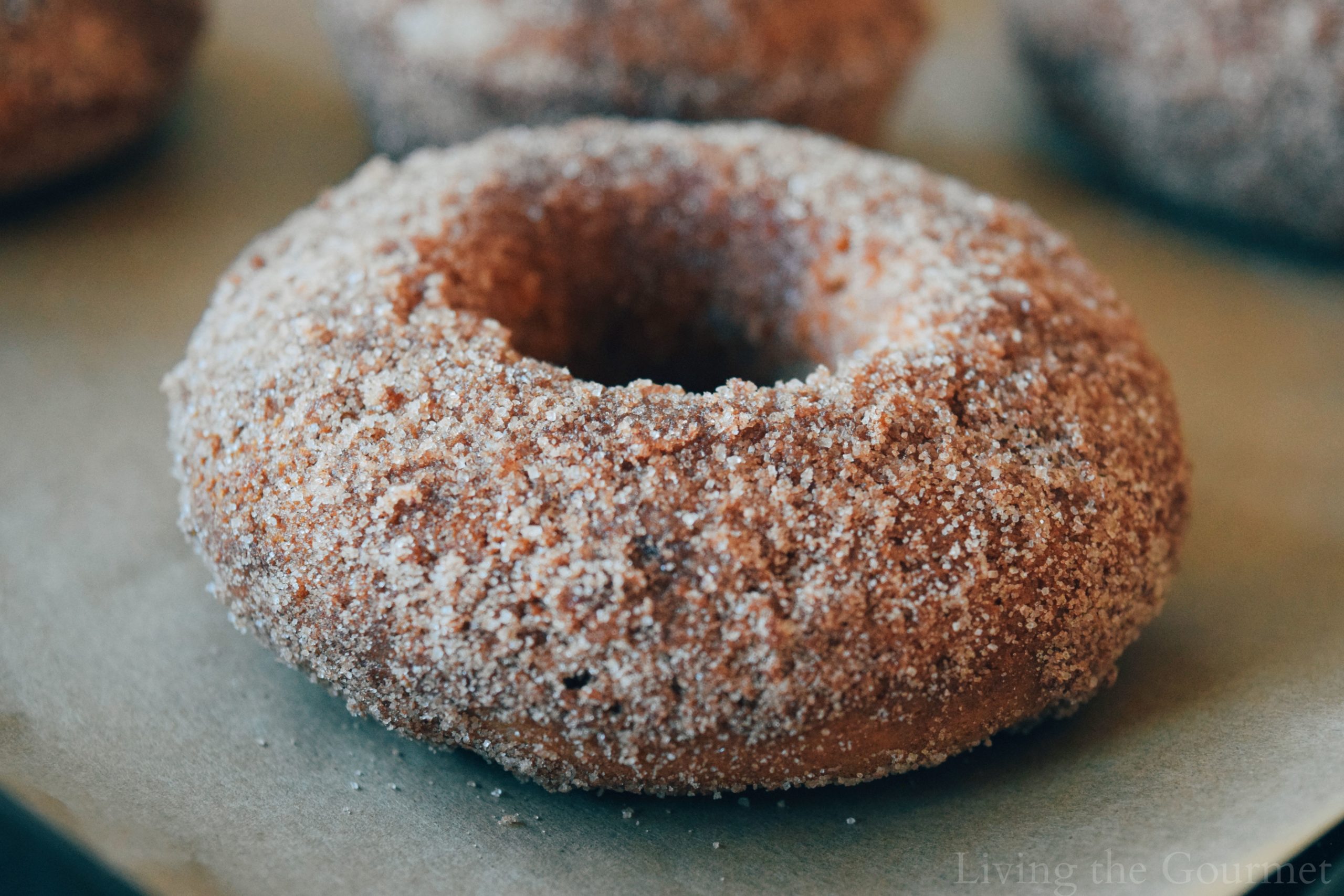 Print
Baked Apple Cider Donuts
Author:
Prep Time:

10 minutes

Cook Time:

15 minutes

Total Time:

25 minutes

Yield:

8

baked donuts

1

x
1 1/2

AP flours

1 teaspoon

baking powder

1/2

teaspoon salt

2 teaspoons

pumpkin spice (LTG link)

1

cup

unsalted butter, softened

1/2

cup

brown sugar

1/2

cup

white sugar

1

large egg

1 teaspoon

vanilla extract

1/3

cup

apple cider
For the Cinnamon Sugar Coating:
1

cup

white sugar

2 teaspoons

cinnamon

4 tablespoons

melted butter
Instructions
Preheat oven 350 degrees F. Grease a 6 count donut pan and/or muffin tin with butter. Set aside.
In a medium bowl, whisk together flour, baking powder, salt, and pumpkin spice. Set aside.
In the bowl of a stand mixer fitted with the paddle attachment, cream butter and sugars. Once whipped, add egg, vanilla extract, and apple cider. Mix until well incorporated. Add the dry ingredients to the wet ingredients. You will have a thick batter.
Fill the prepared donut pans and muffin tins and bake for about 12-15 minutes or until cake tester comes out clean.
In a small bowl whisk together sugar and cinnamon for the topping. Brush each donut and muffin while still hot with the melted butter then dip in the cinnamon sugar mixture.
Set on a parchment lined baking sheet until ready to serve. Store in an airtight container.
Recipe Card powered by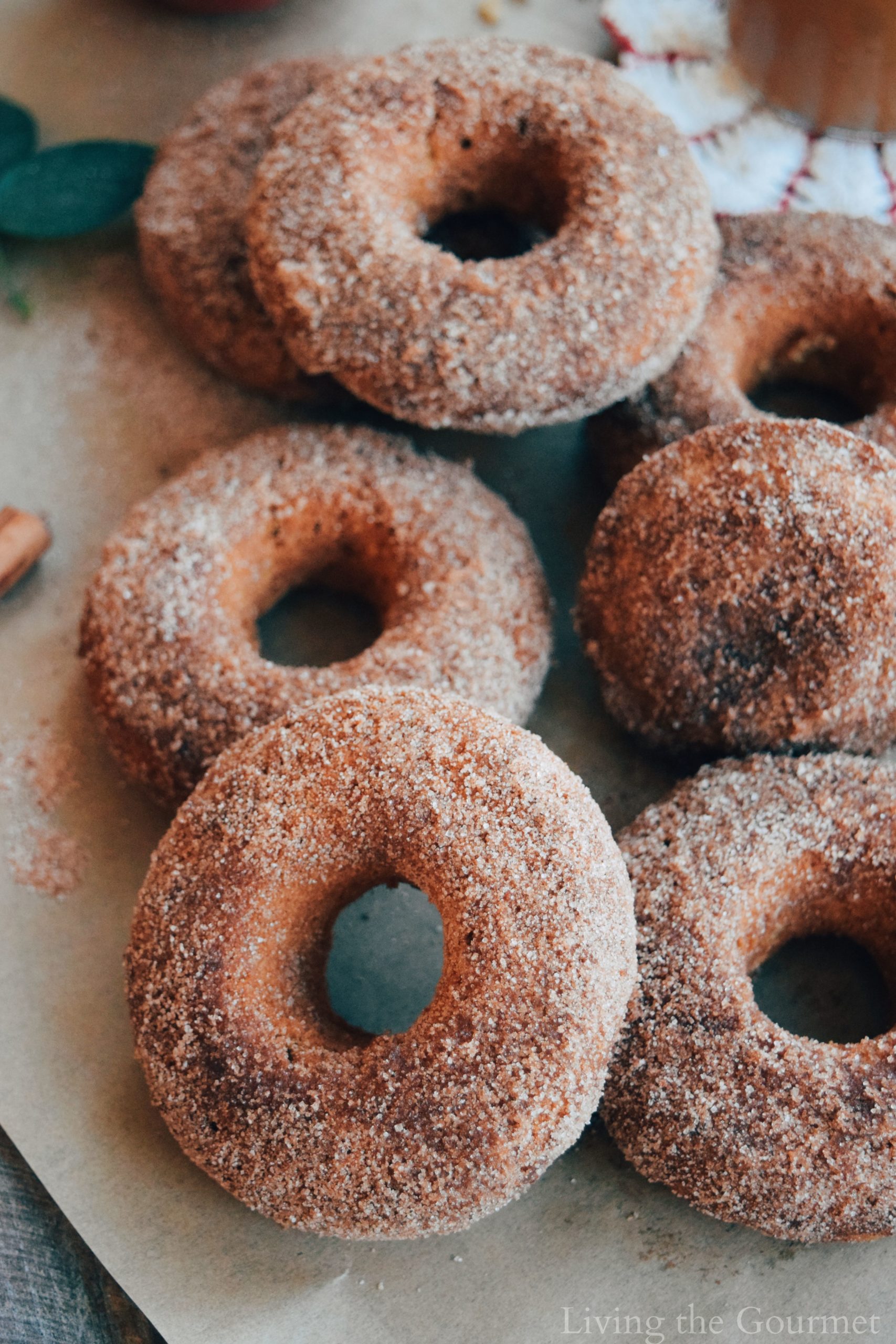 If You Enjoyed Today's Recipe…
Be sure to follow us on Instagram to stay up to date with all things Living the Gourmet, and for more great recipes, tips and tricks.
Did you make this recipe?
If so, let me know in the comments down below, or post a picture to Instagram, or to Pinterest, and I'll give you a shoutout on Instagram, or post your pin to one of my Pinterest boards!
0