Today we're preparing one of my favorite zucchini recipes – zucchini lasagna, a veggie-based twist on a perennial favorite. Perfect for making ahead, or as light dinner, or as part of a hardier meal, this is one recipe you absolute 'must' add to your repertoire.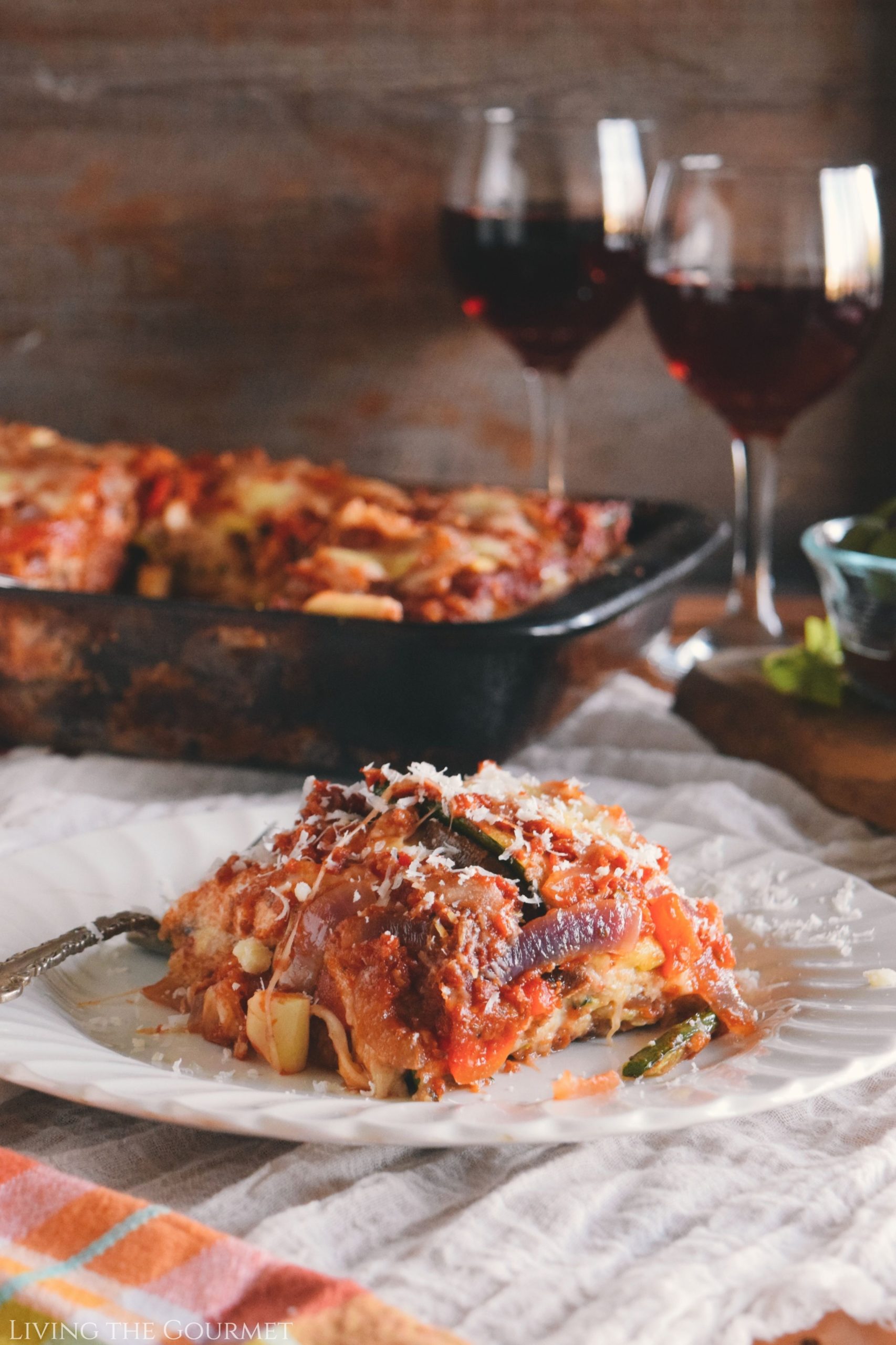 Why you'll love Zucchini Lasagna
1) Made for Make Ahead. Making recipes ahead of time is one of the best ways to help fit homemade meals into your busy schedule, and today's zucchini lasagna was made with precisely that in mind. You can prepare today's zucchini lasagna. It lasts in the refrigerator for two to three nights and seems to just get better.
2) It Heats Up Beautifully. To the above point, today's zucchini lasagna also heats up simply deliciously, meaning leftovers are just as delicious as the first night, if not better.
3) A Veggie-Based Entrée the Whole Family Will Love. Today's combination of zucchini layered with cheese, bread, grilled bell peppers and sauce is something the entire family will absolutely love.
4) A Delicious Side. While today's lasagna can be served as a light dinner on its own, it's light enough to pair as a side to a hardier meal, pairing particularly well with pasta and red sauce, sausage and peppers, or even steaks or fried pork chops.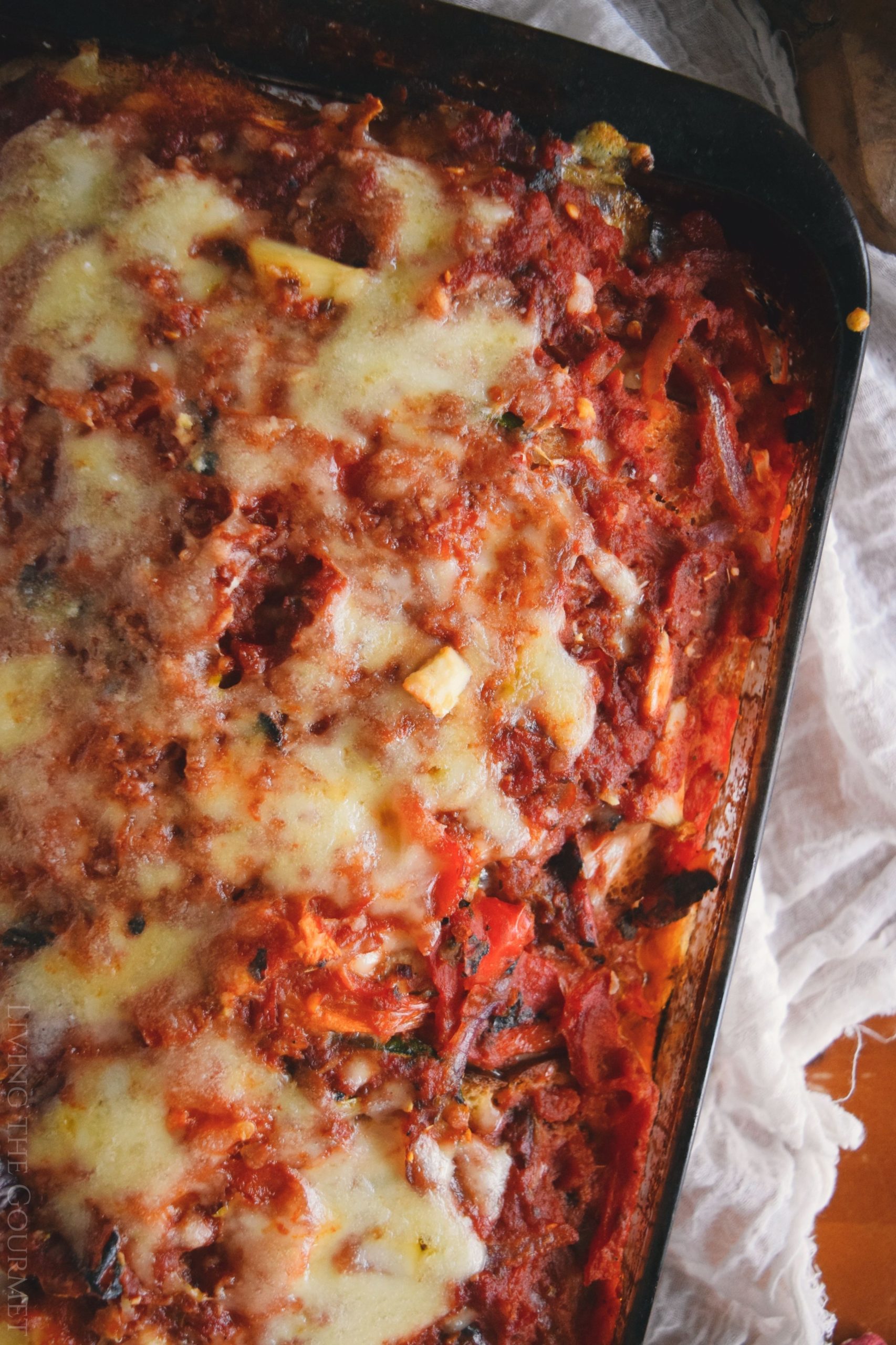 Ingredient Notes, Tips, and Substitutions
1) The Mozzarella – Fresh or Packaged? I could be a 'food snob' here and decry the 'vices' of packaged, non-fresh mozzarella, but the difference is a bit more nuanced. To start, yes, fresher is always better – and mozzarella is no different. Fresh mozzarella is undeniably moister, with a fluffy or even silky texture, with something of a milky quality to it, and above all it simply tastes 'fresher' – imagine that. Thus, opt for fresh whenever you can. However – and this is a big 'however' – fresh mozzarella is far from always being a 'must.' Recipes that call for fresh mozzarella involve those where the 'milky' taste and 'fluffy' texture won't either be overpowered by the other ingredients, or destroyed by a harsh cooking process. That said, if the mozzarella is going to be drowned out by a medley of powerful ingredients, or baked down, then you can save yourself a few dollars and buy packaged. After all, there's really no point in paying for fresh mozzarella when all of the qualities that make 'fresh' desirable are being lost. Today's recipe is one such case.
2) Fresh Oregano vs Dried – and Possible Substitutions. In an unusual twist, dried oregano is generally preferred in the kitchen over its fresh counterpart – although there are exceptions. The one word you'll likely always come across when reading about fresh oregano is 'pungent,' and occasionally 'intrusive.' Fresh oregano has a tendency to steal the limelight. For this reason, it's at home in recipes with 'powerful' ingredients, or where other fresh ingredients are present. Things like Greek salads, whole roasted fish, grilled lamb, heavy sauces, or in herbal mixes for use in stuffing scored pork shoulders. In other words, recipes that aren't 'gentle' or light. For virtually all other uses, dried oregano is preferable, since the drying process mellows it dramatically – which is almost the polar opposite of what happens with other dried herbs, where the drying process has a tendency to 'concentrate' rather than mellow the herbs' most prominent qualities.
Substitution: Dried basil or thyme at a 1-to-1 ratio.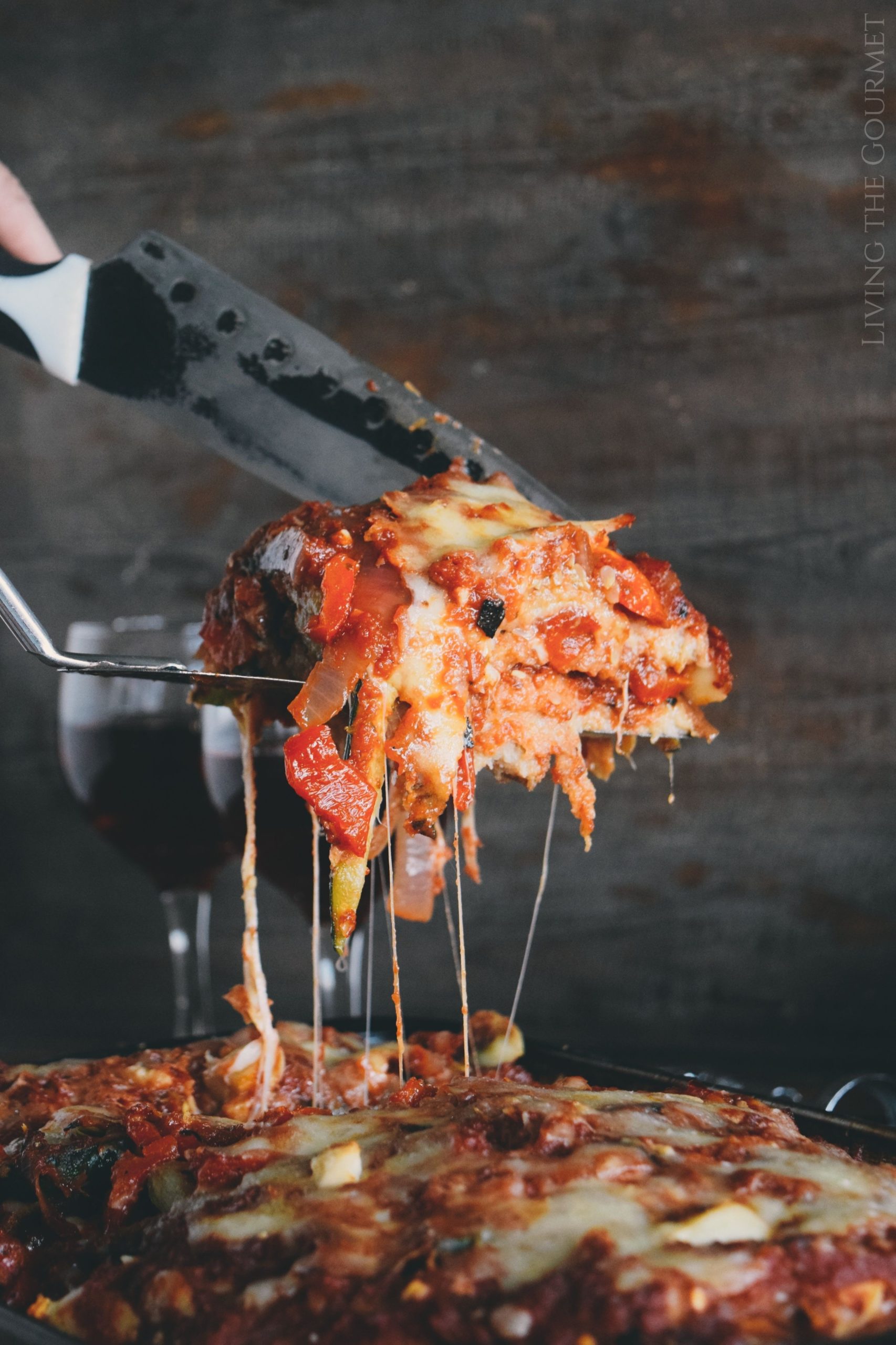 3) Fretting Over Grating Cheese – A Gratuitously In-Depth Dive. One of the most enduring 'Food Myths' is that all grating cheese is more or less 'the same.' To start, Parmesan is simply American produced Parmigiano Reggiano – both are produced from cow's milk, and both are aged for two or more years, which imparts the cheeses with what many describe as a 'sharp' and 'salty' flavor. Parmigiano Reggiano 'must' be produced in Italy due to EU and Italian trademark laws. So, at least in this case, the two grating cheeses are 'basically' the same, although Reggiano is considerably pricier, and regarded to be of generally higher quality overall. Pecorino Romano, by contrast, is produced from sheep's milk, and is only aged for less than a year, giving it a slightly less sharp and considerably less salty flavor. Despite these differences, these three cheeses are often used interchangeably, and once they've been melted over sauce, or baked into something like a lasagna, few if any palates would 'really' be able to tell the difference unless these cheeses were used in positively 'silly' amounts. Bonus Fact: Locatelli is 'not' variety of cheese, it is instead an Italian brand of Romano.
4) Zucchini vs Cucumbers – A Tale of Unsubtle Differences. Given their largely similar appearance, new home-cooks might be tempted to believe that zucchinis and cucumbers are similar or even interchangeable. However, the differences between these two items could hardly be 'less' subtle. On the exterior, zucchinis are dry to the touch with a rough skin, whereas cucumbers tend to be 'cold' and smooth, or sometimes waxy. On tasting, raw zucchini tends to be rather unpalatable due to its dry and bitter taste with an interior whose texture is often described as 'dry and spongey,' whereas the moist and crisp interior of a cucumber makes it a perfect 'stick' veggie for eating raw or dipping. However, the aforementioned taste and texture of a zucchini makes it ideal for cooking, particularly frying and baking – think zucchini frites, fried zucchini sticks, and stir-fried zucchini strips – and today's baked zucchini lasagna.
5) The Bread. You're going to want a hardy bread, preferably one that's as flavor-neutral as possible, such as an artisan white bread or simply sliced Italian bread. The reason is you want the bread to be able to absorb copious amounts of liquids without falling apart, and you want it to do so without giving off too much flavor of its own, lest it's 'bready flavor' will dominate the recipe.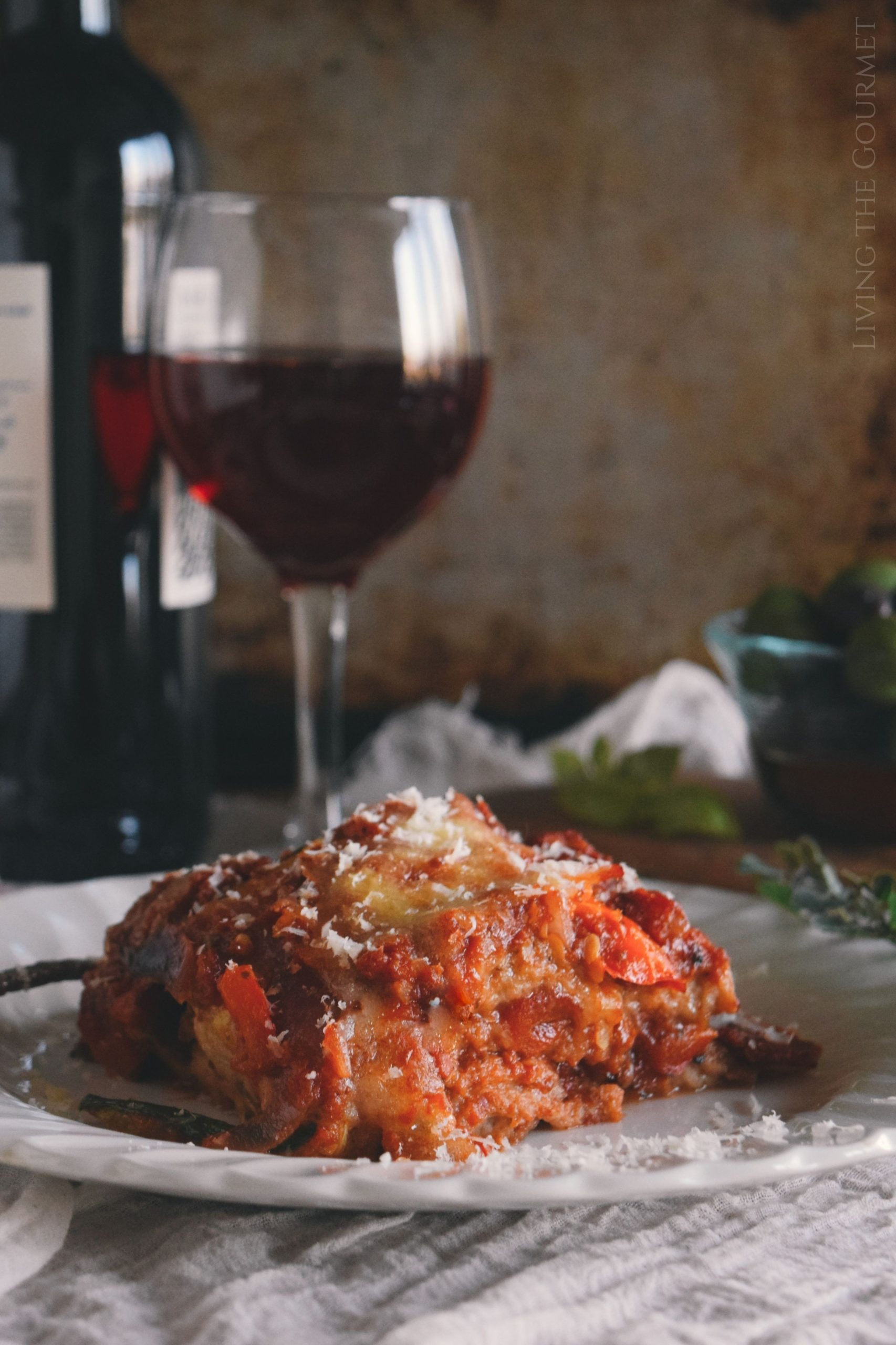 If You Like Zucchini Lasagna You'll Love
1) Sausage and Potatoes. A great side to this lasagna if you're looking for autumn-themed comfort food.
2) Ravioli. One of my favorite ravioli recipes, this would be a great complement to today's lasagna. Also, they're a great fall recipe on their own as well.
3) Zucchini Fettucine. If you're in the market for more zucchini recipes, give my zucchini fettucine recipe a try. It's a perfectly balanced combination of fresh tomatoes and zucchini set over fettucine pasta.
4) Zoodles – Noodles made from Zucchini. If you're feeling adventurous, here's my take on zoodles, which I prepared with a sesame peanut sauce.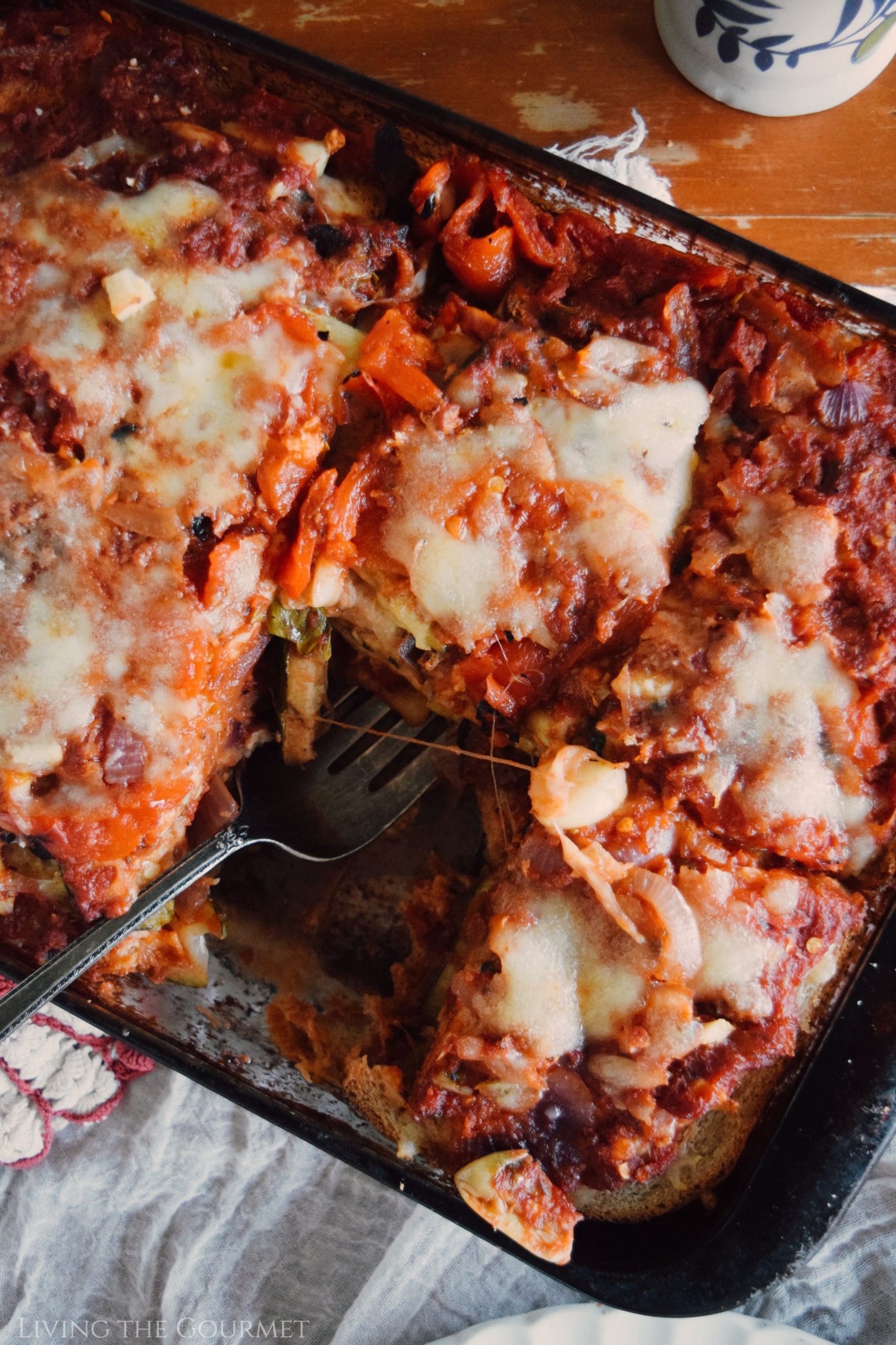 Print
Zucchini Bread Lasagna
Author:
Prep Time:

15 minutes

Cook Time:

50 minutes

Total Time:

1 hour 5 minutes

Yield:

6

-8

1

x
4

medium to large sized zucchini's – sliced lengthwise
Cooking oil for grilling the zucchini

2

large red onions – sliced thin

3

red bell peppers – grilled and sliced

1

head of garlic – peeled and crushed

10

–

12

fresh basil leaves

8

–

10

firm slices white of bread – soaked in 1 ½ – 2 cups of milk
Grated fresh Romano or Parmesan cheese – for grating

16 oz

. of mozzarella cheese – grated

28 oz

. can of crushed tomatoes

¼ cup

of wine

2 tsp

. of salt

1 tsp

. black pepper

1 tsp

. red pepper flakes

1 ½ tsp

. dried oregano

2 tsp

. sugar

2

–

3

tbs. of olive oil
Instructions
Slice the zucchini lengthwise.
Heat a large cast iron frying pan with a tablespoon of cooking oil.
Place the sliced zucchini in the pan and sprinkle with salt.
Grill until the zucchini are a beautiful golden on each side then set the zucchini on a plate prepared with paper towels.
Grill the bell peppers carefully on a gas burner or on a dry pan until the pepper is charred. Set the peppers aside to cool. The scrape the char off the pepper and slice and set aside while preparing the sauce.
Heat a large cast iron frying pan and place the sliced onion and the crushed garlic. Sprinkle the onions and garlic with one teaspoon of sugar and salt. Let the onions turn a slight golden and the garlic is fragrant.
Drizzle the onions and garlic with a tablespoon of olive oil and add the crushed tomatoes.
Add the sliced peppers and the rest of the seasonings and the wine and allow to simmer on a gentle heat.
Place the sliced of bread in a large bowl and add the milk.
Drizzle a baking pan with a tablespoon or two of olive oil and a ladle of sauce.
Line the bottom of the pan with bread slices, followed by zucchini slices, followed by grated mozzarella, grated cheese and sauce. Repeat this process until the bread and zucchini are used and ending with mozzarella, grated cheese and a drizzle of olive oil.
Preheat Oven 350 degrees F.
Bake 30 – 35 minutes.
Let the dish cool for 12 – 15 minutes before slicing into it.
Recipe Card powered by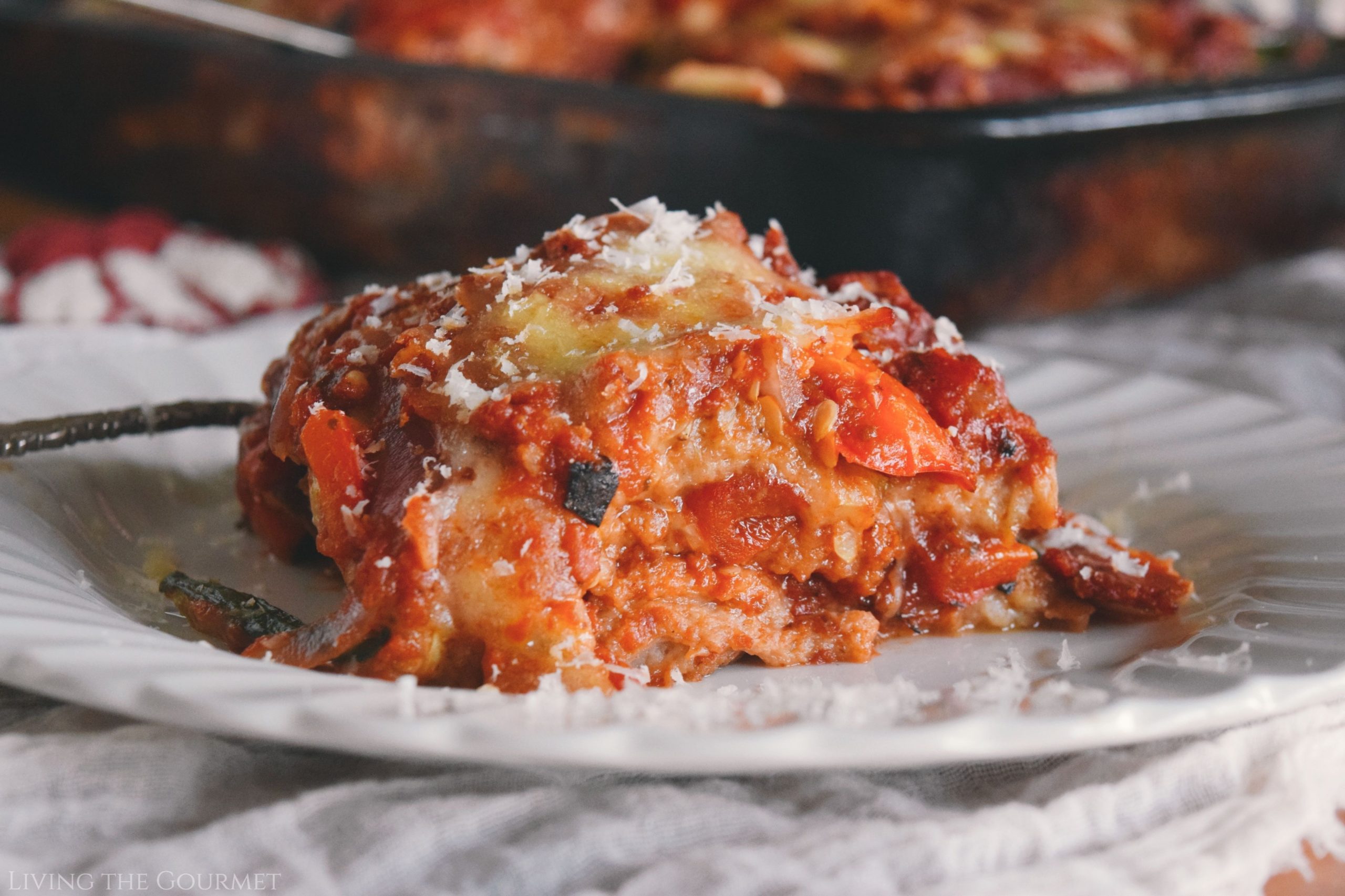 If You Enjoyed Today's Recipe…
Be sure to follow us on Instagram to stay up to date with all things Living the Gourmet, and for more great recipes, tips and tricks.
Did you make this recipe?
If so, let me know in the comments down below, or post a picture to Instagram, or to Pinterest, and I'll give you a shoutout on Instagram, or post your pin to one of my Pinterest boards!
0