Start the year off on a healthy and delicious note with these warm zoodles tossed with a creamy sesame peanut sauce!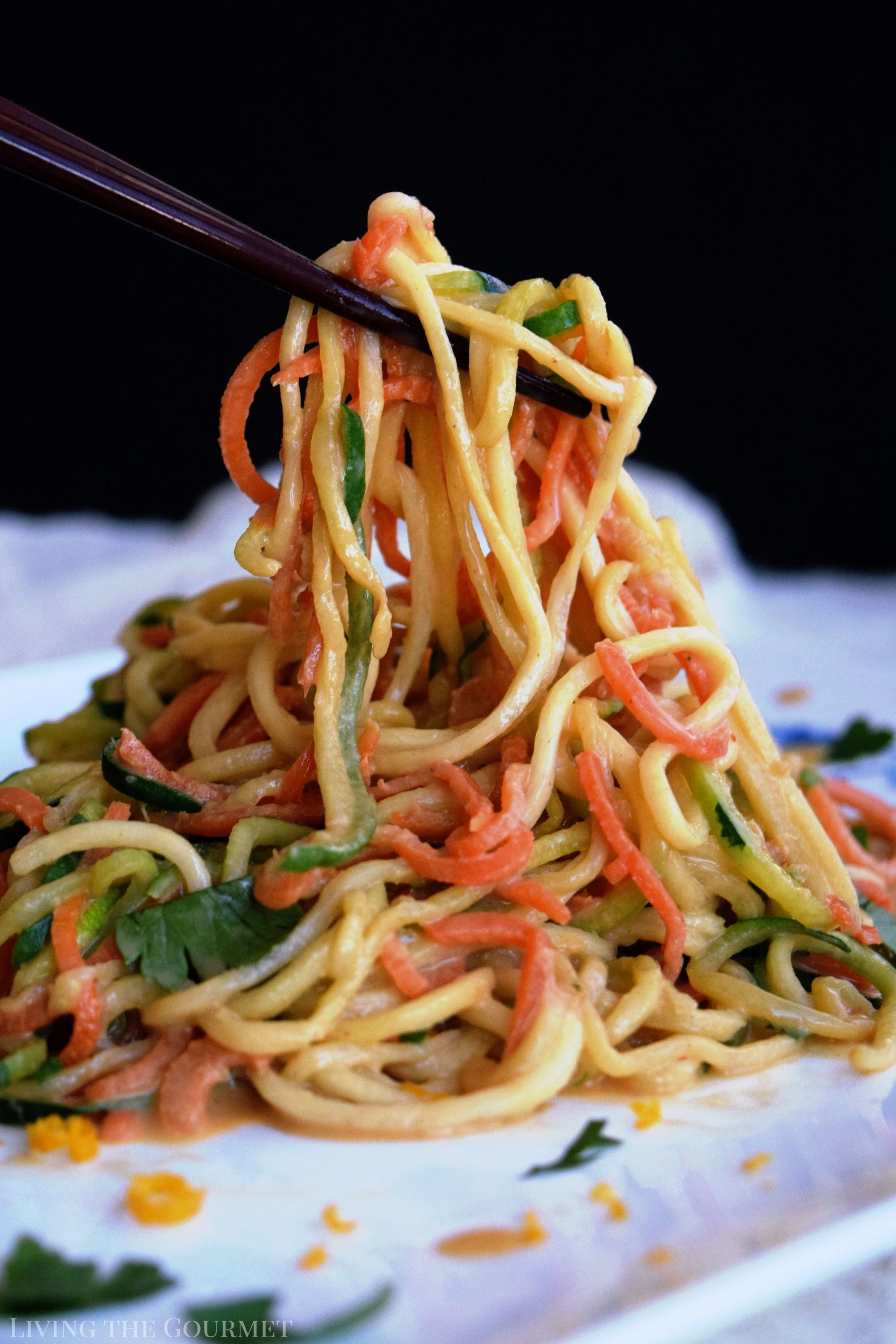 In a former life, a professor, whose true value would become apparent to me only much later, quipped in regards to a paper I had submitted "If you aim high, you miss high." I didn't fully understand, since I had received a perfect score. When I questioned his meaning, he replied, "It was boringly perfect. Because there is nothing for me to criticize or question, it means that you took no risks. Without risks there is only sameness, and sameness leads to stagnation."
Needless to say, that bit of advice has stuck with me. For example, the 'boringly perfect' thing to do at the start of a New Year is to make a Resolution aimed directly at one's waistline…following, oddly, a New Year's Eve of waist-unfriendly overindulgence. From sinner to saint in less than twelve hours, as the saying goes.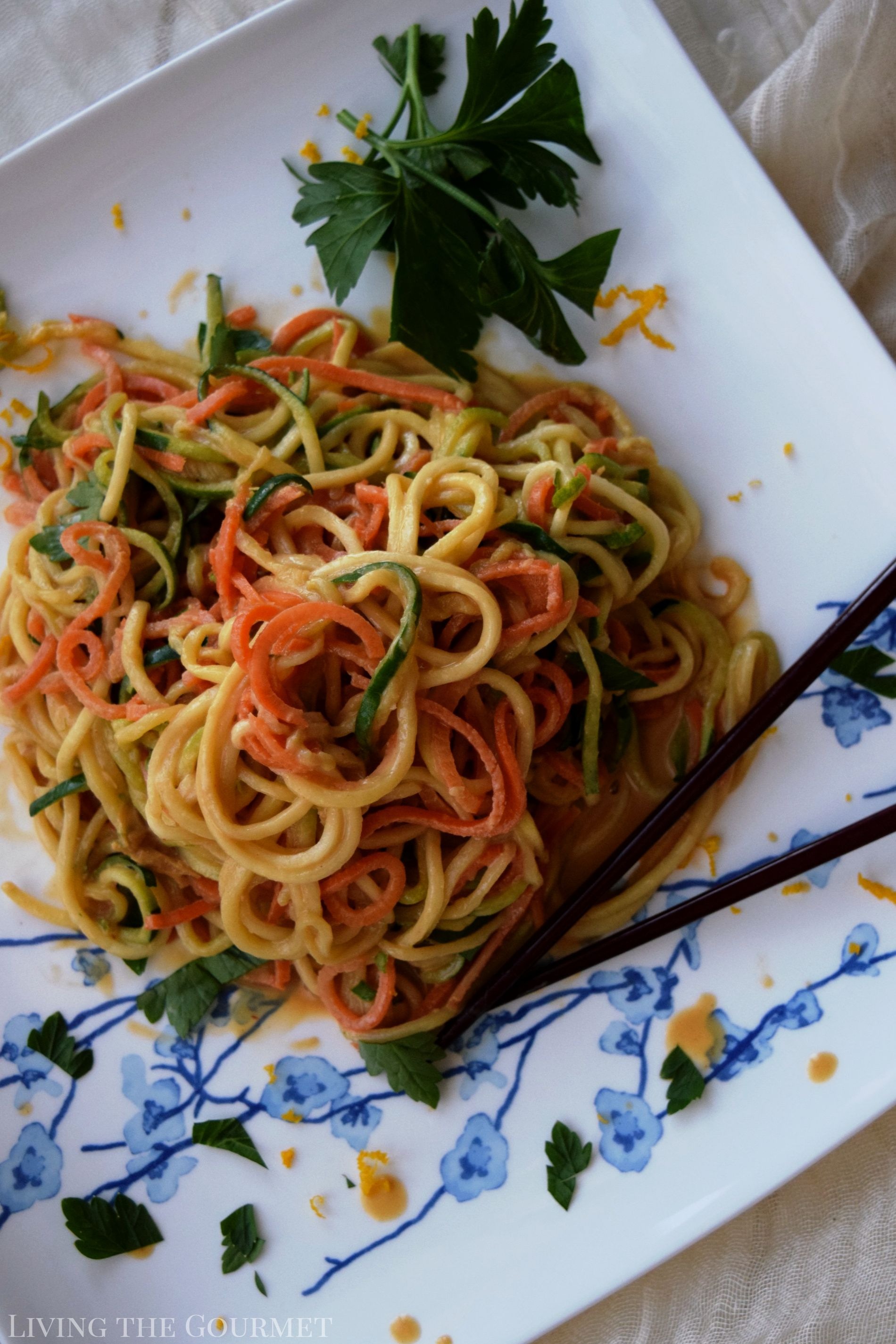 Now, I've chronicled my own similarly themed Resolutions here on Living the Gourmet, aimed at fitness and other various forms of self-perfection, and while they all began well-intentioned and in much earnest, people rarely change overnight – especially when the preceding night was the backdrop to purposeful overindulgence.
With that in mind, I decided to start the New Year off with something that, while being a 'healthier' choice, nevertheless didn't taste or look at all like something eaten for the sake of 'Resolution.' Naturally, that brings us to today's recipe – Zoodles with Thai Sesame Peanut Sauce.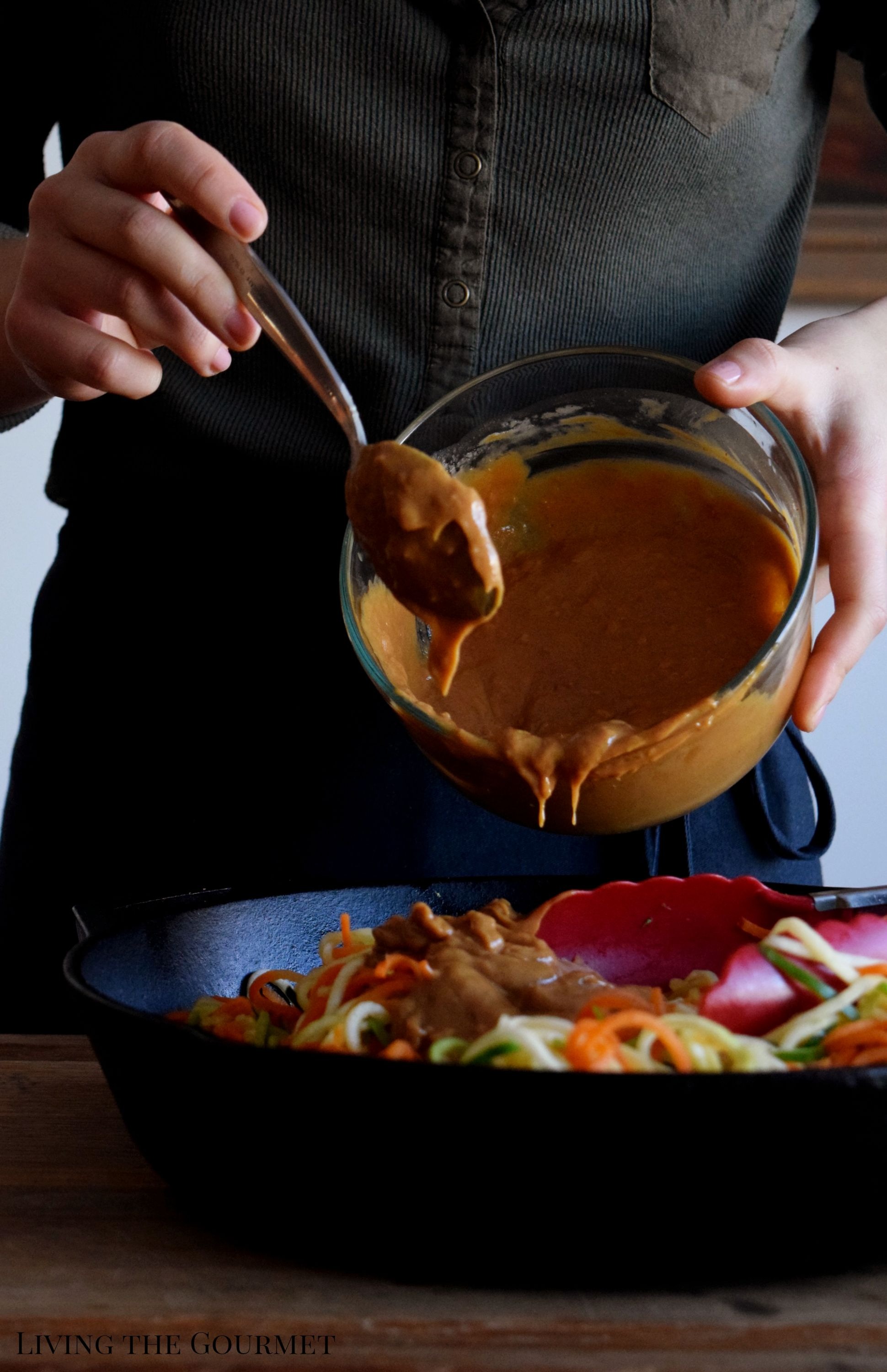 To start things off, we begin by shredding together two medium sized zucchinis with a carrot through a 'spiralizer,' and then set the resulting 'spiralized shreds' in a strainer lined with paper towels. If you don't have a spiralizer, you can use a peeler and shave the zucchinis and carrots into thin ribbons one at a time. However, be sure to continually turn the vegetable so that you are shaving at an angle otherwise you'll end up with very wide 'noodles.'
While the noodles strain, combine all of the ingredients listed below for the sauce, and whisk that together until it's nice and smooth. Then heat a large skillet with oil, and saute the zoodles for about three minutes. You don't want these to be overcooked in the slightest, lest you'll end up with very literal mush. Then toss in the sesame peanut sauce, and you've got a New Year's Resolution friendly entrée that doesn't taste or look at all like a Resolution recipe.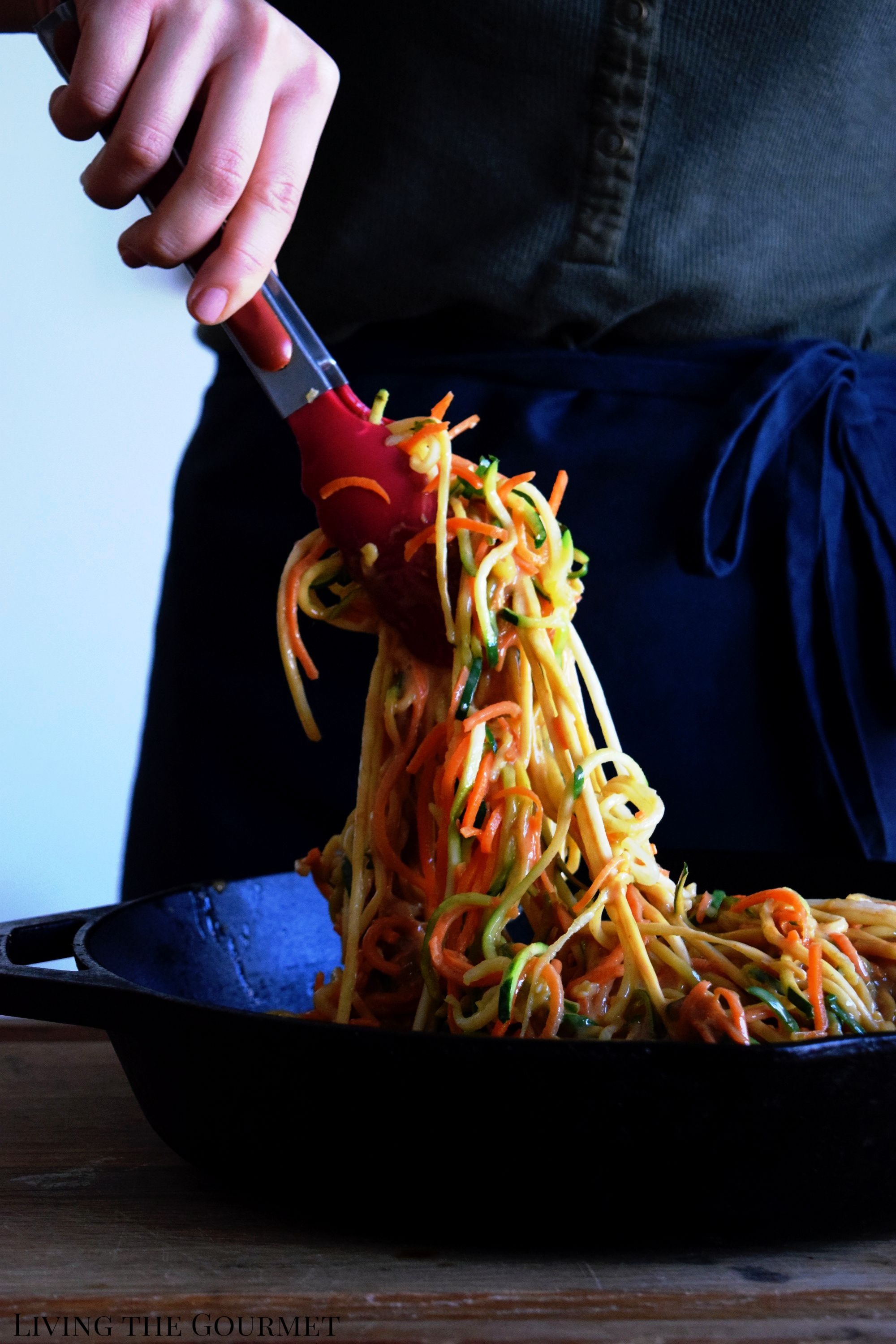 Living the Gourmet
Yields 2
Sesame Peanut Zoodles
10 minPrep Time
5 minCook Time
15 minTotal Time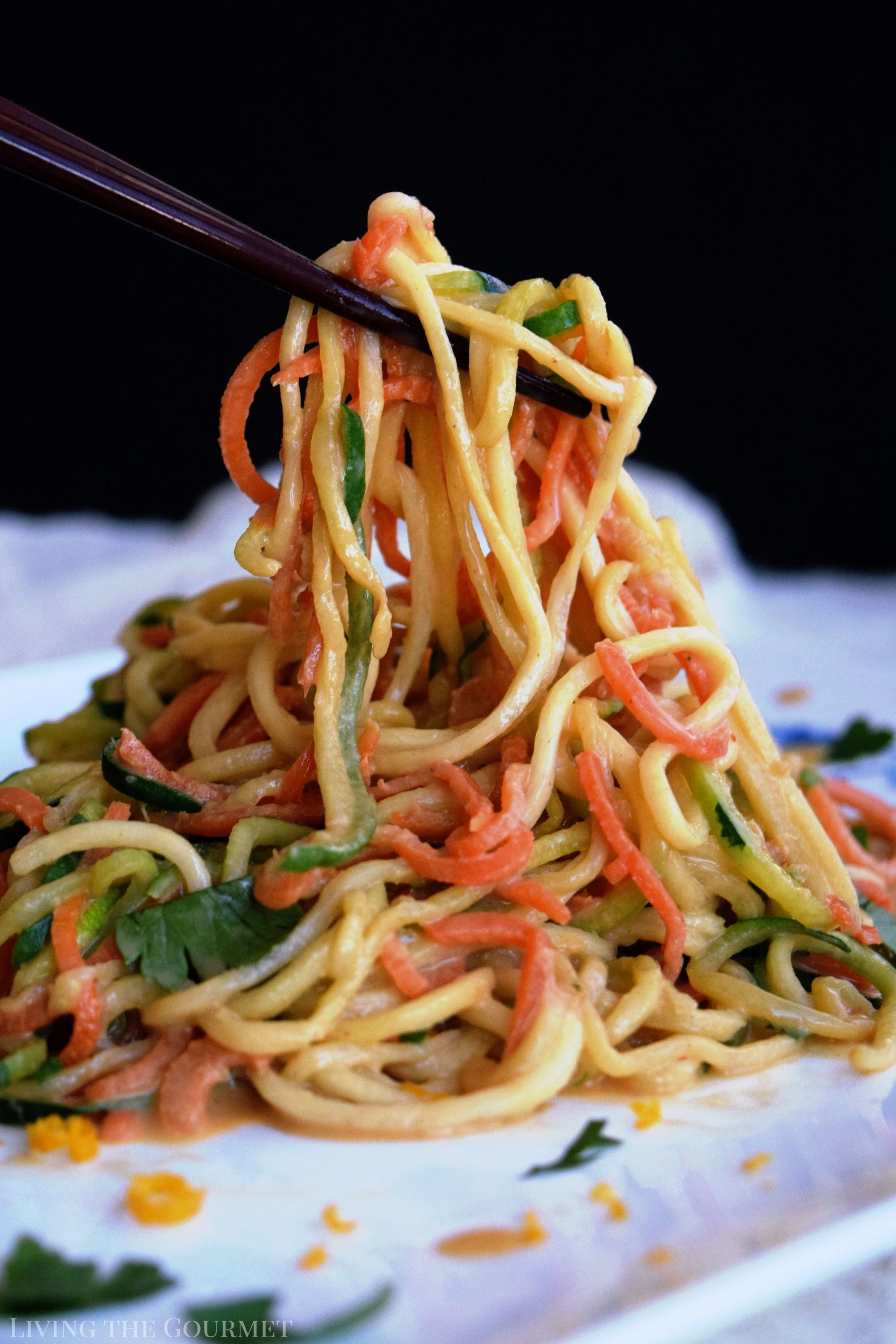 Ingredients
2 medium zucchini
1 large carrot

For the Thai Sesame Peanut Sauce:

1/4 cup all natural creamy peanut butter
2 tablespoons tahini paste
2 tablespoons soy sauce
1 teaspoon sesame oil
1 tablespoon teriyaki
2 teaspoons sriracha sauce
1 tablespoon brown sugar
Juice of 1/2 lemon
Zest of 1/2 lemon
1 large clove garlic, grated
1/2 inch piece ginger root, grated
2-3 tablespoons almond milk
Instructions
Shred the zucchini and carrot through your spiralizer and place in a strainer lined with paper towels. Set aside.
Combine all ingredients for the sesame peanut sauce in a bowl and whisk together until smooth.
Heat a large skillet with oil and saute the zoodles and carrot for 3-5 minutes only until al dente.
Toss with the sesame peanut sauce and serve!
7.8.1.2
718
https://livingthegourmet.com/2018/01/sesame-peanut-zoodles.html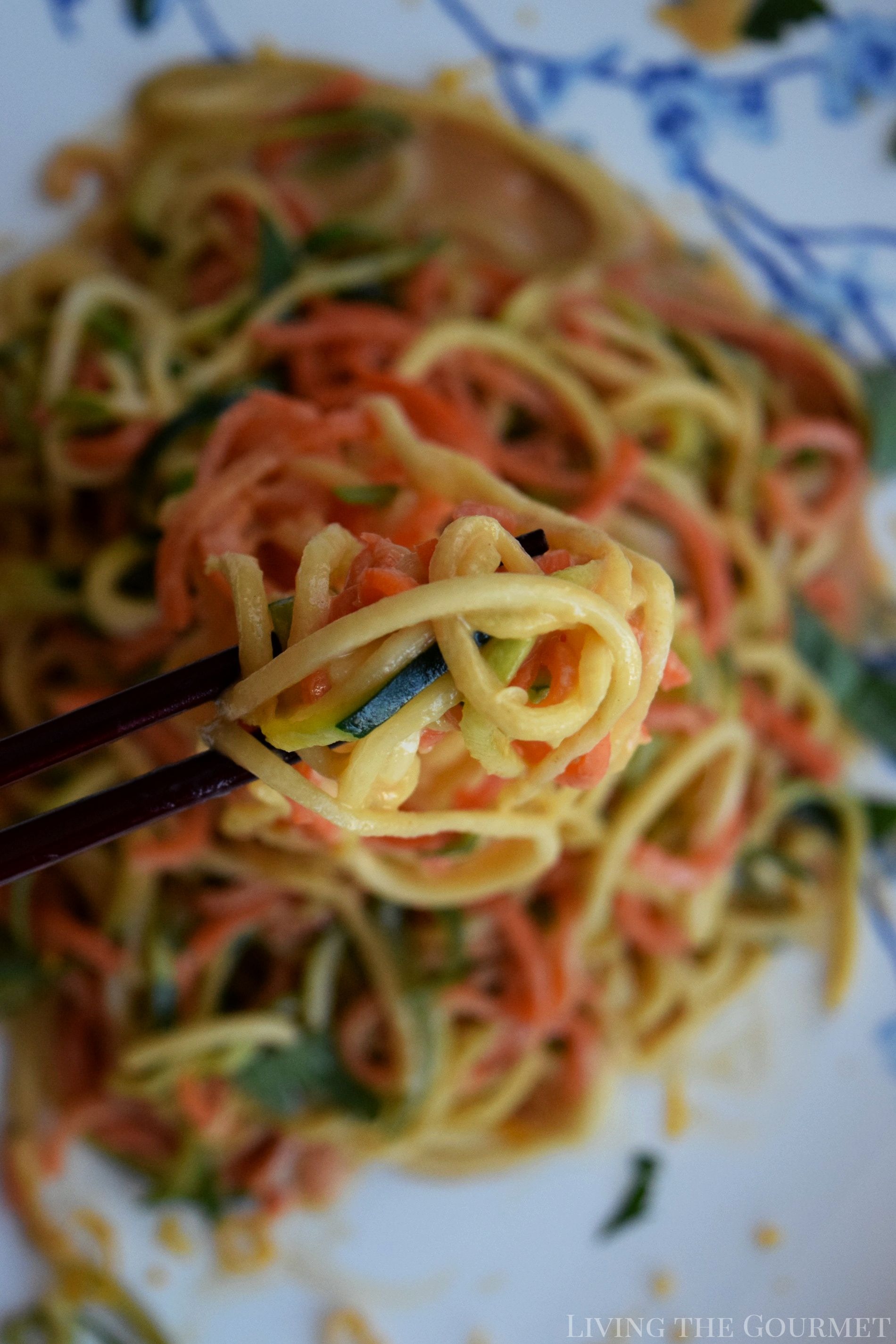 Enjoy with Love!
1