I love arborio rice. I don't care if food snobs think this particular rice has gone too mainstream, or that risotto is somehow hipster– I love it. Today, however, we're taking a break from the predictable 'butter and white wine' risotto, and I'm instead tossing the arborio with a 'ratatouille-inspired' mix of grilled vegetables prepared with fresh basil, pine nuts, white wine, plenty of parmesan, chicken and olive oil.
Now, without further delay or introduction, let's get right to it.
Ingredient Notes, Tips, and Substitutions
1) Risotto-type Rice – There is no substitute. Today we're using arborio rice, which is one variety of the 'risotto rices.' This particular type of rice is named after its namesake village "Arborio" located on Italy's Po Valley. However, most Arborio rice today is actually grown in California and Arkansas, although Italian grown Arborio rice is still widely and readily available. The distinguishing feature of arborio rice (and of risotto rices in general), is its 'plump' shape and fluffy or 'creamy' texture – courtesy of its copious starch – along with its ability to absorb positively stunning quantities of liquid. This leads the rice to being 'spongy' or 'moist' in texture, lending a 'creamy' quality to the recipes of which it's the star. This combination of qualities is largely unique to risotto rices , meaning there really isn't a substitute.
Substitution: Is There 'Really' No Substitute? Yes and no. Today's recipe 'works' with other types of rice, such as plain white rice or wild rice. But to truly achieve the texture intended in today's recipe, with rice that is 'saturated' in the flavors and juices of the vegetables, you need arborio rice, or one of the other 'risottos,' such as carnaroli rice.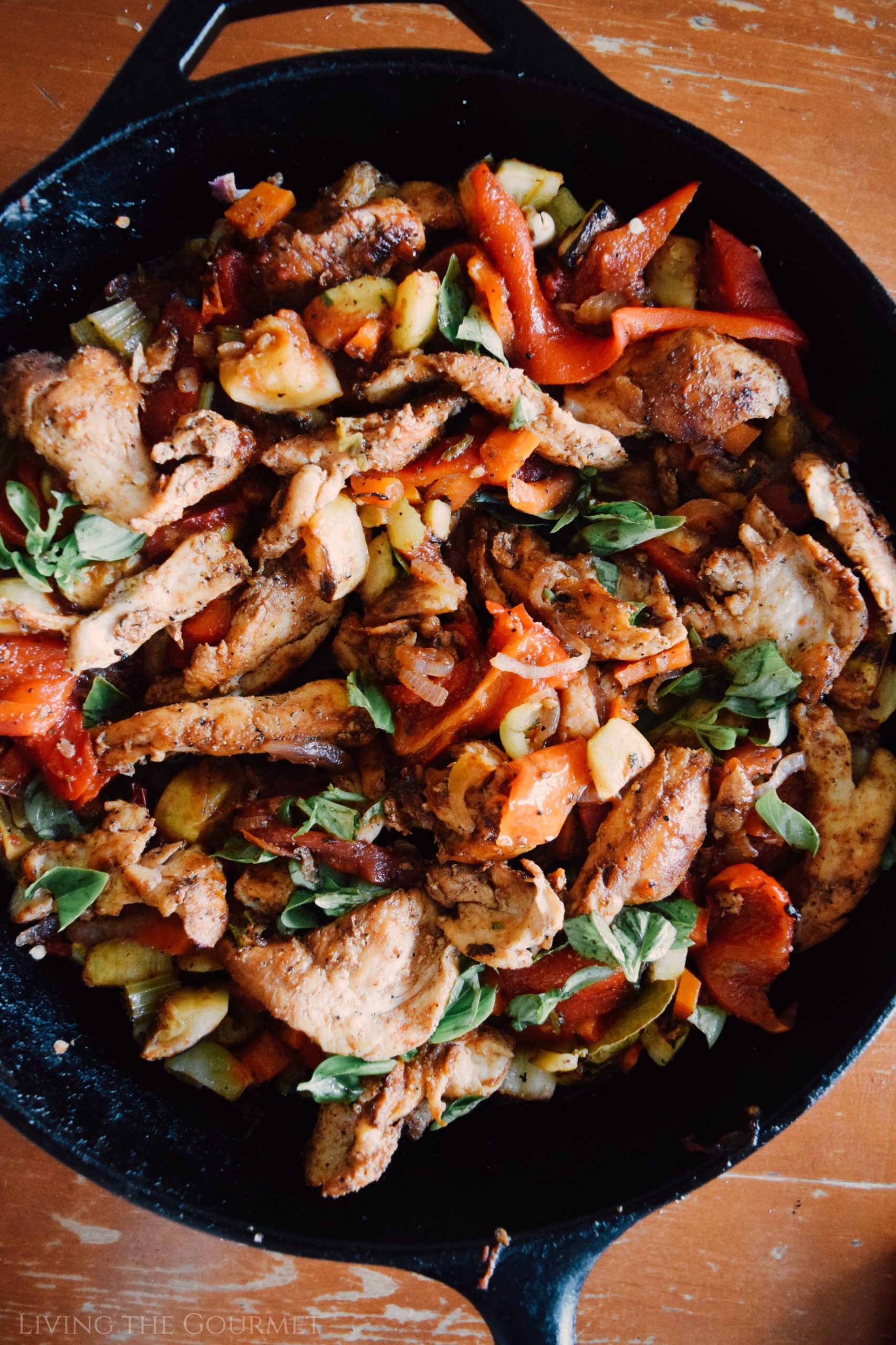 2) Cooking With Wine – Or How I Learned to Stop Fearing The Splash and 'Wine' My Sauce. Yes, we are using 'roughly' a third of cup, or even up it to half or (slightly) more if you prefer your ratatouille slightly more acidic – it's purely preference. Let me clarify. First and foremost, as with all liquids, a portion of it will simply evaporate, or be soaked into the other ingredients. Secondly, not only will a portion of the 'total' wine evaporate, but 'all' of its alcohol 'will' evaporate entirely, as alcohol has a much a lower boiling point than water. For reference, the boiling point of alcohol is 173 degrees Fahrenheit, well under than the 212 degree boiling point of water. This means that even before the sauce has reached a 'gentle simmer,' the alcohol will have entirely departed the sauce in the form of steam – which, by itself, will reduce the total amount of 'wine' you've added by anywhere from twelve to fifteen percent, depending on the wine you've used. That said, in total about one quarter to one third of the wine you use will simply vanish as steam. Translation, feel free to increase the amount of wine in today's recipe (though I wouldn't go beyond doubling it), depending on how much 'acidity' and 'wine flavor' you like in your sauce – it's purely preference.
3) Sugar in Sauce – The 'Why' Behind the 'Sweet.' Like salt, sugar is a 'blurring' or 'melding' agent. That simply means that sugar helps to 'bind' flavors together. In recipes like red sauces, chilis, or stews, where you have a medley of different flavors coming together, some of which actually contrast quite sharply, you need 'something' to help 'blur' or 'meld' those ingredients together. The primary item for doing this is salt, but sugar also has a very similar effect. However, unlike salt, sugar also 'mutes' or 'blunts' acidity – despite being somewhat acidic itself (chemically speaking). That said, unlike the 'saltiness' of salt, which can come through quite powerfully, the 'sweetness' added by sugar is much milder and harder to detect, especially when used in very small quantities. Thus, sugar serves two purposes inside of today's recipe, melding together flavors and blunting acidity, while itself being a nearly 'invisible' ingredient.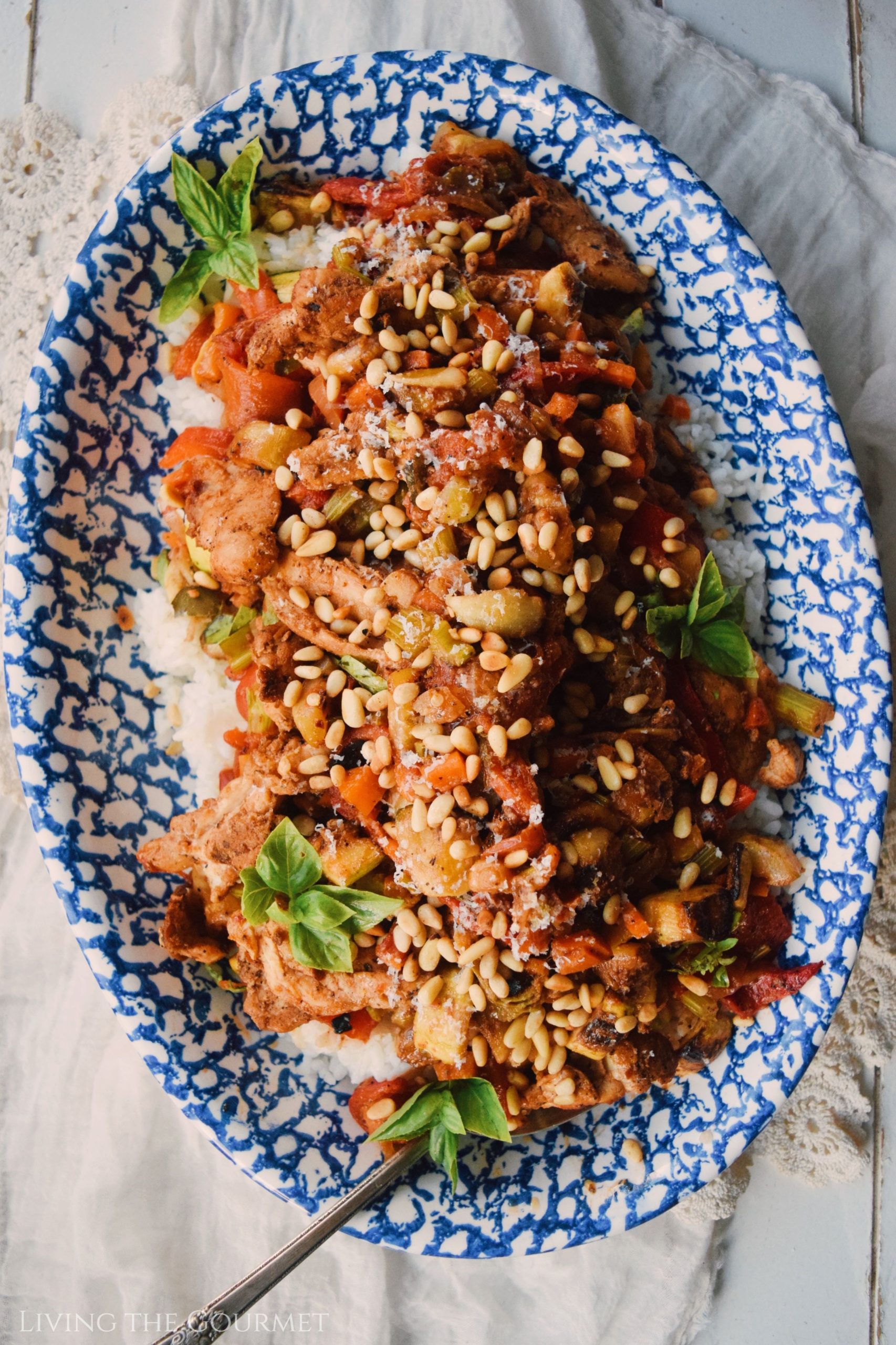 4) Pignoli Nuts – What are they? Is there a replacement? Pignoli, Pinoli, Pignolias, or piñón, are simply pine nuts. They are valued for their small size, tender or even 'buttery' texture when cooked, and the large amount of oil that they contain – relative to their small size, which seeps out into the food they are being cooked in, thereby spreading their flavor more intensely and evenly than other nuts.
Substitution: Since it's hardly an exaggeration to say these little gems are 'worth their weight in gold' given their sky-high price (over $20 per pound on Amazon as of this post), you'll likely want a good replacement lined up, especially in a recipe like today's that otherwise isn't very expensive to prepare. The best replacement for pignoli nuts in today's recipe are walnuts. Walnuts will achieve much of the same flavor and texture, but will bring less oil to the recipe, and just a tad less 'buttery-ness.' Chopped almonds are a good replacement in 'most' recipes that call for pingoli nuts, but in something like today's dish I think that almonds would simply be too coarse and 'crunchy,' changing the texture of the dish.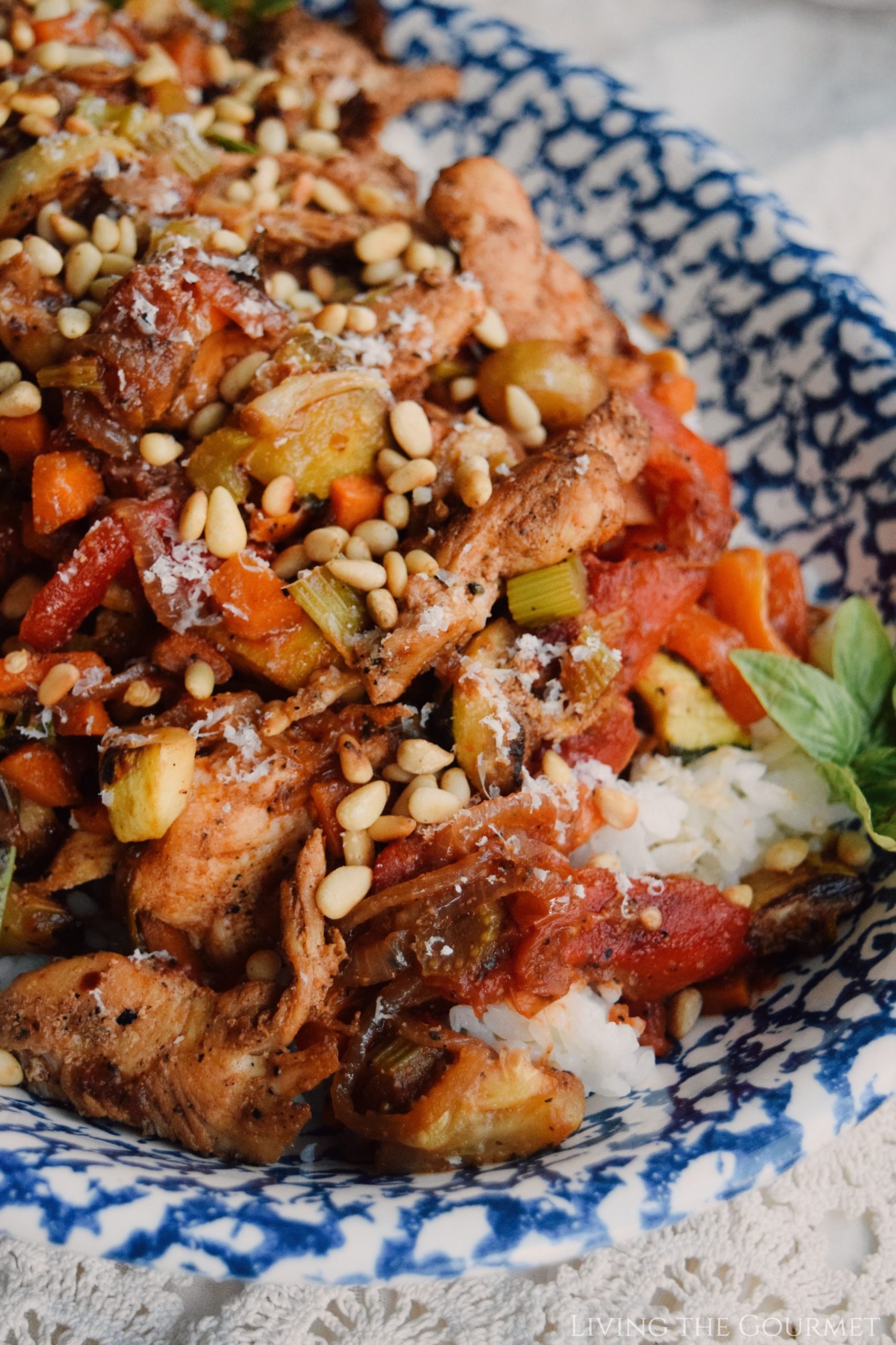 Italian Rice Beyond Arborio
In the US (or really all of North America), you would be forgiven for thinking that 'Italian Rice' is limited to arborio cooked in copious amounts of butter and white wine. However, 'risotto' is more than just a cream sauce preparation for fluffy rice – it's actually also a 'class' or 'type' of rice, typically rices popular in Italy for the preparation of a variety of specific dishes – the most popular of which is, you guessed it, 'Risotto.' While arborio is certainly the only truly 'mainstream' of these rices, there are others that might also be worth your attention.
1) Arborio. We're all familiar with this one. Fluffy, long grained, starchy, and thoroughly absorbant, arborio is the 'mainstay' risotto-type rice. Popular throughout Italy, Europe, and across North America, you need only taste this rice to see why it's so popular.
2) Carnaroli. This is "Italy's Choice" for risotto, carnaroli is often described as the 'king of Italian rices,' and features prominently across Italian cuisine. This rice produces, by far, the creamiest risotto. However, here in the states – and throughout North America in general – you're probably going to have a tough time finding it outside of specialty shops, and when you do you'll likely pay a good bit more for it than arborio.
3) Baldo. A hybrid crop resulting from a cross between arborio and a rice ominously dubbed 'Stirpe 136.' However, baldo is essentially an arborio clone except that it cooks up quicker, and is markedly starchier (leading to a creamier rice). It never really took off outside of Turkey, and as such is quite a bit harder to find than the arborio it was created from.
4) Cal Riso or Calriso. A seemingly obscure grain of rice (seriously, I had to really dig for these few lines). From what I can gather, Calriso is hailed as the "First Mediterranean rice born in California," being a hybrid of native Italian and Californian rices, according to Lavender Ranch. The rice is described as being quite starchy, and that its grain length is similar to that carnaroli rice.
5) Vialone nano. Unfortunately, this rice doesn't get a lot of play outside of the Veneto region of Italy, where it is the preferred rice for risotto. Vialone absorbs water like a sponge (drinking up nearly twice its own weight), and has a starch content similar to that of carnaroli – qualities which combine to create a shockingly creamy risotto. Unfortunately, even in specialty shops this grain of rice is woefully difficult to find.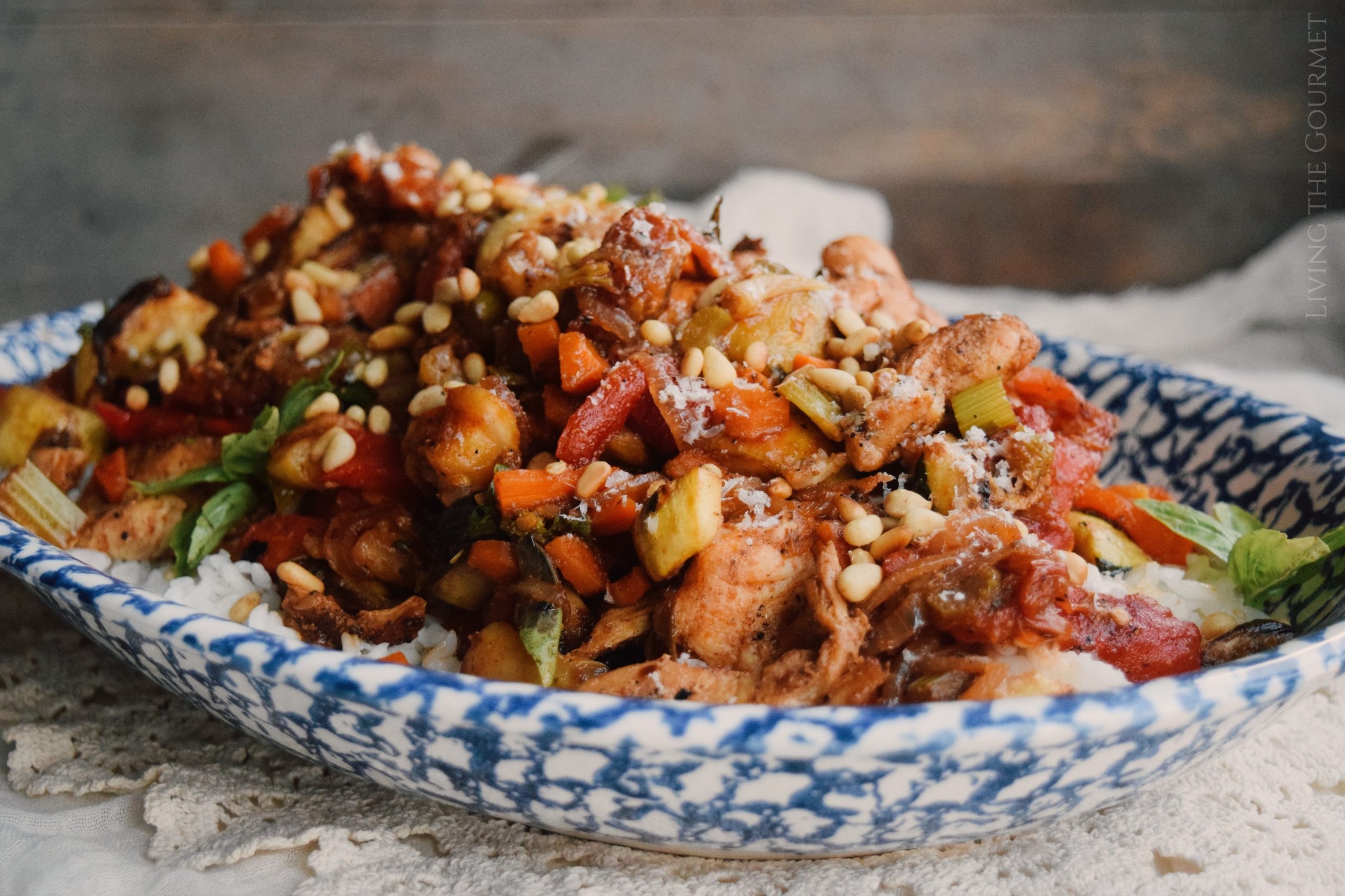 Print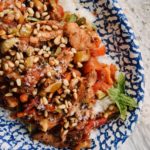 Grilled Chicken and Arborio Rice
---
Author:

Prep Time:

15 minutes

Cook Time:

25 minutes

Total Time:

40 minutes

Yield:

4

-

6

1

x
1

lb. of boneless chicken breast – sliced thin

2 cups

of Arborio rice

2

large zucchini – roughly diced
About

8

–

10

cloves of garlic – smashed

3

tomatoes – roughly diced

2

carrots – diced

3

stalks of celery – diced

1

onion – sliced thin

3

bell peppers – charred – skin removed and sliced

1/3 cup

of wine

2

tbs. tomato paste – mixed with one to two tbs. water

3

tbs. pignoli nuts – toasted
Fresh basil leaves – about 10 – 12
Olive oil – for drizzling
Fresh Romano or Parmesan cheese for grating
Seasonings:
2 tsp

. salt

2 tsp

. sugar

1 tsp

. red pepper flakes

1 tsp

. fresh ground black pepper

2 tsp

. dried oregano
Seasonings for the Chicken:
1 tsp

. salt

1 tsp

. paprika

1 tsp

. garlic powder

1 tsp

. sugar
---
Instructions
Prepare the rice as directed or in a rice cooker.
Heat a large cast iron frying pan.
Place the sliced onion, diced celery, half of the garlic and diced carrots in a dry pan.
Dust these veggies with salt and sugar.
Allow the onion to get slightly translucent and garlic to become fragrant, then add the diced tomatoes.
Add the rest of the seasonings and drizzle with two tbs. of olive oil.
Heat another large cast iron frying pan.
Place the diced zucchini and the other half of the garlic in the pan.
Drizzle the zucchini and garlic with olive oil.
Dust the zucchini and garlic with salt and fresh ground black pepper.
When a nice golden color is achieved on the zucchini, turn over and let the zucchini get a nice golden color on the other side.
Re-season with a little more salt and pepper.
Do Not overcrowd the pan. Allow the zucchini to become a beautiful golden color and the garlic to get a nice golden color as well.
Add the golden zucchini to the pan with the tomato mixture and continue to cook on a gentle heat.
Add the wine to the veggies.
Mix the tomato paste with the water and add to the veggies.
Continue to cook on a gentle heat.
Taste for seasonings and re-season to desired taste.
For the Chicken:
Mix the seasonings together.
Heat a large cast iron frying pan with a tablespoon of olive oil.
Add a few pieces of thin sliced chicken to the pan. Do Not overcrowd the pan.
Sprinkle the chicken with the seasoning mix.
Cook for 2 to 3 minutes or until a nice golden color is achieved on one side then turn over and sprinkle the other side of the chicken with the spice mixture and cook to a nice golden color, about another 2 to three minutes or until the juices run clear.
The cooking time will be determined by the thickness of the chicken. Continue to season the chicken while cooking it.
Place the cooked chicken into the vegetable mixture.
Add the fresh basil to the vegetable and chicken pan.
Heat a small cast iron frying pan and place the pignoli nuts in the pan.
Allow the nuts to get a nice golden color. Do Not burn these nuts!
Assembly:
Place the risotto on a medium sized serving platter.
Top the rice with the vegetable and chicken mixture. Top off with the pignoli nuts, drizzle of olive oil and fresh grated Romano or Parmesan cheese.
Recipe Card powered by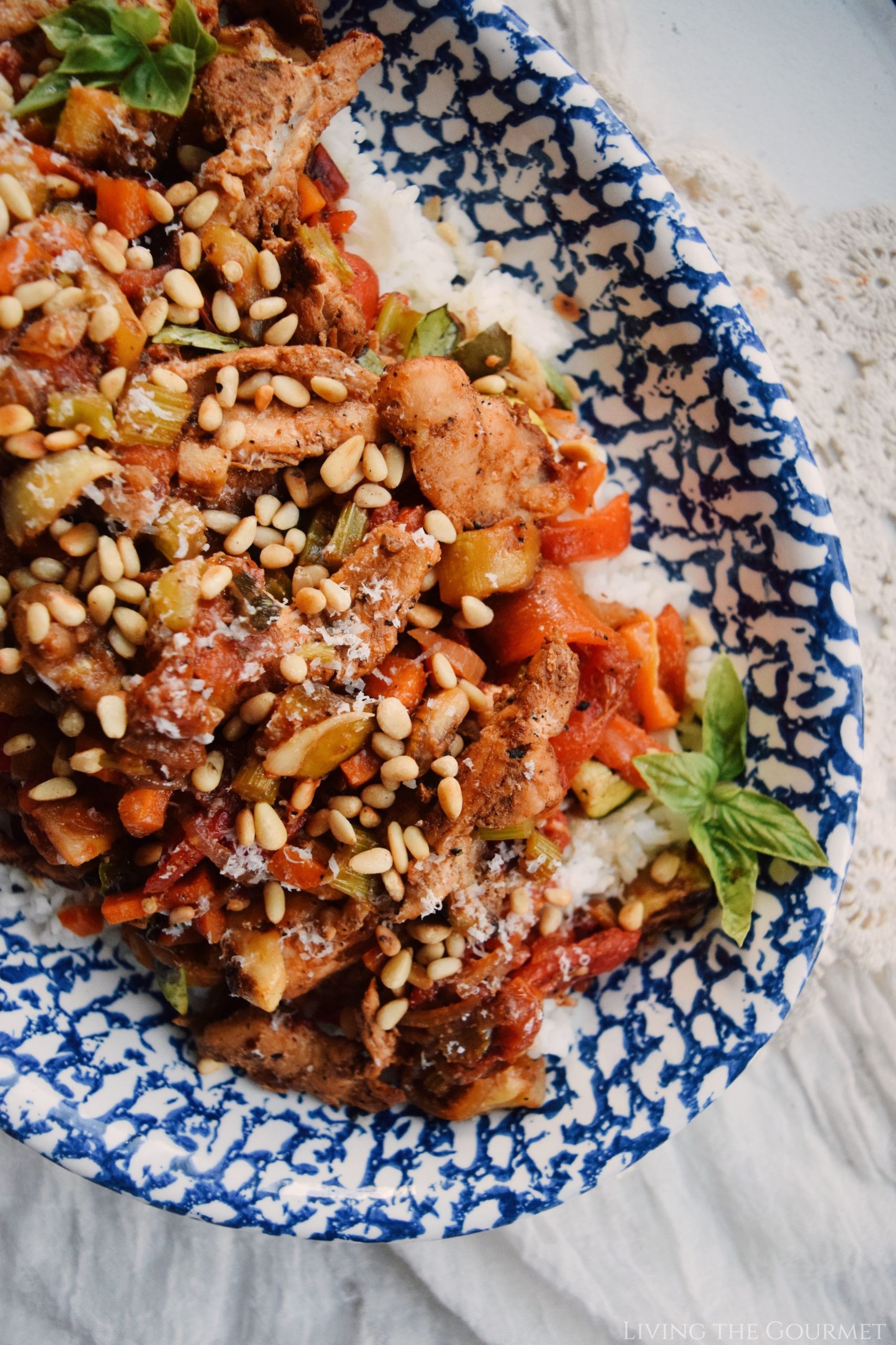 Other Great Italian Favorites
1) Simple Italian Pasta Sauce. My version of a basic sauce to set over pasta. This one is simple and to the point, perfect for busy weeknights.
2) Meatballs with Rasins and Pignoli Nuts. MY absolute favorite meatball recipe of all time. Moist, flavorful, and versatile, well able to accompany pasta or to prepare a meatball sandwich, or even to eat on their own.
3) Breadsticks. Prepare a batch of breadsticks are easier than you might think. They make a nice centerpiece to a dinner table, and really impress he guests when the learn that you prepared them yourself.
If You Enjoyed Today's Recipe…
Be sure to follow us on Instagram to stay up to date with all things Living the Gourmet, and for more great recipes, tips and tricks.
Did you make this recipe?
If so, let me know in the comments down below, or post a picture to Instagram, or to Pinterest, and I'll give you a shoutout on Instagram, or post your pin to one of my Pinterest boards!
1