Bursting with bits of fresh strawberries, a hint of sweet Balsamic, and a buttery streusel on top, these Strawberry Balsamic Muffins are a delicious surprise to enjoy this season.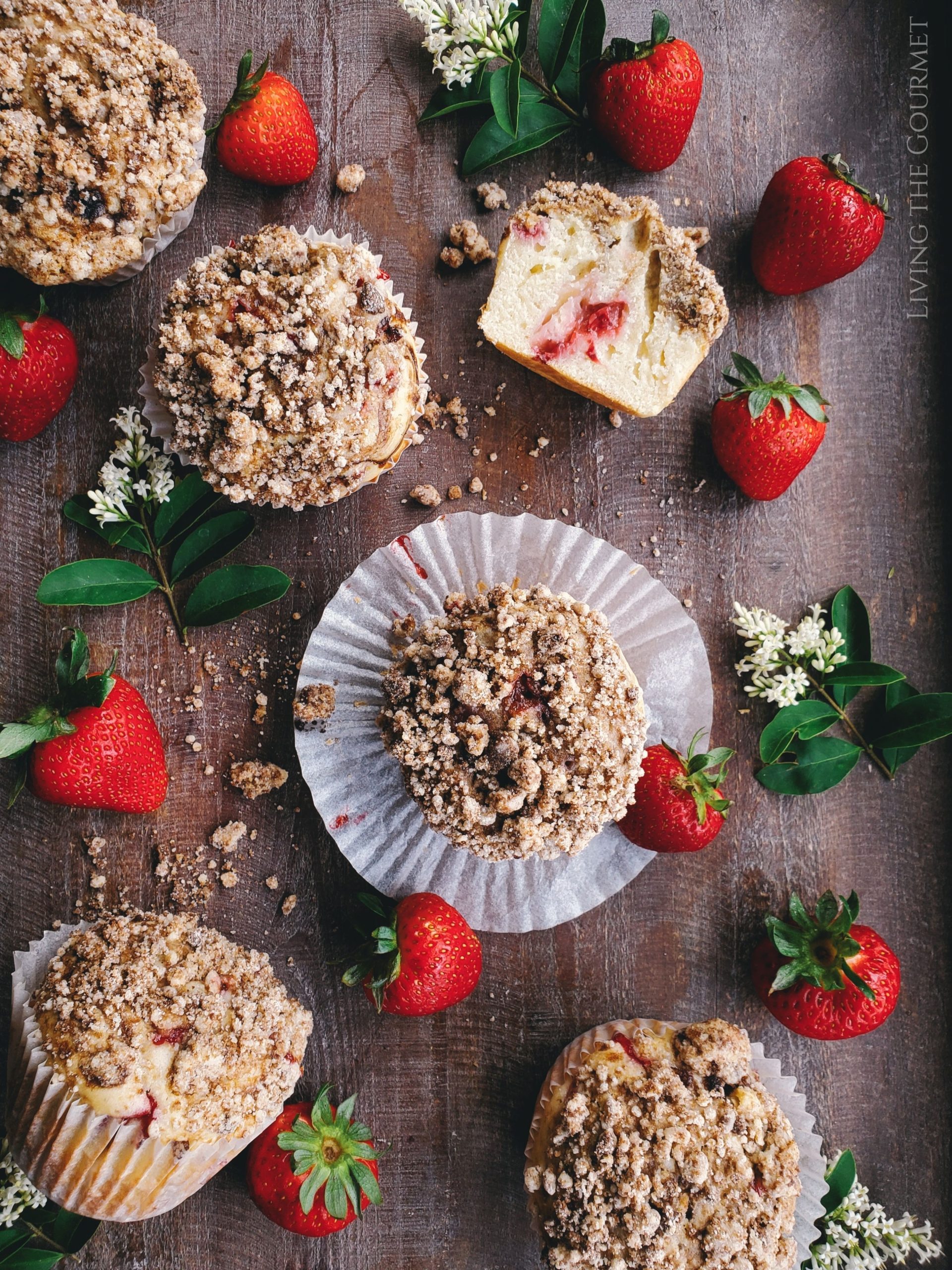 Blueberry + Basil. Brown Butter + Ice Cream. Strawberry + Balsamic.
I love trying new and unexpected flavors but I'm especially excited to be sharing the recipe for these muffins with you today.
Are you a fan of sliced strawberries and balsamic? If you haven't tried it yet, I really encourage you to do so and I hope this post inspires you. It's one of those understated summer treats that I feel like some people will either immediately be intrigued by or be immediately turned off.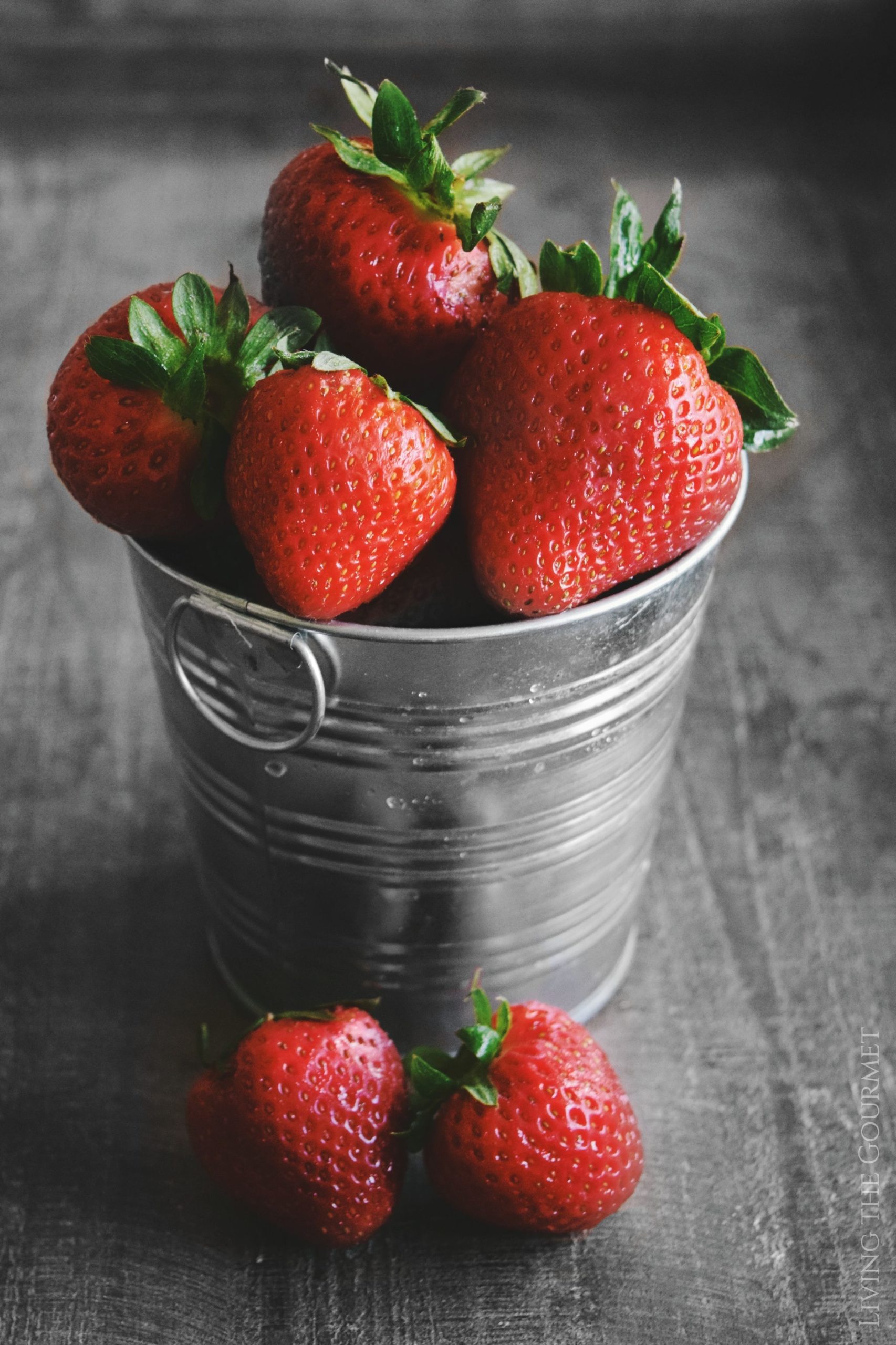 Sweet Vinegar
When you hear the word 'vinegar' the last thing you're going to think of is dessert. It's an ingredient we acquaint with salads, but don't be so easily fooled. Balsamic Vinegar is truly a vinegar in its own class. It can be used for sweet dishes and savory ones. Balsamic itself is thicker, almost syrupy and is a good balance of sweet yet tart. It has fruity notes to it which makes it so delicious with berries, papaya, melons, and citrus fruits.
Today I'm using a balsamic reduction glaze from Tuscanini. If you don't have balsamic reduction on hand, making your own is a very simple process. As the name suggests, you're simply going to cook down 1 cup of balsamic vinegar (I suggest adding a heaping tablespoon of dark brown sugar as well) until it has thickened to a syrupy sauce. It will take about 20 minutes to do so. Once that is complete, you'll be ready to start on these muffins.
Fresh or Preserved
A common question I receive when it comes to baking with strawberries is whether or not to cook them down. I know sometimes strawberries can be a little tart, and you don't want to end up with a sour dessert, but personally for this recipe, I didn't want to over-complicate it nor did I want it too sweet. I didn't cook the strawberries down or use preserves. I quartered the fresh berries so there wouldn't be large bits and I made sure that they were ripe to ensure natural sweetness. You really don't need to toss them in sugar either, much like the balsamic reduction, the berries are sweet and tart which works perfectly together, plus these are finished off with a rich streusel.
Speaking of which, the streusel here is what really takes these muffins to the next level, and it's one thing I won't compromise on. The topping is definitely NOT optional here. I added a pinch of cardamom for added warmth which plays well into the brown sugar, vanilla, and balsamic of the muffins.
These muffins are all about the layers of flavor, so don't skimp! And just like that you have something to enjoy in the morning or in the evening, however and whenever you choose. Either way, I am confident you're going to love these and I hope you make them soon.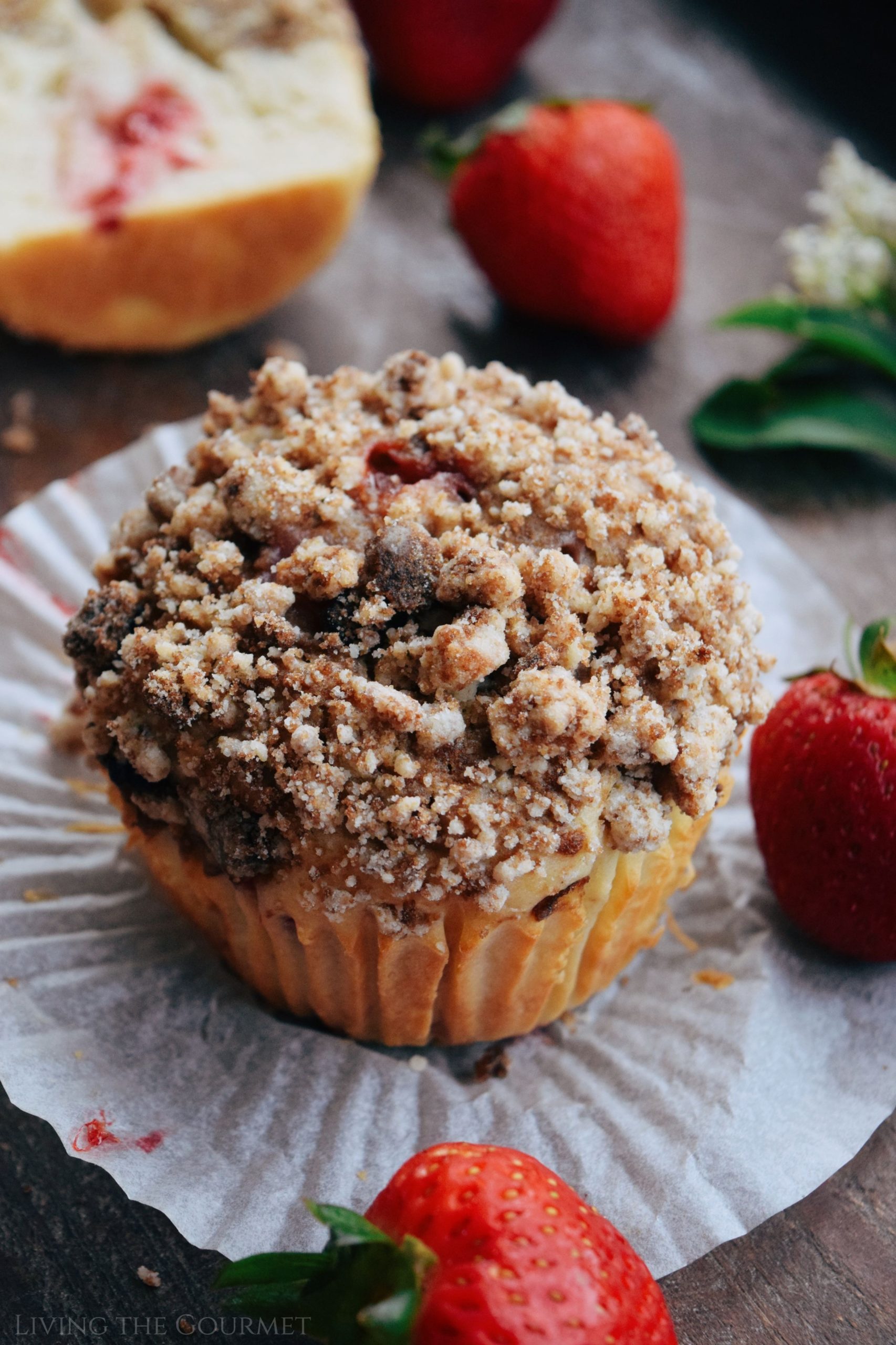 More Strawberries Recipes to Love
1. Strawberry & Cream Cake – I absolutely love this recipe for its elegant simplicity, super-basic preparation process, and down-to-earth ingredient list – and I'm positive you will too.
2. Strawberry and Rhubarb Pies with Vegan Whipped Cream – These pies are a perfect dessert to enjoy the summer evenings with. We're serving ours with a cool Vegan Whipped Cream topping for the ultimate indulgence.
3. Classic Eton Mess – This traditional English dessert boasts of doubled whipped cream, crushed meringue cookies, and mix of fresh strawberries and cherries.
Print
Strawberry Balsamic Muffins
Author:
Prep Time:

15 minutes

Cook Time:

30 minutes

Total Time:

45 minutes

Yield:

9

muffins or

24 cup

cakes

1

x
2 1/2

cups

AP flour

2 teaspoons

baking powder

1 teaspoon

salt

1/4 teaspoon

cardamom

1

cup

sugar

1

cup

buttermilk (or sourmilk see notes below)

1

large eggs

1/2

cup

vegetable oil

1 tablespoon

pure vanilla

1

cup

fresh strawberries, chopped

1/2

cup

Balsamic Reduction (I used Tuscanini but see notes on how to make your own)
For the Streusel:
1

cup

AP flour

1/2

brown sugar

2 tablespoons

white sugar

1/2 teaspoon

baking powder

4 tablespoons

butter, melted
Instructions
For the Streusel:
In a small bowl, combine all ingredients for the streusel and mix until a crumbly mixture comes together. Set aside until ready to top the muffins.
For the Muffins:
Preheat oven to 400 degrees F. and line your muffin tin. If you are using a jumbo muffin tin, you'll get about 9 muffins. If you are using a cupcake tin, you'll get about 2 dozen.
In a medium bowl, whisk together flour, baking powder, salt, and cardamom. Set aside.
In the bowl of a stand mixer fitted with the paddle attachment, beat sugar, buttermilk, eggs, vegetable oil, and vanilla. Reduce the mixer to low speed and gradually add the flour mixture. Continue to beat until the batter is smooth and whipped. Fold in the strawberries.
Spoon the batter into the prepared tins and top each with a tablespoon of Balsamic Reduction, then using a toothpick, swirl it through the muffin. Top generously with the streusel.
Bake the muffins for 5 minutes then reduce the oven temperature to 350 degrees, baking for about 25-30 minutes or until the cake tester comes out clean.
Transfer to wire rack and allow to cool before serving.
Notes
To make sourmilk in place of buttermilk, combine 1 cup whole milk with 1 tablespoon vinegar (I used apple cider vinegar but you can also use white vinegar). Let the mixture stand for about 10 minutes until the milk has curdled.
Homemade Balsamic Reduction: In a small saucepan, combine 1 cup balsamic vinegar and 1 heaping tablespoon dark brown sugar. Cook down until thickened, about 20 minutes over medium-low heat.
Muffins can be stored in an air tight container in the refrigerator for up to 5 days.
Recipe Card powered by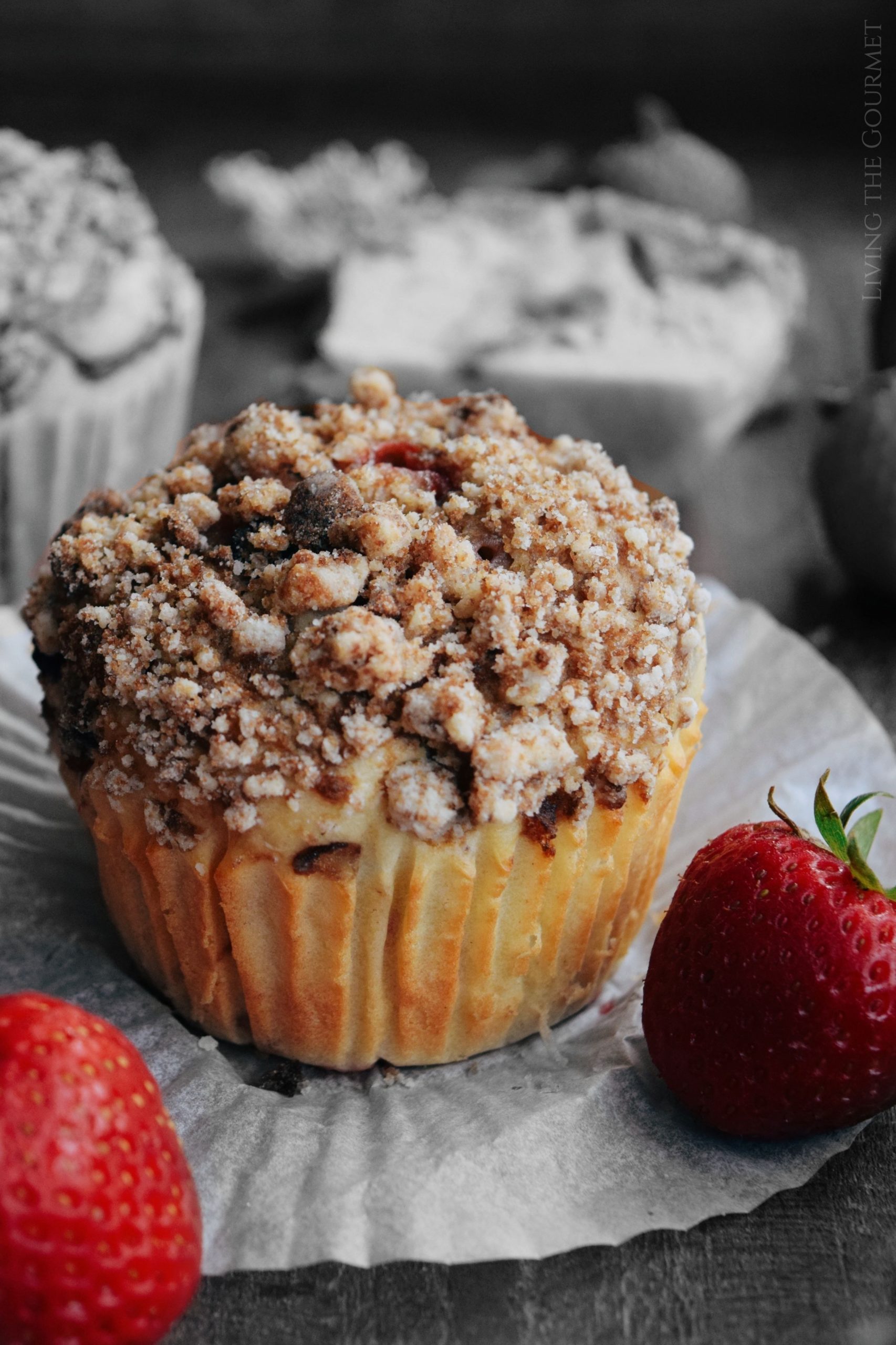 If You Enjoyed Today's Recipe…
Be sure to follow us on Instagram to stay up to date with all things Living the Gourmet, and for more great recipes, tips and tricks.
Did you make this recipe?
If so, let me know in the comments down below, or post a picture to Instagram, or to Pinterest, and I'll give you a shoutout on Instagram, or post your pin to one of my Pinterest boards!
1