This Banana Coconut Cream Smoothie is a tropic combination of shredded coconut, bananas, and honey, today's smoothie is refreshing, delicious, guilt-free, and super simple to make.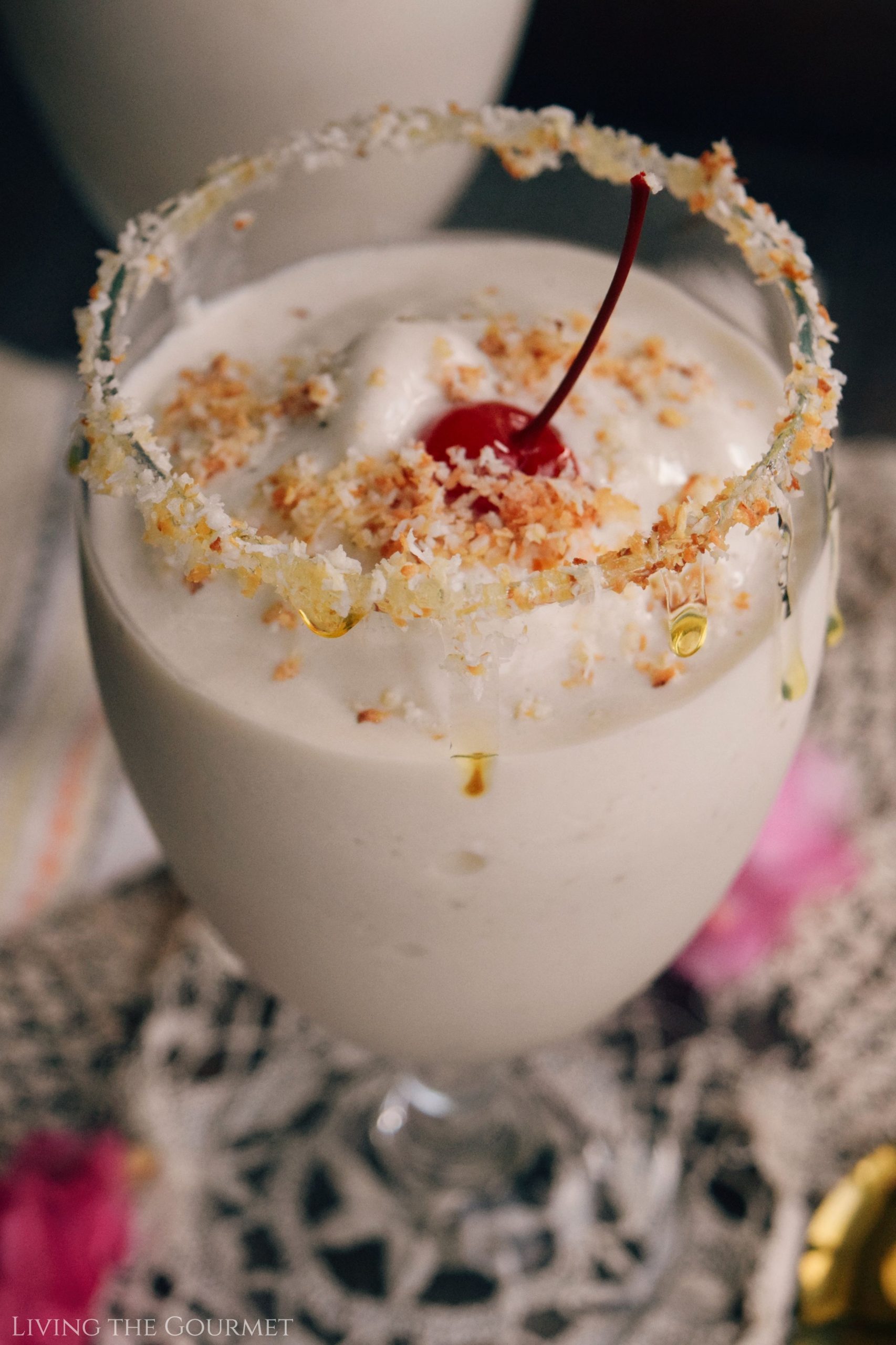 Is it a Smoothie or a Shake?
There was originally a stark difference between a smoothie and a shake – but this differentiation has begun to blur over recent years, and you'll see why. Originally, smoothies were…quite smooth, as in 'milkshake' smooth, and always included some form of liquid protein – such as yogurt, milk, cream, or ice cream. Shakes, on the other hand, were simply blended fruit, with the resulting 'shake' receiving all or most of its 'thick' texture from the chunkiness of the fruit pulp, and often included chopped or shredded ice and sugar. Shakes could also be prepared from vegetables. Whereas a shake is blended simply until the fruit has been reduced to a 'drinkable' texture, smoothies are often whipped or blended until the drink has become 'airy,' as you want a high volume of air to make the drink 'fuller' and, well, 'smoother.' These days, shakes often quite smooth, rarely are they left 'chunky,' and they often contain a variety of other ingredients, while smoothies area rarely simply 'milkshakes by another name,' and are themselves often 'health drinks.' With that said, since we've thoroughly blended today's drink, and since it contains a large proportion of milk by volume, it is indeed a 'smoothie.'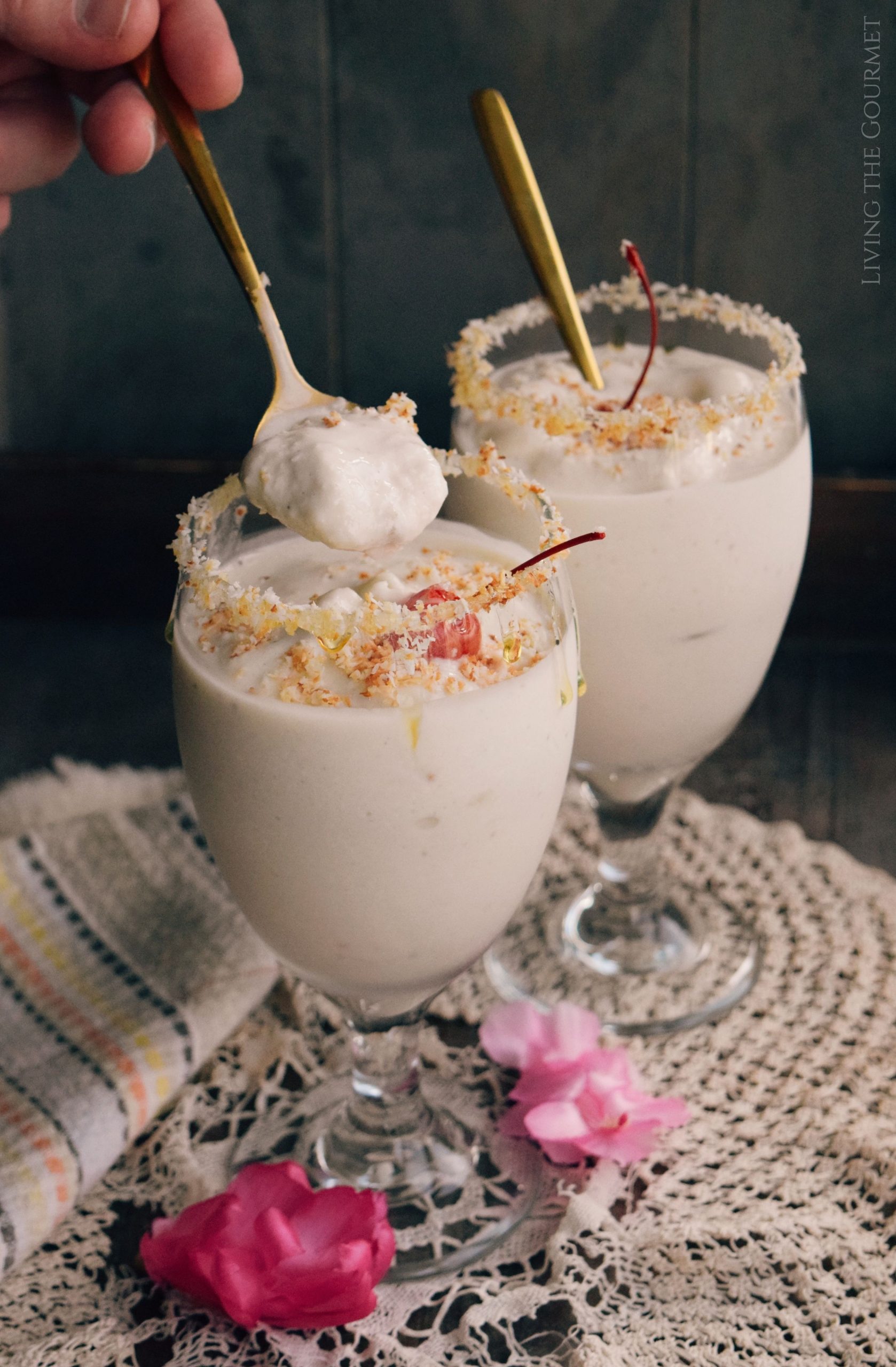 Ingredient Notes and Tips
1) Toasted Coconut 'and' Shredded Coconut. Raw shredded coconut has more moisture and a 'sweeter' taste than its roasted counterpart, and thus we want raw shredded coconut for the smoothie itself. Toasted coconut, on the other hand, has a slightly 'crunchy' texture, an earthier and pleasantly 'buttery' flavor, and most of its moisture has been roasted away. This makes it perfect for lining the glass, but less so far blending directly into the smoothie itself.
2) Frozen Fruit – It Makes a Difference, here's why. For starters, using frozen fruit removes the need for ice – since the fruit itself 'is' ice. However, frozen fruit also acts as a 'thickener,' giving the blended 'pulp' into an 'ice cream-like' consistency.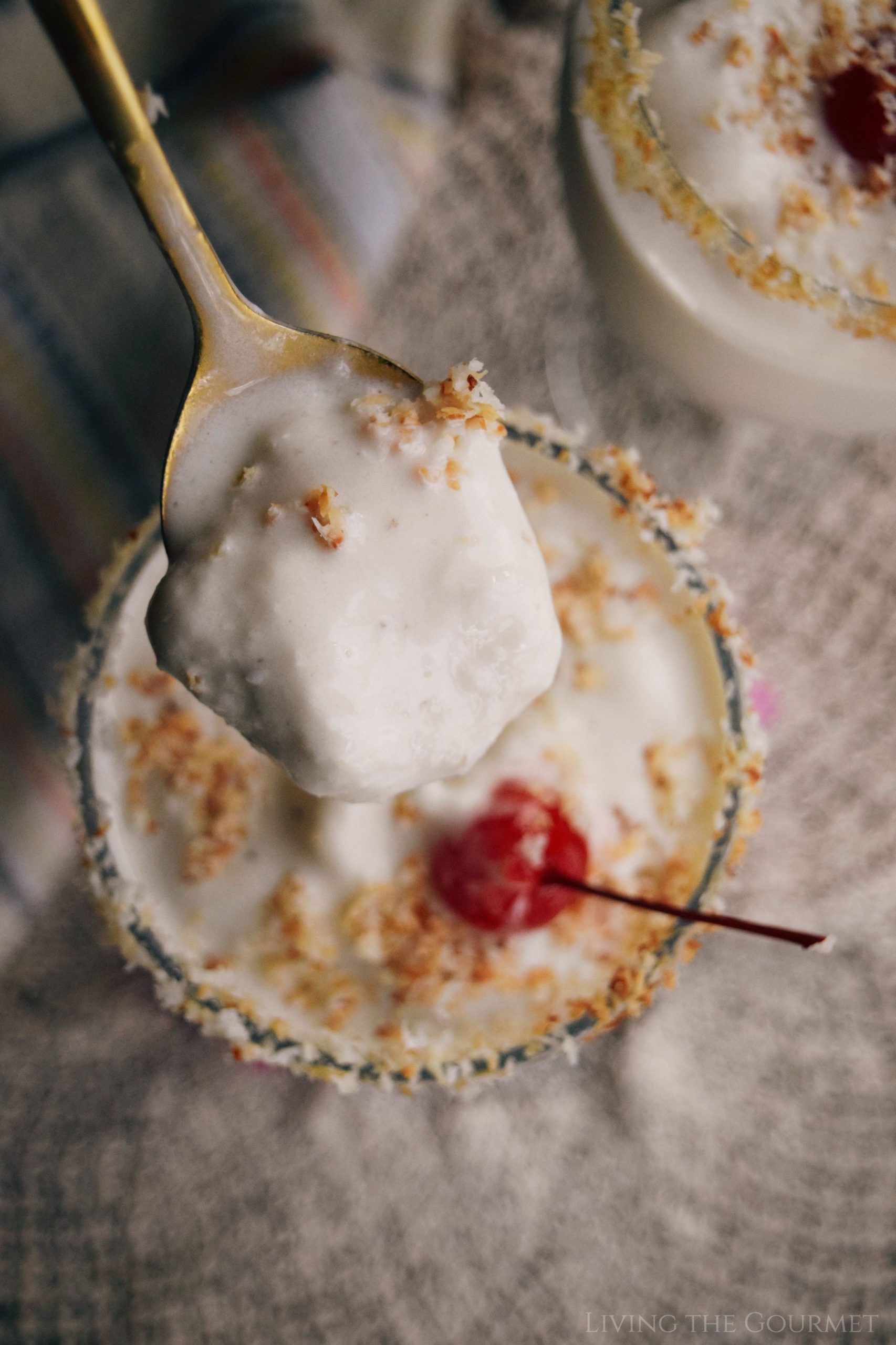 3) Maraschino Cherries. Today, maraschino cherries are typically associated with ice cream sundaes, diner-style black forest cakes, whipped cream, pudding, and common cocktails. Less than two-centuries ago, however, maraschino cherries were almost literally worth their weight in gold. Hailing from the Coast of Dalmatia, bright 'marasca cherries' preserved in sweet maraschino liqueur were being exported across the continent as a 'candy-like' delicacy. Due to the scarcity of marasca cherries, and the pricey liqueur in which they were preserved, these delicious cherries were something that only the 'very' well-heeled could afford. However, after these cherry-delicacies were introduced to America sometime in the 19th century, America did what America does best and found a way to mass-produce them. Substituting in widely available Queen Anne cherries in place of the brighter, sweeter, and scarcer, marasca cherries, along with food dye, a cheaper non-alcoholic preservation method, and a host of flavorings and…are these still the original 'maraschino cherries?' Probably not, but they taste just as good (better actually) and they look the part too. That said, they add color, sweetness, and a hint of 'cherry flavor.'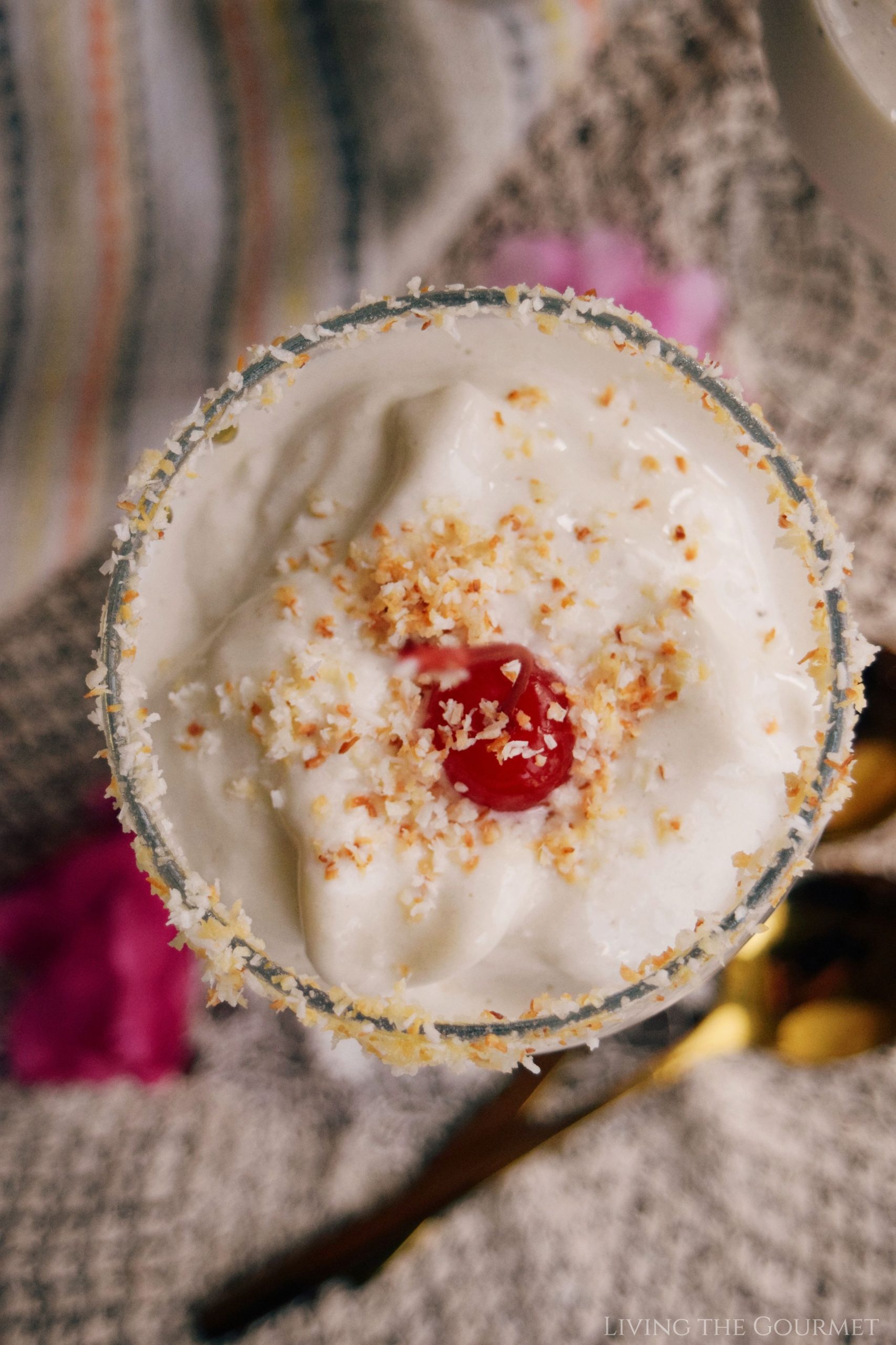 Print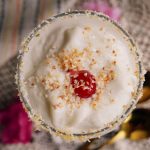 Banana Coconut Cream Smoothie
---
Author:

Prep Time:

10 minutes

Total Time:

10 minutes

Yield:

4

1

x
3

frozen bananas – remove the banana peel before freezing the bananas

3

tbs. sugar

3

tbs. shredded coconut

2 ½ cups

whole milk

2 tsp

. vanilla

3

–

4

tbs. – toasted coconut to rim the glasses with

¼ tsp

. butter
Honey to dip the rim of the glasses in
Maraschino Cherries for garnish
---
Instructions
Heat a small cast-iron frying pan with a small bit of butter.
Add the coconut and cook until the coconut is slightly golden.
Remove from the heat a set aside.
Snap the bananas in half and place in the blender.
Add the shredded coconut, vanilla, sugar and vanilla.
Blend to a creamy soft-serve consistency.
Place the toasted coconut on a flat plate.
Squeeze a circular bit of honey on another flat plate.
Place the rim of the glass in the honey and then dip the rim in the plate with the toasted coconut.
Fill the glass with the soft-serve banana and top with a cherry.
Recipe Card powered by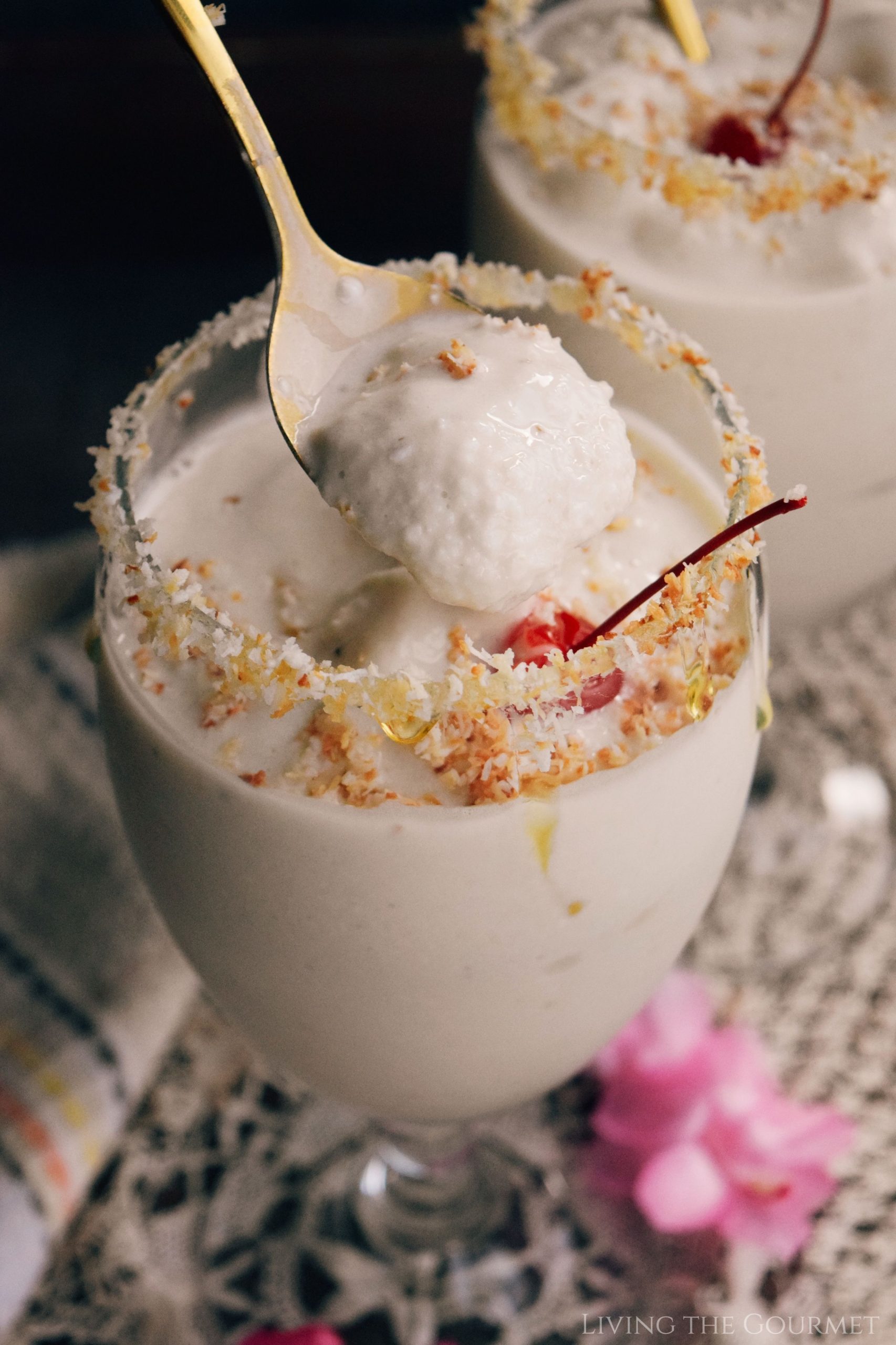 More Great Shakes and Smoothies
1) Apple Pie Shake. This is almost exactly what it sounds like, and is as delicious as you might imagine. Featuring honey crisp apples, French vanilla syrup, and pumpkin pie spice, carried on a blended banana base, this is one smoothie you absolutely have to try.
2) Virgin Pina Colada. Remove the vodka from a pina colada and replace it with either juice or syrup, and what you're left with is a decadently sweet pineapple and cherry 'slushy' or 'smoothie,' that's absolutely one of the most delicious things in the world.
3) Almond Milk Tropical Smoothie. Fresh ginger, frozen bananas, mangoes, and almond milk combine to create a tropic-themed smoothie that's absolutely worth a spot on everyone's smoothie-repertoire.
If You Enjoyed Today's Recipe…
Be sure to follow us on Instagram to stay up to date with all things Living the Gourmet, and for more great recipes, tips and tricks.
Did you make this recipe?
If so, let me know in the comments down below, or post a picture to Instagram, or to Pinterest, and I'll give you a shoutout on Instagram, or post your pin to one of my Pinterest boards!
0