This shop has been compensated by Collective Bias, Inc. and its advertiser. All opinions are mine alone. #VansFoodsWaffles #vansfoods #CollectiveBias
Eggs, cheese, bacon, and a fresh salsa are sandwiched between Van's® Organic Waffles then cooked to a melted, golden crisp for a delicious and wholesome meal!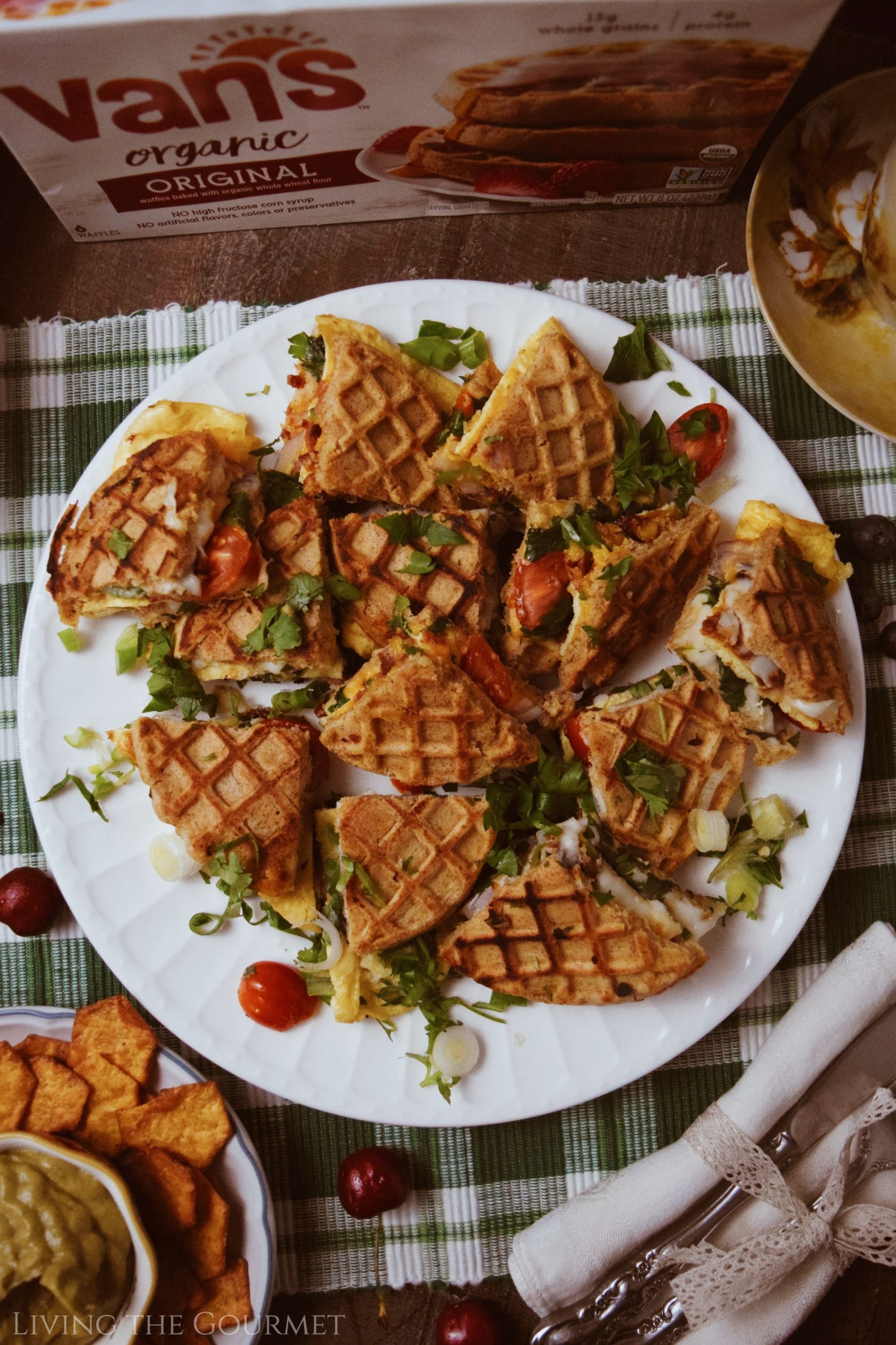 The Art of Breakfast
There is an indistinguishable art to breakfast. Maybe it's because it's the first meal of the day, or maybe because it's served with coffee, or perhaps it's because it's socially acceptable to some days have something sweet and doused in syrup first thing in the morning. Whichever it may be, there is still an art to perfecting this meal.
Sun Tzu once wrote, "In the midst of chaos, there is also opportunity." As a creative, I can wholly relate to this in my own line of work. Enter today's recipe- Waffle Quesadillas, a recipe born from the chaos of the holiday season. Now, while I do enjoy an indulgent meal now and again, with the holidays behind us, it's time to get some balance back into our everyday lives but that doesn't mean breakfast needs to be dull and boring.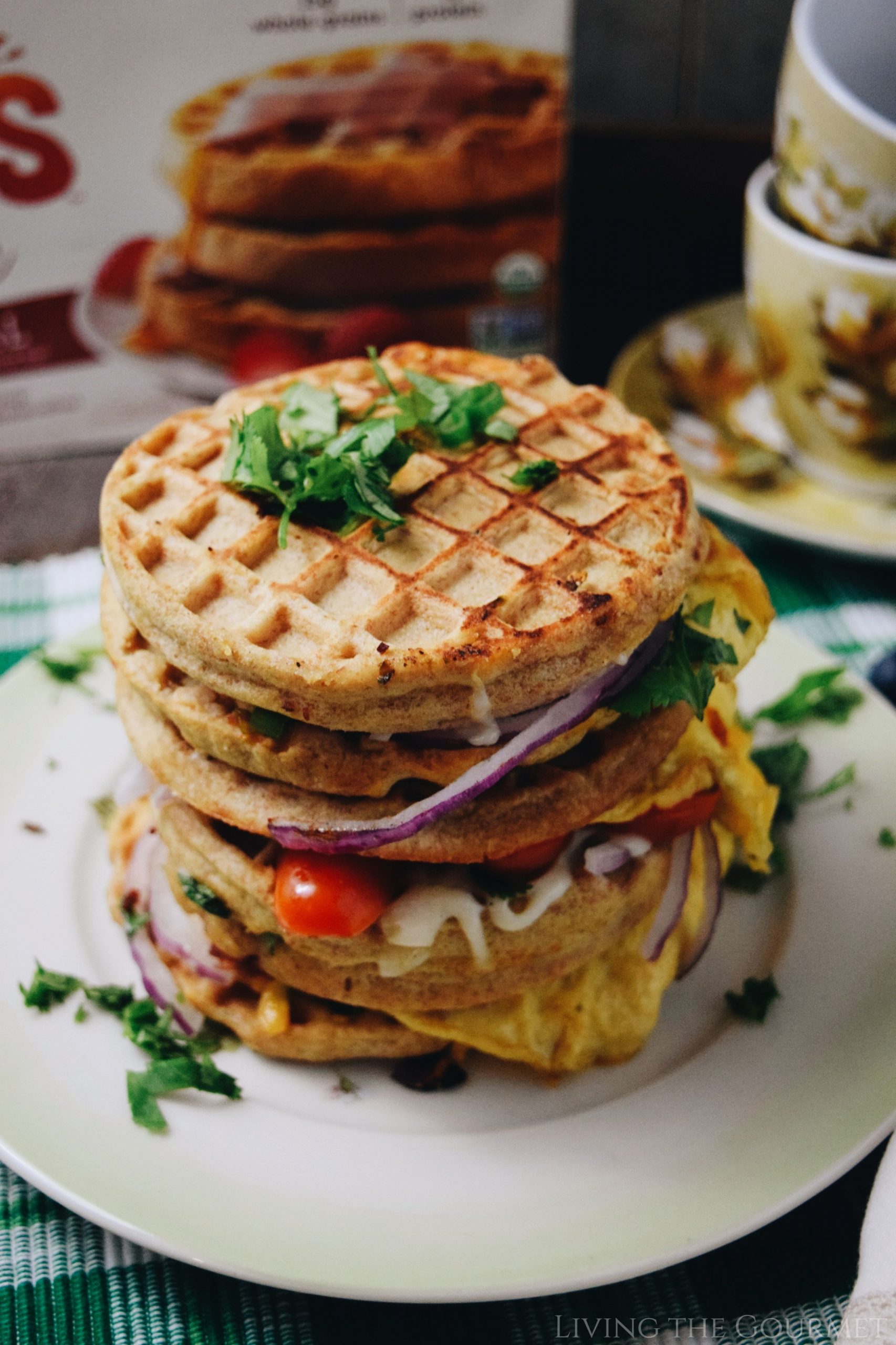 Ingredient Breakdown
I'm kicking up a beloved dish in my house today and giving it a wholesome twist with Van's® for a nutritious and savory meal that can be enjoyed any time of day.
1. Eggs – One of the key components to today's recipe are the eggs. I prefer omelette-style over a soft scramble because the scrambled eggs will crumble. Give the eggs a gentle beating and fry in a very hot iron skillet with just a drizzle of olive oil. Season for taste if desired with just salt and pepper.
2. Cheese – For today's recipe, I used a mixture of low-fat cheddar and low-fat mozzarella to keep things lightened up. I prefer shredded cheese over sliced for this so you get an even amount of melted goodness throughout the quesadilla. The combination of the cheddar and mozzarella is perfect. You can of course use one or the other if you don't have both on hand, but I chose these two varieties because they are easily accessible.
3. Salsa- homemade and fresh – The highlight of this recipe is the homemade salsa. It's simple to throw together, fresh, and delicious. It's a perfect filling to make for omelettes or served on toast. In today's case, it's best served between two warm waffles and a generous amount of cheese. The best part is that it takes a minimal amount of time to make.
4. Bacon – Because everything really is better with bacon, and of course you can't have a breakfast quesadilla without it. I prefer mine baked rather than pan fried since I can drain any excess fat. Once it has a nice crisp, transfer to a paper napkin lined tray. Rather than serving strips of bacon, I crumbled it onto each quesadilla.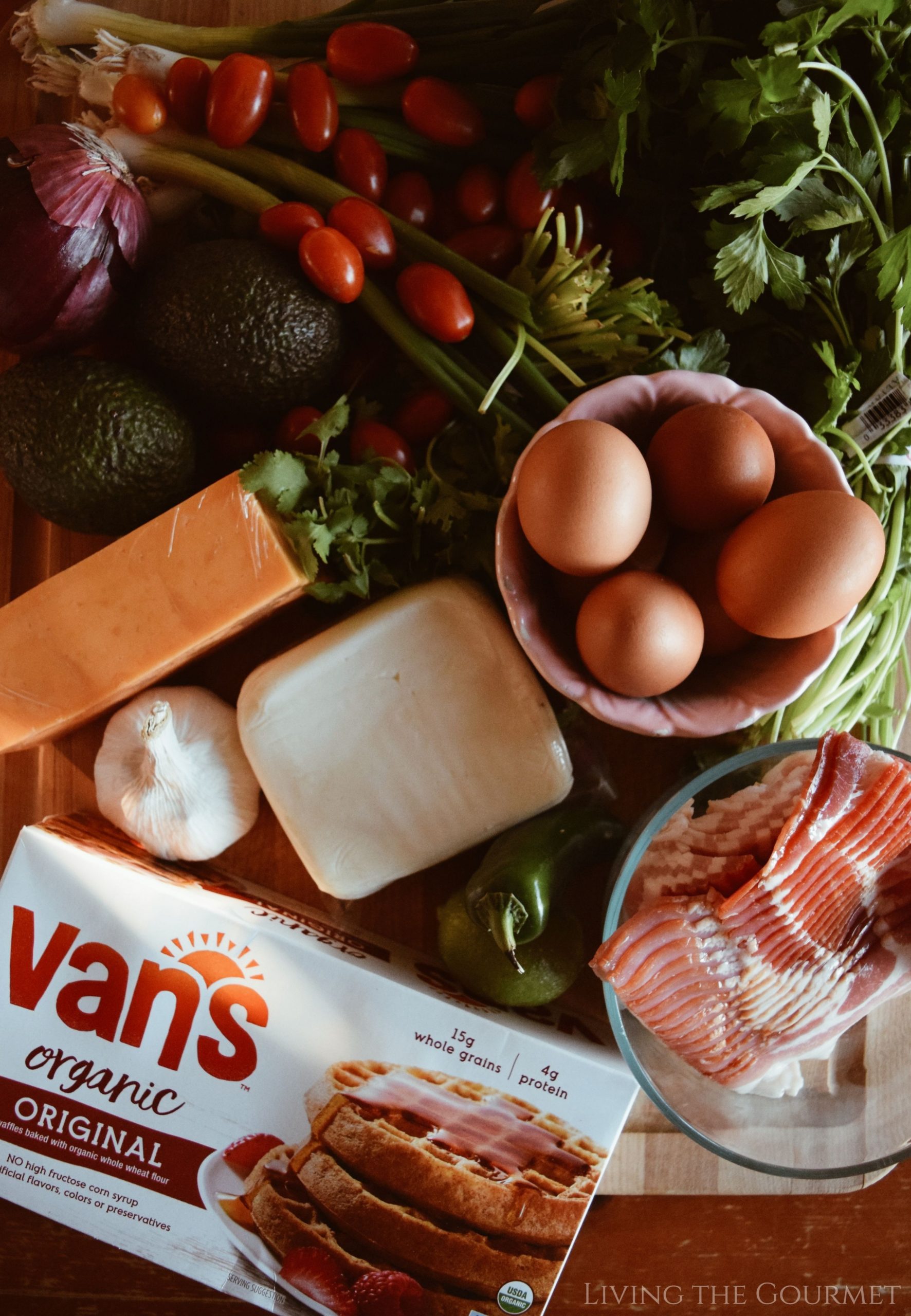 5. Waffles – OK, now for my favorite part of today's dish. Who says waffles were a standalone ingredient? I've been making waffle sandwiches for a long time now and I'm excited to finally share a recipe with you that showcases just how versatile they can be.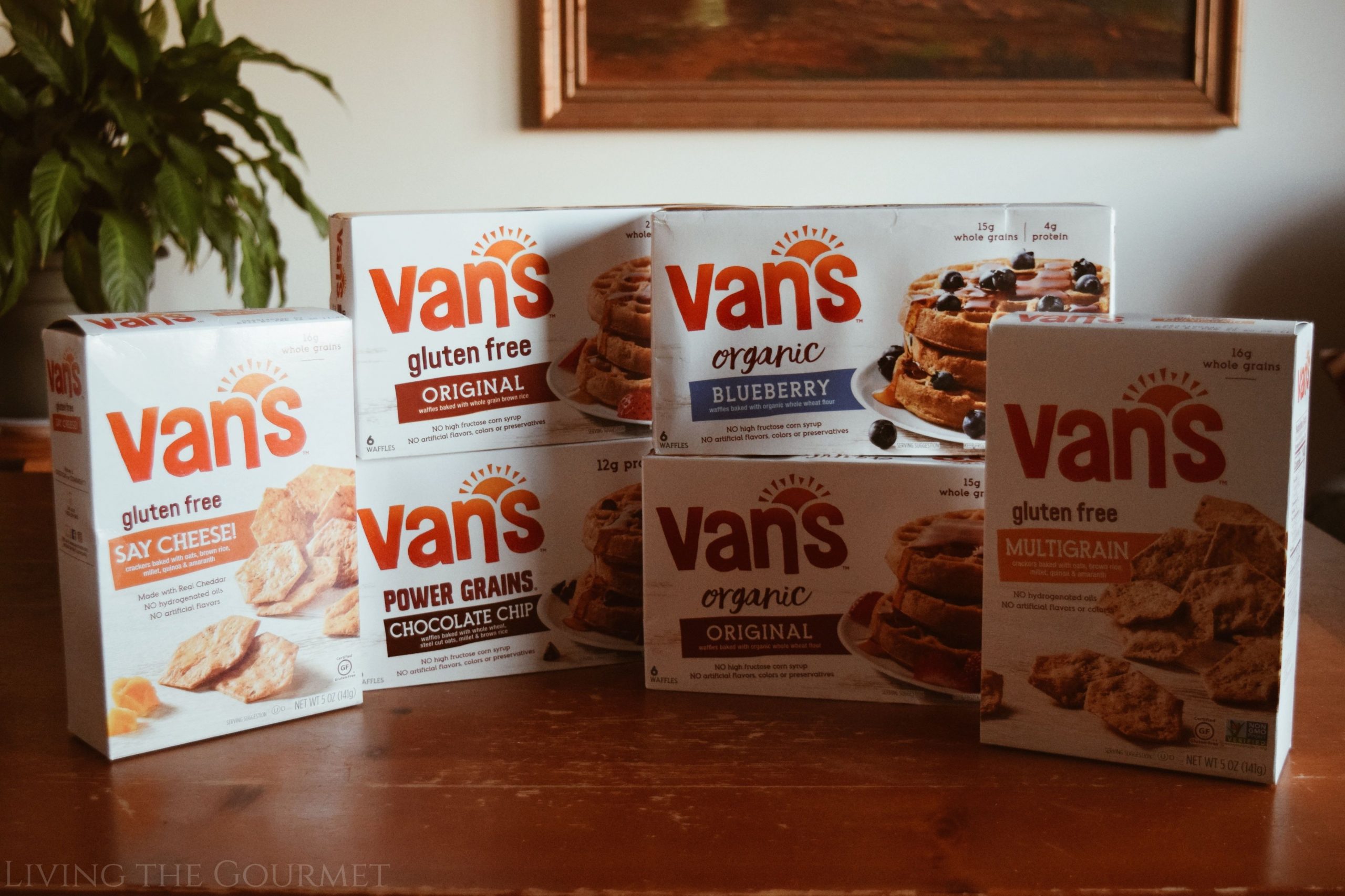 I am using the Van's® Organic Waffles but this recipe can be naturally gluten-free by swapping for Van's® Gluten Free Waffles, and if you're just looking for a little extra nutrition, Van's® Power Grains® Waffles are packed with 10g protein per serving and fiber. It has taken me a long time to find a brand that I am 100% satisfied with and I have finally found that with Van's as their products cater to a variety of needs. They are Organic, Non GMO verified, free from any artificial flavors, allergy friendly (gluten-free, dairy free, and nut free varieties available) and Kosher. Their products offer a wide variety of flavors as well, so there is something for everyone to enjoy! Discover the vast line of Van's wholesome products at your local Stop & Shop retailer in the organic & gluten free aisle!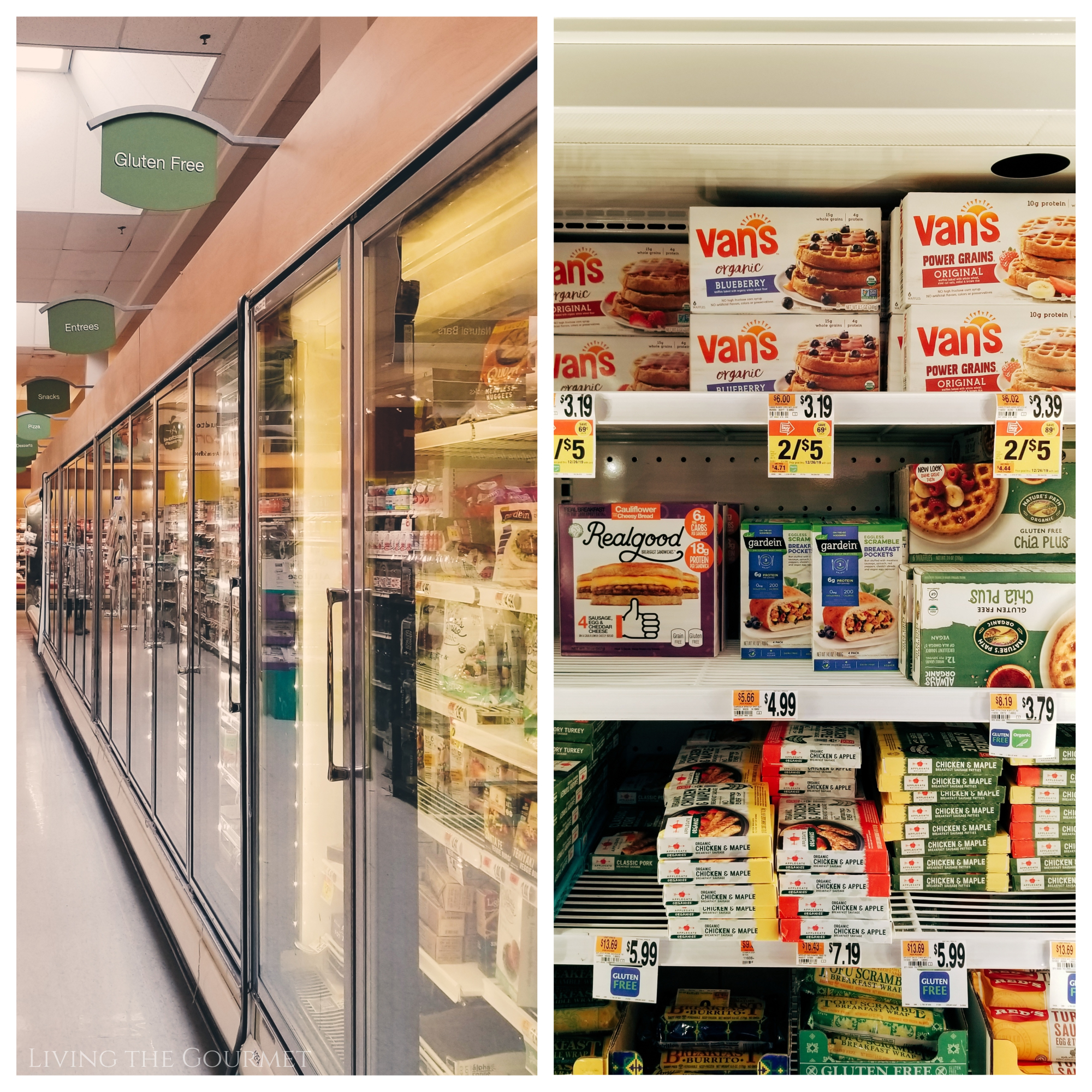 Aside from their well-loved waffle variety, Van's also offers better-for-you snack options that are all gluten-free like their sandwich bars, snack bars, and crackers. I whipped up a quick guacamole alongside Van's® Gluten Free Crackers which paired perfectly with quesadillas! The Van's® Gluten Free Say Cheese! Crackers are my favorite snack to keep on hand as they are packed with whole grains and fiber but bursting with the cheesy flavor that I love.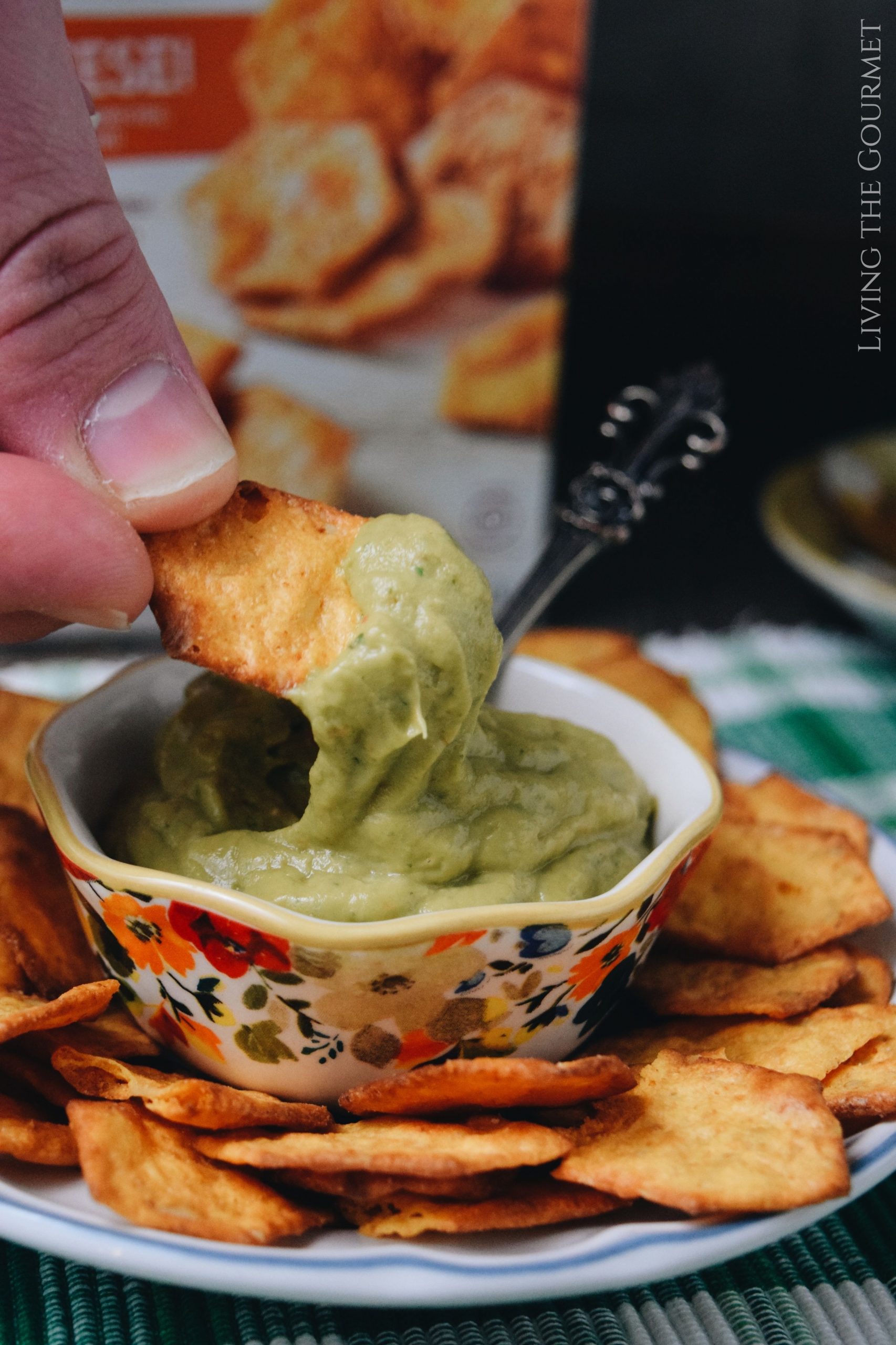 Breakfast, Lunch, or Dinner
The classic quesadilla is a simple tortilla filled primarily with cheese. Over the years, it has seen many variations with additions like meat, beans, and vegetables. Our Waffle Quesadillas give credence to its origins with a modern flare. Begin by toasting the waffles on the griddle and topping each side with the fresh salsa and cheese.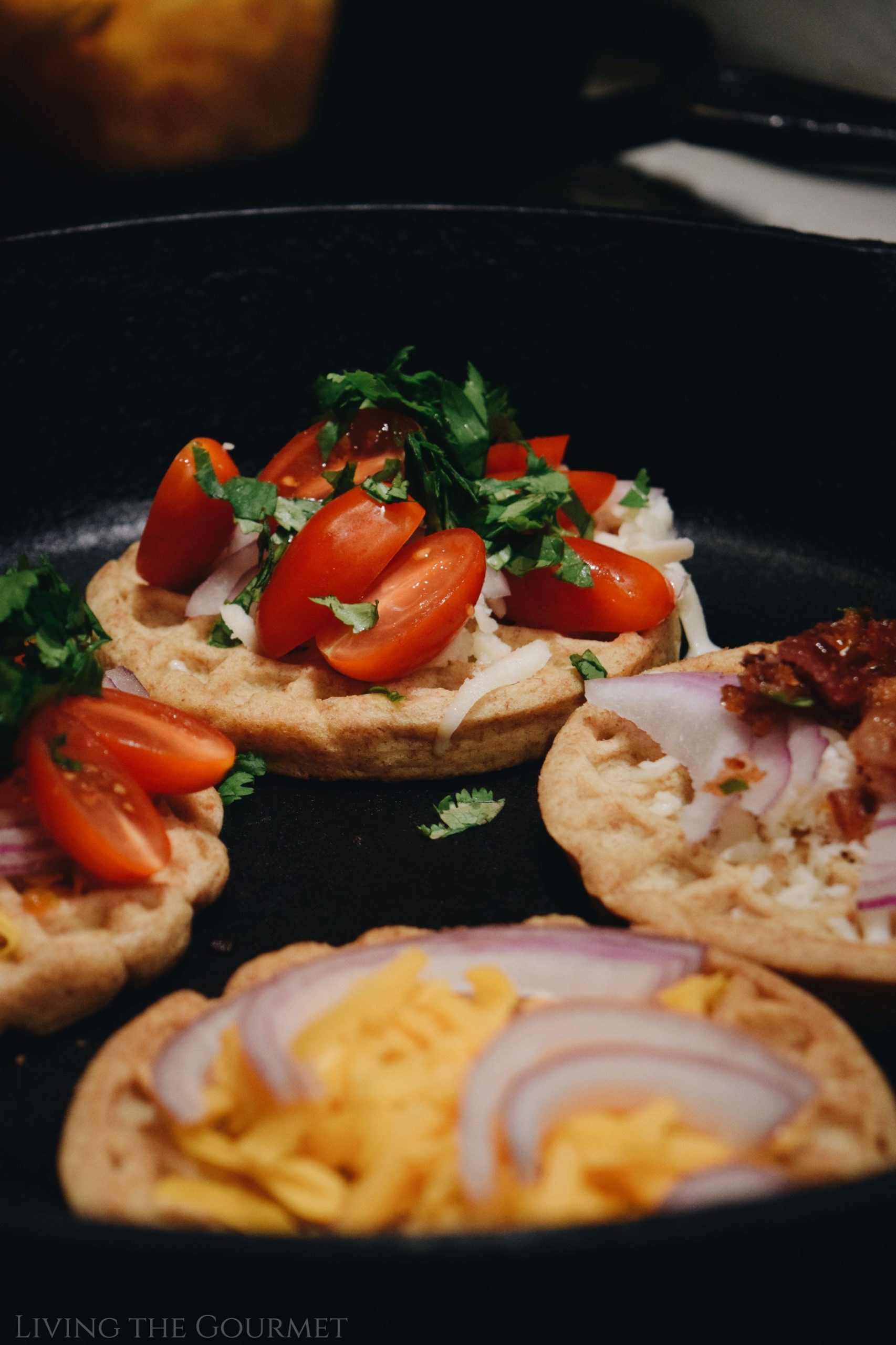 Meanwhile, prepare the eggs. I didn't add milk or water to the egg batter, just simply whisk then add just a bit to a heated griddle to create a thin French-style omelette.
Once the eggs are done, it's time to press the waffles down to ensure a thin 'quesadilla'- like sandwich while melting the cheese too.
Serve warm and if desired you can serve it with the aforementioned guacamole, warmed syrup, or any condiment of your choosing. What I love most about this recipe is that it is hearty enough for lunch or dinner too. It's a welcomed delight that the whole family can enjoy and feel good about.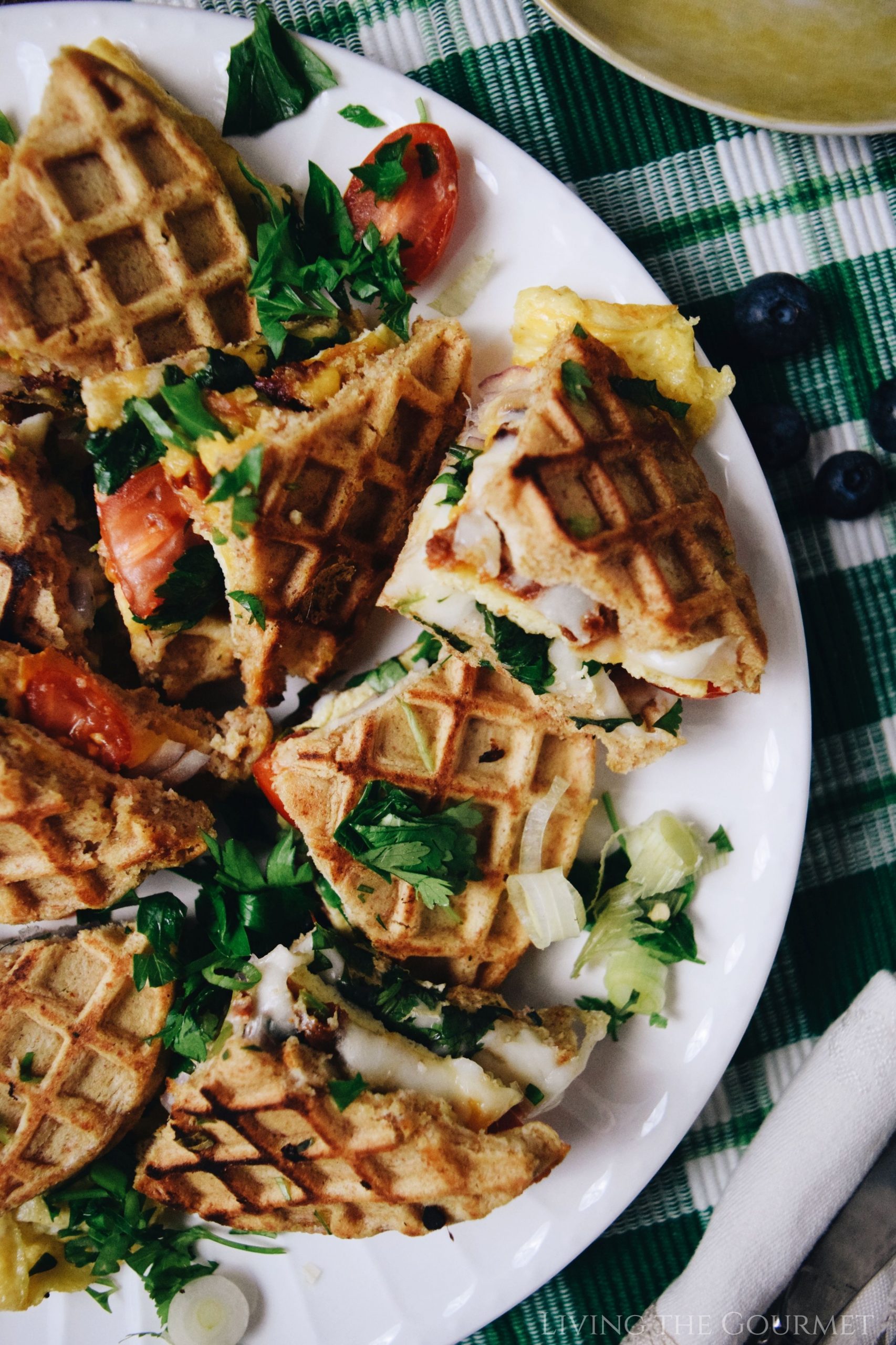 Print
Waffle Quesadillas
Author:
Prep Time:

10 minutes

Cook Time:

15 minutes

Total Time:

25 minutes

Yield:

4

-6

1

x
Van's® Organic Original Waffles – or any variety of Van's waffles

1

cup

low-fat cheddar cheese – shredded

1

cup

low-fat mozzarella – shredded
Eggs – prepared to your liking (I made mine scrambled)
Bacon slices – cooked to a crisp and crumbled

1

red onion – thinly sliced
Fresh parsley – stems removed and chopped
Fresh cilantro – stems removed and chopped
Grape tomatoes – sliced in half
Jalapeno – sliced thin – for extra heat, if desired
Scallions – chopped for garnish
Instructions
Place two waffles in a large cast-iron frying pan. Place shredded cheese on each half of the waffle followed by onion slices, halved tomatoes, crumbled bacon, chopped parsley and cilantro.
Carefully, close the waffles and place a heavy pan on top of the waffles to press them.
After 2 or 3 minutes, carefully turn the waffles over and press them again with a heavy pan.
Remove and slice into quarters.
Garnish with sliced jalapeno's, chopped parsley and cilantro, and scallions.
Recipe Card powered by
If You Enjoyed Today's Recipe…
Be sure to follow us on
Instagram
to stay up to date with all things Living the Gourmet, and for more great recipes, tips and tricks.
Did you make this recipe? If so, let me know in the comments down below, or post a picture to Instagram, or to Pinterest, and I'll give you a shoutout on Instagram, or post your pin to one of my Pinterest boards!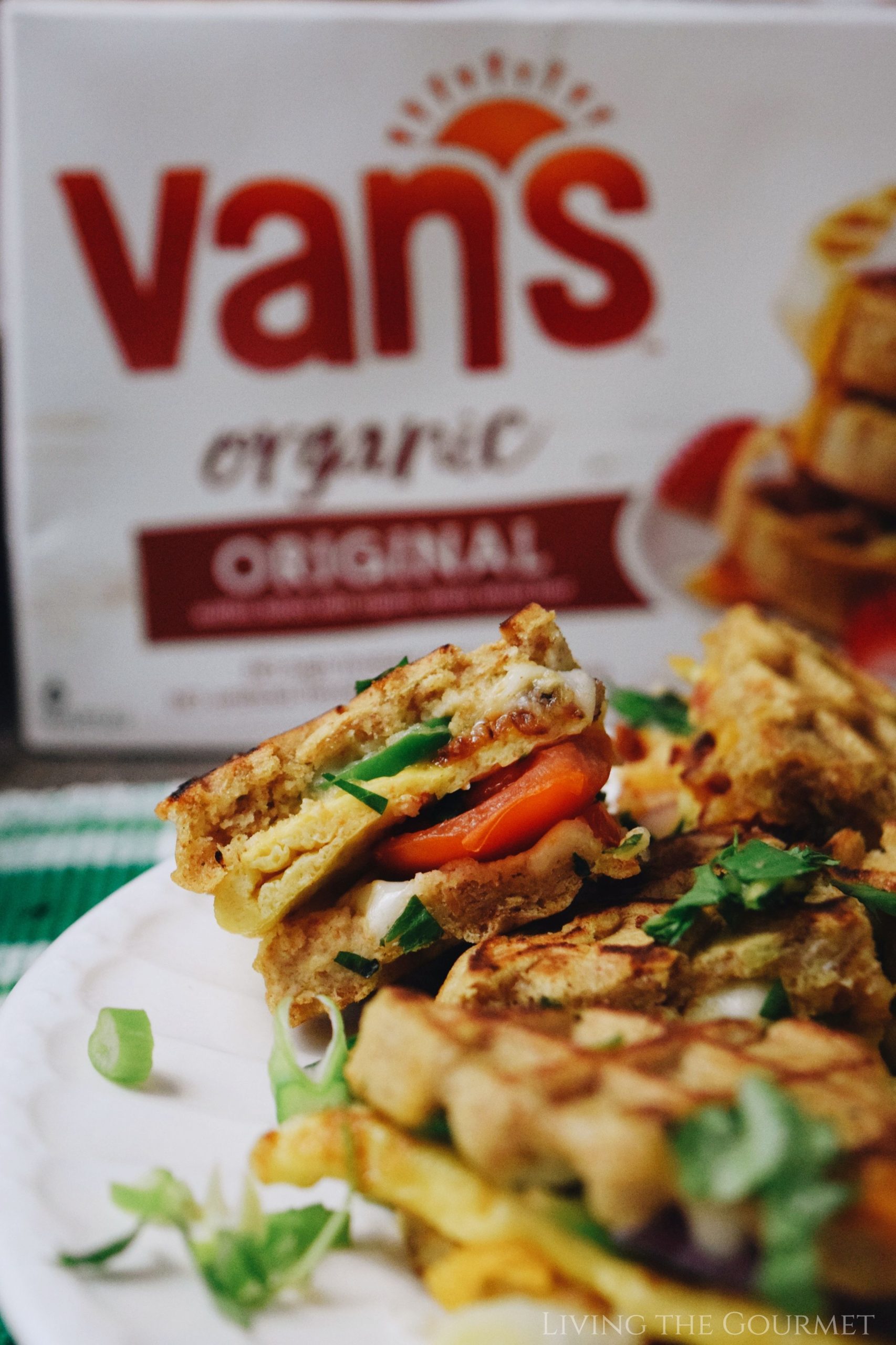 Enjoy with Love!
100