One my son's new favorite ways to make pasta- today's recipe is a blissfully simple combination of warmed spinach, anchovies, and roasted pine nuts, which create a savory coating for al dente cooked pasta.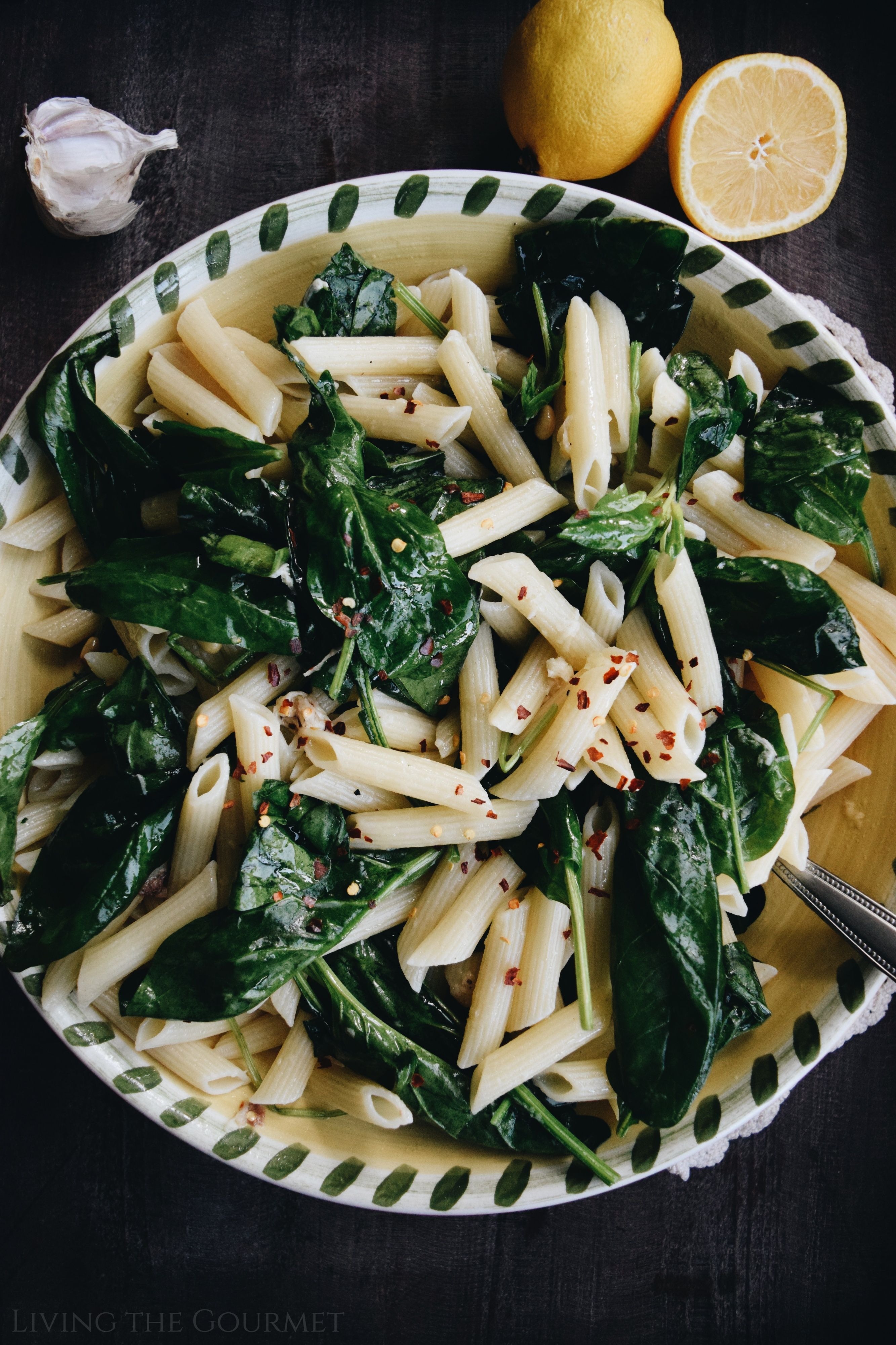 At a total of just ten ingredients, combined with an "It doesn't get any easier" cooking process, today's recipe is perfect for busy weeknights and home chefs of all skill levels.
Pasta Pointers
1) It's all Al Dente…or is it? A 2017 article in Bon Appetit confirmed something I had long suspected, but never quite had the confidence to share here on Living the Gourmet – that Al Dente is 'functionally' overcooked…usually. The article makes the point that you almost always finish your pasta by tossing it in some sort of cooked sauce, be it red sauce, garlic and oil, or what have you. As a result, the pasta is going from boiling water to an almost equally hot sauce. Naturally, the pasta will continue cooking – taking it down from al dente to something 'softer' and less palatable. Thus, if you want truly cooked-to-perfection pasta, you want prepare it "Molto Al Dente," which is roughly 'undercooked,' with the idea being that the pasta will continue cooking for a minute or two (or three) as you toss it in the sauce and then prepare to eat it. Of course, if you're not drenching your pasta in freshly cooked sauce, or coating it in heated oil, then feel free to cook it to the point of Al Dente.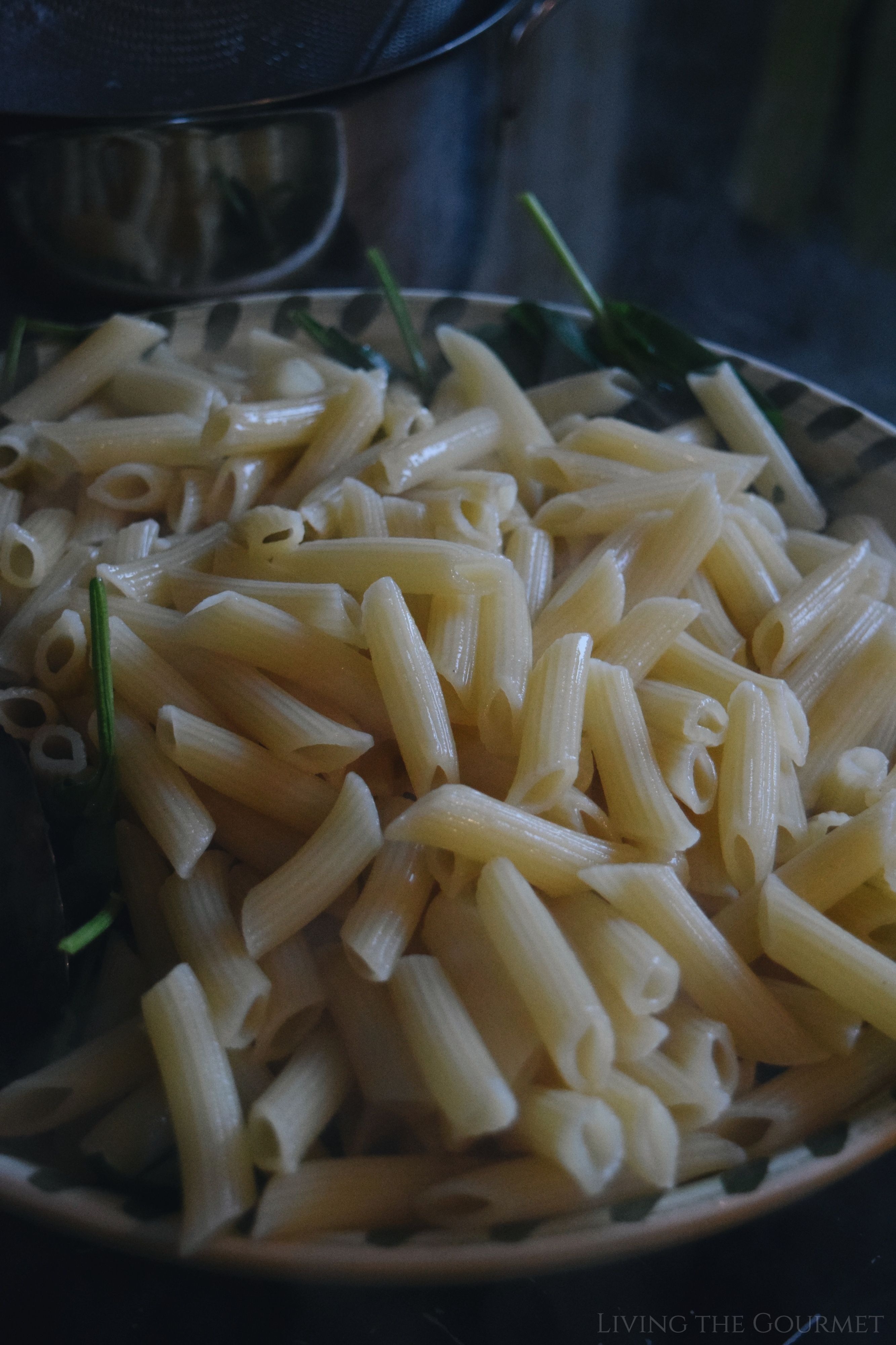 2) Salt the Water – A Lot. I'm not going to expand too much on this point, except to say that salted water adds savory-ness to your pasta, dilutes its starchy qualities, and covers up any potential imperfections – which are present even in the highest quality brands you can buy. The end result is a better tasting, more palatable pasta.
3) Rinsing Pasta Damages It. Rinsing cooked pasta damages it – end of story. I'm not sure where, when, or how this idea came about, but it's a painfully common ritual to rinse pasta under lukewarm-to-cold water in strainers after removing it from the water. I'm honestly not sure what this is meant to achieve aside from artificially cooling it down. The only thing to 'rinse off' of pasta after it's been cooked is surface starch – which serves to help sauce 'stick' to the pasta, and to give the pasta a slightly more 'textured' quality.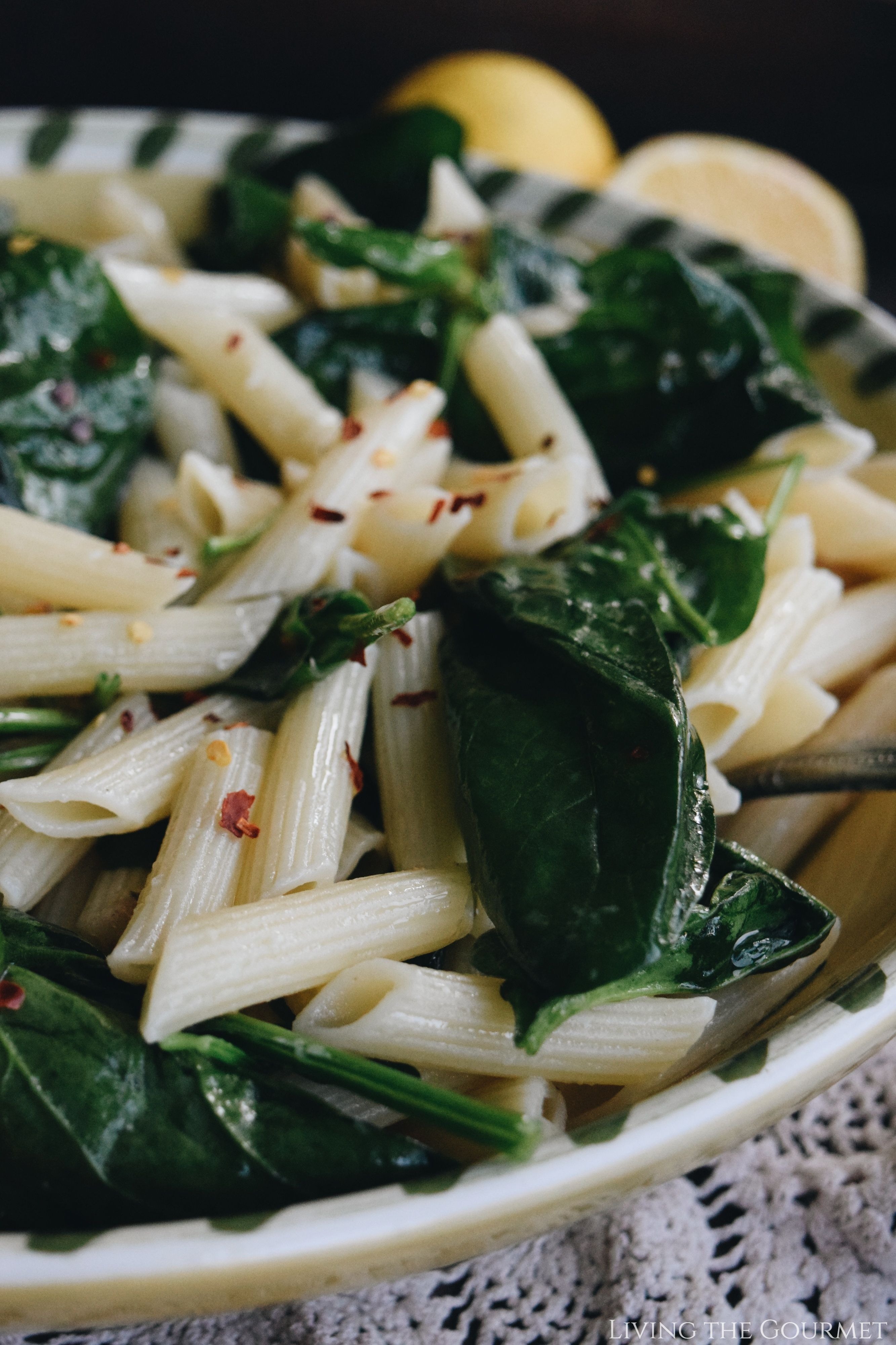 Ingredients: Tips and Substitutions
1) Lemon Juice. Fresher is Better. As in virtually all cases, fresher is better. On top of that, slicing a lemon into squeezable halves or wedges is practically as easy as opening a bottle and measuring it out. Furthermore, bottled lemon juice simply isn't as flavorful, lacking the full 'zest' or 'brightness' of fresh lemon juice, since the juice begins breaking down chemically almost as soon as it leaves the lemon. Beyond that, the juice's flavor is often times further diluted with preservatives. As a result, if you want the full flavor and balance intended in today's recipe, use fresh lemon juice.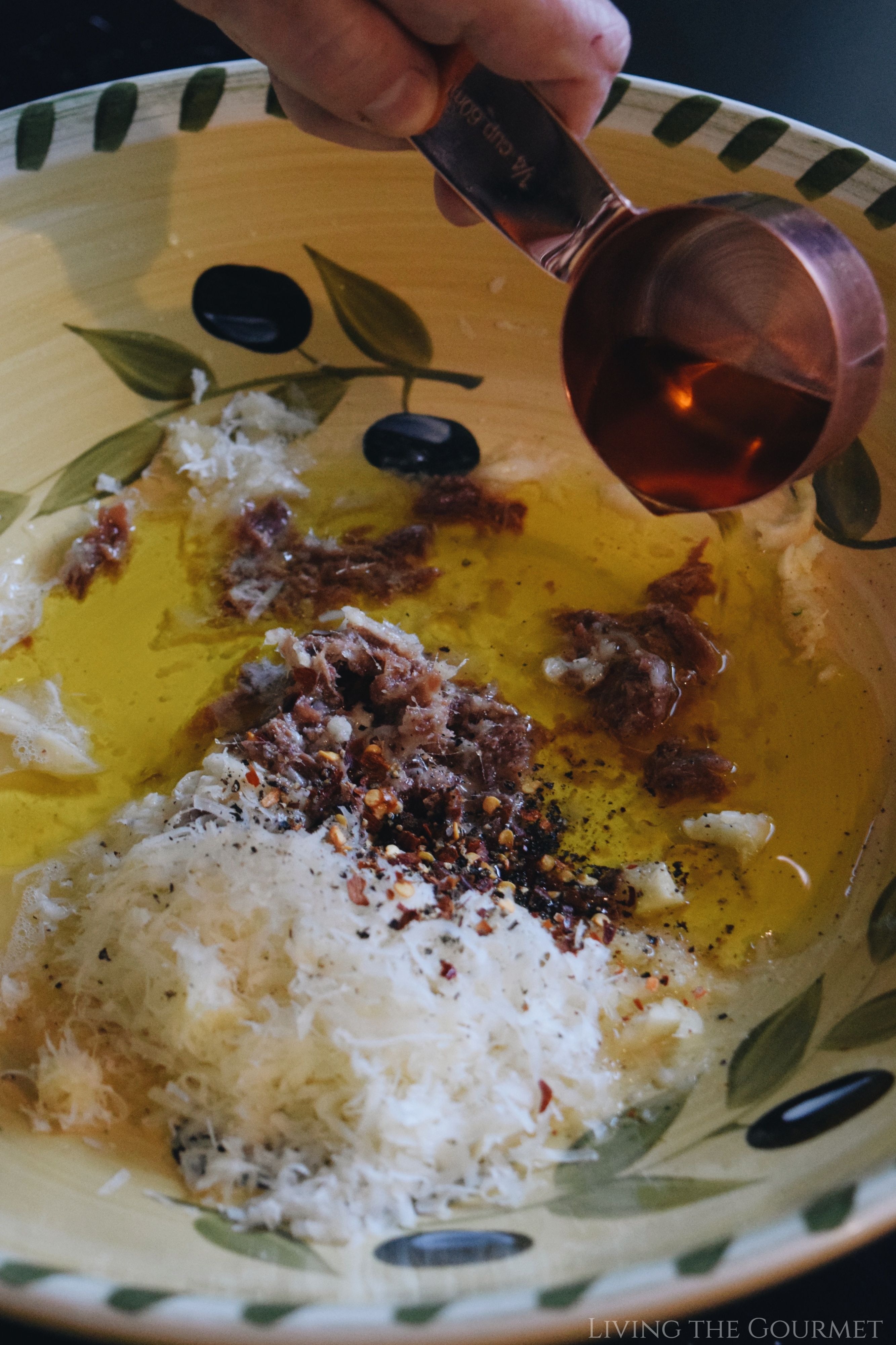 2) 'That' Much Grated Romano? Yes, that much. The grated Romano cheese is where a large portion of this recipe's umami/savory profile is coming from, as well as most of its salt content. Reduce the amount of grated Romano, and not only will this recipe be lacking in salt, but its savory flavor will be vastly understated. For a quick primer on the difference between Romano, Reggianno, and Parmesan cheese, see the Ingredient Tips paragraph I devoted to precisely that subject in my Pignoli Meatballs recipe.
3) Anchovies. Love Them or Hate Them. The anchovies are almost the sum total of this recipe's 'umami' or 'savory' background profile. The salty-savory qualities of the anchovies form the 'foundation' that carries the heat from the red pepper, and is the key flavor coating the pasta. However, if you absolutely cannot stand anchovies, you can substitute one to two tablespoons of fish sauce to achieve a similar 'savory' flavor profile.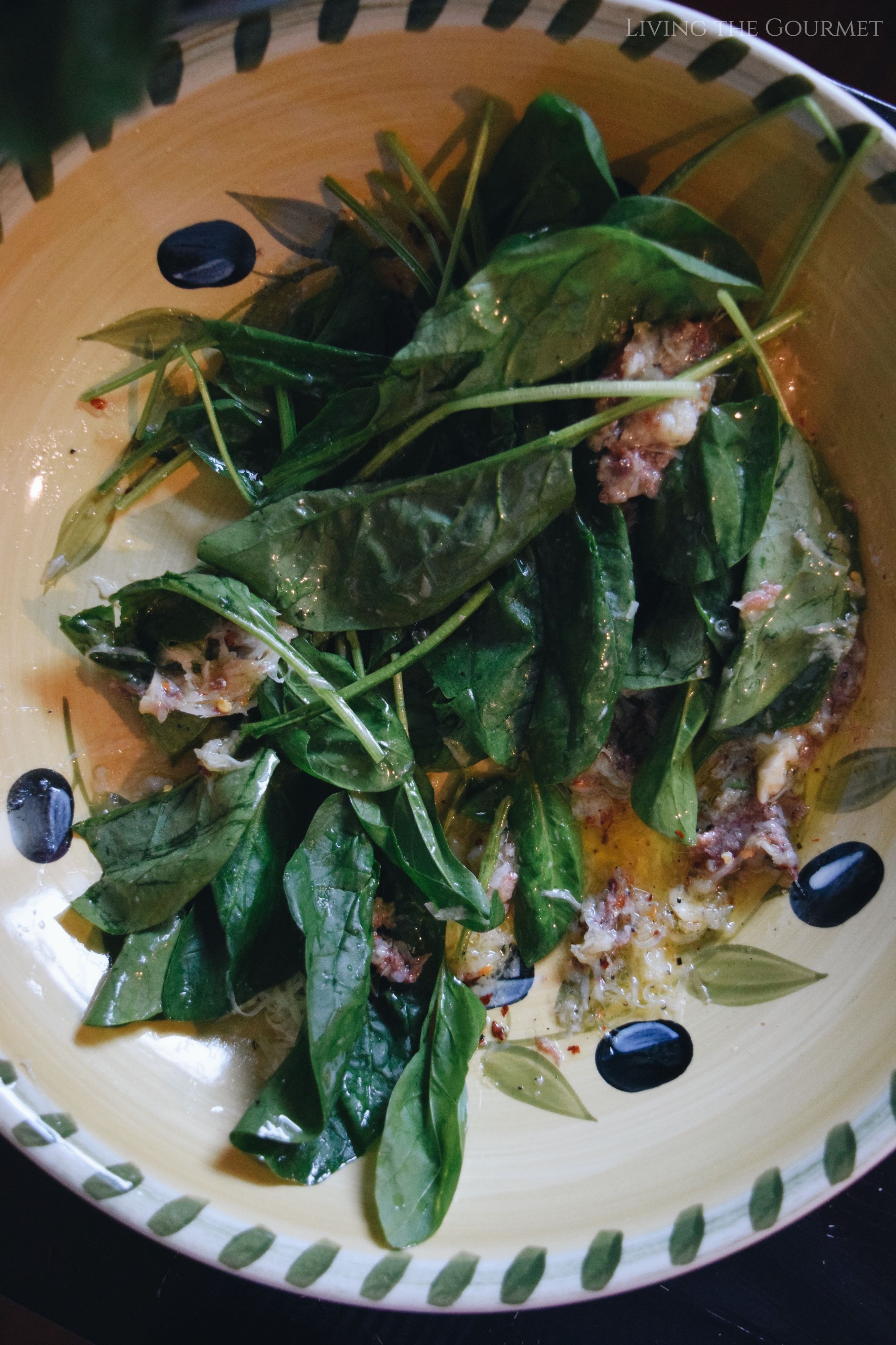 4) Crazy for Pine Nuts. One my new favorite ingredients, pine nuts are soft and almost 'buttery' when cooked, and have a mildly sweet flavor. They also contain a substantial amount of oil (for their small size), which then seeps into the rest of the food, evenly distributing their flavor much more than most other nuts. If you can't find pine nuts, a decent substitution is chopped almonds – although nothing is quite as good as the real thing.
5) Baby Spinach vs 'Adult' Spinach. Baby spinach is simply the smallest variety of flat leaf spinach, and contains all of the same nutrient values as its larger cousins. While some frown on cooking baby spinach, the larger varieties, in my opinion, would simply overwhelm this recipe.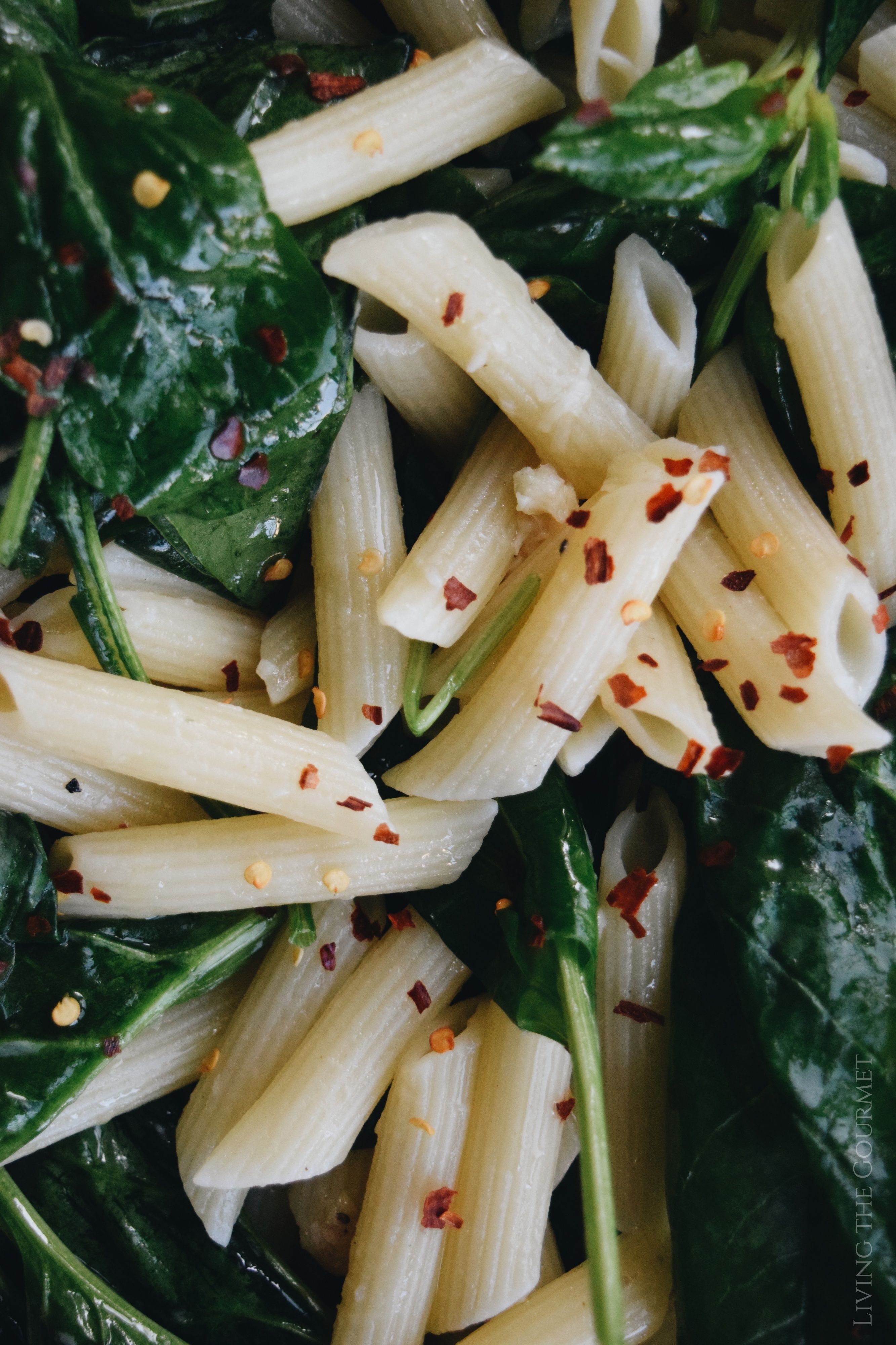 Some of My Other Favorite Pasta Recipes
1) Vidalia Onions with Grape Tomatoes and Spaghetti. Consider this the slightly more in-depth, slightly more complex version of today's recipe, where Vidalia onions take the star slot away from the spinach, and then add in blistered grape tomatoes with a dash of capers.
2) Spaghetti Carbonara. My take on the ever familiar classic Carbonara, equally at home serving as the main course of a Sunday dinner as it is warming your soul on a busy weeknight.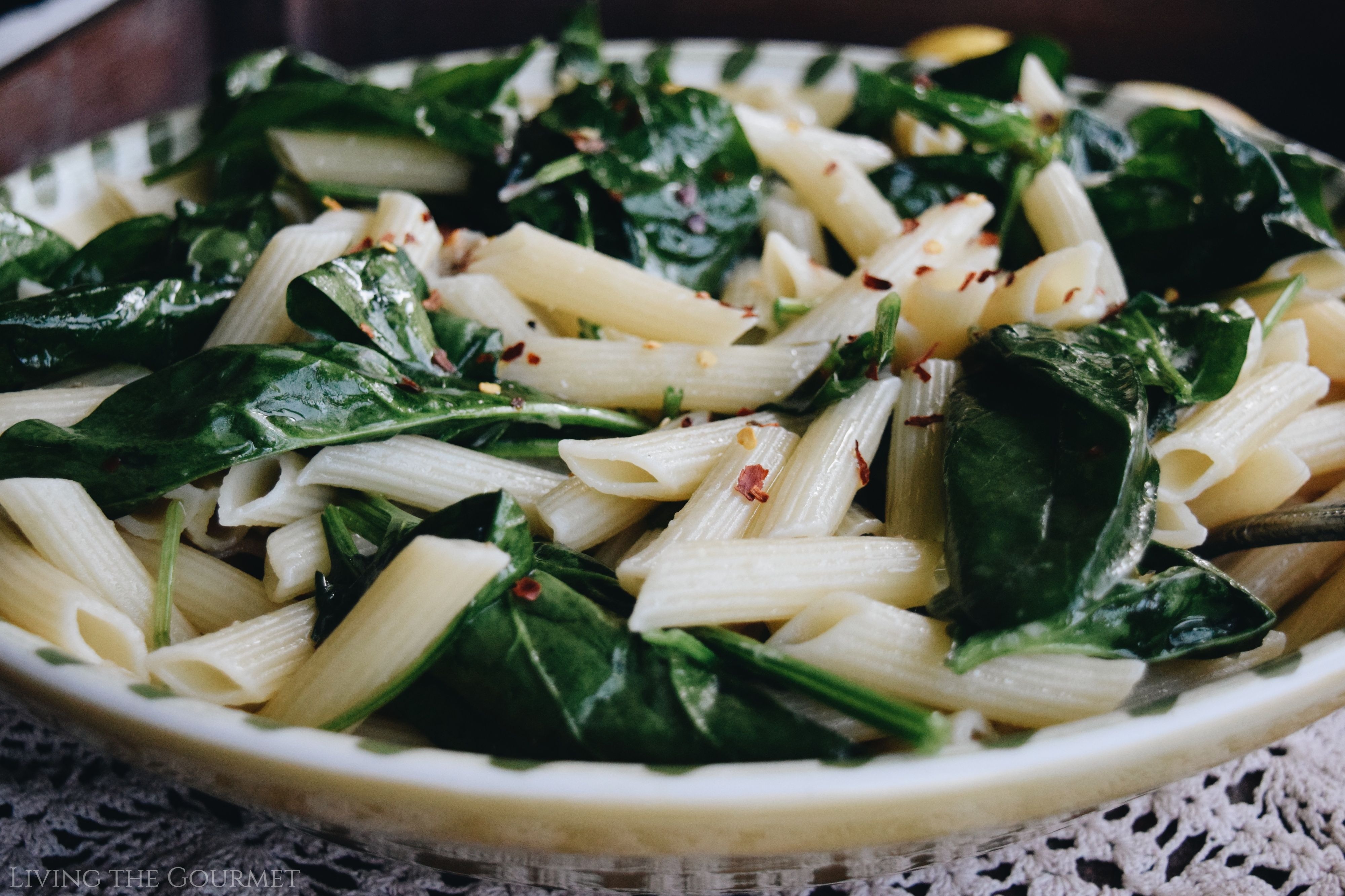 Living the Gourmet
Spinach and Penne Toss
5 minPrep Time
15 minCook Time
20 minTotal Time
5 based on 4 review(s)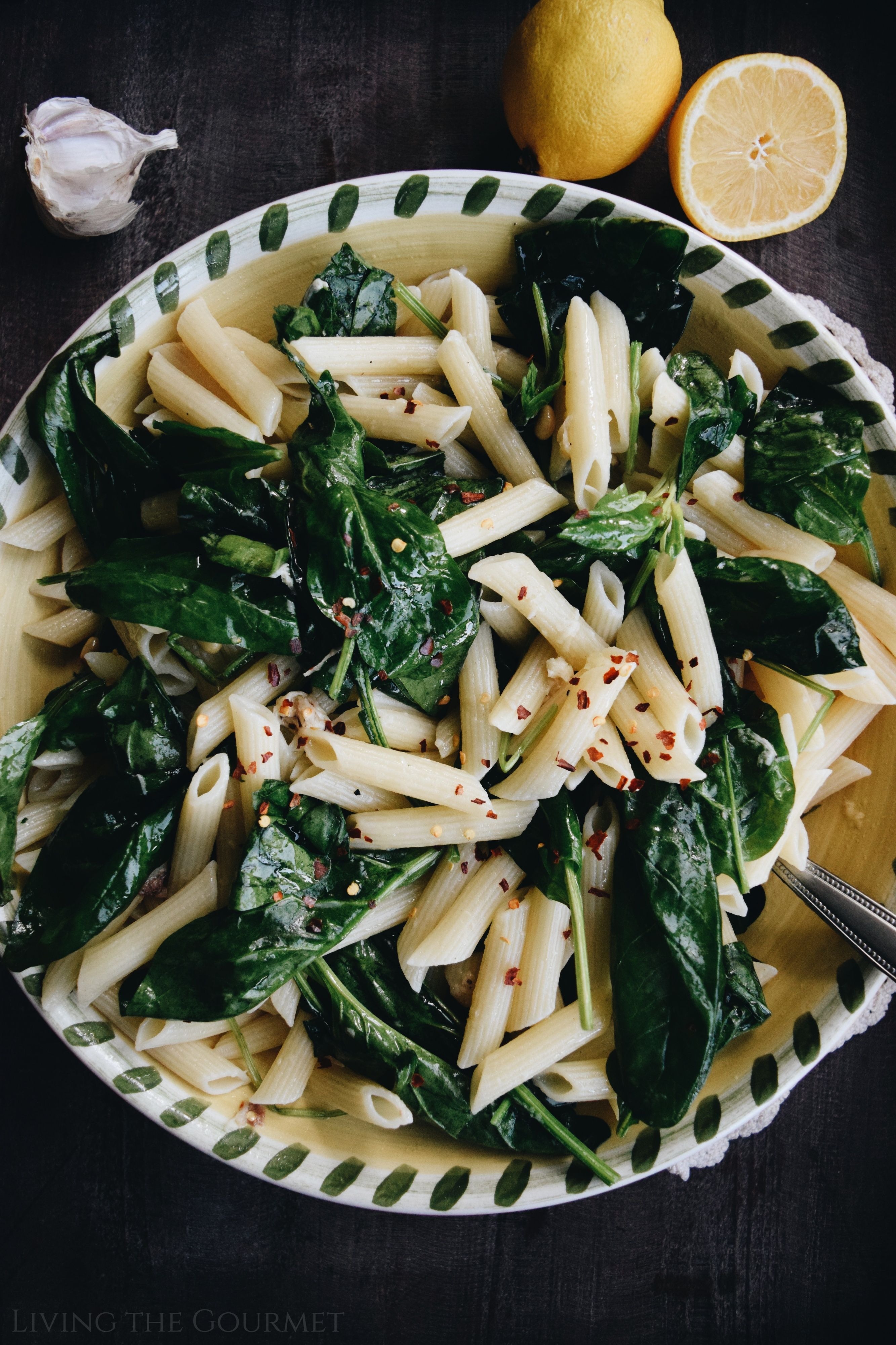 Ingredients
1 bunch of fresh baby spinach – cleaned and dried and stems removed
2 oz. can of anchovies in olive oil
Juice of ½ fresh large lemon
1 cup of freshly grated Romano cheese
¼ cup of toasted pine nuts
¼ cup of olive oil
Pinch fresh ground sea salt
¼ - ½ teaspoon fresh ground black pepper
¼ tsp. red pepper flakes or more if you like
1 lb. of your favorite pasta
Instructions
Clean and dry the baby spinach and set aside.
In a small dry cast iron frying pan gently toast the pine nuts.
In a large bowl place, the anchovies in the olive oil and mash with a fork.
Add the lemon juice, olive oil, red pepper flakes, sea salt, fresh ground black pepper, fresh ground Romano cheese, toasted pine nuts and toss with the baby spinach.
Prepare the pasta as directed. Drain and add to the bowl with the spinach and toss. Taste for seasonings.
Finish the dish off with a pinch more of the red pepper flakes, a drizzle of olive oil and freshly grated Romano cheese.
7.8.1.2
1340
https://livingthegourmet.com/2019/09/spinach-and-pasta-toss.html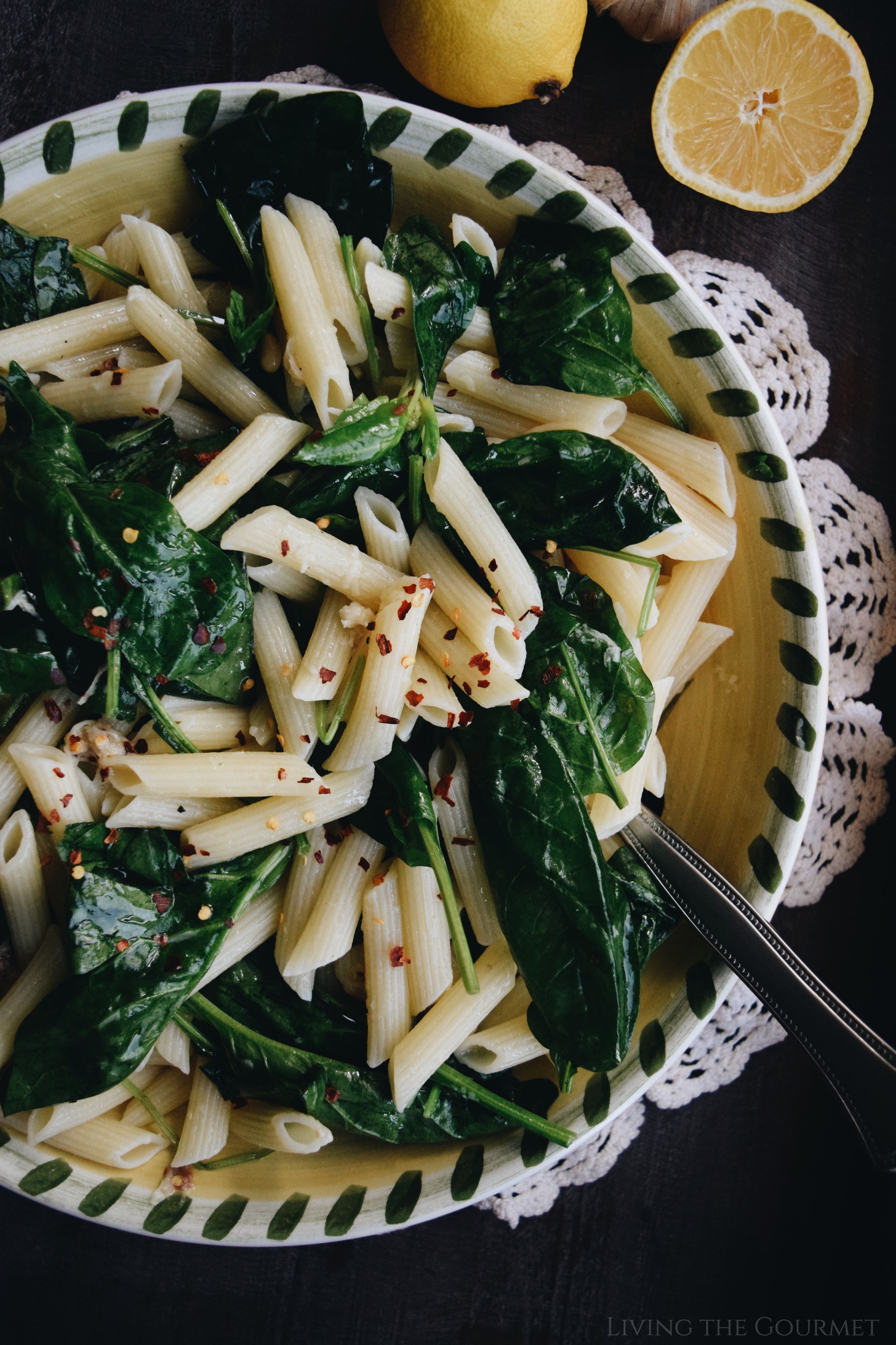 If You Enjoyed Today's Recipe…
Be sure to follow us on Instagram to stay up to date with all things Living the Gourmet, and for more great recipes, tips and tricks.
Did you make this recipe?
If so, let me know in the comments down below, or post a picture to Instagram, or to Pinterest, and I'll give you a shoutout on Instagram, or post your pin to one of my Pinterest boards!
1