This post has been sponsored by Vidalia Onions. All opinions expressed are my own.
We're celebrating summer with this seasonal spaghetti dish tossed together with blistered tomatoes, fresh basil, and sweet Vidalia onions! This is summer comfort food at its finest.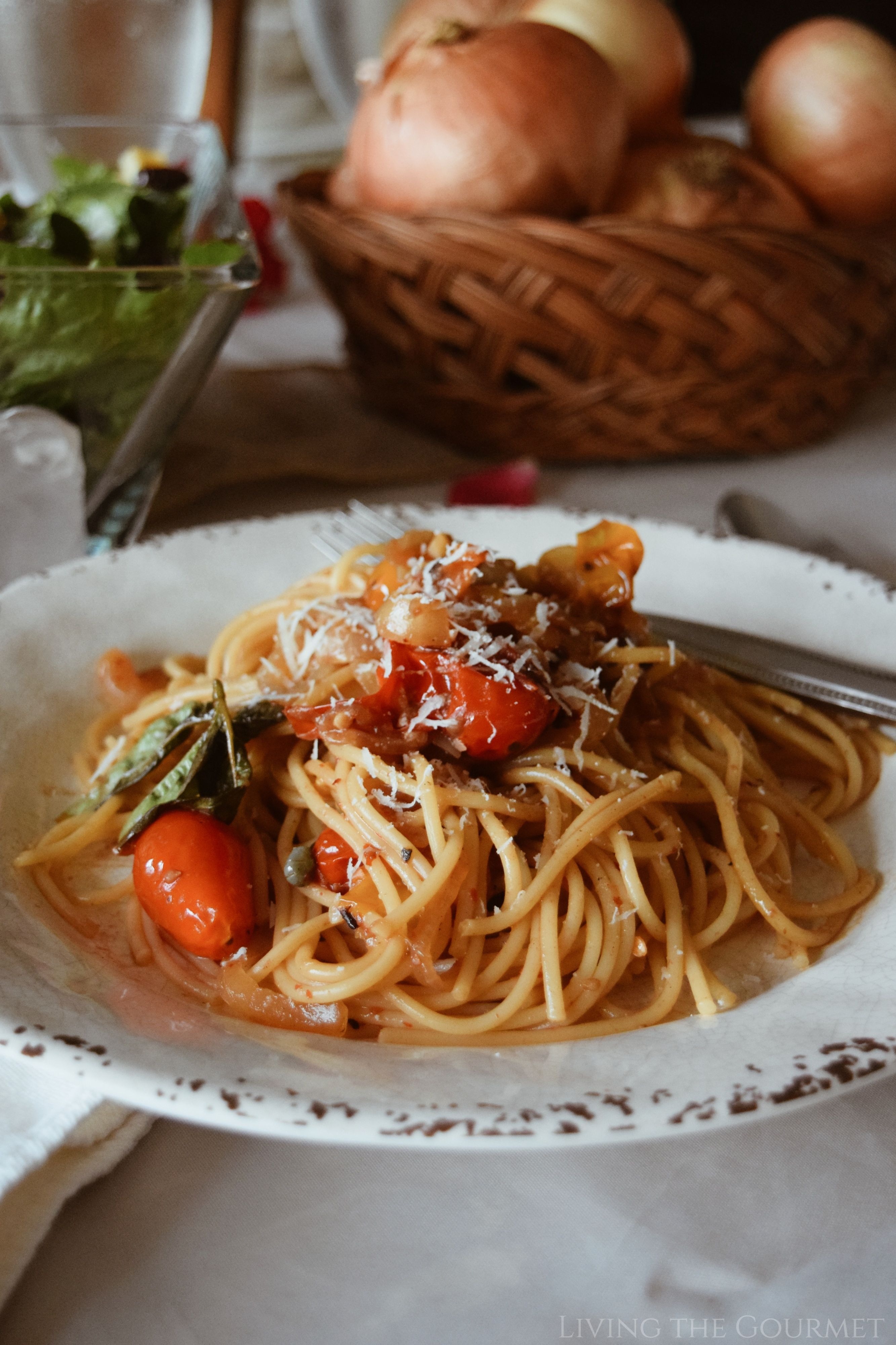 Today we're preparing a set of recipes that are exclusively summer orientated – Pasta topped with a Vidalia Sauce, and a grilled Vidalia salad. These are savory-sweet recipes, whose primary ingredient are Vidalia onions, which are harvested exclusively from around mid-April to August.
For today's sauce, we're combining a bistro-inspired mix of capers and anchovies, with sweet Vidalia onions, sweet paprika, and fresh basil, to create a sweet, light sauce that remains grounded in savory earthy notes.
It's light yet satisfying, and its medley of flavors perfectly encapsulates the summer spirit. Paired with a caramelized Vidalia salad, which features honey, cranberries, and fresh lemon juice, this is a meal that will perfectly complement any relaxed dinner party out on the porch, and that's easy and quick to prepare for a weeknight dinner.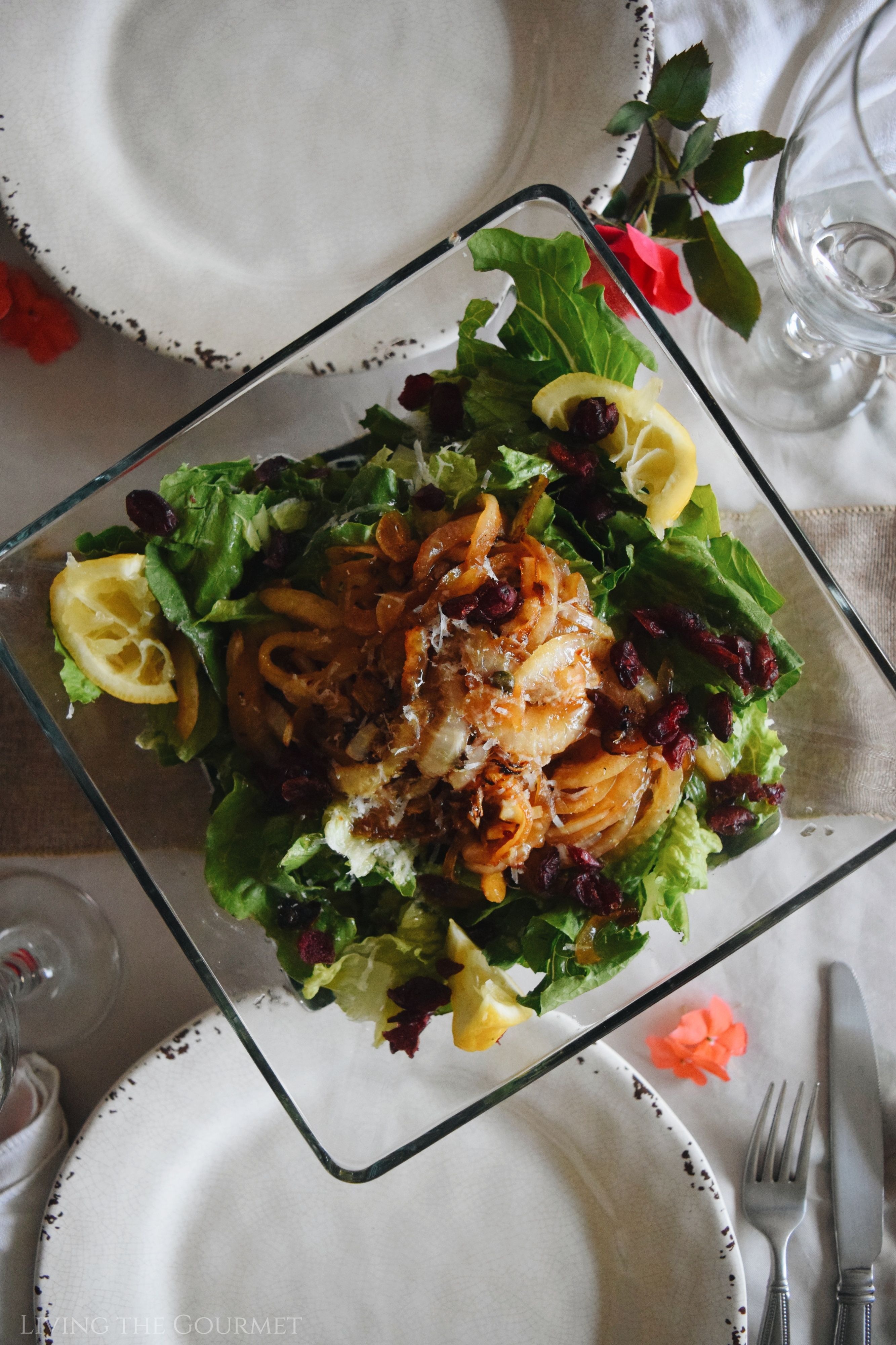 Pasta Pointers – The "Which" and the "Why"
Like any self-respecting pasta aficionado knows, pasta shapes are 'not' interchangeable. However, this often gets overlooked because you're not going to 'ruin' a good sauce with a less than ideal pasta pairing. A delicious red sauce remains delicious, even if you swap out rigatoni for alphabet shaped macaroni.
So, go ahead use your favorite pasta, but if you would like some pointers on a more ideal pairing, keep reading.
With that being said, the proper way to pair pasta is quite intuitive once you stop to think about it.
Tube shaped pasta generally pairs well with thick hearty sauces that can 'trap' or 'catch' within the tube, such as ziti, rigatoni, and penne. The larger the tube pasta, the heartier the sauce it pairs with.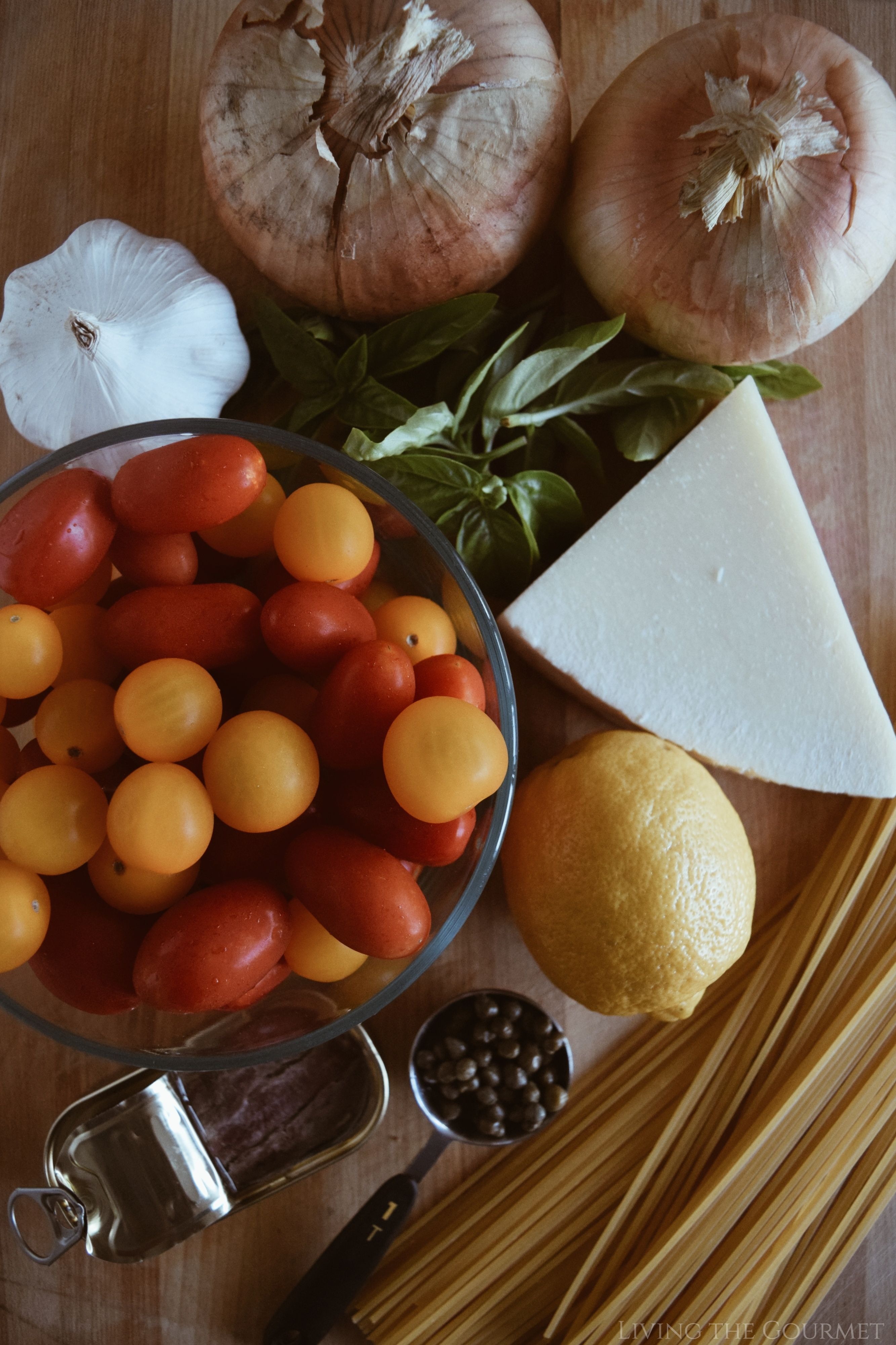 Stick or 'rod' shaped pasta, such as spaghetti, spaghettoni, and capellini, are generally best paired with olive oil and garlic or tomato based sauces, since these types of pasta serve best when they can be uniformly coated by the sauce, since the pasta cannot 'catch' or 'trap' heavier sauces in the way that something like rigatoni can.
Ribbon pasta is generally ideal for creamier sauces. Think of the heavenly pairing of fettucine and alfredo sauce.
Naturally, given the above criteria, today's sauce is ideal with rod or 'stick' shaped pasta, preferably spaghetti.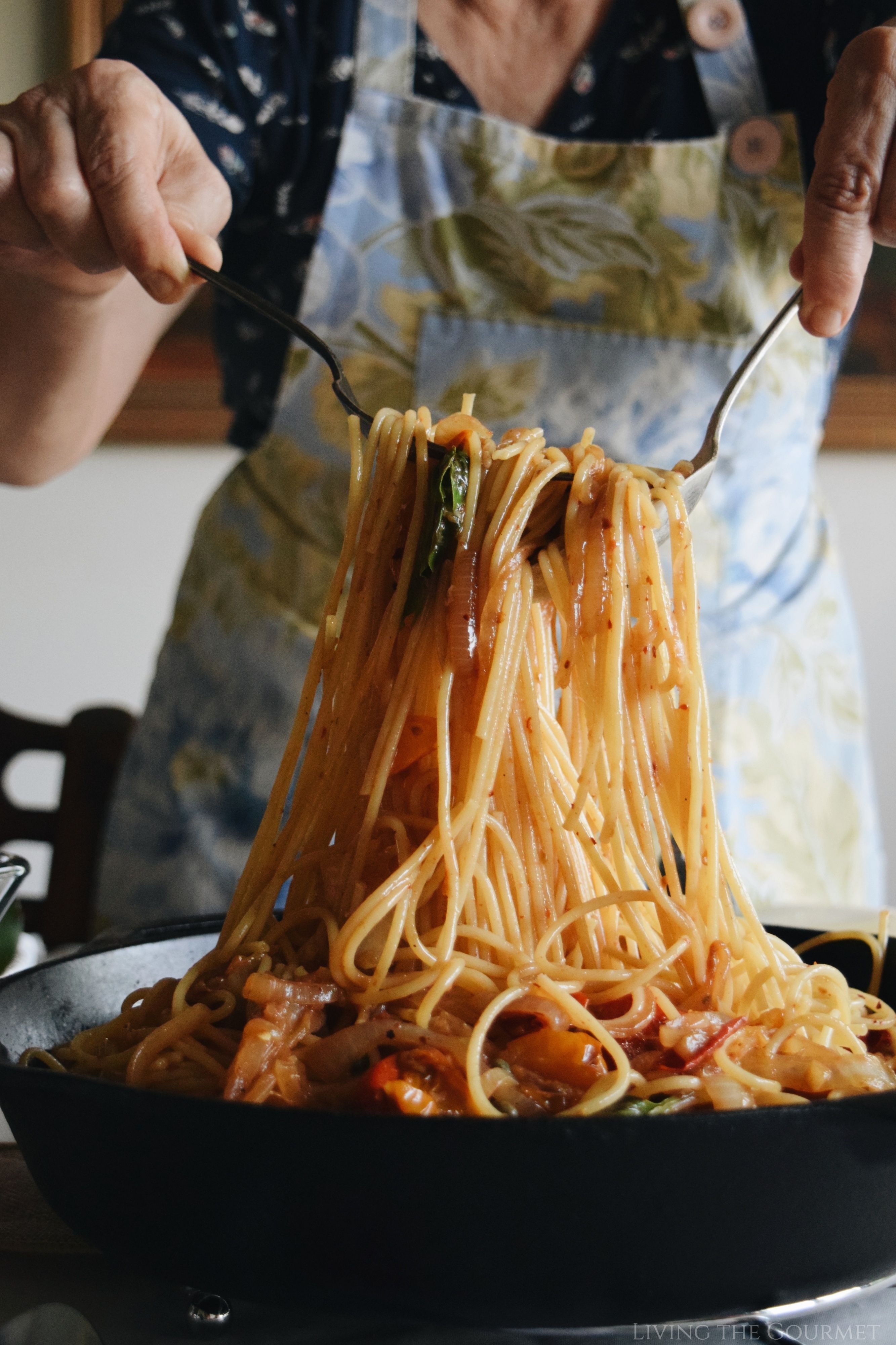 The Ingredients – A substitution and some selection tips
1) The Anchovies. I learned long ago that these little buggers are a fair bit more controversial than my Sicilian upbringing would have led me to believe. That being said, 'yes' you can simply leave them out – but that will change the flavor profile of this recipe dramatically, taking it from a savory-sweet, earthy umami mosaic to something rather a fair bit more 'bright,' 'sweet' and 'lively.' However, there is one possible substitution that may allow you to remove the anchovies while maintaining the original flavor. A curiously undated Cook's Illustrated article, aptly entitled "Can You Substitute Fish Sauce For Anchovies," informs us that fish sauce 'can' be substituted to achieve the same 'savory flavor' as anchovies. However, I will say that their measurement of a solid half-teaspoon per fillet sounds a bit much, especially for today's recipe, since we're using a full two ounce tin. I would suggest 'maybe' two teaspoons at max.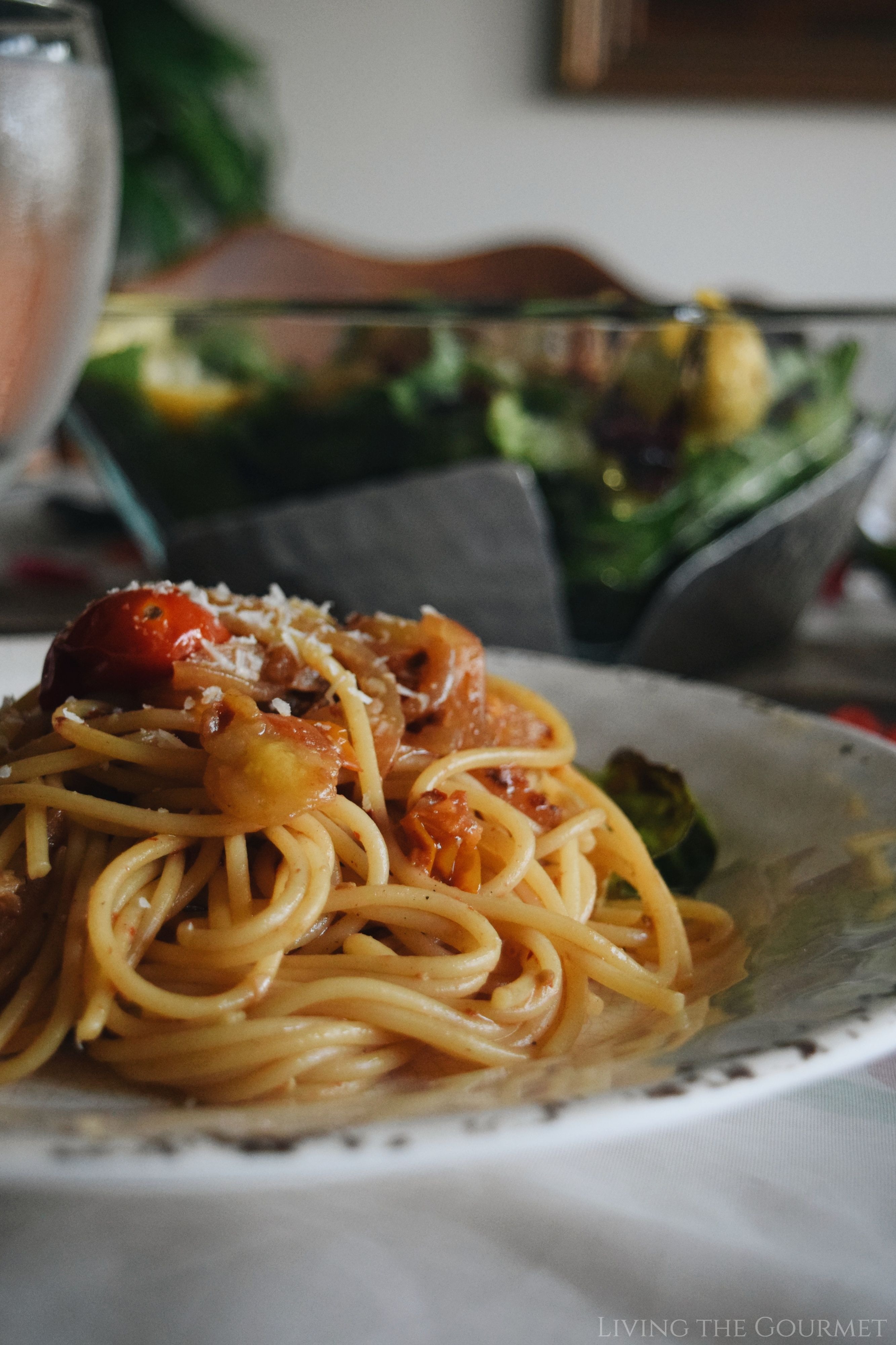 2) Paprika. For today's recipe you definitely want to stick with "Sweet" or "Basic" paprika in both the pasta and the salad. In case you're wondering why or what the difference is, paprika comes in numerous varieties, but not everyone actually agrees on what those varieties are. The most common way to divide Paprika boils down to "Sweet," "Hot" and "Smoked," and those labels are perfectly self-explanatory. However, others differentiate Paprika into "Basic," "Hungarian," and "Spanish." Hungarian paprika is spicier than the others, and tends to be further subdivided according to a 'heat scale,' while Spanish paprika tends to be less intense, but has a deeper, smokier, more 'peppery' flavor, though this can vary somewhat by region, and "Basic" paprika is quite mild and varies dramatically by region.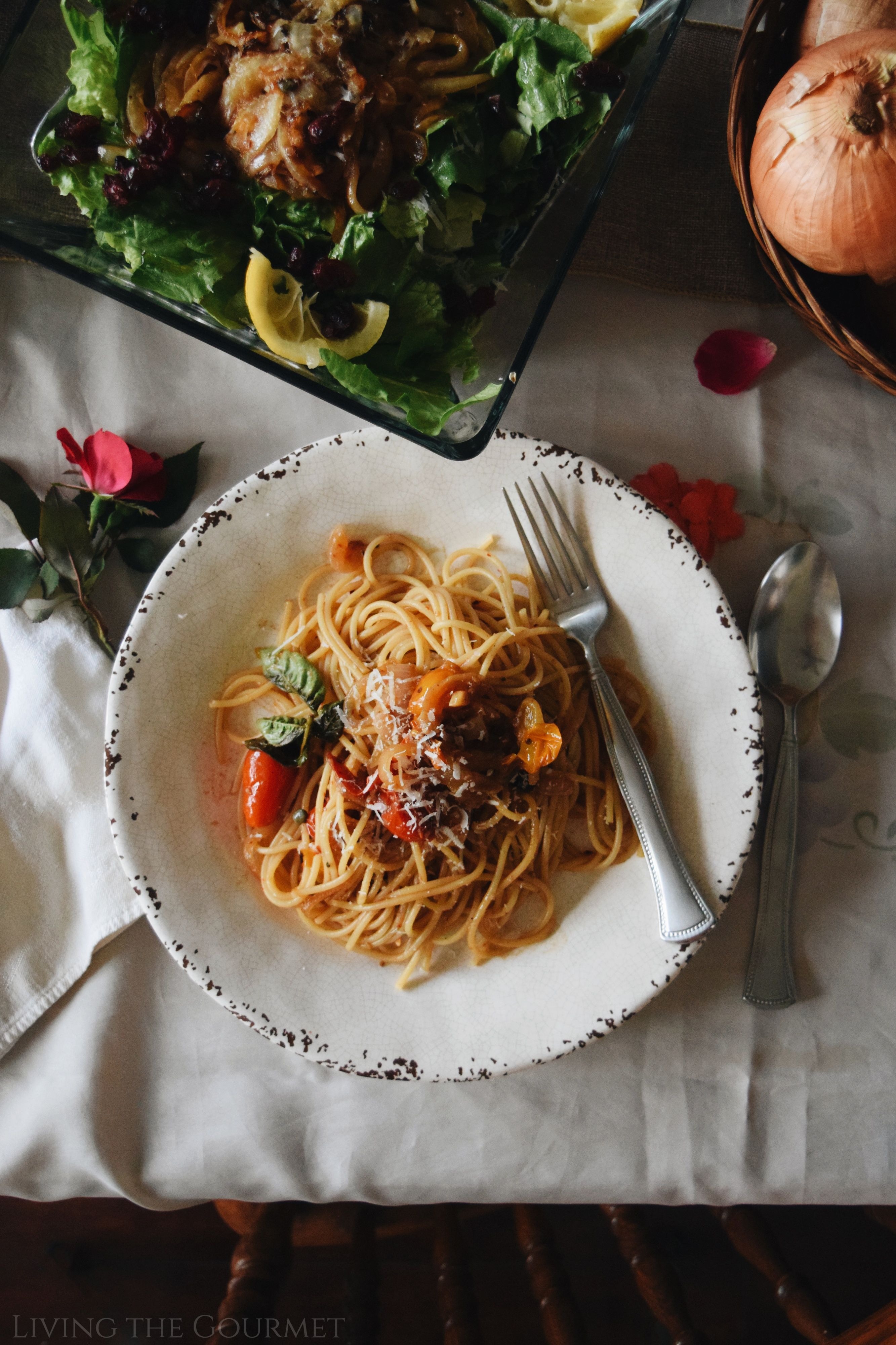 3) The Onions. These are the star of the show today, in both the salad and the pasta. Vidalia onions give both recipes their signature 'savory sweetness.' In my opinion, there really aren't any alternative onions that could be used for this recipe, while keeping the flavor profile the same. Vidalia onions are the sweetest available, and since they are exclusively an April to August treat, there's no reason not to indulge while you can.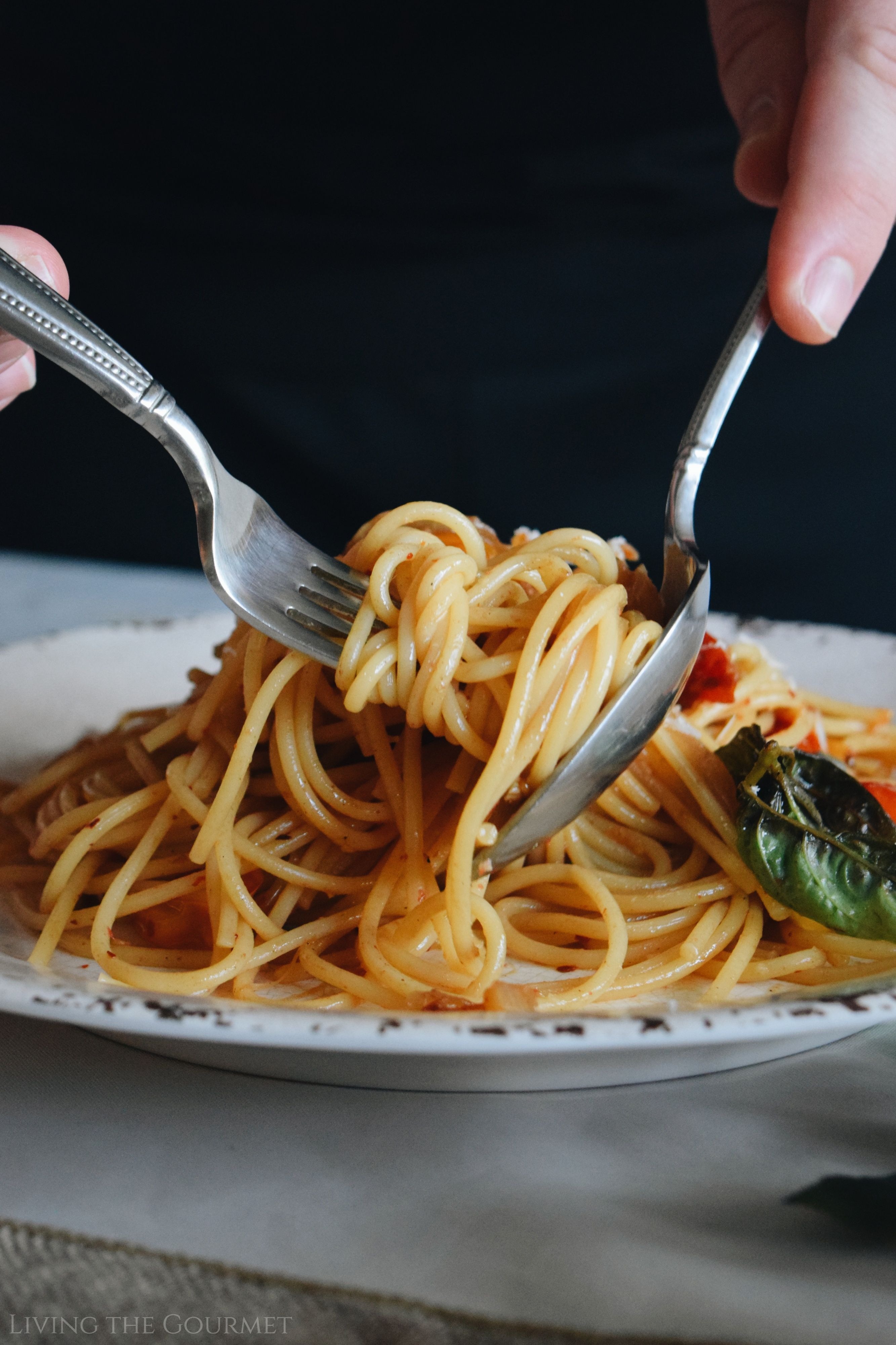 Print
Vidalia Onions with Grape Tomatoes and Spaghetti
Author:
Prep Time:

10 minutes

Cook Time:

20 minutes

Total Time:

30 minutes
For the Spaghetti:
2

Vidalia onions - sliced thin

5

cloves of garlic - finely chopped

1

tbs. capers

2 oz

. can of anchovies - drained

2

pints

of grape tomatoes
Juice of

1/2

lemon
Handful of fresh basil leaves

1 teaspoon

fresh ground sea salt

1/2 teaspoon

fresh ground black pepper

1/2 teaspoon

Red pepper flakes

1/2 teaspoon

Sweet paprika

1 teaspoon

Sugar
Olive oil
Your favorite pasta
Romaine Salad with Caramelized Onions:
1

head of Romaine - ripped

1

Vidalia onion - sliced thin
Juice of

1/2

lemon
Dash of sugar

1 teaspoon

fresh ground sea salt

1/2 teaspoon

fresh ground black pepper
Dash of paprika
Drizzle of honey
Dried cranberries
Olive oil
Freshly grated Romano or Parmesan cheese
Instructions
For the Spaghetti:
Heat a 2 large cast iron frying pans.
Place the sliced onions in one pan and dust the onions with sugar, paprika, fresh ground black pepper, fresh ground sea salt and red pepper flakes.
Cook the onions until they soften, then add the chopped garlic and capers. Drizzle 1 tbs. or two olive oil over the onions and toss.
Let the onions cook until a slight golden char is on the onions.
In the second pan place the tomatoes in the dry pan.
Dust the tomatoes with fresh ground sea salt.
Cook the tomatoes until they become slightly charred and soft.
When the tomatoes become charred drizzle them with olive oil and gently, press the tomatoes. Be careful, since they tend to burst a bit.
Drain the anchovies and add them to the tomatoes.
Mash the anchovies with a fork and incorporate them into the tomatoes.
Add the onions to the pan with the tomatoes and toss.
Add the lemon juice, a dash of fresh ground black pepper, fresh ground sea salt and a dash of red pepper flakes and toss.
Prepare the spaghetti as directed.
Drain the spaghetti and toss in with the onions and tomatoes.
Add the fresh basil leaves, freshly grated Romano or Parmesan cheese, fresh ground black pepper and a dash of red pepper flakes and toss.
Romaine Salad with Caramelized Onions:
Place the sliced onion in a cast iron frying pan and drizzle with olive oil.
Dust with sugar, fresh ground sea salt, fresh ground black pepper and dash of paprika.
Sauté the onion until it is golden.
Grate fresh Romano cheese over the Romaine and place the golden onions on the Romaine.
Place the lemon juice over the onions and a drizzle of olive oil over the Romaine and onions.
Sprinkle with the dried cranberries.
Finish off the salad with a drizzle of honey over the top of the salad.
Toss before serving.
Recipe Card powered by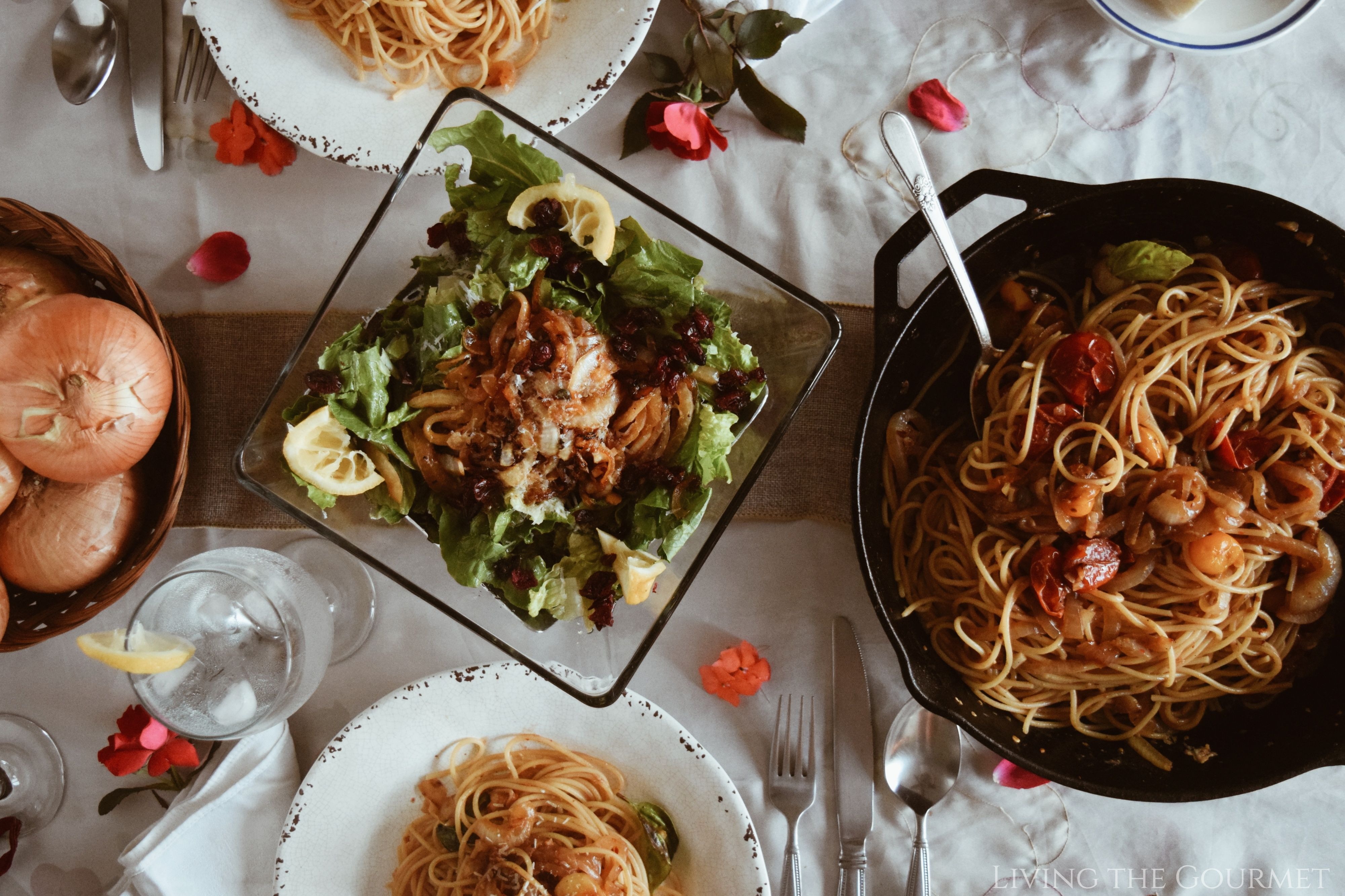 Did you make today's recipe? If so, I would absolutely love to hear from you! Give us a shoutout on Instagram or tag us on Pinterest with a picture of what you made, and be more than happy to post your pin to one of my boards!
Enjoy with Love!
1