Serve up these classic crepes on holiday mornings or weekends! They are filled with whipped Greek yogurt then topped with honey, berries and chopped pecans for a wholesome twist on a sweet French treat.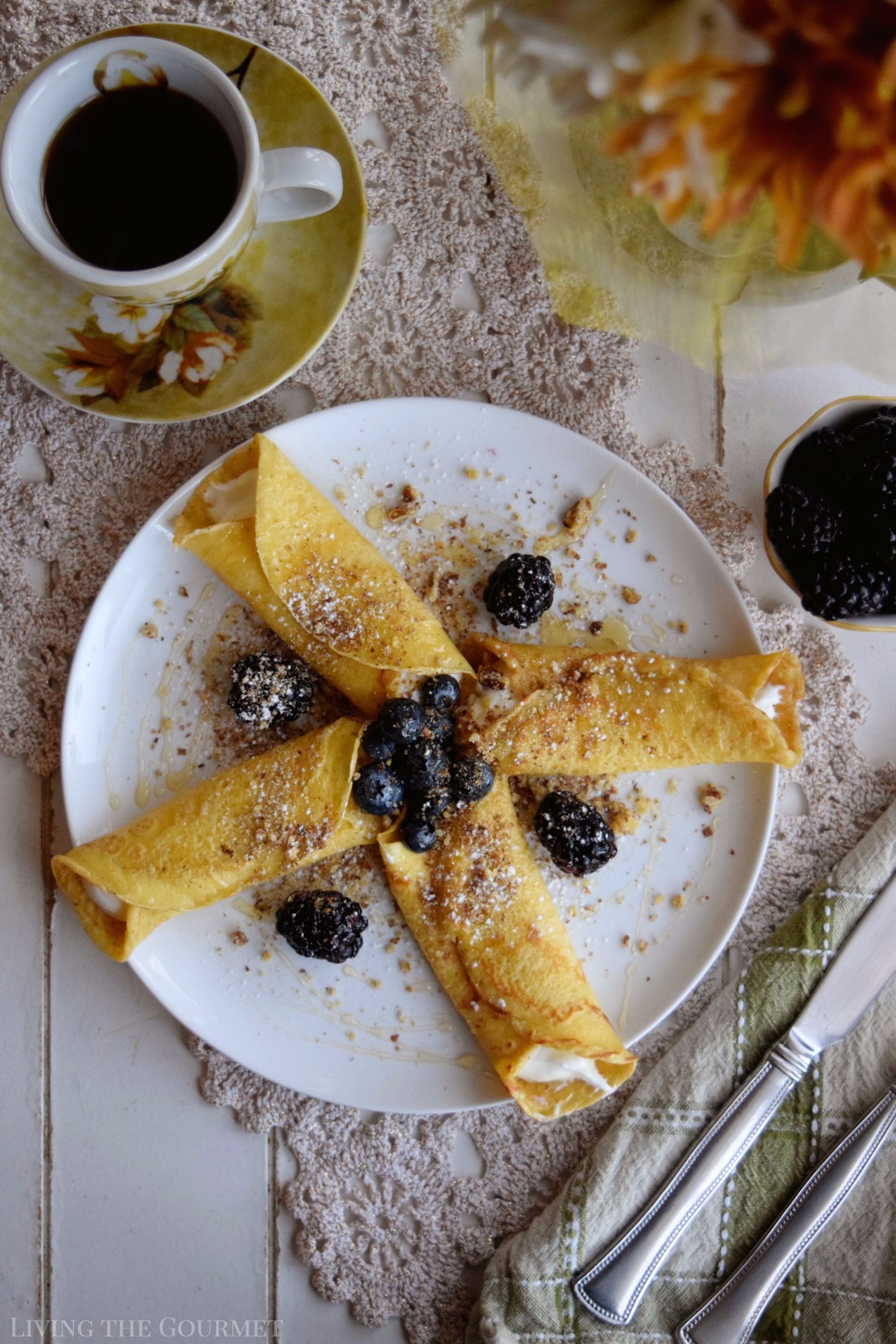 This past week we celebrated my son's birthday.
To celebrate, I prepared this special breakfast along with a poem.
Enjoy, friends~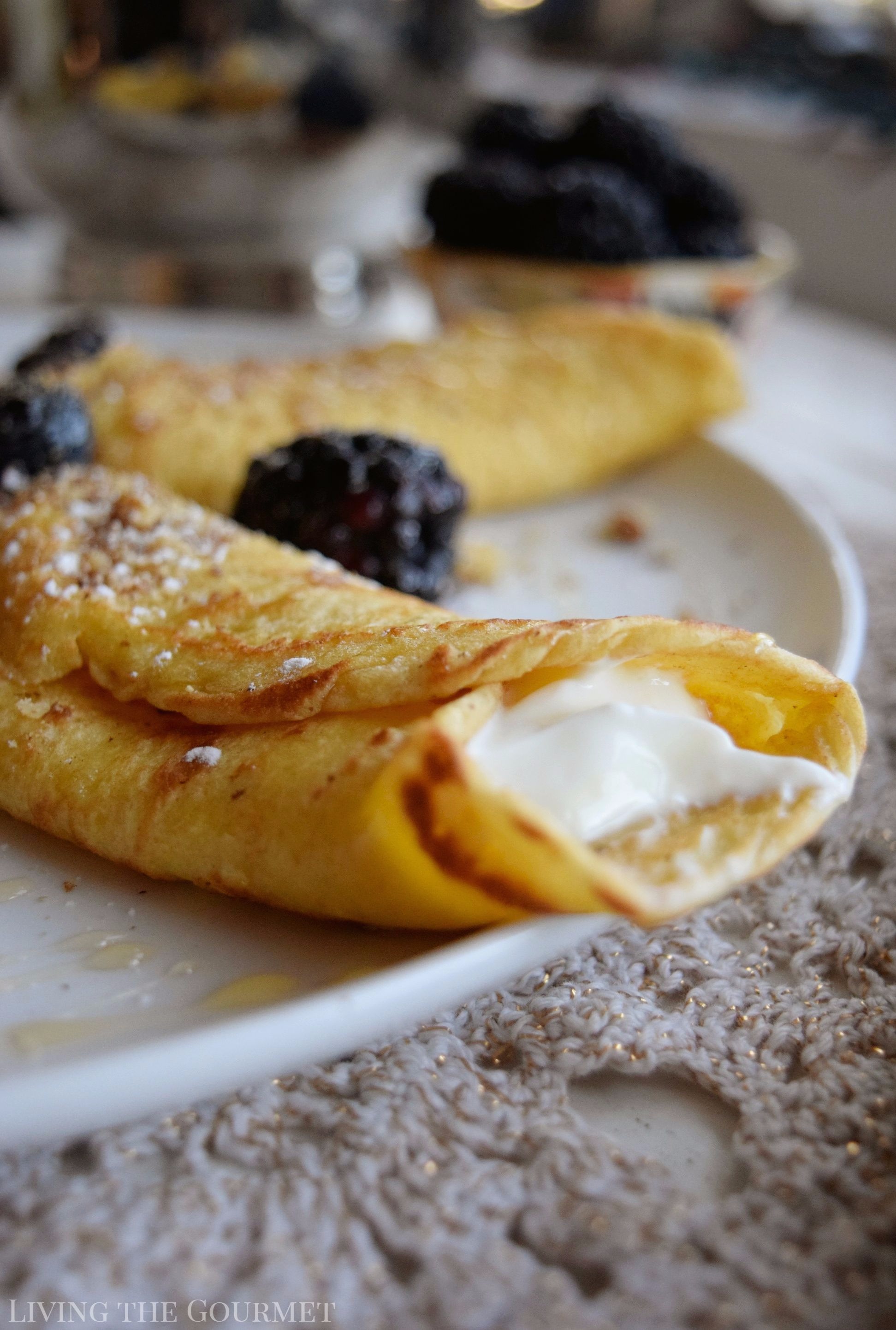 For the boy who was born during a storm
He came on the day and suddenly the winds were blown away
He brought life where there was strife
For he came early in the morn
And there my heart took form
Was an angel born?
For I am no longer forlorn
A love never to be torn
He brought strength for the weak
For he is so very wise
And he taught there is no compromise
He brought a smile
For those early days were so long
And now I see why they were worthwhile
He has allowed me to look back with a smile
How would I ever know the glow
Of a heart that has overflowed with the joy
For the love of a baby boy
-by Catherine Pappas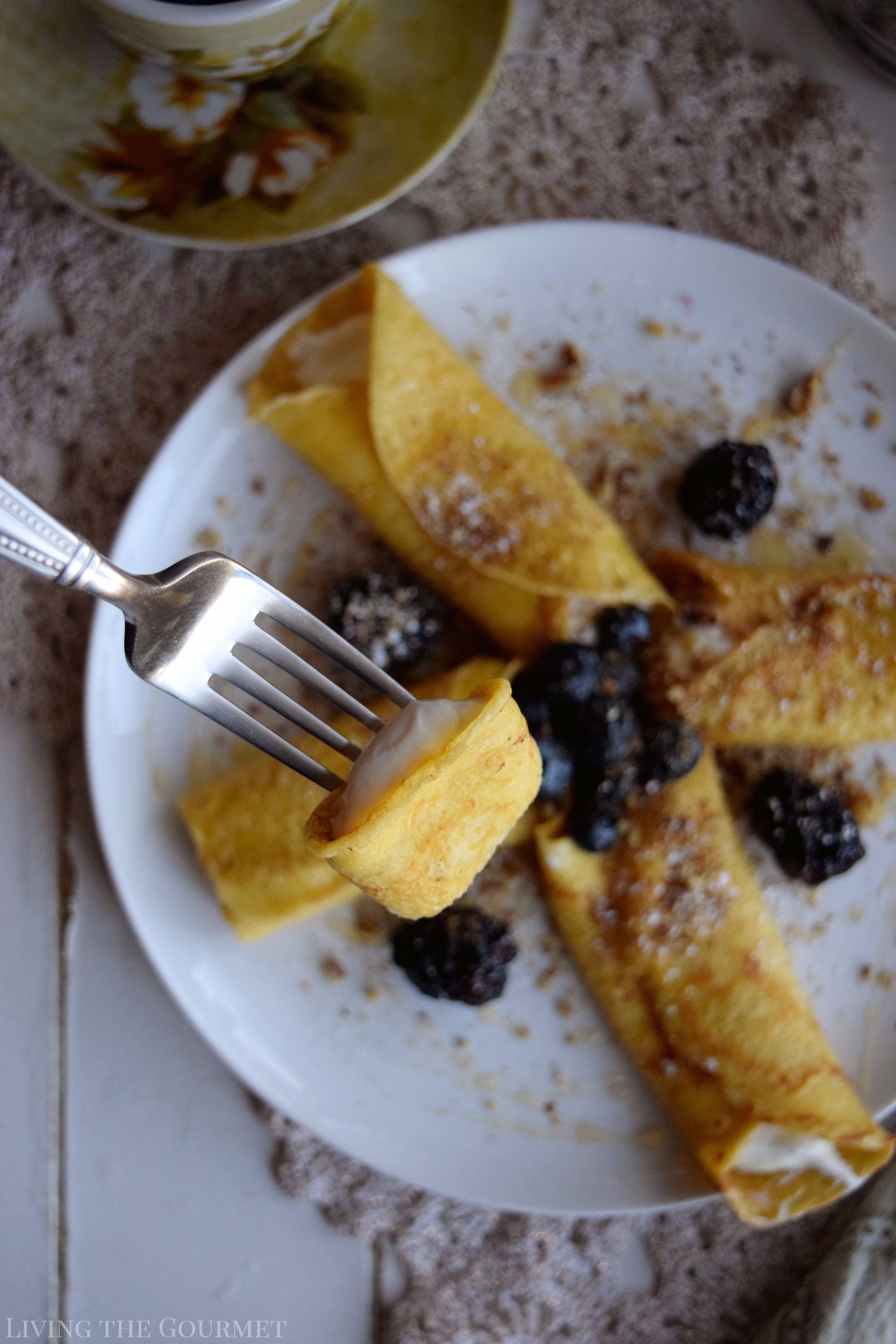 Living the Gourmet
Yields 4
Classic Crepes with Greek Yogurt, Honey & Berries
5 minPrep Time
10 minCook Time
15 minTotal Time
5 based on 1 review(s)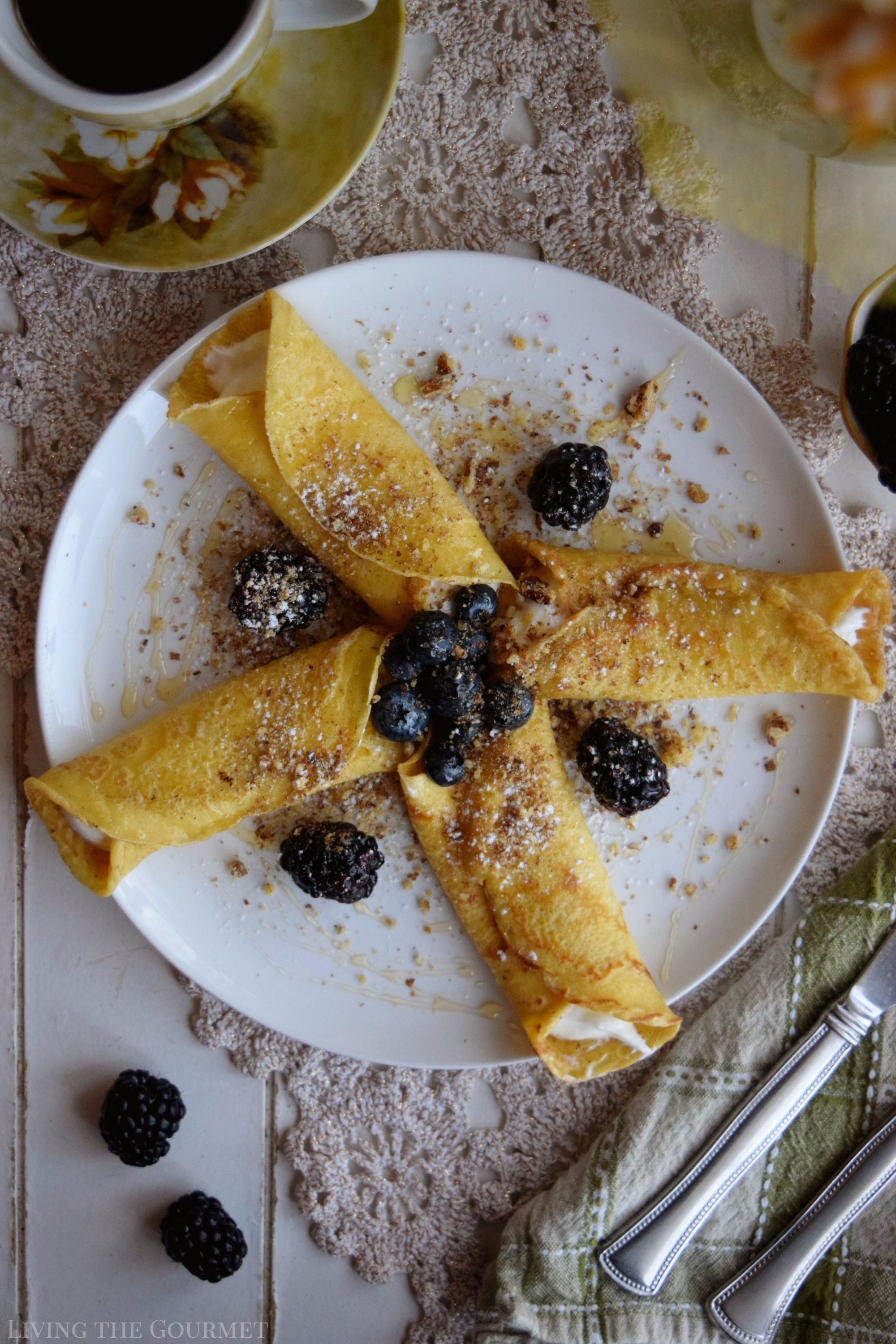 Ingredients
For the Crepes:

1 cup of flour
¼ cup melted butter – unsalted
2 eggs
2 egg yolks
1 ½ cups milk
Chopped pecans – for the topping
Honey – for drizzling
Powdered sugar – for dusting
Fresh berries for garnish

For the Filling:

2 cups plain Greek yogurt
Zest of 1 lemon
¼ cup powdered sugar
Instructions
For the Crepes:

Combine the flour, melted butter eggs, egg yolks and ½ cup of milk in a medium sized bowl. Whisk until smooth, combine the remaining milk and melted butter and slowly add to the batter while continuing to gently whisk. Cover and refrigerate while preparing the filling.

For the Filling:

In a medium sized bowl combine the yogurt, lemon zest and powder sugar and beat with an electric mixer until fluffy.

For Making the Crepes:

Heat a small cast iron frying pan with a touch of butter.
Ladle about 2 tbs. of batter and lift the pan and gently swirl to spread the batter.
When the sides are firm and the batter has set gently lift with a spatula and flip. Leave for a second and remove from pan. Repeat this process for as many crepes as desired.
Spoon the whipped yogurt down the middle of the crepe and fold.
Garnish with the chopped pecans, berries, honey and powdered sugar.
7.8.1.2
710
https://livingthegourmet.com/2017/12/classic-crepes-greek-yogurt-honey-berries.html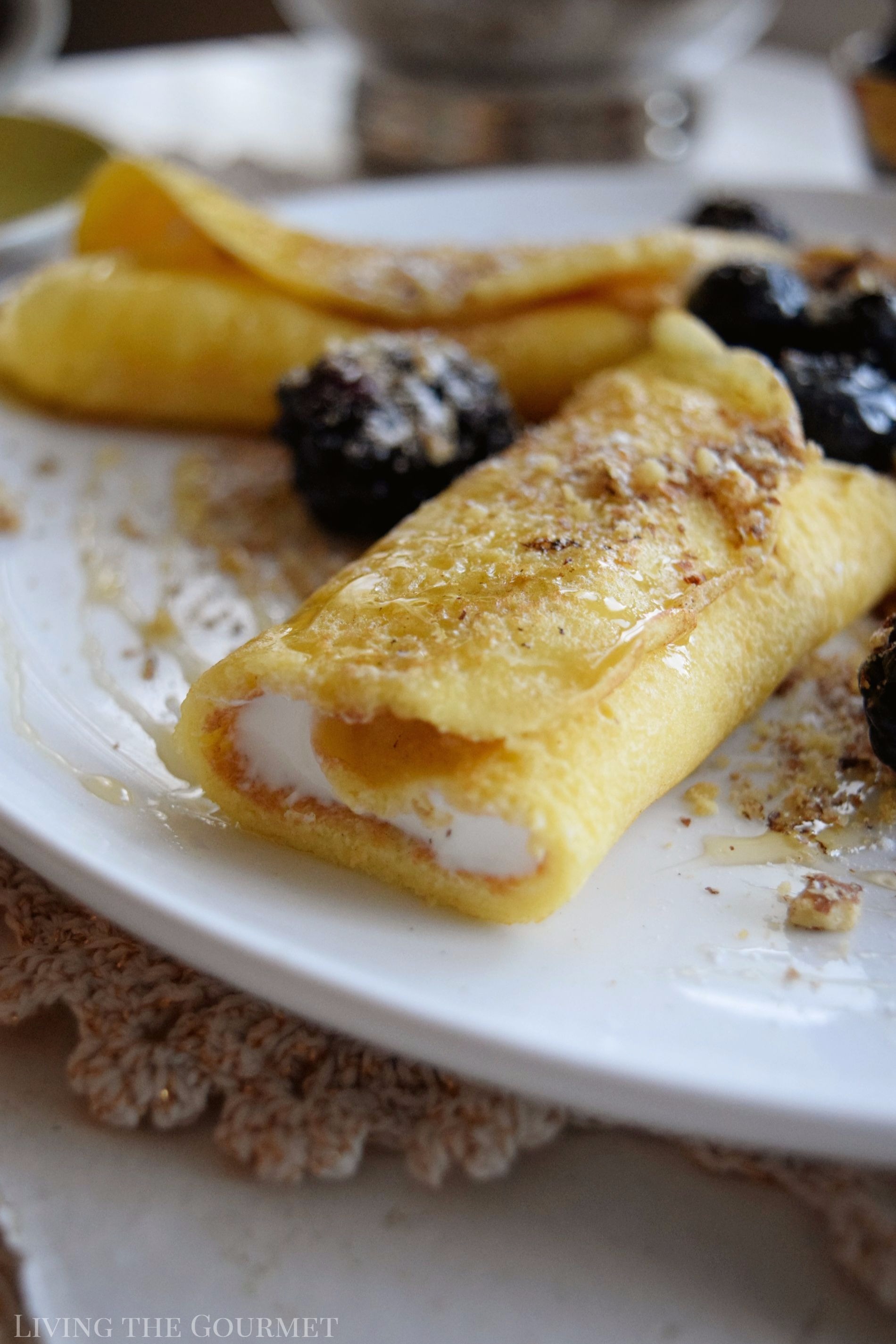 "The day you were born, Heaven wept at its great loss, and Earth joyed at its gain." -Richelle E. Goodrich
Michael, I am so very blessed and honored to be your mother and to celebrate this milestone birthday with you.
I love you very much!
0