This post has been sponsored by FAGE: Total Plain Greek Yogurt. All opionions expressed are my own.
Treat yourself to something that is not only indulgent but also healthy like these Greek Yogurt Parfaits boasting of organic bee pollen, raw cacao nibs, goji berries, coconut, and fresh strawberries!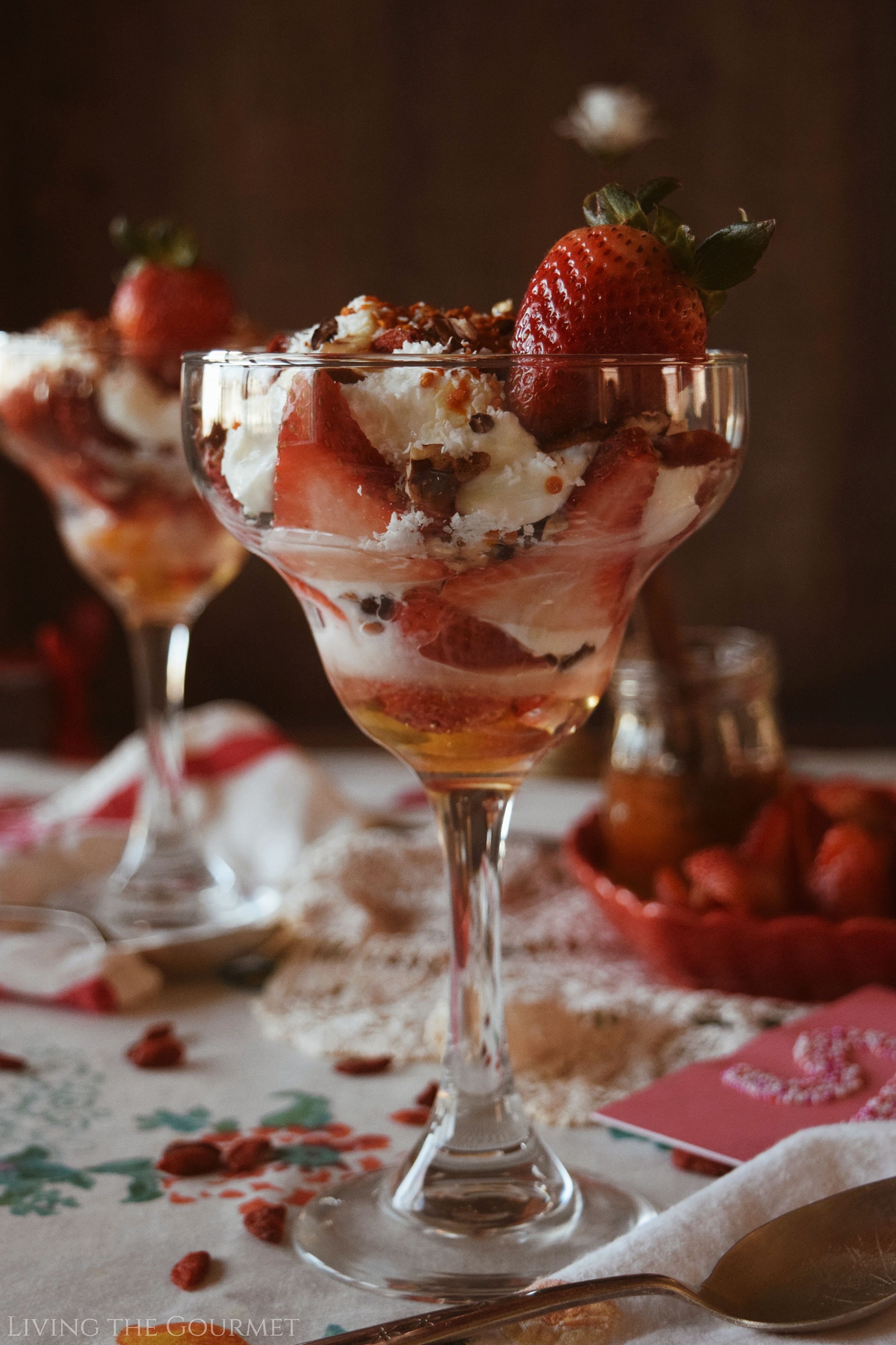 The calendar is full of days that simply demand decadent cakes or 'sweet expressions' of one's jovial emotions, with almost every holiday competing to be the most 'overindulged.' Valentine's Day? Think candied hearts and chocolates. Halloween? Candied ghouls and more chocolates. Christmas? Cookies, cakes, and candies. Easter? Egg shaped candies and chocolate bunnies.
Notice a pattern yet?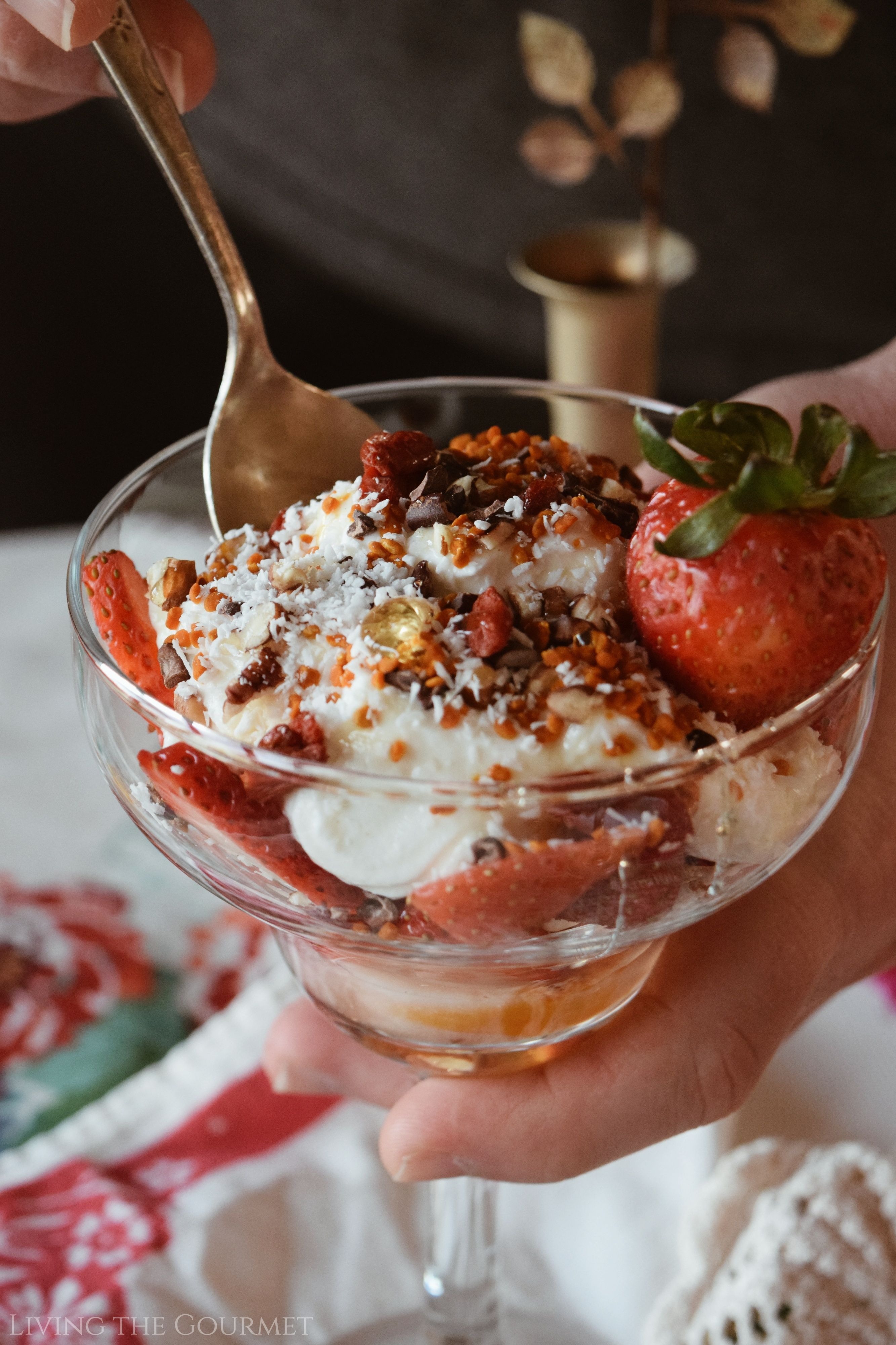 Personally, I've always preferred things to be slightly on the 'fresher,' 'lighter' and, yes, 'healthier' side of the equation, preferring to reserve my indulgence for the dinner table as opposed to boxed chocolates or bakery confections – albeit I've been known to consume my fair share of both more often than I would care to admit.
Instead, I prefer something that 'uplifts' with its flavors, and that leaves you feeling refreshed and energized, as opposed to that 'weighty' feeling that often accompanies overindulgence. One such example of, say, an early morning or afternoon treat that I've been known to enjoy is a basic fresh fruit parfait dressed up with toppings like strawberries, honey, and goji berries, which combines all of the colors and flavors of this 24-hour celebration of love into a simple, healthy, and – naturally – delicious recipe.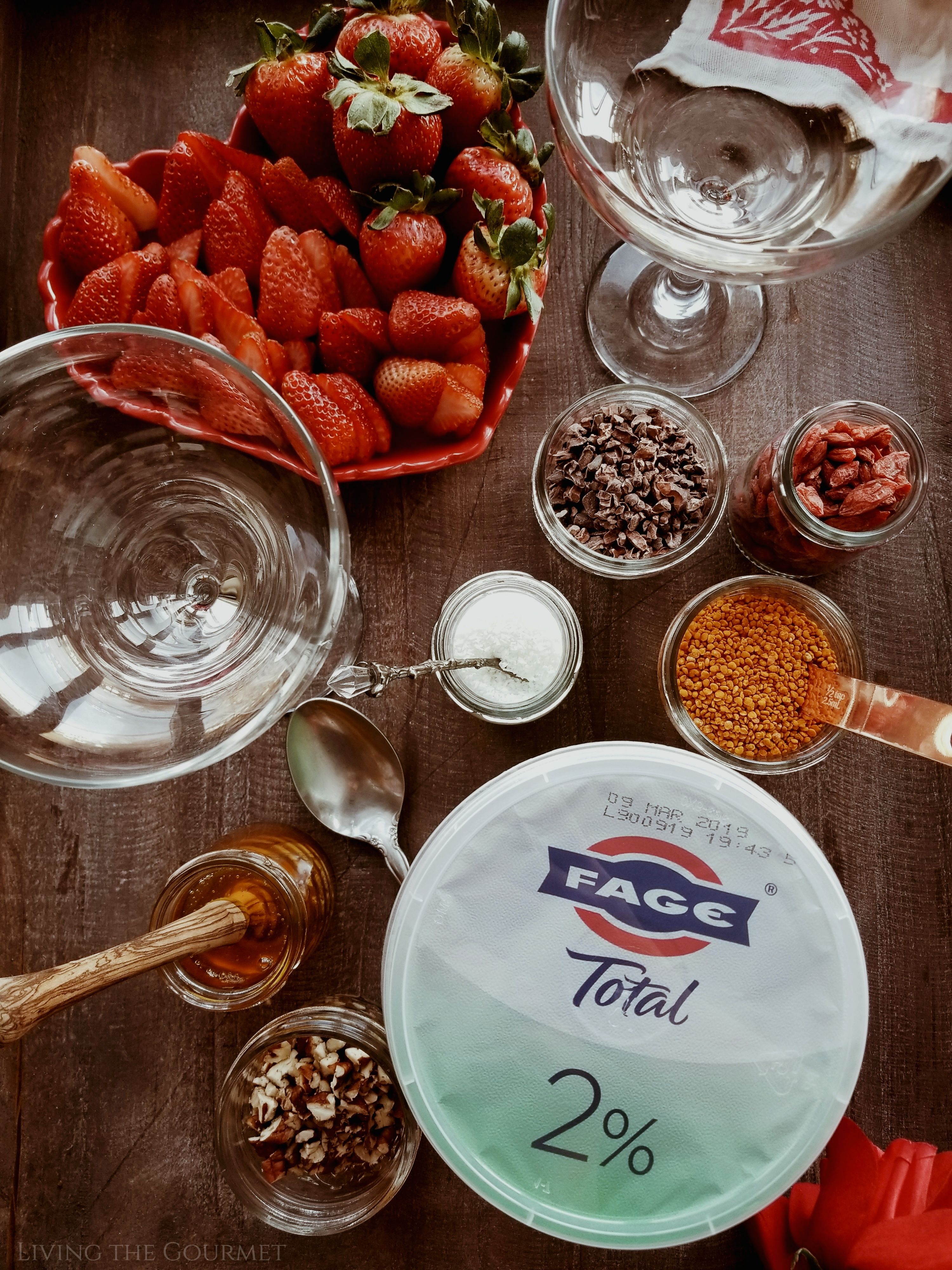 To do this, we need to start with an all-natural Greek yogurt, because, let's be honest, that's where the 'body' of the parfait is coming from, and we want it to be rich and creamy, with a delicious flavor unto itself. Personally, for this sort of recipe, I prefer a yogurt that has little or no added sugar, and that is rich in protein, since this allows me to better control the balance of flavors, ensuring it will pair great with my selected toppings – as well as being healthier than the alternative. For that purpose, I've chosen FAGE: Total Plain Greek Yogurt, which, aside from filling the above criteria, is also Non-GMO, and is produced only with milk and live active cultures.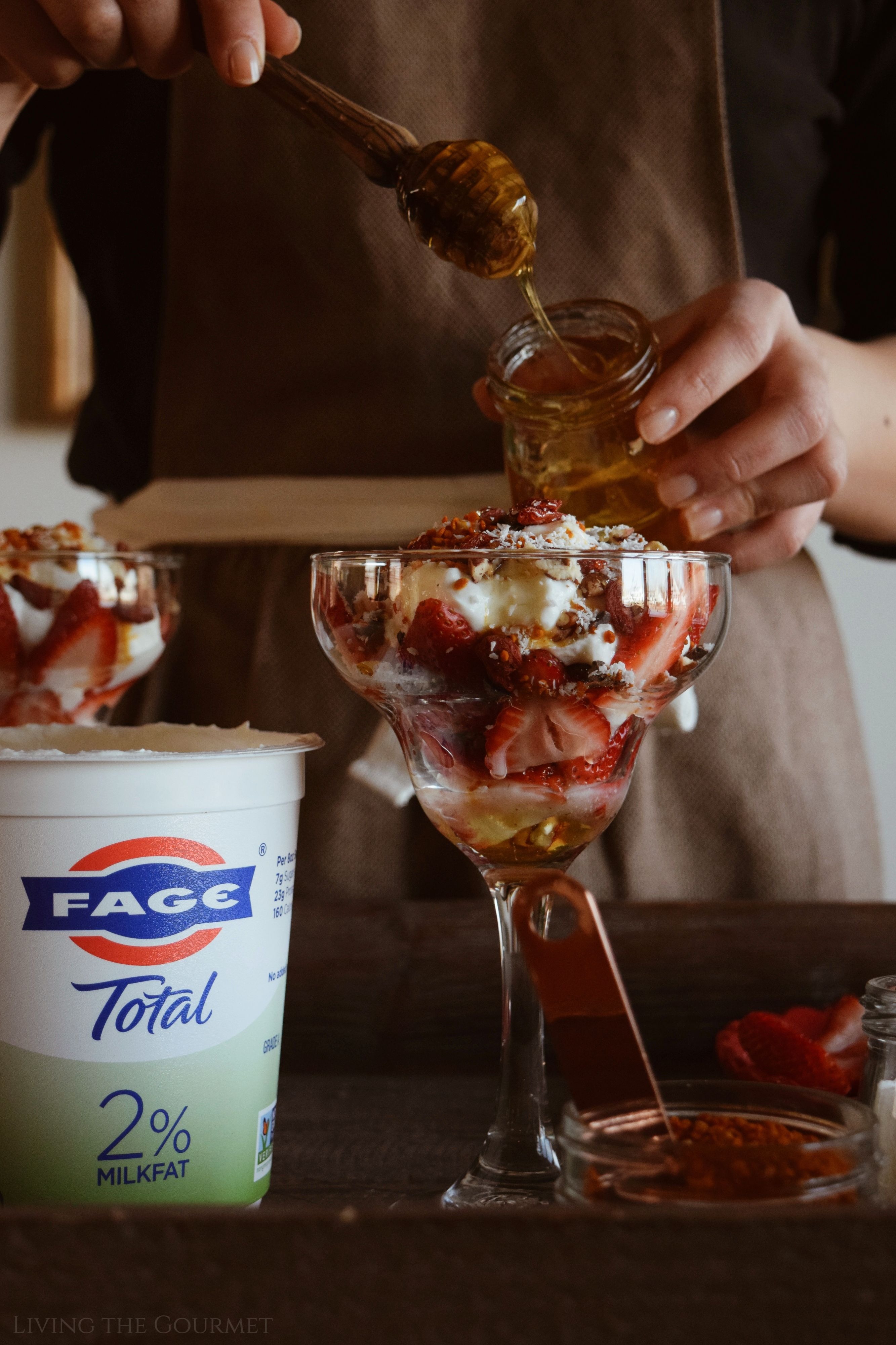 From there, using a tall parfait glass as pictured below, we drizzle a bit of honey at the bottom of the glass, and then arrange sliced strawberries along the bottom of the glass as pictured.
Next, dust in some cacao nibs, chopped pecans, goji berries, bee pollen, and a dollop of the FAGE: Total Plain Greek Yogurt.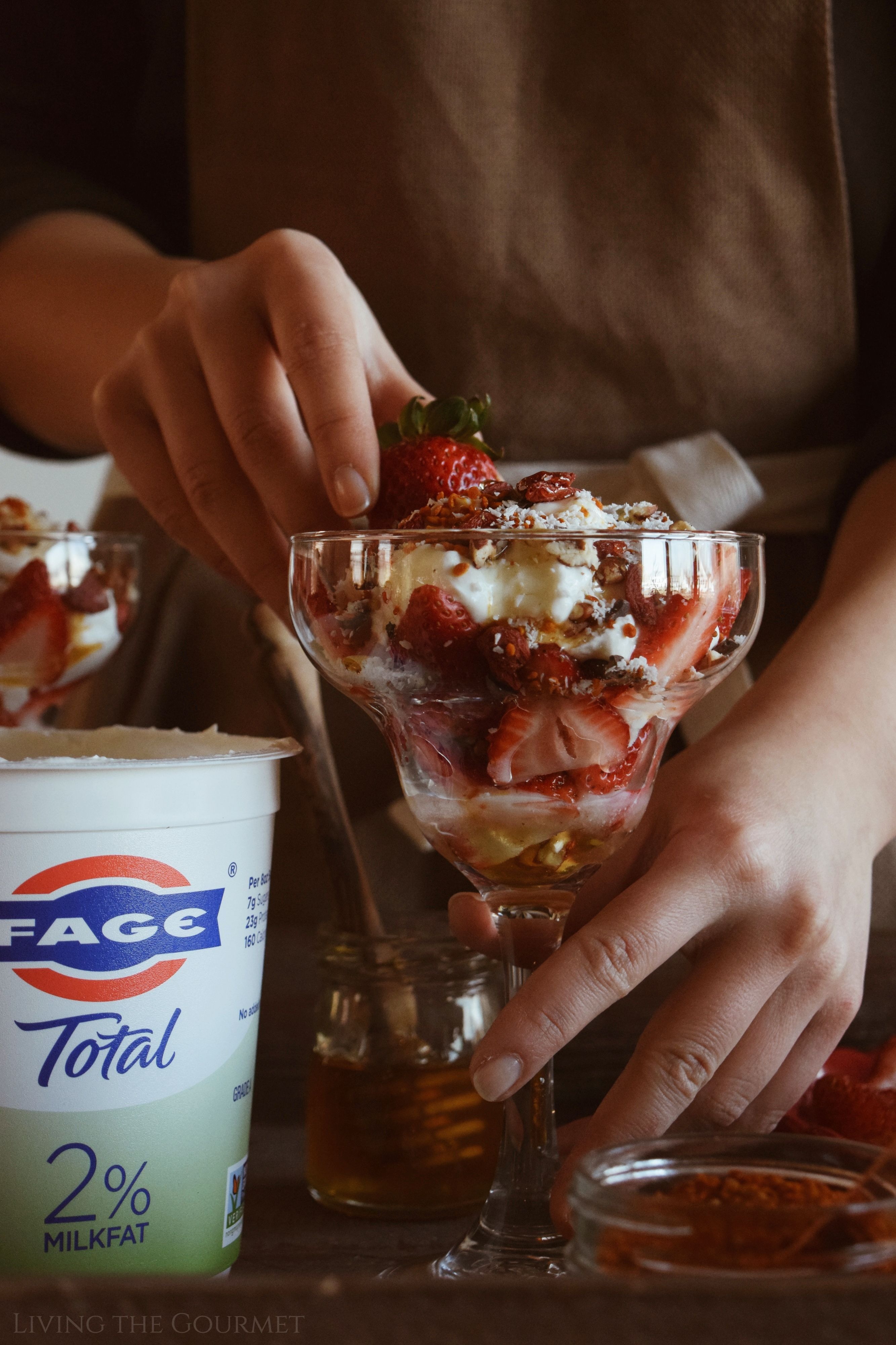 Print
Greek Yogurt Parfaits
Author:
Prep Time:

5 minutes

Total Time:

5 minutes

Yield:

2 parfaits
FAGE Total 2% Milkfat Yogurt
Parfait glasses
Chopped pecans
Organic Bee Pollen
Unsweetened Macaroon Coconut
All-Natural Dried Goji Berries
Organic Premium Raw Cacao Nibs
Raw Honey
Fresh Strawberries – sliced and some left whole for garnish
Instructions
To Build the Parfait:
Build the sliced strawberries along the side of the glass. Drizzle with honey.
Add a bit of cacao nibs, chopped pecans, goji berries, bee pollen, a dollop of the FAGE yogurt and a drizzle of honey.
Repeat this process until the glass is full.
Garnish the top with all of the fixings and a fresh whole strawberry.
Recipe Card powered by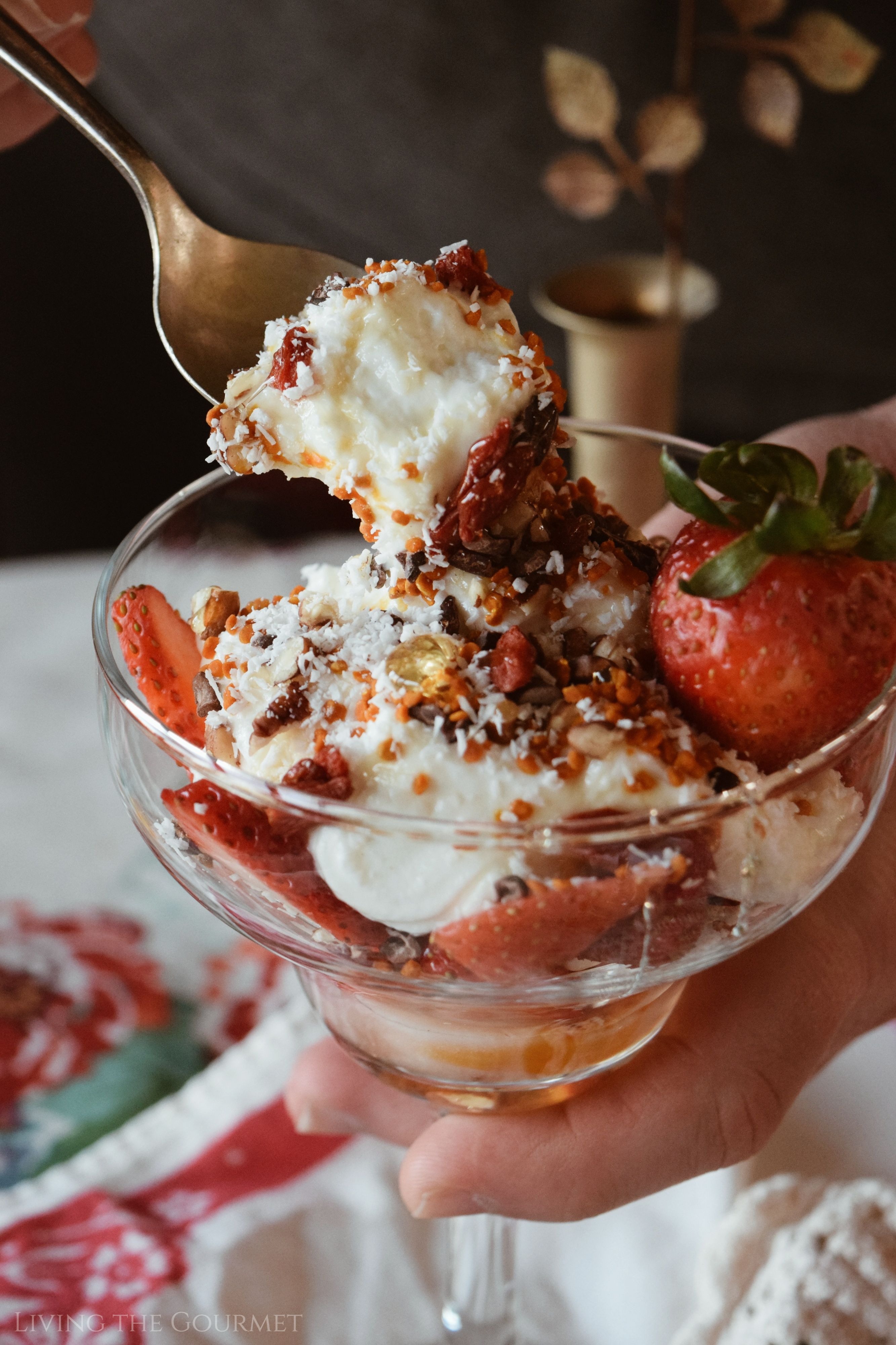 Repeat this layering process until you have filled the glass, and then garnish the top as pictured, and just like that, you're done.
Don't forget to check out these other deliciously inspired recipes featuring FAGE: Total Plain Greek Yogurt.
Enjoy with Love!
1