Baked until tender, these flavorful Salmon Steaks are seasoned with a sweet paprika and cumin based rub for light, delicious meal.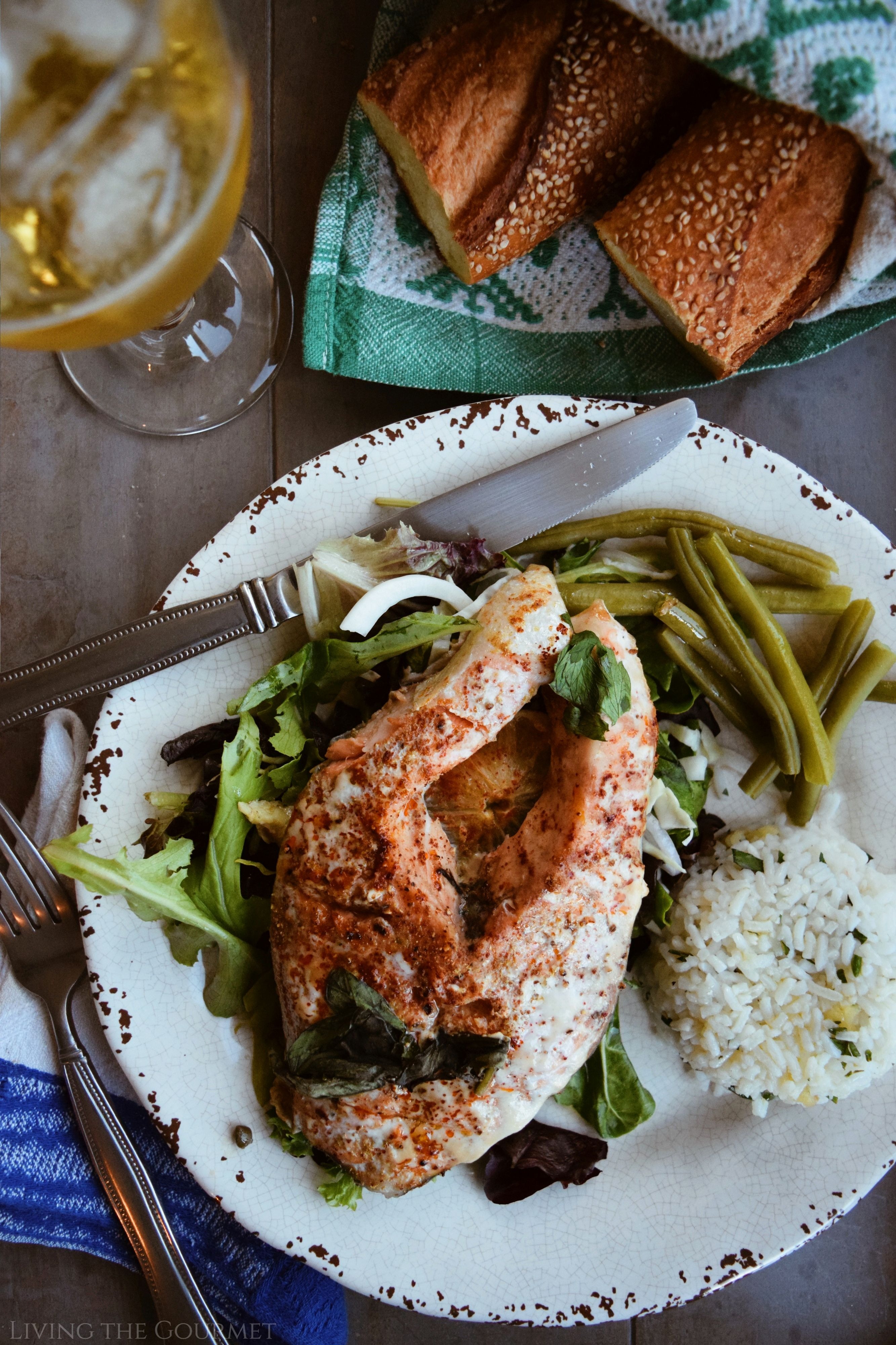 It's strange, some of the things that the mind decides are worth holding on to. For example, I remember to this day the first time I ever had a fish steak. My then young mind found the entire idea absolutely ludicrous (since steaks come from cows not fish), and just a tad bit 'cool,' since they were shark steaks – meaning my then pre-teen mind imagined that I was eating Jaws.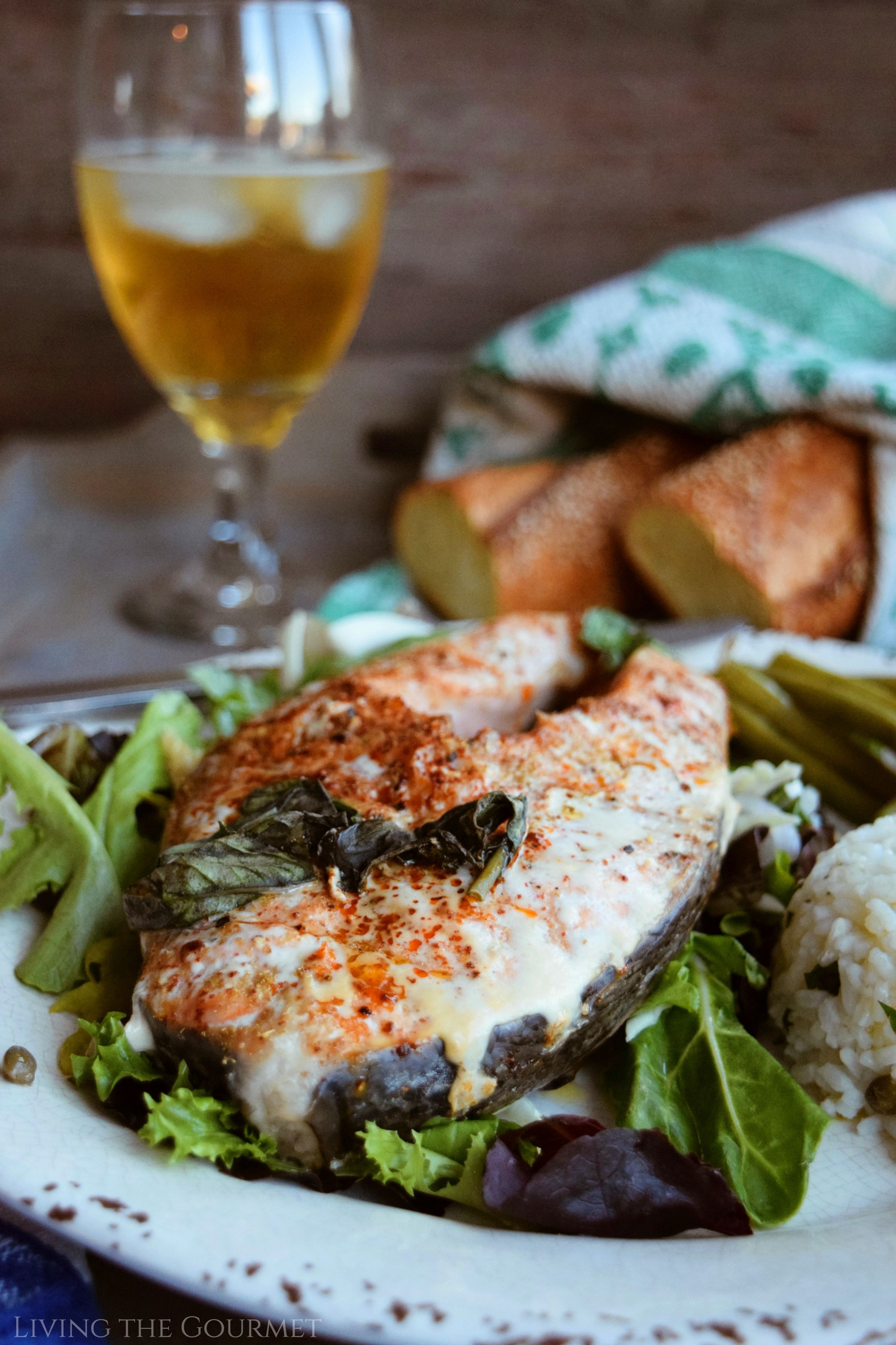 The setting for this particular memory was absolutely apropos. Picture a seaside dinner on a barge where the atmosphere consists of oil-fed candles and plates set on newspapers, with 60s era Bose speakers alternating between blues-rock and rhythm-and-blues. The air is a haze, the aroma of wine mingling with the odor of cigars, and every now and again a miasma of salt air and boat fuel wafts in through the open balcony doors. Through those balcony doors the view is strangely and simultaneously pristine and industrial, looking out over a bay as still glass broken up by reeds and sand dunes capped by tall grass, from a boatyard littered with heavy machinery. The meal for this setting? Mako shark steaks and…that's all I remember. I remember being enamored by the setting, and the fact that I was eating a shark. Don't give me that look, I was a kid.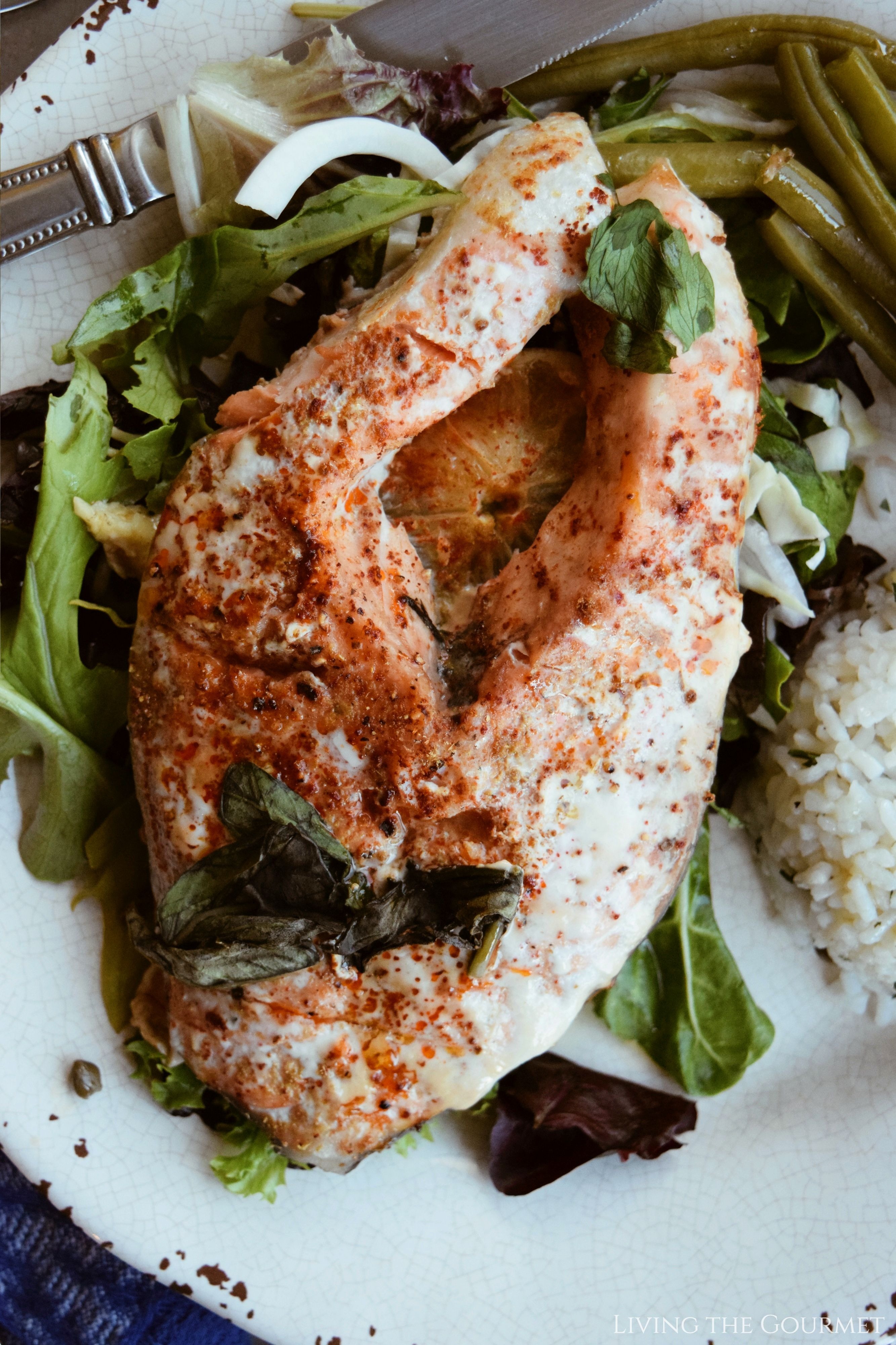 However, when it comes to seafood steaks I must admit that I'm a far bigger fan of salmon. Whereas shark, at its best, has the flavor and consistency of 'flaky dried chicken,' and requires thorough soaking before being prepared (for reasons I won't highlight here), the oily tenderness and signature umami flavor profile of salmon is just a world of enjoyment unto itself – and these qualities are only heightened in the steak cut as opposed to the fillet.
And, in case you couldn't guess, that brings us to today's recipe- Baked Salmon Steaks.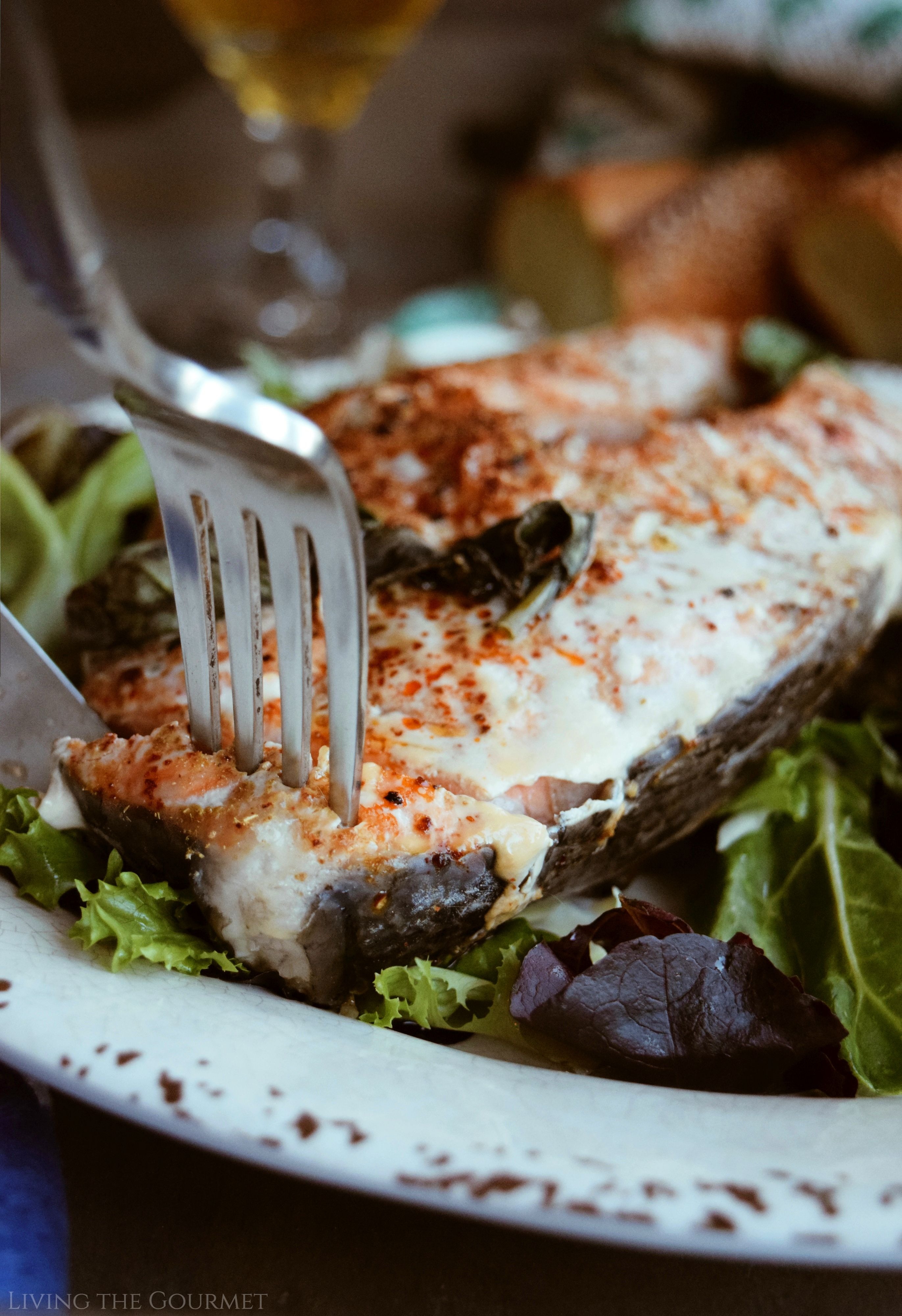 One of the things I love about to today's recipe is just how simple and elegant it is. It's the sort of recipe that 'looks' like a whole day's worth of effort went into it, while actually being deceptively simple to put together, honestly, pretty much anyone can do this. Just follow along.
To start things off, we begin by coating a cast iron frying pan with a bit of olive oil. Now, create four equally sized 'piles' of basil, parsley, ginger, garlic, jalapeno, capers and sliced lime or lemon. Now, place a salmon steak directly on top of each stack, and drizzle with a bit of olive oil.
Now, prepare a rub with sea salt, freshly ground black pepper, sweet paprika, ground ginger, and cumin, and dust that over each salmon steak.
Finish the steaks off with a quick drizzle of honey, and then bake in the oven at 350 degrees Fahrenheit for about twenty minutes. You want the steaks to flake easily with a fork.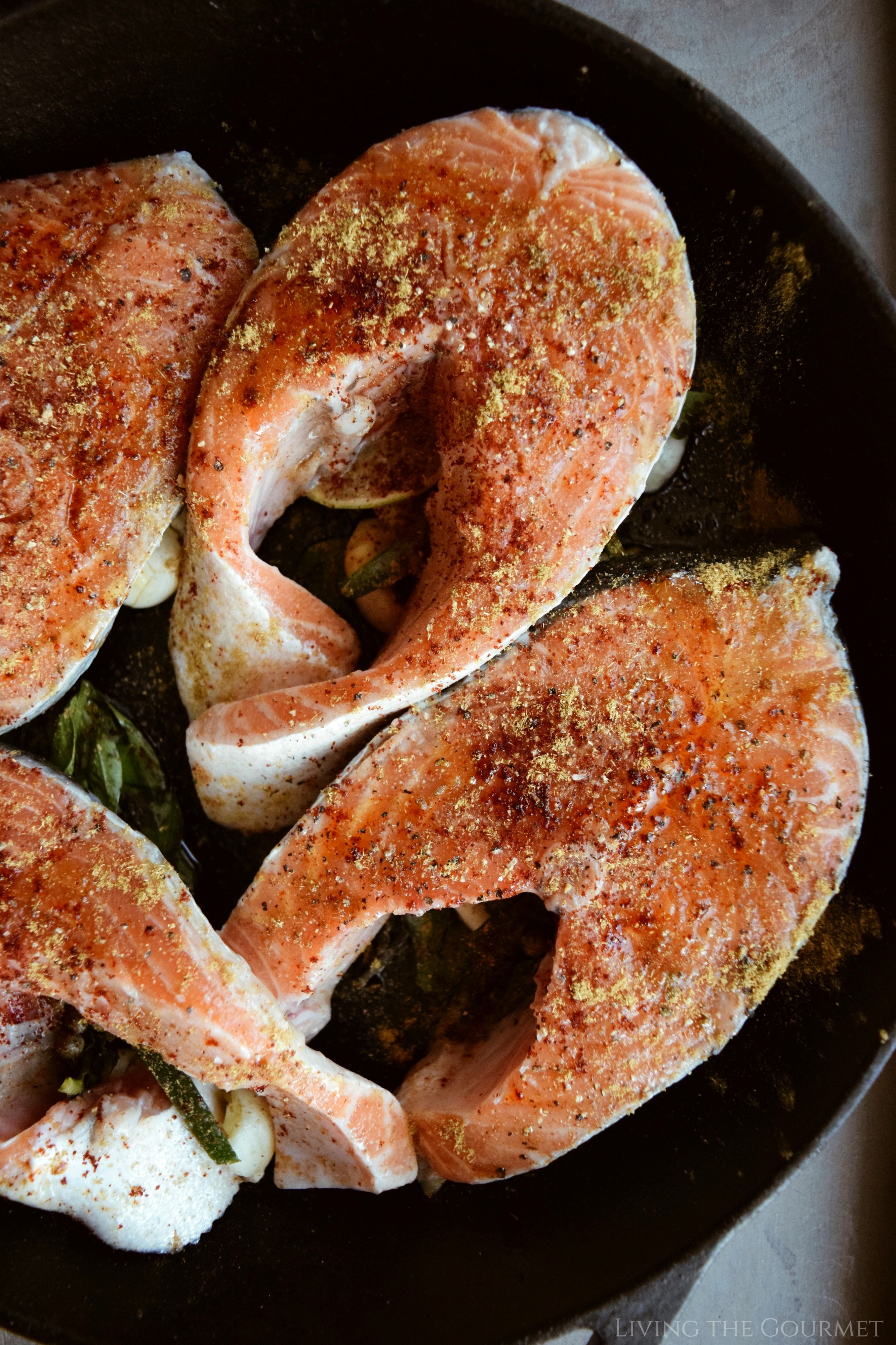 Living the Gourmet
Yields 4
Baked Salmon Steaks
10 minPrep Time
20 minCook Time
30 minTotal Time
5 based on 6 review(s)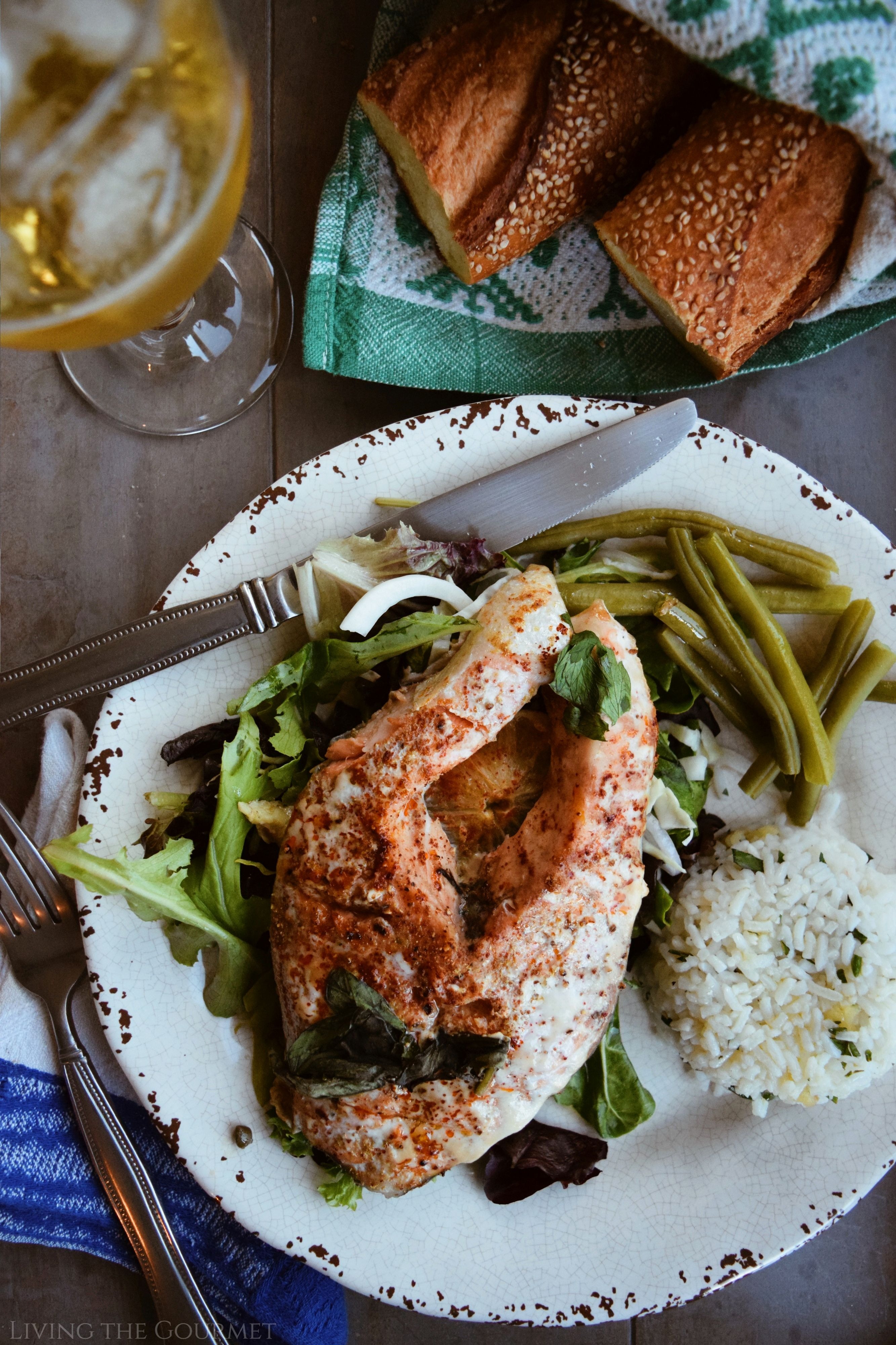 Ingredients
4 salmon steaks
10 – 12 whole garlic cloves – peeled and left whole
1 cup of fresh basil leaves
1 cup of fresh Italian parsley
1 ½ inch of fresh ginger – sliced thin
1 tbs. capers
1 jalapeno – seeds removed and sliced thin
1 lime or lemon – sliced thin
Drizzle of honey
Olive oil – for drizzling

Rub:

½ tsp. sea salt
½ tsp. fresh ground black pepper
¼ tsp. sweet paprika
Dash of ground ginger
¼ tsp. ground cumin
Instructions
Combine all of the spices for the rub in a small bowl and mix. Set aside.
Preheat Oven 350 degrees F.
Drizzle a large cast iron frying pan with a drizzle of olive oil.
Divide the basil, parsley, ginger, garlic, jalapeno, capers and lime or lemon slices into four groups in the pan.
Place the salmon steak on top of the stacks. Drizzle the salmon with a bit of olive oil and dust the top of each steak with the rub.
Drizzle a little honey over each steak.
Bake for 20 minutes or until the steaks easily flake with fork.
7.8.1.2
844
https://livingthegourmet.com/2019/04/baked-salmon-steaks.html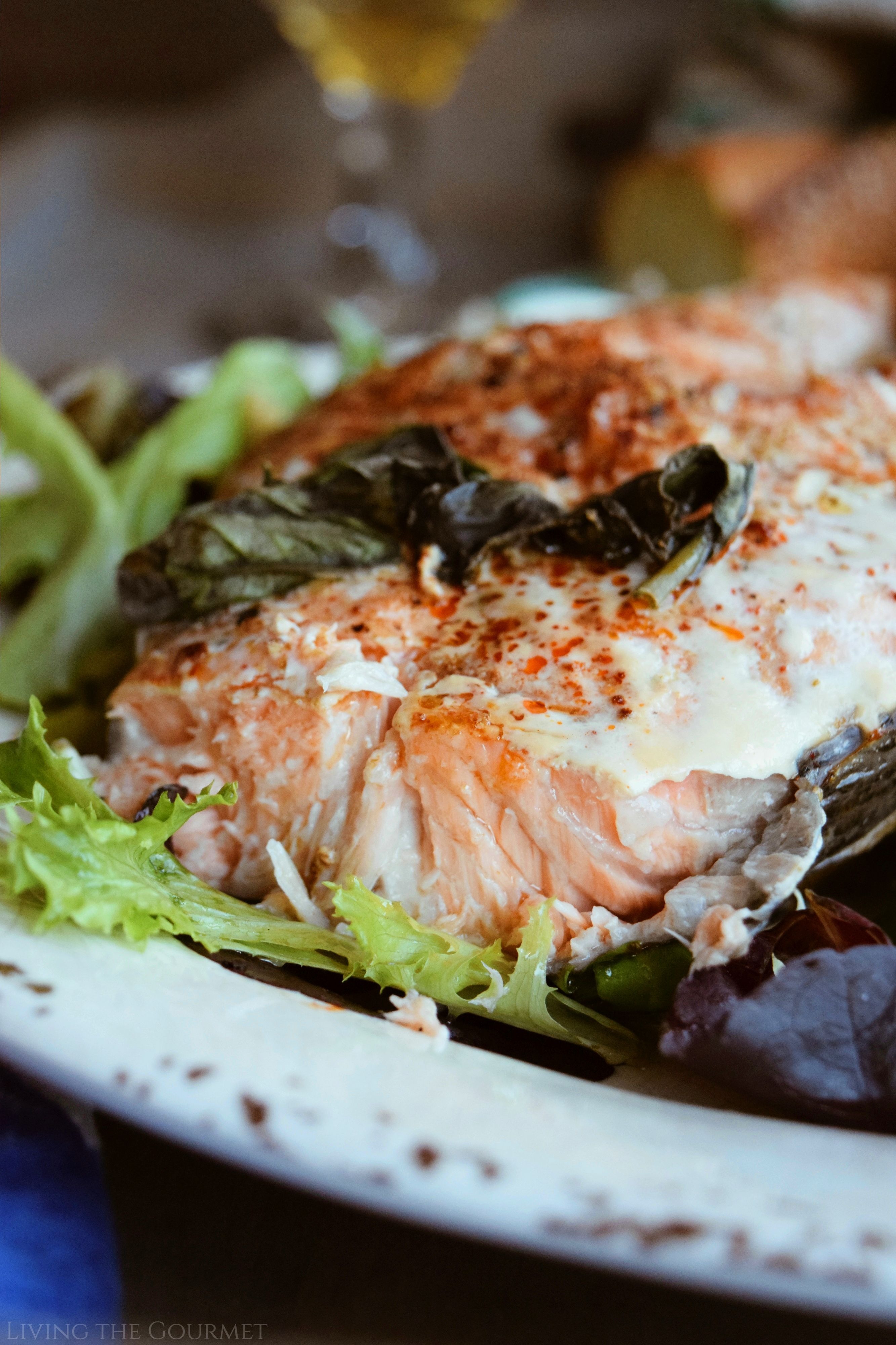 And that's it. Super easy to put together, but also super elegant.
Enjoy with Love!
4