Chicken wings get a major upgrade this season with a Mediterranean marinade and a sweet grilled onion & pepper chutney to serve alongside it.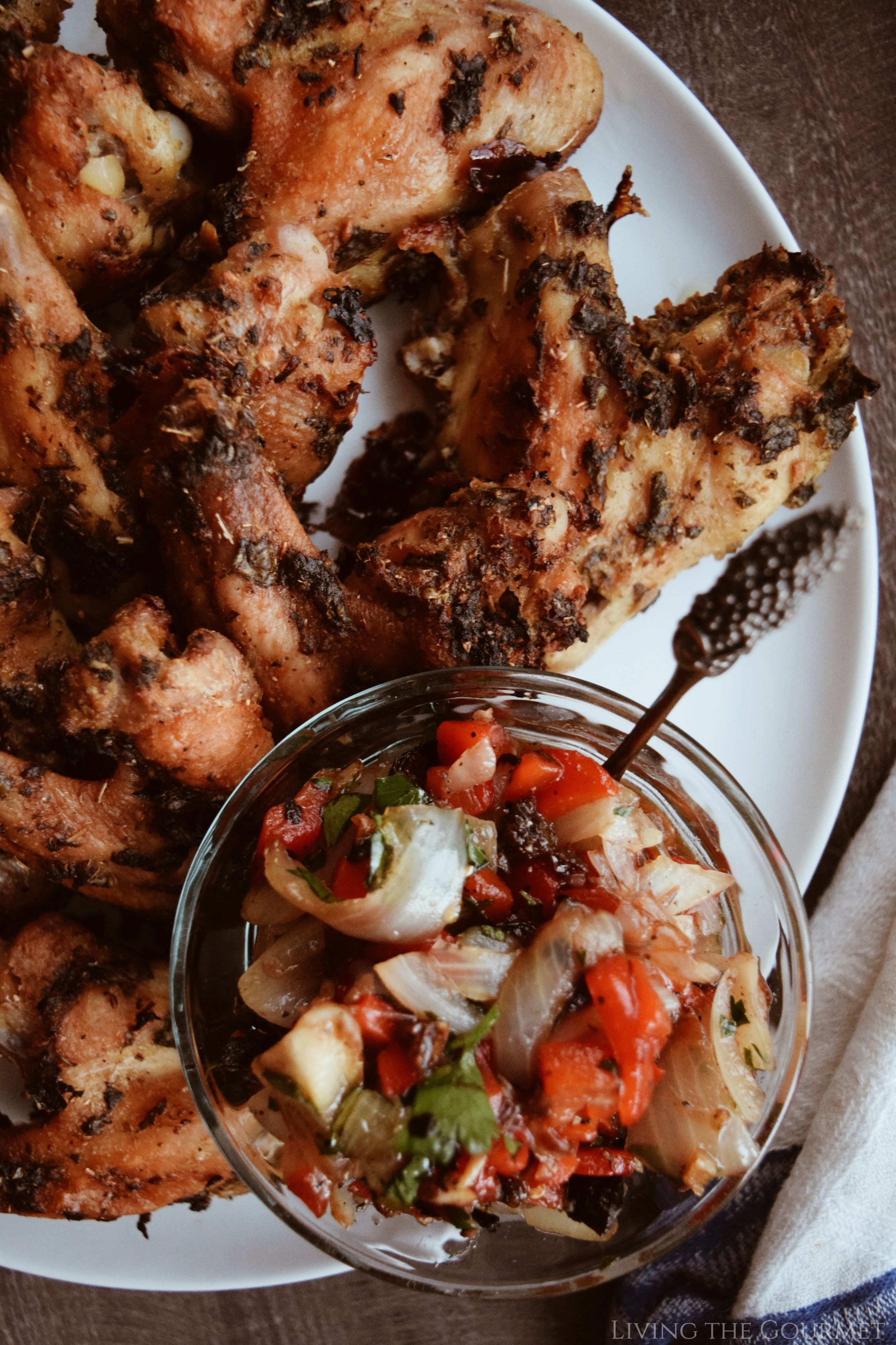 Chicken wings. They are the single least 'meaty' part of the chicken, and are far from being the most tender, flavorful (on their own), or juicy. Add in tiny bones and a sizeable crown of grizzle, which are less then pleasant to eat around, and it isn't hard to see why chicken wings, very literally, used to be thrown away in the same way that 'grizzle bones' were once regarded as 'junk.'
Fast forward to today, and that equation has completely flipped. A whole roasted chicken is 'old fashioned,' cutlets are for busy weeknights, and chicken breasts (grilled or otherwise) are often regarded as 'healthy' as opposed to 'delectable.' By comparison, a tray of wings is a sure sign of a party. The subject of countless books, shows, and blogs devoted solely to tfhe preparation of 'Wings,' it's safe to say that these former 'undesirables' have captured our collective culinary imagination.
For today's post, I wanted to prepare a plate of wings, but I wanted to pass on overly thick and spicy sauces and mounds of cheese, while also skipping the deep fryer. Instead, I wanted a more 'upscale' plate of wings, one that could serve equally well at a game party as at a dinner party.
The end result – Mediterranean Style Chicken Wings with a grilled onion and bell pepper chutney.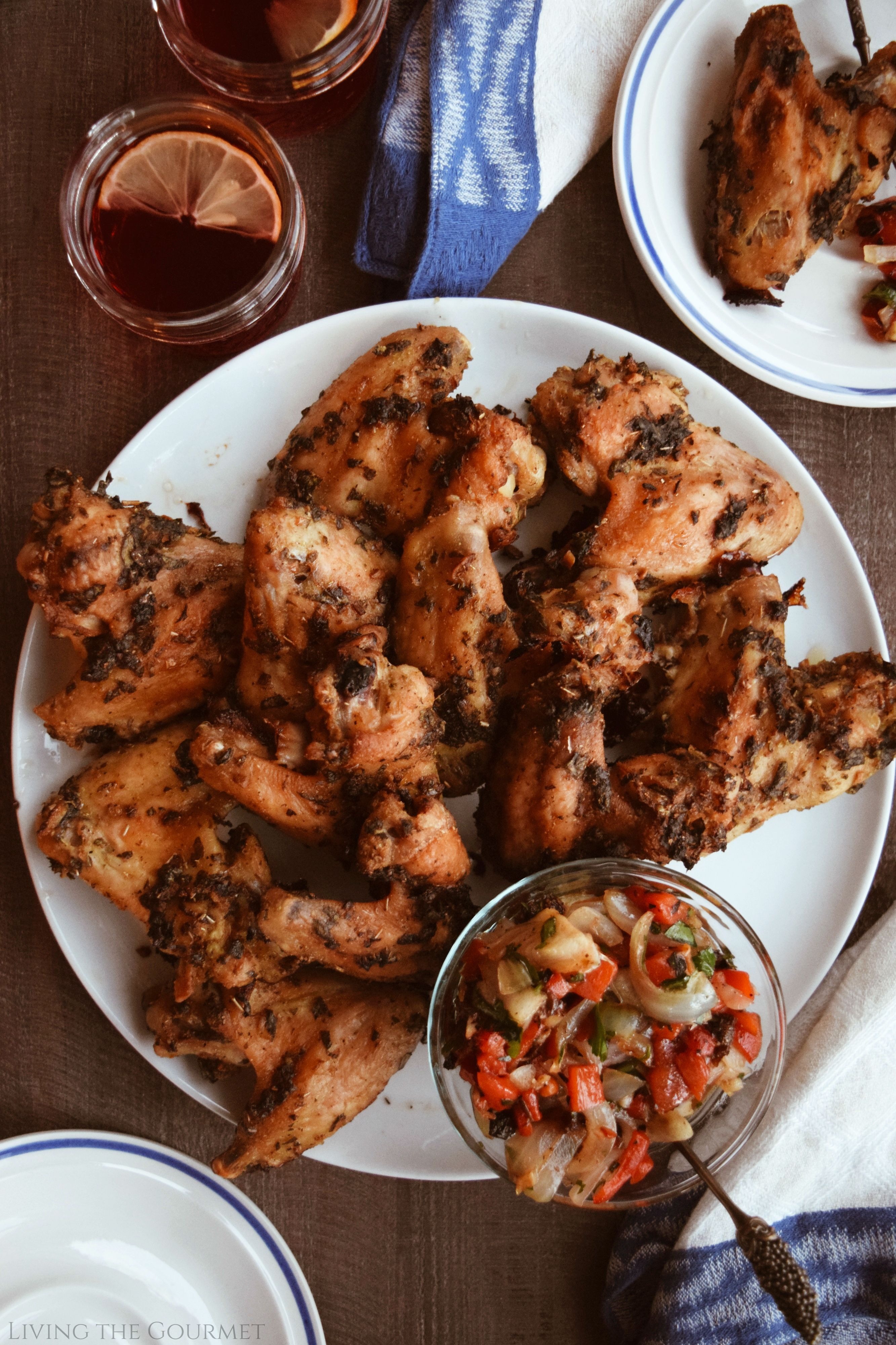 The recipe is surprisingly easy to put together. We start off by marinating the wings in mixture of olive oil, fresh lemon juice, Italian parsley – sans the stems – finely chopped garlic, salt, pepper, oregano, coriander, and sugar. We then let the wings marinade in this mixture in the fridge for at least an hour, or, for best results, overnight.
We then set the wings in a cast iron pan, and bake in the oven for fifty-five to sixty minutes at three-hundred and fifty degrees Fahrenheit. Note that there shoudn't be any marinade left over, as this is not a watery marinade. However, if you do, feel free to add that into the pan with the chicken.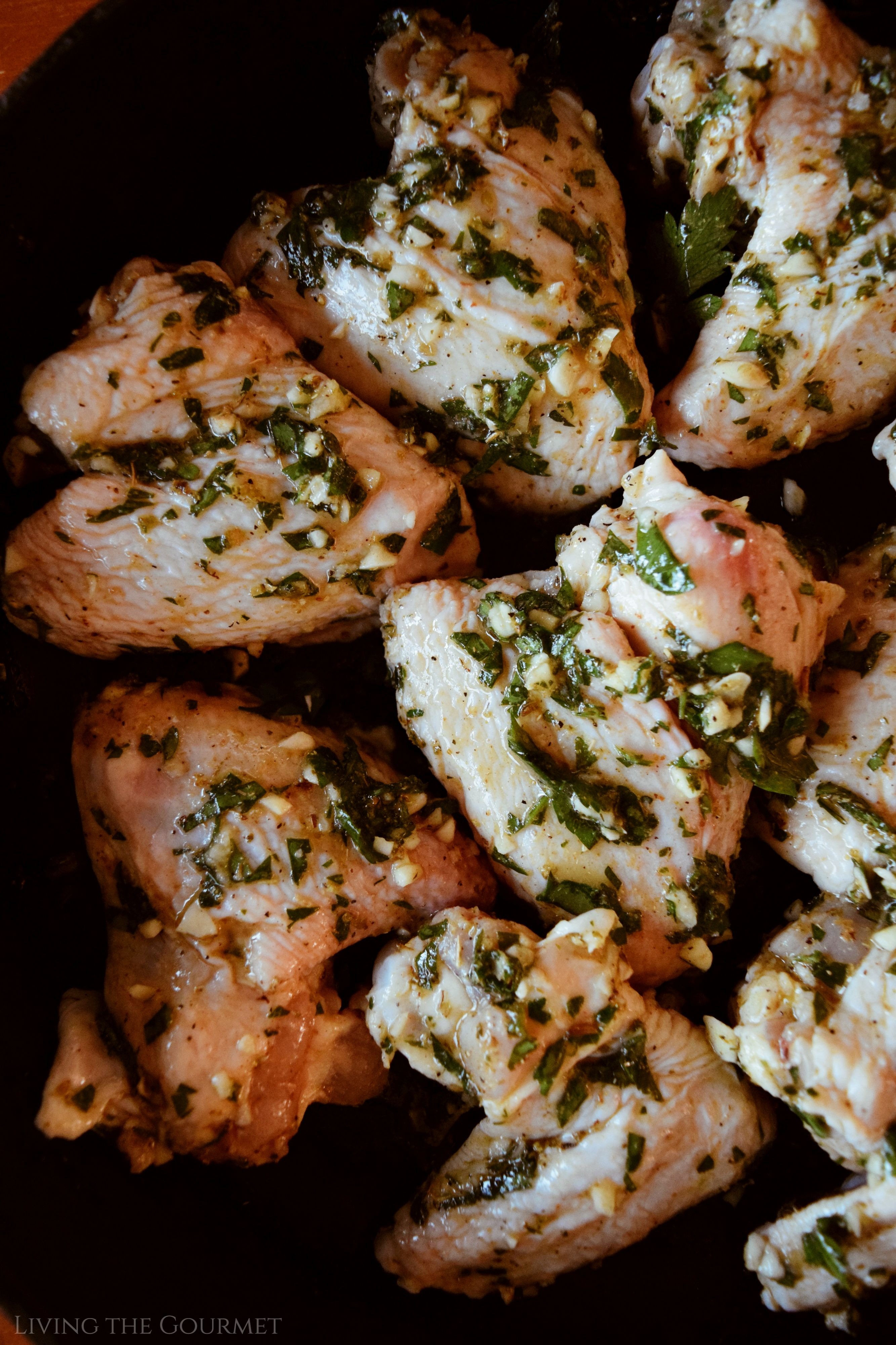 The chutney is a bit more involved to prepare then the chicken itself. We start off by grilling a red bell pepper either directly on the open flame of your stovetop, or, if you prefer, dry in a cast iron pan. Either way, you want to achieve a nice char as pictured below. After letting the pepper cool, scrape the char off, and then cut the pepper into diced strips as pictured below.
Finally, heat a cast iron pan with some olive oil, sliced onion, and chopped garlic, and allow them to achieve a nice golden color. You want the onion to be slightly translucent.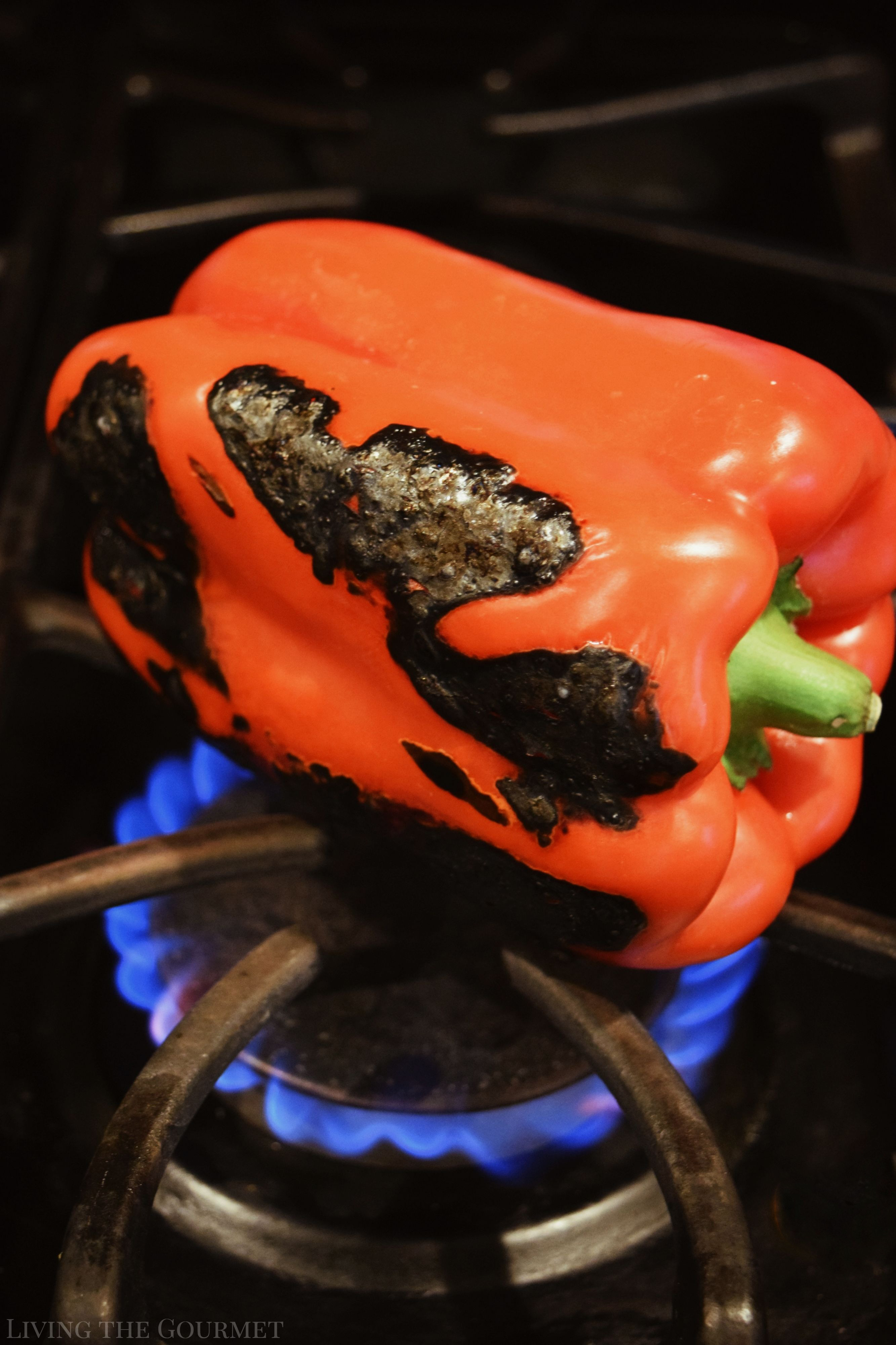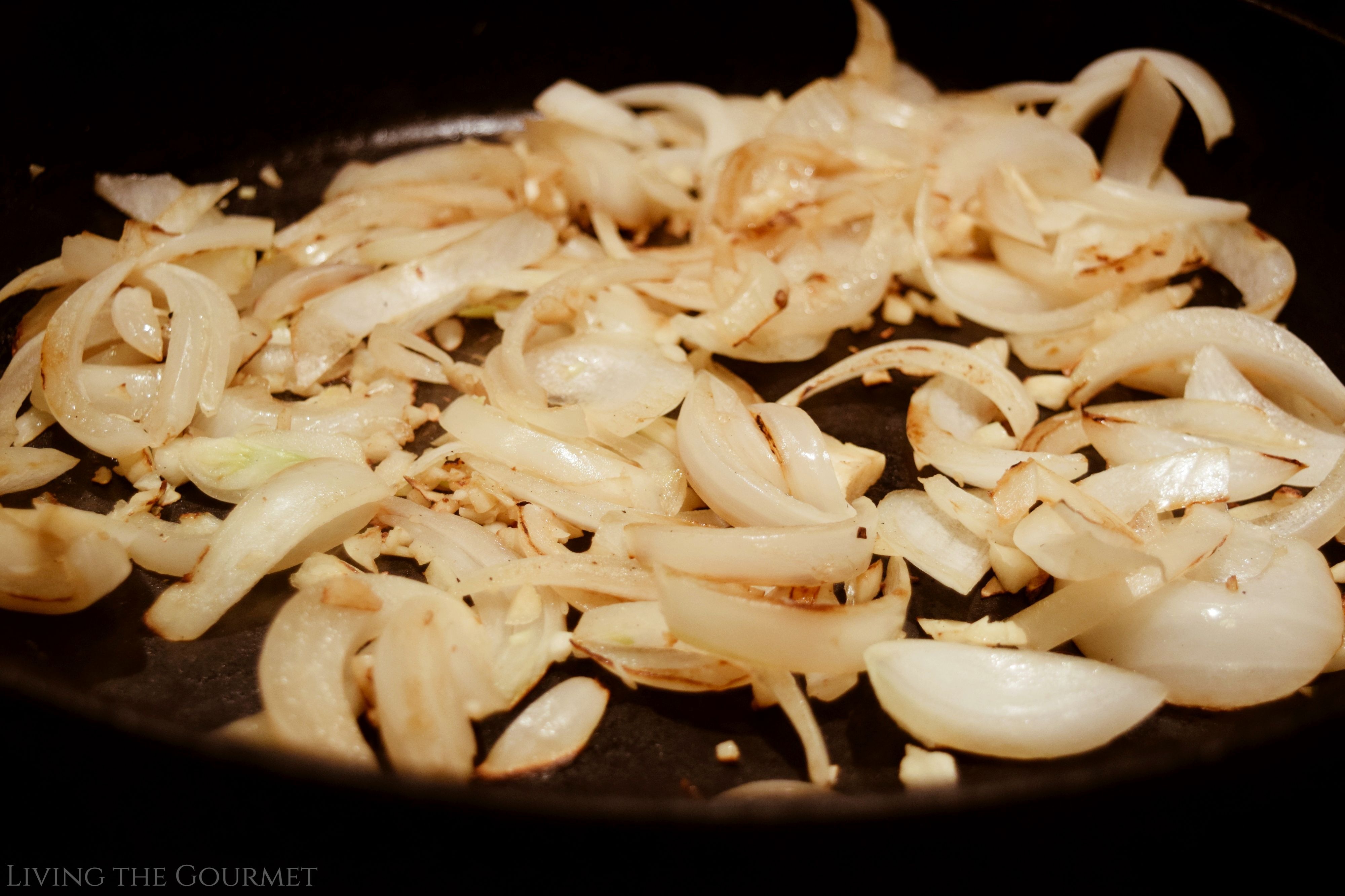 Finally, combine the peppers, onions, and garlic in a medium-sized mixing bowl, and add in chopped raisins, fresh lemon juice, honey, the seasonings listed below, along with some olive oil, parsley, and then give that all a nice toss to mix, and serve it alongside the wings.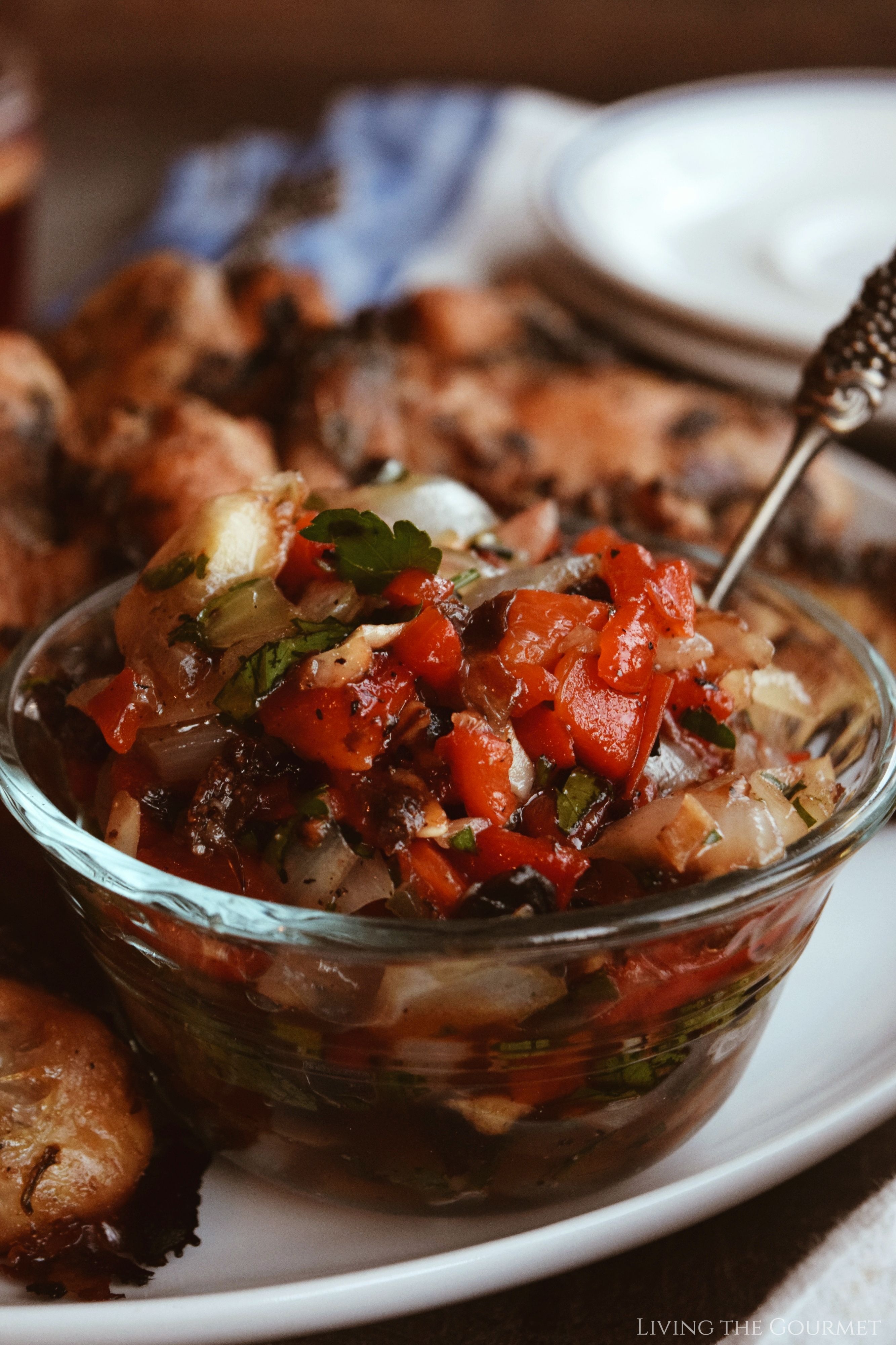 Living the Gourmet
Yields 12 wings
Mediterranean Style Chicken Wings with Grilled Onion & Pepper Chutney
10 minPrep Time
1 hrCook Time
1 hr, 10 Total Time
4.9 based on 18 review(s)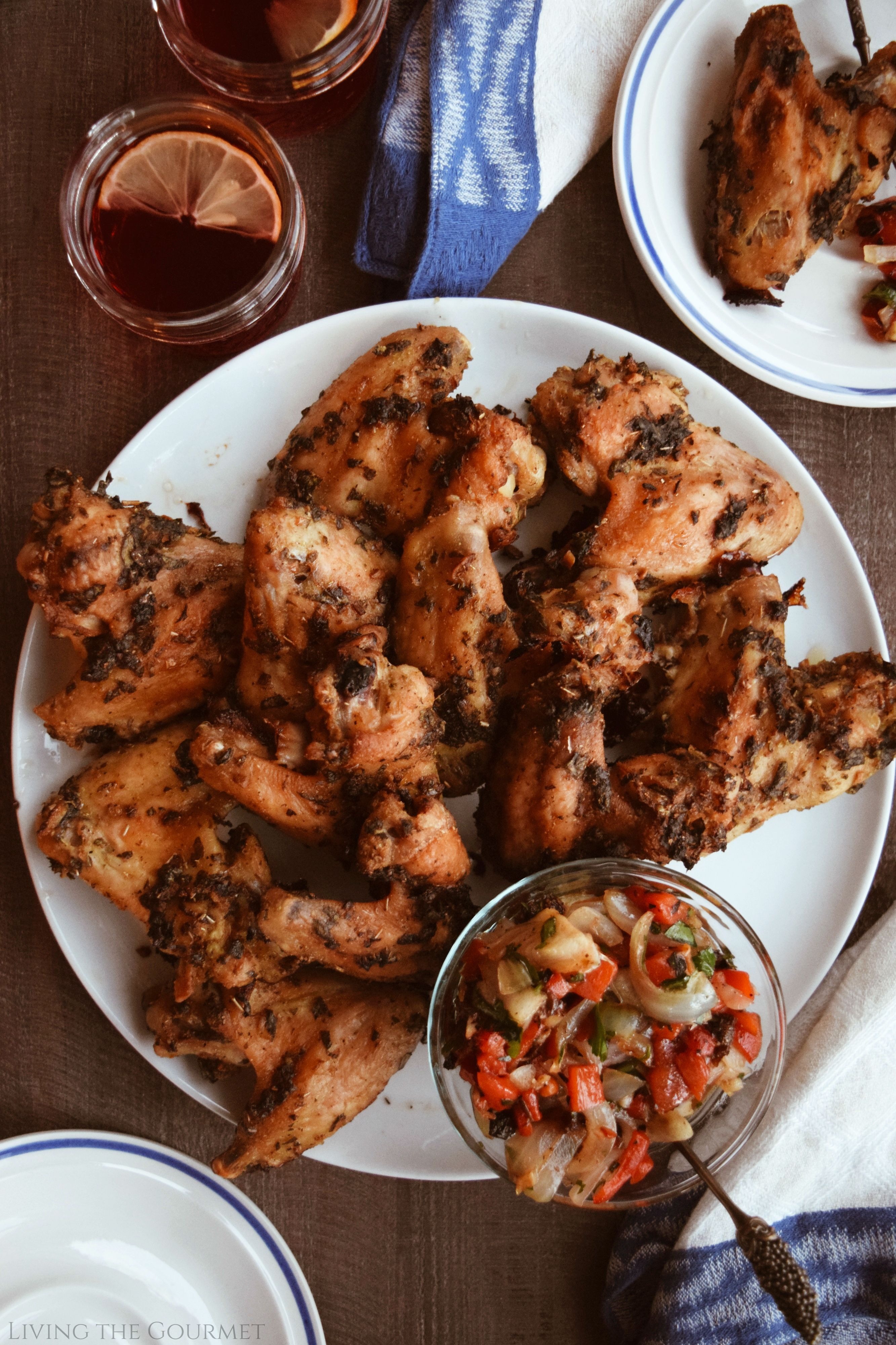 Ingredients
For the Chicken Wings:

12 chicken wings with tips cut off
For the Marinade:
¼ cup olive oil
Juice of 1 lemon
½ cup of fresh Italian parsley – stems removed and chopped
5 garlic cloves – finely chopped
1 ½ tsp. salt
½ tsp. black pepper
1 tsp. dried oregano
1 ½ tsp. ground coriander
½ tsp. sugar

For the Chutney:

½ cup raisins – chopped
1 sweet onion – diced
1 red bell pepper – grilled
3 tbs. honey
Juice of ½ lemon
2 cloves garlic – chopped fine
¼ cup fresh Italian parsley – stems removed chopped
1 tsp. salt
½ tsp. sugar
½ tsp. black pepper
¼ tsp. cinnamon
3 – 4 tbs. olive oil plus and extra one or two to grill the onion and garlic
Instructions
For the Chicken Wings:

Combine all of the ingredients for the marinade in a large bowl.
Add the chicken wings and toss. This may be used immediately or cover and place in the refrigerator for an hour or up to overnight.
Preheat Oven 350 degrees F.
Place chicken wings in a cast iron frying pan and bake for 55 – 60 minutes or until the wings become a beautiful golden color and the juices at the thickest part of the wings runs clear.

For the Chutney:

Grill the red bell pepper on the open grill or in a pan to a nice char. Let the pepper cool and then gently scrap the skin off and cut the pepper into diced pieces.
Next, heat a cast iron frying pan with 2 tbs. olive oil and place the sliced onion and chopped garlic in the pan to get to a nice golden color, tossing as you saute, so that you do not burn the garlic.
Place the diced pepper and the onion and garlic in a medium sized bowl. If you would like the chutney in smaller pieces you may use a scissor and cut through the pieces in the bowl.
Add the chopped raisins, lemon juice, honey, seasonings, olive oil and parsley and toss.
Serve with the wings. Refrigerate after using.
7.8.1.2
818
https://livingthegourmet.com/2019/02/mediterranean-style-chicken-wings-with-grilled-onion-pepper-chutney.html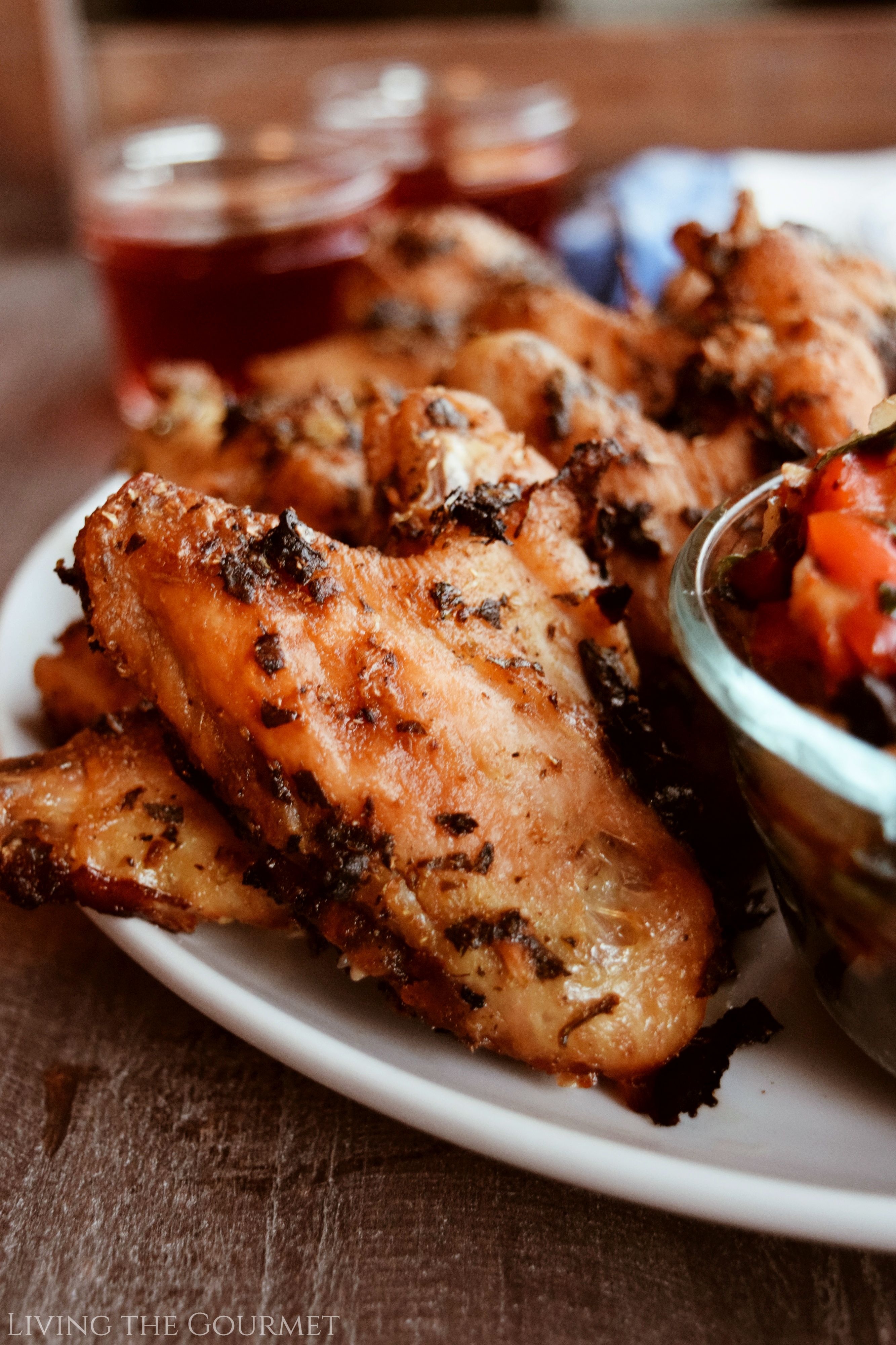 Variations and Uses for the Chutney:
One of the reasons I love this chutney is its versatility. From being easily 'tweaked' to making for a great addition to a variety of recipes, this is one item you'll want to keep in the back of your mind.
1) Turn a 'quick and easy' omelet into a 'gourmet' breakfast. As pictured here, simply prep a 'French style' style omelet with some cheese, salt and pepper, and then spoon the chutney over the top. Warmed or room temperature for the chutney works equally well in my experience.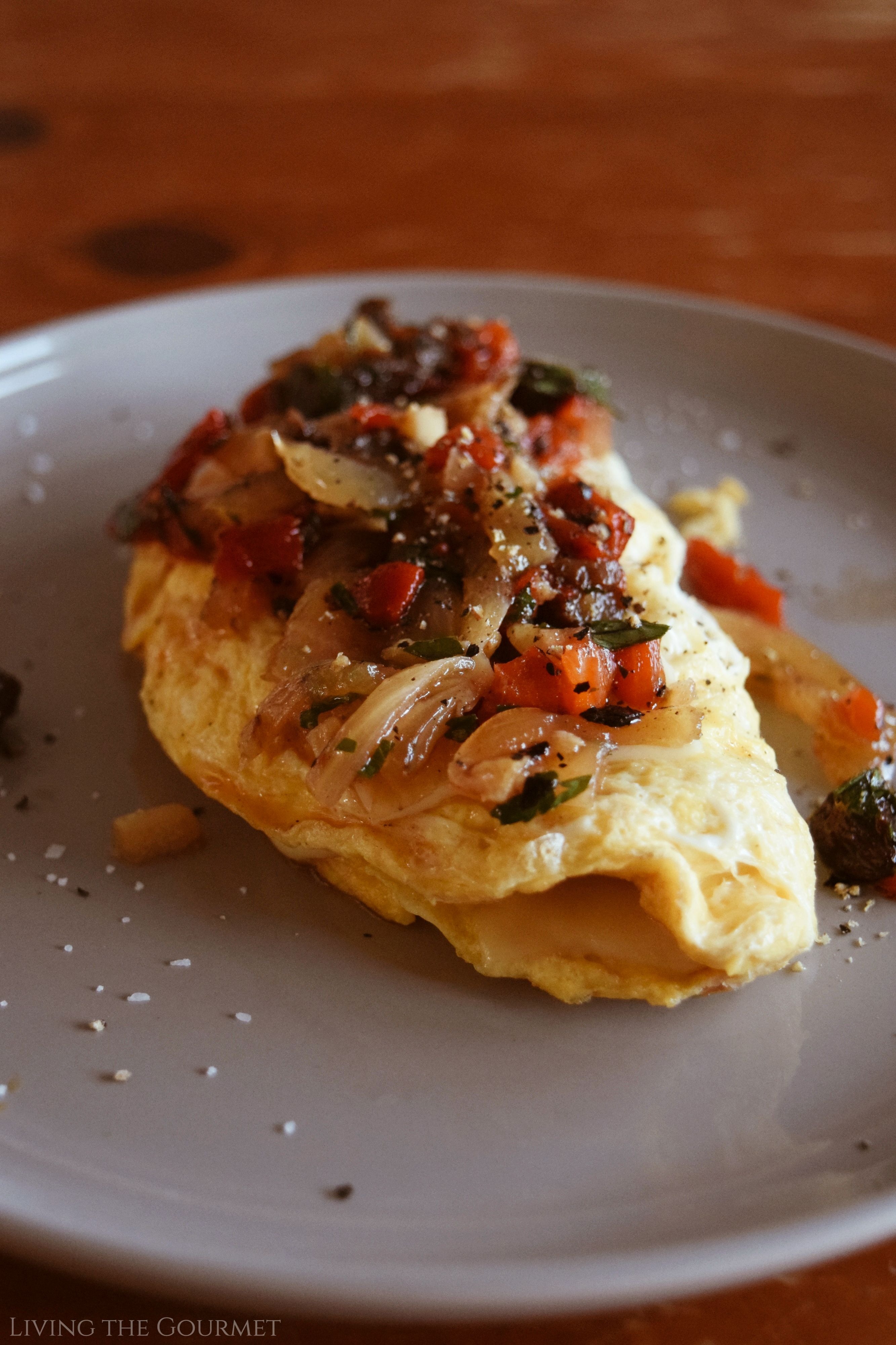 2) Sandwich spread. I find this chutney works particularly well on panini or grilled sandwiches to add a bit of complexity. Either spread onto the sandwich during assembly, or used as a dip afterward works great.
3) Steak spread. With some crumbled blu cheese, this chutney would work wonders on your favorite steak with a bit of crumbled blu cheese mixed in.
4) Add some heat. My son prefers this chutney a bit on the spicier side. To achieve this, feel free to add in some red pepper flakes. For even more heat, simply grill up a jalapeno, chop that into the chutney. You can adjust these measurements to fit your heat preference/tolerance.
5) For celery boats, simply add the chutney to a block of cream cheese and give a few chops in a food processor and spread into the celery boats.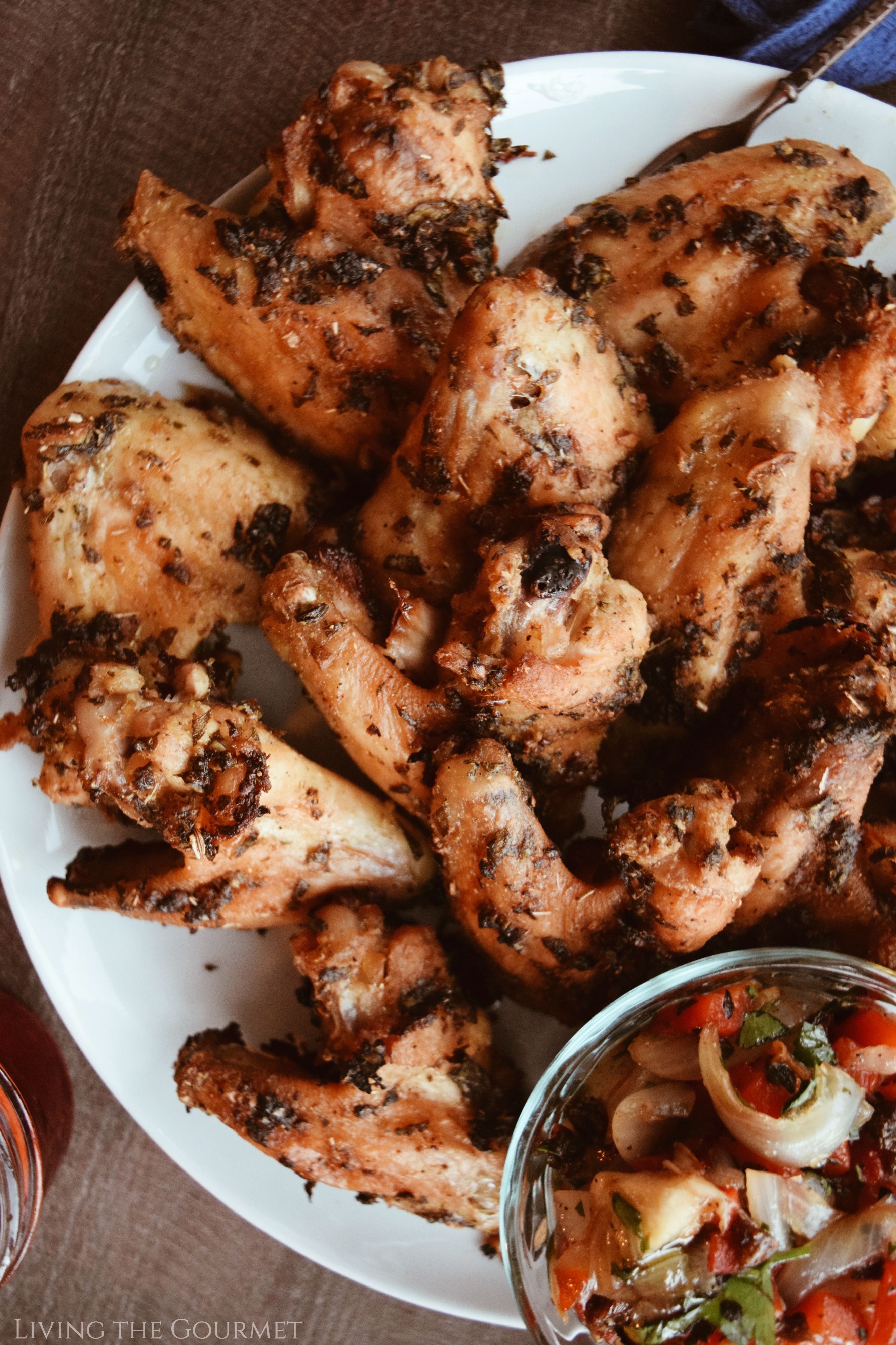 If you've been following along with us, you probably know by now that the Super Bowl is kind of a big deal in our house. We've been sharing some of our game day favorites with you and in the spirit of the big game, we're also hosting a couple of giveaways!
You can enter below AND be sure to enter our other giveaway HERE. So now you basically have TWO chances to win a gift card this season 😀 Both giveaways will end 2/8 so be sure to enter daily. Best of luck and have fun!
Enjoy with Love!
4