The product and following message have been provided by the makers of In The Raw® so that I could try the product and share my thoughts and information about Stevia In The Raw®. The opinions expressed in this post are my own and do not reflect the opinions of the makers of In The Raw® sweeteners.
This simple Apple Pecan Crisp is a perfect seasonal treat for two. A buttery, sweet crumble is baked over sauteed apples and toasted pecans for an irresistible dessert or breakfast!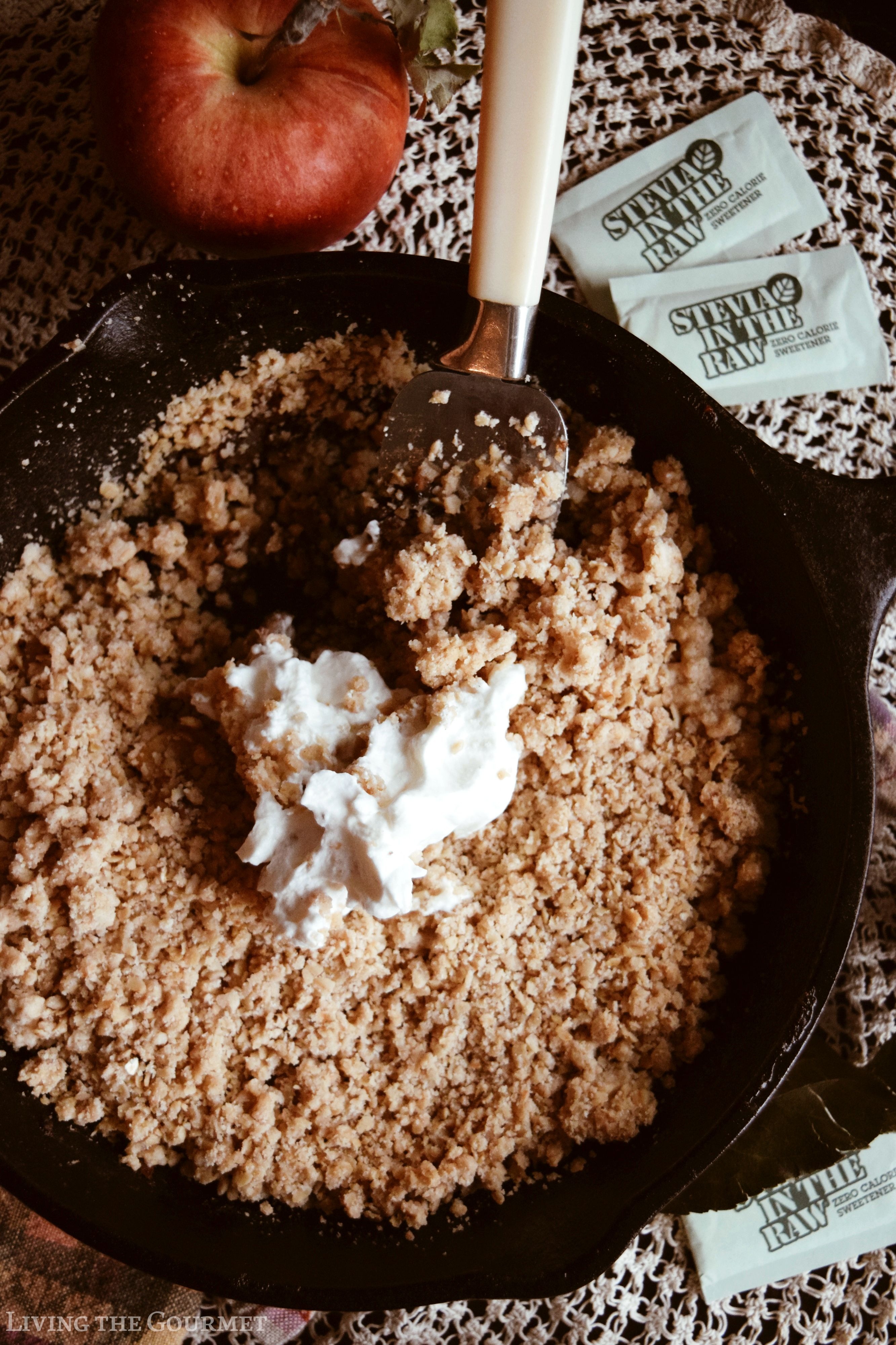 Autumn. For most, the turning of the leaves are cause for an array of culinary indulgences. Pumpkin spice lattes. Breakfast cinnamon 'rolls' the size of small tires. Pumpkin spice cupcakes. Every manner of 'home and hearth' pie imaginable. Pumpkin spice cookies. Baked apples with caramel sauce. Pumpkin spice infused butter. Skillet 'Crumbles' that are in essence sugary toppings over baked fruit. Pumpkin spice salted caramel bread. Sweet potatoes topped with marshmallows and sugar-based 'crusts.' And did I mention pumpkin spice?
As my son remarked in sugary abandon just recently, "It's fun to have to fun! Don't tell me to slow down, the stress of slowing down is worse for me than anything I'm eating. Besides, I'm living forever so I might as well enjoy it."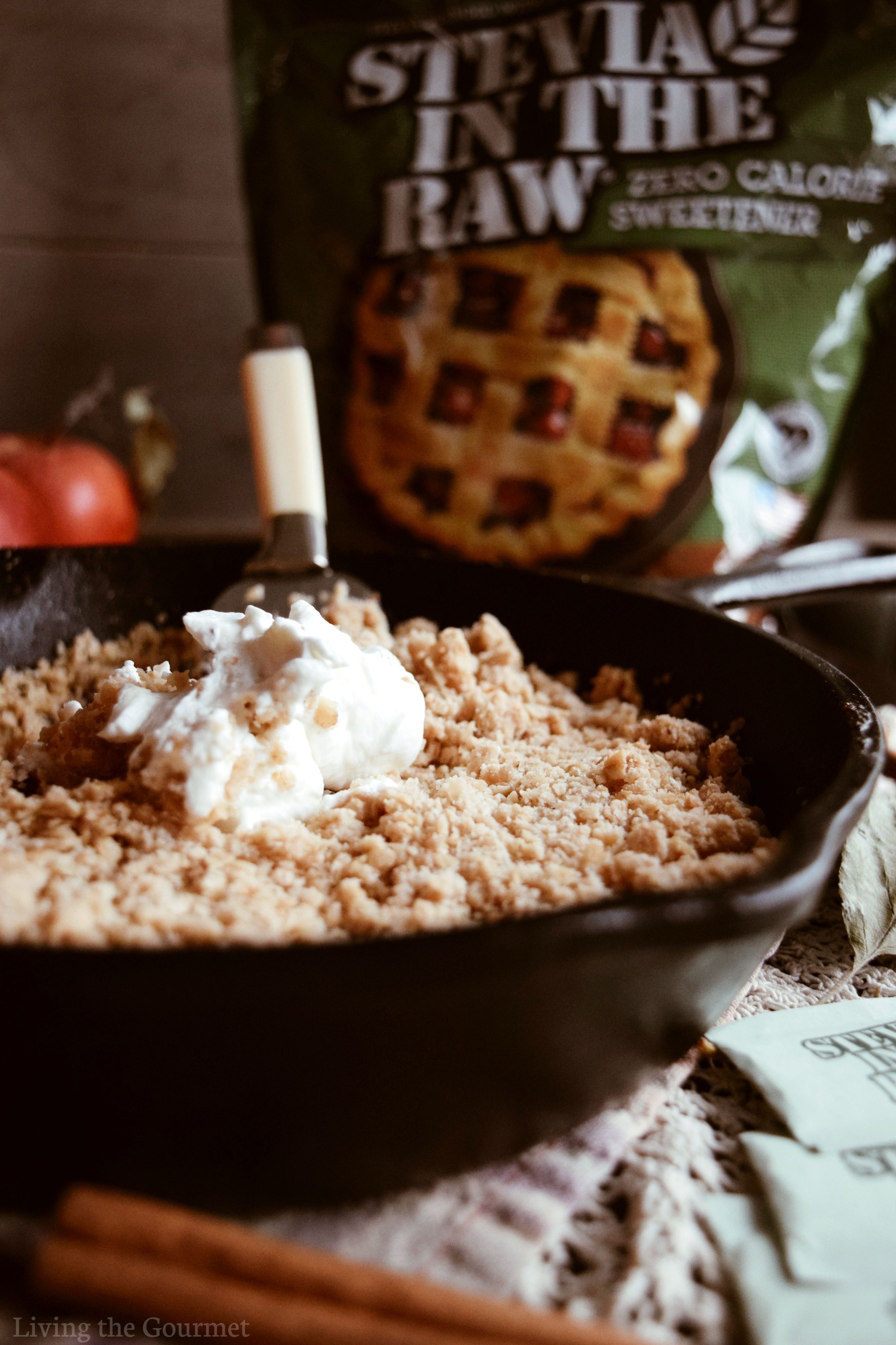 However, if you're a tad bit more mature in your sensibilities, you likely are of the mind that while the autumn menu can be quite delicious, it isn't necessarily a 'good for you' thing except in terms of taste. For precisely that reason, I sometimes like to swap over to my preferred calorie-free alternative – Stevia In The Raw®, which contains the extract from the sweet leaves of the stevia plant, and is formulated such that one cup of stevia has the same sweetness as one cup of sugar – but without any of the calories. To put this in perspective, using one cup of Stevia in place of one cup of sugar saves roughly 700 calories – let that sink in. However, since the Stevia tastes identical to standard sugar for baking purposes, that means I can keep all of the fun and flavor of the fall season, but without those dreaded calories.
For example, such autumnal favorites as Mulled Apple Cider, Apple Pie Streusel, or Gridiron Apples, can all have their calories from sugar cut down via the use of stevia, and allow you to indulge sans the calories.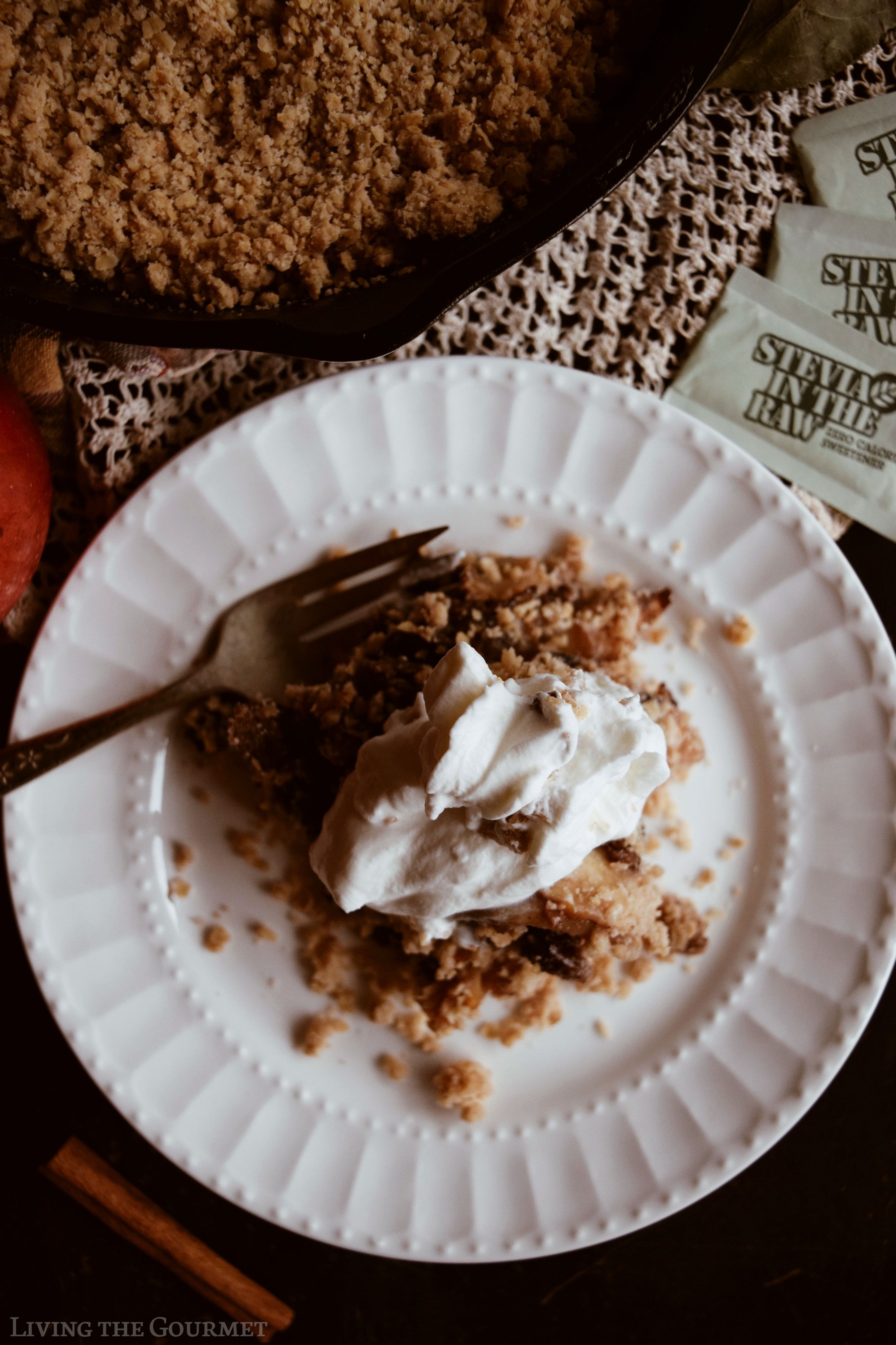 However, when using Stevia In The Raw Bakers® Bag, you typically only want to replace about half the standard sugar with stevia in order to achieve the proper browning, rising, and/or caramelizing that only real sugar can provide.
With that said, that brings us nicely to today's recipe – Apple Pecan Crisp.
To start things off, we begin by mixing together vanilla, cinnamon, cloves, ginger, lemon juice, cranberry juice, and butter in quantities listed below. However, instead of a tablespoon of sugar, we use a tablespoon of Stevia In The Raw. We then toss this mixture together with peeled apples and chopped pecans, and toss until the apples and pecans are well coated.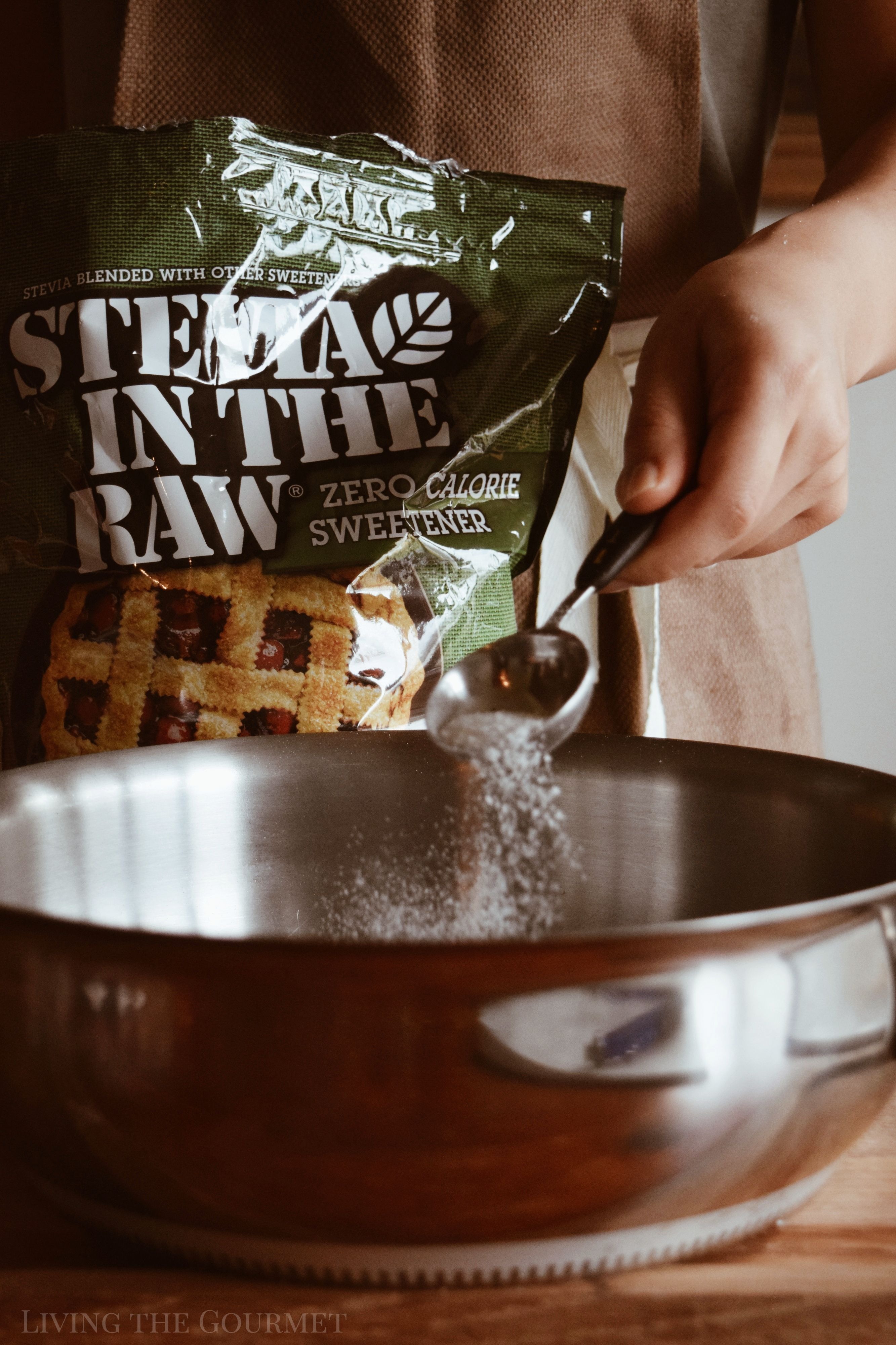 From there, we cook that down in a small skillet until the apples are tender, and let that sit while we prepare the topping.
In a small bowl, we create a base of flour and rolled oats, and then add in a pinch of salt, some butter, and a dash of cinnamon, and here we substitute out a tablespoon of sugar for a tablespoon of Stevia In The Raw.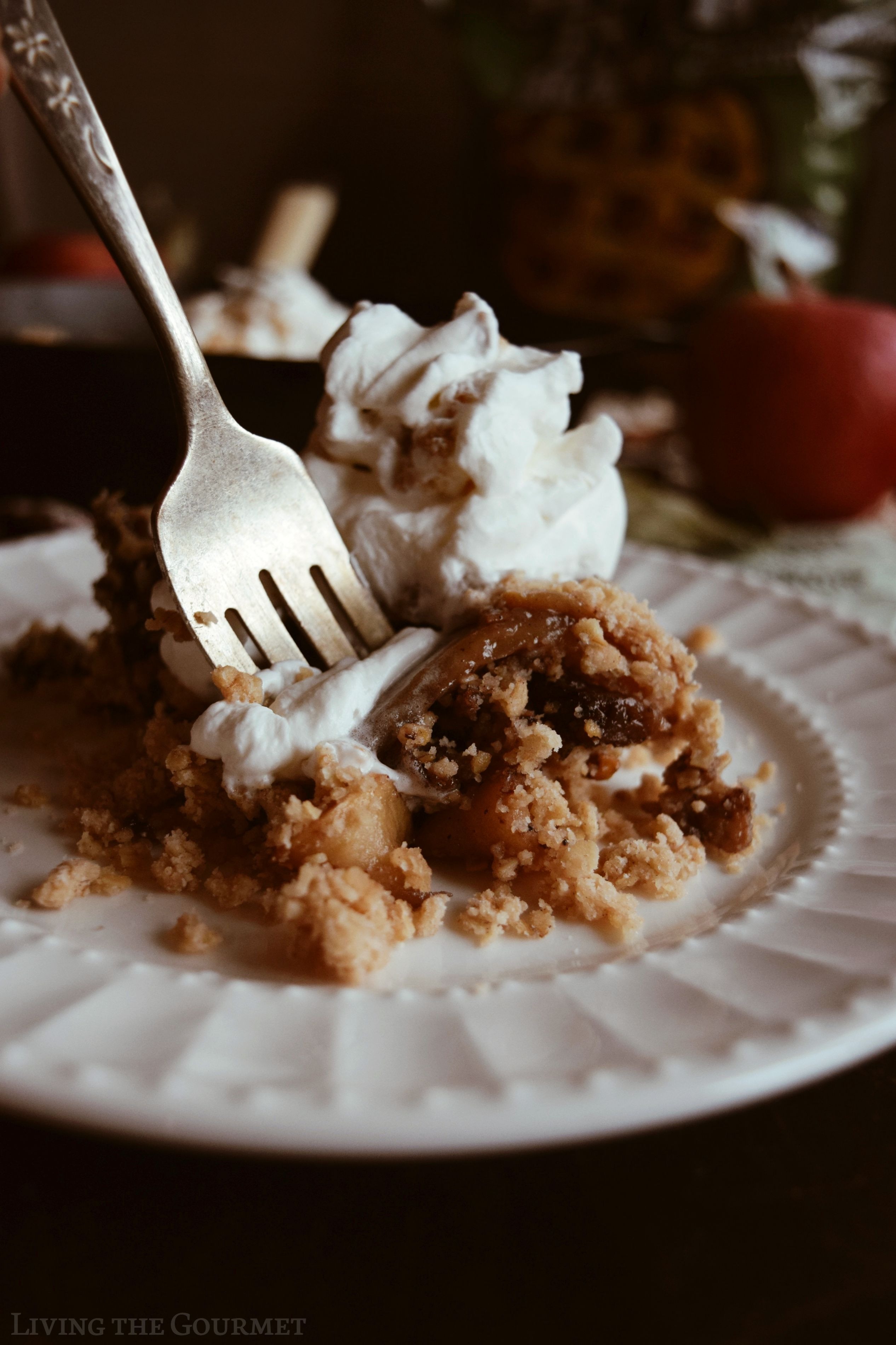 Print
Apple Pecan Crisp
---
Author:

Prep Time:

10 minutes

Cook Time:

20 minutes

Total Time:

30 minutes

Yield:

1

skillet crisp

1

x
For the Filling:
2

apples (either honeycrisp or gala) – peeled, cored, and sliced

1/4 cup

chopped pecans

1 tablespoon

Stevia in the Raw

1 teaspoon

vanilla

1 teaspoon

cinnamon

1/4 teaspoon

cloves

1/2 teaspoon

ginger

2 teaspoons

lemon juice

2 tablespoons

cranberry juice (or any fruit juice will suffice)

2 tablespoons

butter
For the Topping:
Topping:

1/2 cup

AP flour

1/3 cup

rolled oats

2 tablespoons

Stevia in the Raw

4 tablespoons

butter
Pinch of salt
Dash of cinnamon
---
Instructions
Toss apple slices and chopped pecans in a small bowl with the rest of the ingredients called for in the filling.
Cook down in a small skillet until the apples are just about tender.
Preheat oven to 350 degrees F.
In a small bowl combine all ingredients for the topping. Sprinkle the topping over the apples and bake for 20-25 minutes.
Remove the crisp from the oven and let cool slightly. Serve with freshly whipped cream or ice cream, whichever you prefer.
Recipe Card powered by
We then sprinkle the topping over the apples in the skillet, and bake that in the oven for about twenty minutes. Then let it cool down slightly, top with whipped cream or ice cream and another dash of cinnamon, and you have one of the fall's most quintessential flavor combinations, but without the added calories of sugar.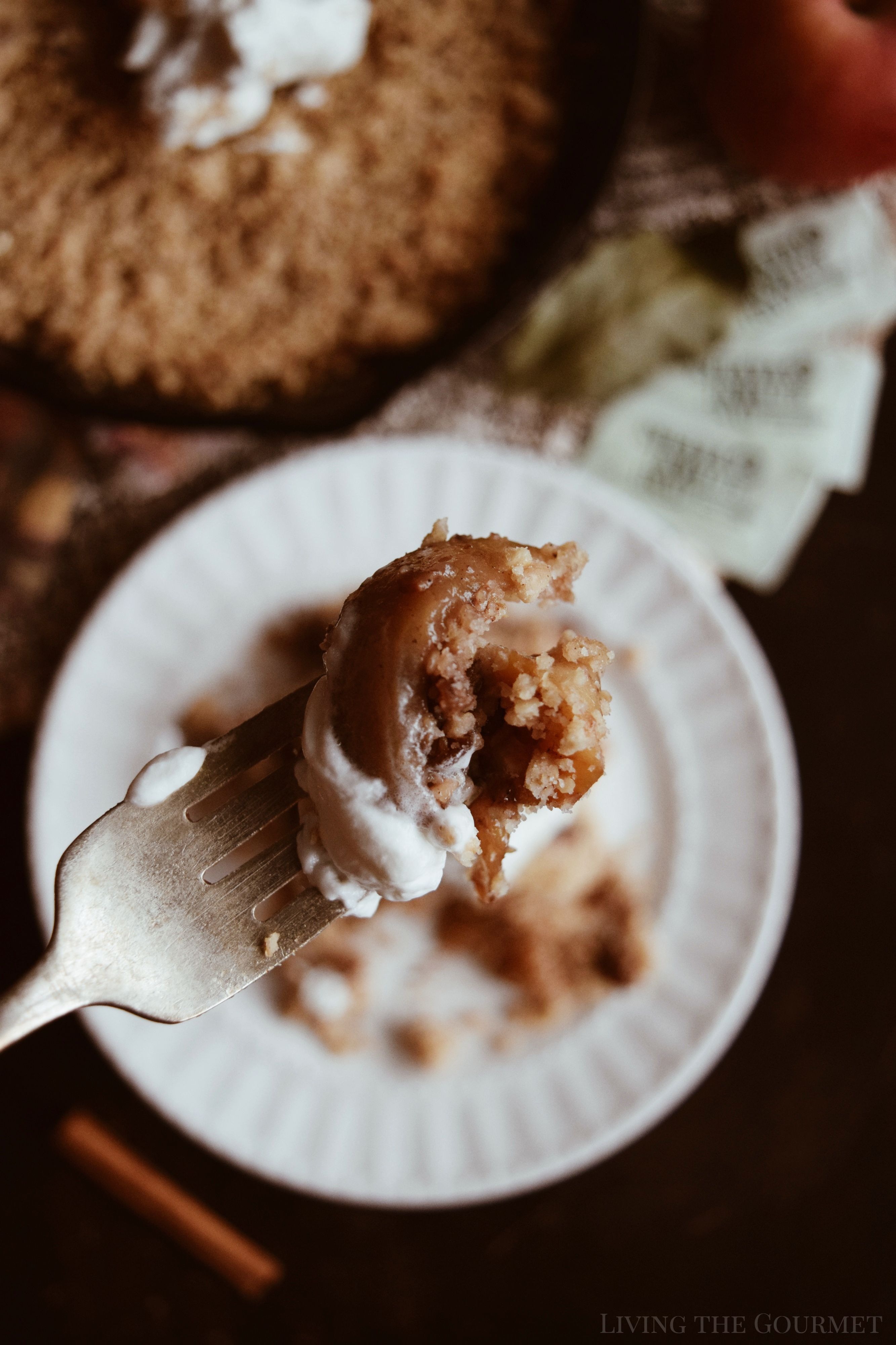 Enjoy with Love!
1