An easy, elegant treat that is always a sweet surprise no matter the occasion. Surprise your loved ones with these Chocolate Covered Strawberries today!
Time for a little Valentine's Day recap, friends.
One of my favorite quotes from any movie comes from the film Constantine, in which the film's namesake demon-hunter says to a defeated Gabriel, who has recently suffered the indignity of becoming human, "It's called pain, get used to it."
I say that because all of us have experienced, at one point or another, our very 'human' response to discomfort, and that is simply 'getting used to it.' You see, while it is quite a lovely thing in the summer to be surrounded by a river lined in tall aged trees, and to have hedges that cloak one's yard in thick walls of emerald, in the winter that's quite another story. Indeed, beyond my bay window my yard has been doing its best worst impression of Sleepy Hallow for the past six or seven months. The aged trees grasp at the sky with skeletal branches, while the spider-like limbs of my hedges have faded from 'walls of emerald' to deathly veils where only the occasional stray crow or grey bird dares to seek shelter.
This morning, however, I was very nearly 'surprised' at the sight of daylight. For the first time in well over a week I was treated to waking up to a day that actually held some modicum of daylight. Naturally, aside from being the first truly beautiful day in forever, it was also Valentine's Day.
And, as our modern culture tells us, Holidays equal Gifts. I sense a very successful marketing ploy…but I'm not about to try to fight it.
Thus, like any good Holiday consumer, I began my holiday by setting out to the store. Plush toys for my son and daughter, along with boxes of candy, and of course I bought the same for myself plus a fresh bouquet, which I've pictured below.
Cue a stop for bagels, and you've got Valentine's at Living the Gourmet.
However, in true Living the Gourmet fashion, I had forgotten that it was also the first day of Lent precisely – after – I had eaten my bagels and chocolate. Yes, bagels followed chocolate for breakfast…don't judge me.
Despite it being the day for chocolates, I simply couldn't eat them in good conscience anymore, but I also couldn't quite bring myself to either throw them away or pack them away for a month. Thus, we come to today's recipe. I mean, Chocolate Covered Strawberries aren't forbidden for Lent, they're fruit…right? Well, even so, these delicious, plump berries came out looking so decadent they simply can't be sinful.
Drenched in alternating bands of white and milk chocolate strips, with pink sugar, these are sure to melt the heart of your Valentine. If they don't…find a new Valentine.
Print
Chocolate Covered Strawberries
Author:
Prep Time:

20 minutes

Total Time:

20 minutes

Yield:

2

dozen

1

x
Category:

dessert
2

pints

fresh strawberries, washed and thoroughly dried (or any fruit you desire)

1

cup

dark chocolate, melted

1

cup

white chocolate, melted
Colored sprinkles or chopped nuts (optional), for garnish
Instructions
Line a baking sheet with wax paper and line with the strawberries.
Melt down dark chocolate in either a microwave or double-boiler then drizzle liberally over the berries. Repeat this step with the white chocolate. Generously sprinkle each strawberry with your garnish of choice.
Set the tray in the refrigerator until the chocolate has set.
Once the chocolate has set, carefully, turn each strawberry over and repeat the process, drizzling with the melted chocolate and garnishing with the sprinkles. Return to the refrigerator once again and let the chocolate set.
Serve and enjoy!
Notes
Make sure the strawberries are dry before drizzling with chocolate on them otherwise the chocolate will not adhere to the berries and set correctly.
Recipe Card powered by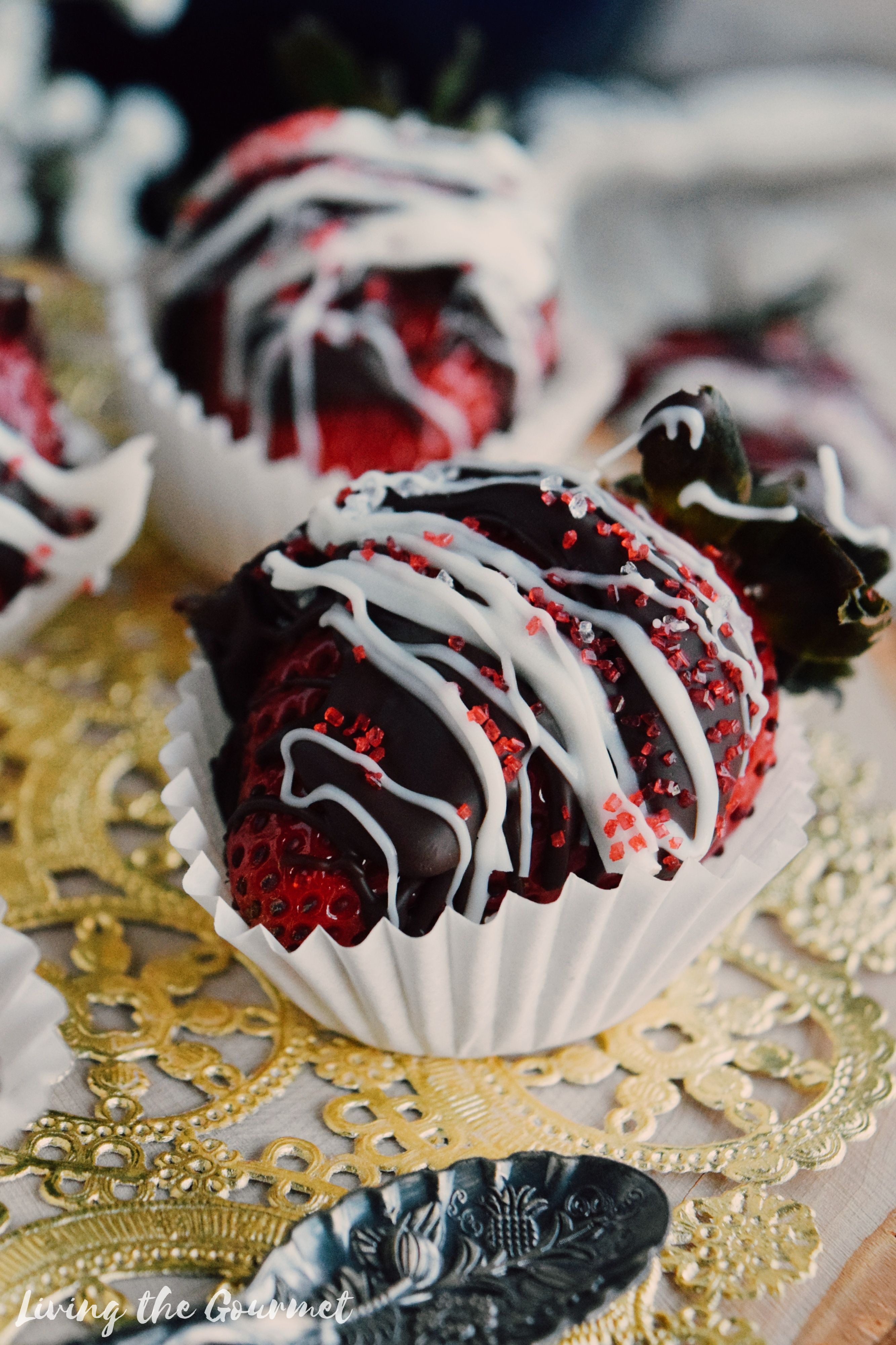 Enjoy with Lots of Love!
0