'Airy decadence' best describes this summery delight. Topped with fresh cream, seasonal berries and shaved chocolate, you'll be on cloud nine with these mini Nutella Pavlovas!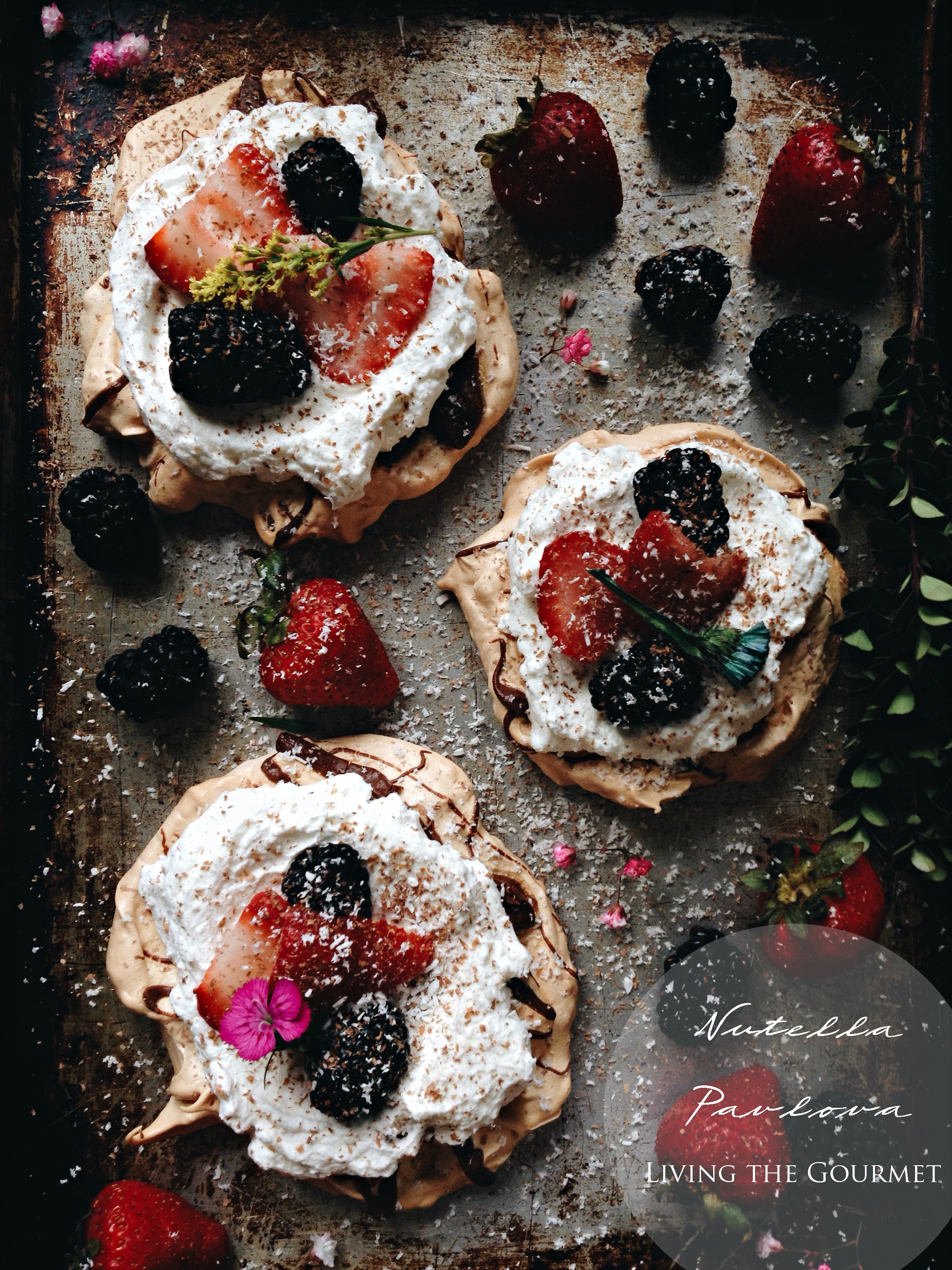 Pavlovas are one of those desserts that may look difficult to achieve, but are deceptively easy.
It's a rare accomplishment to successfully execute a recipe you have never made before on your first try, which explains the wide grin I have had etched across my face all evening.
The entire process left me with reservation. "I hope they aren't too egg-y." "What if they come out like rubber?" "Oh no, why do they look like toasted marshmallows?"
I did exactly as instructed. Once they were finished baking, I let them cool in the oven. With all the doubt running through my mind, it was difficult to turn the oven off and try to forget about my pavlovas as they cooled.
When the moment of truth finally came crawling, I pulled the pavlovas out. They were perfect. They had a nice crisp exterior - which is a very good sign. I could only hope now that the center was soft.
I took a chance and finished my recipe through, topping them with fresh cream, berries and shaved chocolate. I then set up an elaborate display and took my photos. Even with the days getting longer, I still feel like I am always chasing daylight.
After it was all said and done, it was time to taste test. At the end of a long day, we gathered around the kitchen and casually prepared ourselves with this elegant treat- too weary to set a proper table.
Despite the informal manner in which we enjoyed this dessert, standing around the kitchen counter, we each looked up at one another and exchanged a glance of approval. It's a good sign when someone bites into a meal (or dessert) and their eyebrows go up. Then comes the prolonged, "Mmmm..."
It was a proud moment, and after a quick cleanup, I rushed to settle down at my desk to share this exquisite dessert with all of you.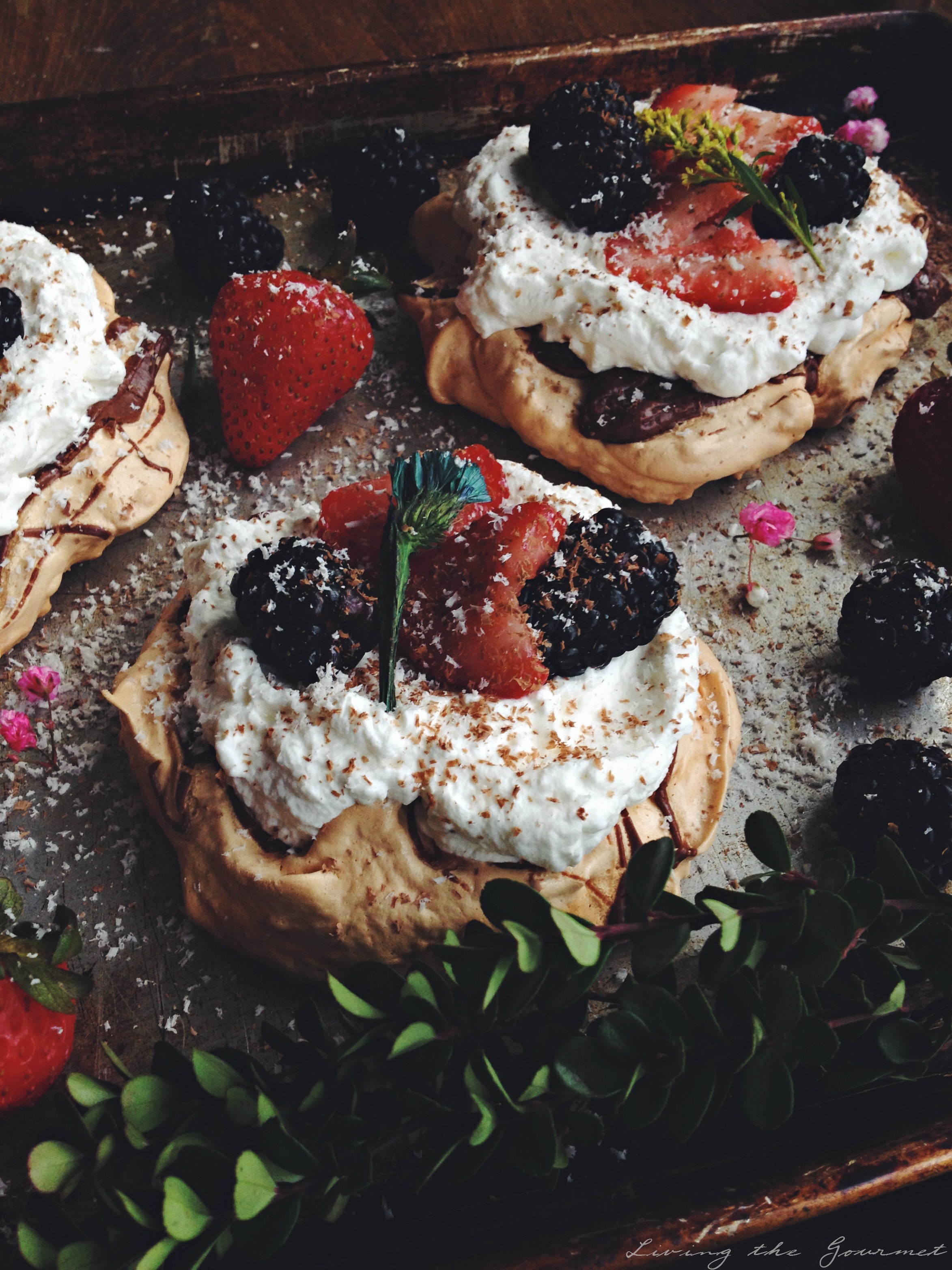 Print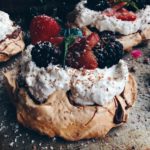 Nutella Pavlova
---
Author:

Total Time:

1 hour 10 minutes

Yield:

4

1

x
3

egg whites

1/4 teaspoon

cream of tartar

3/4

cup

icing sugar

1 teaspoon

vinegar

1 teaspoon

vanilla extract

2 tablespoons

Nutella
For garnish:
Fresh whipped cream
Blackberries
Strawberries, sliced
Dark Chocolate, grated
White Chocolate, grated
---
Instructions
Preheat oven to 295 degrees F. Line two baking sheets with parchment paper and set aside.
In a large bowl, beat egg whites and cream of tartar until frothy. Once frothy, gradually add icing sugar. Continue beating until stiff peaks form and a thick meringue forms.
Add vinegar and vanilla and fold into the egg white batter.
Spoon about 1/2 cup of meringue onto the prepared baking sheets, then with a pastry knife, gently even out the meringue into about 3-inch circles. You should have 4 pavlovas.
In a small heat proof bowl, melt Nutella. Drizzle the Nutella over the meringues.
Bake for 1 hour until golden and firm. Let the pavlovas cool in the oven. Once you remove them from the oven, they should have a crisp exterior.
For the whipped cream, beat together 1/2 cup heavy cream and 1 tablespoon white sugar.
Assemble:
Top each pavlova with a generous dollop of whipped cream. Top with berries, then shave the chocolates over each pavlova.
Serve and enjoy!
Prep Time:

10 minutes

Cook Time:

1 hour
Recipe Card powered by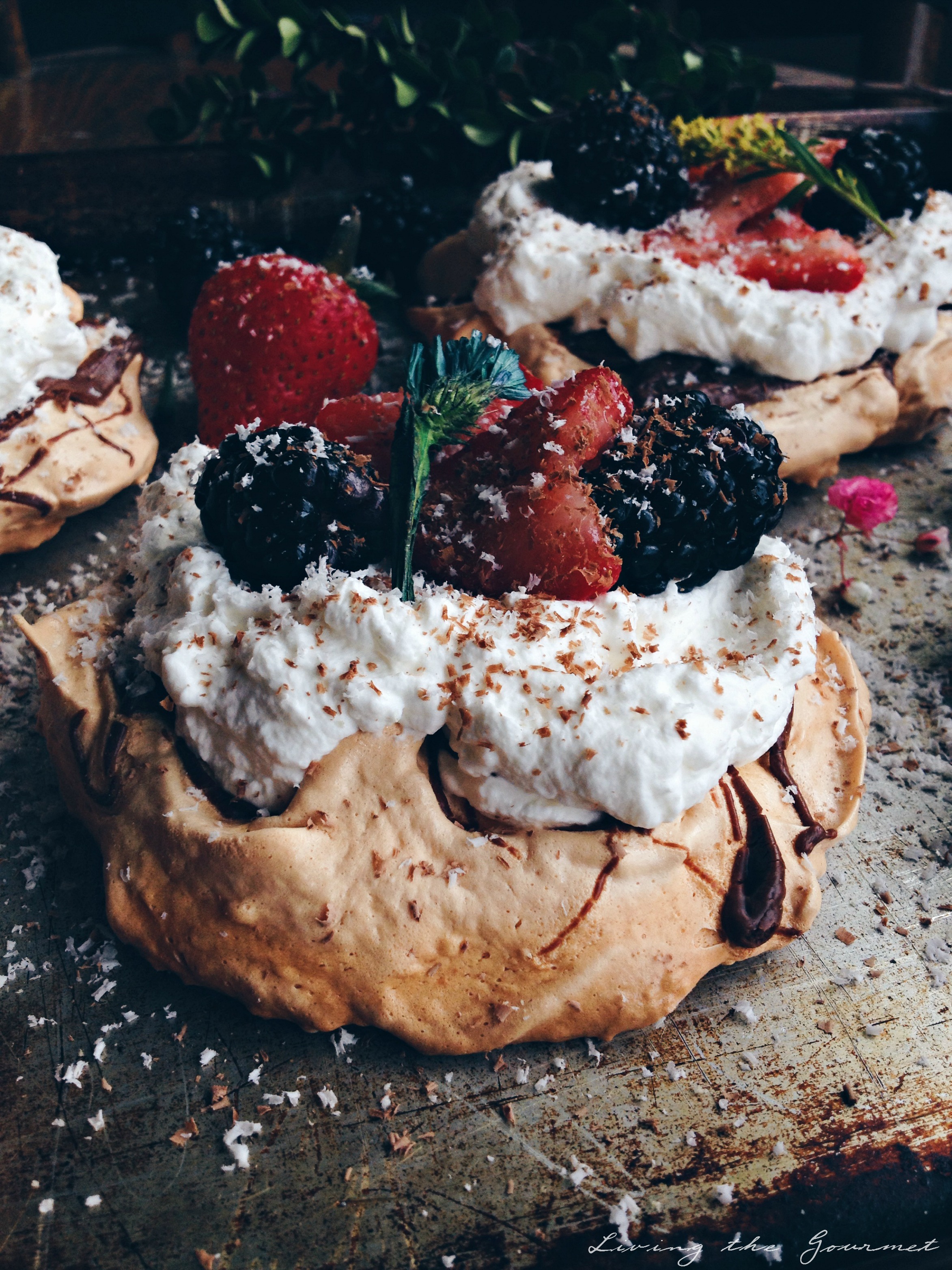 Toodles,
Tammy<3
3