Italian Easter Pies are a traditional dessert made of a sweet whipped ricotta filling that's baked over a flaky crust!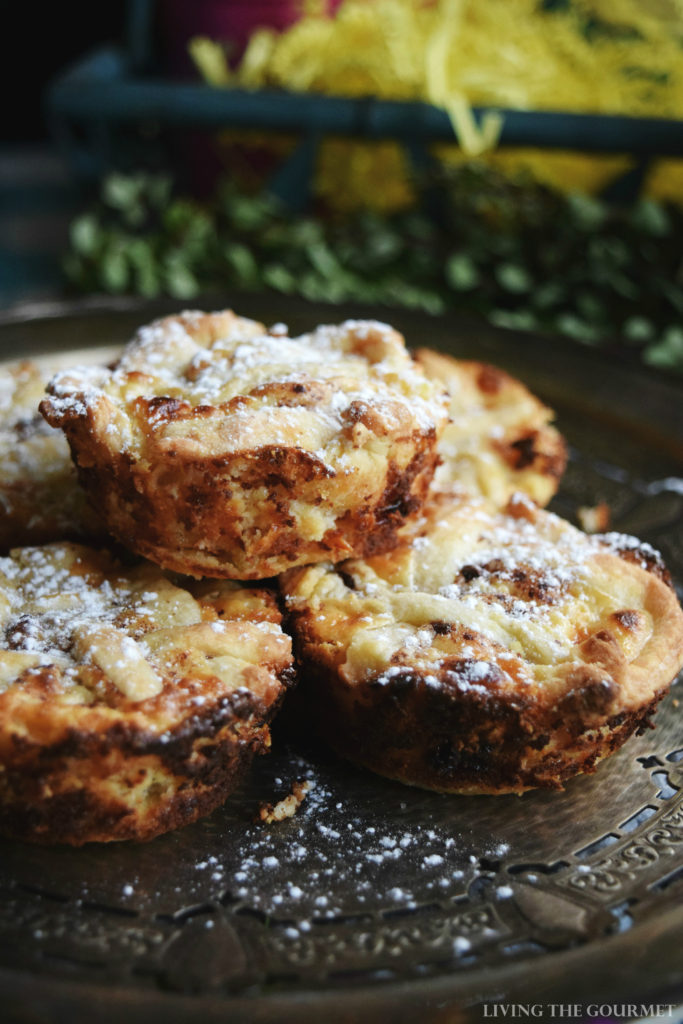 While I am a fervent classicalist, perhaps one of my favorite lines of dialogue comes from the movie Blade Runner, specifically Roy Batty's brief exchange at the end of the film, which ran "I've seen things you people wouldn't believe: attack ships on fire off the shoulder of Orion. I've watched C-beams glitter in the dark near the Tannhauser Gate. All those… moments… will be lost… in time, like… tears… in rain."
Why do I bring this up? For the simple reason that I sometimes find myself relating to it. No, I've never been a spacefaring mercenary, nor witnessed the glittering of C-Beams – at least not yet. Instead, it's the perpetually 'lacking' nature of trying to relate the memories of a 'past life' to those for whom my experiences are largely foreign. While words are part of my living, there is an element of 'experience' that even the most eloquently laced words can never even hope to touch.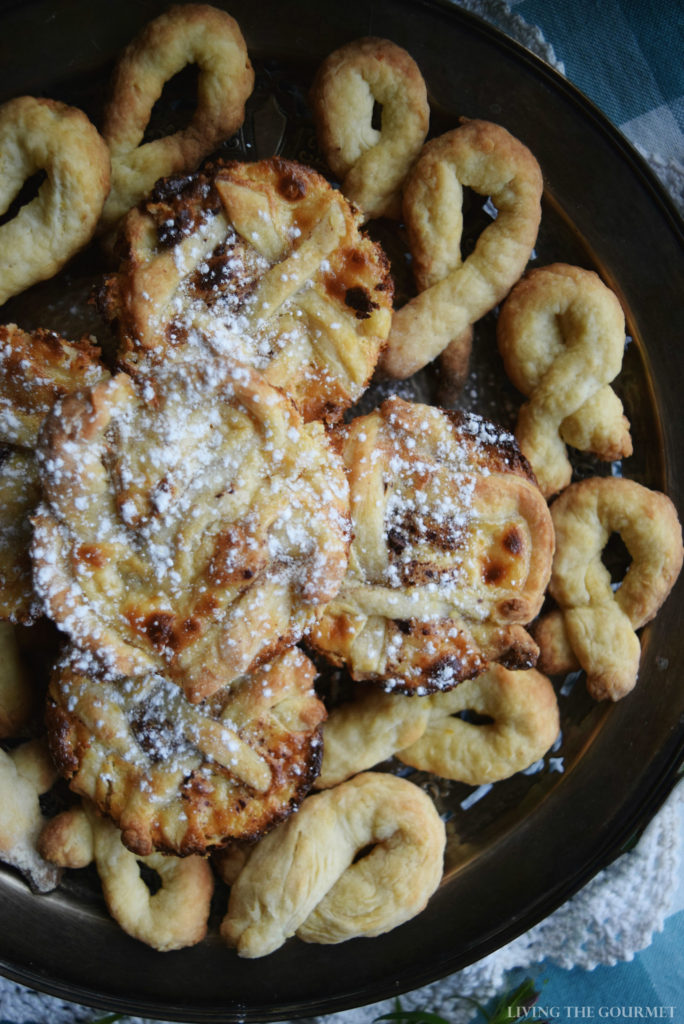 Having lost both of my parents quite early in my life, much of the 'family tradition' I grew up with is locked inside a 'past life' my children were never able to experience.
In that regard, I'm a bit like an actor left alone on a stage, struggling to fill the roles left vacant by the passing of time and tragedy. Though the observing audience is none-the-wiser that something is amiss, I know what has been lost. Not unlike a satire of Pagliacci, I do my best for my audience, playing by memory a rendition of an ever fading script written many years ago by a cast of familiar faces.
Where words fail, however, material helps fill the void. For example, I posted here some time ago a recipe for my mother's grain cake, which was a staple at our holiday events, particularly Christmas and Easter. Similarly, today's recipe was also one of our holiday favorites, usually served alongside the centerpieces, or stacked neatly amongst the dessert spread.
This, of course, brings us to today's recipe – Italian Easter Pies.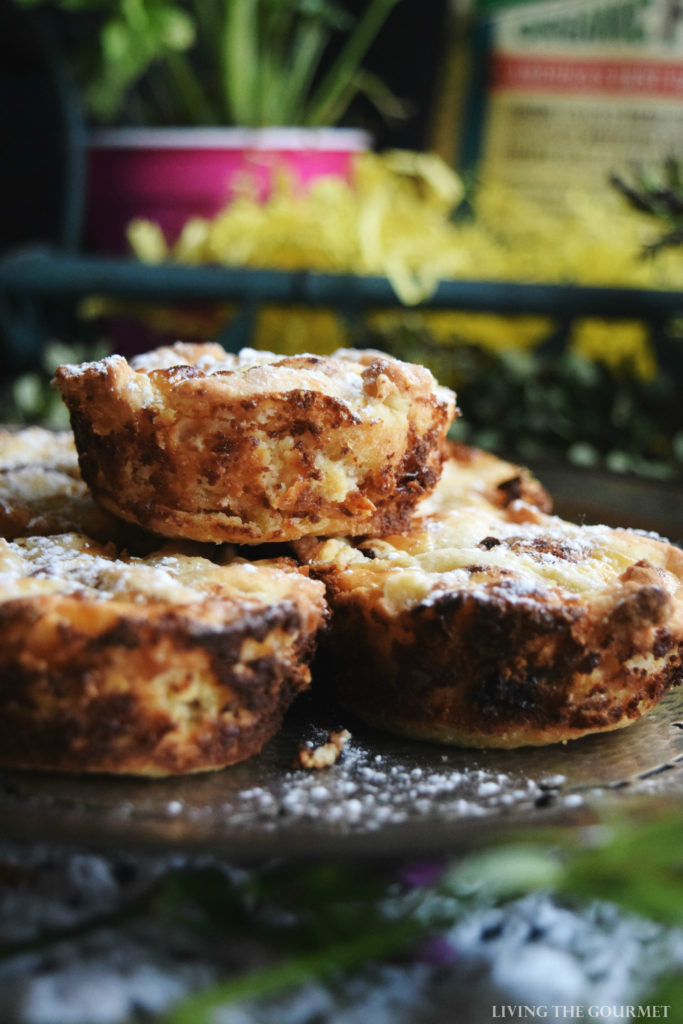 To start things off, we begin by combing flour salt, and sugar together with cubed butter as shown below. For this, I prefer to use Bob's Red Mill Organic Unbleached White All Purpose Flour, a super versatile staple for all your baking needs, which is produced from freshly milled hard red wheat, and isn't enriched with any additives.
Now, using a pastry cutter, work that mixture until its crumbly, and then add in eggs yolks as described below one at a time, along with fresh orange rind. Now, you might hate me for this, but as the saying goes you "gotta do what you gotta do." Set aside the pastry cutter, and knead the dough with your bare hands as shown below. Yes, this will be messy.
Once you have a proper dough, refrigerate it for about an hour before continuing.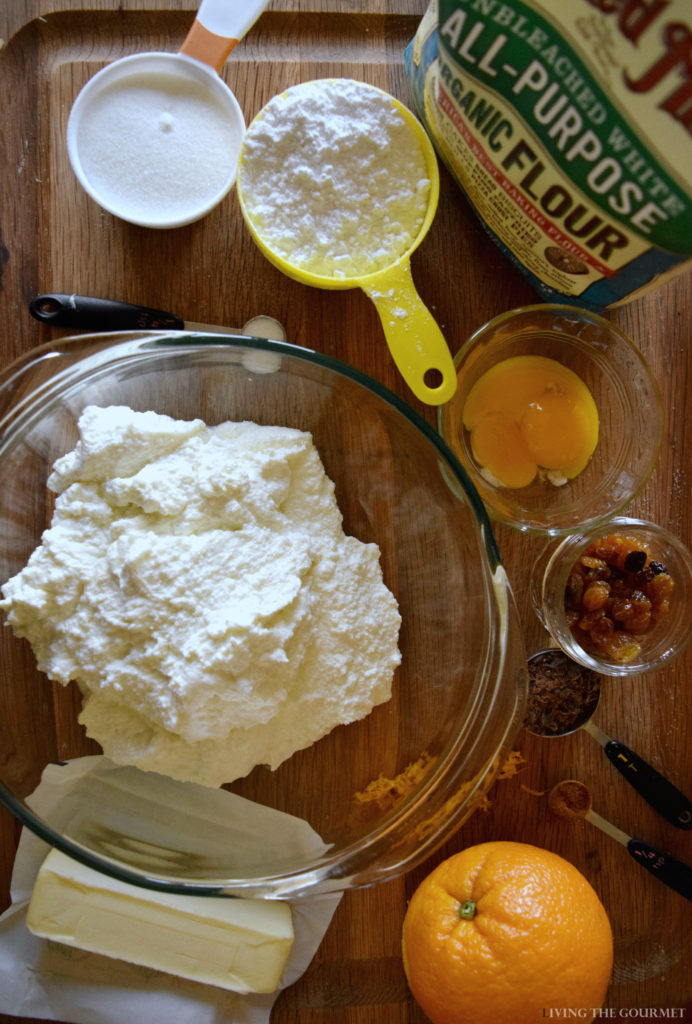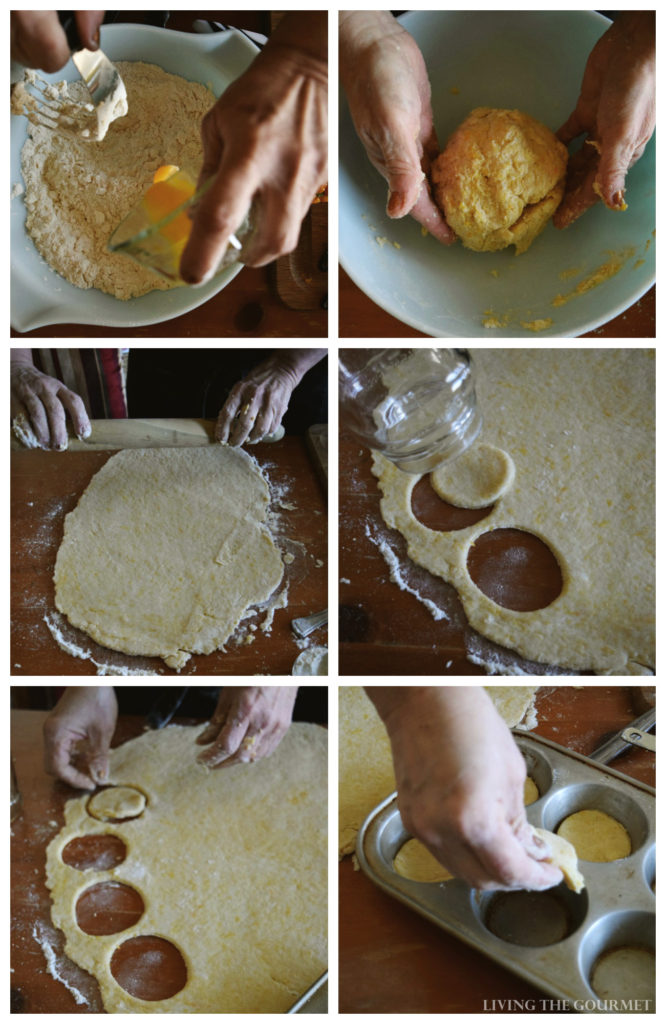 While the dough is refrigerating, mix together the ricotta cheese with sugar, egg yolks, and cinnamon, along with a dash of orange rind, and mix that until its smooth, adding in the raisins as you do.
Once the dough has finished refrigerating, roll it out on a well-floured surface and cut out and cut out circular portions to fit the bottom of your cupcake or muffin tin. I like to use a glass for this purpose.
After pressing the circular portions to the bottom of the muffin tins, top each with about a tablespoon of the ricotta filling as shown below, and crisscross thin strips of the dough over the ricotta.
Once that's done, bake for about forty minutes, or just until the filling is nice and firm and you've got beautiful golden coloration to the crust.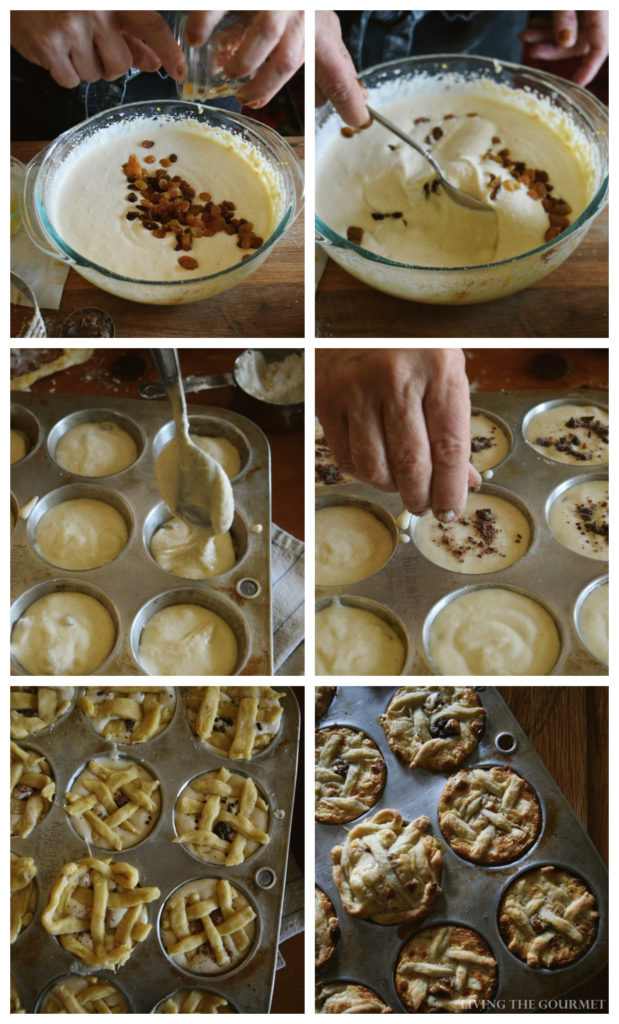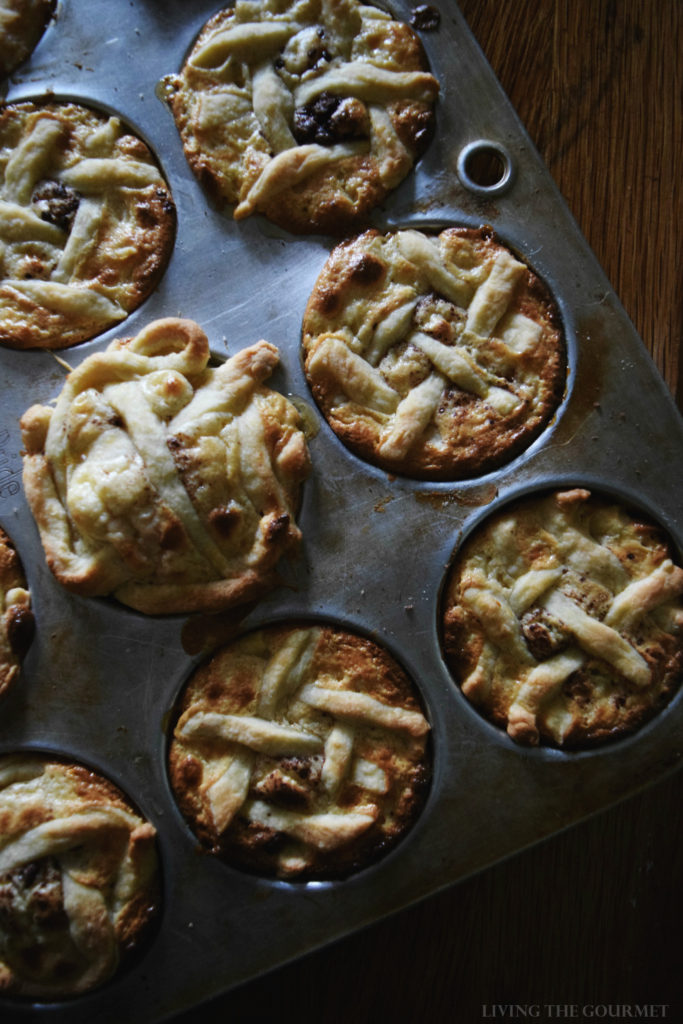 Print
Italian Easter Pies
Author:
Prep Time:

15 minutes

Cook Time:

30 minutes

Total Time:

45 minutes

Yield:

18

pies

1

x
Category:

Dessert

Cuisine:

Italian
2

cups

Bob's Red Mill Organic Unbleached White All Purpose Flour

1/2 tsp

. salt

1/2

cup

sugar

1/2

cup

unsalted butter, cubed

2

egg yolks
Grated rind of 1 orange

1 1/2

lbs. Ricotta cheese

1

cup

confections' sugar

2

egg yolks 1/4 tsp. cinnamon

4

tbs. raisins (optional)

1

tbs. grated chocolate (optional)
Instructions
In a large bowl sift the flour, salt and sugar together.
Add the cubed butter and cut the butter into the flour with a pastry cutter until crumbly.
Mix in one egg yolk at a time and stir in the orange rind.
Work the dough gently with your hands until it comes together, adding a tablespoon of cold water at a time to help bring the dough together.
On a floured surface quickly knead the dough until smooth. Wrap the dough in plastic and refrigerate for 1 hour.
On a floured surface roll out the dough to a ¼ inch thickness and use a glass to cut the pastry into rounds to fit the bottom of a muffin tin.
Preheat Oven 350 degrees F.:
In a large bowl combine the ricotta cheese, confections sugar, egg yolks, cinnamon and orange rind.
Beat with an electric mixer until smooth and creamy; then stir in the raisins.
Press the rounds into the bottom of the muffin tins and top with a heaping tablespoon of the filling. Sprinkle a little of the grated chocolate on top of the filling if desired.
Cut small strips of dough and crisscross the dough over the muffin tops.
Bake for 30 – 40 minutes or until the filling is firm and the crust is a beautiful golden.
Cool and serve.
Use any leftover dough to make cookies to serve with the Easter Pies.
Bake the cookies at 350 degrees F. for 10 – 12 minutes or until golden around the edges on a non-stick cookie sheet.
Recipe Card powered by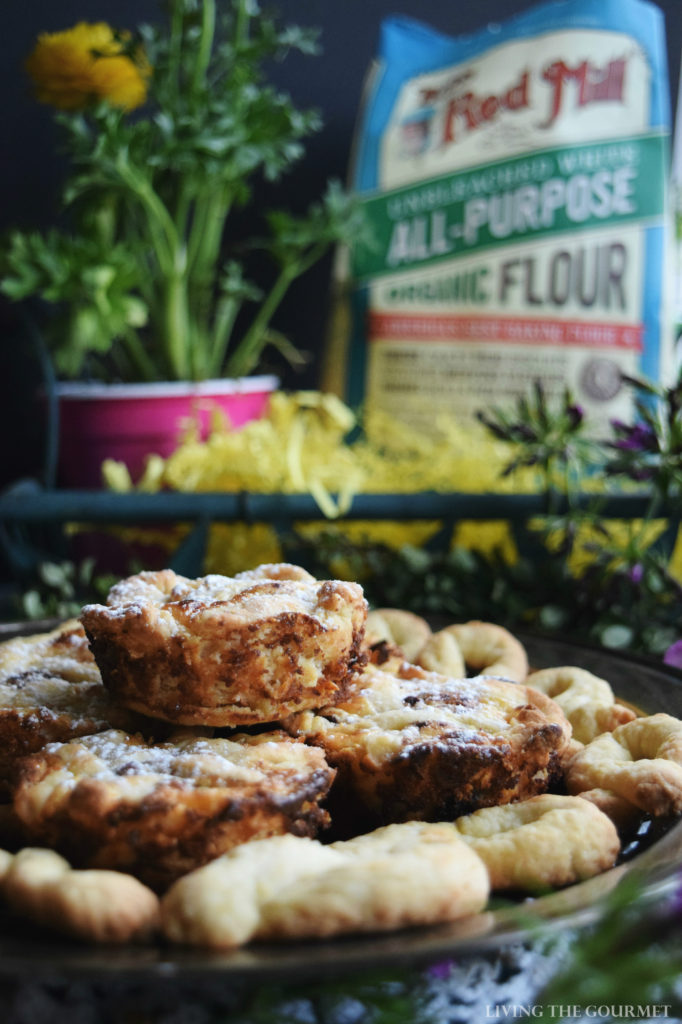 What are some of your favorite Easter desserts? We would love to hear from you.
Discount for our readers: Get 15% off Bob's Red Mill products (does not apply to shipping or bulk bags) with promo code livingthegourmet15. Offer valid until 4/20.
Enjoy with Love!
3