This Apple Rhubarb Pie is sweet and tart, but add a flaky crust and some fresh cream for something blissfully delightful.
Rhubarb, apples, and cinnamon, are all beloved autumn flavors, and this Apple Rhubarb Pie combines them all into a buttery, flaky crust.
We'll be stewing our rhubarb to create a decadently thick and sweet filling, then layering that into homemade crust, and baking that with apples and brown sugar, along with cinnamon and nutmeg.
The end result is a pie that is, in my opinion, a quintessential spring treat.
Below, we'll cover all of the ingredients you'll need for today's apple rhubarb pie. I'll also try to answer some of the most common pie-baking questions I've encountered.
VIDEOS YOU MAY ALSO LIKE
What You'll Need for The Filling
Rhubarb. We can't make rhubarb pie without rhubarb. And yes, we are stewing the rhubarb first to help sweeten and thicken it. See the link in the recipe card on how to do this.
Apples. It's said that the best apples for baking are Granny Smith, and this is because of how firm they are. So firm, in fact, that they will retain their shape and texture under almost any amount of baking. And that's good thing, since no one wants a mushy pie. That said, this ideal baking texture comes at a price, and that price is a lack of sweetness. Granny Smith apples are fairly tart. For that reason, Honey Crisp apples are generally considered the 'next best' apples for baking. Though not quite as firm as Granny Smith, they are markedly sweeter and are generally 'firm enough' for baking. So, which to use? The choice is truly a matter of preference. However, due note that sweetness can be altered with added sugar, but once a pie is 'mushy,' there's no fixing it.
Flour. This helps thicken the filling.
Sugar. Rhubarb is tart on its own, and there's really no getting around that. So, to play up that delicious 'rhubarb flavor,' you need to add a bit more sugar than you would for most fruit-based pies. That said, simple granulated sugar is what you're looking for.
Cinnamon. Ubiquitous and beloved, if ever one spice 'tastes like Autumn,' this is the one. Cinnamon gives the pie a nice warming and earthy flavor, and just a hint of added background sweetness.
Nutmeg. I use whole nutmeg, and then grate it myself. Though pre-ground nutmeg works just fine. In terms of 'why' we're using nutmeg, I find it complements the cinnamon deliciously, while really playing up the 'earthy' notes of the pie.
Cloves. Melds beautifully with the stewed rhubarb, while playing up the brown sugar, cinnamon, and nutmeg. An 'autumn combo' that's truly hard to top.
Lemon Juice. As in all cases, fresher is better, so opt for fresh lemon juice if you happen to have some lemons on hand. Bottled will work fine, but I do suggest fresh.
Ingredient Checklist for the Crust
Today's recipe can indeed be made in a store-bought crust. However, if you want to go that extra mile and make your own crust, here's what you'll need.
Flour. All-purpose flour is probably best for today's crust. Bread flour would result in a 'hard' and 'dense' crust, while baking flour would result in a crumbly crust that fails to keep its form through cooking.
Salt. Not a lot to say here. Plain table salt is all you need.
Sugar. Simple granulated sugar is what you're looking for.
Egg. An egg helps to help bind the crust.
Ice Water. Cold water is must for the purposes of this recipe.
Butter. As usual, I highly recommend using unsalted butter.
Shortening. This provides fat for moisture and flavor, and to ensure the crust cooks up 'flaky.' Yes, we're using shortening 'and' butter.
Top Six Tips For Baking a Pie
What apples to use, really? Rather than stressing over which apple is best, my advice is to use a combination of apples. Ideally a mix of firmer, though tarter, apples, along with some sweeter, yet softer, apples. Consider mixing Granny Smith and Honey Crisp, or Golden Delicious with Winesap, or McIntosh and Northern Spy.
How long can I leave it out? Today's apple rhubarb pie can be kept out at room temperature uncovered, for about eight hours. Any longer than that, and it should be put in the fridge.
Can I eat it right away? Yes and no. While you certainly 'can' slice into a freshly made pie right away, the pie should be allowed to 'set' for about an hour before cutting into it. This applies to pretty much any fruit pie. This allows the filling to congeal, and for excess moisture to soak into the apples.
Top tip for making a good crust? Handle the dough as little as possible. Excess handling means excess air. Excess air means a firmer, dryer crust.
Should I flour 'everything?' When rolling out the dough, it can be very tempting to go nuts flouring absolutely everything from the counter to your pin to your hands to the dough itself. Stop this. Yes, flouring the workspace a little helps the dough to keep from sticking and peeling, but use as little as possible to prevent adding excess flour to the dough.
Vent, vent, vent. If you are getting fancy and placing a crust over the top of the pie, you must vent it. This means cutting slits into the top of the crust, usually with a decorative cutter, or sometimes simply with cut-outs. This allows steam from the filling to escape into the oven. If the steam can't escape, it remains trapped in the pie, resulting in excess moisture.
Print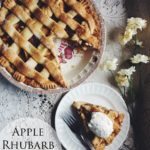 Apple Rhubarb Pie
---
Author:

Total Time:

55 minutes
Sweet Simple Pie Crust:
2 1/2

cups

all-purpose flour

1/2

cup

sugar

1/2 teaspoon

salt

3 tablespoons

cold butter, cubed

1/4

cup

shortening

3

-

4

tablespoons ice water

1

egg, for brushing the crust
Sugar, for sprinkling
Apple Rhubarb Filling:
1

cup

Stewed Rhubarb

3

large crisp apples, peeled, cored and sliced

1/4

cup

brown sugar

1 tablespoon

flour

1/2 teaspoon

cinnamon

1/2 teaspoon

cloves

1/2 teaspoon

grated nutmeg

1 teaspoons

fresh lemon juice
---
Instructions
Sweet Simple Pie Crust:
In a large bowl whisk flour, sugar and salt. Add butter and shortening then blend with a pastry blender or your hands until a crumbly mixture forms. Add 1 tablespoon of ice water at a time until a soft, pliable dough forms.
Turn the dough out on a well floured sheet of parchment paper. Knead gently then wrap in cling film and refrigerate for 30 minutes.
Preheat the oven to 350 degrees F.
Divide the dough into two balls. Roll out one dough ball to fit a 9-inch pie plate and pierce the bottom of the dough with a fork. Blind bake for 15 minutes. Remove from the oven and let cool slightly before filling.
Roll out the remaining dough for the lattice topping.
Apple Rhubarb Filling:
In a large bowl, toss together sliced apples, sugar, flour, spices, and lemon juice. Add 1 cup of the stewed rhubarb.
Pour filling into the prepared pie crust. *Refer to my Apple Brandy Pie for the lattice tutorial. Brush the lattice topping with a beat egg then sprinkle the entire pie with sugar.
Bake for about 35-40 minutes, or until the pie crust is golden and then center is bubbling.
Transfer to a cooling rack and let cool before serving. Serve with fresh cream or ice cream is desired.
Notes
*Prep Time does not include Inactive Prep Time
Prep Time:

15 minutes

Cook Time:

40 minutes
Recipe Card powered by
As an Amazon Associate I earn a small commission from any purchases made through the affiliate links within this post. For more information on this please see our disclosure policy. Thank you!
231