Ginger Rice Salad is served alongside Panko crusted flounder for an easy, warm meal perfect for keeping the winter blues at bay. Thanks to Success® Rice for sponsoring this post and helping me make memorable meals for my family always.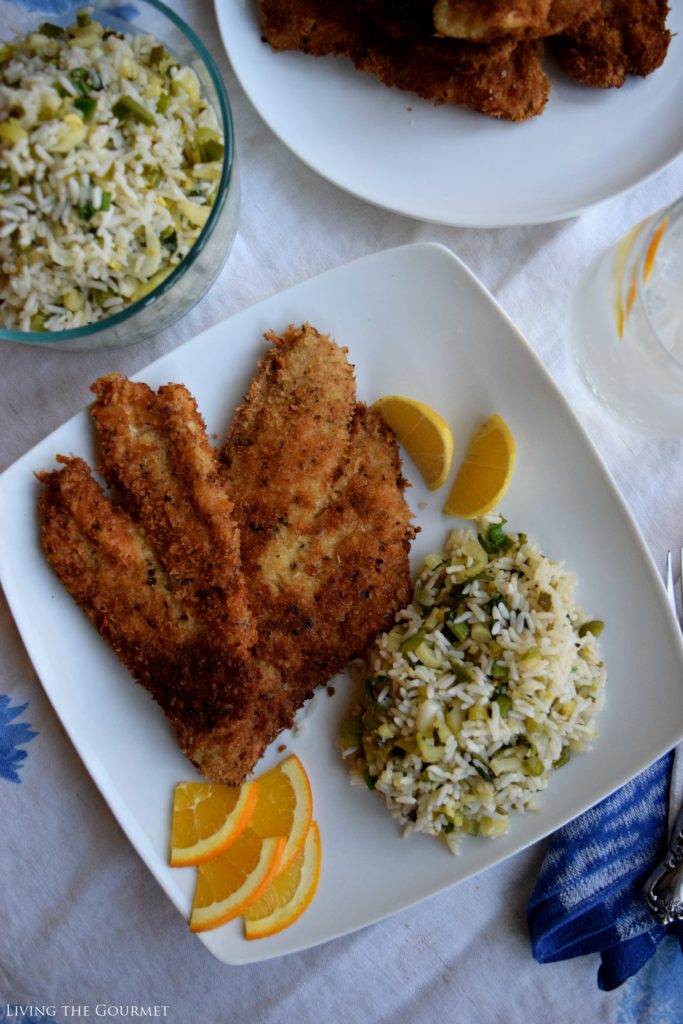 "The weather outside is frightful, but the fire is so delightful," the lyrics run. Indeed, from the confines of my dusty, book-ridden home office, I've come to the conclusion that, but for the presence of the holidays, the wintry season would be nigh intolerable. Snow, for example, is a hazard-filled inconvenience, a headache of the first order. Yet, this 'white sky-dust' takes on a strangely fanciful, almost romantic quality against the backdrop of its accompanying seasonal holidays, with songs longing for it grace Christmas with its hazardous presence. You see, it's been one of my 'pet conspiracies' that the Holiday Season falls within the 'dead of winter' so as to give us all something to 'do' as we take shelter from the icy wastelands that have become our outdoors.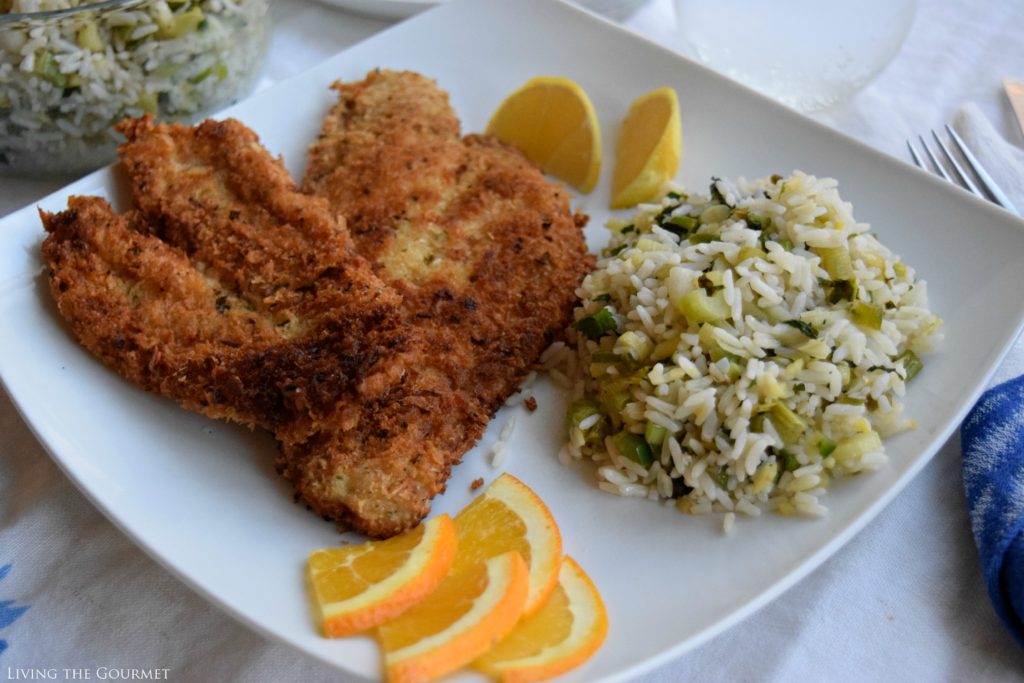 Of course, being trapped inside by snow or icy wind conjures images of hot chocolate, warm cookies, and, of course, a familiar menu of comfort food. However, I am hardly one to allow cliché and calendar to dominate my flavor profile. Yes, the weather might be frightful, but I'm determined that my meals be delightful.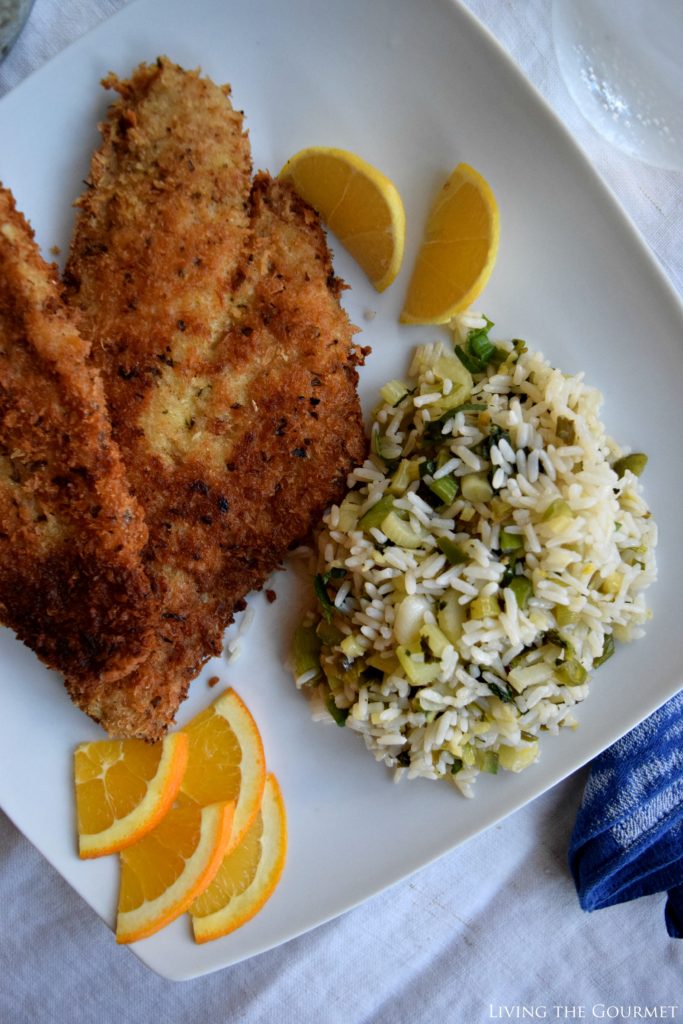 Perhaps it's the influence of the ever-present sea-tinged air, or the constant nautical ambiance lying just beyond my office window, but one of my favorite 'comfort' meals in this sort of weather is a simple round of fried fish accompanied by whatever I happen to be craving as a side. This, of course, brings us to today's recipe – Panko Friend Flounder and Cod paired with a Ginger Rice Salad.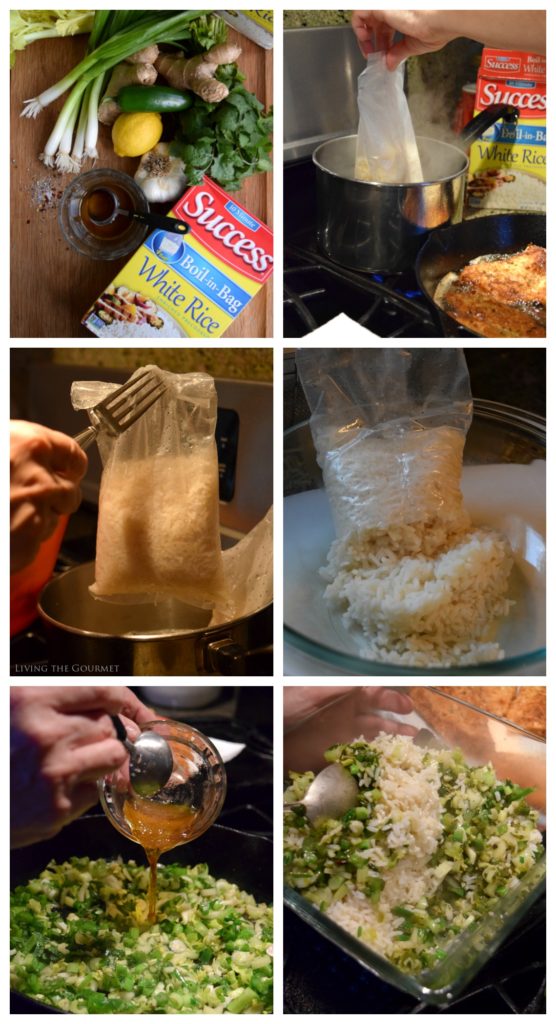 To start things off, we prepare the rice. Now, on cold days when I'm trapped indoors, I'm looking for simplicity, convenience, and reliable quality. That said, this is one case where the "success is in the bag," and we simply boil a pair of Success® White Rice bags stove-top. Since the bags are pre-measured colander-style and BPA-free, you can also choose to microwave the rice without sacrificing taste or quality. On that note, Success White and Brown rice will 'wait for you,' since they can be left in the hot water for up to thirty minutes after cooking with the heat off, meaning you can finish up other kitchen tasks without fear of overcooking. And yes, before you ask, Success Rice is both non-GMO and gluten free.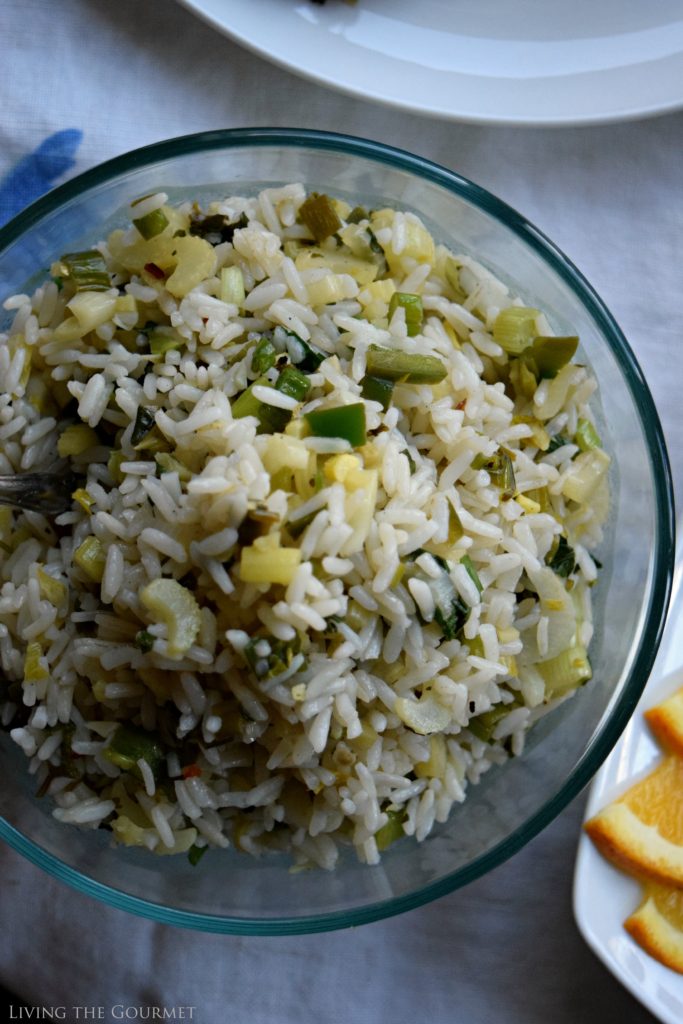 While the Success Rice is available in Whole Grain Brown, assorted aromatic varieties, and of course Thai Jasmine and Basmati, for this particular recipe I prefer simple white rice.
While the rice is cooking, we chop up the secondary ingredients for the rice salad and combine them in a large bowl as shown below. After that, we prepare a dressing with rice wine vinegar, sesame oil, sugar, salt, and black pepper.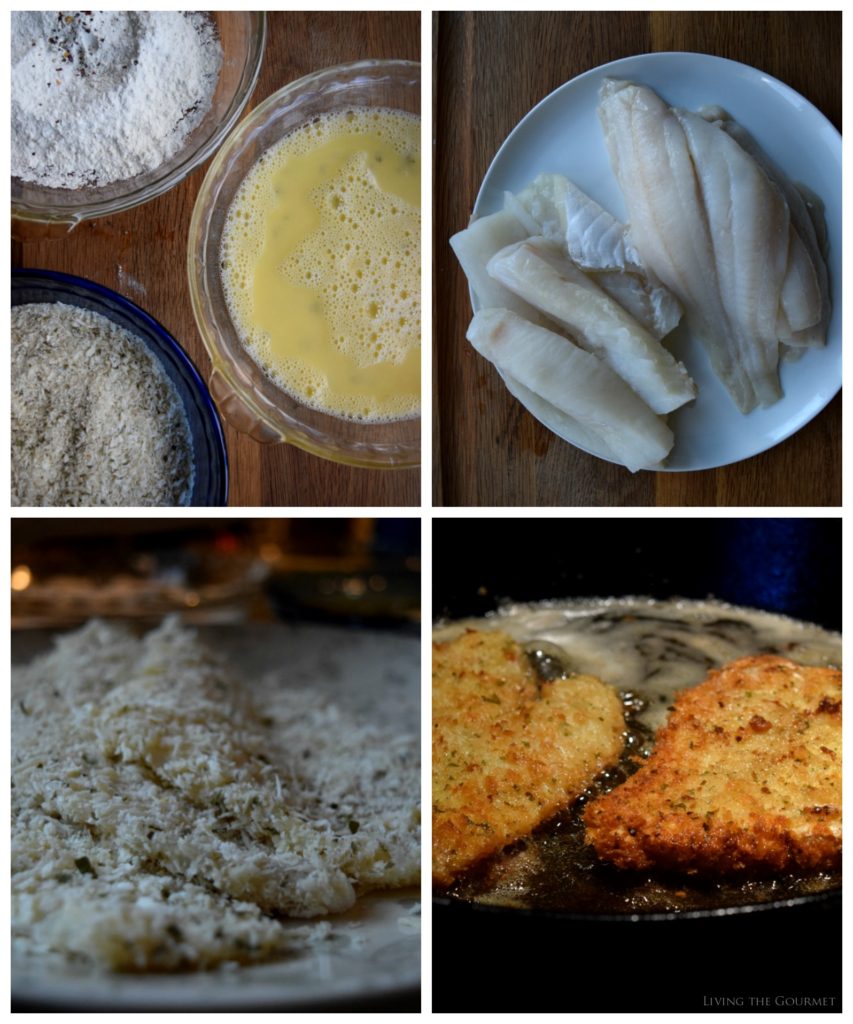 Next, sauté the secondary ingredients in a large frying pan with a dash of olive oil and then add in the dressing, along with fresh lemon juice and zest as shown below.
After that it's time for the fun part – the fish. Now, to start things off, you're going to want to prepare your 'station' with three separate shallow bowls – one with two beaten eggs, another with panko, and another with flour, as outlined below. Once that's prepared, heat a large cast iron pan with about a half an inch of oil.
Once the oil is ready, it's time to fry like the pros. Yes, your hands will be coated in far more panko and egg than you could possibly manage onto any fillet, but fear no mess, it's part of the process. See below for greater detail on how to do this.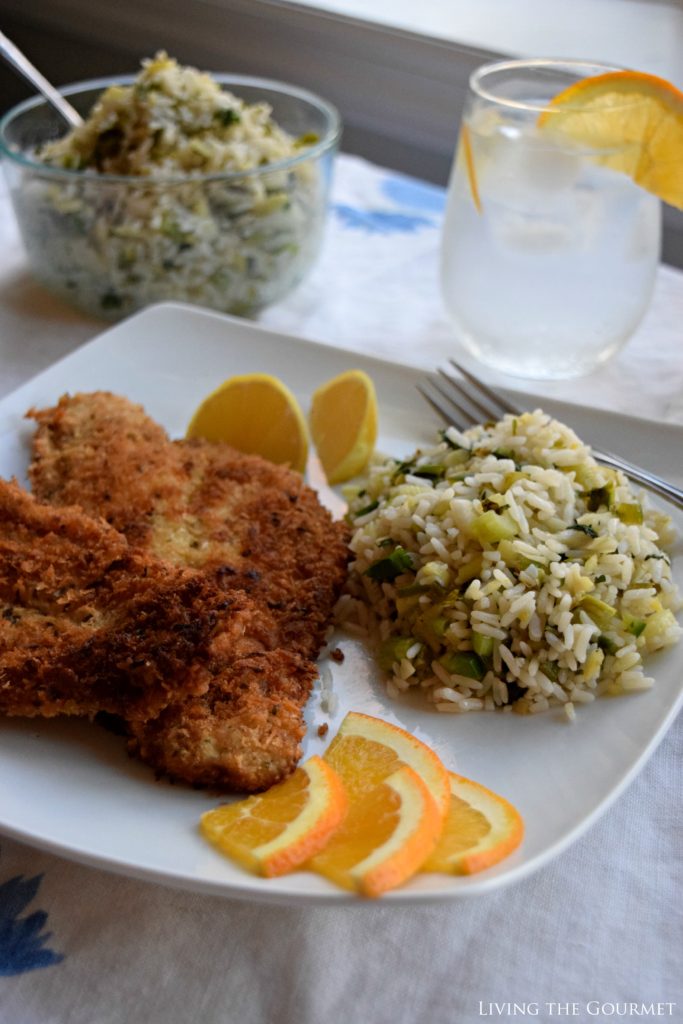 Living the Gourmet
Yields 4-6
Panko Crusted Fish with Ginger Rice Salad
10 minPrep Time
20 minCook Time
30 minTotal Time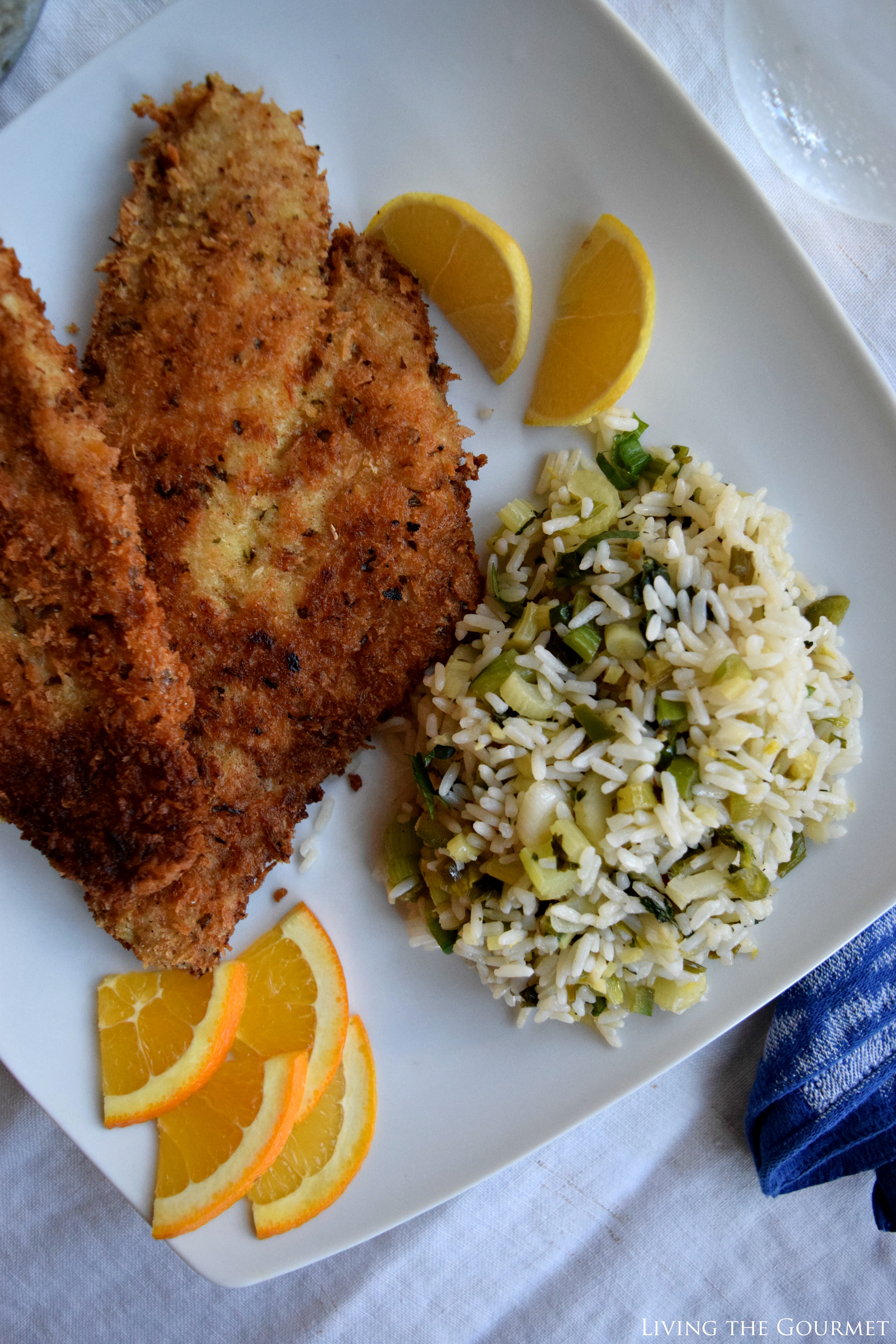 Ingredients
For the Rice Salad:

2 bags Success® White Rice – cooked as directed
2 inch piece of fresh ginger – chopped fine
3 cloves of garlic – chopped
1 bunch of scallions (about 6) - chopped
1 Jalapeño – chopped with or without seeds
2 stalks celery – chopped
1 bunch of cilantro – chopped
Zest of ½ lemon
2 tbs. fresh lemon juice
2 tbs. sesame oil
2 tbs. rice wine vinegar
1 tbs. sugar
½ tsp. salt
½ tsp. black pepper
1 tbs. olive oil – for sautéing

For the Flounder and Cod Fry:

1 lb. of fresh flounder filet
1 lb. of fresh cod filet

For the Coating:

1 ½ cups of flour – seasoned with a dash of salt, pepper and red pepper flakes
2 eggs beaten with a splash of water
2 cups of plain or seasoned Panko
Canola oil for frying
Instructions
For the Rice Salad:

Prepare Success® White Rice as directed; let drain and set aside.
In a large bowl combine the chopped ginger, garlic, scallions, jalapeno, celery and cilantro.
In a small bowl combine the sesame oil, rice wine vinegar, sugar, salt and black pepper and stir.
Heat a large frying pan with a tablespoon of olive oil and add the chopped vegetables. Sauté for a minute.
Add the sesame oil mixture, lemon zest and juice and toss.
Remove from the heat, place in a bowl and serve.

For the Flounder and Cod Fry:

Set three shallow bowls one with the flour, one with the egg wash and finally one with the Panko.
Coat the fish first with the flour followed by the egg wash and finally dredged in the Panko.
Heat a heavy cast iron frying pan with about ¼ to ½ inch of oil.
Carefully place the fish in the frying pan. When one side is a beautiful golden carefully turn over and finish cooking on the other side. The flounder will cook faster than the cod fish since it is thinner.
The fish should be firm and flake when it is fully cooked.
7.8.1.2
465
https://livingthegourmet.com/2016/12/panko-crusted-fish-ginger-rice-salad.html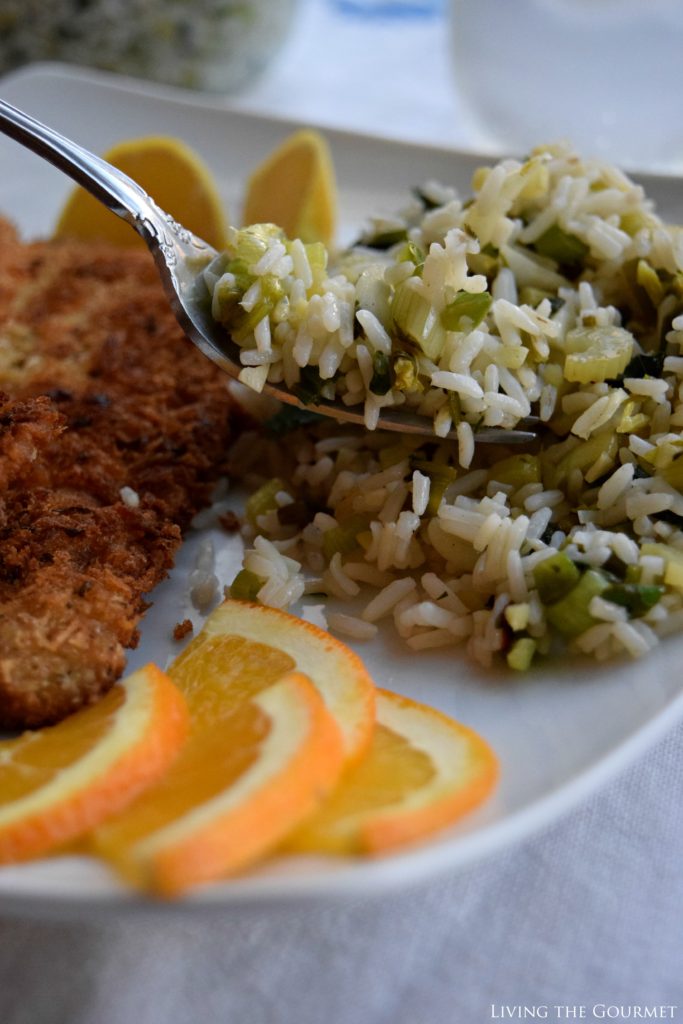 After the fish has been fried and the salad tossed, I'm set with one of my absolute favorite meals for a wintry dinner on the coast.
What are some of your go-to recipes for these frigid winter days? We would love to hear from you. Also, don't forget that for more recipe ideas using Success Rice, and for special officers, join the Riceipe Club® here.
Enjoy with Love!
This is a sponsored post written by me on behalf of Success® Rice.
0