This post was sponsored on behalf of Maison Louis Jadot Wines via One2One Network. All opinions stated are my own.
Light Flounder fillets are topped with a fresh garden pesto and seasoned breadcrumbs to accompany a crisp, summery glass of Louis Jadot Wines!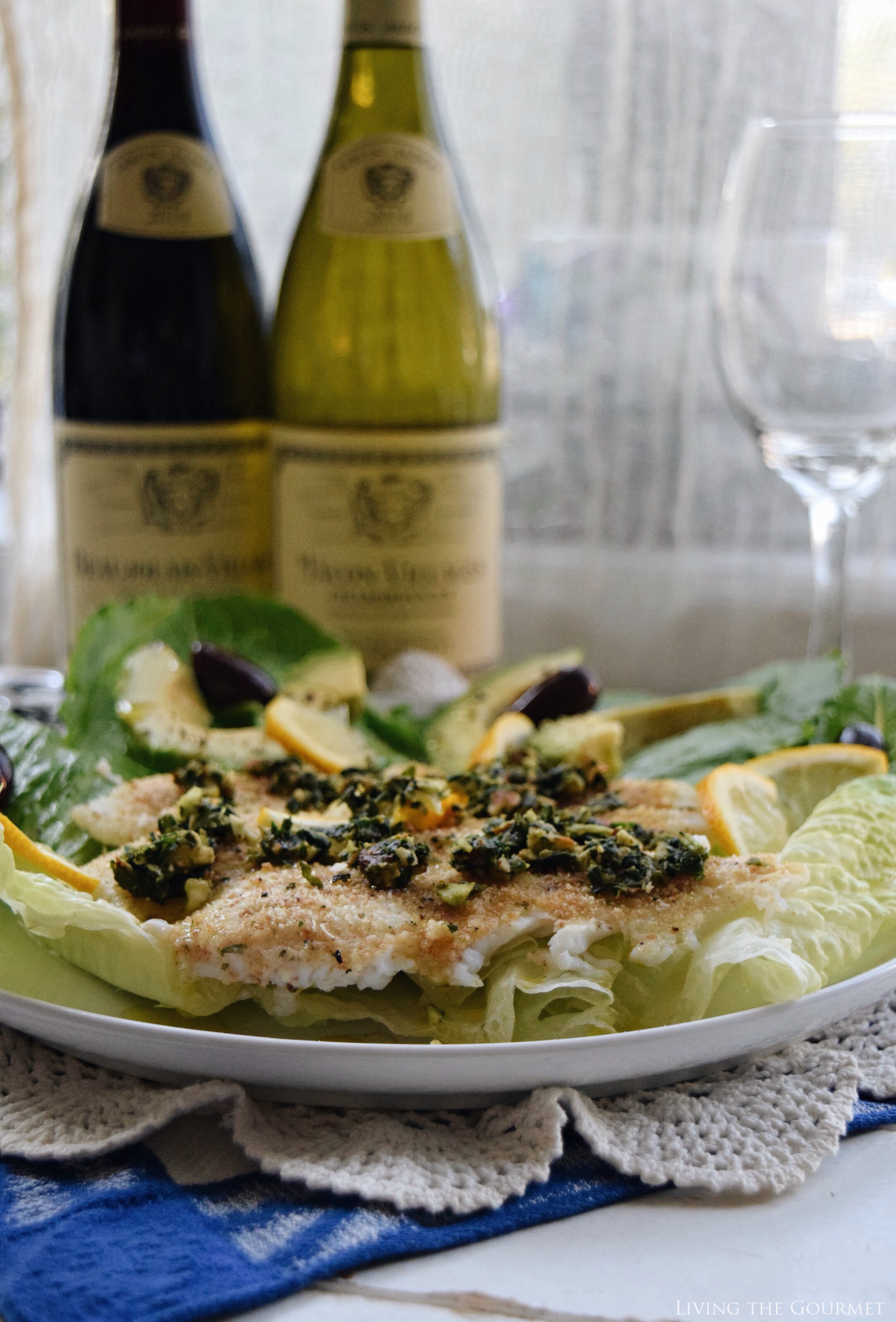 It's a phrase used in wine culture that I'm not terribly fond of because of the rather 'low' connotation, and that is 'Easy Drinking.'
However, for lack of a better term, it conveys it's meaning rather succinctly. A wine that is 'easy drinking' is often a crowd pleaser, often rather inexpensive, usually neither too robust nor to thin, catching a delicious 'balance,' while at the same time being intensely easy to pair with crowd favorite foods. Think of wines that you could serve readily at a casual party.
In other words, these are "Vinos de Mesa," or "Tables Wines." Yes, words are like wine, and I'll be honest, that's a phrase I far prefer to that far more common aforementioned vintage. Point of note, "Table Wine" originally referred to the wines left out on tables at inns and taverns that thirsty patrons would sit down to.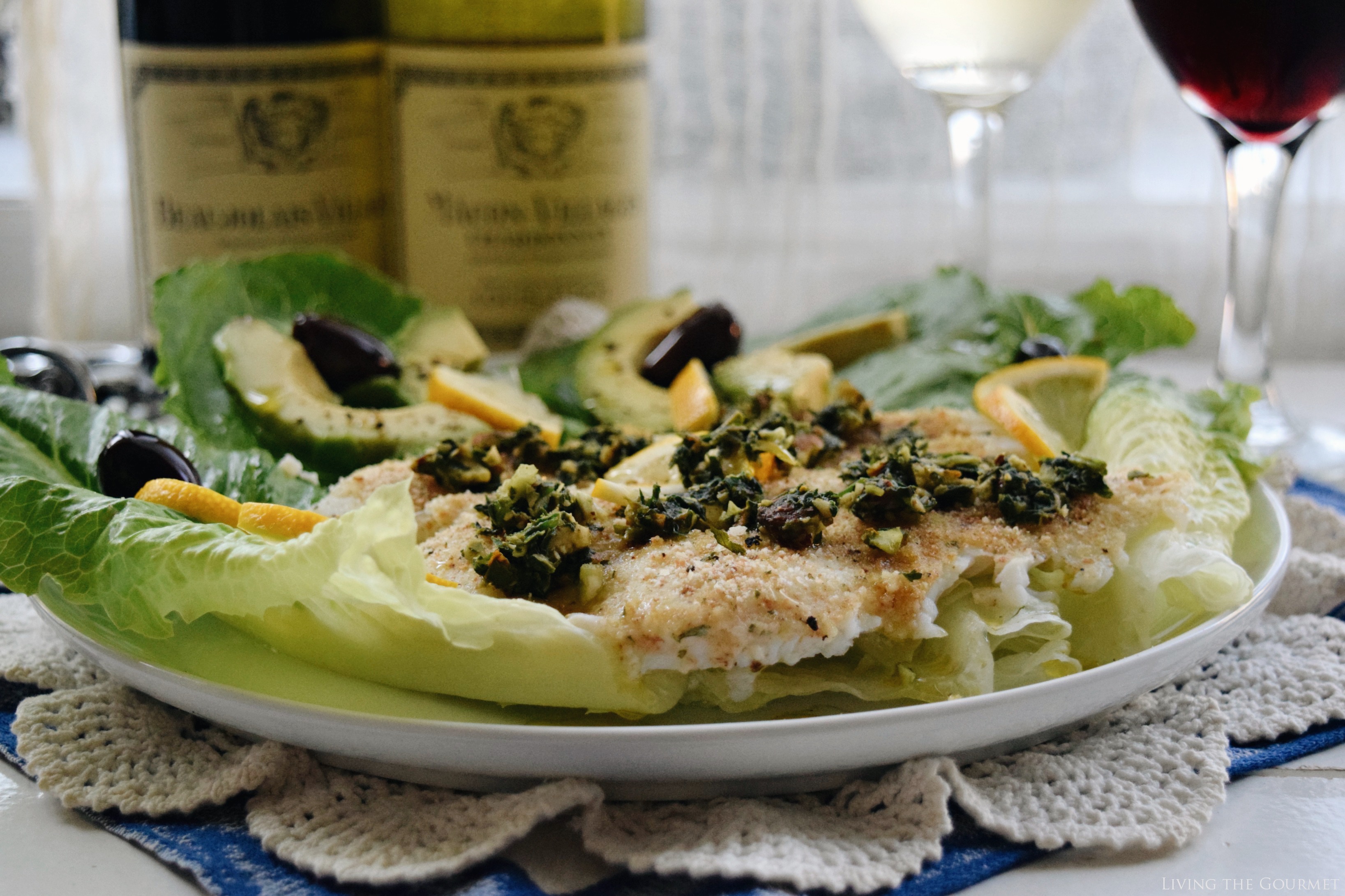 To that point, I just interviewed Wes Narron, and I can't help thinking that "Tables Wines" were more or less the unspoken subject of our conversation. Since in reviewing our back and forth I realize that most of the 'summer wines' we spoke about fit that description almost perfectly. That, in turn, made me realize that when we talk about 'summer wine,' or pairing drinks to the warm weather, that 'easy drinking' is precisely what is being spoken about.
Perhaps the most famous of "Table Wines" are those originating in Beaujolais – and there's a reason. To start, those familiar with wines from Beaujolais probably often think right away of "Beaujolais Nouveau," wines traditionally released on the third Thursday of November, without regard to the start of the harvest. This, of course, marks Beaujolais Nouveau Day, the origins of which date back to the simple wines produced by and for thirsty field hands at the end of each harvest. While such wines were originally only distributed locally, such 'populist' distribution eventually caught on, and became the festival we have today. By wine standards this is a rather recent development, since these harvests were an entirely local affair until WWII – the Beaujolais region itself only received its AOC (certification status) in the 1930s.
These simple wines became something of a vogue expression of the gamay varietal in the 70s and 80s, but many of those produced were, unfortunately, not the varietal's 'best' expression, and the reputation of the grape, and the wines produced from it, suffered, albeit largely unfairly.
However, I tend to think that gamay is perhaps one the best kept secrets when it comes to truly delicious "Easy Drinking" – there's that phrase again. For example, say you're going on a classic picnic, and you've set up a hibachi to grill yourself either Cuban sandwiches or burgers. While it might not be the first varietal to come to mind a juicy, well selected gamay would serve absolutely excellently.
For precisely that, I would recommend Jadot Beaujolais-Villages. Today's bottle is a 2014 Gamay, and features a distinct light red to purple coloration on pouring. On tilting the glass, the wine becomes almost translucent towards the edge, with a very pleasant royal purple towards the bottom. The wine introduces itself with a bouquet of lively but pleasant fruity aromas off the top of the glass, think sliced dark berries. This is perforated by very mild spice notes into the middle, which become more pronounced towards the bottom of the glass.
On sampling, it is largely quintessential gamay. Dark berries predominate throughout, with traces of black currents and dark herbs. Like the bouquet, these berry notes are grounded in a mild but very discernable peppery essence.
However, since I'm not one for picnics (gasp), I opted for Jadot's Macon-Villages Chardonnay, and paired that with fresh flounder fillets, which I topped with fresh garden pesto and a light sprinkling of seasoned breadcrumbs.
An unoaked chardonnay, the wine introduces itself with a nearly translucent golden stray yellow hue, which caught the sunlight quite nicely while I sipped it out on my porch. A classic summer joy. On sampling, the wine greets with a largely citrus bouquet, punctuated by white flowers. On the palate, the wine featured crisp green apple set over a very noticeable minerality, and left me with a very clean, fresh mouthful.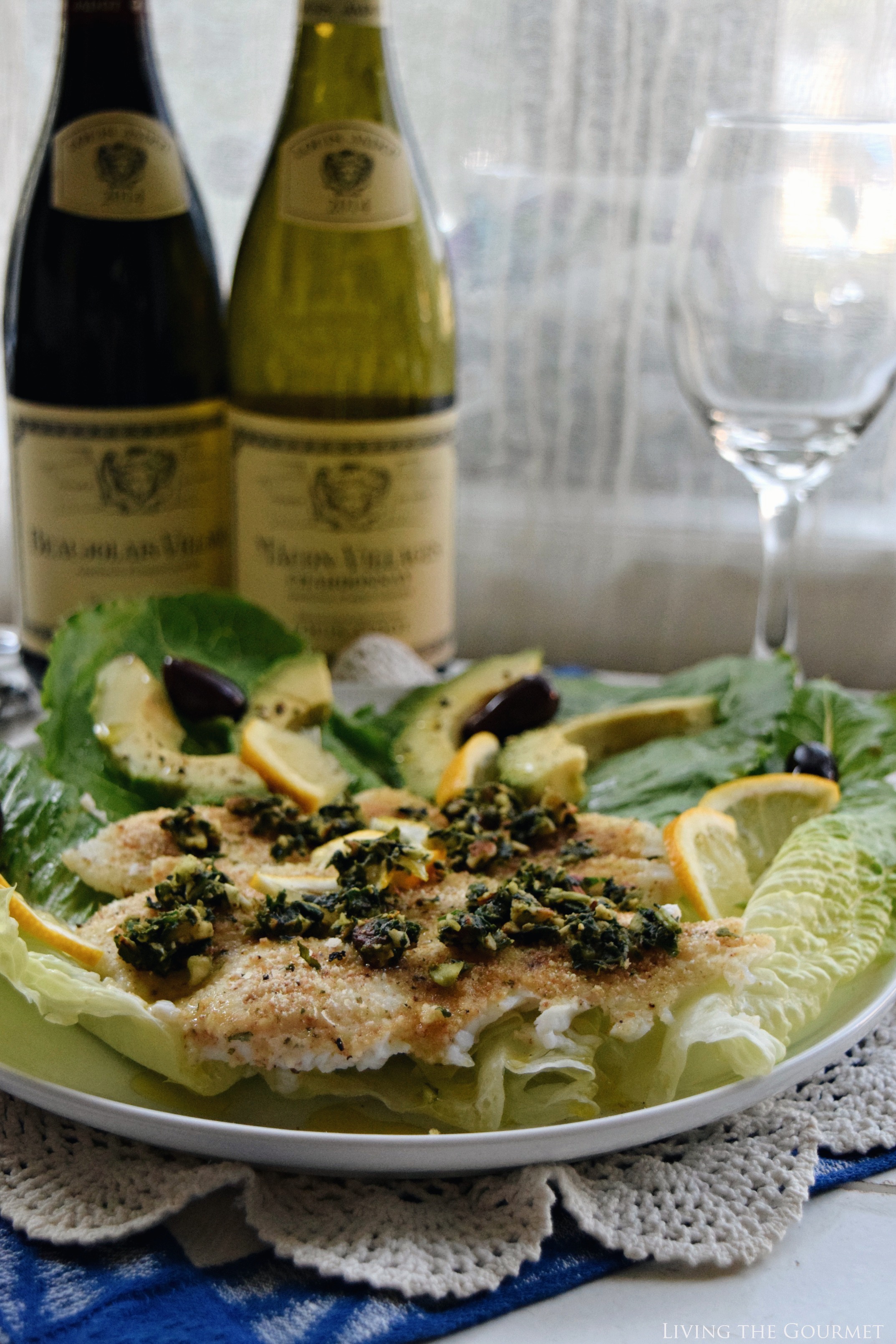 Print
Flounder Fillets with Pesto
Author:
Prep Time:

10 mins

Cook Time:

20 mins

Total Time:

30 mins

Yield:

2

-4

1

x
4

fresh Flounder fillets

1/2

cup

Italian style breadcrumbs

3 tablespoons

olive oil

4 tablespoons

Summer Pesto
Romaine lettuce leaves, about 4 leaves per serving

1

avocado, sliced (for garnish)
Kalamata Olives, for garnish
Fresh lemon wedges, for garnish
Salt & pepper to tastes
Instructions
Preheat oven to 350 degrees.
In a baking dish, place flounder fillets. Drizzle each with olive oil and season with salt and pepper. Sprinkle 1/2 cup breadcrumbs between the four fillets. Place in the preheated oven and bake for 15-20 minutes. Test the fish with a fork, if it flakes it is fully cooked. Remove and spread about 1 tablespoon of pesto over each fillet.
Prepare the plates with lettuce leaves and gently serve the flounder fillets on top. Garnish the plate with avocados, olives, lemon slices, salt and pepper.
Recipe Card powered by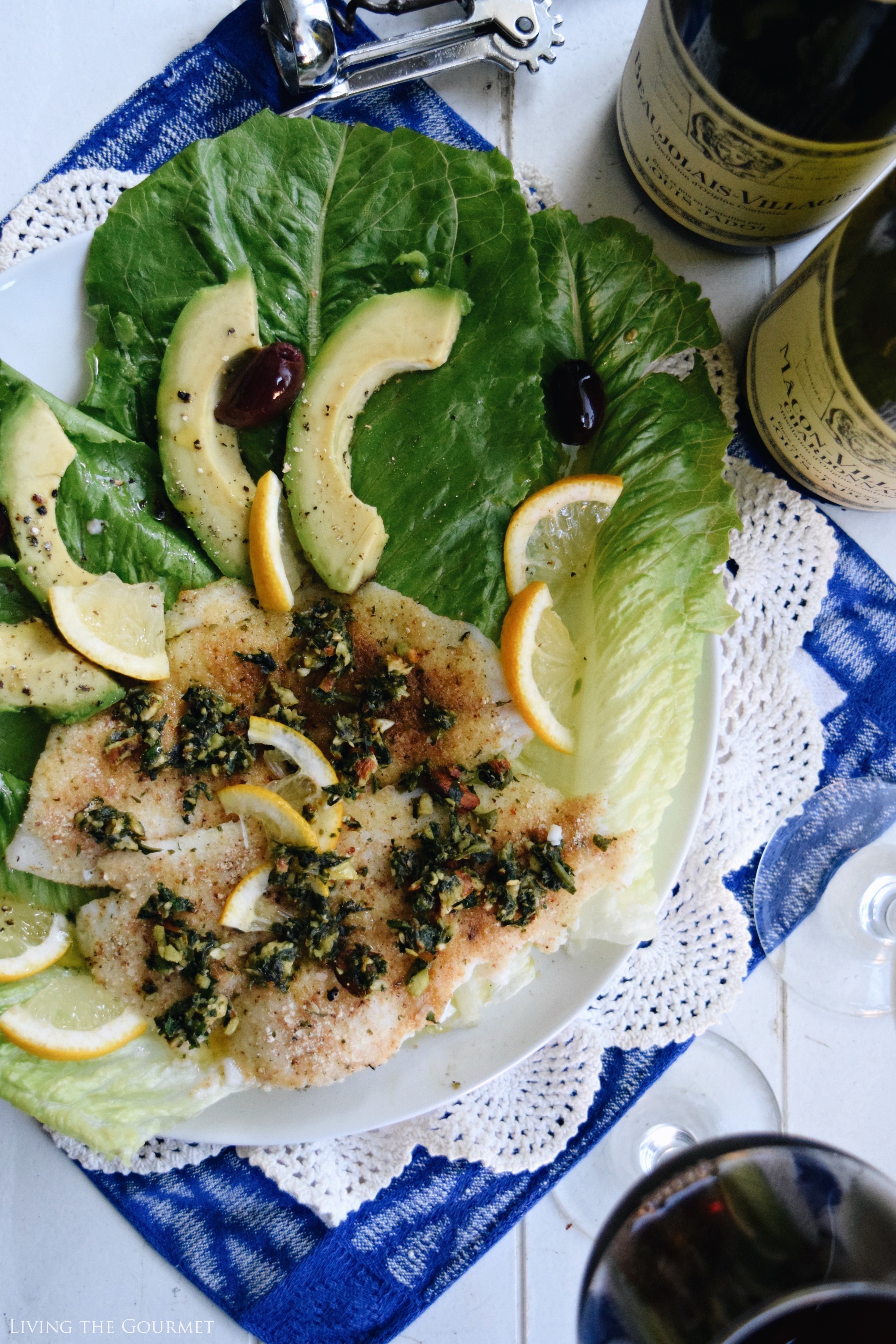 Overall, I would recommend both wines to my readers, as I was very pleased with both. It is no wonder why, since it's founding in 1859, that Jadot has earned itself a reputation as one of the most revered wine houses in Burgundy and has become the #1 brand of French wine in the United States. Find Louis Jadot at your nearest retailer here.
Follow Louis Jadot on:
Facebook
Twitter
Instagram
Enjoy with Love!
7