This Peach Slab Pie is an easy alternative to the traditional fruit pie. Baked in a shallow rimmed baking sheet, it will go a long way feeding the crowd. For ours, we used ripened stone fruit marinated in sweet vanilla and rum.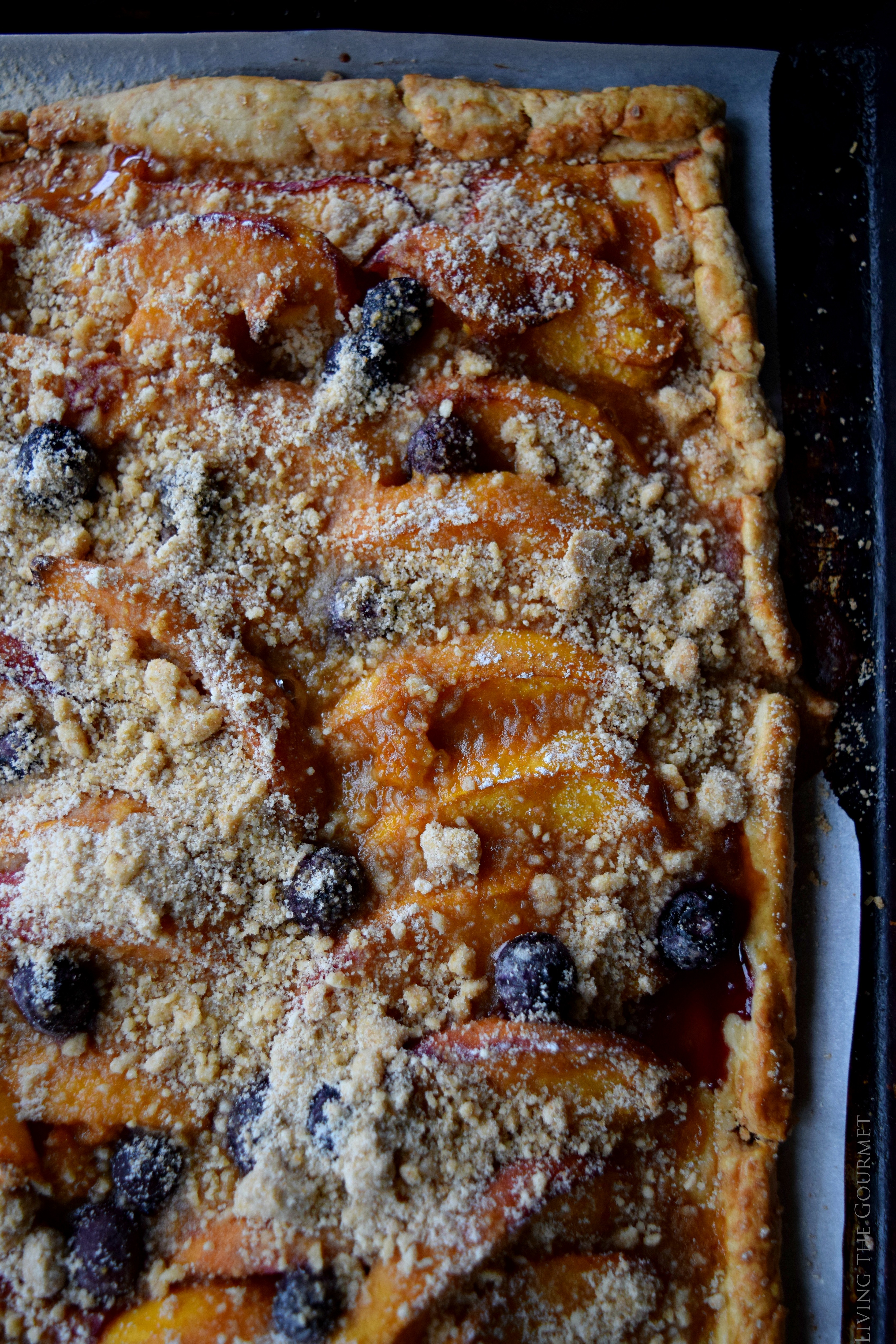 Summer has a way all on its own to sensationalize and intensify things- the sights, the sounds, the aromas- needless to say the world truly comes alive. For as Charles Bowden once said, "Summertime is always the best of what might be."
Apparently I'm not the only one who feels this way as neighbors around us have spent several nights shooting off fireworks and sparklers left over from last weekend's holiday.
Let me indulge for a moment, dear reader. Allow me once again the opportunity to romanticize these fleeting moments of summer.
It began Friday night while mom and I sat out to watch the twilight skies melt from purple to blue, while somewhere off in the distance, the echoing sounds of classic pop blended into the familiar sounds of summer. Like girls do, we passed the time obliviously, catching up. Sharing our thoughts and ideas with one another, our idealistic summer dreams and hopes. We were briefly interrupted by our first sight of a firefly, who wandered over looking for company as well, perhaps, flickering past our shadowy eyes. I used to like to believe they were fairies when I was younger; and for nostalgia's own sake, I still hold onto those childish fantasies.
I took the first sighting from our little visitor as a sign; a lovely note to start the weekend off.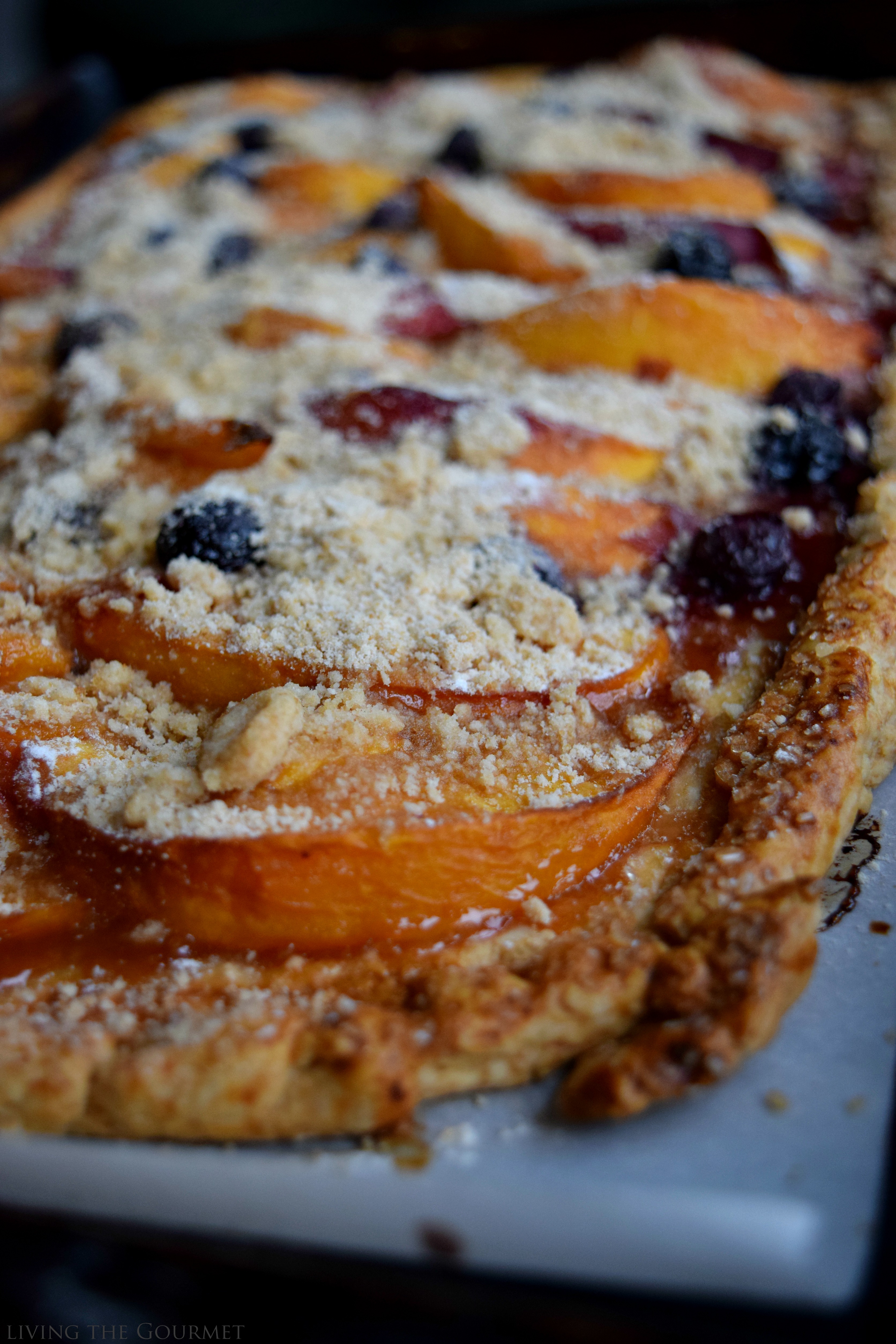 The following morning we were greeted by a call from my aunt and uncle who decided to stop over for an impromptu dinner- my favorite kind.
Those small unplanned moments always turn out to be the best.
Quickly I had to come up with a dessert. We had a bowl of ripened peaches sitting by and with some creative input from Martha, I settled on a Peach Slab Pie.
It seemed easier to whip up than the conventional pie and it certainly was.
The peaches were so ripe and juicy, they hardly needed sugar. I simply tossed the peaches together with some brown sugar, vanilla and rum. For an extra pop of summer color, I sprinkled some blueberries and finally a blanket of crumb topping. The salty air was mixed with baked peaches throughout the day as it should in July.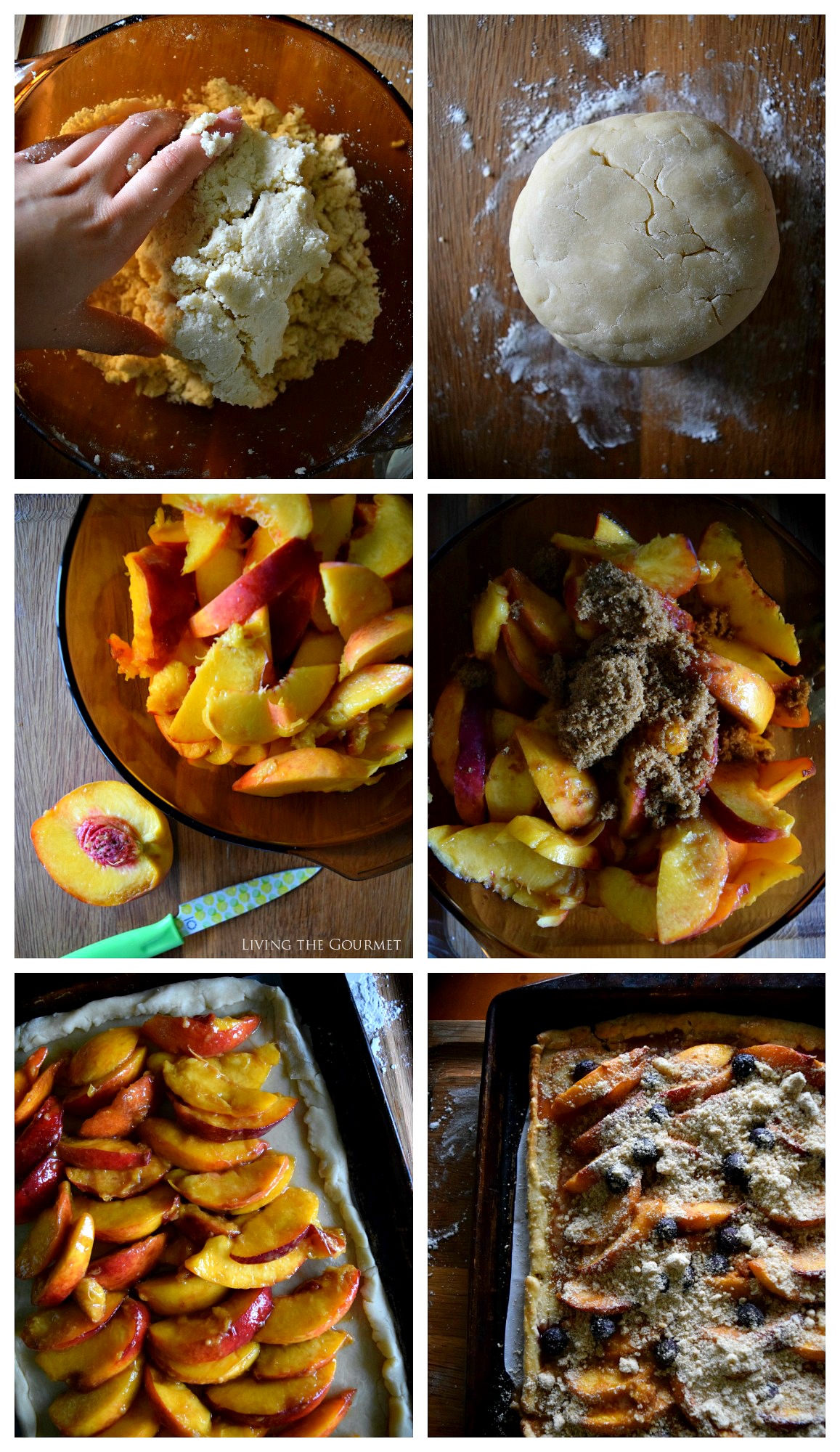 Living the Gourmet
Yields 10
Peach Slab Pie
10 minPrep Time
30 minCook Time
40 minTotal Time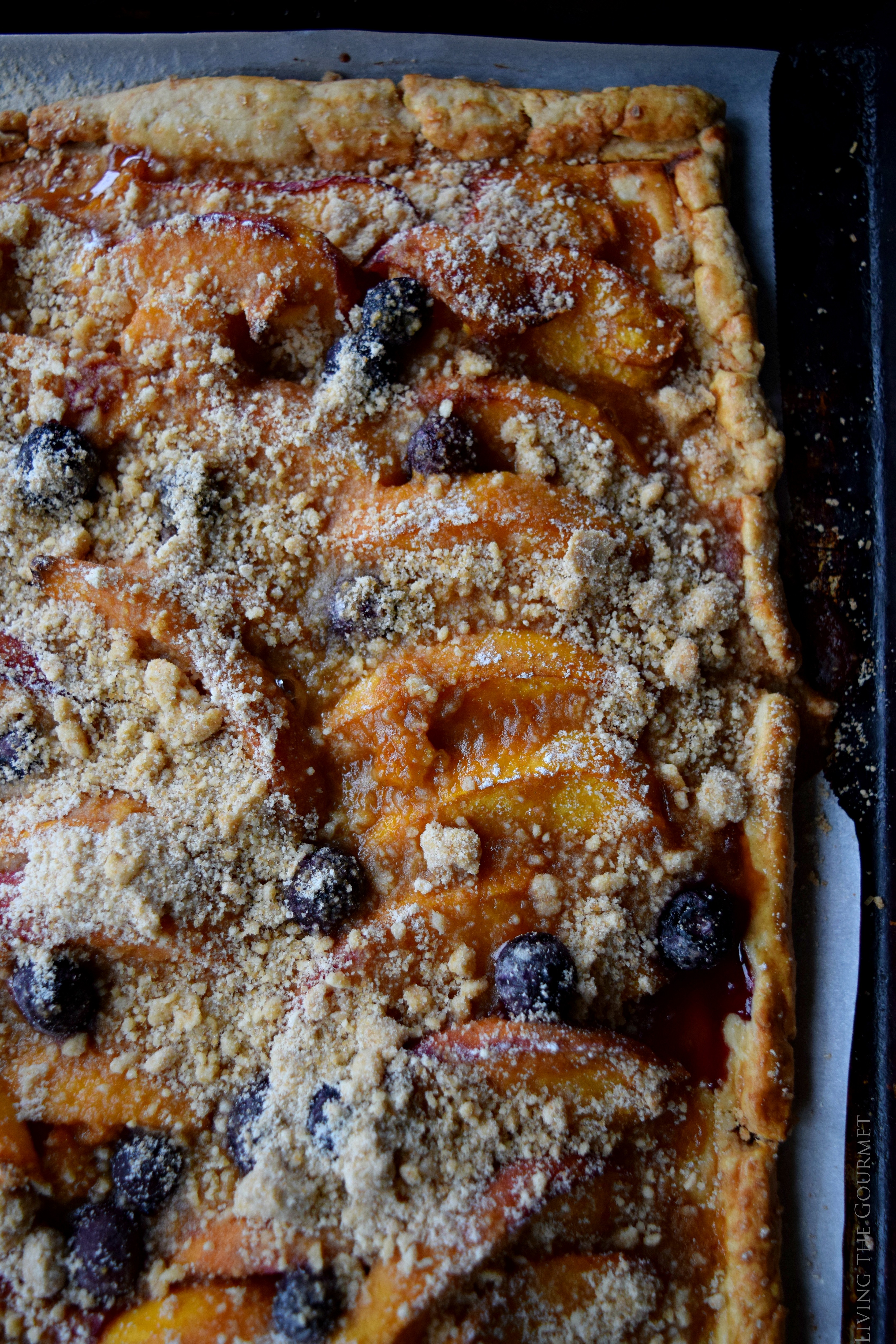 Ingredients
Pie Crust:

2 cups flour
3 tablespoons sugar
Pinch of salt
1/2 cup unsalted butter, chilled
2 tablespoons shortening
4 tablespoons of cold water
1 egg, beaten for brushing

Filling:

4 large ripe peaches, sliced
Handful of fresh or frozen blueberries
3 tablespoons brown sugar
1 teaspoon vanilla
1 tablespoon dark rum
Flour, for sprinkling
Raw sugar for sprinkling

Crumb Topping:

1/2 cup flour
3 tablespoons brown sugar
Pinch of cinnamon
3 tablespoons butter
Instructions
Pie Crust:

In a bowl, whisk together flour, sugar and salt.
Add butter and shortening then mix with a pastry blender or your hands.
Once the dough is flaky, add water. Work the dough until soft and pliable.
Wrap in clingfilm and refrigerate for at least 1 hour.
Preheat oven to 350 degrees F. and line a shallow 15" baking sheet with parchment paper.
On a well floured surface, roll out the dough to fit the baking pan.
Fold the sides of the dough over to create a border for the pie, then using a paring knife, gently pierce the edges of the crust without cutting all the way through it.
Brush the crust with the egg wash and then blind bake it for about 8-10 minutes. Set aside to cool while preparing the filling.

Filling:

In a large bowl, gently toss the peach slices with brown sugar, vanilla and rum. Let sit for a few minutes to soak up flavors.
Place the slices in the center of the prepared dough. Sprinkle some blueberries over the top if desired.
Brush the sides of the crust with beaten egg again and then sprinkle with raw sugar.
To keep the peach juices from bleeding over the crust while it bakes, sift about 2 tablespoons of flour over the entire pie.
Bake for 20-25 minutes until it starts to turn golden.
In the meantime, prepare the crumb topping by combining all the ingredients in a small bowl. Blend until you have a fine crumb mixture.
Sprinkle the crumb topping over the pie and return to the over for an additional 8-10 minutes.
Once the pie is ready, let it rest on a cooling rack until it has set.
Serve with whipped cream and enjoy!
7.8.1.2
420
https://livingthegourmet.com/2016/07/peach-slab-pie.html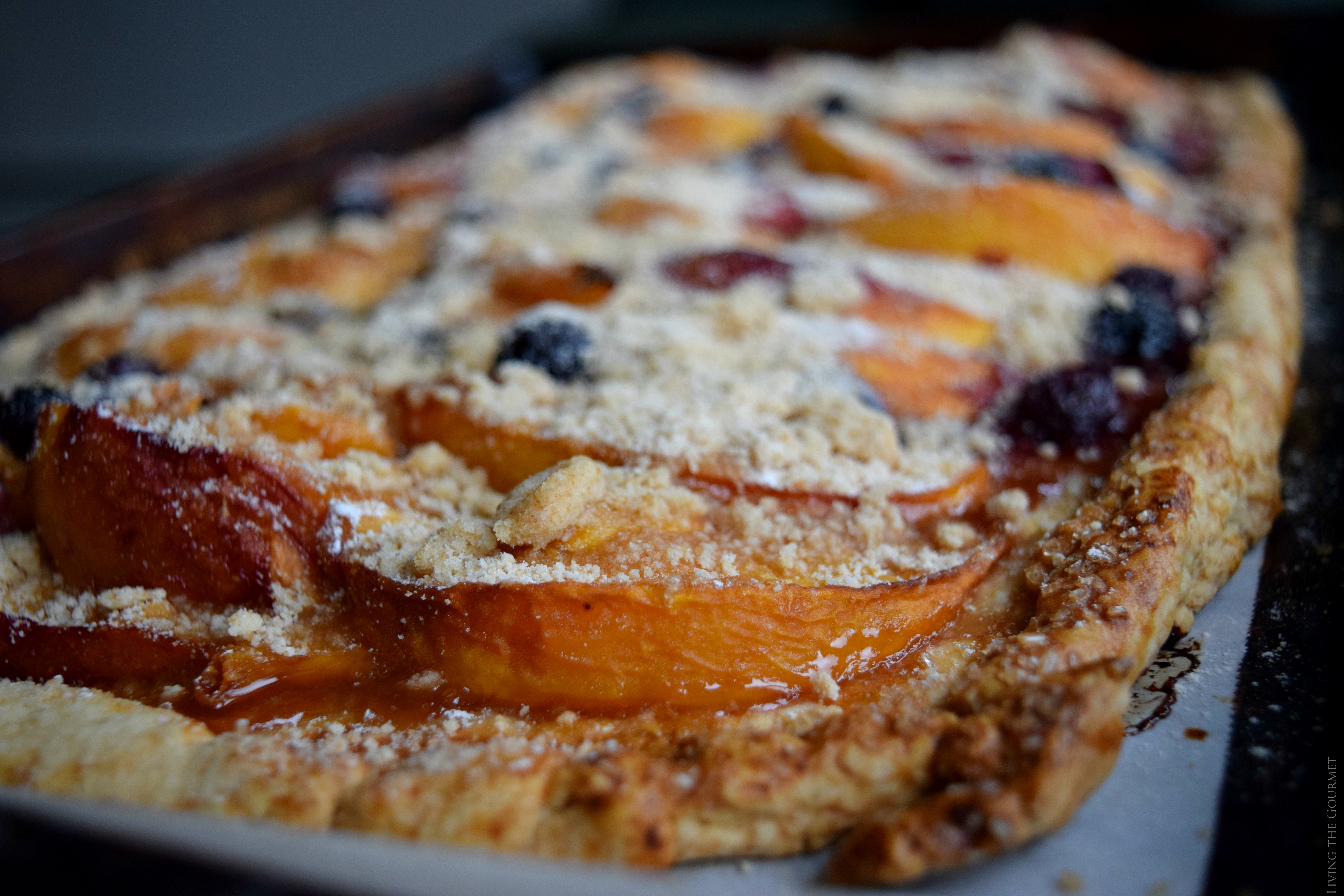 As if now ceremonial, after dinner we took our pie and coffees out onto the deck. The golden lights strung around, warmly glimmered, while the classic blues played behind us.
Savoring each bite, one more delicious than the next, I watched the faces around the table – there's a lot of love and happiness when we get together and it reminds me each time of how precious this time is.
Long live summer.
xo,
Tammy<3
0