This shop has been compensated by Collective Bias, Inc. and its advertiser. All opinions are mine alone. #SoHoppinGood #TopYourSummer #CollectiveBias
Blue Bunny®'s creamy and delicious Butter Pecan and Homemade Vanilla ice creams are layered into a decadent summer treat with buttery graham crackers mixed with almonds and hot fudge syrup. For the ultimate touch, I topped this mini cake with Smucker's Strawberry Spoonable Ice Cream Topping! So go ahead, indulge a little and beat the heat!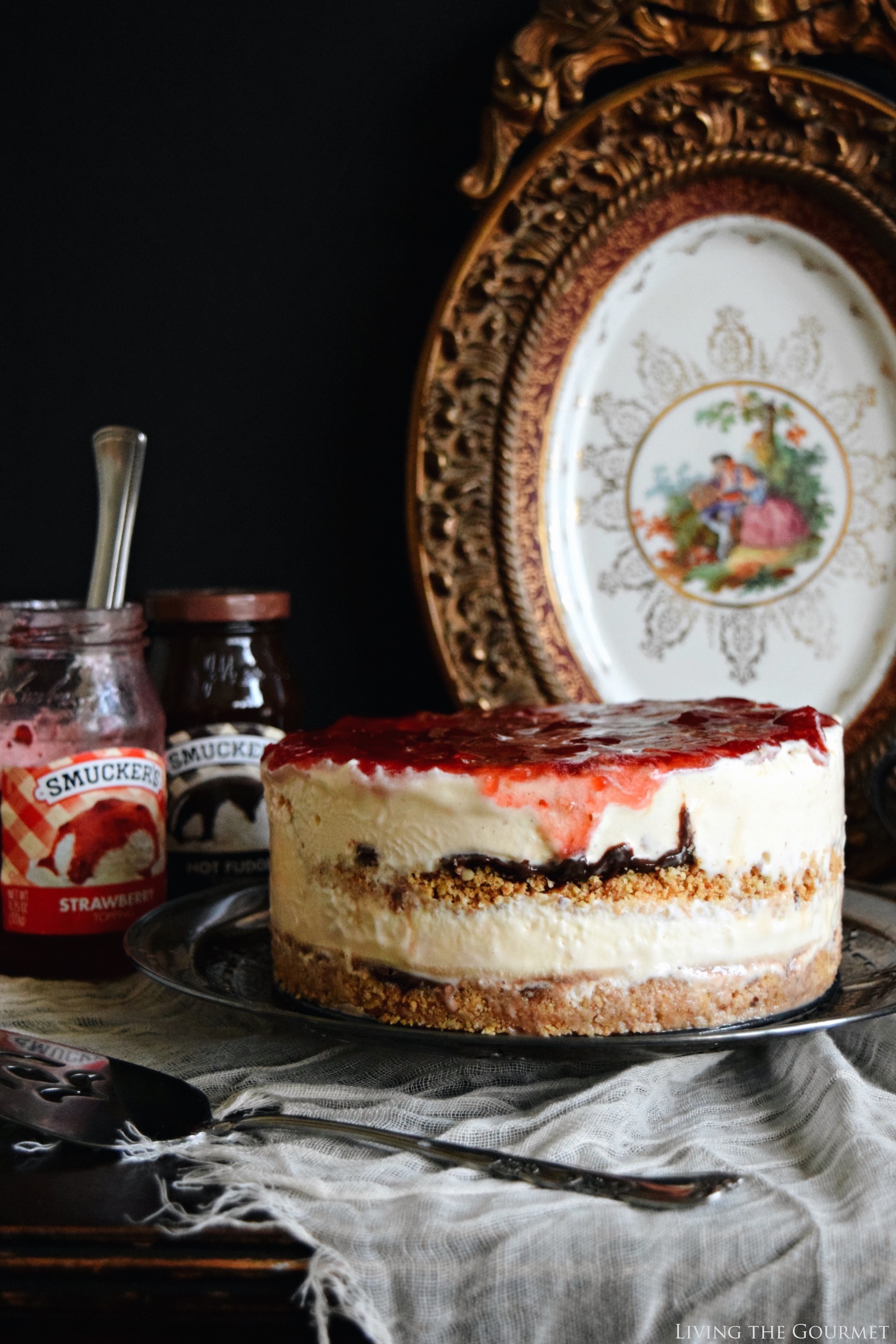 For anyone who has been reading Living the Gourmet over the past month or so, you are already well aware that my absolute favorite part of the summer season is the food, whether it's the light dishes that comprise a quintessential seasonal lunch, or the heavy and hearty fare from the grill. There's something that's very simply 'festive' about summer cuisine, something that simply invites one into merriment and enjoyment.
However, the same weather that makes this sort of cuisine possible, is also the same weather that has a tendency to make the heat of the kitchen, or even the grill, positively infernal. The past few weeks here in New York have made leaving my air-conditioned office a veritable health hazard. Each time I need to leave my desk, I find myself pondering the vast journey of 'heading off into the great downstairs,' and wondering if I'll return to tell the tale.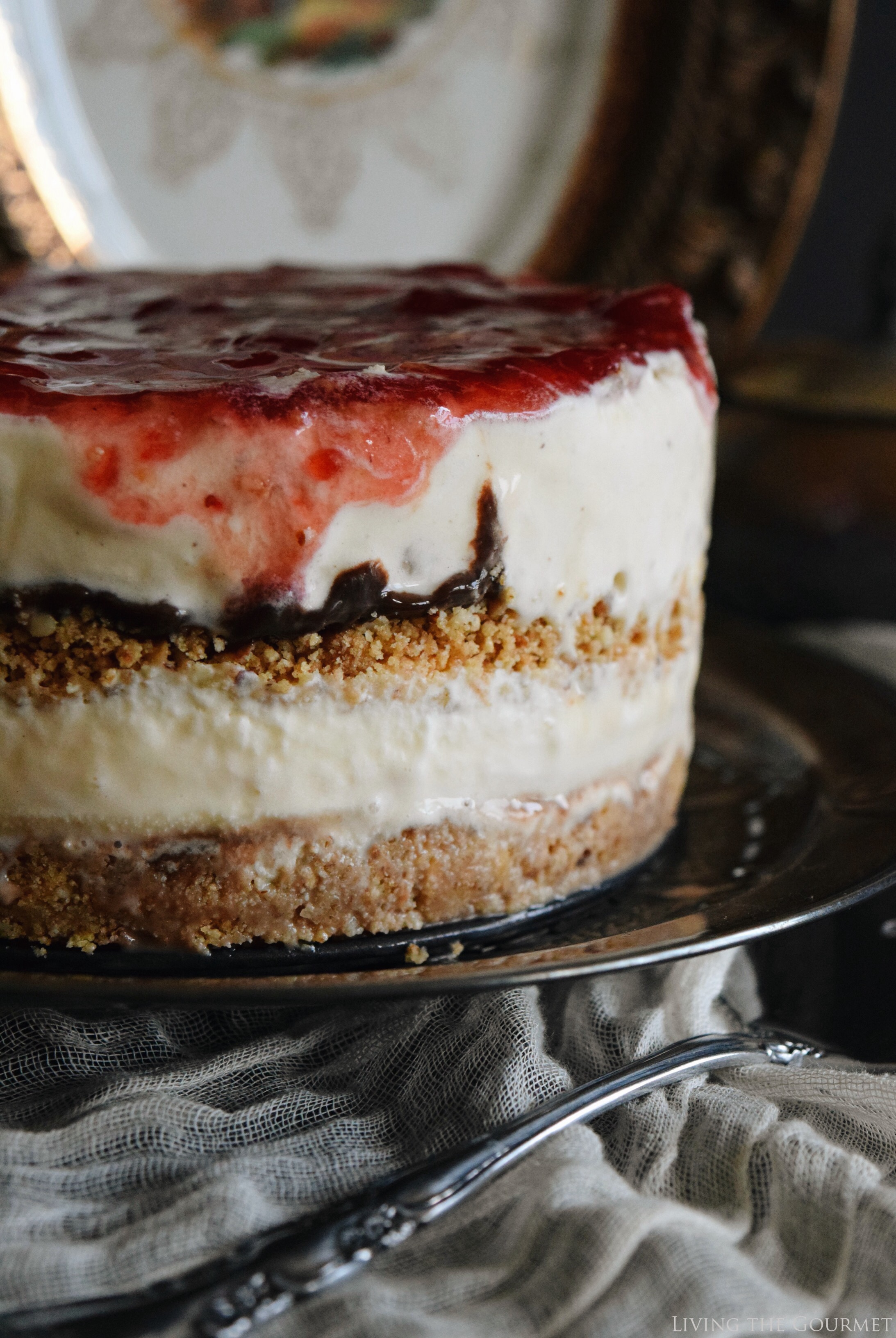 Yet, for precisely reasons such as that, as I wrote recently, it's important to give oneself something 'fun' to look forward to at the end of a long day, or as a reward at the end of the week – and that is precisely where today's recipe comes in.
You see, baking in this weather becomes a fair bit less dread-worthy when the materials one is baking with are largely frozen solid. Yes, if ever there was a time that warranted the construction and consumption of frozen cake, this blistering week in New York is precisely it.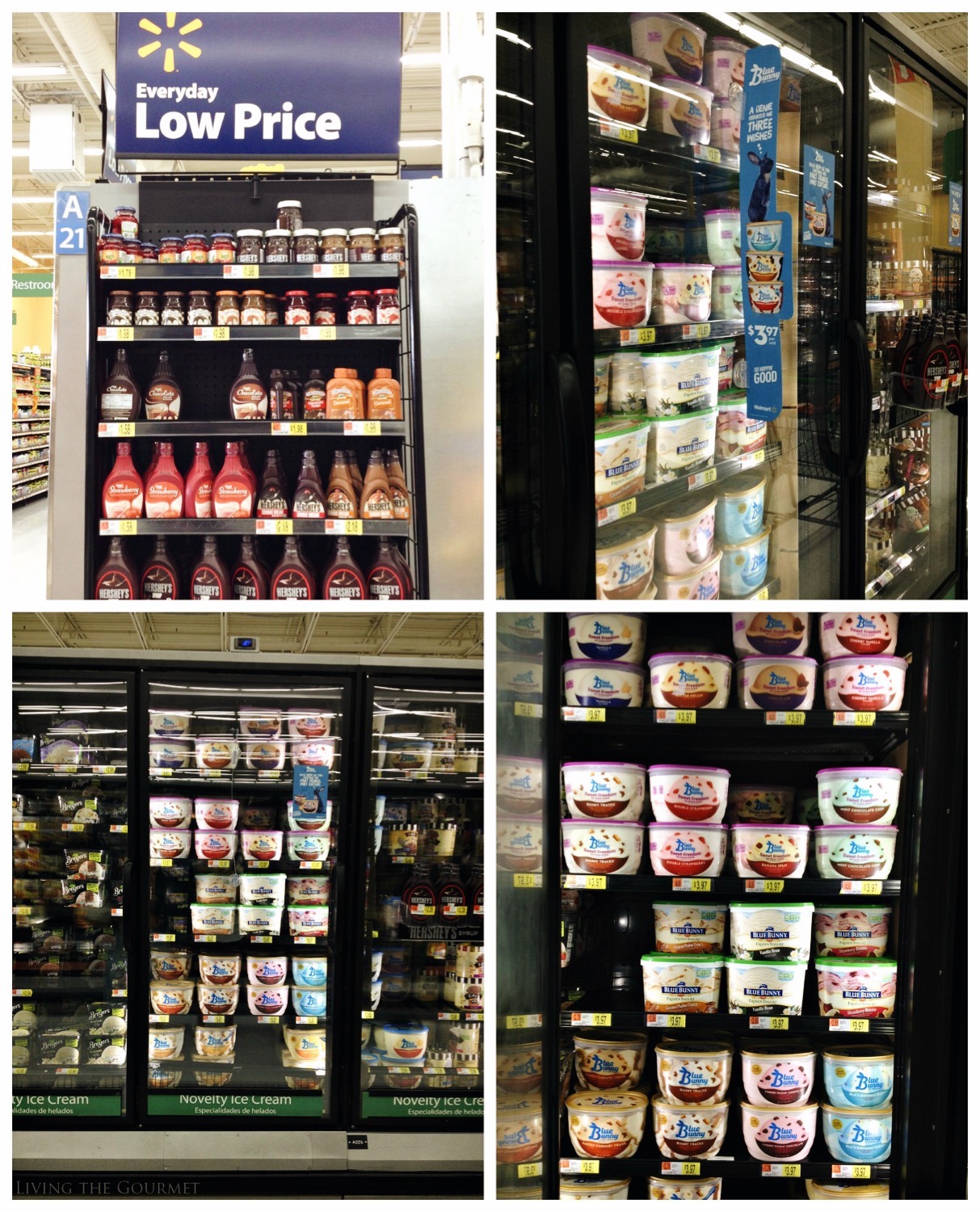 The idea for this started while I was making a supply run to Walmart, and I noted the new packaging on one my favorite brands of ice cream – Blue Bunny®. I decided that rather than simply eating the ice cream on its own that I would make a sort of summer project out of it. I selected three flavors as I knew it was going to be a long hot week ahead. I chose the Blue Bunny® Butter Pecan, the Blue Bunny® Homemade Vanilla, and Blue Bunny® Super Chunky Cookie Dough. For today's recipe however, I alternated between the Butter Pecan and Homemade Vanilla.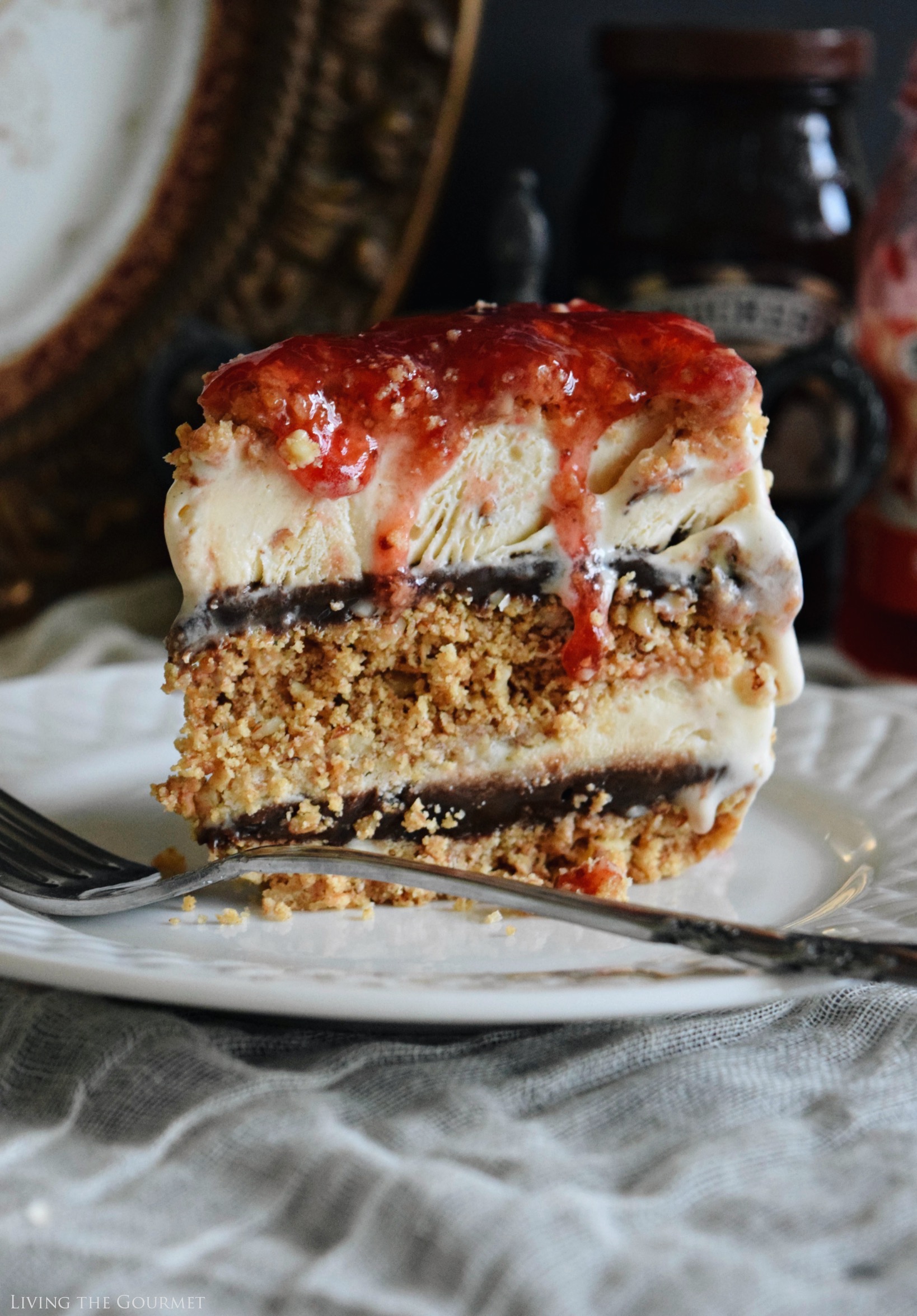 That would be the 'cake' part of the equation. For the 'frosting,' or 'sweet stuff,' I picked up Smucker's Hot Fudge Spoonable Ice Cream Topping and Smucker's Strawberry Spoonable Ice Cream Topping. These are an easy and inexpensive way to add some fun to any summer ice cream, especially a summer ice cream cake. (Side note, I also picked up Smucker's Caramel Spoonable Ice Cream Topping which also makes for a delicious variation between the layers!)
After I got those home, I prepped a six and a half-inch spring form pan as shown below with melted butter, graham crackers and almonds. I then placed a single layer of ice cream into the pan, topped the ice cream with the hot fudge topping, and let that freeze in place. I repeated that twice to produce a layered ice cream cake, which I have kept in the freezer for these especially hot days where I absolutely need something to look forward to at the end of the day.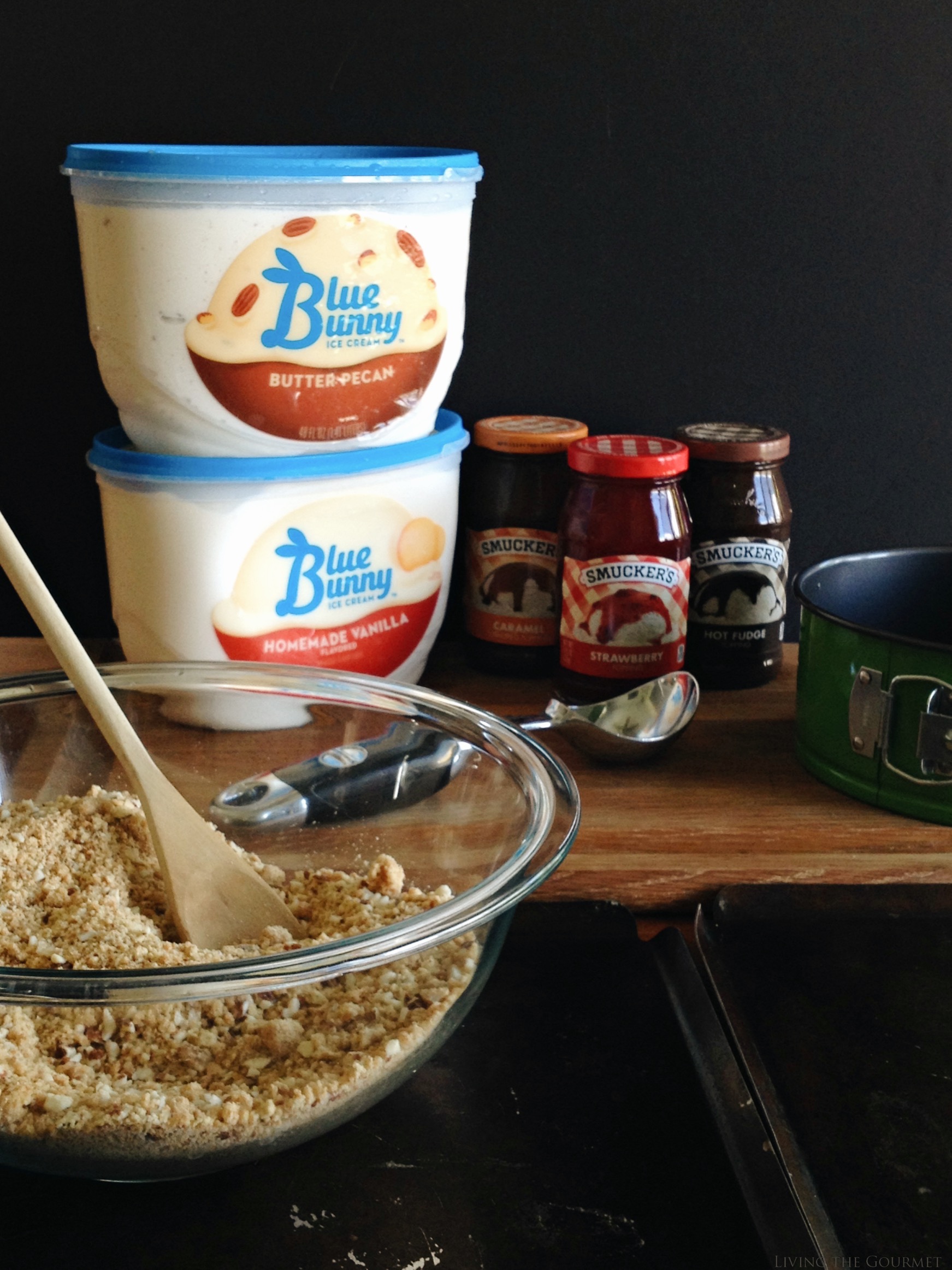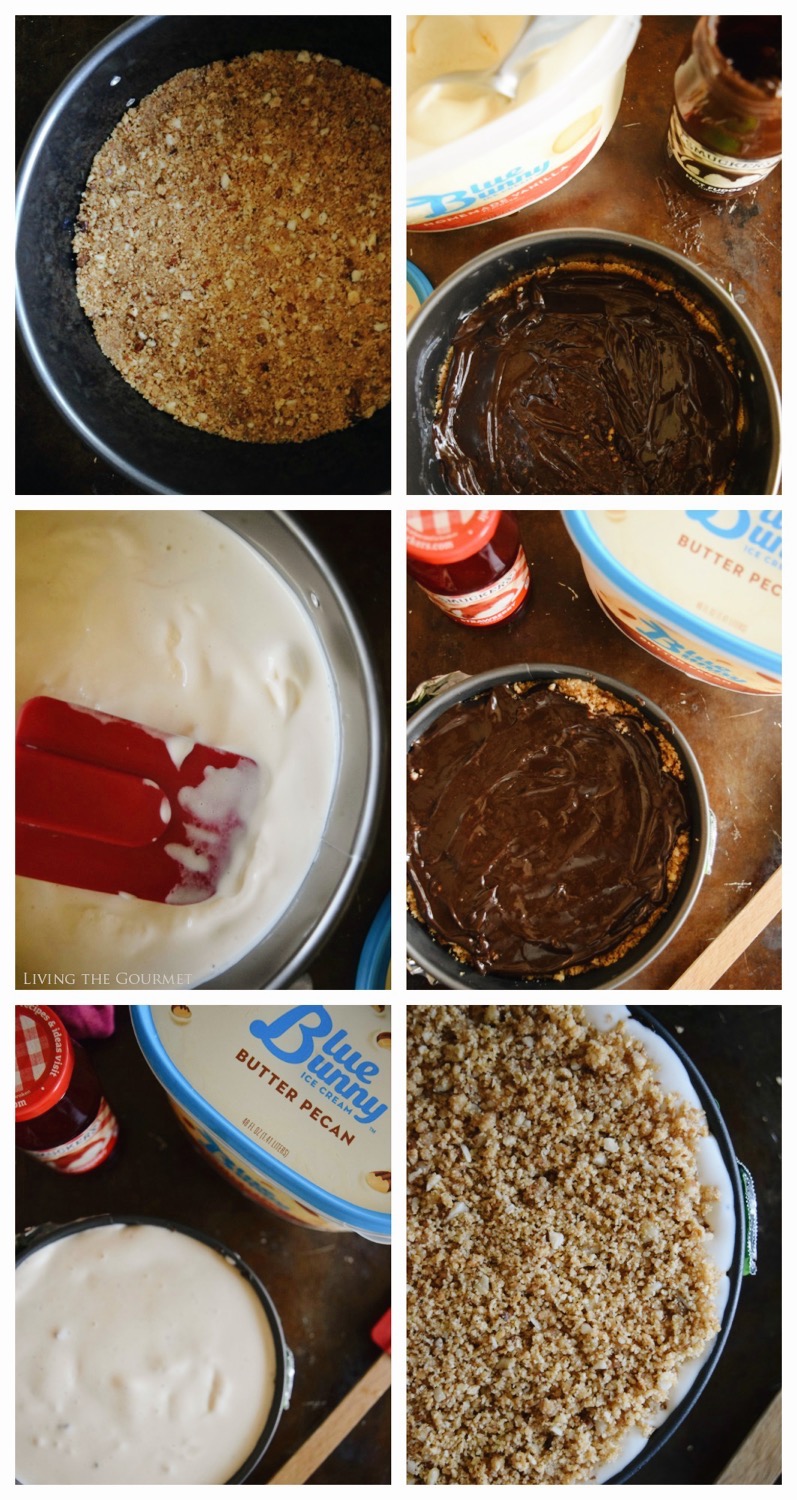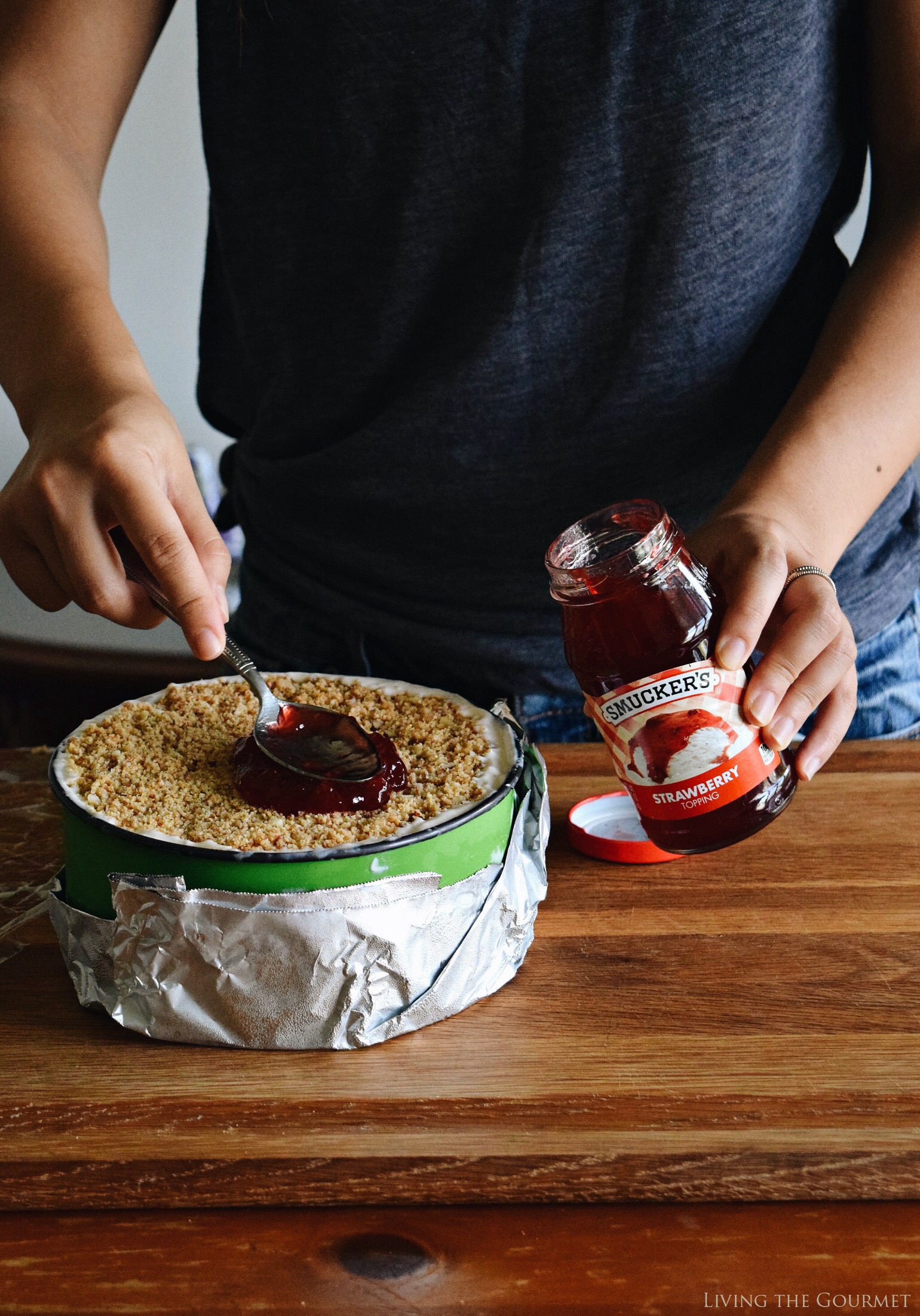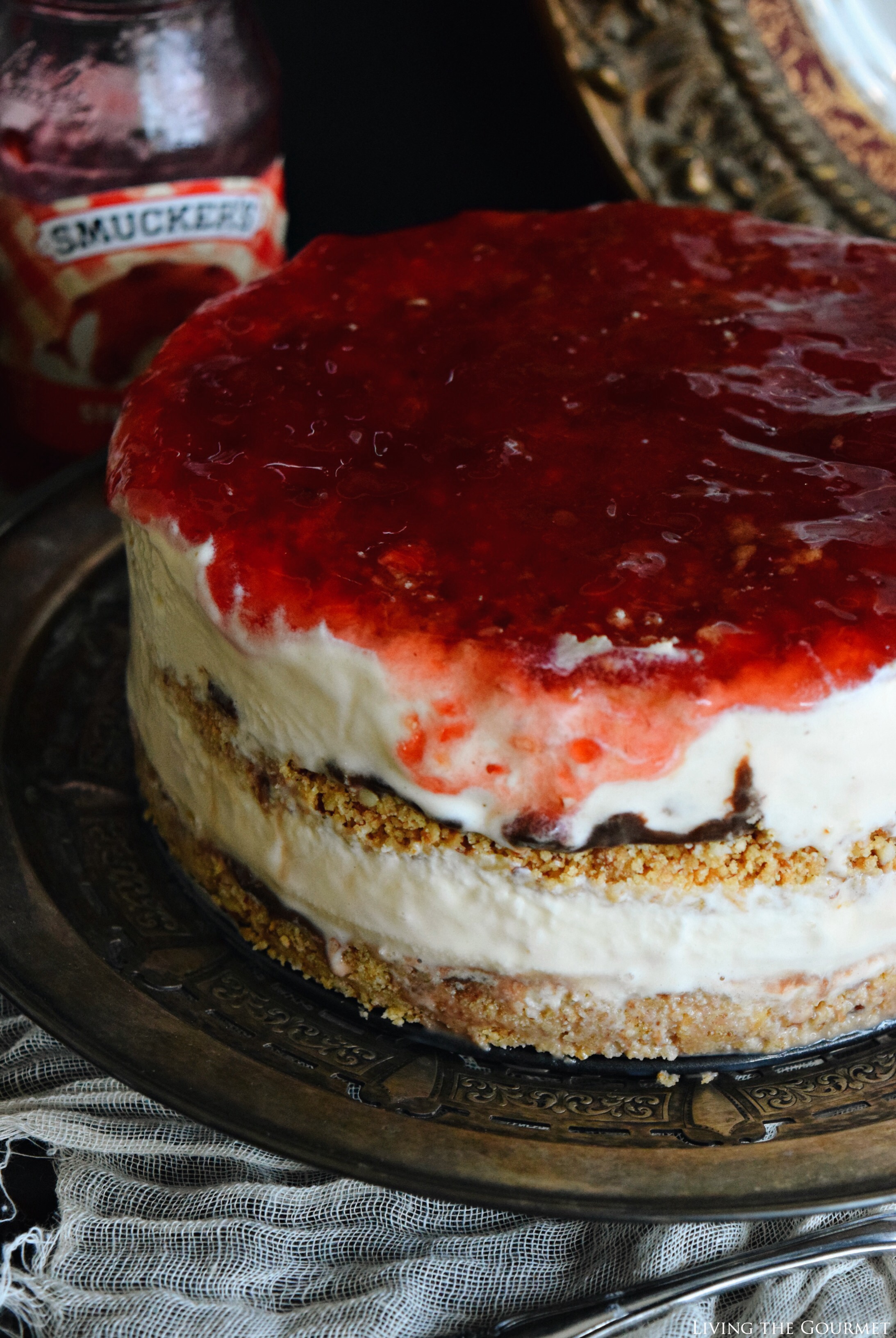 Print
Butter Pecan and Vanilla Ice Cream Cake
Author:
Prep Time:

15 minutes

Total Time:

15 minutes

Category:

Dessert
2 cups

crushed graham crackers

1/2 cup

almonds, finely chopped

1/2 cup

unsalted butter, melted

3

scoops (about

1 cup

) Blue Bunny® Butter Pecan, softened

3

scoops (about

1 cup

) Blue Bunny® Homemade Vanilla, softened

1

(11.75 oz.) jar Smucker's Hot Fudge Spoonable Ice Cream Topping

1/4 cup

Smucker's Strawberry Spoonable Ice Cream Topping
Instructions
Prepare a 6 1/2-inch spring form pan by lining the bottom with parchment paper and wrapping the outer side of the pan in tin foil. Set aside.
In a large bowl, combine graham cracker crumbs, almonds and melted butter. Press about 1 cup of the graham crackers to the bottom of the pan.
Heat the hot fudge until it is smooth and spreadable. Add enough to cover the graham cracker crust. Place the cake pan in the freezer for about 15 minutes until the hot fudge has set.
Once the hot fudge has set, scoop the softened ice cream on top. I used 3 scoops of softened ice ream. Smooth and even the ice cream over the fudge layer and place back into the freezer to set, about 30 minutes.
Once the ice cream has set, repeat the steps above, covering the ice cream layer with the graham cracker crust, but be sure to reserve about 1/4 cup of the graham cracker crumbs for the topping. Again, add a layer of the hot fudge and freeze to set. One you add your final layer of ice cream, sprinkle the top with the remaining graham crackers. Cover with cling film and let sit in the freezer until ready to serve.
Before serving, spoon the Smucker's Strawberry Spoonable Ice Cream Topping over the top.
Serve and Enjoy!
Notes
*Prep Time does not include Inactive Prep Time!
Including Inactive Prep Time this cake will take about 3 hours to make depending on your freezer temps and when the ice cream sets.
Recipe Card powered by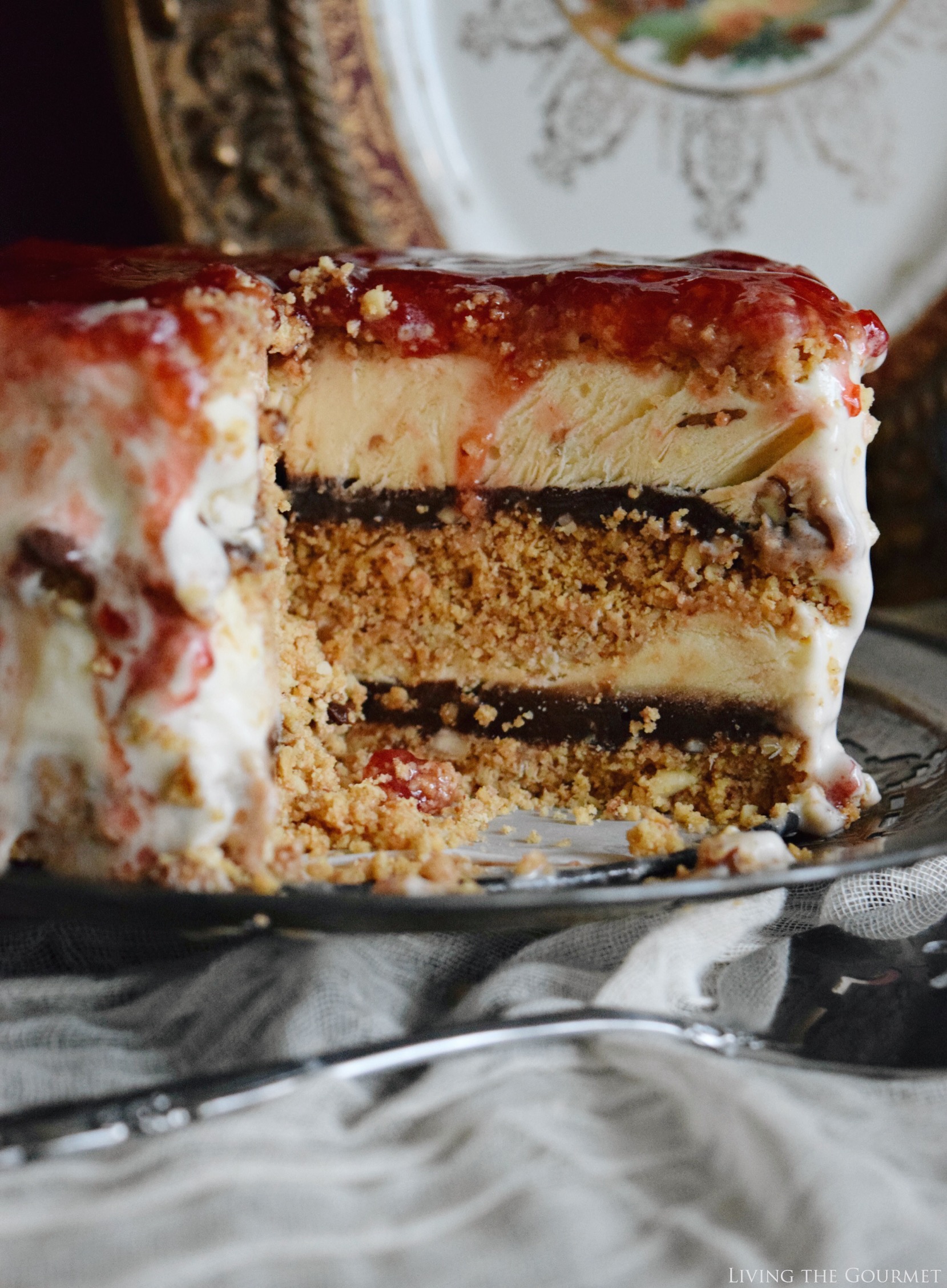 This would also serve excellently at an outdoor summer party, something the entire family can enjoy. What are some of your favorite summer desserts? We would love to hear from you.
For more delicious treats be sure to check out the Blue Bunny® homepage to beat the summer heat!
Don't forget to follow Blue Bunny® on:
Facebook
Twitter
Pinterest
Instagram
Enjoy with Love!
4