Thank you to HelloFresh for sponsoring this post!
Get your summer grilling started with these fresh Lemon Basil Shrimp Skewers full of freshness and flavor!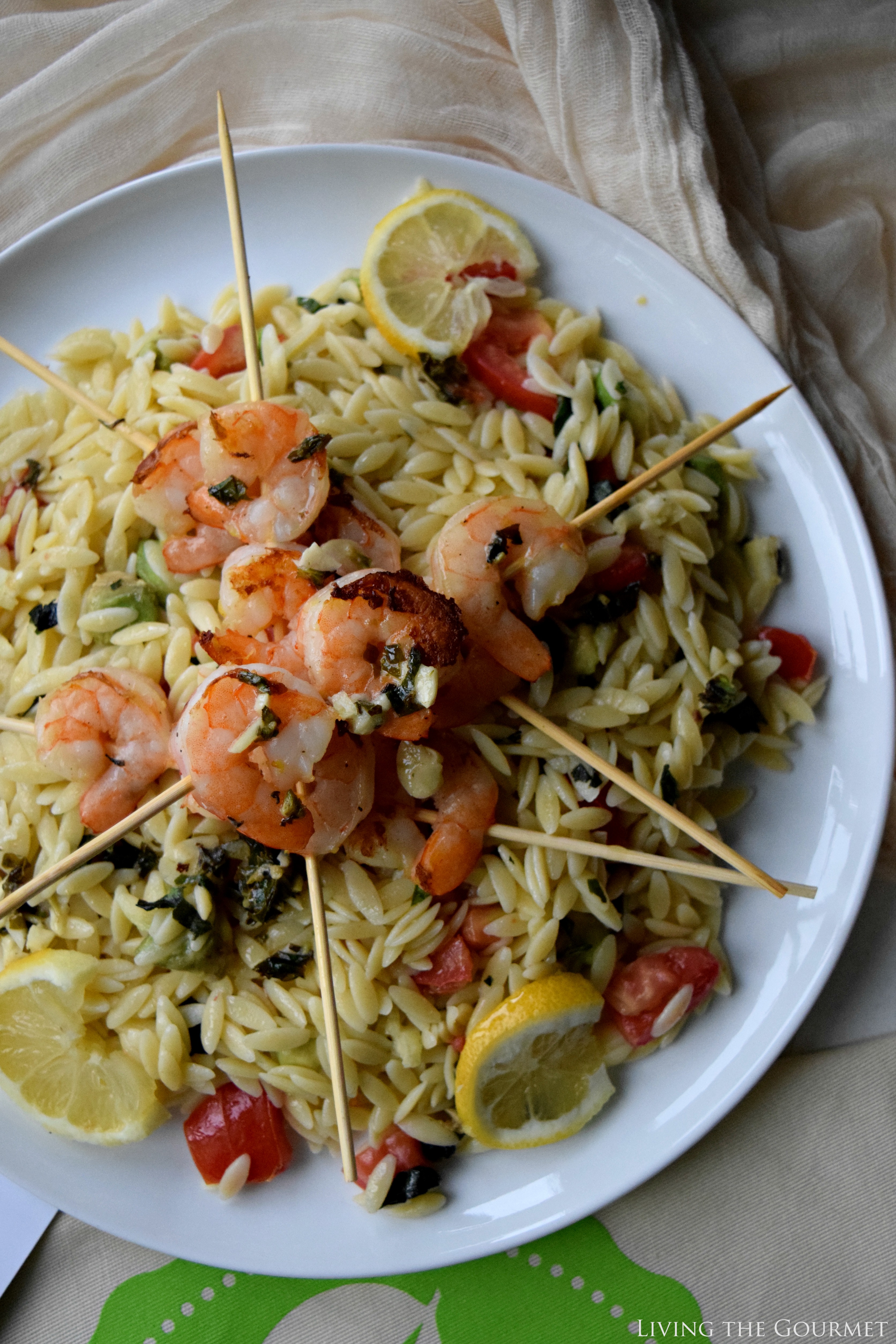 To quote the Good Doctor (Seuss), "How did it get so late so soon? Its night before its afternoon. December is here before its June. My goodness how the time has flewn. How did it get so late so soon?" Time is a funny thing in the context of life. We are constantly planning and acting for tomorrow, while looking forward to, or dreading, the future. Yesterday is lamented or idealized, while our greatest victories always seem to be just around the corner. Pleasures, great and small, slip through our fingers before we've scarcely a chance to savor them, while agonies take the shape of tiny eternities.
To that effect, Benjamin Franklin remarked that "Lost time is never found again," and thus we ought to make the most of each of life's many chapters.
Oddly enough, running a food site with a slant towards entertaining always keeps 'Time' at the forefront – and not just because of scheduling. Instead, people are always, rightly, on the lookout for how to save time, whether planning parties or just trying to fit in weeknight dinners. How to streamline preparation, how to simplify recipes, and how to trim down shopping lists at times seems to be more the center of attention than even the food in question.
Needless to say, those very themes are more or less in perpetual focus here at Living the Gourmet, and I will admit that on a non-to-rare occasion we find ourselves struggling not only for time but also with fitting in proper meals when the days and nights are particularly busy. After all, time is an ever so elusive commodity.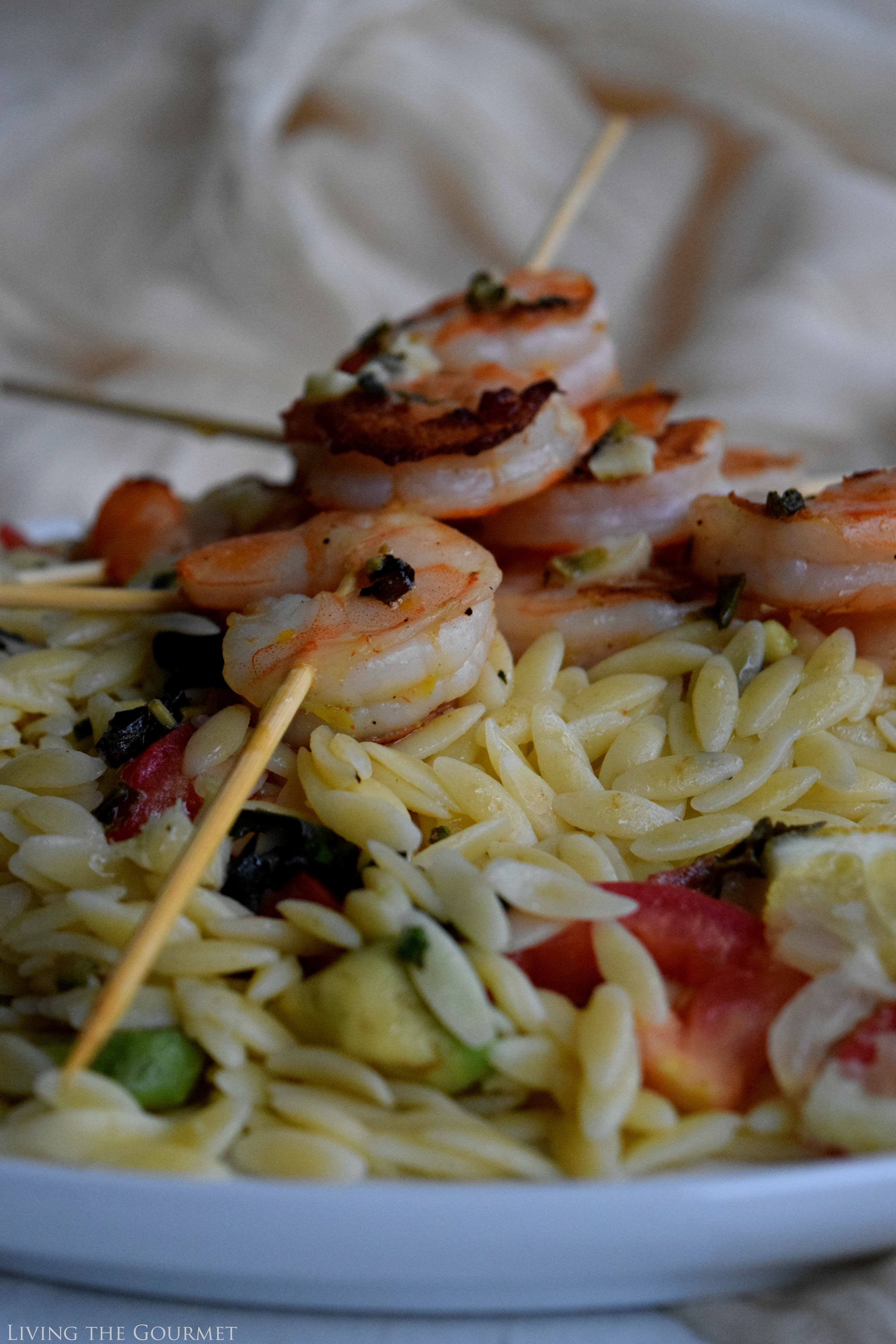 That actually brings us not only to today's recipe, but also to a recent find we made quite by chance.
To set the stage, imagine if for those busy weeknights that both the grocery shopping and recipe planning could be handled for you. What if even the preparation could be streamlined through simple instructions? Obviously, not only would you save time in kitchen, but also partially eliminate those pesky runs to grocery store. And not least of all you would be spared a good deal of frustration associated with trying to fit in meals that are both healthy and enjoyable. In other words, time saved.
That's actually precisely what HelloFresh does by planning out healthy, delicious meals for you, and shipping not only the ingredients for those meals to your door, but also expertly composed instructions for putting those meals together.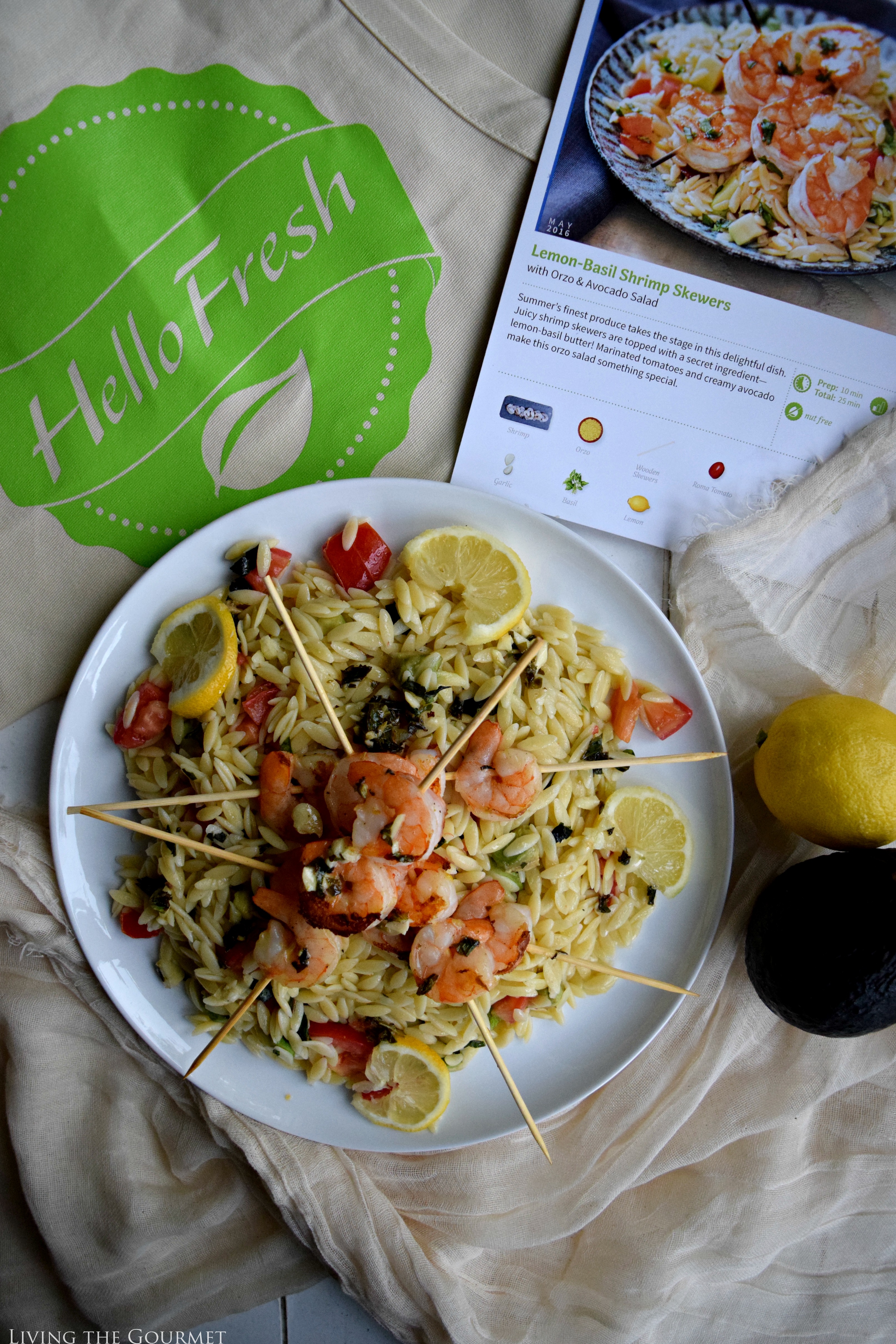 Take for example today's recipe – Lemon Basil Shrimp Skewers. All of the ingredients for today's recipe came packed neatly in a plain brown and green box, and with precisely the allotted portions called for in instructions – orzo, shrimp, lemon, garlic, basil, Roma tomatoes, avocado, vinegar, and even the skewers themselves. As the name implies, all ingredients arrived crisp and fresh. Serving three to four, it was just enough for myself and my 'crew.' As promised in the recipe outline, the total time for this recipe was about twenty-five minutes.
We also received a menu for several other items, along with the groceries and instructions necessary to put those meals together, which we'll be posting later on. In other words, most of week's shopping and planning were handled entirely for us.
If you're new in the kitchen, there's no need to feel intimidated here, the recipe booklet describes the 'level' of each recipe, basically a difficulty rating, and instructs you where to start in addition to outlining the prep as simply as possible.
Needless to say, this is an absolute God send for busy weeks, where planning and shopping for meals would take maximal effort. However, I also think it's great for those just starting out in the kitchen, who might be new to navigating recipes and shopping lists – a sort of crash course on the gourmet.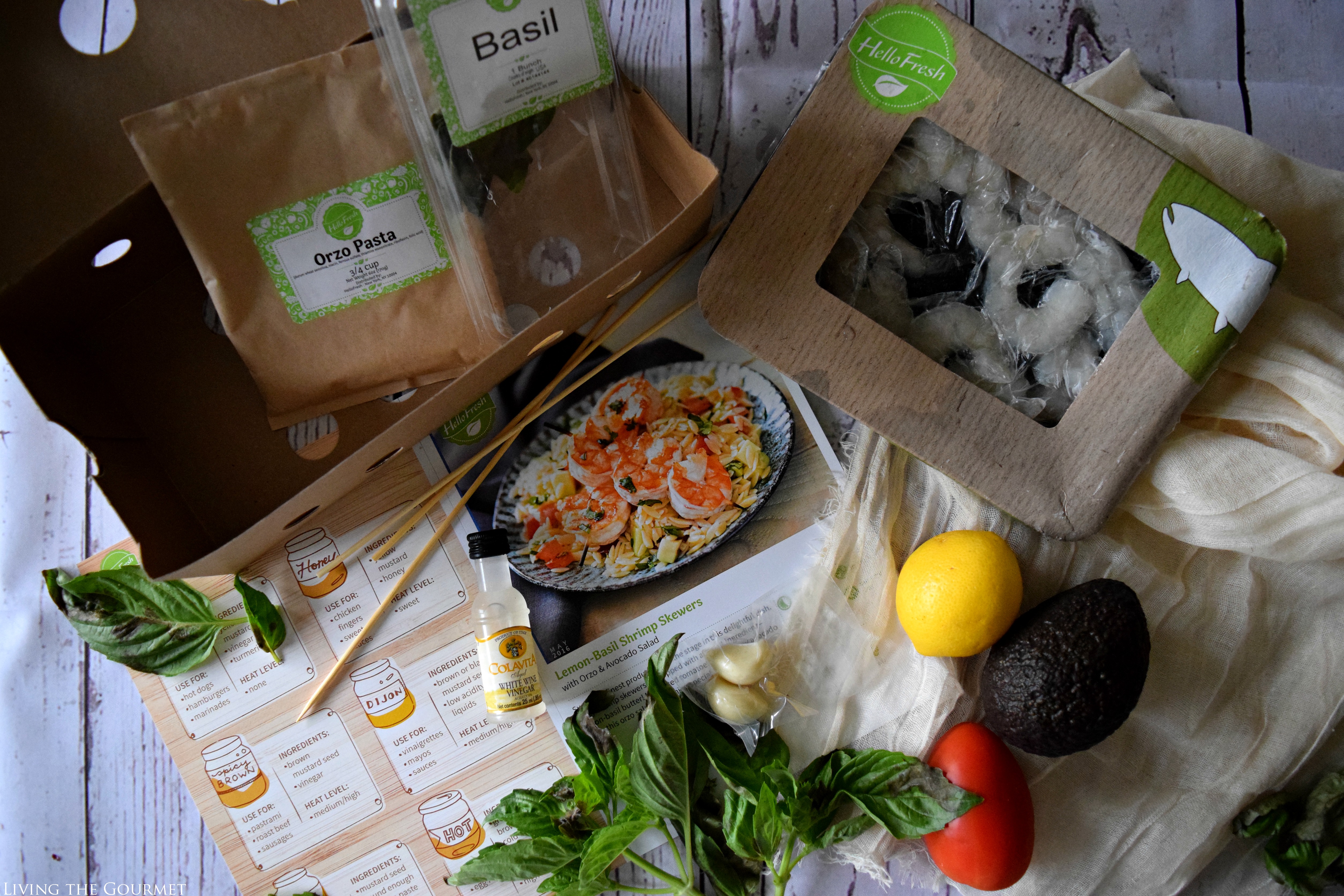 HelloFresh
Yields 4
Lemon Basil Shrimp Skewers featuring HelloFresh
PTH10MPrep Time
PTH25MCook Time
35 minTotal Time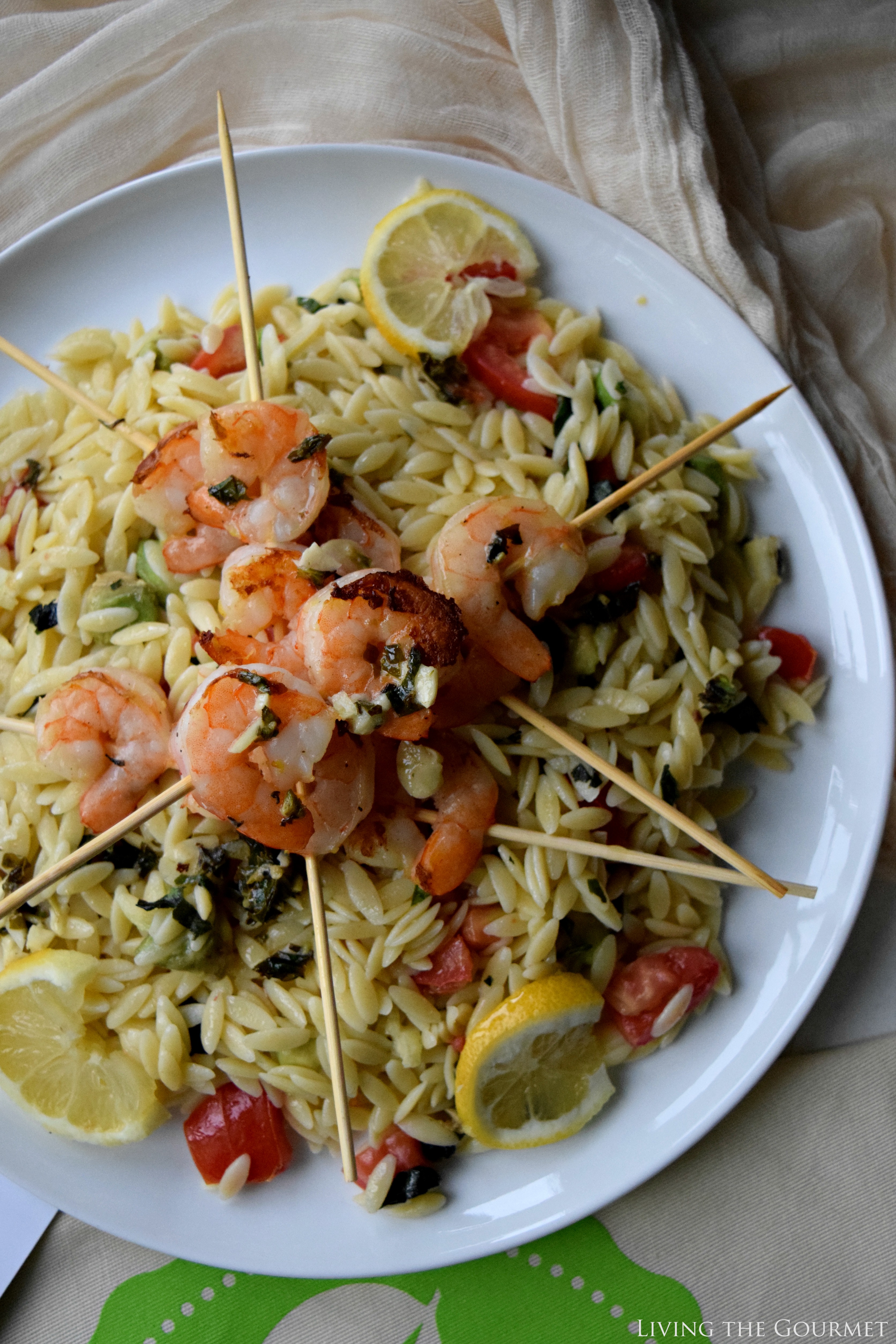 Ingredients
20 oz. shrimp
12 oz. orzo
8 wooden skewers
2 Roma tomatoes
4 Tablespoons white wine viegar
1 avocado
4 cloves garlic
1 oz. basil
2 lemon
1 tablespoon butter
1 tablespoon olive oil
Instructions
Preheat the broiler or grill to high. If you do not have either, preheat the oven to 500 degrees F. Bring a large pot of salted water to a boil. Soak the skewers in a shallow dish of water. Core, seed and dice the tomato. Mince of grate the garlic. Zest, then halve the lemon. Finely chop the basil leaves. Add the orzo to the boiling water and cook for 6-8 minutes, until al dente. Drain.
Place the tomatoes and white wine vinegar in a small bowl with a pinch of salt and pepper. Toss, then set aside to marinate.
Make the lemon-basil butter: Heat 1 tablespoon butter in a small pot over medium heat. Once melted, remove from the heat and stir in half the basil and a squeeze of lemon juice. Season with salt and pepper.
Drain the tomatoes. Halve, pit and cube the avocado. Once the orzo is ready, toss it into a large bowl with the tomatoes, half of the avocado, the remaining basil, a large drizzle of olive oil, and a squeeze of lemon juice (to taste). Season with salt and butter.
Toss the shrimp in a medium bowl with a drizzle of olive oil, the lemon zest , garlic and a pinch of salt and pepper. Thread them on to the skewers and either broil on a baking sheet or grill for 3-4 minutes, flipping once, until cooked through.
Serve the shrimp skewers on a bed or orzo and avocado salad. Drizzle with the lemon-basil butter and enjoy.
7.8.1.2
413
https://livingthegourmet.com/2016/06/lemon-basil-shrimp-skewers-featuring-hellofresh.html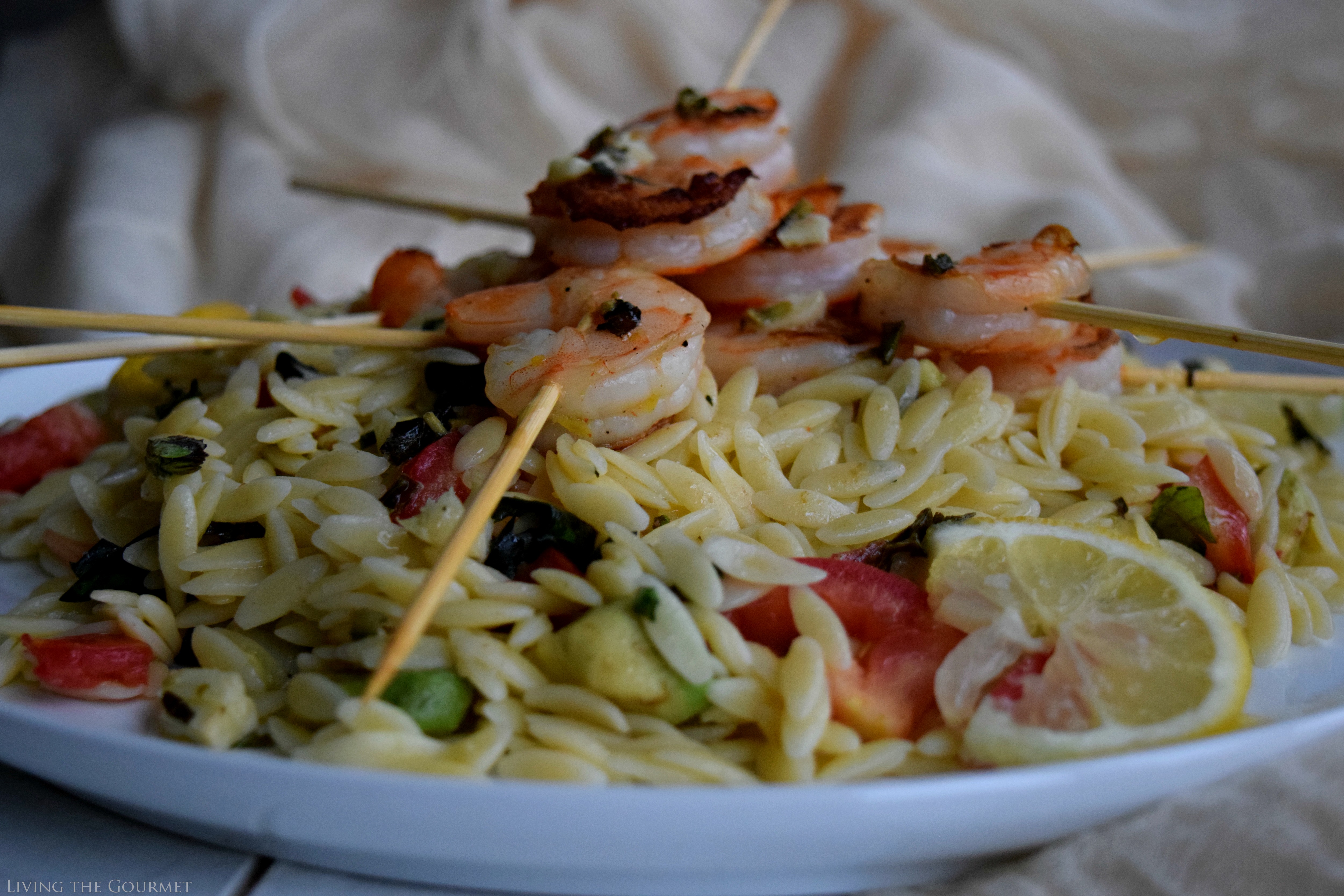 If saving time in the kitchen is what you're looking for you, or you're just getting acquainted with home cooking, HelloFresh is exactly what you need.
What are some of your best time-saving tips? We would love to hear from you!
Looking for vegan options? Check out Vegan Meal Prep Delivery! Place orders at the Vegan Meal Prep Delivery service and receive meals perfectly matched to your food preferences. Trust in the expertise of trained chefs who can bring out the delectable flavors of the plant-based elements that go into every vegan meal.
Enjoy with Love!
3