Biscotti get a fun modern makeover with a cake mix base and Coffee Nut M&M's® exterior!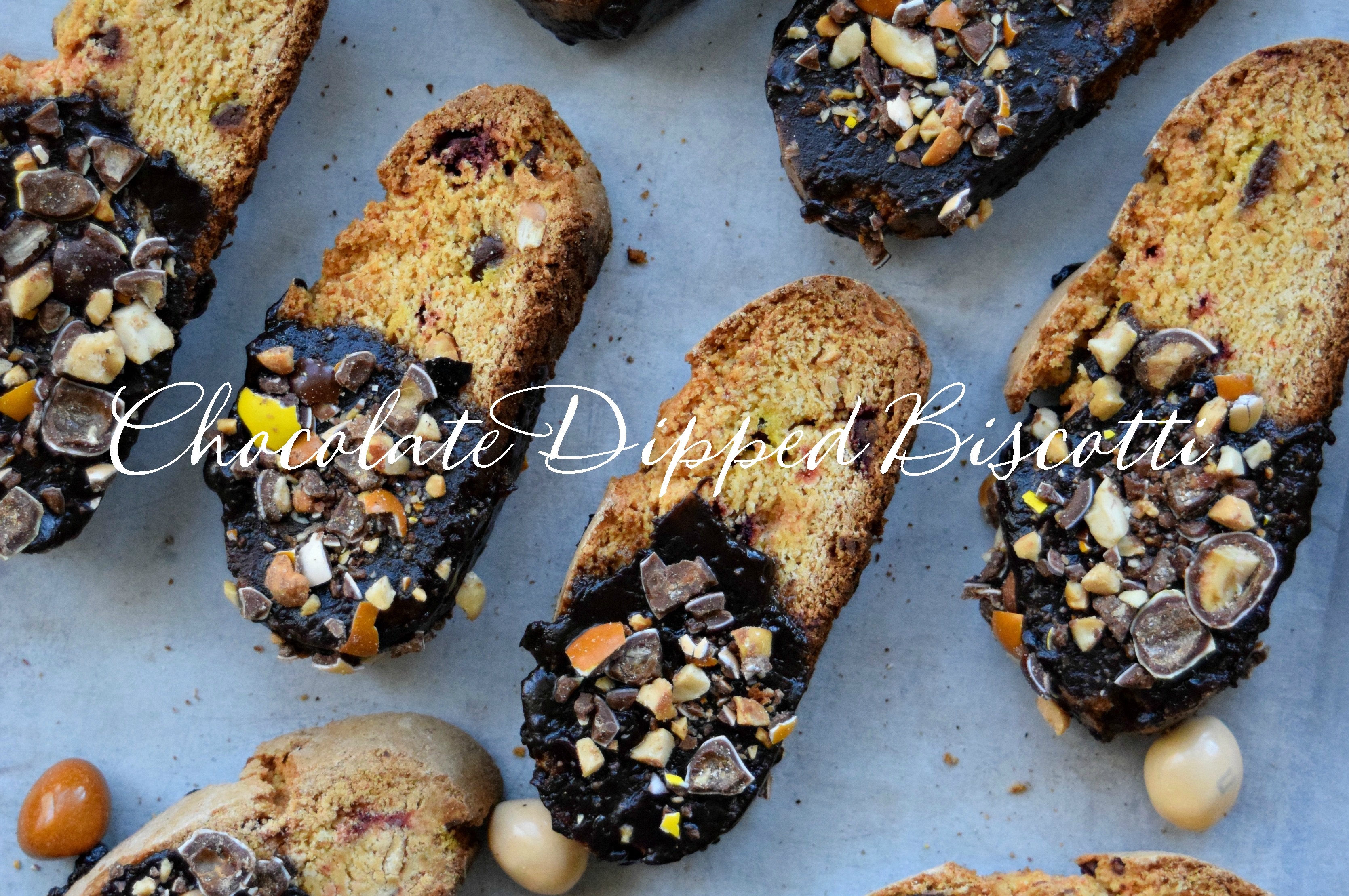 I've been accused of being a 'quiet classicalist.' I've been chided for disregarding wines that favor plastic or screw-tops over proper cork. I've been told to keep an open mind as Cava leaves the shady comfort of relative obscurity on its journey into the vogue of posh dinner party limelight. I've been encouraged to broaden my reading taste, assured that truly good and classical literature didn't stop at the turn of the last century. I've also been assured that Americanized and Fused Mediterranean cuisine, featuring out-of-region ingredients, is still somehow wholly Mediterranean.
So, you can imagine my skepticism over the modern biscotti, skepticism that has only grown as the legion of low-end-posh cafés began serving them en masse wrapped in little slips of plastic, or stuffed inside oversized jars.
For me, the twice baked cookie holds far too many fond memories of proper preparation, proper presentation, and, yes, proper consumption to truly embrace the modern incarnation…or so I thought.
From childhood, you see, I remember the biscotti baked by first generation Italians, who brought their recipes and cooking methods from what was, at the time, indeed the 'Old World.' Those biscotti were then brought to our tables in neat bakery boxes, and I can recall my grandfather dipping them in wine, or as a side to demitasse.
These were not, I assure you, the customs, or lack thereof, surrounding the modern-café incarnation of the twice baked cookie.
Which, oddly, brings us to today's cookie, and my own entirely modern take on the confection.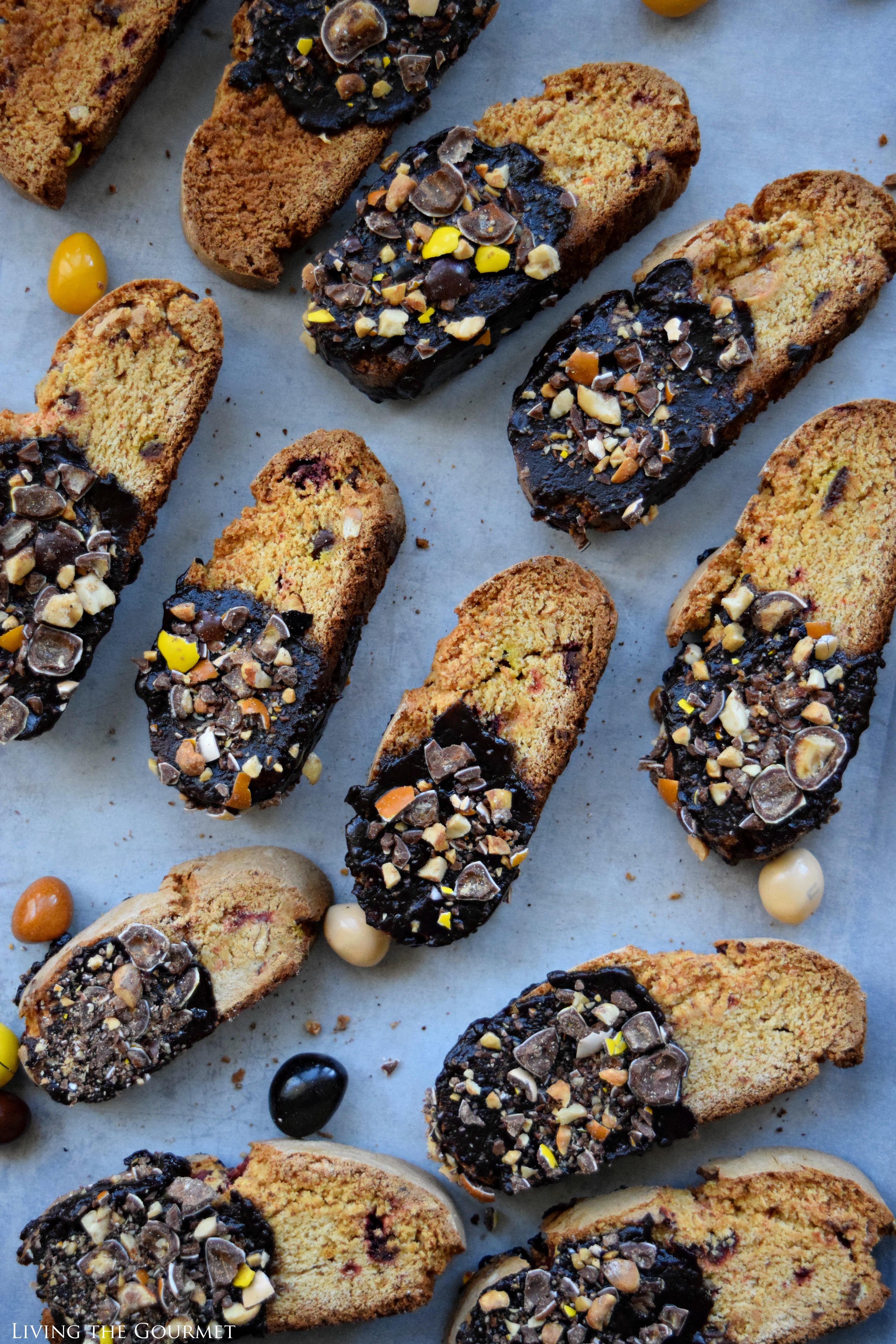 This all started because I was having friend over for what would either be a late breakfast, or just coffee, and so I wanted something would fit either occasion, either as a sweet bite after breakfast, or something that would go nicely with dark roasted coffee. Of course, when my daughter suggested biscotti, I realized that fit perfectly.
While I wanted to make the biscotti as close as to what I remembered eating growing up, my schedule, as often happens, began getting away from me, and so I did in fact have to make a few quick shortcuts. For example, rather than start from the scratch, I used a yellow cake box mix as the base, and worked from there. Then, just as the cookies were baking for the first time, it became definite that our morning get-together was in fact just going to be coffee rather than a breakfast, and I decided I wanted to put a little something extra into the cookies.
And that is precisely where the chocolate half-coating came in, as shown below. To add a bite of crunch and decoration, I chopped up some Coffee Nut M&M's®, dusted those over the chocolate, and my biscotti were complete.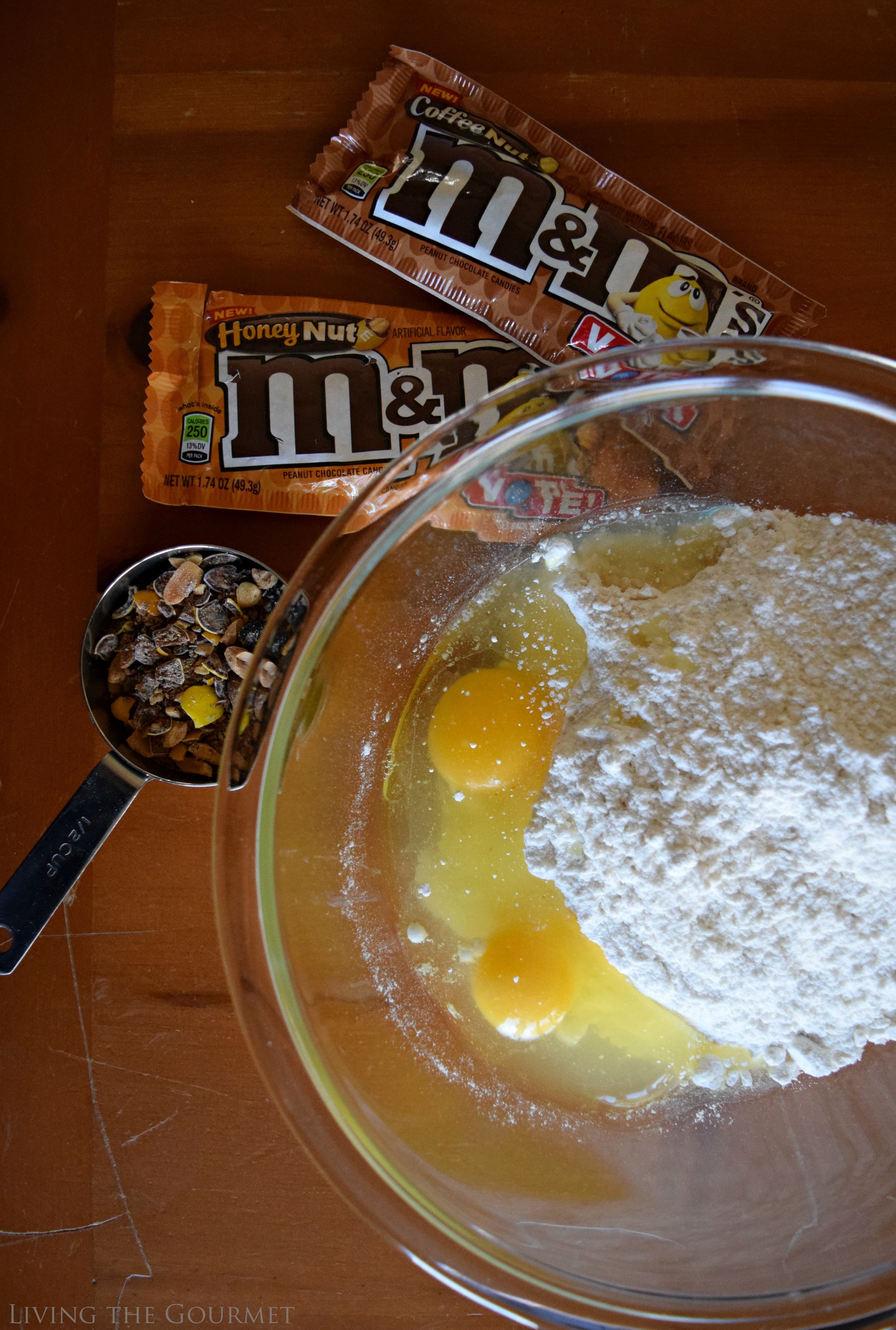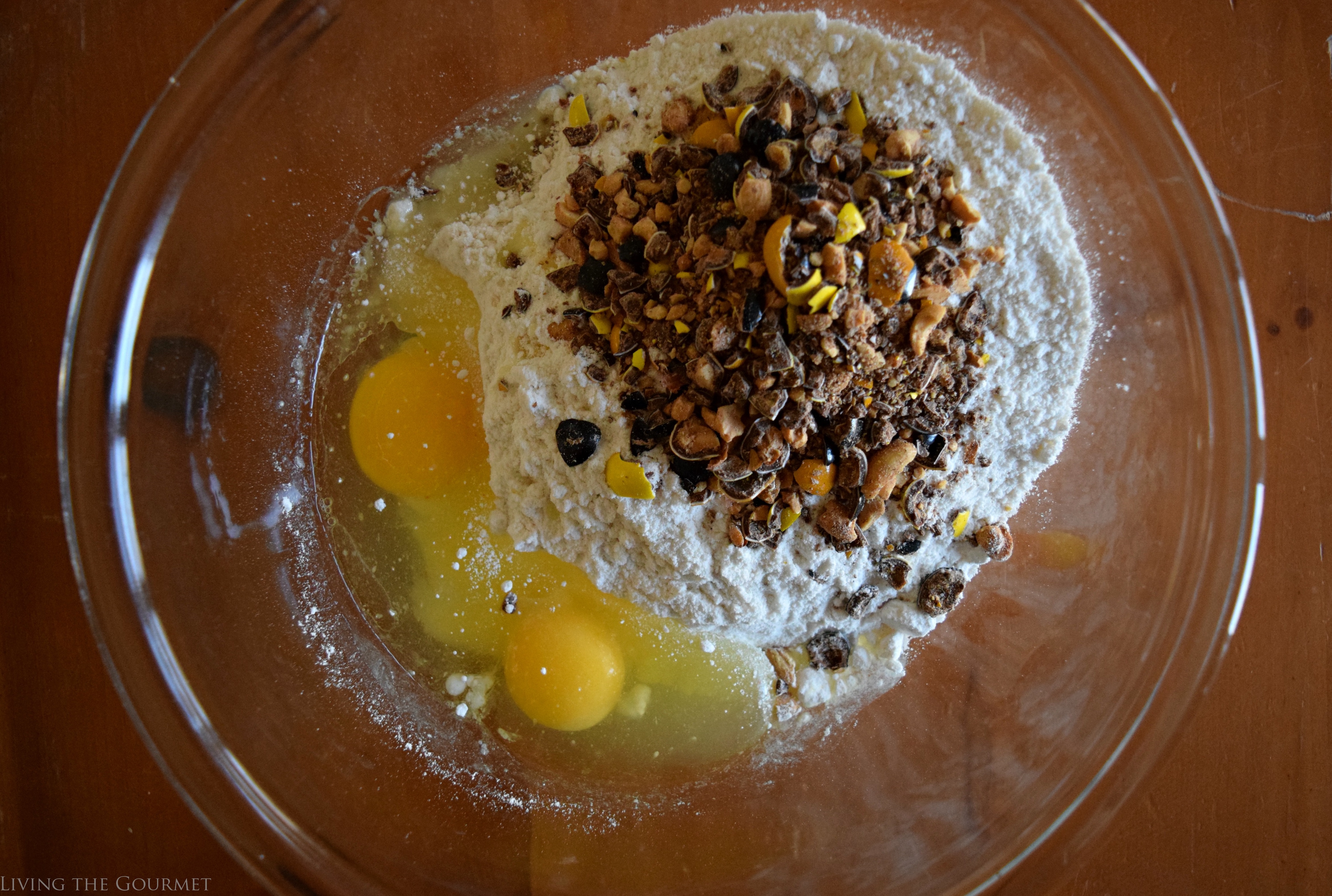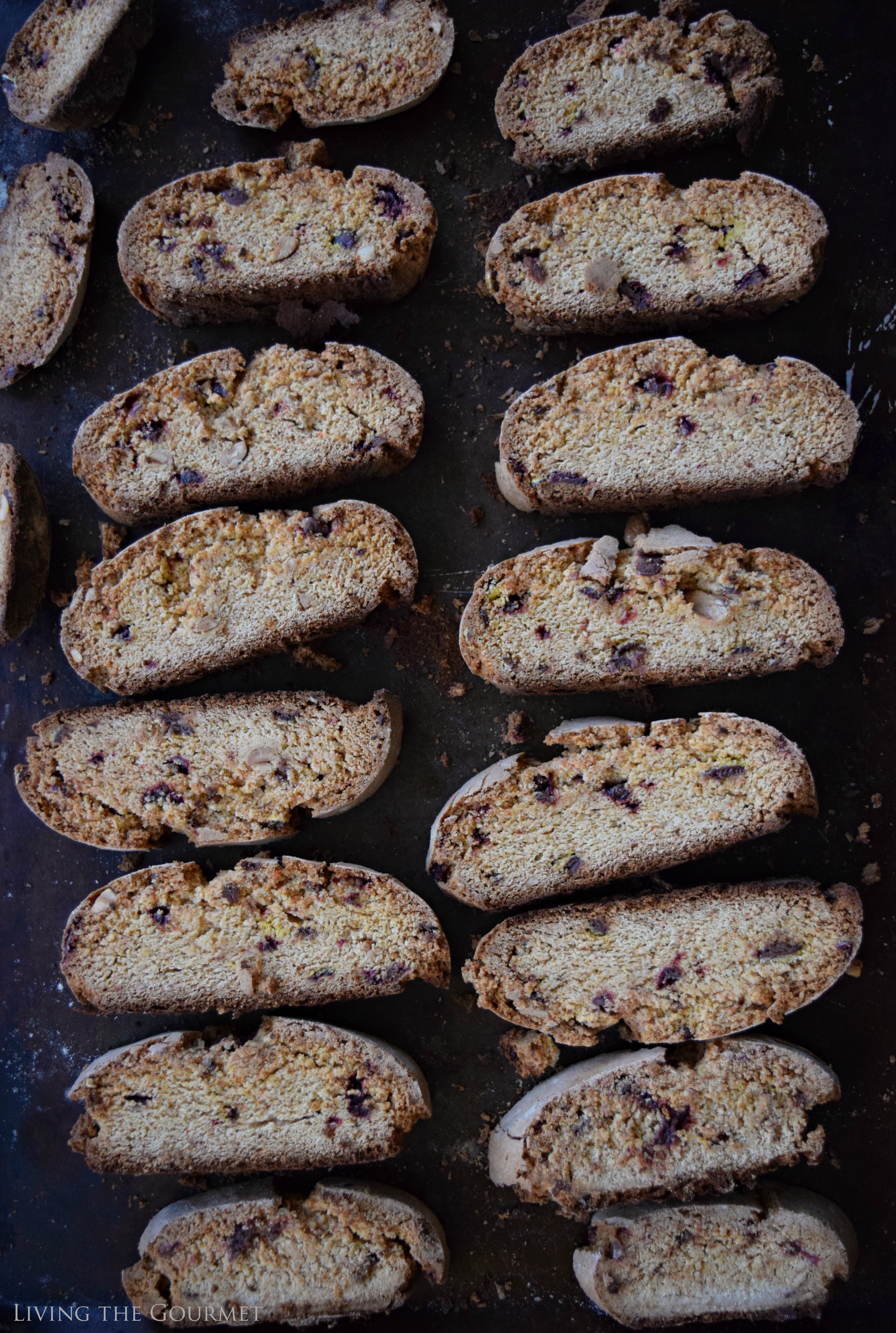 Print
Chocolate Dipped Biscotti
Author:
Prep Time:

5 minutes

Cook Time:

40 minutes

Total Time:

45 minutes

Yield:

1

2

1

x
Category:

Dessert
For the biscotti:
1

box yellow cake mix

1/4

cup

flour

1

tbs. vegetable oil

2

eggs

1/2

cup

Coffee Nut M&M's® - chopped
For the Chocolate Coating:
1

cup

melting chocolate candies
Coffee Nut M&M's® - chopped
Instructions
For the biscotti:
Preheat Oven 350 degrees F.
In a large bowl combine cake mix, flour, oil and eggs; combine ingredients to form a dough.
Shape dough into a 12 – 15 inch by 4 inch wide rectangle and place on an ungreased cookie sheet.
Bake 25 – 30 minutes or until golden brown. Let cool for about 12 – 15 minutes before slicing.
Carefully cut into 1/2 inch slices and place on the cookie sheet.
Bake 10 – 12 minutes.
Let the cookies cool before placing in chocolate.
For the Chocolate Coating:
In a small sauce pot over low heat, melt chocolate candies.
Transfer the melted chocolate to a small bowl and prepare another bowl with the crushed M&M's®.
Dip the biscotti in the chocolate then the M&M's®. Lay the cookies out on a parchment lined cookie sheet until the chocolate has set.
Recipe Card powered by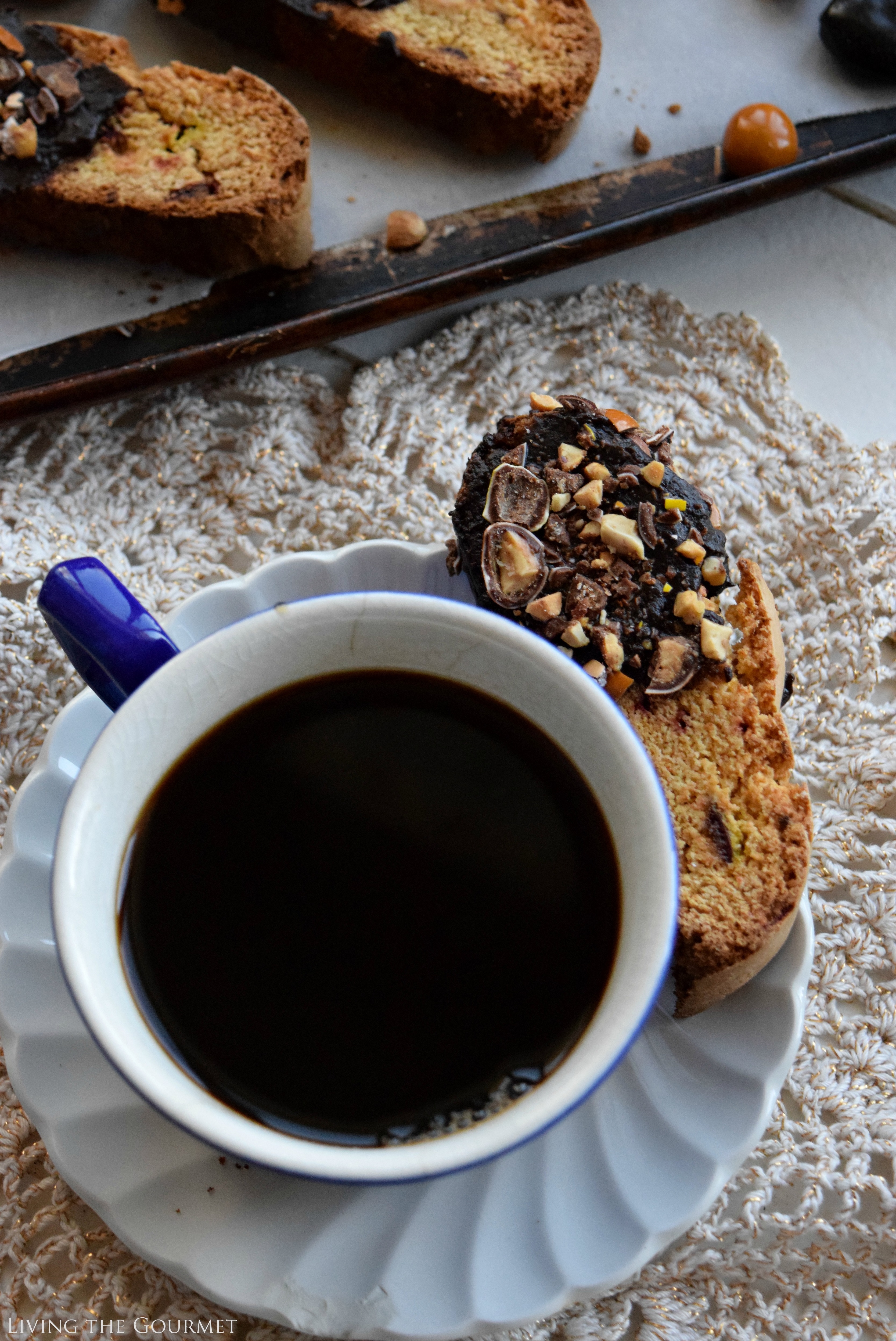 While these aren't something I would dip in wine anytime soon, but they did in fact make for a delicious departure from tradition.
0