After a long summer break, the Creative Cooking Crew is back and kicking off the new season with its most creative breakfast dishes.
These polenta pancakes are the best of both sweet and savory. We stacked them up with sauteed mushrooms, caramelized onions, cracked black pepper and a thick drizzle of pure maple syrup. It's a dish that can be enjoyed any hour of the day.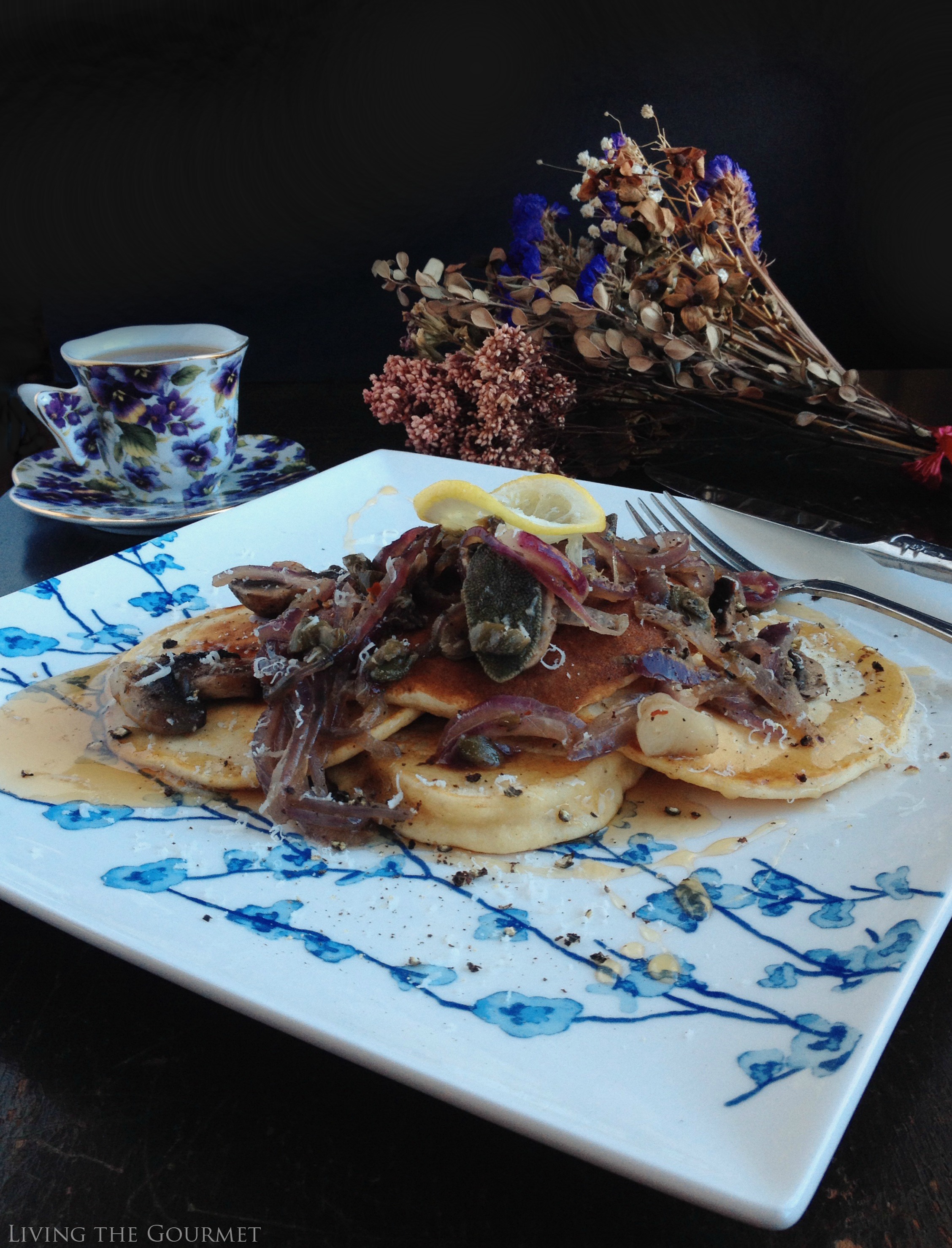 Breakfast happens to be one of my favorite meals. Those of you who know me, know breakfast for dinner is one of the biggest treats for me.
For this month's Creative Cooking Crew, I was pushed to step out of my comfort zone and do something savory…something unexpected!
I made polenta cakes for dinner a few nights back which served as the inspiration and base of this recipe. The polenta pancake batter was fabulous and exceeded my expectations. I served it with some beautiful sauteed mushrooms and onions, and being it was breakfast after all, I completed the meal with maple syrup and grated cheese.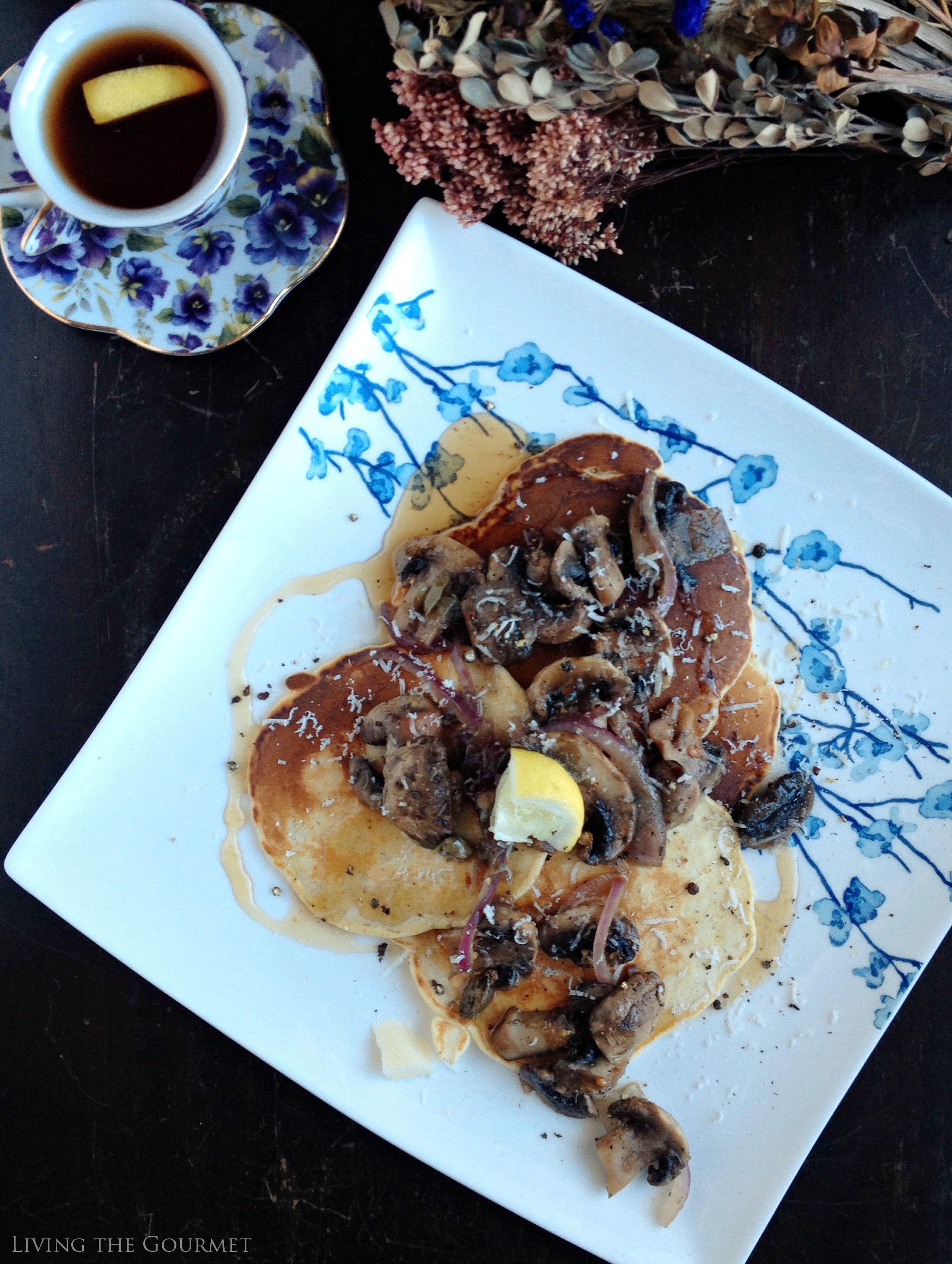 I could not say enough about this meal. To put it simply, it is DELICIOUS; so rich with flavor. I really do hope you give it a try. Your view on savory breakfasts will not be the same!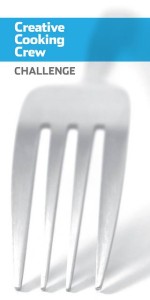 Living the Gourmet
Yields 4
Polenta Pancakes and Sauteed Mushrooms with Caramelized Onions
10 minPrep Time
10 minCook Time
20 minTotal Time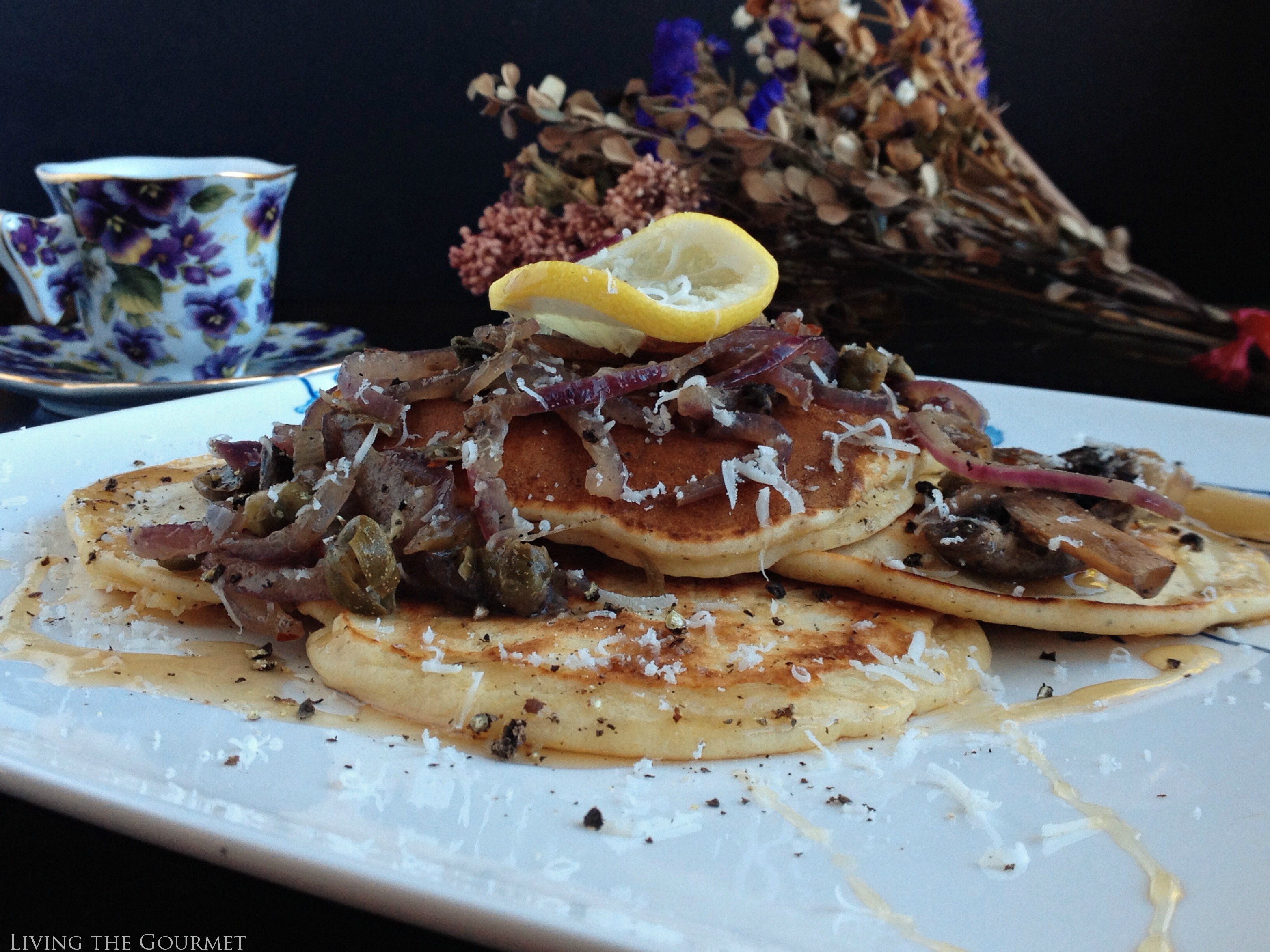 Ingredients
For Polenta Pancakes:

1 cup cornmeal
2 cups flour
1 tbs. sugar
1/2 tsp. salt
1/2 tsp. black pepper
2 tsp. baking powder
2 cups milk
1/4 cup water
2 eggs
1/4 cup olive oil
1 tbs. butter
Maple syrup – for drizzling
Grated Parmesan or Romano

For Mushrooms and Onions:

1 quart mushrooms – sliced
1 small red onion – sliced thin
1 twig of fresh rosemary
Small handful of fresh sage leaves
1 tbs. of capers
1 tbs. butter
3 tbs. olive oil
Instructions
For Polenta Pancakes:

In a large bowl combine the dry ingredients.
In a smaller bowl combine the eggs, milk and olive oil and whisk. Reserve the 1/4 cup of water.
Combine the wet ingredients with the dry and stir. If the batter is still too thick and does not easily fall from the spoon on to the griddle, slowly add 1/4 cup of water.
Heat a griddle with butter.
Spoon the pancakes onto the hot griddle.
When the bottoms are golden and bubbles form; flip and finish cooking on the other side. Approximately 1 to 1 1/2 minutes per side.

For Mushrooms and Onions:

Heat a large cast iron frying pan with the butter and olive oil.
Add the mushrooms, onions, rosemary, sage and caper and sauté until the onions are softened.
Plate the pancakes and top with the mushrooms.
Drizzle with a little syrup, fresh ground black pepper, and grated cheese!
7.8.1.2
196
https://livingthegourmet.com/2015/10/polenta-pancakes-and-sauteed-mushrooms-with-caramelized-onions.html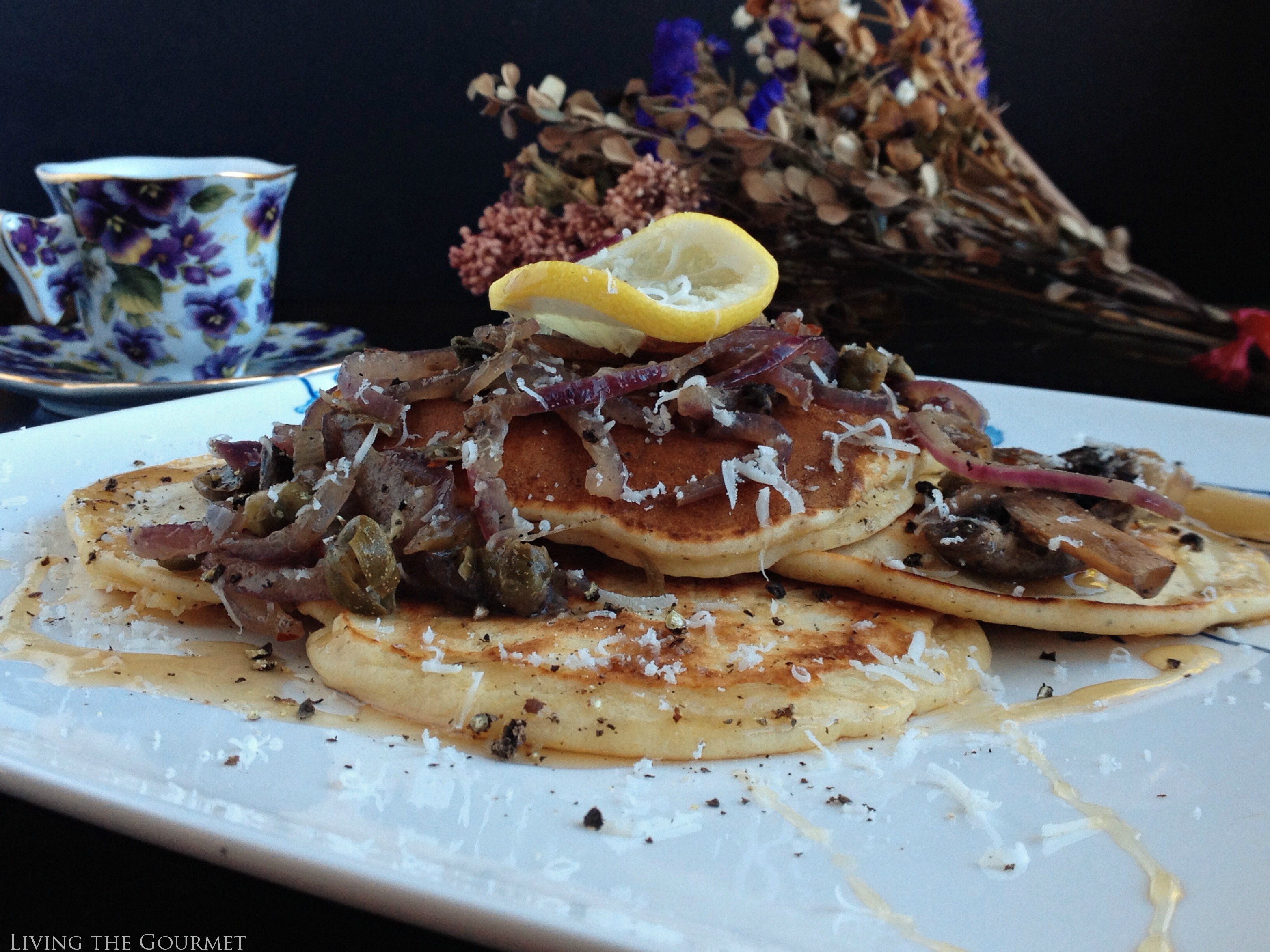 Enjoy with Love,
Catherine
xo
2