I received this product for review. All opinions expressed are my own. This message is intended for persons 21+. Please enjoy responsibly.
I've written twice now about the Viva Diva line of Vino Spumantes from Christina Milian, and we were recently invited to sample another of their varietals – the Peach Moscato in a grown-up slushie.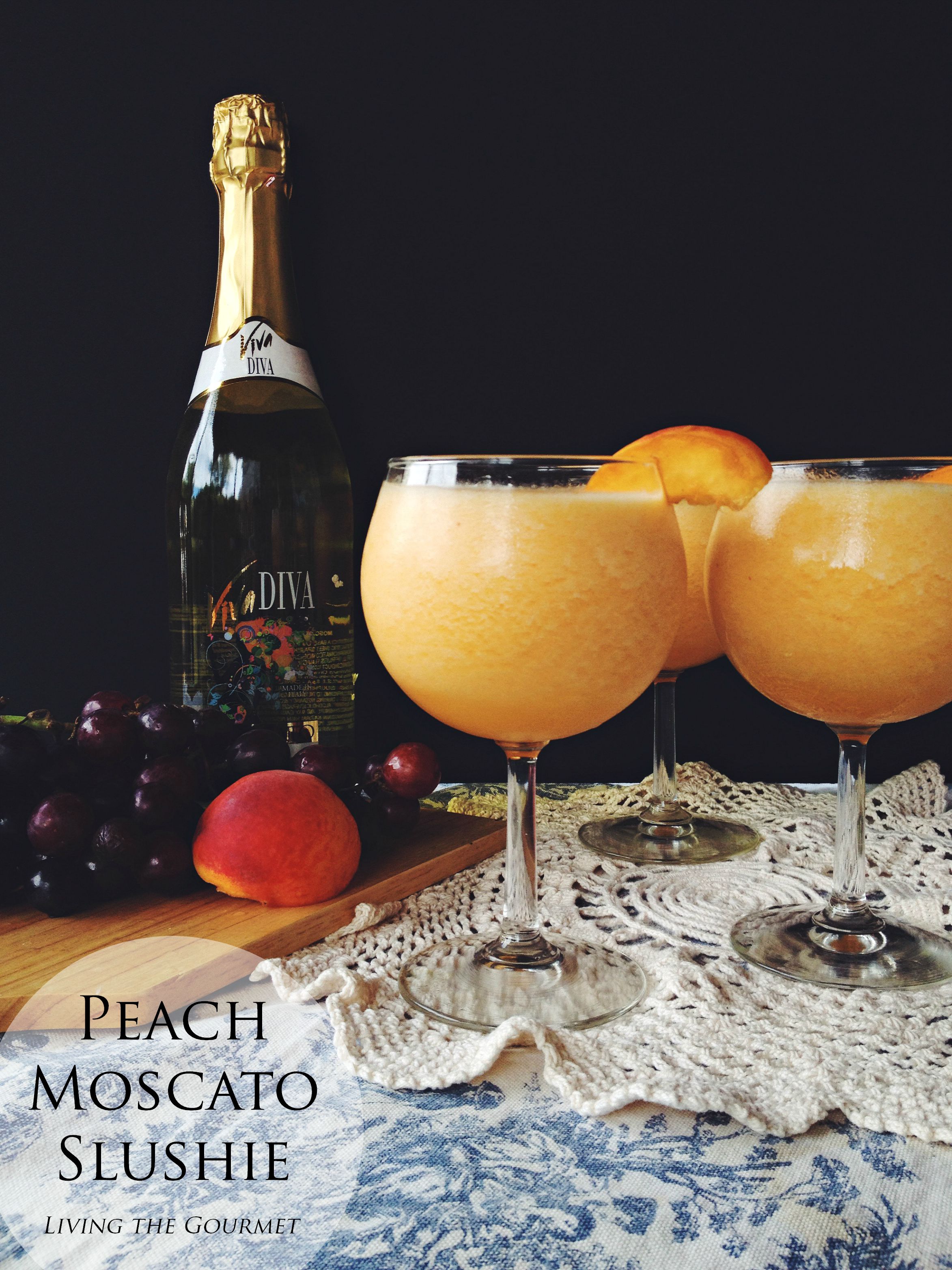 As a quick refresher for those who may have missed our previous posts, we sampled the Pomegranate and Pina Colada spumantes first, pairing them excellently with one of our signature pizza recipes, shortly after which we sampled the strawberry and mango, reviewing them on their own.
In both cases, I was very pleasantly surprised. However, while I now know that these sparkler serve admirably as a festive dinner pairings, or on their own over conversation, this time I wanted to judge the wine based on how well it mixes into a drink for the purposes of seeing just how versatile it truly is as a party bottle.
Much like the pizza I had prepared for the previous bottles, I wanted to put together something that was in line with the 'spirit' of the spumante, which is a decidedly festive sparkler, intentionally slanted towards being enjoyed with friends. To do this, I decided to keep things simple and seasonal, and prepared the wine in a blender with freshly frozen peaches, ice, and a bit of sugar. The resulting slushy was a summer cocktail perfect for an impromptu visit by a friend, or to serve at a summer backyard get together. The added natural sweetness of the peaches clashed admirably with the peach essence of the wine, as I had intended, creating a more complex profile overall, while vague moscato essences seeped through. The top layer of froth was a lesson in ordered chaos, with peach essences, floral aromas, hints of fruit, and moscato notes all competing for attention.
As for the wine itself, when sampled on its own, the sparkler greets with an exceptionally sweet bouquet of fruity essences and sharp floral notes carried on a very fine effervesce. On sampling, peach is dominant from the outset, with fresh fruit notes appearing only vaguely towards the end along with subtle hints of the moscato itself. The bubbles were crisp and even, with peach essence comprising a brief finish. As for pairing, I would suggest serving this either on its own as an aperitif, or with dessert, preferably something cool, sweet, and fruity.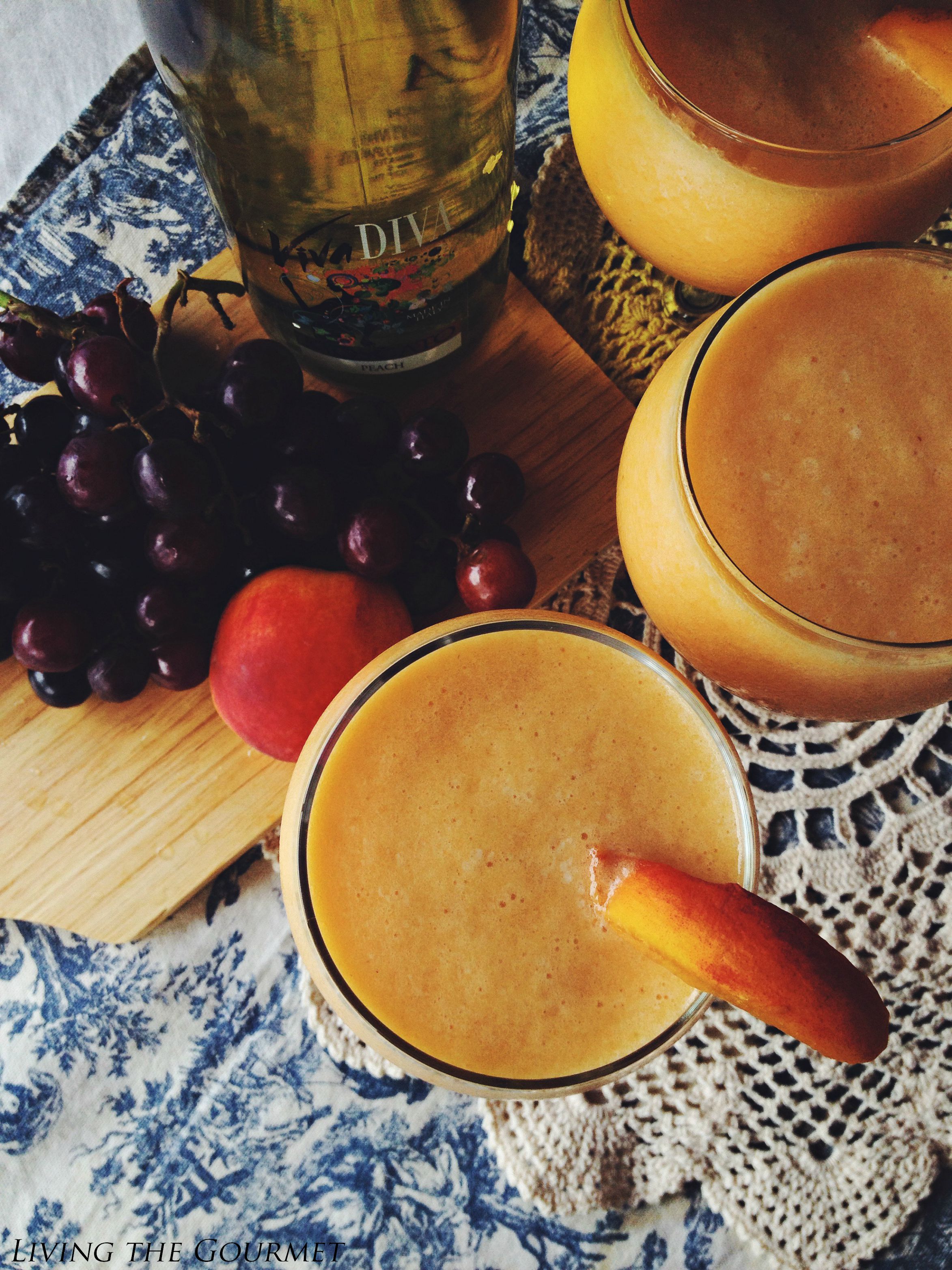 Print
Peach Moscato Slushie
Author:
Prep Time:

10 minutes

Total Time:

10 minutes
1

bottle Viva Diva Peach Moscato

2

cups

fresh or frozen peaches (unsweetened)

1/2

cup

powdered sugar
Instructions
Add peaches, sugar and a few splashes of Viva Diva Moscato to food processor or blender.
Blend until completely smooth.
Pour in the rest of the Viva Diva Moscato and blend until incorporated.
Quickly pour mixture into ice cube trays.
Freeze.
Place frozen cubes in a blender.
Add a splash of wine to make blending easier.
Blend until slush consistency, adding a splash of wine to thin it out if needed.
Pour into wine glasses, add a straw (if desired) and serve immediately.
Garnish with fresh fruit like strawberries and peach slices
Notes
Prep Time does not include Inactive Prep Time.
Recipe Card powered by
Once again, I can only emphasize that the Viva Diva line is a festive wine. A bottle of this will instantly add a layer of flare to your next party, and that said, I wholeheartedly recommend them.
Enjoy with Love,
Catherine
1