I received this product for review. All opinions expressed are my own.
Some weeks ago Living the Gourmet was invited to sample a pair of bottles from the new 'Viva Diva' label, a line of Italian Sparkling Wines courtesy of Christina Milian. You may recall our featuring the Pomegranate and Pina Colada varieties, which paired excellently with one of our signature pizza recipes.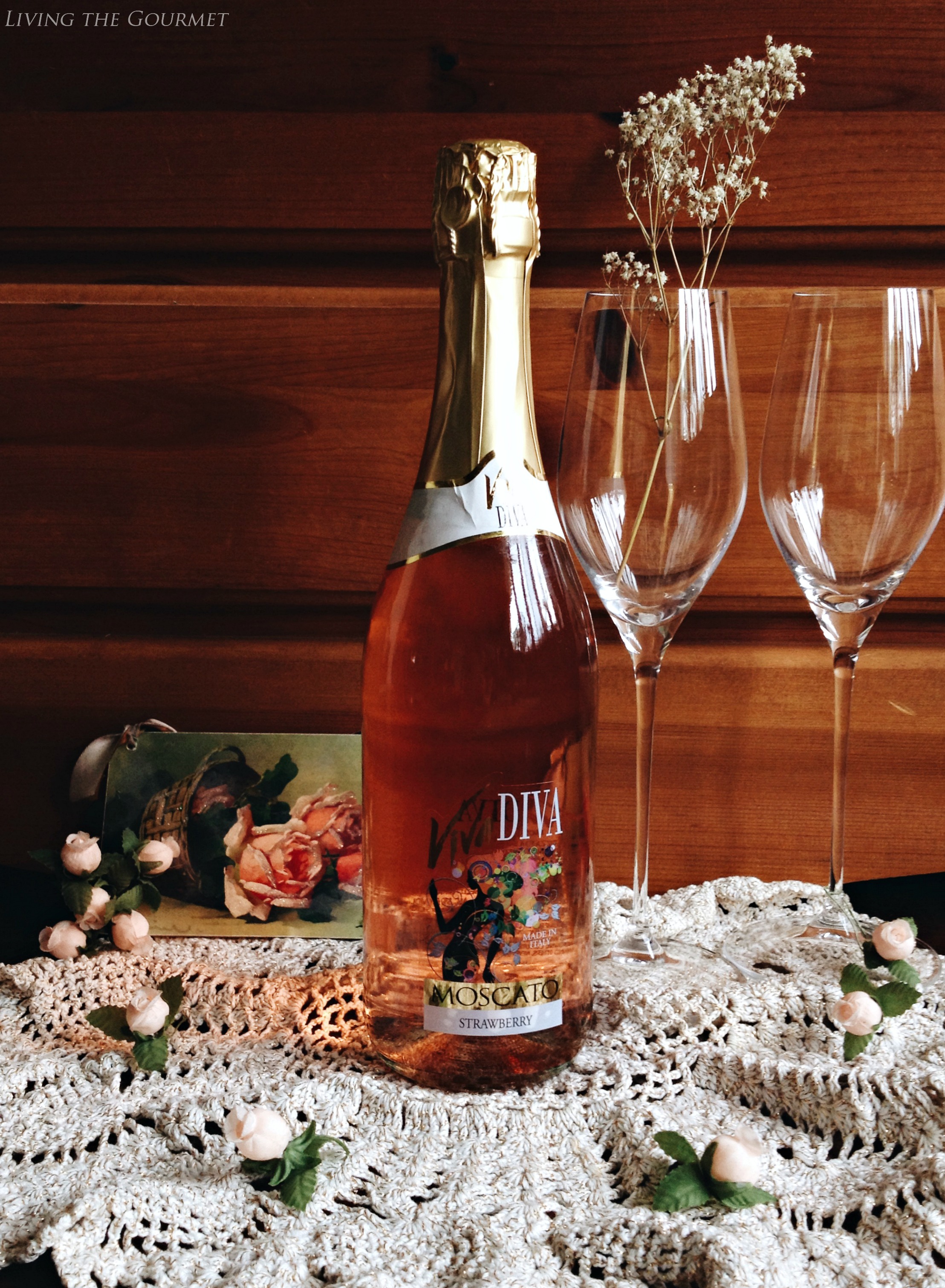 Since 'all good things must come to an end' is a mantra by which I have never abided, one of those 'cosmic laws' I've made a habit of breaking, I agreed to feature another pair of the bottles. This time we received the Strawberry and the Mango (not pictured).
Again, both bottles are Vino Spumantes. For those unfamiliar, vino spumante is a type of sparkling wine produced in the Piedmont region of Italy from Muscat Blanc grapes, which are invariably fruity and quite sweet.
Like the grape from which it is produced, the Viva Diva line is bold and unabashedly 'sweet,' both in terms of presentation, from its wild floral label and stylized lettering, and in terms of the bottle's contents, from its sweet fruity essences to its vibrant natural colors.
As always, pink first, I started off with the strawberry. The wine introduces itself with a strikingly floral bouquet, likely courtesy of its strawberry infusions. Wild flowers and vague fruit essence permeate up through the bubbles and into the middle of the glass. The bouquet carries into the flavor, being both fruity and floral, and while strawberry essences dominated throughout, I couldn't help interpreting cherry or ripe berry notes at certain moments, particularly towards the end. The bubbles are finely balanced, and leave a crisp finish on the palette.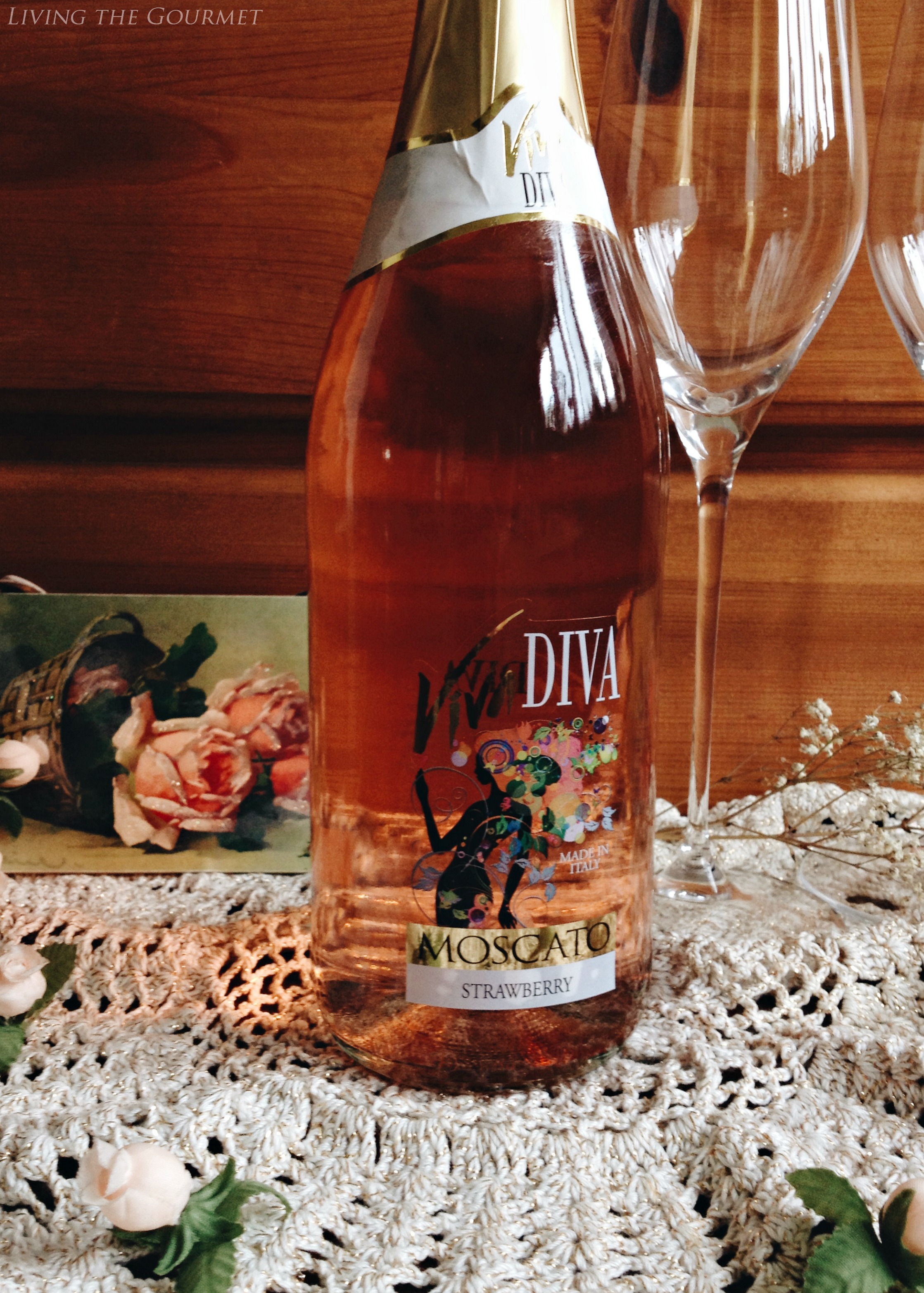 From bright pink we move on to striking yellow – Mango. Here again, the aroma is striking, but while Mango is written across the label, I couldn't help interpreting the bouquet as ripe fruit, or possibly even sliced apricot or mandarin. The flavor, however, is decidedly mango throughout, with the moscato coming through only in subtle notes towards the finish. Again, the bubbles were finely balanced and crisp, but the flavor lingered for a bit longer on the palette than its strawberry counterpart.
Sampling the Viva Diva on its own this time, I will have to admit, gave me a slightly different perspective. I will have to say that I would suggest pairing these bottles with an event or a mood rather than trying to single out a plate or cuisine. These bottles are festive, both inside and out, and will easily serve to fuel either those precious after-party moments when the company is lingering after dessert, or either just as the company is arriving to help set the tone for the party.
Once again, I cannot express enough how the Viva Diva line is simply a 'fun' and festive vintage. A bottle of this will instantly add a layer of flare to your next party, and that said, I wholeheartedly recommend it.
Cheers,
Mike
This message is intended for persons 21+. Please enjoy responsibly.
0