This post has been sponsored by Speck Ham from Alto Adige.
I am delighted to be this month's July 'Speckulator' for Speck Ham, which is a cured Italian Ham from the Alto Adige region of Northern Italy.
Being a part of this exciting initiative has introduced me to a new flavor of Italy that I am happy to share with you today.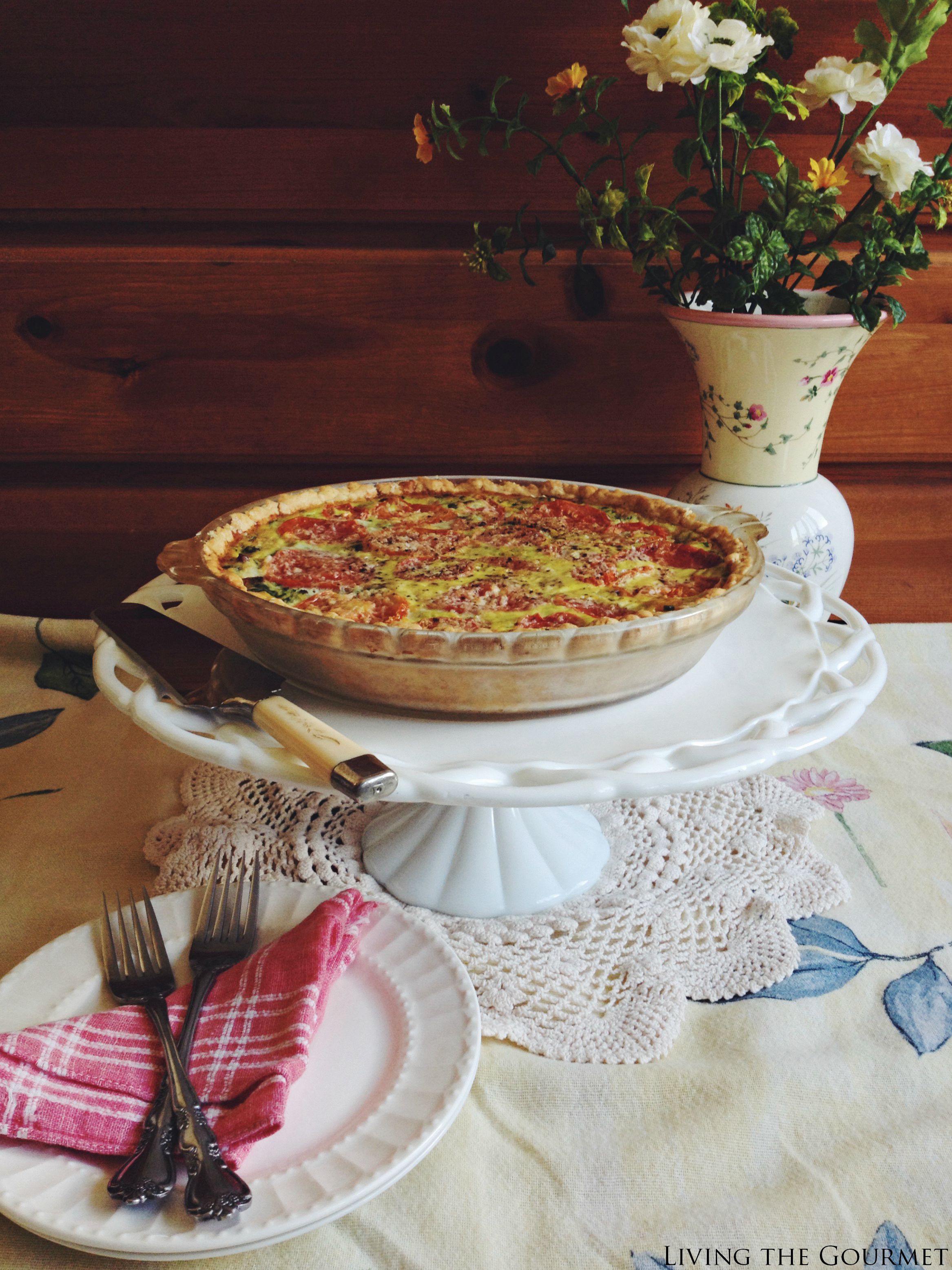 Speck ham is a robust cut of aged pork, smoked until each layer is saturated by both plentiful rustic seasoning and bold smoky notes. The entire process is further enhanced by the Alpine air that brings you a bit of Italy with each bite.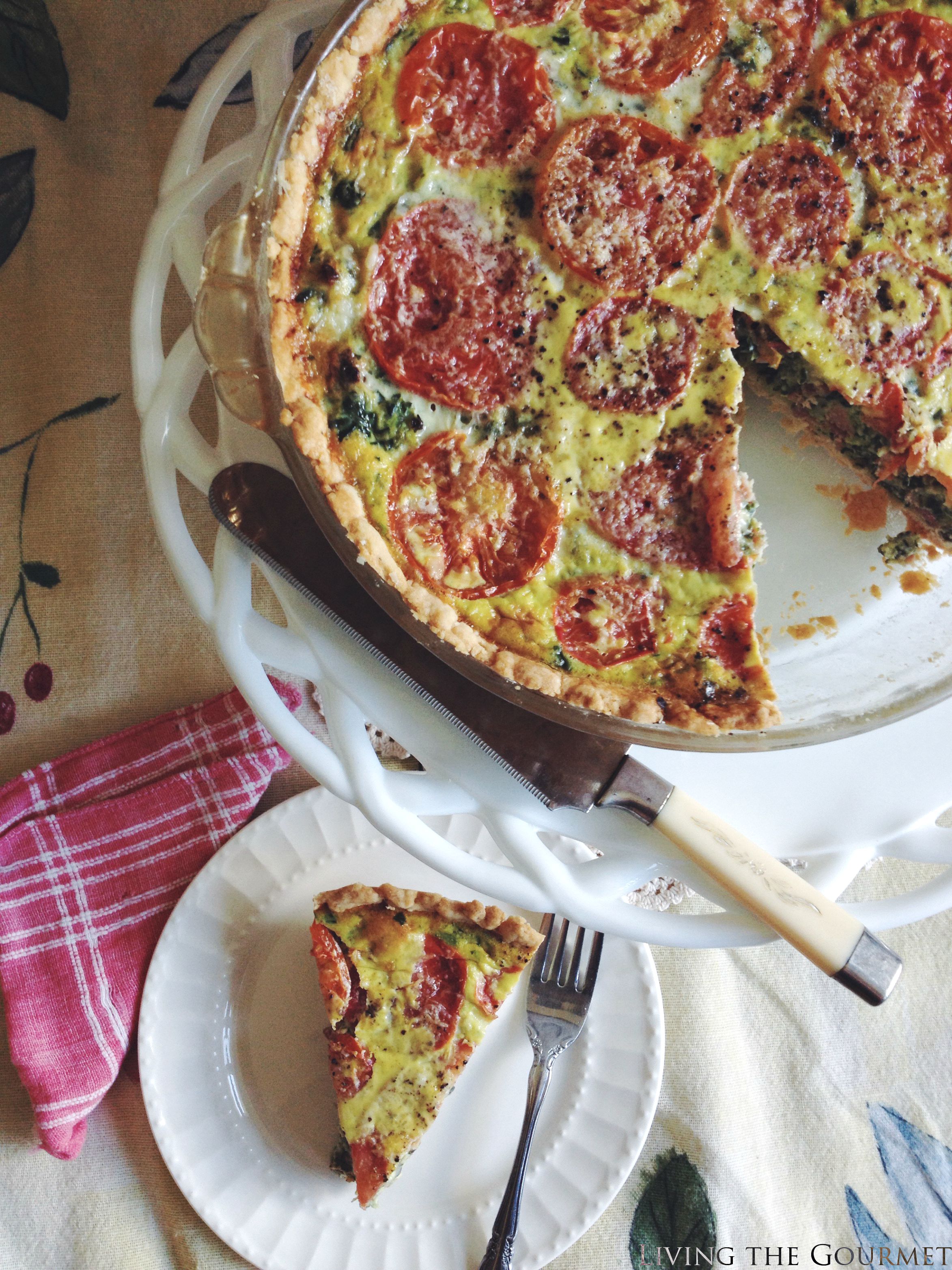 When I received Speck Ham, I immediately likened its thin slices to prosciutto, but the taste resembles a gourmet slab of bacon – well seasoned and smoked to perfection.
I was inspired to create a Quiche Lorraine by slicing the Speck Ham into thin strips then giving it a quick chop. I tossed it together with eggs, creamed spinach and some good sharp cheese. Baked over a flaky butter crust with fresh garden tomatoes adorning the top, this elegant, seasonal tart showcases all that Speck Ham has to offer.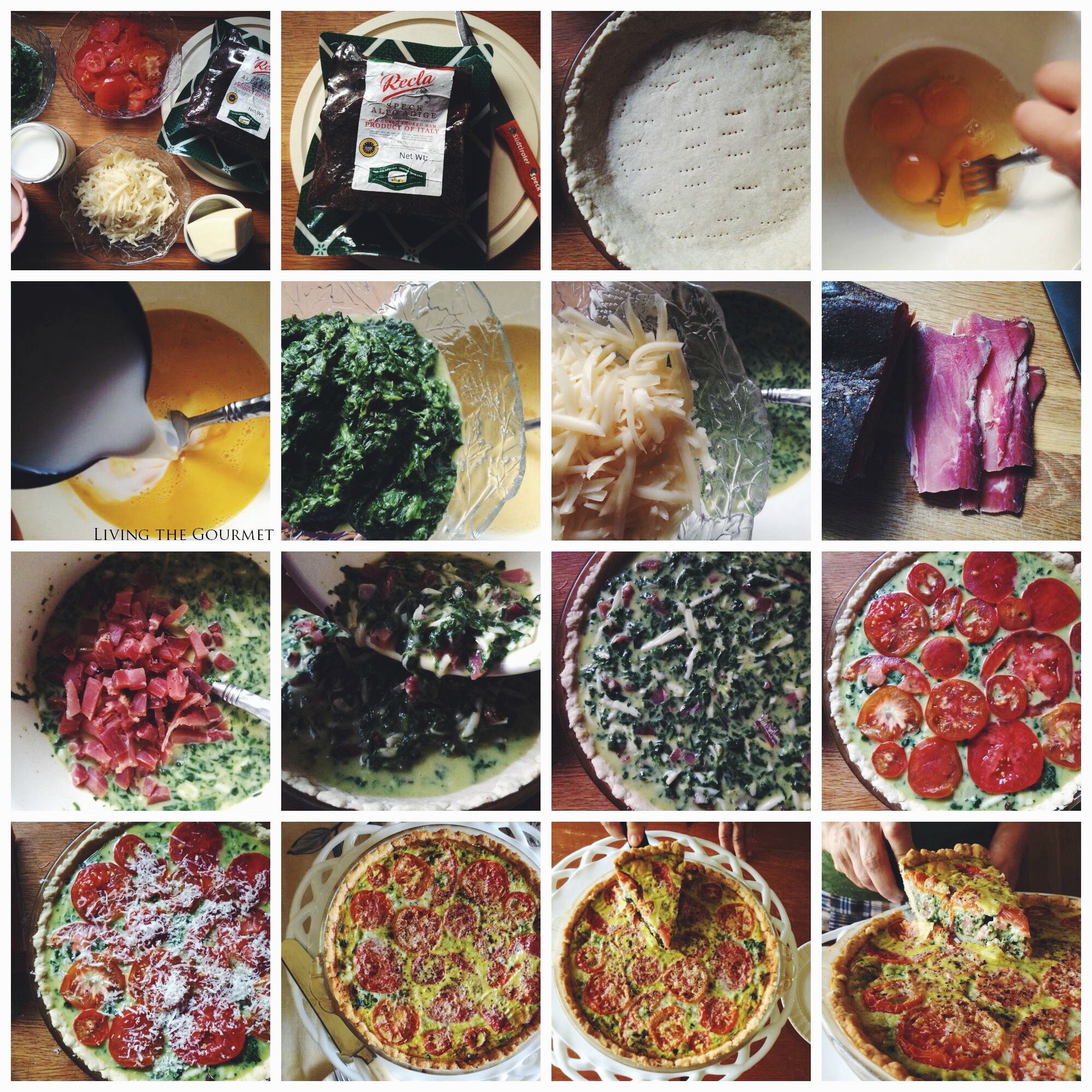 Living the Gourmet
Quiche Lorraine with Speck Ham
10 minPrep Time
60 minCook Time
1 hr, 10 Total Time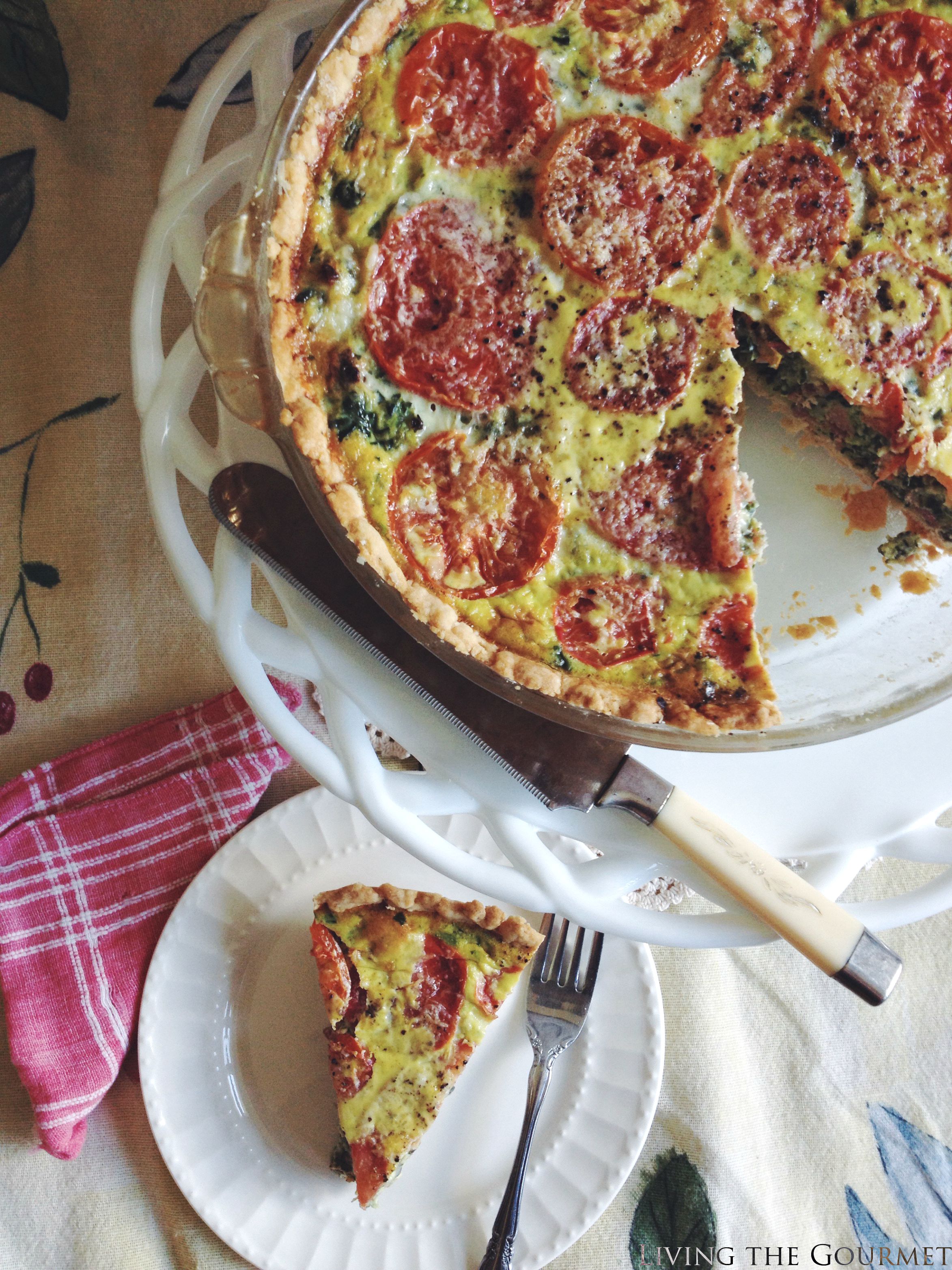 Ingredients
Savory Pie Crust:

1 1/2 cups all-purpose flour
2 tablespoons butter chilled
3 tablespoons shortening
Salt & Pepper to taste
3-4 tablespoons ice water

Filling:

10 oz. frozen creamed spinach - defrosted
1/2 cup of Speck Ham - diced
2/3 cup whole milk
1 cup Monterey jack Cheese - shredded
4 eggs – beaten
1/2 tsp. salt
1/2 tsp. black pepper
1 vine ripe tomato – sliced thin
Parmesan Cheese – grated
Olive oil – for drizzling
1 savory pie crust (recipe above)
Instructions
Savory Pie Crust:

Preheat oven to 350 degrees F.
Combine flour, salt, pepper, butter and shortening together. Blend with a pastry blender of fingers and work the mixture until crumbly.
Add ice water starting with 2 tablespoons. Blend and add addition tablespoons of water as needed until a soft dough forms.
Wrap the dough in clingfilm and chill for at least an hour.
Roll the dough out onto a well flour sheet of parchment paper. Transfer to a pie plate and trim the edges to fit. Pierce the bottom of the dough with a fork, and blind bake for 10 minutes. Remove from the oven and let cool before filling.

Filling:

Preheat Oven 350 degrees F.
Prebake the pie crust for 10 – 12 minutes and let cool before adding the quiche mixture.
In a large bowl combine the creamed spinach, eggs, shredded cheese, milk, Speck Ham, salt and pepper; gently combine.
Fill the pie crust and place the sliced tomato on top followed by the grated Parmesan cheese finishing the quiche with a drizzle of olive oil.
Bake for 30 – 35 minutes or until set in the middle.
Let cool slightly before slicing.
7.8.1.2
158
https://livingthegourmet.com/2015/07/quiche-lorraine-with-speck-ham.html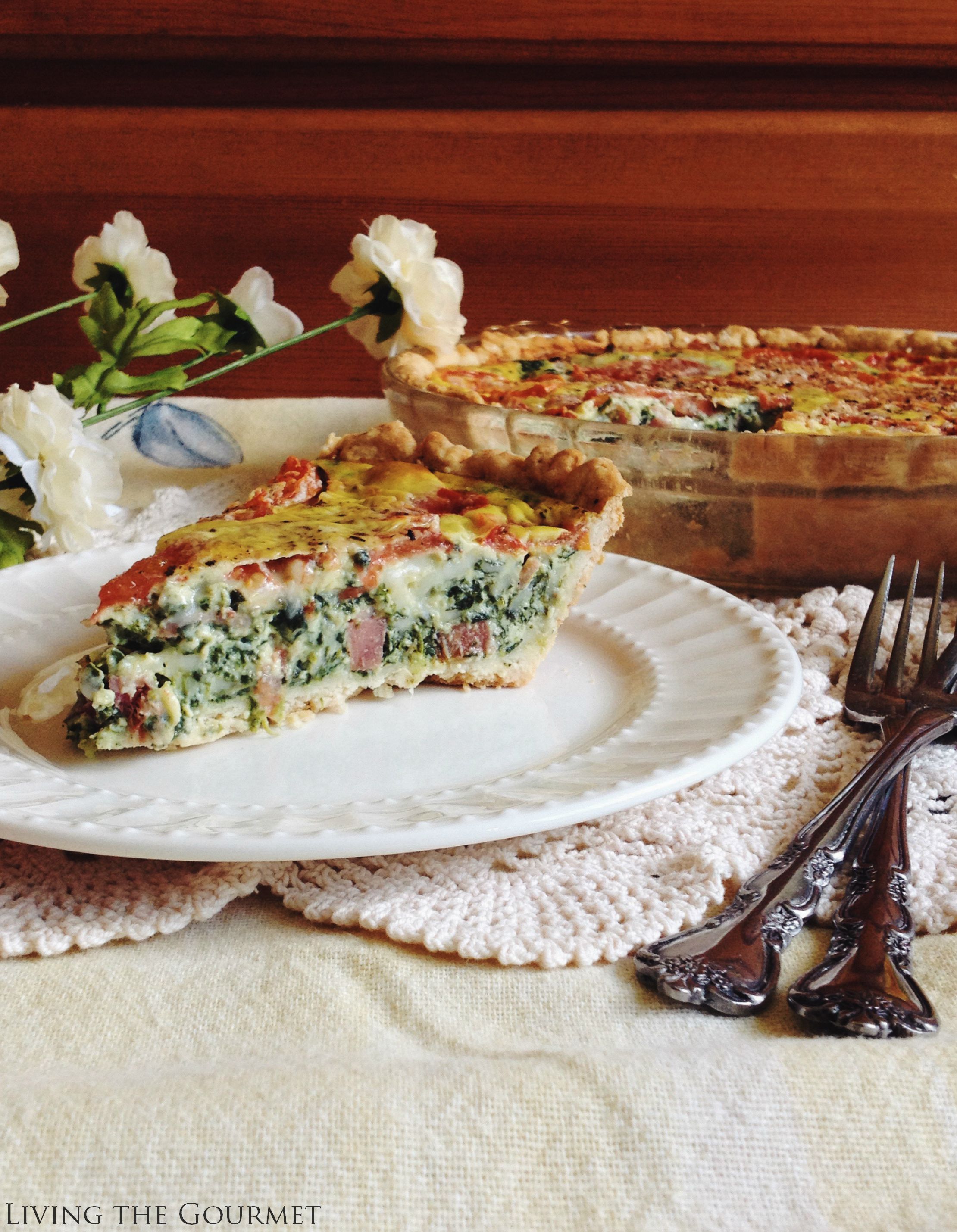 Enjoy with Love,
Catherine
xo
6