A big milestone came and went quietly this month for Living the Gourmet – the one year anniversary of our transition from a blog into a website.
While it's certainly an important anniversary here behind the scenes, it serves as much more of a measurement of where we were then as compared to where we are now.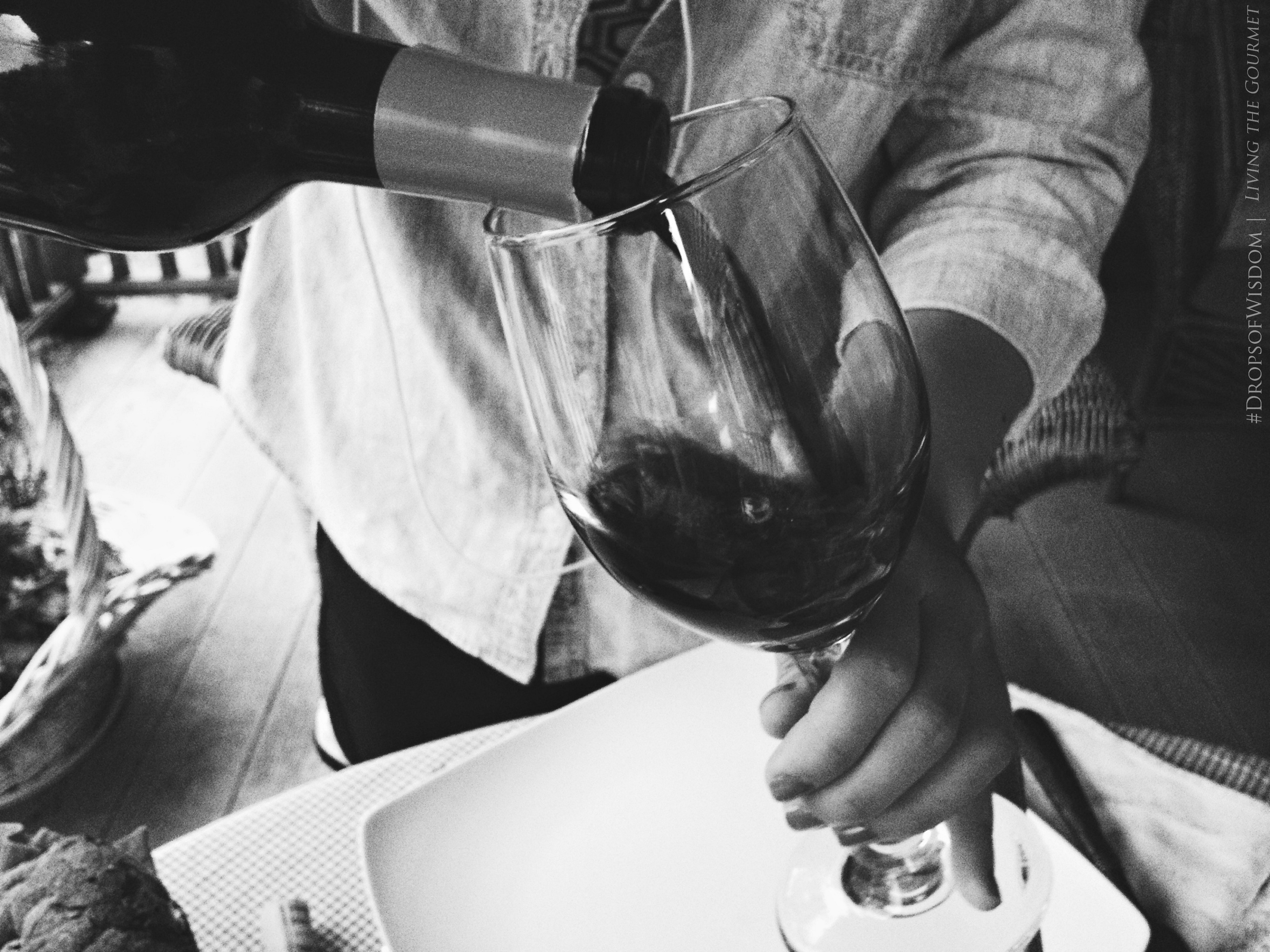 After a years-long stint as a blog, the transformation was an understandably rocky one, more akin to sailing a hopelessly damaged ship through a violent storm as opposed to peacefully traversing the digital highways of modern food media.
Operating under the strain of severe technical issues, it's safe to say our prospects appeared less than peachy at the time. "Did we fix what wasn't broken?" "Did we bite off more than we can chew?" "Will it all pay off?" were just a few of the soul-searching questions I was asking myself.
With no clear answer, and with each new day feeling as though it were bringing yet another problem in need of a solution, those same questions hung over my head like an invisible Sword of Damocles. Rarely would I voice these concerns, and when I did, I would invariably receive a calm, almost stoically spoken, "We're right where we're supposed to be" from my sister. While the words carried an oddly contagious albeit muted confidence, those questions never fully retreated, lurking just above me, casting their Damoclean shadow over my daily life.
As a result, you can imagine my wide-eyed surprise when a former Executive White House Chef came calling less than a month later, his representatives asking if he could sit for an interview to help promote his new book.
"I told you we are right where we're supposed to be."
Twelve months and few days later, I'm not merely feeling that sentiment, I'm living it. The passing of that milestone is the story behind our most recent 'behind the scenes' celebration, as well as the evening's deliberately quirky wine choice.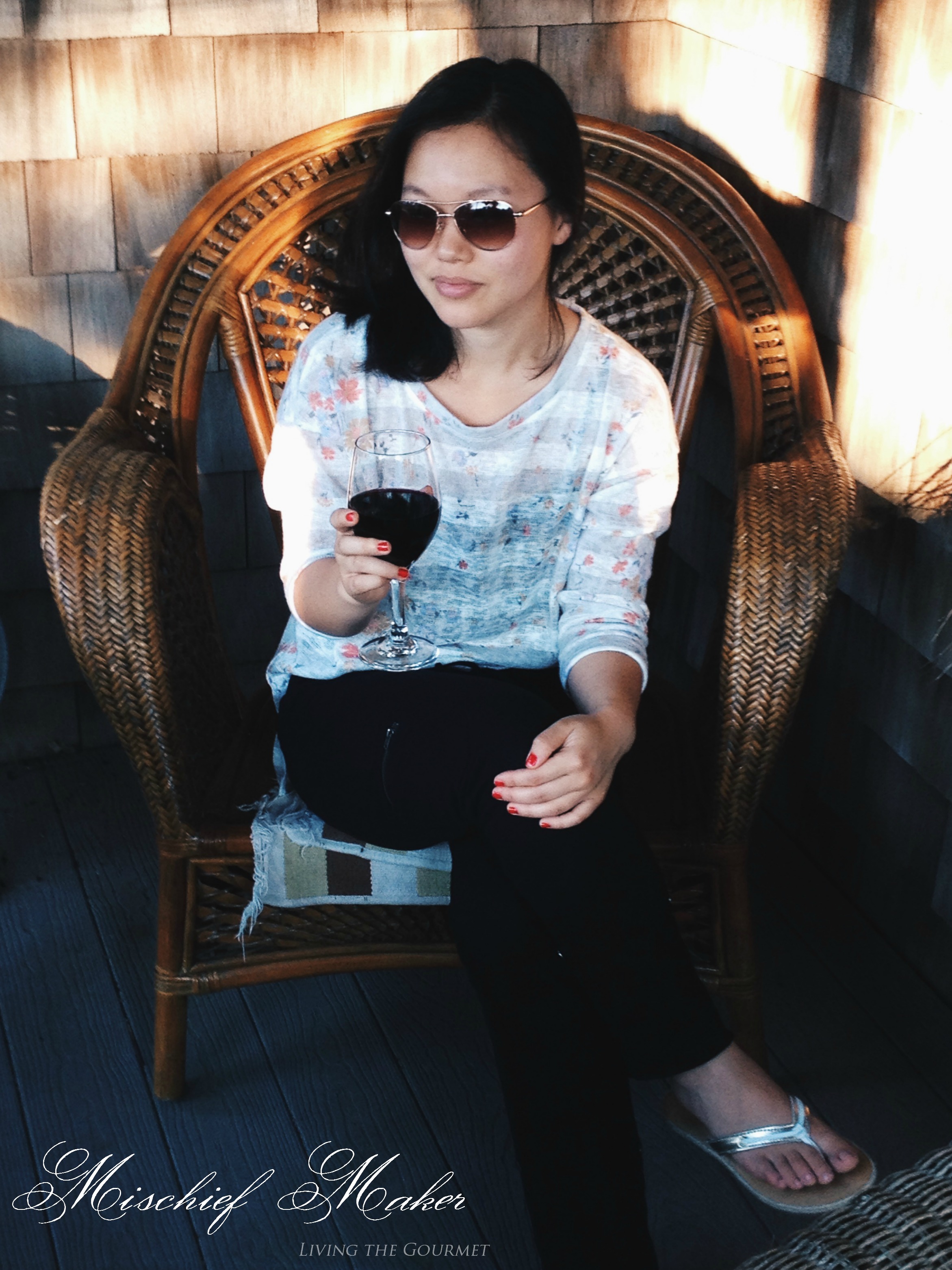 While I could have gone with the 'perfect pairing' for the meal, or a 'jewel digestif' for afterward, I wanted something instead that paired perfectly with the carefree and lighthearted celebration itself – and that's precisely what Middle Sister Mischief Maker does. It made for a perfect toast not just for the milestone itself, but for all of the bumps and quirks along the way.
To go with the theme of the night, we prepared one of our classics – spicy marinara and salami over pasta. A deliberately fun entrée that's meant to be enjoyed in a celebratory setting, it would not only add another layer to the evening itself, but serve as a sort of culinary journey back to our roots. We would serve this outside on our porch, with trappings from a collection of our latest themes to purposefully remind of us the progress we've made.
As a result, from the wine choice, to the entrée, to the evening setting itself, everything was designed to add a layer of forward looking reminiscence, while playing into the central theme of celebration.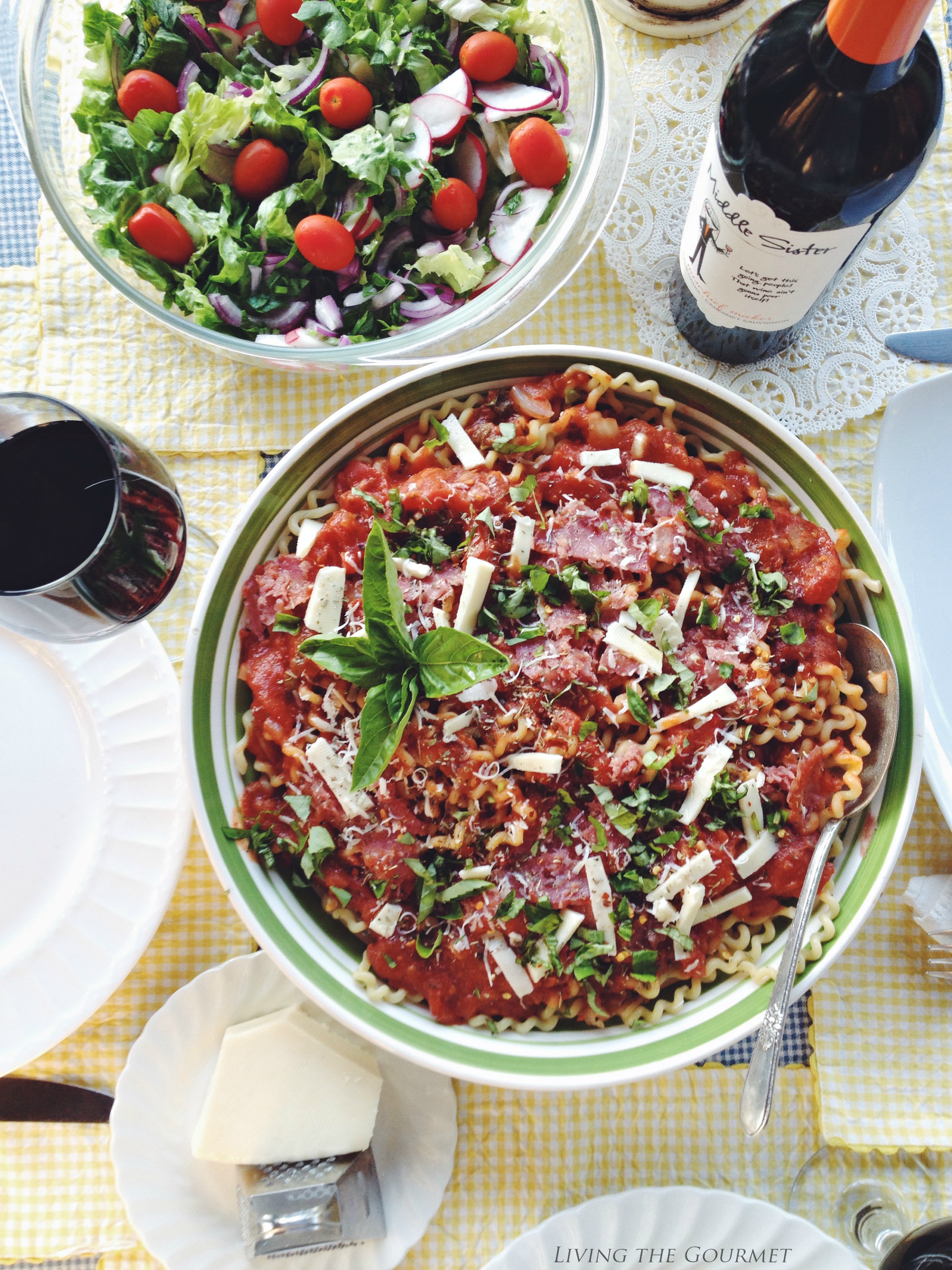 Now, since old habits die hard. What of the wine itself?
While it was certainly festive enough, you might be wondering how it actually stacked up. Here's a brief overview.
It's not often that I comment on the front label of a bottle at any length, however this particular label goes out of its way not just to make certain that the purveyor takes note, but to ensure that it's difficult to divert one's attention. In this instance, the label greets the eye with clashing black and bright orange, prominently featuring a 'Mischievous' looking character, wine glass in hand, complete with shades, heels, and a fringed leather coat. Beside her, black calligraphy reads, "Let's get this going, people. That wine ain't gonna pour itself!"
The back of the label carries on the theme, giving a small 'bio' of sorts of the character on the front, with lines about dating brothers, wearing leather to a wedding, and drinking white wine with red meat. In the upper right corner, a 'stamp' reads 'Cheers.'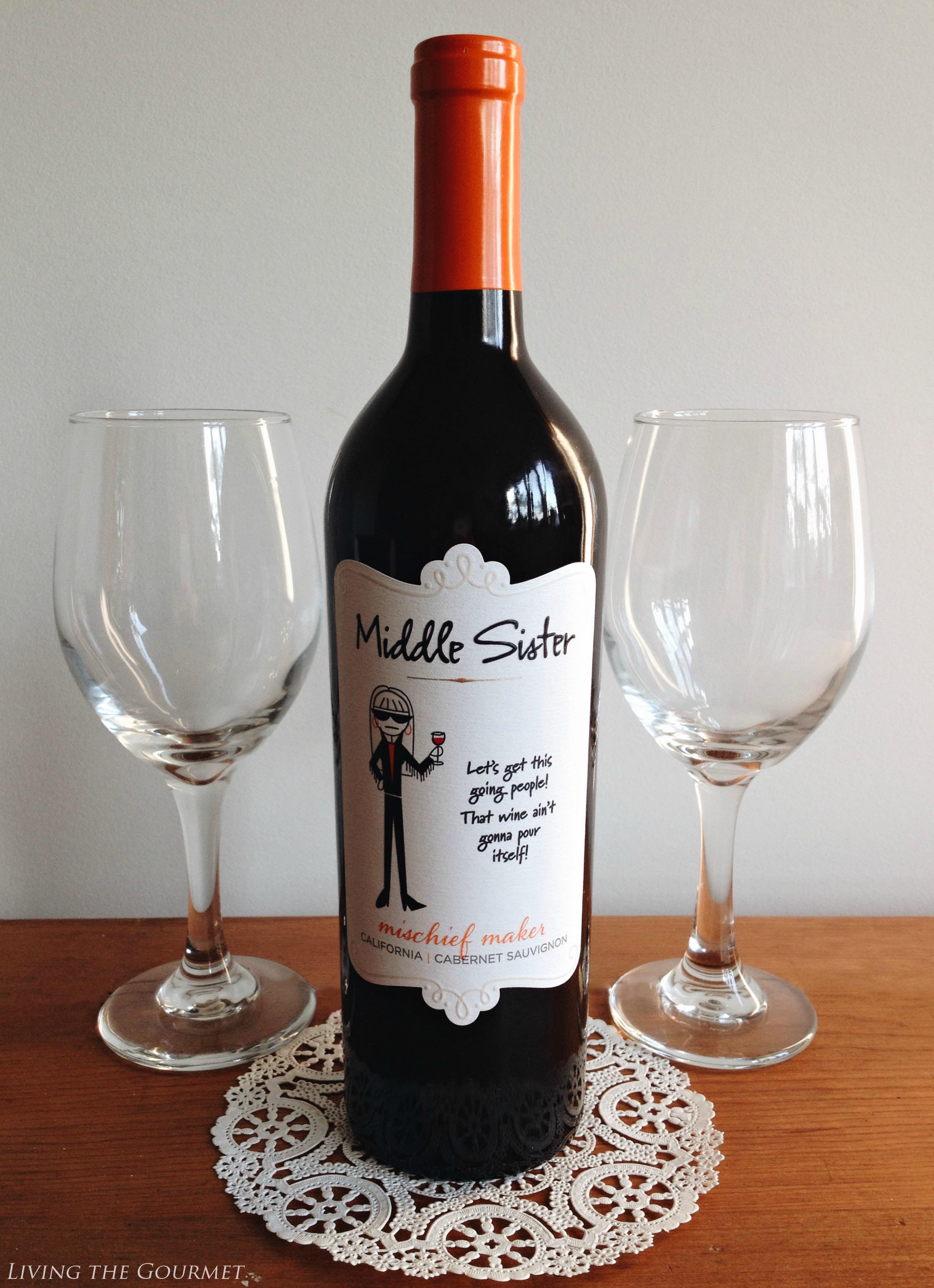 Overall, I have to give credit for this. The estate knows who and what they are, and precisely what they are trying to convey with the vintage.
Despite being titled the "Mischief Maker," the bottle contains a robust Cabernet Sauvignon, which is more or less the global benchmark for red wine along with Merlot, with the grape being grown almost everywhere vineyards are to be found.
On pouring, the wine greeted me with a robust but pleasant bouquet of ripened fruit, initially wild berries and hints of dark cherry. Dried spice and herbal notes carried through the middle of the glass into the bottom.
On sampling, the wine immediately features what I will have to describe as rustic fruit essence, chiefly overripe berries, which mellow quickly into either plum or black cherry notes. The initial flavors are followed by hints of subdued vanilla laced currant, which linger only briefly on the palette. Tannins are reserved, pleasant, and evenly carried.
Overall, this is an excellent cabernet sauvignon, perfect for pairing with any festive entrée, particularly spicy Italian food, red meat, or red sauce pasta dishes.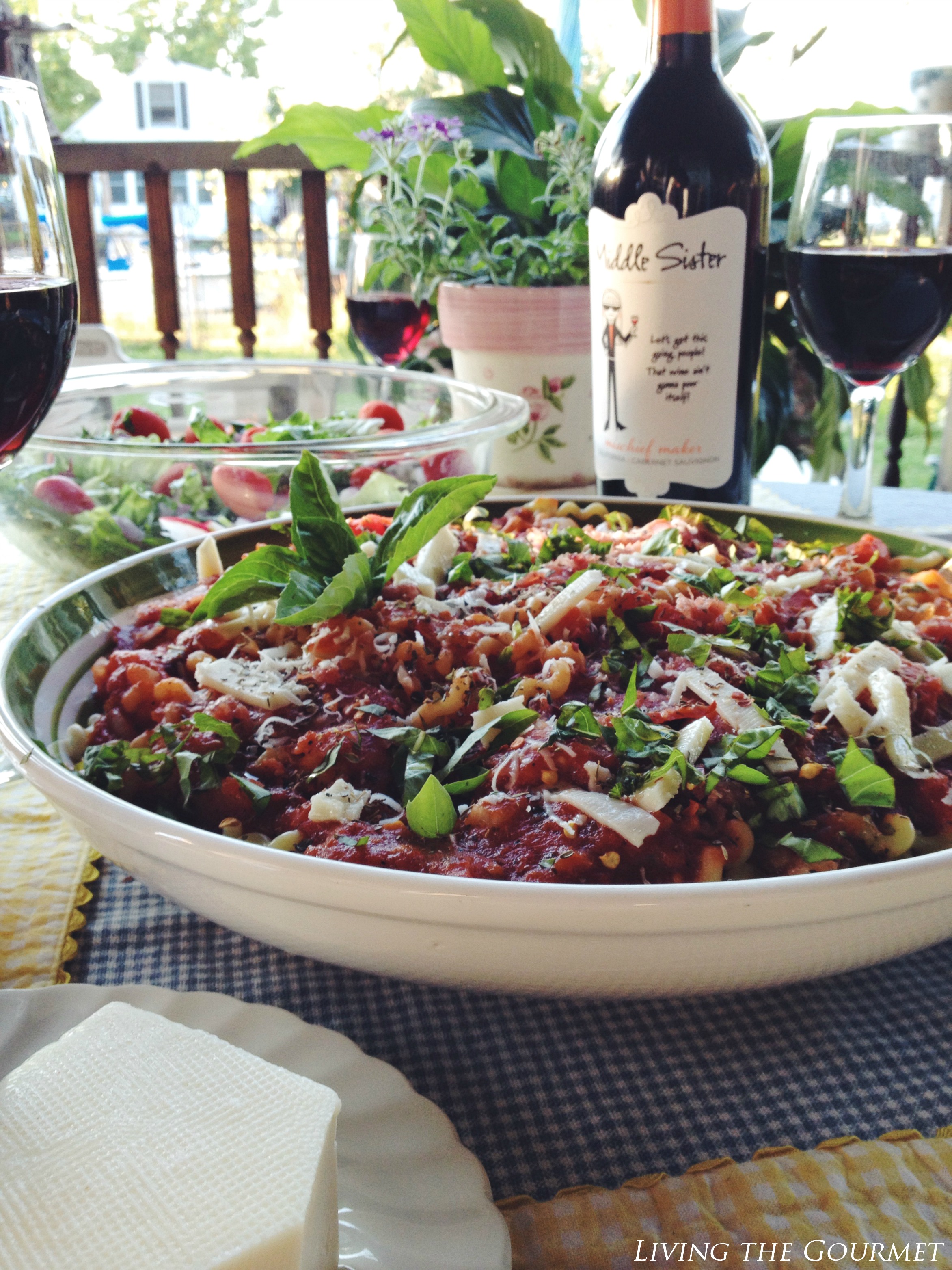 Print
Pasta al pomodoro
Author:
Prep Time:

10 minutes

Cook Time:

20 minutes

Total Time:

30 minutes

Yield:

4

1

x
2

–

28

oz. cans crushed tomatoes

1/2

lb

. dried salami

1

medium sized sweet onion – diced

4

cloves of garlic – chopped

1

large bunch of fresh basil

1 tsp

. dried oregano

1/2 tsp

. salt

1/2 tsp

. black pepper

1/4 tsp

. red pepper flakes
Pinch of sugar

3

tbs. olive oil

1

lb

. of your favorite pasta
Parmesan or Romano cheese for grating
Instructions
Heat a large cast iron frying pan over medium to low heat; add the olive oil, garlic, onion and about a half a cup of fresh basil; chopped.
Simmer on a low heat until the garlic is fragrant and the onion becomes transparent. Add the seasonings and the crushed tomatoes and simmer on a low heat; add the pinch of sugar to the sauce.
Prepare the pasta as directed while the sauce simmers on a low heat.
Prepare a large bowl with two tablespoons of olive oil and a dash of dried oregano, red pepper flakes, salt and pepper.
Drain the pasta and add to the bowl and toss.
Top the pasta with tomato sauce, dried salami, shavings of grated cheese a drizzle of olive oil and more fresh chopped basil.
Recipe Card powered by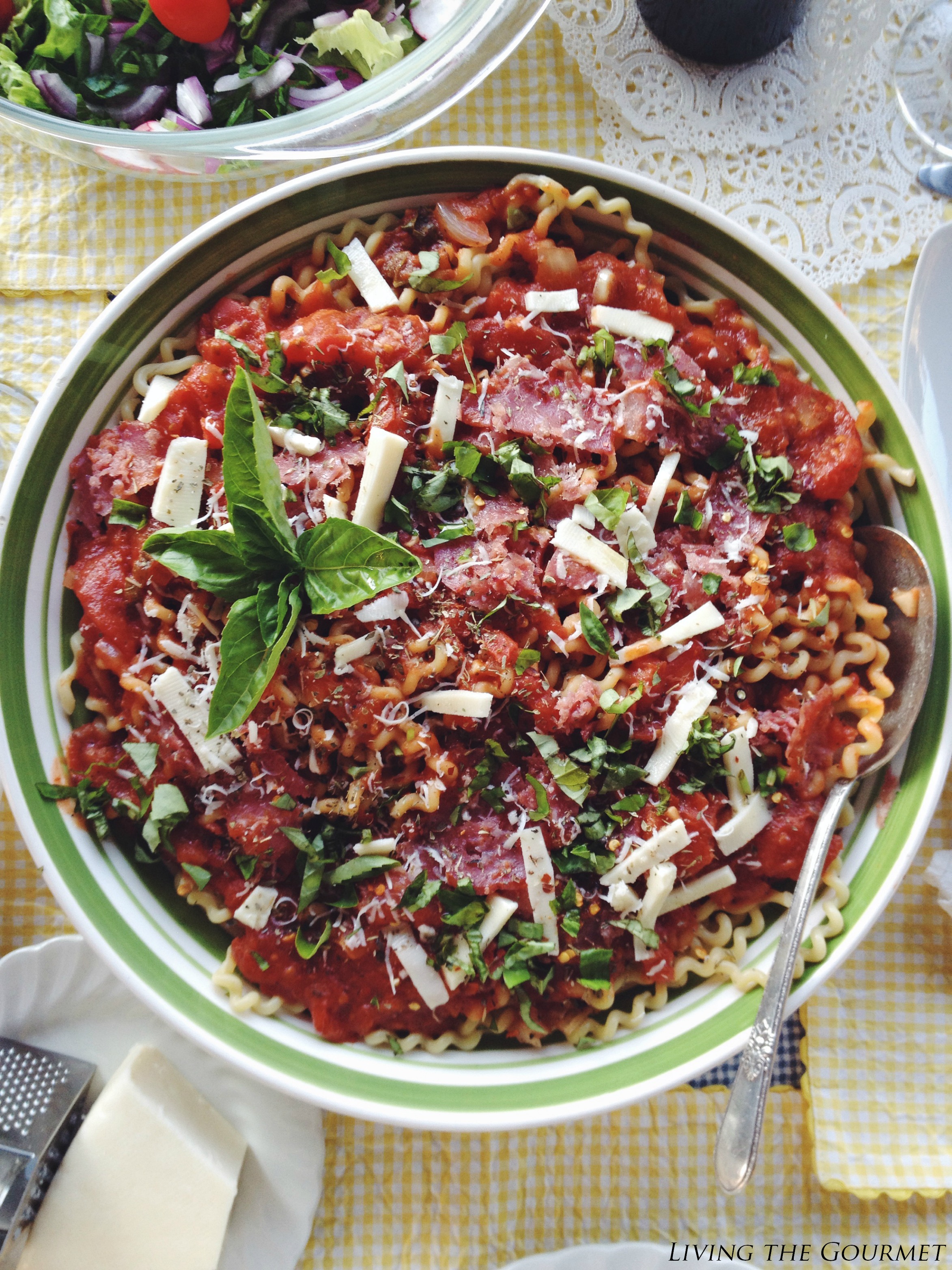 Enjoy with Love,
Catherine
xo
I was selected for this opportunity as a member of Clever Girls and the content and opinions expressed here are all my own.
This message is intended for persons 21+. Please enjoy responsibly.
0