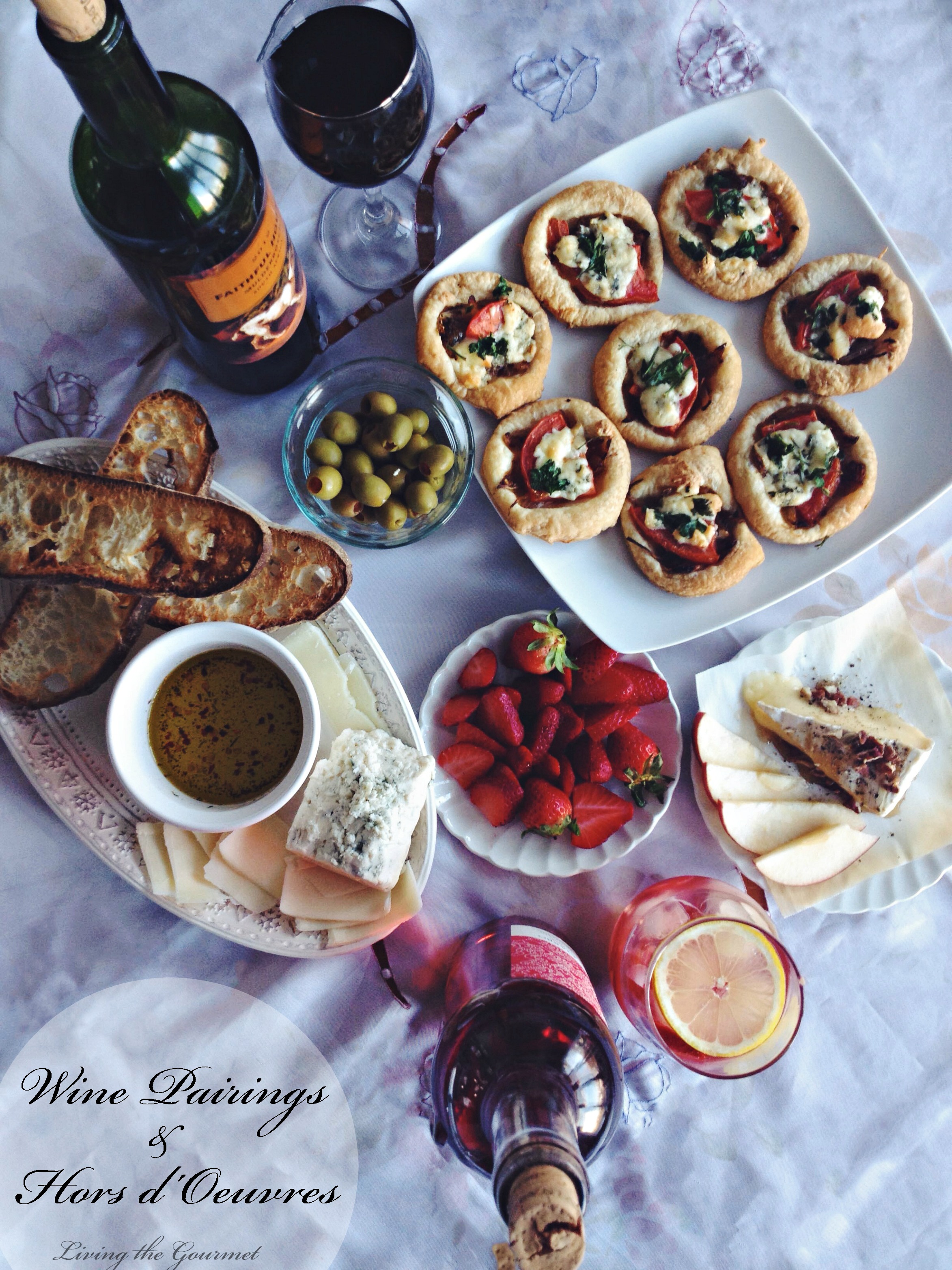 Across centuries, wine has been a universal 'social language.' Weather gracing the tables of emperors, or serving as a soothing end to a long day in the field for peasants, wine has become a part of our human experience.
Today, wine is understood in a variety of terms from 'couture gourmet' meant to artfully convey its flavor in words, to basic labels meant simply for the shelves of your local liquor store. Just as wine is paired with food, so also is wine paired with the events of our lives.
For example, behind the scenes here at Living the Gourmet, kitchen work can often transform into an impromptu 'cocktail hour' after my mother and I break open or finish off a bottle over the stove as we assemble or develop our recipes. Crackers, cheese, or crusty bread soon follow as the work winds down, and the wine continues flowing.
While my mother prefers her sturdy red wines, always dry, I tend to gravitate toward the white varieties, or the sweeter spectrum of the reds. I must also admit to a weak spot for the much maligned but ever elegant spritzer.
#LTG recently featured Mia Rosé, and that bottle became the foundation around which I developed this spread for this month's theme at the Creative Cooking Crew, to which I was I was invited by my longtime friend Lazaro.
The Creative Cooking Crew is a group of wonderfully talented foodies who get together every month to not just recreate, but reinvent a themed dish. This month's theme was to create a cocktail and pair it with an hors d'oeuvre.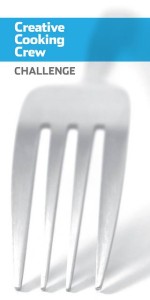 With the weather warming up, and Rosé season nearing, I wanted to share a fun, fruity drink. Below is my Berry Rosé Sparkler and a few simple hors d'oeuvres.
Mom stuck with her red and we made an incredible spread that complimented both.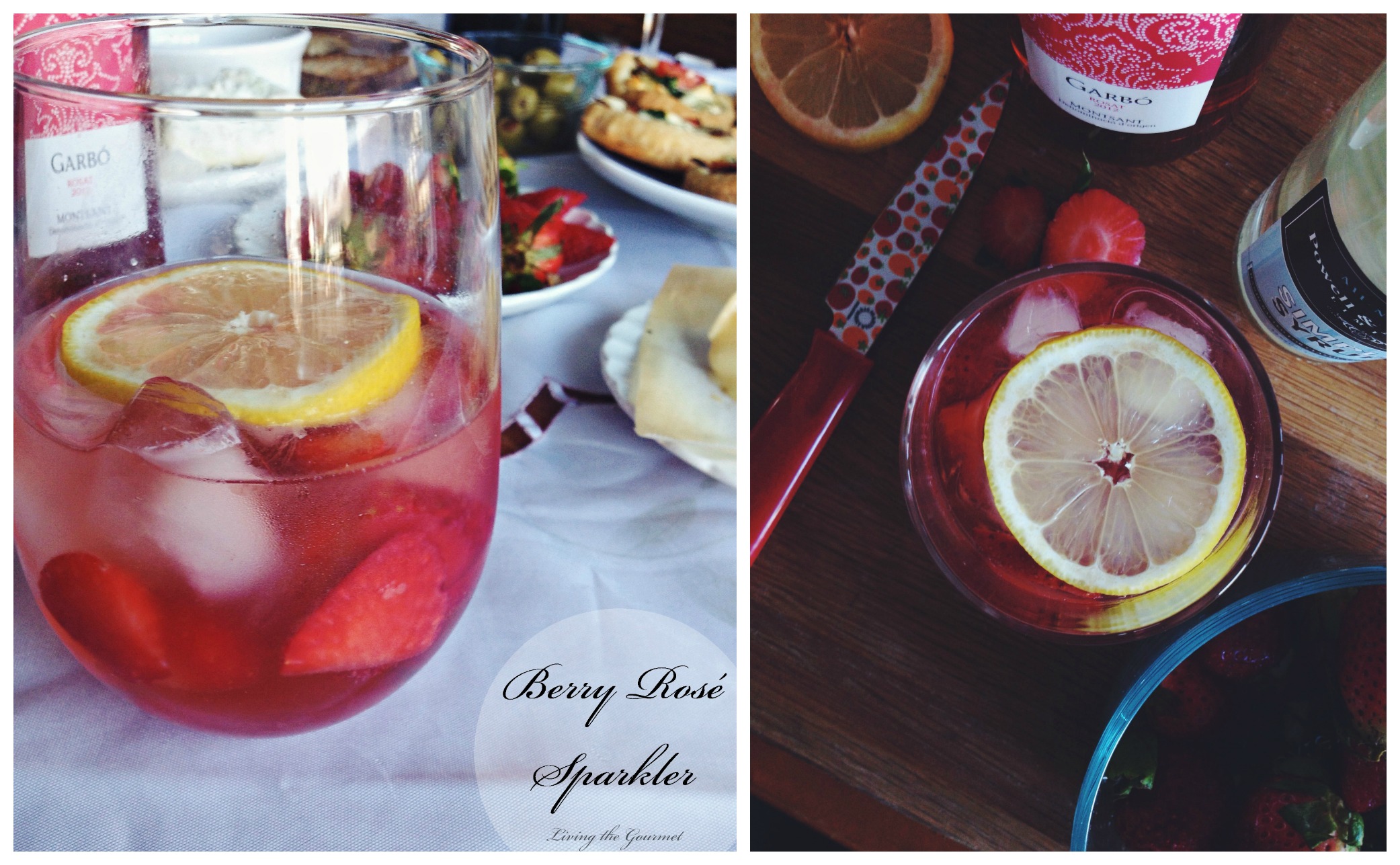 Berry Rosé Sparkler
1/3 cup Rosé (I used 2012 Garbó Rosé)
2 tablespoons simple syrup
1/4 cup club soda
A squeeze of lemon juice
2 strawberries, sliced
1 lemon slice for garnish
Ice
Pour the ice at the bottom of your wine glass. Add simple syrup and lemon juice.
Pour Rosé 1/3 of the way. Add club soda and mix. Garnish with strawberries and lemon slice.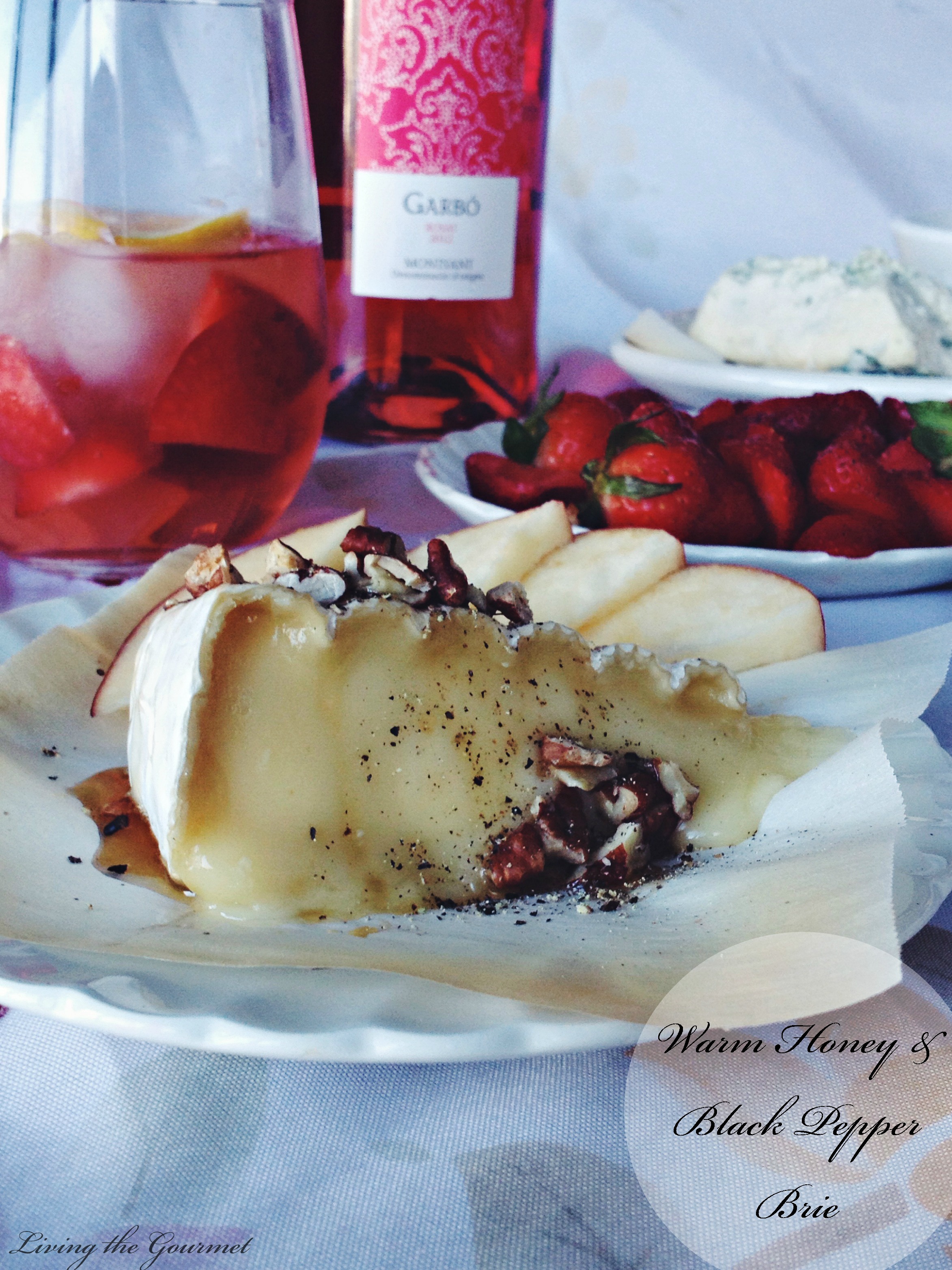 I LOVE Brie.
This Honey & Black Pepper Brie is so easy to prepare and pairs well with pear or apple slices and grapes.
I sliced the Brie in half, drizzled it with honey and chopped pecans, then popped in into the oven for 2-3 minutes just until the cheese softened but didn't melt.
Sprinkle cracked black pepper and enjoy.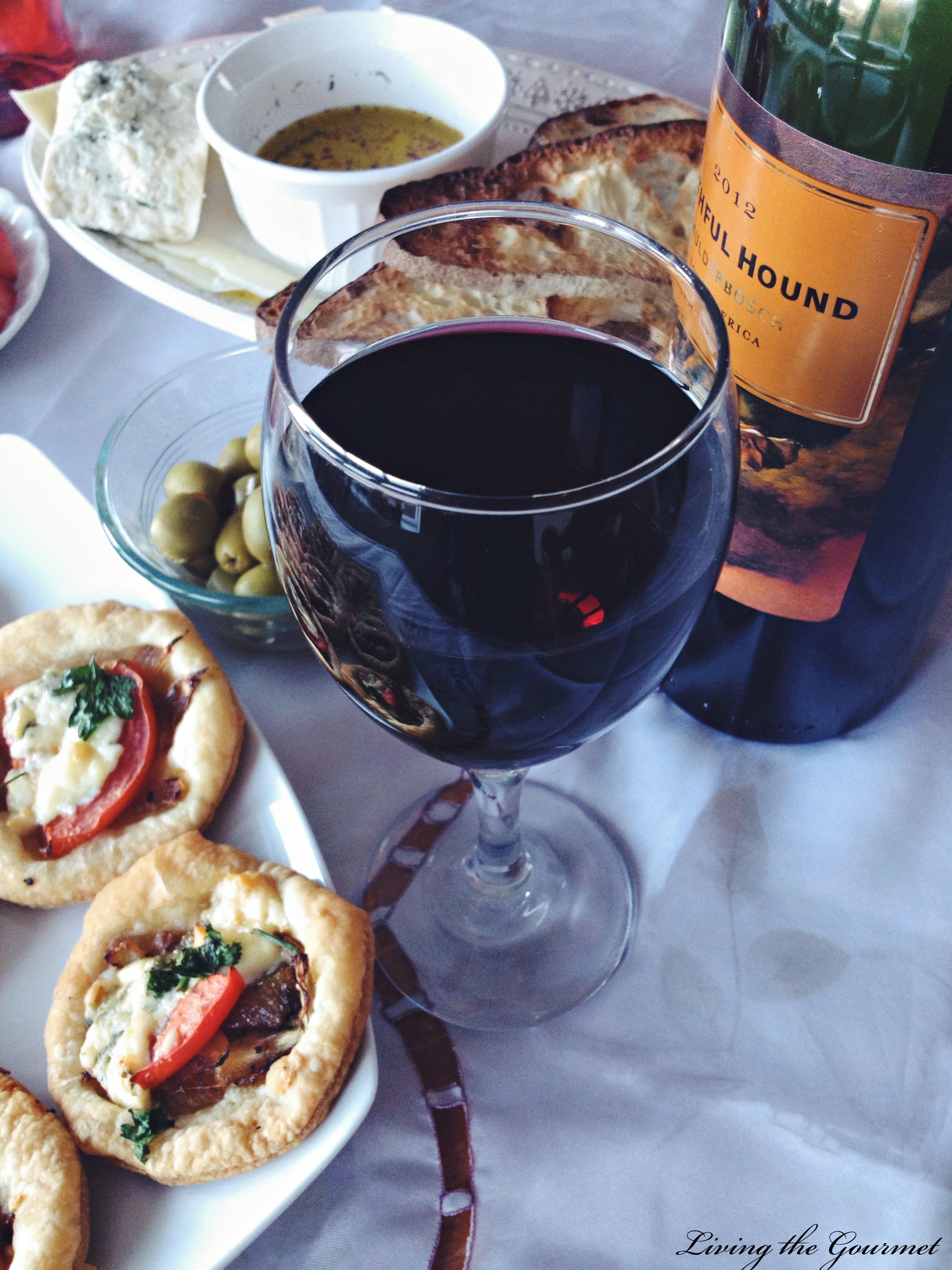 Mom's preferred wine at the moment is the Faithful Hound. Another dry red favorite of hers are the Baglio Di Pianetto Estate wines.
These both pair well with good cheese, olives, seasoned olio and crusty Italian bread.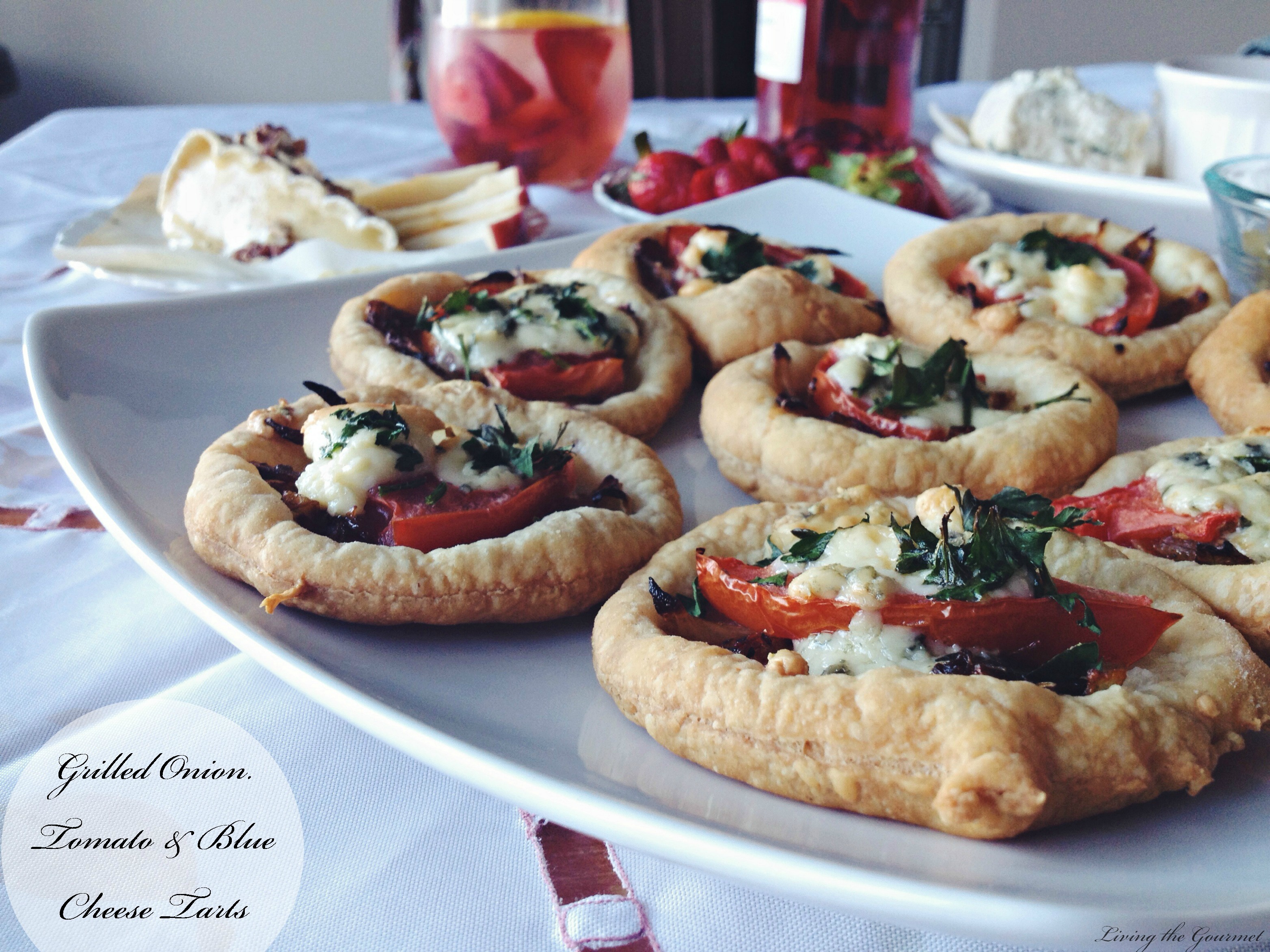 We needed an hors d'oeuvres that complimented both wines. Something light and easy, yet savory and satisfying.
Puff pastry baked with grilled onions, tomato and a crumble of blue cheese is our accompanying appetizer for this challenge. Enjoy!
Grilled Onion, Tomato & Blue Cheese Tarts
Prep Time: 8 minutes
Cook Time: 20 minutes
Ingredients:
1 sheet puff pastry
1 medium tomato, chopped
1 medium onion, sliced
1 large garlic clove, grated
2 tablespoons olive oil
Pinch of Salt
Pinch of dried oregano
Pinch of red pepper flakes
1/2 cup fresh parsley, chopped
1/2 cup crumbled blue cheese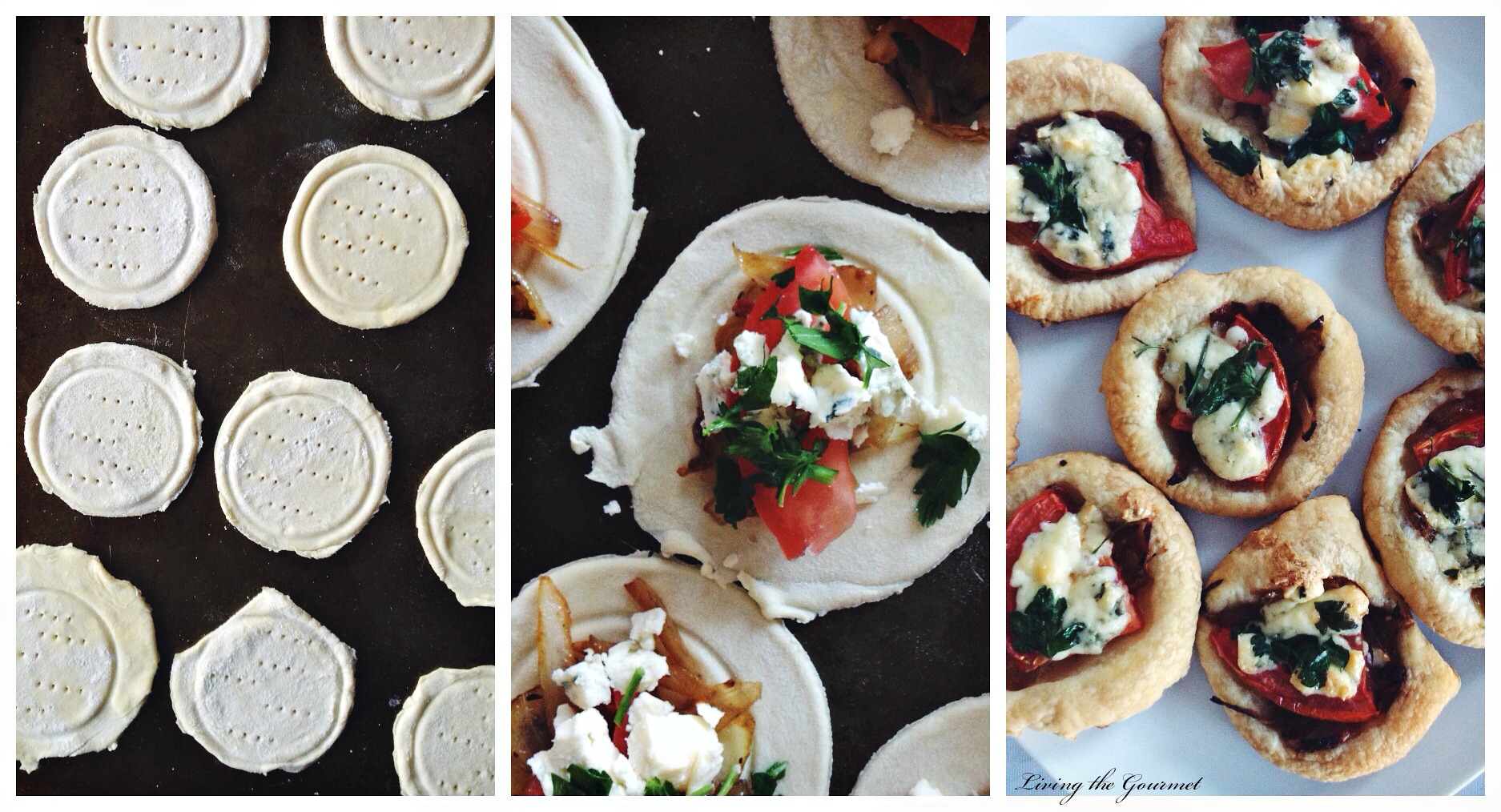 Roll out one sheet of puff pastry on a well floured surface. Using a mason jar lid, cut out 10-12 circles.
Using 1/4 cup measuring cup, lightly press into the center of each pastry round to make an indentation. With a fork, pierce the inner circle (as pictured).
In a small cast iron pan, heat olive oil. Season the oil with salt, oregano and red pepper. Add grated garlic and sliced onion. Saute until the onions are golden.
Top each pastry round with grilled onions, some chopped tomatoes, parsley and blue cheese.
Bake until the pasty has puffed up and the edges are golden, about 20 minutes.
Thank you for joining us.
Here is a fun article on wine etiquette which is rather apropos.
Cheers!
This message is intended for persons 21+. Please enjoy responsibly.
15